You could win a Lightcycle Phaser Pedal Kit from StewMac in this 24 hour giveaway!
Feeling limited by phasers that are one-knob-wonders? Not anymore! This is our take on the revered Mu-Tron Phasor II—the most versatile phaser ever made! A studio-quality optical phaser, we pack all the tone and legendary flexibility of the original in a pedalboard friendly box.
Designed to recreate double tracking and synths studio sounds, the Mu-Tron Phasor II gave players a dynamic and lush phase sound right at their feet. Finally players could recreate those complicated textures live—and nothing was the same after. From rotary speaker shimmer or wild spacey soundscapes, every knob twist sparks inspiration.
StewMac
Photo credit: Epiphone
Epiphone launches the Joe Bonamassa 1963 SG Custom.

One of Bonamassa's prized acquisitions is a 1963 Gibson SG Custom with some unusual features, including a unique smoothly contoured neck heel joint and a Dark Wine Red finish to honor the original guitar's Dark Cherry Red color, which was a rarity for that model and year. It features the same smooth neck joint contour, a Maestro Vibrola, classic SG Custom cosmetics, gold-plated hardware, and three powerful Epiphone ProBucker pickups. As a result, the new Epiphone Joe Bonamassa 1963 SG Custom aims to faithfully recreate the magic of this unique guitar. The Epiphone Joe Bonamassa 1963 SG Custom arrives with a Custom Hardshell case with a goldenrod plush interior and Epiphone and Joe Bonamassa exterior graphics, and a certificate of authenticity.

Bonamassa recently performed a one-night-only performance at the Hollywood Bowl on August 9th, recorded for his next live concert film. After finishing up the summer with two special performances featuring Styx and Don Felder, the hardest working bluesman in show business will begin his U.S. Fall Tour on October 23rd at The Cannon Center in Memphis, TN, before crisscrossing the country and capping the year at the guitar-shaped Hard Rock Live in Hollywood, FL on December 2nd. As we look further ahead, Bonamassa's 2024 spring tour boasts performances at historic venues, culminating with 'Keeping the Blues Alive at Sea IX'. For more information and to purchase tickets, click HERE.
Epiphone Joe Bonamassa 1963 SG Custom Guitar - Demo & Rundown with Joe Bonamassa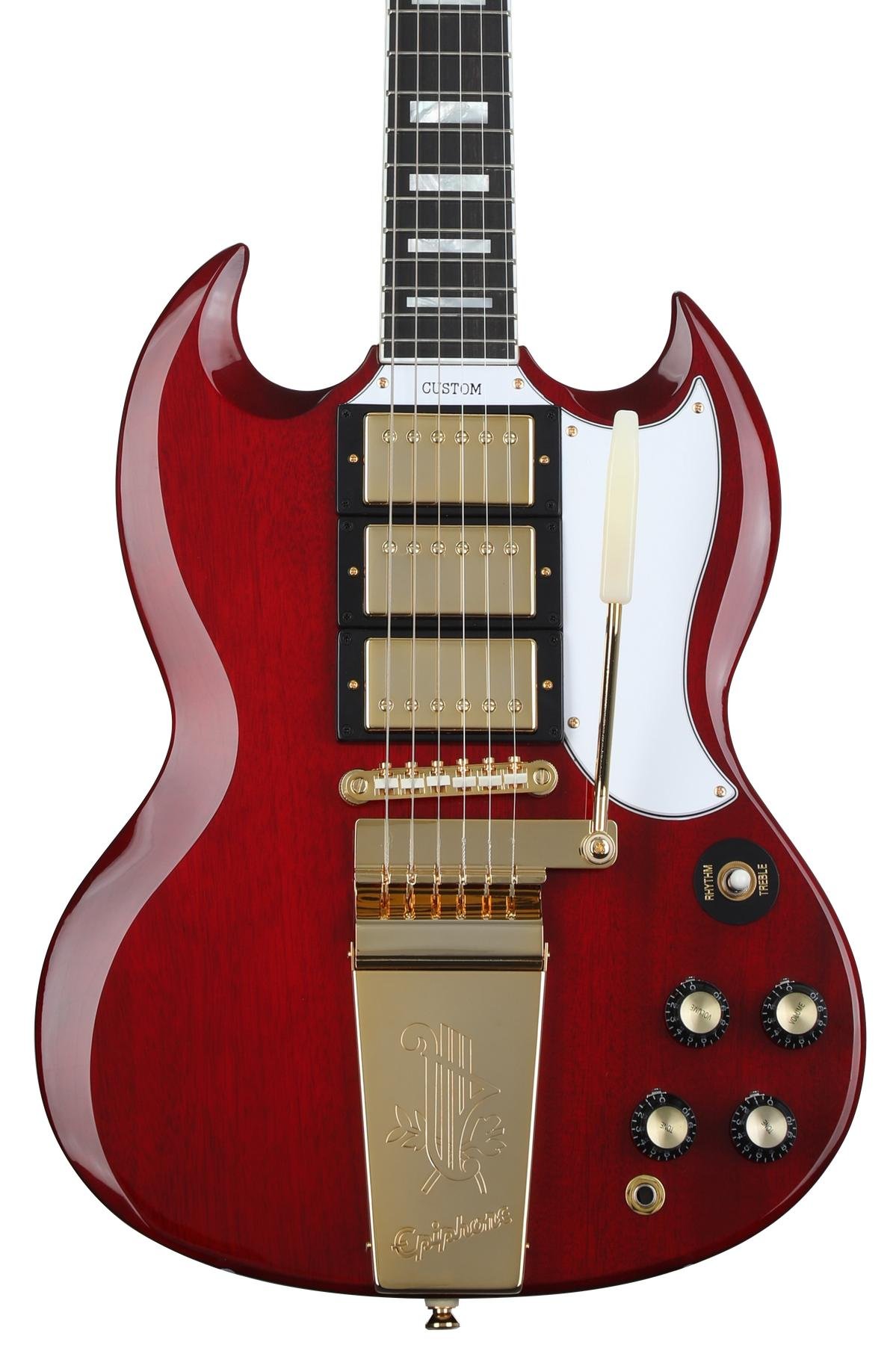 The Epiphone Joe Bonamassa 1963 SG Custom is now available worldwide in limited quantities at authorized Epiphone dealers, and on https://www.epiphone.com.
Epiphone
While our columnist started out averse to the classic distortion pedal, they soon dove deep into its circuits to invent their own take.
It's undeniable—the Fuzz Face is the most popular fuzz pedal in music history. Although it wasn't the first fuzz ever created, nearly every stompbox manufacturer has attempted to replicate its circuitry. Furthermore, almost every guitarist has, at some point, incorporated it on their pedalboard. The question arises: Why? Is it due to its distinctive enclosure shape? Or, the eternal cliché question: Is it simply because Jimi Hendrix used it?
Well, I admit—I'm not even a Hendrix fan! My dad used to play his songs when I was a kid, but that's precisely why I rebelled against it, countering Hendrix with Circle Jerks and Rancid! As a guitarist, I avoided the Fuzz Face for almost two decades. However, everything changed when I met Keket, my partner at Sehat Effectors. I found that he listened to Hendrix and music I'd never heard of before. Strangely enough, we still had something in common: Neither of us liked the Fuzz Face! For the first time, I'd met a guitarist who found inspiration in Hendrix's songs, but didn't like that pedal. And yet, there's an expectation of me, as an effects-pedal builder, to offer my customers a version of the hallowed stomp. So, here, I'll share my spiritual journey as a pedal builder lost in the endless labyrinth of the Fuzz Face.
In the process of creating our pedal that we came to call the Blown Face, I experimented with all sorts of variants of transistors and technology—from the highly sought-after germanium NKT275 version, to different types of germanium and silicon transistors from various series; then delving into the SMD/SMT versions that many dislike. I even took on digital emulations. In this journey, my main issue with the Fuzz Face was that its volume, at least with my simple setup, is too low for my liking (remember, I'm a fan of Circle Jerks!). This issue is even more pronounced when considering my band's context, which also leans towards that same musical style. My ears have become accustomed to heavy and loud distortion, especially as a musician who frequently plays small gigs.
When I finally did develop the Blown Face into something loud and explosive, that still wasn't enough. I wanted to replicate the original Fuzz Face enclosure, which, of course, I wanted to make my own using the sand-casting method. I also brought in features like the bias knob and a toggle switch that lets me turn it into a Tone Bender MkII, since, fundamentally, the Fuzz Face is descended from the Tone Bender Mk1.5. By adding a transistor to the input stage, it instantly becomes a MkII.
"Why is Stevie Ray Vaughan great? Because he's heavily influenced by Jimi Hendrix, but still manages to find his own style."
So, what is the point? Well, I'm not a purist! I'm not trying to sound wise here. As a builder, I simply believe that being yourself isn't a bad thing. Even though, we're quite sure there are pedal builders out there who better understand and are far more inspired by the Fuzz Face than Sehat Effectors—legends like Analog Man with their iconic Sun Face, and other big names like Dunlop, MXR, Fulltone, Wren and Cuff, JAM Pedals…. They're all great almost by definition at this point. Why is Jimi Hendrix great? Because he's Jimi Hendrix! But, at the same time, why is Stevie Ray Vaughan great? Because he's heavily influenced by Jimi Hendrix, and still manages to find his own style. This kind of analogy will always go on.
In diving into my Fuzz Face journey, my objective was simple: to see where the labyrinth would lead. Fuzz Face is a temporal anomaly. In an era where guitar-effects technology is advancing rapidly and has even reached sophisticated digital emulation, the pedal has managed to carve out its own unique, lasting existence. In my opinion, it should have been included in the Voyager Golden Record, sailing through a universe that is believed to have no end and is continuously expanding. Eventually, it might reach another Jimi Hendrix, who's billions of light years away from our beloved Third Stone From the Sun. Or, perhaps it could land in the hands of an extraterrestrial being in a galaxy we haven't yet named. Though, that extraterrestrial being might pick it up and say, "Why is this thing coming to me?"