A top-flight OCD alternative that sings at a very accessible price.
Wide range of overdrive and boost tones. Exciting higher gain tones. Clear but robust boost textures. Very forgiving to use.
Might sound a touch meaty for humbucker users chasing near-clarity in boost situations.
4.5
4.5
4.5
5
Between
MXR
and
Way Huge
, the Jim Dunlop family of brands makes a lot of overdrives—enough that I actually lost count perusing the Dunlop web site. MXR and Way Huge's OD stables include original designs as well as reimaginations and evolutions of stompbox fixtures. But as comprehensive as their combined overdrive rosters are, until now they did not feature an answer to the very popular
Fulltone
OCD.
The OCD, a hard-clipping MOSFET, op-amp-driven overdrive, was a success for Fulltone. It was also a great value, which may be why some larger manufacturers held off on building their own affordable versions. It's unclear if MXR had an inkling that Fulltone would go on hiatus as a company. But with news that Fulltone would close up shop for the foreseeable future, the release of MXR's excellent OCD-inspired stomp, the Super Badass Dynamic Overdrive, looks impeccably well timed. And for players that now face the inevitable price gouging that goes with Fulltone's absence, the 129 bucks they'll pay for this very capable OCD alternative looks like a pretty great deal. Best of all, it's a very flexible overdrive that can sound and feel genuinely thrilling.
MOSFET Def
Anyone that has had a go with an OCD will be at home using the Super Badass Dynamic OD. Obviously, the controls differ little from a zillion other overdrives. And functionally speaking, the primary difference between the MXR, or any other OCD homage, and simpler overdrives is the midrange boost toggle, which here moves between boost and cut positions.
The clean, economical circuit is laid out on a through-hole circuit board, which is home to a Texas Instruments TL082 op-amp like that which powered many OCD units. As with the original OCD, however, the MXR's secret sauce lives not in the gain stage but in the clipping section, where the MOSFETs perform the cool trick of generating hard clipping that is also exceptionally smooth.
Riding With the Tone Ranger
In terms of dynamics, the Super Badass Dynamic Overdrive works as advertised. Relaxing or increasing pick attack intensity yields many shades of sparkling-to-dirty tonalities. The MXR also registers tone shifts from picking position relative to the bridge with accuracy and sensitivity I don't encounter in a ton of affordable drive pedals. Guitar volume attenuation also yields lovely results. The reduced output still sounds awake, robust, and alive with high-mid and high-frequency content. This is a real treat if you use single-coils without a treble bleed circuit and have grown accustomed to losing top-end definition at lower guitar volume.
The MXR is dynamic and flexible in other ways, too. The wide range in the pedal's tone control, for instance, is an additional asset if you use guitar volume attenuation aggressively. It enables you to retain extra sparkle and high end in clean tones at low volume, and wails when you return to full volume without ripping your ears off. There is treble to spare here, but it tends to be of the smooth, singing variety, rather than the painful sort.
As a clean boost, the MXR's output is full of body and adds little in the way of extraneous color to a fundamental guitar voice. It's nearly as transparent in this context as a Klon or good klone, which are arguably the standard bearers for transparent boost/overdrives. But I actually preferred how the MXR sounded compared to my favorite klone in "clean boost" settings, because of the compression and extra mass in the low midrange that the MXR adds to my guitar's voice. It's not a truly transparent voice, perhaps. But frankly, what is? And I'd venture that the Super Badass Dynamic OD will be the ideal solution for a lot of players that think they want near-total clarity in a boost, but actually long for a thicker variation on their basic guitar sound.
The Verdict
The Super Badass Dynamic Overdrive is a very flexible way to add attitude, body, and color to any guitar and amp combination. Its rangy drive and tone controls and super-useful midrange boost/cut toggle make it easy to adapt to unfamiliar backlines or navigate switches between single-coils and humbuckers. To my ears it's an especially dreamy match for a black- or silver-panel Fender amplifier. But I can imagine that the versatility afforded by the control set would make it a sweet pairing for British amp voices as well.
Single-coil pickups shine in its company. I loved how the MXR made the bridge pickup in a Telecaster sound like a more robust and meatier, yet still very lean and articulate, version of itself. And while humbuckers, predictably, tend to coax a more rockist accent from the MXR, the ample and smooth extra high end you can summon from the pedal makes more muscular tones pop with clarity that rarely gets bogged down in low-midrange mud. I suppose that transparency hunters might find the MXR's voice a bit charged with gain. But I found that the Super Badass Dynamic OD walked the borders between clarity, body, and aggression with an unusual grace. Given the high quality and very accessible price, I wouldn't hesitate to recommend finding out for yourself how it fits into your world.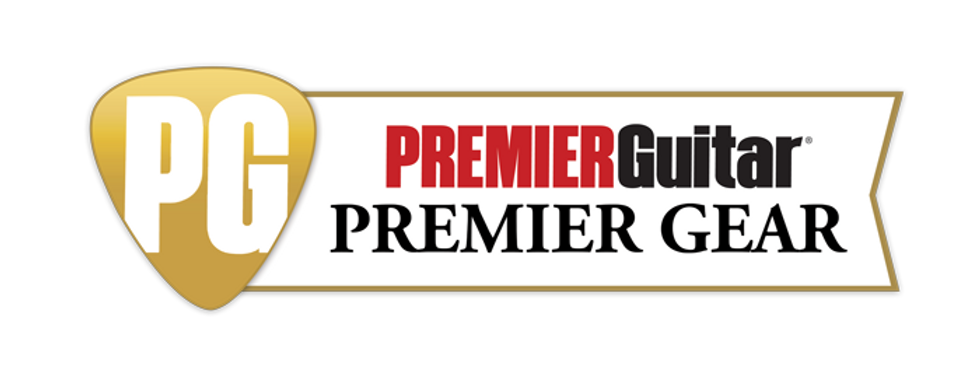 A vintage-style compressor that combines relative silence and squish.
Great sounding vintage compression. Easy to use. Lower noise floor.
Many modern comps have more options.
4
4
4.5
4
Traditionally, comps that come out of the Ross/DynaComp school offer three things: simple controls, that signature squish, and a bit of noise. Although the Flat Earth definitely feels like pat of this lineage, it's relatively quiet. That's partly thanks to a circuit that uses a LM13700 chip inside the feedback loop. A small, but significant, design choice that makes a world of difference.
Designer Trevor May also believes that compressors usually have too many controls. And the May Fly certainly keeps things simple. There are level and sustain knobs, just as you'd see on many basic comps, but May adds an attack control giving players the option to lend notes a bit more or less definition when picking. My first experience with Ross/Dyna Comp-style compressors came by way of approximating the clean arpeggio tones that appeared in so many '80s power ballads. And it was great to have access to that feeling as I cranked the sustain. Plugging in a Les Paul and adding some dirt via a Jackson Audio Optimist, I was able to get a smoother sound while still preserving that balance of touch, squish and sustain. Overall, the Flat Earth is a dynamite option for players who need vintage-style tones with a no-brainer setup and that would love a lower noise floor for extra gain pedals.
MayFly Audio
An undersung rhythmic vibe enhancer gets a compact and capable reissue.
Unique, inspiring, and fun effect. Stereo functions open up lots of potential. Works well with other effects.
Compact footprint makes it hard to access some essential functions. Can be confusing to learn.
5
3.5
3.5
5
One of my favorite gear discoveries in recent years is the original Boss Slicer SL-20. A friend hipped me to its wild percussive magic and what I call "big vibe." When the first dual-pedal version came out as part of the company's 20 series, I was under the impression it was a fancy tremolo. That might be the closest classic guitar effect, but the Slicer lives in its own world: The effect chops a signal into preset rhythmic patterns and applies filters and pitch shifters to create everything from propulsive grooves and melodies to glitchy, warbled tones.
Lead parts played in the single and dual settings with the tempo cranked and a lower attack setting evoke a broken-Leslie kind of sound, especially in 3D modes.
The Slicer is a unique effect that's more in line with what you might find on synths and drum machines than a pedalboard. That, plus an original production run that lasted just a few years, has made it kind of a deep-cut, sleeper favorite. What a surprise, then, that Boss is reissuing the effect in their standard—and much more compact—enclosure.. Even better, the new SL-2 features deeper functionality. So, does it live up to the hype surrounding the original?
Clip 1 – High attack and duty settings, single type.
Clip 2 – High attack and low duty settings, full wet, harmonic type.
Clip 3 – Low attack and high duty settings, tremolo type.
Clip 4 –High attack and low duty, various tempo settings, sfx type.
Clip 5 – Example of how the Slicer can fit into a track. Recorded with two guitars (each with various other effects) each with different Slicer modes (rhythm is stereo, lead is mono).
Deep Functionality, Limited Space
The SL-2 fits a lot of functionality in very little space. It would be impressive just to squeeze all the features of the much larger original unit into the new one. Yet the SL-2's 88 preset rhythms exceed the original's 50, and they can be swapped out via USB with Boss' Tone Studio app. Two stacked knobs cover balance (mix) and tempo as well as attack and duty (sample length). Another single-function knob selects effect type. These include options for a single signal-slicing path, dual signal-slicing paths, tremolo, a harmonic mode (pitch modulated rhythmic patterns), and an SFX mode (multiple effects on each pattern). Another knob selects 11 possible variations on each effect. The Slicer also features dual-jack stereo ins and outs, a MIDI input for syncing with external devices, and an expression/footswitch input.
That extensive list still doesn't cover all the Slicer's functions. And to access the rest, things get trickier. Using the pedal's stereo functionality is critical to making the most of the effect, but to access those seven settings, you may need to keep the manual nearby. For example, if you turn the first four knobs to the right, the type knob to the eighth position, and power up while holding down the footswitch, you can use the variation knob to choose a corresponding stereo setting. Sound confusing? It can be. And there are several of those footswitch tricks to master. Another example: you can set the output volume can range from -7 dB to a very hot 20 dB, which is helpful. But as I learned the hard way, you can easily set the too hot, and it can only be adjusted by holding down the footswitch and turning the tempo knob, which gives you no visual reference for the setting. You'll also do a lot of footswitch tapping to access tap-tempo settings.
Flying Blind Is Fun
The best way to understand what the Slicer is capable of is to try everything. It's not particularly intuitive, and it can feel hard to discern differences in some sounds. But there's some method to the madness. Starting with the relatively straightforward single setting—which chops the signal without additional effects—and trying each variation explains a lot. But there's no comprehensive list of what effects or rhythms each setting will feature, so you're flying blind when you work through the variation and type knobs. This led to lots of fun discoveries, though. And I rarely failed to find a pattern that inspired something new in my playing.
Plugging into a stereo rig opens up the Slicer's capabilities. There are seven stereo settings: fixed (both amps get the same signal), efx/dir (wet/dry), random, ping-pong, auto (which pans across the stereo field), 3D cross, and 3D rotation. The two 3D settings are the most psychedelic, creating the illusion of a forward/backward kind of movement as sounds pan across the field. Any of these settings can change the feel and impact of a pattern or setting, so there's a lot of room for experimentation.
Inspiration Machine
With such a wide range of capabilities, the Slicer is an inspiration machine, and it can be used in a lot of ways. For the most part, I found myself playing sparsely and letting the Slicer do most of the work, especially when using delay or reverb.
Each effect type offers a wide range of fun. Using harmonic and tremolo effects with slow to medium tempos creates lots of ambient space. Using the ping-pong stereo setting, sometimes feels like multiple guitars. Lead parts played in the single and dual settings with the tempo cranked and a lower attack setting evokes a broken-Leslie kind of sound, especially in 3D modes. But for recording, I preferred this kind of sound in mono, where I captured more direct, glitchy sounds.
The Verdict
The Slicer is a fun effect, and if you're into exploring ambient ideas, glitchy rhythms, minimalism, or any other kinds of sounds with room for movement, you'll probably find sounds you love. You also might find new ideas to refresh your playing, like I did, which I think is the ultimate reward. The many pedal and knob combinations that you'll need to remember in order to access key features can make the SL-2 confusing. I'd prefer the larger footprint of the original with the added functionality of the new model. But at $169, there's not much room for complaint. The SL-2 is a powerful, creative effect that delivers.
Boss
Classy design extras, ultra-buttery playability, and sweet, growling pickups distinguish this excellent ES alternative.
Faultless construction. Very nice PAF-style tones. Exceptional playability. Beautiful visual presence and cool vibe. Comes with a hard case.
The extra 200 bucks you'll pay over the price of a more modest Epiphone ES-335 might be too much for practical players.
4.5
5
5
4
Whatever your opinion of Oasis—and they have a way of engendering opinions—there's little arguing that Noel Gallagher has an ear for a tune. And like many contemporary British indie guitarists and forebears like his hero, Johnny Marr, Gallagher also understands the romantic and iconographic power of a great tune played on a classic guitar—particularly as a means of asserting difference from the pop and hair metal tribes that came before.
Between a keen awareness of those cultural forces and Gallagher's not-even-kinda-subtle worship of the Beatles, it's little wonder he found his way to the Epiphone Riviera that inspired this signature model. Gallagher's original Riviera, which was a Japan-made 1980s model, is a very different guitar than the Beatles' hollowbody, P-90-fitted Epiphone Casinos, though. In fact, with its center-block, semi-hollow construction, PAF-inspired humbuckers, and Tune-o-matic bridge, it's much more like a Gibson ES-335.
Epiphone currently makes several very nice ES-style guitars, from their own ES-335 to the closely related Riviera and Sheraton. Most of those guitars, save for the B.B. King, Emily Wolfe, and Joe Bonamassa signature models, sell for $599 to $699, which begs the inquiry: What does this Noel Gallagher Riviera give you for 200 bucks extra that its cheaper stablemates do not? If you're a hardcore Oasis fan, that's a non-question. But even at $899, this guitar is a great value. It feels and plays like a more expensive instrument. The build quality is pretty close to faultless. It comes with a hardshell case. It growls, sings, and stings in classic style. And by amalgamating several elements from Casinos, vintage-style Rivieras, and Gibson ES instruments, the Noel Gallagher Riviera adds up to a unique twist on a classic profile.
An E for Elegance
I've longed for a Gibson ES-335 since … forever. They loomed large in images of some of my biggest heroes: Keith Richards on the back of the Get Yer Ya-Ya's Out! album, Roky Erickson, and Jorma Kaukonen to name just a few. Usually, an Epiphone Dot was the most affordable means of satisfying my 335 desires, and I've played a lot of them in shops and some that belong to friends. But I had weird luck with those Dots. When I found a good one, my interests seemed to be somewhere else. When I was feeling enthused, I could never find one that was quite right. But I feel like if I had ever come across an Epiphone 335-style as nice as the Noel Gallagher Riviera, I might have dropped the cash down on the spot—regardless of my current musical predilections. It's a very inviting and easy-to-hang-out-with kind of guitar.
If you haven't taken a break from your pedalboard for a while and need a taste of straight, mainline amp thrills, the Noel Gallagher Riviera is a satisfying means of getting there.
For starters, the Noel Gallagher Riviera feels next to effortless to play. Not everyone digs cradling a 16" body. And not everyone loves a 12" fretboard radius. But just about anyone else that touches this guitar is at risk to succumb to its smooth-playing charms. The action could fairly be called delicious, and the setup perfect, even after a cross-country journey.
The Noel Gallagher Riviera looks good, too. The wine-red finish and binding, aged to a biscuit-tan hue, look like a rather scrumptious meal. But the guitar also holds up to scrutiny at the detail level. I couldn't find a construction or finish miscue. If there is any possible complaint, it's that the finish might be a tad thick. All the same, I love looking at it. And though dogmatic Gibson players will probably scream heresy, I prefer the way the slim, florid hourglass headstock looks on this guitar compared to a Gibson. The white, curvaceous pickguard is also a pretty contrast to the wine finish, which I prefer to a Gibson ES-335's black guard.
Air and Cultured Muscle
If you haven't taken a break from your pedalboard for a while and need a taste of straight, mainline amp thrills, the Noel Gallagher Riviera is a satisfying means of getting there. The Alnico Classic Pro humbuckers, which aspire to a late-'50s, low-output PAF sound and feel, might lack some sense of the wide-screen, aerated texture you hear in the real thing or a top-flight replica, but they are a very nice facsimile. The top end zings and is neither too soft nor too bossy. And though the low end can be a touch woofy in some settings—a quality that applies to just about any PAF to a degree—it just as readily offers growling counterweight to the sweet treble tones. Like any PAF-profiled pickup, the Alnico Classic Pro is scooped in the midrange. In a great PAF, there's usually enough personality in the scooped mids to lend a little purr to the output. That edge is slightly blunted here. But on balance, this a very nice set of pickups for a guitar in this price range.
The pickups are also a beautiful match for the semi-hollow construction, which I always think feels a little more dimensional than a Les Paul. The bridge pickup and combined pickup settings in particular seem to benefit from the extra body resonance, which lends them size and firecracker energy. The neck pickup alone, meanwhile, feels and sounds a little extra smoky, vocal, and soft around the edges. Each of these settings, by the way, pair to thrilling effect with overdrive tones. But I particularly love how it matched up with Marshall-style and raspy ODs, where the extra midrange adds a sweet toughness.
The Verdict
The knock on the Noel Gallagher Riviera will almost certainly be that it's 200 extra bucks for what is, elementally, an Epiphone ES-335. But the little details—the parallelogram markers, the curvaceous, white Rivera pickguard, and the wine finish and aged binding, add up to a very pretty, distinctive, and unique twist on an ES. It's also a very classy alternative to a Les Paul if you want PAF sounds in a less common instrument. I might also argue that it's just a touch more versatile in some musical situations, thanks to the combination of airy resonance and growl. If you're a songwriter, you'll love how great it sounds nowhere near an amplifier. But this guitar is a joy to hear loud, alive, electrified, and unadulterated.
Epiphone Noel Gallagher Riviera Demo | First Look
Epiphone