An encyclopedic collection of analog chorus tones that range from the sublime to the stuttering.
So much more than a chorus. Deep analog sounds. A wealth of usable options.
The 18-volt requirement might be a concern for underpowered boards. Some learning curve.
4.5
4
3.5
4
In my modulation universe, I think of chorus as the North Star—the effect around every other modulation effect turns. Within it, you hear traces of delay, phase, and reverb all mixed together to create waves of sound that evoke powerful and often very specific feelings and musical settings. Sometimes that feeling is the lush sound of '80s pop. Other times it can be aggressive and unnerving. Jackson Audio's New Wave, a chorus/vibrato collaboration with Snarky Puppy's Mark Lettieri, aims to cover both of those extremes and nearly everything in between.
Join The Chorus
The centerpiece of the New Wave's control set is the depth knob, which also cycles through the pedal's seven different modes when you push it. On either side you have a mix control that can take you from fully dry to fully wet, and a speed control that ranges from 0.1 Hz to 10 Hz. The second row of controls features a tone knob, phase/ratio knob (which doubles as a wave shape selector when pushed), and a delay control.
Anytime I test out a chorus pedal, my go-to combo is a T-style guitar and the opening chord of The Police's "Walking on the Moon." (Yes, Andy Summers used a flanger, but you get the idea). The 70 setting is the only mono mode in the New Wave, and the simplicity of the sound shines through when playing vintage-style tunes. With all knobs at noon I was impressed with the dimension and richness in the sound. And the sensitive depth and speed knobs enabled me to fine tune the delicate balance that makes a perfect chorus sound. Maxing out the depth while minimizing the speed gave me a beautiful, full sound that, with the right mix, could be compared to a very fluid, modulated reverb. Doing the inverse pushes you into ring modulation territory.
The 80 mode has two LFO signals working together to create ever so subtle pitch-shifting, generating a flowing sense of uneasiness that's hard to nail in digital emulations. In addition to the other modes, which include rack, vibrato, rotary, harmonic chorus, and user control (a deep dive into these would take up much more than the space allowed for this review), you have five different LFO shapes that range from traditional sine to the rhythmically driving triplet solina. One of my favorite settings combines the harmonic mode with the triangle LFO, which you can hear in the accompanying audio online. It's great for adding interesting textures to otherwise unremarkable melodic lines and making them into compelling riffs.
Other headline features on the New Wave include ramp and bloom switches that are built into the bypass and tap tempo options. With the bloom mode engaged you automatically fade in and fade out the effect when you hit the bypass switch—a welcome feature that makes the New Wave fit more seamlessly into songs where the effect appears periodically. Also, you can control the speed of the effect via an expression pedal or the ramp footswitch, which functions much like the slow/fast switch on a Leslie.
The Verdict
The New Wave is far more than a simple chorus machine. Brad Jackson, Mark Lettieri, and the team at Jackson Audio created a unit that gathers up the chorus effect's greatest hits from the last 40-plus years and adds crafty ways to manipulate them and incorporate them into modern, more nuanced arrangements. The tones are rich. And the wealth of options tells me that serious thought and care went into developing the core functions and the extras that make it feel so flexible. Yes, there is a bit of a learning curve as you sort out the ways that all the controls interact with each other. But the reward is unlocking a wide array of dreamy, disgusting, and droning sounds that you won't find readily in most chorus devices.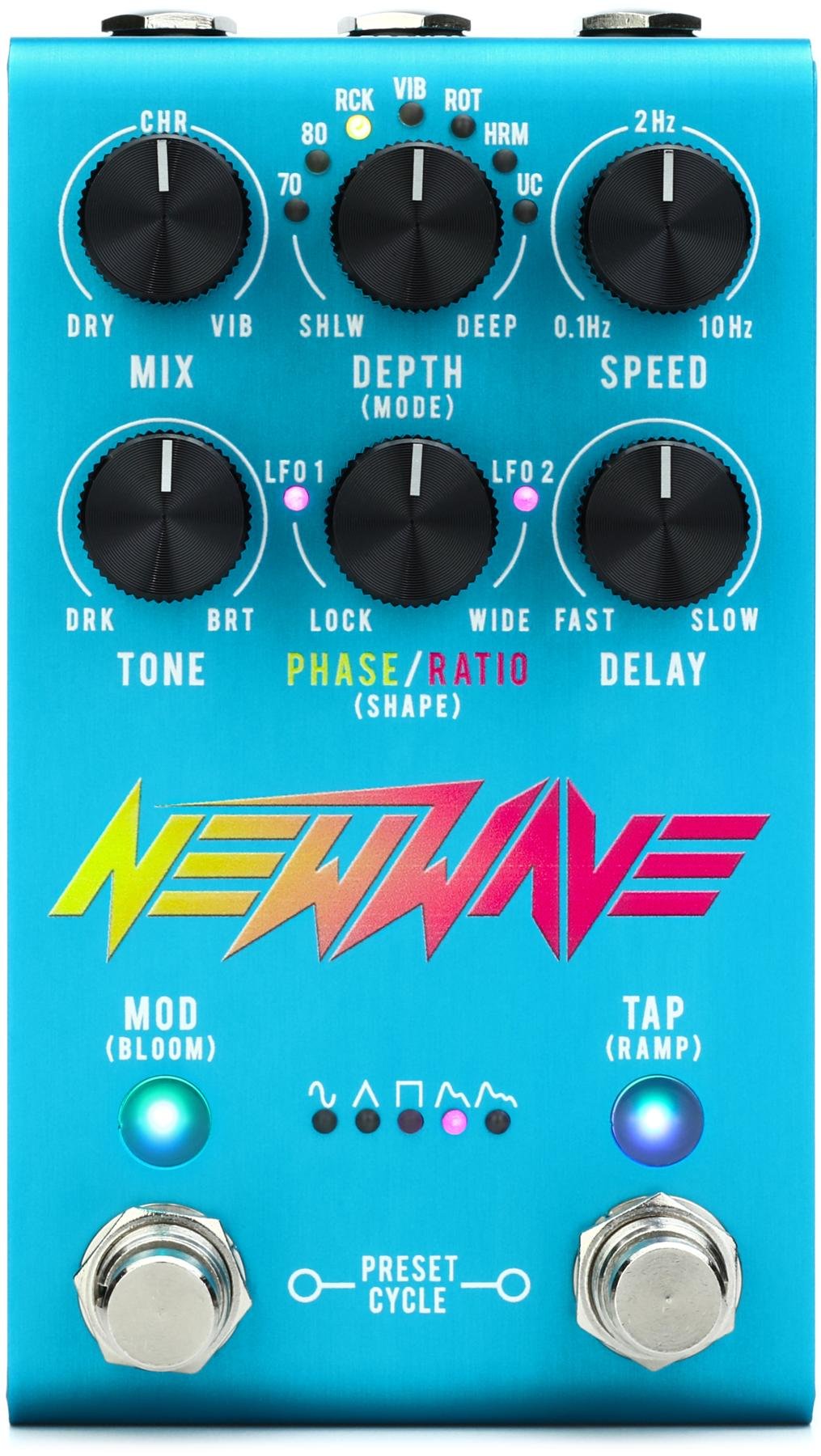 New Wave Chorus/Vibrato Pedal
Jackson Audio
How I'll always remember Edward.
One memory often triggers another, so, while writing about my experiences with Metallica over a crucial decade in their career for this issue, I kept flashing back on my sole encounter with Van Halen—the man and the band. It was during 1988's Monsters of Rock, and I was on assignment for the tour's two-day stand in Akron's Rubber Bowl, a decrepit concrete pit turned convection oven by the summer heat, to interview all the guitarists on the tour: Kingdom Come's Danny Stag, Dokken's George Lynch, Kirk Hammett and James Hetfield of Metallica, Rudolf Schenker and Matthias Jabs of Scorpions, and, of course, Edward.
For the first day I was there, Van Halen's publicist kept nudging me aside. Nonetheless, I enjoyed their headlining set, save for the perplexing choice of a Sammy Hagar ballad about burying the placenta from the birth of one of his children under a tree. (If you know what that song is called, please let me know so I can more purposefully continue to avoid it.) Edward was especially brilliant, of course.
I was literally and anxiously sweating it out as Van Halen's second-night performance neared, when the publicist finally ushered me back into the band's dressing room, in the distressed bowels of the Rubber Bowl. Their green room was actually a casbah created within the area's grim concrete walls. There were hanging tapestries, plush furniture, floor lamps, and other homey appointments, all cooled by giant fans at its edges. But the most impressive sight was Edward, Sammy Hagar, and Michael Anthony plugged into a vertical-standing road case packed with practice amps, jamming out some blues. Alex had a practice pad atop the case, and pounded so hard he cut through the astonishing web of sound. They tossed me a few nods, and I sat on the couch next to a table with a bowl of M&M's on it—I did not check the colors—and watched them wail on for a good 10 minutes. Edward, plugged into what I think was a Fender Champ, still sounded every bit like himself. I thought, "Well, even if I don't get to ask a single question, this is worth the trip."
But they did unplug, and suddenly I felt like I was in the middle of a cartoon—or maybe an episode of The Monkees. They all raced toward me and piled onto the arms and back of the couch. I was surprised and surrounded. They answered my questions, but Eddie kept playing his unplugged 6-string, and nearly every reply came with a silly joke or a pun that left them in stitches. They all talked at the same time, sometimes completing each other's sentences—always answering me but spinning off into all kinds of wild digressions. At one point, Sammy did a decidedly un-PC Ray Charles impersonation that put Edward, Alex, and Michael on the floor. And when I asked a guitar-centric question, Edward slid off the back of the couch and landed next to me to reply.
"But they did unplug, and suddenly I felt like I was in the middle of a cartoon—or maybe an episode of The Monkees."
It was hilarious—almost sketch comedy. But it was also beautiful, because it was obvious that at this point they were deeply connected by friendship and the joy of still discovering what this line up of the band, which had released OU812 a month earlier, could do. There was a tangible, open-hearted purity to them—at least about this music they were making and the experience of making it—and it wasn't drugs, because Edward had recently been through rehab and not even beer was allowed in their green room. They were, in June 1988, truly a band of brothers.
Somehow, amidst all the crosstalk and antics, I managed to get all my questions answered, and spent a few more minutes hanging out with them, enjoying a cold cola and avoiding the near-100-degree outside temperature, as they bantered with each other and prepped for the stage. Then it was time for the publicist to reappear and throw my butt out, and for them to hustle theirs into the spotlights.
There were more troubles to come for Edward—struggles with addictions, divorce, and cancers—and a lot more music to be made, until he died, too young, in 2020 at age 65. But because of that day, I always think of him as happy-go-lucky, practically exploding with positivity and elation. And I'm very glad for that. Seeing somebody at their best and happiest is always a gift, and when it's somebody like Edward Van Halen, it's a treasure.
A well-tuned granular delay box built for soundscapists.
Intuitive controls make it surprisingly easy to interact with complex effects. Great for players who want to get into vast, textural sounds but don't like complicated pedals.
Less nuance in the pedal's controls will probably keep advanced knob-tweakers away. Expensive.
4.5
4
4.5
4
The realm of modern glitch-leaning, time-based effects is probably home to more knobs-per-box than any other pedal category. That gives players inclined toward these units more control than ever. Thanks to the constant advance of digital signal processing, we'll probably keep heading in this direction for a while.
For players who want to delve into that sound world without an MFA in sound design, there is a small but growing class of pedals that will get you there with simpler controls. Walrus Audio's Fable—described as a "granular soundscape generator," which is as appropriate as can be—fits neatly into this category with intuitive controls and well-tuned presets.

No Prerequisites Required 
The Fable's five programs, chosen by one of its eight knobs, pair granular delay with various flavors of processing: reverse delay into reverse granular, forward delay into octave up granular, analog-style delay into octave down granular, multi-tap granular into multi-tap granular, and forward delay into randomized pitch granular. Those heady sound combos are created by running the input signal through a pair of DSP chips, each of which runs a separate effect in series. Feedback and regen knobs control the signal from each chip separately, then both signals are processed through each chip again. Knobs for modulation, mix, time, and tone have an obvious influence, and the X knob controls the grain size, which is to say the length of the short sample that is read from the delay buffer.
It would be easy to read that paragraph and think, "I do not have time to unpack any of this, let alone make music with these crazy sounds." And I totally get that. But a great thing about the Fable is that understanding the processing is not a prerequisite to using the pedal, and frankly, it might even detract from initial enjoyment. I know I read the manual and attempted to prepare myself for each sound, and though it wasn't a waste of time, I didn't do myself any big favors. A big downside for many modern advanced glitch-oriented pedals is that they just take too much time to learn. With the Fable, it's pretty easy to explore the full range of its complex sounds, which is a pretty cool thing.
Low (feedback) settings offered unique tones that ranged from the good kind of lo-fi digital detritus to warped tape artifacts that I would absolutely like to conjure in the future.
About Those Soundscapes
You probably shouldn't come to the Fable looking for a wild range of basic granular delay sounds. While the delays each of the five programs deliver are different, there's so much delay-based processing going on that the final result is less like a box of five very different crayons, and more like five shades of the same color. The most dramatic differences to be discovered in the Fable are by dialing the feedback/regen knobs, as well as the time and X controls. At high settings, if you hit one chord you're immediately off on a cosmic soundscape quest. A nice feature here is that feedback and regen do not self-oscillate until they're almost fully cranked, so there's a lot of play in those higher settings. Low settings on those knobs don't deliver big soundscapes, but I like the quick glitchy sounds they create, and playing single-note lines—rather than the vast chord sounds the latter settings had me leaning into—offered unique tones that ranged from the good kind of lo-fi digital detritus to warped tape artifacts that I would absolutely like to conjure in the future.
The Verdict
The Fable is a well-tuned art project that delivers five takes on granular processing in a surprisingly easy to use package. You shouldn't approach this pedal looking to control every last tone nuance, something that may disappoint advanced knob-tweakers that find fine-tuning essential. But the Fable offers a great alternative. You simply plug in, get a sound, and bliss out. Pretty soon you will discover some cool tones and maybe inspired glitchy greatness. PG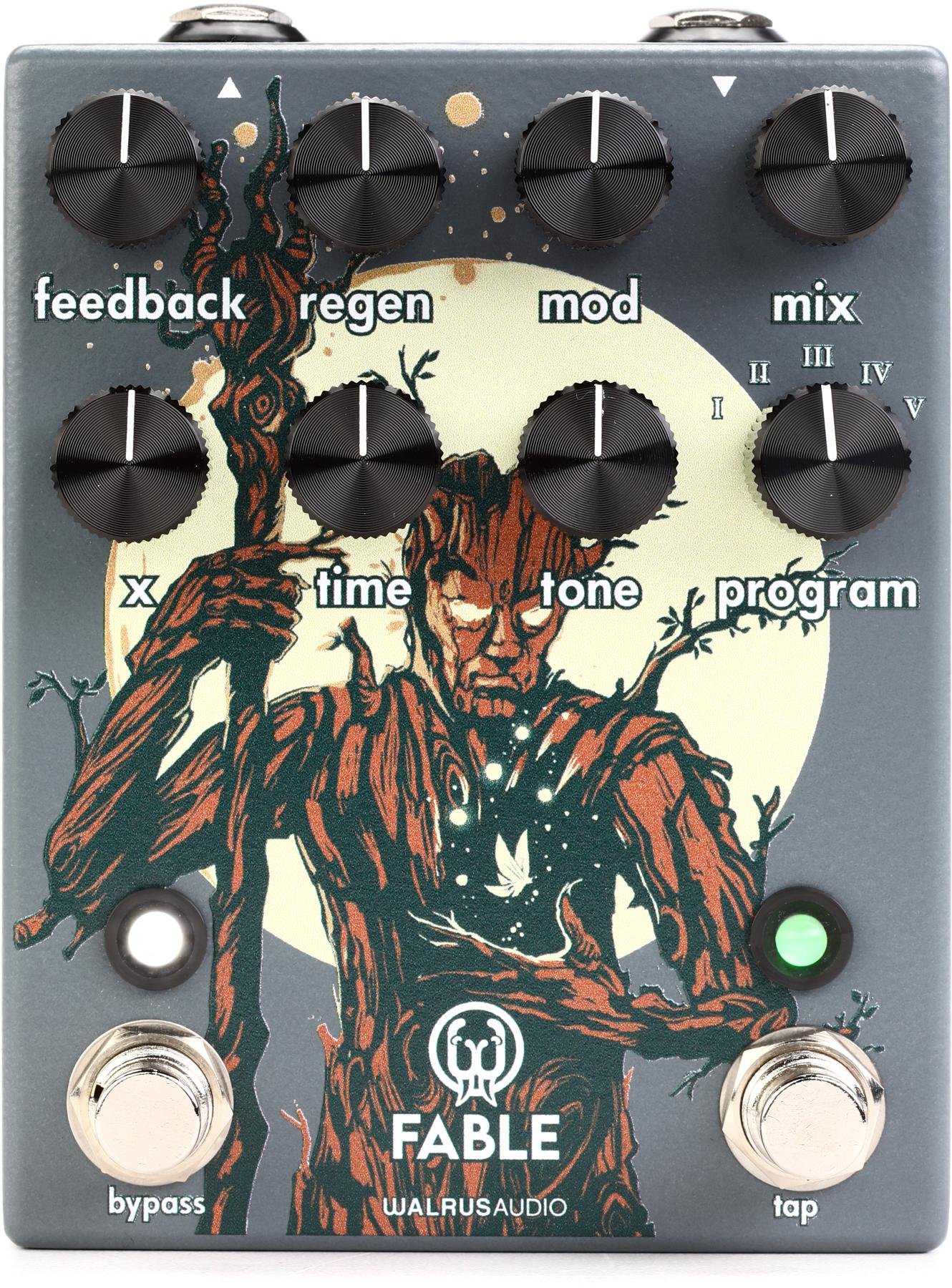 Walrus Audio
The Sensation Fuzzdrive from Heather Brown Electronicals blends the best of both worlds from its titular pedal classes.
Broad range of vintage and modern sounds, from classic rock to metal to punk to parts unknown. High-gain sounds are full and gooey and versatile. Nice art.
Can get a bit boxy when used as an overdrive. The tone color won't be everyone's cup of tea.
Heather Brown Electronicals Sensation Fuzzdrive
godsmom.com
4
4.5
4.5
4
The Heather Brown Electronicals Sensation Fuzzdrive sure does live up to its name. It fuzzes, it drives, it will give you varying sensations.
In her own words, Heather Brown is a mom who makes guitar pedals. She cut her teeth working for Electro-Harmonix's Mike Matthews and Keeley Electronics namesake Robert Keeley, and now she builds killer pedals of her own original design. The Sensation Fuzzdrive is Brown's third offering, joining an overdrive unit and a combo fuzz/tremolo pedal already on her roster. It's marketed as a fuzz-meets-overdrive circuit, with the tight punch of an OD and the earth-rumbling thunder of fuzz.

Braaaaaains!
The Sensation sports some of the coolest art ever committed to a little steel stompbox. The glitchy brain cross-section and circuit board of tendrils crawling out from it announce the Fuzzdrive as a unique pedal with vision and guts. The controls also set the pedal apart from the pack. A 3-stop knob switch called the saturator enables you to select how many gain stages you want to run in series, and a conventional EQ knobs suite is replaced by a toggle-switching system for midrange and bass. A third toggle switches between two gain levels and works in concert with the saturation control to fine-tune the distortion from the pedal's gain stages to sound hotter or cooler. The master volume control is the only full-sweep pot on board. The on/off blood-red LED is cheekily placed among the spindly neuron threads. Together the controls give the pedal a slick, industrial look. The Fuzzdrive, by the way, is built around a low-input impedance circuit, so Heather Brown suggests situating it before any buffered pedals in a chain.
Instructions for the Fuzzdrive include six control setting suggestions that range from warm overdrive to heavy fuzz. But whether it's the relative inflexibility of a 3-position toggle switch, or limits in the midrange, I did find the EQ controls a bit challenging to master. When chording on all three midrange settings, I heard a certain boxiness unless I had the bass toggle at maximum level, and when I flipped through the different mid switch options, I felt like I was hearing a wah set at different points. That said, players like Josh Homme have built a career from plumbing the depths of tone-tickle trunks for weirdo guitar sounds, and this aspect of the Fuzzdrive's performance will likely inspire the same sort of playfulness and adventure. Plus, the boxy compression generated great lead sounds. And at any and all positions, both humbucker and single-coil guitars sounded absolutely scorching and grimy.
Squealin' In the Years
The Fuzzdrive is a versatile fuzz and distortion. The clipping is ferocious but warm, and the dirt can be tuned to resemble anything from explosive Hendrix fuzz or Sabbath crunch to modern hard rock and metal tones. I even got what I thought were pretty convincing Enema of the State-era Tom DeLonge sounds with the mids down and bass and saturation in middle positions. At full volume, the circuit's high-end can come on strong. The sweet spot for me was between 12 and 3 o'clock. But, if you want to go off-trail and explore different textures, the Fuzzdrive's unique midrange voicings offers many paths.
The Verdict
I didn't get to test the Sensation in a band setting, but it's clear from its cutting tones that it would manage a mix well. It's not strictly an overdrive, so it won't clean up at low drive or reduced guitar volume settings the way some dedicated overdrives might. Then again, you won't encounter mud or any lack of clarity here.
The Sensation Fuzzdrive doesn't really sound like most other fuzz and distortion boxes, and that's a good thing. It has some seriously unique and exciting sounds tucked away in the folds of its brain, and the control layout is funky and invites experimentation. If you're looking for a mid- to high-gain tool that sounds unique, looks cool, and will give you rich, warm saturation alongside oddball tonal options, you won't be disappointed.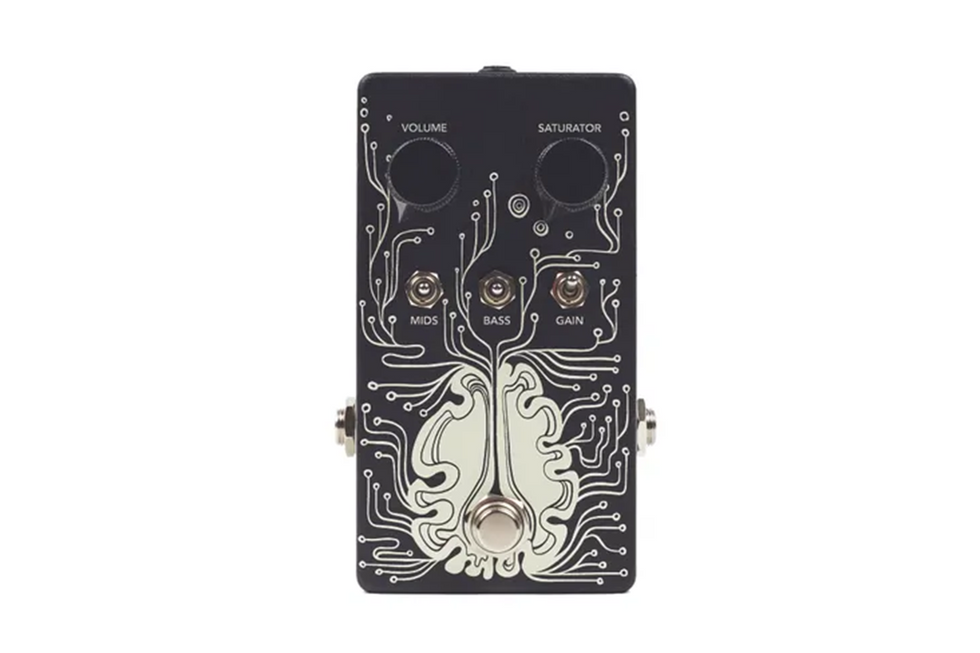 Heather Brown Electronicals
This tribute to the golden era of fuzz raises hairs with its classic tones, articulation, and sheer punch.
Great sounding and highly controllable up-octave fuzz, with the ability to cut through a live mix, at a nice price.
No lower octave voice. Shadow side of the balance dial can get too murky. Side-mounted jacks might be a liability on some pedalboards.
Electro-Harmonix Lizard Queen
ehx.com
3.5
5
5
5
For years now, I've had Siri address me as Lizard King. Not in homage to Jim Morrison, but in tribute to the true king of the saurians, Godzilla. So, naturally, I was intrigued by the Lizard Queen octave/distortion, a collaboration between Electro-Harmonix and JHS Pedals. Besides, I'm always on the prowl for something that growls. And this silicon-transistor-based octave-up fuzz possesses a voice that's monstrous yet controllable and reactive in ways that make it easier to dial in classic, articulate fuzz tones than many other octave/fuzz devices at or above its very reasonable price.
The Lizard's Tale
This box of hair was a labor of love, created by JHS Pedals founder Josh Scott and artist Daniel Danger in an effort to conjure a mythical "lost" EHX fuzz pedal from the 1970s. They built a half-dozen in 2022, and presented one to EHX major-domo Mike Matthews. Scott and Danger even made a video about building the Lizard Queen, which created a groundswell of demand from pedal freaks, resulting in this EHX/JHS co-branded unit.
The Lizard Queen is a simple and potent device with three dials: volume, octave, and balance. The octave control ranges from zero (to the left) to a full high-octave setting (to the right). For fans of articulate-but-gnarly fuzz, the pedal sings quite nicely with this dial set between noon and 4 o'clock. The balance control is a filter that shifts between "shadow" (to the left) and "sun" (to the right) settings. Naturally, shadow rolls off highs to create a darker tone, and sun adds treble in a way that sizzles without compromising the organic voice of your guitar. A sweet spot lies right up the middle.
Finally, the very potent volume knob controls the master output. Along with judicious positioning of the octave and dial controls, it assures your fuzz-laden licks will not get lost in a mix. Ever. The volume dial does not, however, affect pedal gain. That's fixed at a nicely clipped, low level that, to my ears, zeroes in on a template late-'60s/early-'70s fuzz sound—reminiscent of the Electric Prunes or the Guess Who.
Battle of the Boxes
To test the Lizard Queen, I played it against a few octave fuzz pedals I have on hand—mostly notably the Way Huge Purple Platypus, which has a three-dial setup with similar functions. The amp was my Carr Vincent, and I plugged in a variety of single-coil- and humbucker-equipped guitars. The most interesting discovery was how the guitar's volume dial interacts with the balance control. Keeping the dial to the shadow side or up the middle, with the guitar's volume on 7 or so, allowed for restrained-but-gnarly chords. Then, rolling the 6-string volume up toward 10 for solos radically increased sizzle-and-bite for both single-coil and humbucking pickups, but without compromising note articulation. Quite impressive. By the way, the Lizard Queen runs on a 9V DC barrel-type power supply, or, in a suitable salute to the past, a battery, and draws 5 mA.
It was easy to find great, classic-fuzz voices within the Lizard Queen. And compared to the other pedals I tried, the Queen reigned with its balance of fuzz and articulation. It's perfect for solos that conjure the Nuggets era. The circuit is punchy and lucid, with crisp, articulate sounds that lapse into diffusion only when one ventures too far down the shadow zone's slope. My favorite setting for rave-ups put the volume at 10 o'clock, the octave at 3 o'clock, and the balance at noon—and with a slide, it made for dirty, sustained perfection. But temperance is key. Too much octave or balance makes for a diminished tone or a mushier fuzz, but anywhere in the 9 o'clock to 3 or 4 o'clock range on those dials is sonic manna.
The Verdict
At $99 street, the Lizard Queen octave/distortion is a bargain and a magic-carpet ride back to the golden era of fuzztone. Its three controls makes it easy to dial in classic sounds that can also be highly reactive to guitar volume. And while many fuzz boxes can get lost in the blast of a full band onstage, the Lizard Queen—with its impressive output—will have no trouble slithering to the front of the mix. PG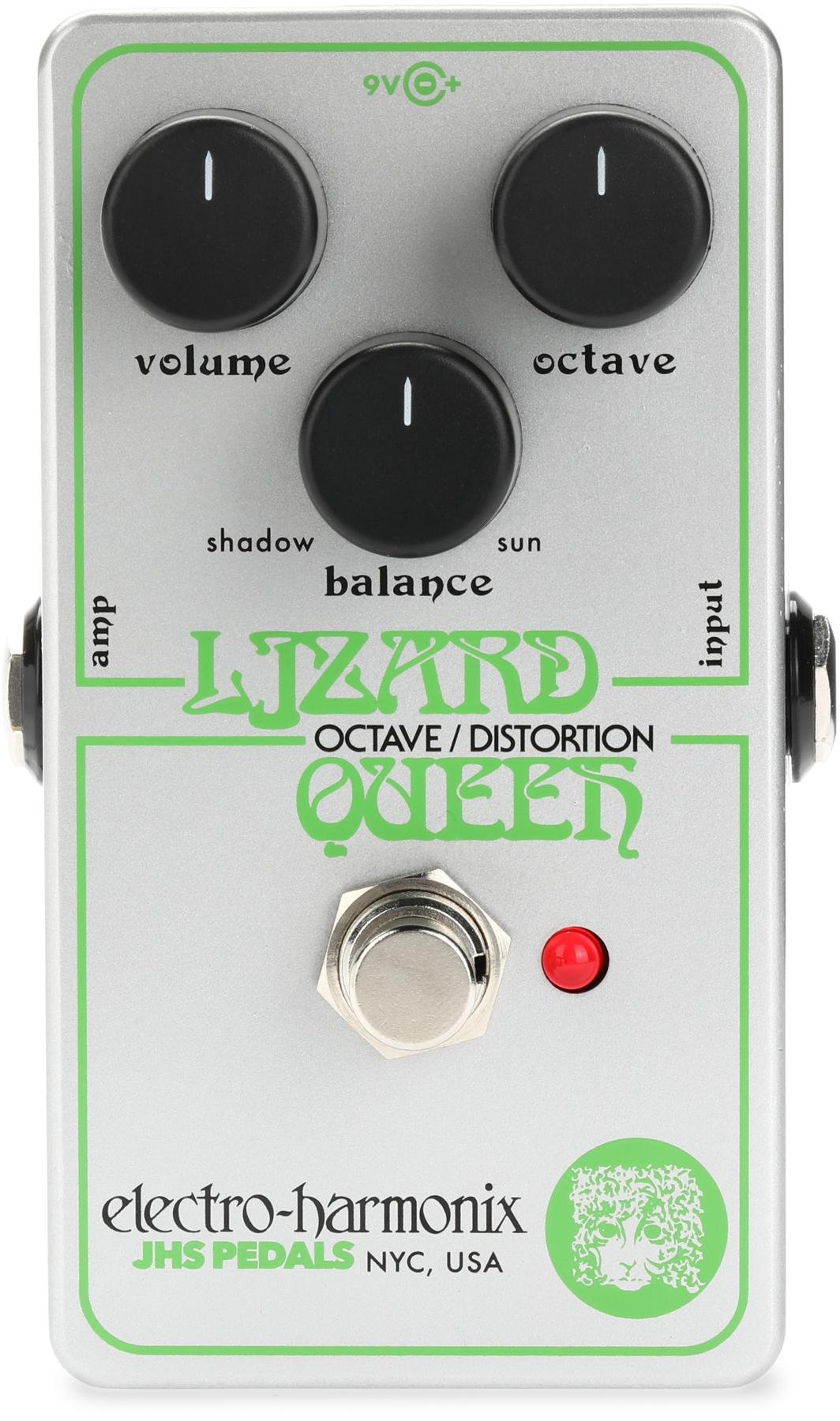 Lizard Queen Octave Fuzz Pedal
Electro-Harmonix