A comfortable, compact 12-string of many musical moods.
A sweet, smooth player that generates equally honeyed and balanced tones. Beautiful finish. Compact, comfortable dimensions.
Breedlove styling isn't for everyone. Expensive for an import flattop.
4
4.5
4
4
Breedlove's current site page for theSolo Pro Concert Edgeburst 12 CE takes an almost apologetic view of acoustic 12-strings. It's funny. But it's also hard to tell if they're kidding or serious. I will put forth the notion, however, that acoustic 12-strings are nothing to apologize for. Acoustic 12-strings are awesome. They can be celestial or funky and earthy. Rhythm guitar powerhouse, mutant harpsichord, melody machine—decent acoustic 12-strings are all these things. Even trashed, cheap 12-strings will usually make cool sounds if you tune them right.
The China-built Breedlove Solo Pro Concert Edgeburst 12 CE reviewed here is a reasonably refined and affordable 12 that makes life easy on highly occasional 12-string players. It's playable and has a lively, almost sunny voice and disposition. But its solid cedar top and solid mahogany back and sides also lend a sense of dust and duskiness that, at times, evokes affordable vintage 12-strings like the Gibson B-25-12. Indeed, there are a lot of sounds to find in this accessibly priced 12-string. One dimensional it is not.
Doubling Down
It's easy to see why many players consider acoustic 12-strings a chore. There's no shortage of 30-year-old beaters with boomerang neck relief that punish curious neophytes and send them fleeing forever. The 12 CE, though, feels pretty inviting. Action feels relatively low, yet each string rings with clear authority, even under the load of heavy strumming. Intonation is just about perfect, too, which makes the Breedlove sigh like a harp when you tune up and let a first-position chord ring. Tuning down a half- or full step, meanwhile, coaxes a lot of cool, growling low-mid overtones from the guitar without getting boomy or feeling flubby.
The 12 CE's proportions also factor significantly into its agreeable ways. The concert orchestra-sized body is easy to snuggle. And that immediacy of feel is accompanied by an immediacy you hear via the side sound port. (Which also, incidentally, seems to highlight that vintage Gibson B-25-12 tonality). Other classically Breedlove design cues play their role in the player-friendly feel of the instrument. The company's signature deep cutaway, for instance, gives you access to mandolin-like chords and tones on the highest six strings and at the highest frets.
Ring Those Bells
There's a lot of physical balance in the 12 CE that's mirrored in the tone palette, too. Though some of the guitar's fast responsiveness could be attributable to Breedlove's Cascade bracing pattern, I'd venture much of the magic is in the guitar's red cedar and mahogany tonewood combo. Breedlove isn't the only builder to employ this elegant looking and sounding wood duo. It shows up on a few guitars in this low-mid price class. But Breedlove uses it especially well here. The cedar top feels simultaneously reactive, grounded, and, once again, earthy. It also adds just enough top end sparkle to offset the mellower tonalities of the mahogany back and sides. The resulting tone sum makes the 12 CE feel responsive to fingerpicking (though it takes a strong thumb to completely offset the chiming resonance of the high B and E string pairs).
Tuning down a half- or full step, meanwhile, coaxes a lot of cool, growling low-mid overtones from the guitar without getting boomy or feeling flubby.
Construction, by the way, reveals a careful hand all around. A wider neck like this could be made a miserable experience by rough frets, but they are perfectly shaped at the ends. The root beer hues of the finish give the small body an extra sense of dimensionality and luxury. And though the side port gives you a clear and potentially unflattering look at the 12 CE's innards, every bit of bracing you do see looks carefully carved, sanded, and glued. (The sound port, by the way, comes with a fitted rubber feedback reduction insert that works great in amplified situations.)
Styling, as with many Breedloves, will probably be the most polarizing aspect of this guitar. It's a modern flattop, to be certain. But it's funny how the Breedlove headstock has evolved slowly into a familiar, almost institutional, shape in acoustic circles. And its slim proportions make it a graceful fit for the compact proportions of the body.
The Verdict
Though 1200 bones is considerable money for an import flattop, the quality construction, agreeable playability, and many sweet tones make it feel like a pretty fair deal. Like any good 12-string that you don't have to fight too much, it can guide you away from ruts, encourage and stimulate an arrangement-oriented musical mindset, and perhaps unshackle your inner Jimmy Page or Jeff Lynne in the process. And while the 12 CE's contemporary styling might divide opinion, for those that play it, its ability to open different musical avenues won't find many detractors.
Breedlove Organic Solo Pro Concert Edgeburst 12 CE Demo | First Look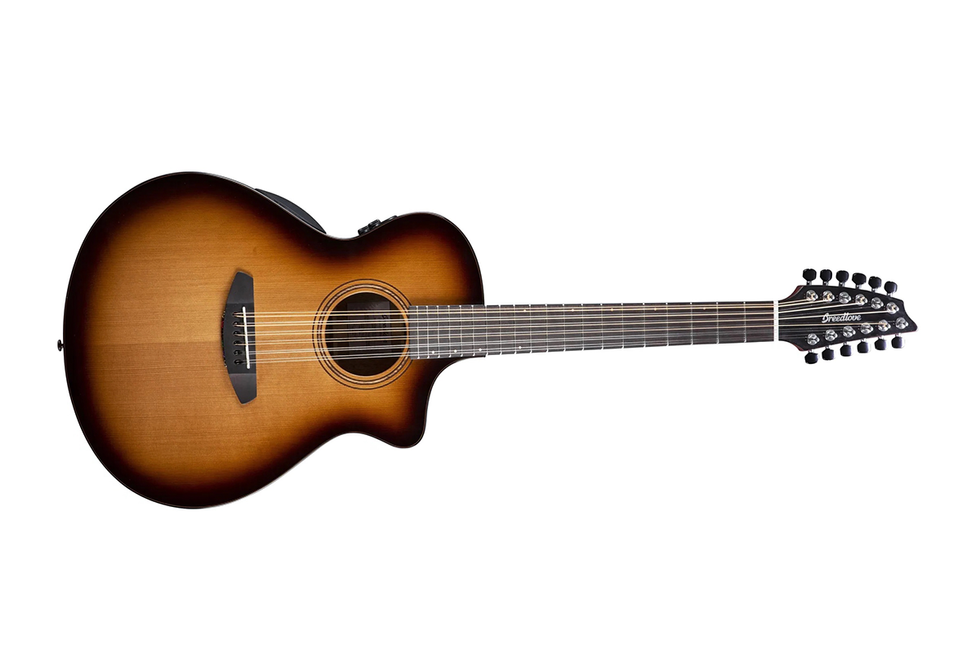 Breedlove
A newly designed koa wonder that packs a punch.
Incredibly easy to play. Well-balanced tone.
Not as visually stunning as other koa models.
4.5
4.5
5
4.5
Hawaiian koa has been a favorite of boutique acoustic builders for ages. It has a cool tone personality, somewhere between rosewood and mahogany. It can be used for both back and sides and for top wood, and it's beautiful. It's also pretty expensive. The good news is that Taylor's new 724ce is built with a breed of Koa that actually helps players save a few bucks.
How did Taylor pull off this trick? Well, back in 2015 Taylor formed a partnership with a tonewood company called Pacific Rim Tonewoods. The collaboration strengthened the forestry stewardship projects that are always a Taylor priority. It also allowed Taylor to cut the logs themselves, leading to discovery of a supply that wasn't as spectacularly flamed as traditional koa, but retained the sound the wood is famous for. The new wood supply enabled Taylor to build a koa instrument that sells for nearly $2,000 less than their normal koa offerings. Dubbed "select-grade," this new crop of tonewoods is now one of the foundations of the company's 700 series.
Koa Chameleons
In my experience, Taylor's guitars are usually impeccably playable. Sure enough, the neck on the 724ce is comfy and fast. It feels inviting and the 1 3/4" nut width lends itself to fingerstyle. The 724ce is built around Taylor's most popular body size, the Grand Auditorium, which in this case, features a Venetian cutaway that also opens up a lot of the fretboard for exploration. The neck is tropical mahogany and is capped with a West African ebony fretboard that goes well with the dark amber of the koa and the Indian rosewood binding. The guitar also comes with Taylor's Expression System 2 preamp.
When I first picked up the 724ce, two things stood out. One was how light and balanced the instrument felt. The other was the finish on the body. Normally, I associate koa instruments with deep, glossy finishes, but designer Andy Powers went for an extremely thin (2 millimeter) matte finish here. It's so thin that you can feel the pores in the wood, and the thin finish arguably adds to the instrument's liveliness. Another feature of the 724ce is the updated V-Class bracing, which Powers tweaked a bit to make the ends a bit stiffer across the back of the guitar. And at first strum, I could hear the pronounced midrange that is a Taylor trademark as well as airy top end. Together, the tone profile reminded me a bit of a modern, midrangey dreadnought with more focus. And though it doesn't have the headroom of a full-bodied dread or jumbo, it's balanced in a way that would fit in with a broad range of styles. When I played a bit harder with a pick, I could sense how the koa top and, most likely, the bracing tweaks widened the dynamic range, and enhanced the guitar's responsiveness.
The tone profile reminded me a bit of a modern, midrangey dreadnought with more focus.
Express Yourself
Taylor's proprietary Expression System 2 preamp does a fine job of representing the 724ce's detailed sound without enhancing the high-mid frequencies and harsh attack typically associated with undersaddle pickups. Taylor achieved this improved tone in part by moving the transducers behind the saddle. The sensors can also be adjusted with an Allen wrench, which means the pickup tone you hear isn't necessarily the tone your stuck with.
The Expression System 2 certainly makes performance more worry free. I recently worked a stage musical production that required a fair amount of acoustic work, so I brought the 724ce and plugged into a Line 6 Helix that fed the front of house. I didn't have much tone processing going on, but the raw sound from the board through the theatre was magnificent. I kept the guitar's tone controls mostly flat and ended up boosting the high end just a bit to cut through the band. And overall, the Expression System 2 did an admirable job.
The Verdict
The 724ce works, sounds, and plays almost exactly as advertised. The koa tones are complex and nuanced, with a little touch of mahogany midrange and maple sparkle that add up to a practical and satisfying balance. At $3,499 it's a long way from being a budget model, but if you're considering a koa instrument, it does allow you save a few bucks in exchange for a slightly less flamboyant look. As with all high-end tonewoods, the 724ce will likely sound much better after a decade of solid strumming. But even in its infancy, the rich tones are there.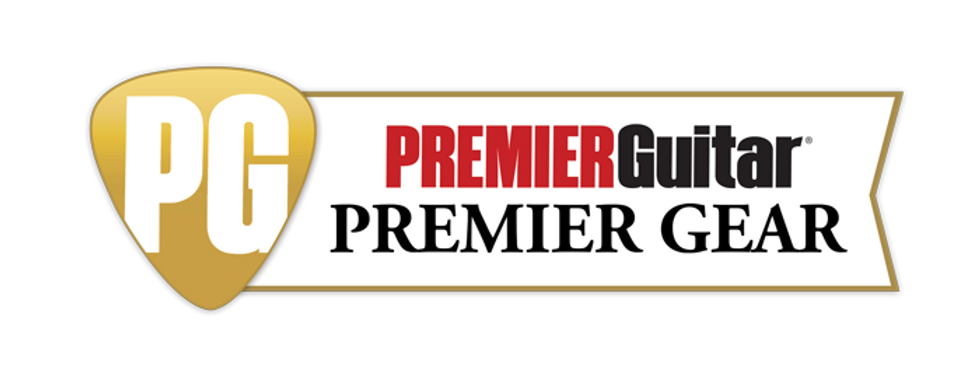 Parlor dimensions and upscale appointments add up to a flattop that's a pleasure to cradle.
Ultra playable, super comfortable, and great action. Beautiful design details. Sweet fingerstyle voice.
4
4.5
5
3.5
Fender's new Paramount PS-220E Parlor is a million kinds of fun. For starters, imagine picking up a little old Stella tucked away in a dusty corner of a garage sale—only to find the action is perfect and the tuners actually work. Then consider the basic joys of any good little acoustic: how easy it is to hold, how light it is, how little room it takes up when you leave it sitting around the living room waiting for whatever spark of inspiration hits at random. The PS-220E dishes oodles of those small pleasures. And while the price isn't exactly small for an imported instrument of this stature, the playability and versatility are equal to much more expensive instruments.
All Dressed Up
There are a lot of reasons the Paramount sells for a somewhat premium price. It's charmingly handsome—in no small part because of the detail work that reveals itself up close. The purfling, rosette, and backstrip are fashioned around a pretty feather-and-checker pattern of blue, green, and red that alternate with spaces of antique white. The entire neck and headstock are bound, and quite immaculately at that. The ovangkol fretboard inlay and headstock overlay are classy and understated but feel that extra bit luxurious. The visual charm is reinforced by a subtle chocolatey burst finish on the solid mahogany top. And while the solid mahogany back and sides are made from what some might call rough grain, the rustic effect works in harmony with the fancier details to create a sort of restored antique look.
While the price isn't exactly small for an imported instrument of this stature, the playability and versatility are equal to much more expensive instruments.
You certainly can't complain about the detail work on the guitar's exterior. Adding so many visual treats means more spots where workmanship can go wrong. But everything from the frets to the binding, purfling, and inlays are pretty much perfect. Inside, things are less so. There is evidence of sloppy gluing and less-than-precise kerfing cuts—none of which have any bearing on the sound. But the price of the guitar does leave you longing for a tidier touch on that count.
Sit and Strum Awhile
If you imagined the perfect guitar for sitting down with after a long workday, or the ideal songwriting partner that you drag from the garden to the beach to the living room and down to the studio, it might feel a lot like the Paramount PS-220E. The action is delectably low, and you can vigorously strum barre chords from the 1st fret to the 12th without hearing any buzzing or clanking strings. The C-profile neck is just substantial enough to make you feel like you're not squeezing to fret effectively, but slim enough that you can move around quickly. The easy playability means the PS-220E very handily transcends simple strummer roles. Fingerstyle moves and complex chords are made significantly easier for the low action and nice set-up, which can give you a lot of confidence for stretching your playing. It's great for leads for the same reasons. Occasionally there is a slight sense of disappointment because the small parlor body can only generate so much muscle for these applications. And there is inevitably some limits to the dynamic range you can generate. That said, the PS-220E has impressive headroom for a guitar of this size. And pushing it to its limits rarely creates any harsh overtones.
The Fishman Sonitone Plus undersaddle pickup and preamp are, in general, an effective addition to the PS-220E. The tones most suited to the guitar tend to live in the lower third of the tone control's range, and I generally played with the volume as low as possible to soften any undersaddle transients. Hard strumming, needless to say, brought out the least flattering of these sounds. But the Sonitone could sound quite sweet in fingerstyle situations, which makes it a nice fit for the very fingerstyle-friendly PS-220E.
The Verdict
It's hard to find a reason to complain about any aspect of the PS-220E's performance or playability. It feels fantastic—at times like a natural extension of your body. And if you struggle at all with hand or body fatigue from wrestling with a bigger instrument, it's hard to imagine a more enjoyable alternative. But the PS-220E is appealing for many reasons beyond comfort. The playability makes it a much more direct line between your musical intuition and imagination, which is a pretty invaluable thing whether you're a songwriter or tackling a challenging tune or arrangement. It's a good thing the PS-220E is as stylish and easy to play as it is, because $829 is pretty steep for an import instrument. But regardless of price or place of manufacture, you can't argue that the PS-220E is a pure joy to hold and play.