Subdued style takes nothing away from the feel and function of this future-leaning, performance-oriented flattop.
Excellent build quality. Player port provides an intimate playing experience. Super-smooth and inviting playability.
Some traditionalists may find the midrange-forward voice brash. Player port will be one style compromise too many for some.
4
4.5
4.5
4
Gibson's reputation as a builder of iconic electric guitars sometimes obscures its reputation as a builder of iconic flattops. But even among an acoustic lineup stacked with legends, including the J-45, L-00, and J-200, Gibson's Hummingbird is an instrument with pop-culture star power. And even music fans that don't know a Gibson from a Goya recognize and are attracted to its extroverted beauty.
Lacking the Hummingbird's striking cherry sunburst finish and pickguard etched with flora and namesake avian adornment, the G-Bird, from Gibson's Generation Series, is unlikely to spur the same sense of recognition among more casual guitar spotters. But it's a well-made, walnut-and-spruce-bodied guitar made entirely in the company's Bozeman, Montana, facility. It's the first dreadnought from the Generation line I've played. (I didn't get to play the G-45 or G-Writer cutaway when I reviewed the smaller G-00 and larger G-200.) But it is certainly the most balanced and satisfying of the Generation series I've encountered.
Mr. Fancy Sheds Its Frills
Gibson's introduction of the Hummingbird in 1960 was almost certainly a response by Gibson to Martin's reliably successful dreadnoughts. And though the round-shouldered J-45 dreadnought that preceded it was an unqualified success, Gibson must have felt the square-shoulder profile was a key to chipping away at Nazareth's domination of the dread market. Clearly, Gibson also felt that a little flash would go a long way in distinguishing their own square shoulder, and the Hummingbird was born.
If you've spent years longing to cradle the Hummingbird in its showiest guise, I suppose the G-Bird could be something of a letdown. But if you're into the purely functional end of guitar design, the G-Bird's virtues are apparent from the start. The satin finish feels inviting rather than a concession to a more accessible price. The neck, which is fashioned from utile, an African mahogany alternative, is textured in a very noticeable way. It's not rough exactly, but it's not satin-smooth either. It can take a minute to get used to, but in the end it tends to feel welcomely worn-in rather than unfinished. All the same, curious shoppers used to flawlessly smooth necks should spend some time with the guitar to see if it is a bother. Texture preferences aside, the advanced profile neck feels great in hand. It's thicker than Gibson's slim-taper profile—most noticeably toward the nut. But it is hardly chunky, and the soft U shape of the profile feels like a great compromise between some of Gibson's fatter vintage shapes and the slim profile, which can feel a little slender.
The fretboard, with its comfortably rounded edges, uses a flatter 16" radius rather than Gibson's standard 12" radius. I suppose the flatter radius leaves room for lower action, which will be nice for players more inclined to a softer touch. The action felt great as it came from the shop floor, however, and it left a lot of room for digging in and strumming with a vengeance without inducing fret buzz. The striped ebony fretboard also looks great, and the Generation Collection's signature single-bar inlays are a cool touch of modernity that zest up the instrument's otherwise austere aura. Construction details, by the way, reveal close attention to detail. And where I saw less-than-perfect kerfing and glue work on the earlier Generation Collection guitars I reviewed (bracing, kerfing, and other internal construction are easy to see through the player port), the build quality is close to immaculate here.
A Provocative Port Promotes Play
Gibson could have made the Generation Collection of guitars satin-finished, no-frills takes on their classic shapes and been assured of some degree of marketplace success. But the design and marketing of the G-Collection, as it also known, focused to a significant extent on the player port, a bass-side, player-facing second soundhole that Gibson says was considered as far back as 1964. Upper-bout soundholes are common in small-batch, high-end acoustic circles. They are less common among large-scale production acoustics. In pure style terms, they are a polarizing element. And I'm inclined to agree with those purists that like to look down and see a pretty expanse of uninterrupted wood grain on the upper bout. But while the rubber-ringed port (and the constant peek at the guitar's innards that it affords) can be jarring, there is no doubt that it makes for a more immersive playing experience.
If you're strictly old-school and accustomed to a single soundhole, the effects of a first, forceful strum can be a touch disorienting. The G-Bird, by virtue of its spruce top and walnut back and sides, already has a midrange-leaning voice that can, at times, sound almost brash compared to the combatively mellow, strong-in-the-fundamentals sound of a mahogany-backed Hummingbird or J-45. The player port emphasizes that mid-forward tone signature, and if it's not your cup of tea, you could end up put off in the space of a few strums. But time spent with the G-Bird reveals much about the player port's upside. Light, even tentative play—the kind that often goes with the songwriting process—feels more immediate and alive. And in a related way, fingerstyle dynamics are enhanced in a manner that encourages focus on technique and harmonic nuance. Interestingly, the player port can also teach a performer a lot about what an engineer hears and what might sound good in front of a microphone. And the way the port gives immediate feedback about your dynamic touch reinforces lessons about how to approach a recording situation.
The Verdict
At nearly $1,800, the G-Bird is not a bad deal for a U.S.-made flattop that reveals a careful eye for quality and detail. It's a super-smooth player. The L.R. Baggs Element Bronze electronics are simple and elegant in sound and function. The walnut-and-spruce tonewood recipe is balanced, but very midrange heavy. This makes the guitar a nice fit for many contemporary recording settings and methodologies, but it might sound a bit bright for those who associate the Hummingbird with earthier mahogany tones. Finding out how the G-Bird fits into your musical universe really demands a trip to a shop where you can play one. But players less bound by tradition—on both the sound and style front—may well revel in the tone alternatives the G-Bird puts at one's fingertips.
Gibson G-Bird Demo | First Look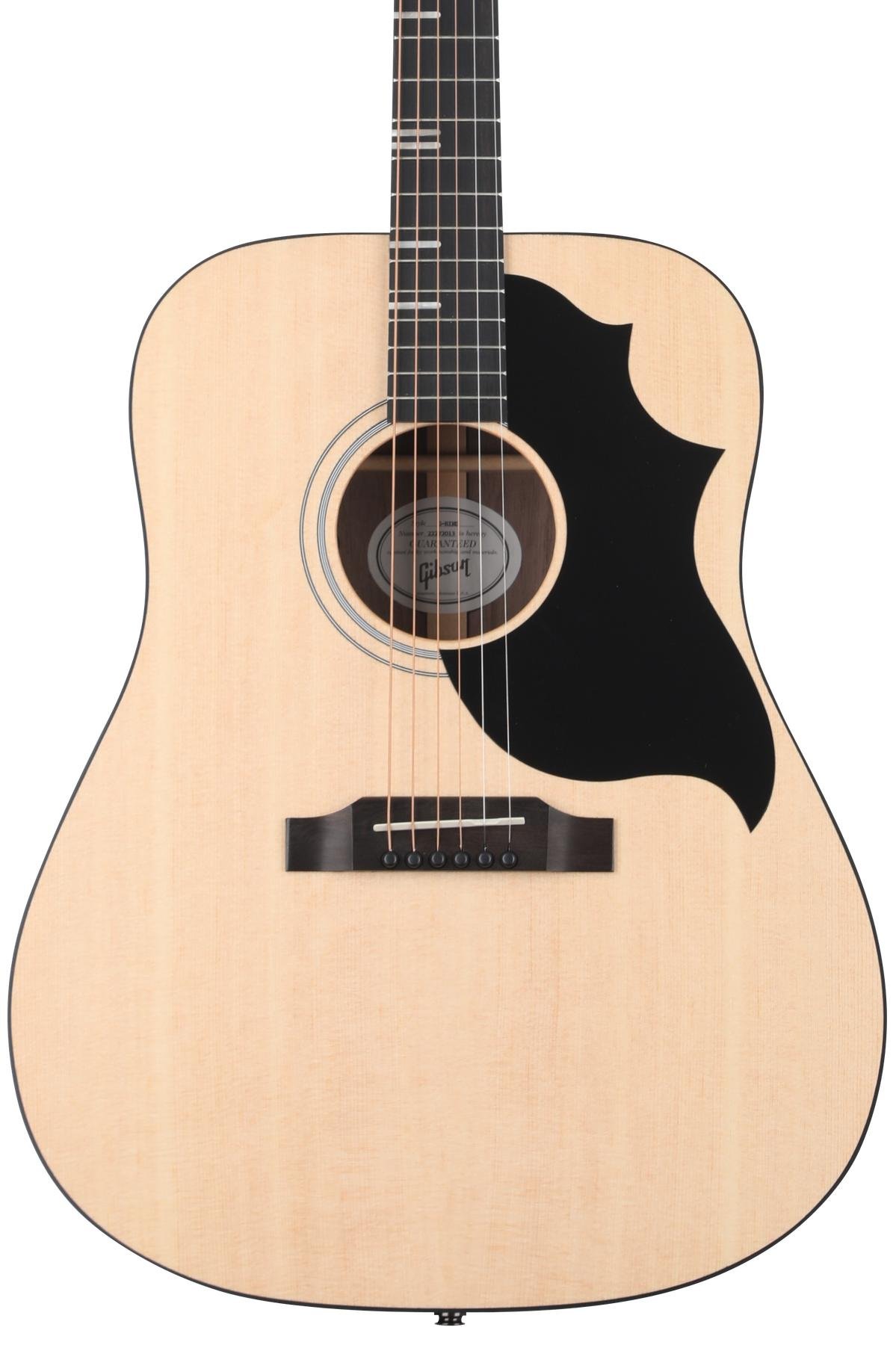 Gibson
Photo by Alysse Gafkjen
Looking back on their latest releases, the two bluegrass phenoms and friends sit down with one another to talk musical heritage, stage fright, gear, and more.
In any music scene, it's natural that talented contemporaries will find each other and form fast, harmonious fraternity. It's no surprise, then, that Nashville-based bluegrass virtuosos Billy Strings and Molly Tuttle became close friends and collaborators as early as 2017—when they were both just 24—and, as is now somewhat common knowledge, were one-time roommates. Tuttle was first featured on Strings' full-length release, Turmoil & Tinfoil, and a few years later, Strings guested on Tuttle's Grammy-winning 2022 album, Crooked Tree, on the track "Dooley's Farm," while performing together often in the interim.
The pair have a lot in common, and we thought it would be a great idea to put them together to interview one another. "Billy and I, we both grew up playing with our dads," Tuttle shares at the very beginning of the conversation. Tuttle made her first professional appearance as a recording artist at 13, when she and her father, Jack Tuttle, released The Old Apple Tree. Since her 2019 solo debut, When You're Ready, Tuttle has evolved through both warm and peppery country tones and her original, adventurous approach to bluegrass, circling back to the genre's traditional homey twang on Crooked Tree. A new album, City of Gold, is due July 21—and, inspired by her constant touring over the last few years, will offer 13 new tracks that capture the electric energy of the band's live shows.
More recently, Strings felt a sudden sense of urgency to record with his father, Terry Barber, and in November 2022, he put out Me/And/Dad, on which the two play 14 classic bluegrass tunes. As Tuttle comments with fondness below, Strings has a distinctive Doc Watson-esque attack, something that gets flavored by a death metal edge—heard in the every-so-often spectral chord and touch of grimness—thanks to his background in that scene. He recorded his latest single, "California Sober," with Willie Nelson, and can be heard in duet with Tommy Emmanuel on the Australian guitarist's new single, "Doc's Guitar/Black Mountain Rag."
Dooley's Farm (feat. Billy Strings)
While Strings grew up in Michigan and Tuttle the San Francisco Bay Area, much of their upbringing happened in parallel. Both musicians experienced turning-point moments in their teenage years, where they discovered that not only did their peers accept them for their bluegrass aptitude but celebrated them. For Strings, it happened when he excited his "hipster" friends with a performance of "Black Mountain Rag" at a house party, and for Tuttle, around the time Mumford & Sons was gaining popularity, her classmates discovered her banjo talents—and she became the "banjo girl."
"Bluegrass is the music that can make me laugh or cry, that I really feel in my soul, and so my electric guitar started collecting dust."—Billy Strings
Now deep into their discographies, the 30-year-old phenoms took a pause before (and amidst) tour dates to reconnect and discuss the many experiences they've shared in modern Americana music. The following conversation offers a view into that world, as well as unique insights into why the two get along so well as both musicians and people.
Molly Tuttle: Billy, you made that awesome new record with your dad. When you were growing up playing music with your dad, did you ever feel like there was a disconnect between the bluegrass side of what you did and other music you played with your peers, or listened to with your peers?
Billy Strings: Yeah, I remember it was probably around the time I was in middle school—I was a skateboarder, and I was playing video games and just hangin' out with friends. I was getting too cool to be hanging out with my dad's old friends playing bluegrass. I was like, "Man, I want to play music with people with common interests, not just sitting here talking about Gunsmoke or something."
But I joined metal bands and got that out of my system, and eventually, I came back around full circle and just had this realization that bluegrass is what I cut my teeth on and what I was spoon-fed as a boy, and it's really where my heart truly is. Bluegrass is the music that can make me laugh or cry, that I really feel in my soul, and so my electric guitar started collecting dust.
Tuttle: I really resonate with that, because I've gone through so many phases of trying to figure out who I am musically, and it took me longer to accept bluegrass as part of who I am. And it really is what makes me, me. But how do I tell my own story through bluegrass? 'Cause there are those two ends of the spectrum. I feel like I've gone the other way and been like, "Well, I'm not just a bluegrass musician, I play all this other stuff too." And then I've also felt like, I want to play bluegrass and make it authentic to the genre. It kind of came down to songwriting, to me—like, how do I tell my story through this music and show how it came to be such a big part of my life?
The two bluegrass virtuosos both grew up learning how to play from their fathers, one in California (Tuttle), the other in Michigan (Strings).
Photo by Alysse Gafkjen
Strings: What are some of your earliest memories of playing with your dad? Do you have any big moments as a child that you were like, "This is what I'm doing—I'm a guitar player"?
Tuttle: I remember as a kid, I played a lot with my dad and we would play around the area where I grew up, in the Bay Area—play different local shows. One big moment for me, when I was like 12 or 13, was getting to go to Hardly Strictly Bluegrass in San Francisco and seeing Earl Scruggs, Hazel Dickens…. Me and my dad somehow finagled backstage passes and got to go to this afterparty, and Hazel was there. It was just so cool. Gillian Welch was there, and Dave Rawlings. He was like, my guitar hero. I remember going into the greenroom to put my stuff down and seeing him just sitting there with a guitar, and that blew my mind. Just seeing people like that up close was like, "Whoa, I could actually do this, and this world feels like where I belong. I could see myself doing this for a long time." I realized I just wanted to play music as much as possible.
What was the Michigan music scene like for you growing up? Were there festivals or anything that was really important to you?
Strings: Well, I didn't go to many festivals. At least, when I was young and growing up and first learning how to play, it was more just like me and my dad, my uncle Brad Lasko, and a couple buddies sittin' around picking by the creek. But all these years later…. I watch other people on stage and I'm like, "How the fuck do they do that? How do they get up there and just play and sing?" I do that too, but I don't think I do it like other people do. I was at this festival in Texas [South by Southwest], and I was nervous watching other performers! I was nervous for them, like, "Oh my gosh, she's just up there singing and laying her heart out there! That is terrifying!"
Tuttle: [Laughs.]
Billy Strings' Gear
On String's latest single, "California Sober," he plays with the inimitable Willie Nelson.
Photo by Alysse Gafkjen
Guitars & Banjo
2017 Preston Thompson DBA Brazilian Rosewood Dreadnought, "Frankenstein"
2019 Preston Thompson DBA Brazilian Rosewood Dreadnought, "The Bride"
1944 Martin D-28
Rickard Open-Back Banjo
Effects
Grace Design BiX Preamp
Strymon Lex Rotary
Electro-Harmonix Micro Pog
Electro-Harmonix Freeze
Electro-Harmonix Pitch Fork
Electro-Harmonix Intelligent Harmony Machine
MXR Bass Envelope Filter
Red Panda Raster
Source Audio C4 Synth
Source Audio Nemesis Delay
Source Audio EQ2
Boss DC-2W Waza Craft Dimension C
Boss DD-8Boss SY-1
NativeAudio Pretty Bird Woman
Chase Bliss Wombtone MKII
Chase Bliss Mood
Chase Bliss CXM 1978
DigiTech Polara
Peterson StroboStomp HD Pedal Tuner
Ernie Ball 40th Anniversary Volume Pedal
Mission Engineering Expression Pedals
Strings & Picks
D'Addario Medium, XS Coated Phosphor Bronze (.013–.056)
Blue Chip TP48 Speed Bevel Right Hand
Strings: It's definitely a weird thing. I still just do not understand how we can get up on stage and do whatever it is that we do.
Tuttle: Do you get any sort of stage fright ever? For me it comes and goes. If you think about it too much.… Sometimes I'm like, what if I don't remember a single word to any of my songs? [Laughs.]
Strings: I just am always in a state of anxiety because of my career [laughs]. There's all this pressure. But I'm usually fine once I get out there. It's leading up to it. Even right now. I've been home for two or three weeks, and I'm leaving the day after tomorrow to go back on tour, and I'm scared that I don't remember how to do it! I don't know if I remember how to make a set list. I don't know if I remember if I can still perform a show. But once you get back out there, you just throw yourself into the ring and it's kind of like them guys that ride them bulls or something. You just kind of strap on, like, "Fuck it, here we go—8 seconds, hold on!"
Tuttle: [Laughs.] I feel like it's this third thing, like your subconscious takes over and then you remember how to do it. But if you start thinking about it in advance…. We took some time off over the winter break and I had the same feeling, like, "Whoa, how did I do that before?" It really is kind of an extreme thing that we do: traveling all over the place, playing in front of a lot of people.
Strings: But shit, what the hell else are we going to do? Heavy lifting?
PG: Molly, I know Crooked Tree came out about a year ago now. For your earlier recordings, you said that you were trying to experiment musically, whereas this one was more traditional. Is that right?
Tuttle: Yeah, I kind of went back to the bluegrass sound that I grew up with. My first full record, When You're Ready, I'd just gotten to Nashville. I was writing a bunch of songs where I didn't know what category they fit into genre-wise. I had so much fun making that record; I really got to experiment with a different style. But then I think something happened in the pandemic lockdown. I got so nostalgic for that music I grew up with, and I missed my family; I missed the community aspect of bluegrass. I love this kind of music; it is folk music, in a way, where it gets passed down from generation to generation. It's such an organic style of music that brings people together.
So, I started writing bluegrass songs for fun. I was like, "What I feel like I hear bluegrass missing these days, when I turn on the radio, is songs that sound original." So, I wanted to write songs that could be sung in a bluegrass band, but also told my point-of-view and my story. Once I started, it was hard to stop, and I realized, "I have a full album of songs now, I might as well go into the studio this summer and try to knock out a record."
Molly Tuttle's Gear
Tuttle has been performing professionally since the age of 13 but didn't blow her bluegrass cover in school until her later teens.
Photo by Alysse Gafkjen
Guitars
Prewar Guitar Company Brazilian Rosewood Dreadnought
Effects
Grace Design FELiX
Audio Sprockets ToneDexter Acoustic Instrument Preamp
Strings & Picks
D'Addario Medium Coated Phosphor Bronze

Dunlop JD Jazztone 207
Strings: And you won a Grammy for it. And I was so happy, because I was just like, she deserves this so much. Obviously, this always gets brought up, but we used to live in the same house—we used to be roommates. And I would always hear Molly practicing and shit, and I'd be like, "Fuck, man, I suck!" [Laughs.]
Tuttle: [Laughs.] I get that feeling when I hear you play, because I feel like we have such different styles. I'm like, "I could never do what Billy is doing." The way you attack the guitar—I hear Doc Watson, but then there's also your metal influence as well. I'm just in awe of your playing.
Strings: I'm just fakin' it. I'm just wingin' it the whole time, constantly. But are you still usin' the same pick? Those little black things? What are those?
"Sometimes it may not look like I'm tensing up from someone watching me playing, but inside, I am kind of tense. But I think it is almost meditative, where you have to let go and let yourself play."—Molly Tuttle
Tuttle: Dunlop Jazztone picks. I feel like I should switch. They're not fancy picks, and sometimes I'll try out other picks and people will be like, "That sounds really good." [Laughs.] I'm just so used to them; I've used the same picks since I was 10 years old. They're pretty heavy picks.
Strings: Well, that's your sound, where you're comfortable. I'm finding that that's what it's all about, for me anyways, is trying to make it comfortable to play. When I watch other people play, like you, or [Bryan] Sutton, it looks like almost kind of effortless in a way. There's not all this tension, there's not veins popping out [laughs]. I'm straining, but some people I see play and there's just wonderful technique.
Tuttle: I have that too. Sometimes it may not look like I'm tensing up from someone watching me playing, but inside, I am kind of tense. And that's when I feel like my playing doesn't come through as well. But I think it is almost meditative, where you have to let go and let yourself play.
When Strings and Tuttle lived together in Nashville, they both felt intimidated when overhearing the other practicing.
Photo by Alysse Gafkjen
Strings: What kind of strings do you use?
Tuttle: I use D'Addario medium gauge [phosphor bronze]. I use the coated ones because my hands are very acidic.
Strings: Me too! I use the same ones! Shout-out to D'Addario .013–.056 medium gauge phosphor bronze, right? Gotta have that medium gauge, gotta have that coated, 'cause we sweat like crazy. And they don't break! What guitar are you playing mostly on stage? Which one is the one that's doin' it for ya?
Tuttle: Right now, I'm using my Prewar Guitar Company. It's a Brazilian rosewood D-28 style. I feel like the action and setup stay pretty even on tour, and I love the tone of it. That's my current fave—what about you?
Strings: Still my [Preston] Thompson that I've been using forever. Brazilian, spruce-top dreadnought. I've been playing it for several years and that's the guitar that I play on stage. It's been through hell. It's been smashed and it's been put back together. But it always sounds the best plugged in. I use a K&K pickup and I run it through a [Grace Design BiX]. Also, I have a '45 Martin that I just put a pickup in. I just wanted to have an old one that I can play on stage. But every time, I go back to Old Faithful. I started calling that guitar "Frankenstein" originally because I put all those different pickups in it, and the switch, and it's got a microphone installed on the inside that goes to my in-ears. And I had them make me another one just like it, and that's "The Bride."
This isn't guitar nerdy stuff, but I have this song, "Away from the Mire." I wrote it when I got into a fight with my brother. Then, one night when I was on stage singin' it, I realized that I wrote that song for myself; I was the one that needed to hear it. Do you have a song like that?
Tuttle: Definitely. I think the first therapeutic song that I remember recording of mine was "Good Enough," that I recorded on my first ever EP. It's about accepting yourself. I think I was struggling at the time with anxiety, and just getting started in my career and not knowing where things were going. I was trying to help myself stay in the moment. And I feel like that's still a theme that I still write about. It means different things to me throughout my life.
"I think our duty is just to bring a little joy to people's day. And sometimes they can give it back to us by accepting our audible diaries that we pour into our songs."—Billy Strings
Strings: Well, just keep doing the work, because it's beautiful stuff and we all need it! I think our duty is just to bring a little joy to people's day. And sometimes they can give it back to us by accepting our audible diaries that we pour into our songs. We're lucky to be able to do what we do, and I'm stoked watching you and your band out there kicking ass. It's just fuckin' awesome.
Tuttle: Likewise! I just love how you're bringing this music to the masses, really educating people too about where it came from and your heroes and why it's so important to you.
Strings:
I guess we just gotta keep our sticks on the ice and keep truckin'. 'Cause I think we're both doing good, and if we just keep our heads down and keep playing guitar, I think we're going to be alright.
YouTube It
It doesn't take a trained eye to appreciate the wild shredding energy of Billy Strings and Molly Tuttle, seen in this live performance of Strings' "Billy in the Lowground."
A comfortable, compact 12-string of many musical moods.
A sweet, smooth player that generates equally honeyed and balanced tones. Beautiful finish. Compact, comfortable dimensions.
Breedlove styling isn't for everyone. Expensive for an import flattop.
4
4.5
4
4
Breedlove's current site page for theSolo Pro Concert Edgeburst 12 CE takes an almost apologetic view of acoustic 12-strings. It's funny. But it's also hard to tell if they're kidding or serious. I will put forth the notion, however, that acoustic 12-strings are nothing to apologize for. Acoustic 12-strings are awesome. They can be celestial or funky and earthy. Rhythm guitar powerhouse, mutant harpsichord, melody machine—decent acoustic 12-strings are all these things. Even trashed, cheap 12-strings will usually make cool sounds if you tune them right.
The China-built Breedlove Solo Pro Concert Edgeburst 12 CE reviewed here is a reasonably refined and affordable 12 that makes life easy on highly occasional 12-string players. It's playable and has a lively, almost sunny voice and disposition. But its solid cedar top and solid mahogany back and sides also lend a sense of dust and duskiness that, at times, evokes affordable vintage 12-strings like the Gibson B-25-12. Indeed, there are a lot of sounds to find in this accessibly priced 12-string. One dimensional it is not.
Doubling Down
It's easy to see why many players consider acoustic 12-strings a chore. There's no shortage of 30-year-old beaters with boomerang neck relief that punish curious neophytes and send them fleeing forever. The 12 CE, though, feels pretty inviting. Action feels relatively low, yet each string rings with clear authority, even under the load of heavy strumming. Intonation is just about perfect, too, which makes the Breedlove sigh like a harp when you tune up and let a first-position chord ring. Tuning down a half- or full step, meanwhile, coaxes a lot of cool, growling low-mid overtones from the guitar without getting boomy or feeling flubby.
The 12 CE's proportions also factor significantly into its agreeable ways. The concert orchestra-sized body is easy to snuggle. And that immediacy of feel is accompanied by an immediacy you hear via the side sound port. (Which also, incidentally, seems to highlight that vintage Gibson B-25-12 tonality). Other classically Breedlove design cues play their role in the player-friendly feel of the instrument. The company's signature deep cutaway, for instance, gives you access to mandolin-like chords and tones on the highest six strings and at the highest frets.
Ring Those Bells
There's a lot of physical balance in the 12 CE that's mirrored in the tone palette, too. Though some of the guitar's fast responsiveness could be attributable to Breedlove's Cascade bracing pattern, I'd venture much of the magic is in the guitar's red cedar and mahogany tonewood combo. Breedlove isn't the only builder to employ this elegant looking and sounding wood duo. It shows up on a few guitars in this low-mid price class. But Breedlove uses it especially well here. The cedar top feels simultaneously reactive, grounded, and, once again, earthy. It also adds just enough top end sparkle to offset the mellower tonalities of the mahogany back and sides. The resulting tone sum makes the 12 CE feel responsive to fingerpicking (though it takes a strong thumb to completely offset the chiming resonance of the high B and E string pairs).
Tuning down a half- or full step, meanwhile, coaxes a lot of cool, growling low-mid overtones from the guitar without getting boomy or feeling flubby.
Construction, by the way, reveals a careful hand all around. A wider neck like this could be made a miserable experience by rough frets, but they are perfectly shaped at the ends. The root beer hues of the finish give the small body an extra sense of dimensionality and luxury. And though the side port gives you a clear and potentially unflattering look at the 12 CE's innards, every bit of bracing you do see looks carefully carved, sanded, and glued. (The sound port, by the way, comes with a fitted rubber feedback reduction insert that works great in amplified situations.)
Styling, as with many Breedloves, will probably be the most polarizing aspect of this guitar. It's a modern flattop, to be certain. But it's funny how the Breedlove headstock has evolved slowly into a familiar, almost institutional, shape in acoustic circles. And its slim proportions make it a graceful fit for the compact proportions of the body.
The Verdict
Though 1200 bones is considerable money for an import flattop, the quality construction, agreeable playability, and many sweet tones make it feel like a pretty fair deal. Like any good 12-string that you don't have to fight too much, it can guide you away from ruts, encourage and stimulate an arrangement-oriented musical mindset, and perhaps unshackle your inner Jimmy Page or Jeff Lynne in the process. And while the 12 CE's contemporary styling might divide opinion, for those that play it, its ability to open different musical avenues won't find many detractors.
Breedlove Organic Solo Pro Concert Edgeburst 12 CE Demo | First Look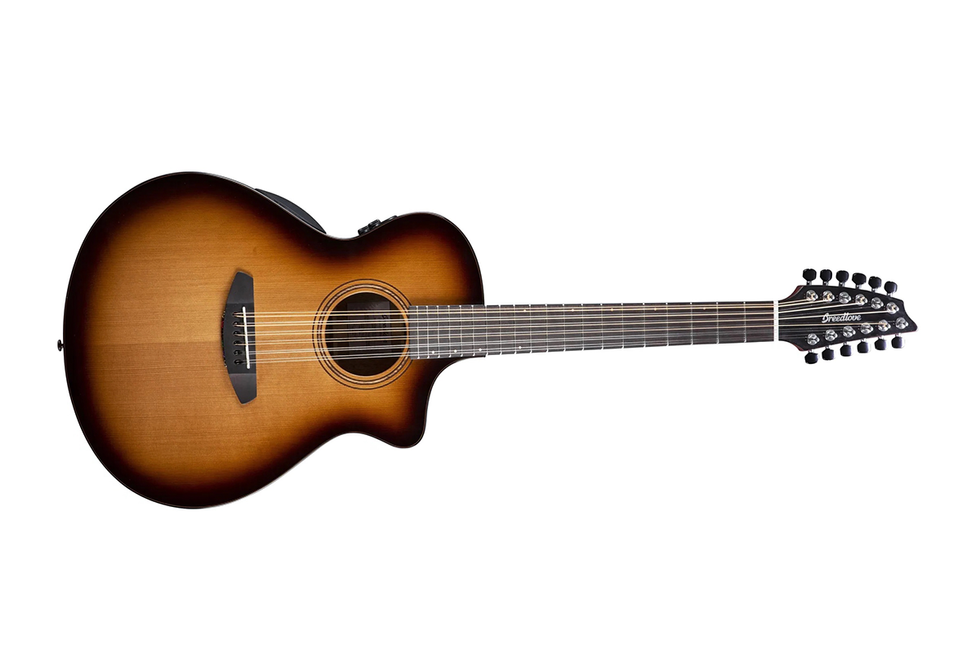 Breedlove
A newly designed koa wonder that packs a punch.
Incredibly easy to play. Well-balanced tone.
Not as visually stunning as other koa models.
4.5
4.5
5
4.5
Hawaiian koa has been a favorite of boutique acoustic builders for ages. It has a cool tone personality, somewhere between rosewood and mahogany. It can be used for both back and sides and for top wood, and it's beautiful. It's also pretty expensive. The good news is that Taylor's new 724ce is built with a breed of Koa that actually helps players save a few bucks.
How did Taylor pull off this trick? Well, back in 2015 Taylor formed a partnership with a tonewood company called Pacific Rim Tonewoods. The collaboration strengthened the forestry stewardship projects that are always a Taylor priority. It also allowed Taylor to cut the logs themselves, leading to discovery of a supply that wasn't as spectacularly flamed as traditional koa, but retained the sound the wood is famous for. The new wood supply enabled Taylor to build a koa instrument that sells for nearly $2,000 less than their normal koa offerings. Dubbed "select-grade," this new crop of tonewoods is now one of the foundations of the company's 700 series.
Koa Chameleons
In my experience, Taylor's guitars are usually impeccably playable. Sure enough, the neck on the 724ce is comfy and fast. It feels inviting and the 1 3/4" nut width lends itself to fingerstyle. The 724ce is built around Taylor's most popular body size, the Grand Auditorium, which in this case, features a Venetian cutaway that also opens up a lot of the fretboard for exploration. The neck is tropical mahogany and is capped with a West African ebony fretboard that goes well with the dark amber of the koa and the Indian rosewood binding. The guitar also comes with Taylor's Expression System 2 preamp.
When I first picked up the 724ce, two things stood out. One was how light and balanced the instrument felt. The other was the finish on the body. Normally, I associate koa instruments with deep, glossy finishes, but designer Andy Powers went for an extremely thin (2 millimeter) matte finish here. It's so thin that you can feel the pores in the wood, and the thin finish arguably adds to the instrument's liveliness. Another feature of the 724ce is the updated V-Class bracing, which Powers tweaked a bit to make the ends a bit stiffer across the back of the guitar. And at first strum, I could hear the pronounced midrange that is a Taylor trademark as well as airy top end. Together, the tone profile reminded me a bit of a modern, midrangey dreadnought with more focus. And though it doesn't have the headroom of a full-bodied dread or jumbo, it's balanced in a way that would fit in with a broad range of styles. When I played a bit harder with a pick, I could sense how the koa top and, most likely, the bracing tweaks widened the dynamic range, and enhanced the guitar's responsiveness.
The tone profile reminded me a bit of a modern, midrangey dreadnought with more focus.
Express Yourself
Taylor's proprietary Expression System 2 preamp does a fine job of representing the 724ce's detailed sound without enhancing the high-mid frequencies and harsh attack typically associated with undersaddle pickups. Taylor achieved this improved tone in part by moving the transducers behind the saddle. The sensors can also be adjusted with an Allen wrench, which means the pickup tone you hear isn't necessarily the tone your stuck with.
The Expression System 2 certainly makes performance more worry free. I recently worked a stage musical production that required a fair amount of acoustic work, so I brought the 724ce and plugged into a Line 6 Helix that fed the front of house. I didn't have much tone processing going on, but the raw sound from the board through the theatre was magnificent. I kept the guitar's tone controls mostly flat and ended up boosting the high end just a bit to cut through the band. And overall, the Expression System 2 did an admirable job.
The Verdict
The 724ce works, sounds, and plays almost exactly as advertised. The koa tones are complex and nuanced, with a little touch of mahogany midrange and maple sparkle that add up to a practical and satisfying balance. At $3,499 it's a long way from being a budget model, but if you're considering a koa instrument, it does allow you save a few bucks in exchange for a slightly less flamboyant look. As with all high-end tonewoods, the 724ce will likely sound much better after a decade of solid strumming. But even in its infancy, the rich tones are there.