The Gibson acoustic division's head dreamer studied with Christopher Parkening, toured, played, taught, and has collaborated with many artists on signature models in his three-decade career.
Bozeman is known as the Sweet Pea City, a reference to the prolific flower that put this colorful Montana burgh on the map in the early 1900s. But most of us know it as the home of the Gibson Acoustic Craftory, where the brand makes guitars ranging from historic models like the L-00, J-45, Hummingbird, Dove, and J-200 to signature guitars for Jerry Cantrell, Orianthi, and Keb' Mo' to the company's budget-priced Generation Collection, which offers updates on Gibson's slope-, broad-shouldered, and cutaway models, all with sound ports. Turns out the region's stable, dry climate is good for building guitars as well as raising blossoms.
When Robi Johns arrived at Gibson's Bozeman location in 1990, "it was a small cinder block building. It was relatively crowded, dusty, and noisy, but safe, and we had this little office area with one fax machine—the key communication tool back in the day. Now, I'm sitting in an office that's quiet, clean, and well-lit. We have meeting areas and beautiful showroom and event areas. And the plant is spacious and quiet in most areas, and certainly very clean and very modern."
How modern and spacious? Gibson unveiled an expansion at the facility in November, more than doubling its size from 21,000 to 48,000 square feet, updating and enlarging the machine shop, the Custom Shop, and overall guitar-building space. It's a testament to both the durability of Gibson's long-established models as well as the success of new instruments like the Generation Collection.
"We put the very lightest, thinnest neck on it possible—we couldn't go any thinner, quite frankly. It's thin as a Les Paul from the 1960s."
Johns' title is senior product development manager, Gibson acoustics, but he's also one of the Craftory's key guitar designers and an accomplished player. As a young man, he studied with classical-guitar virtuoso Christopher Parkening and became an adjunct professor in classical guitar at Montana State University, also in Bozeman. In addition to the aforementioned guitarists, he's designed instruments for Sheryl Crow (a signature Southern Jumbo Supreme), Jackson Brown (a 10-year process that culminated in the Model 1 that bears Brown's name), Slash, and Eric Church, among many others.
"If I had to summarize the qualities that each player desires," he says of the artists he's created instruments for, "number one is tone of the acoustic guitar, because that reflects the sound of the music that artist makes, and inspires them. They are looking for a response from the instrument—response and tone affects how you're playing and causes a different emotional state. They are also searching for a certain look or design that reflects their persona and helps define how they look on stage. It's a symbiotic relationship between the artist and model."
A J-45 Deluxe Rosewood guitar gets its neck set with one of the company's trademark dovetail neck-to-body joints.
Johns' latest signature project is a collaboration for Americana/country darling Brandi Carlile, for release this year. "Brandi loves 1940s small-body LG-2s, so about three years ago she came to us and said, 'Would you build me one of these ... like the one I use normally, but, you know, new?' So, I had the honor of designing a historic-based LG-2 for her that she fell in love with. Recently, she asked us to do a model for her, so I was able to take the qualities of her LG-2 and put them into a guitar that would be suitable for consumers. In other words, we made it so it wasn't so expensive to build, like her original, but I was able to include the sound and the feel of what she loved. I had to please the artist and people who love our guitars with the new Brandi Carlile LG-2 Custom."
Johns was also involved in the creation of the Generation Collection, a new line of five acoustics—the G-Writer, the G-Bird, the G-45, G-200, and G-00—inspired by legacy designs but updated with sound ports and alternative neck woods, like utile (an African hardwood), and slim neck profiles, among other features. The idea was to create a fleet priced between $999 and $1,999 street—more easily affordable instruments targeted at less experienced players. For Johns, the project was both a strategic and a design challenge.
"The acoustic guitar is more introverted, and the electric guitar is more for an extroverted experience."
"We thought about this for a couple years," says Johns. "'What do new guitarists, that aren't necessarily Gibson fans, want?' So, we gave them a guitar at a lower price point, relative to our other guitars, that is really easy to play. We put the very lightest, thinnest neck on it possible—we couldn't go any thinner, quite frankly. It's thin as a Les Paul from the 1960s. And we flattened out the fretboards so you can bend notes really easily. We also include all of the benefits of how we build guitars: a dovetail neck-to-body joint, a radius top or curved top with curved bracing, and a very light lacquer finish. We took the best of Gibson construction features and put them in this lower-price-point instrument."
The Generation Collection are also the first Gibsons to feature a sound port, which the company calls a "Player Port," following boutique builders and Taylor, Breedlove, and other well-respected acoustic guitar makers into this terrain.
"Response and tone affects how you're playing and causes a different emotional state."
"Other builders have done that over the years, but Gibson was actually looking at this concept in the mid-'60s," Johns says. "There is a blueprint of a J-45-style guitar with a Player-type port on the side. We took that concept and modified it, so not only does it sound wonderful out front, but it sounds wonderful to the player. The player can hear very clearly with this Player Port, so it's an overall experience. I say that the acoustic guitar is more introverted, and the electric guitar is more for an extroverted experience, because it blasts out forwards and you're usually with a band, and so on. But that internal experience for acoustic players is very important. You create a protective … I'm going to use my own terminology … bubble, where you live in this beautiful fantasy world of your acoustic sound."
Here's an upper-deck view of the finishing area in Gibson's Acoustic Craftory.
Besides its lovely climbing flowers and the Gibson Craftory, Bozeman is also known as a railroad town. A modest freight yard is nestled in its center, and there's even an old beanery where railroad workers for the Northern Pacific grabbed a bite during that line's heyday. Johns also comes from a place famous for the rails—Altoona, Pennsylvania. "It's a very blue-collar coal mining and railroad town, so that kind of forced me into loving the expressive arts, in contrast. I became a lover of painting and music, so that led me into going to music school. I got a couple of degrees in guitar performance, and later became a recording artist, and I had interest in many diverse musical styles. I practiced, practiced, practiced the guitar, every day, to the Nth degree. So, I've spent all my life on a guitar."
Johns was teaching and running a music store in Bozeman when he was invited to Gibson. "The president of this division called me up and said, 'We need an artist here. We have everything but a real musician.' So, I became the sales and marketing director for acoustic guitars in 1990 and have been here ever since. I had a lot to learn. Gibson was such a big brand, and initially, I was going all over the world promoting the guitars and helping with the marketing and sales of them. And then, I started working here with the best luthiers in the music industry, so that's how it morphed into my work with designing guitars."
An SJ-200 reaches the final stage of its building process—a meticulous setup.
Johns' creative patch was interrupted, gravely, in 2012, when he suffered a hemorrhagic stroke. "I was told I was not going to live, I was not going to walk again, I was not going to use my arm again," he recounts. "That is not what I decided was my fate. I had this strong wish to continue to use all that I've learned in my life's experience—to contribute to what I love in music and arts and particularly the guitar. That kept me going and drove me to take on all these therapies. I still do therapy every day, because I want that quality of life back, and I'm enjoying doing what I'm doing with Gibson. It's stopped me from being a player for a period of time, but it did not stop me from being a dreamer, or that I get to dream these guitars up with the artists and the great builders here." Johns is working to reclaim his former playing prowess with the help of his current favorite guitars: a Gibson ES-175, which he praises for its acoustic-like tone—"I was a fan of Steve Howe in the '70s"—and an acoustic Gibson Songwriter, along with a nylon-string instrument custom-built in Madrid.
If fate hadn't lured Johns into the guitar life, he thinks that perhaps he might have chased his creative pursuits into film. "Sometimes I feel like a movie director," he says. "I work with an artist and he or she creates a plot, and I get to direct the movie—analogous to designing the guitar, the most joyous part of my work. This is not just patronizing my own company, but I love Gibson. I get to work with the most absolutely brilliant people, highly skilled and inspiring, which nurtures me as a human being. I'm not playing guitar and being a performer anymore, but, metaphorically, I'm still reaching people all over the world—not with my music, but with the guitars that we build. And that fulfills me. That really is true."
PRS himself talks about learning from Ted McCarty, building guitars for the stars, elbowing the competition, his distinctive headstock design, and more.
Paul Reed Smith could be gloating. At a time when other majors have made layoffs or are coming down from the lockdown-era sales buzz, the company the luthier founded literally with his own hands in 1985 has become a $100-million business. PRS Guitars' $849 SE Silver Sky—a 6-stringed Clydesdale—was this year's top seller on Reverb. Recently, the Stevensville, Maryland-based operation introduced its debut pedals, plus a limited-run Robben Ford signature axe that's a Rolls-Royce with strings. And a raft of new instruments are already in the wings for 2023.
Instead, at an early November party Smith threw at Nashville's Soundcheck rehearsal complex during CMA week, he reflected humility. Smith addressed the roomful of players, emotionally recalling the 2015 CMA Awards, where the count of PRS instruments onstage was literally neck-and-neck with the population of Fenders and Gibsons for the first time. That ceremony was an ignition point for greater success as well as an affirmation for the guitars that bear his name.
"We don't want to be a brand," he told the crowd. "We want to be guitar makers. Country guitarists really helped take us to another level. I am truly grateful."
"We didn't have heaters and we were wearing winter coats inside, because if you opened the door for a delivery, it got to be 30 degrees in there."
Besides his passion for pursing all aspects of what goes into creating guitars, that humility—sometimes inflicted upon him—has played a role in his success. Smith found his calling while at St. Mary's College, at the opposite end of the state from his native Bowie, Maryland. Lacking a guitar and the cash to buy one, he persuaded a music teacher to let him build a guitar for credit. He got an A, of course. He also dropped out to play and repair guitars, opening a shop in a reputedly haunted garret in Annapolis.
"As a repairman working on every conceivable type of guitar, I became convinced that vintage instruments were desirable not because they had improved with age, but because they had been built differently from current models," Smith relates. "The reason some of the electrics from the '50s and early '60s felt and sounded so good was that a great attention to detail went into the manufacturing process, and that the manufacturers had a real sense for the subtle points."
Racked and ready: Four decks of PRS guitar necks wait for their final destinations at the company's Stevensville, Maryland, guitar-building location.
Pondering how to reintroduce these characteristics in the instruments he wanted to build, Smith hit upon the idea of contacting Ted McCarty, who was president of Gibson from 1950 to 1966—the golden era of electric guitar making. "I would sit at the shop, and I was afraid to call him," Smith says. "We didn't have heaters and we were wearing winter coats inside, because if you opened the door for a delivery, it got to be 30 degrees in there. So, Clay Evans [a friend and, later, early PRS executive] and I are wearing our coats, and Clay's saying 'Call him! Just call him!' And I'm like, 'I can't....' But I called him and explained who I was and what I did, and he asked, 'Would you be willing to come visit?' So, we picked a date, and I went.
"The first time I went, he got very, very upset at the end of the interview. It was about three hours. And I said, 'What's wrong?' He goes, 'Nobody's asked me these questions in 30 years. Nobody's asked me how to glue the fingerboard on, what glue we used to glue the frets in…. All they want to know is how to get rich quick. 'Where can I find a Les Paul? Where can I find a Flying V? Where can I find an Explorer?' Nobody's asked me these guitar-making questions, and this is how I made my living.'
"I thought it was beautiful," Smith continues. "I just kept coming back and coming back. I was very grateful for his attention, and it ended up being a grandfather relationship. I sang to him on his deathbed, with a guitar." And, of course, Smith also paid tribute to his historic mentor with PRS' vintage-informed McCarty series.
Over the decades, Smith and his team have made guitars for a coterie of world-class players that includes John McLaughlin (including a 6- and 12-string doubleneck), David Grissom, Nancy Wilson, Mark Tremonti, Jimmy Herring, Mark Lettieri, and, of course, Carlos Santana.
"What Robben Ford wanted and what David Grissom wants is that every one of those models we ship is a his-caliber instrument. He doesn't want just the couple we tweak for him and then put his name on a bunch of others."
"The first guitar I made for Carlos Santana changed my life," Smith offers. "At first, he didn't see me as a guitar maker. He made me earn his respect, which I honor. He said the first instruments I gave him were 'accidents of God.' He thought it was like somebody wrote a hit song, but it was almost an accident—and he didn't see me as a repetitive hit writer. He literally said, 'Okay, it's an act of God, can you make me another one?' Then, after the fifth instrument, which was a doubleneck, he called me up and said, 'Okay, you're a guitar maker.' That was tremendous. Every Christmas he would call and thank me about the sound coming out of his guitar. He thought of it as a big, male saxophone tone, and he adored it."
So, what does a world-class musician demand in a guitar? "If you look at guitars in general as a line, and about four-fifths of the way along that line you draw a vertical line through it, what's beyond that graduates from being a guitar to a musical instrument," Smith says. "They want musical instruments. What Robben Ford wanted and what David Grissom wants is that every one of those models we ship is a his-caliber instrument.
Initial sanding happens after the overall body shape, electronics cavities, and other cuts are made.
He doesn't want just the couple we tweak for him and then put his name on a bunch of others. Carlos Santana wants a guitar that he can take out of the factory, put in the limo, go to the gig, pull it out, and play it. And by the way, I've watched him do that. It's a little scary to have him play to 15,000 people with a guitar that's only been played about a minute-and-a-quarter its entire life. David Grissom does not take a guitar to clinics. He takes ones off the wall at the store to hold my hands to the fire. Carlos calls me constantly and has requests to make 'em better. David wants them better. He just got one that has a hollow, single f-hole in it, and he's losing his noodles over it."
It's been years since Smith has built a guitar himself. "I have a bench where I repair audio gear, and I'm my wife's furniture repair person, but that's it," he says. Nonetheless, he is a regular presence on the PRS factory floor, checking the progress on models in development, eyeballing the wood inventory, checking out pickups, offering suggestions, and evaluating as he formulates plans for the company's future. "It's almost a soothsayer job," he offers. "It's like having a crystal ball, but you gotta do it from experience, with your ear to the tracks."
A high-quality instrument starts with good tonewood, and the factory keeps an abundant inventory for both necks and bodies.
Part of that is trying to rout the competition, which he obviously enjoys. At the Nashville party, Smith recounted a story about paying top dollar for a Klon Centaur, and then putting it through its paces. Pleasing at it was, he felt there were shortfalls in tone and control, so he decided to try to beat it. The result is PRS' Horsemeat Transparent Overdrive (get it?), but his company's engineers took it a step further, also designing the Mary Cries Optical Compressor and the Wind Through the Trees Analog Flanger, which all debuted in September. Nonetheless, Smith's goal was not to expand into pedal making, but rather to lure players who've avoided PRS. "I've actually heard comments like, 'I like these pedals, maybe I'll look at their guitars again,'" he says.
Earlier last year, he took on the template, working-player's Stratocaster with the release of the SE Silver Sky, a low-cost, high-performance version of PRS' John Mayer signature model. When I mention the guitar, his immediate response is, "How about those pickups?" He then related that he worked with his suppliers in Indonesia, where the guitar is built, for two years on the remarkably wide-ranged pickups. "Initially, they weren't right, and we didn't have direct control over their creation, like we do with models we build here, but the pickups still had to lay in exactly the right place sonically. When John played 'em, he thought they were the best overseas-made single-coils he'd ever heard, and he signed off on them literally that second."
"The first guitar I made for Carlos Santana changed my life," Smith offers. "At first, he didn't see me as a guitar maker. He made me earn his respect."
Although much has changed over the decades at PRS, the company's distinctive three-and-three headstocks have remained unchanged since the early '80s—despite being a turn-off for some trad-minded players. Smith explains why: "The design was half practical and half reflective of the front curve of the guitar. It's like a Dan Armstrong headstock, where the strings went straight to the tuning pegs. On a Fender, they went straight to the tuning pegs, but they were all on one side. That it goes straight to the tuning pegs is important.
"When I started putting tremolos on guitars, Carlos Santana ordered one and he goes, 'It's gonna stay in tune, right?' I said, 'Sure!' I had no idea how I was going to do it. Turns out what makes a difference is how you cut the nut, having it as close to the tuning pegs as possible. Also, the strings need to be as straight as possible, and you have to reduce the headstock angle. It's a combination of those three dimensions."
PRS Guitars Factory Tour
Photo by Han-Su Kim
Following a long road from Saskatchewan to California, this master builder lands in Corona, to painstakingly reproduce Jerry Garcia's "Alligator' and other gems.
Like everything in the Grateful Dead's orbit, each of Jerry Garcia's stage guitars has been pored over by Deadheads, with data on their usage rivalling baseball-stat-level analysis. Dedicated fans can hear the differences between each of these iconic instruments—not just because of their tones, but in the type of music and playing they inspired. So, it's only natural that each 6-string has its own subset of fans. Some love to hear and see Wolf and Tiger—custom instruments built by Doug Irwin, both of which have their own merch, including T-shirts, hats, and miniature replicas. And some prefer Garcia's deep-cut Travis Bean era. A large cadre of others prefer Alligator, the Stratocaster that Graham Nash gave to Garcia as the Dead embraced cleaner, country- and folk-inspired sounds.
Oddly enough, until now, some of the finer details about Alligator and its extensive modifications remained improbably unknown. A quick visual inspection will catch the brass control plate and unique bridge assembly, and maybe even the brass nut. The details of what lies inside, however, have been less reported. So, when Fender set out to create a Custom Shop Jerry Garcia Alligator Stratocaster, master builder Austin MacNutt took on the monumental task of analyzing the finest nuances of the original in order to painstakingly recreate each and every one.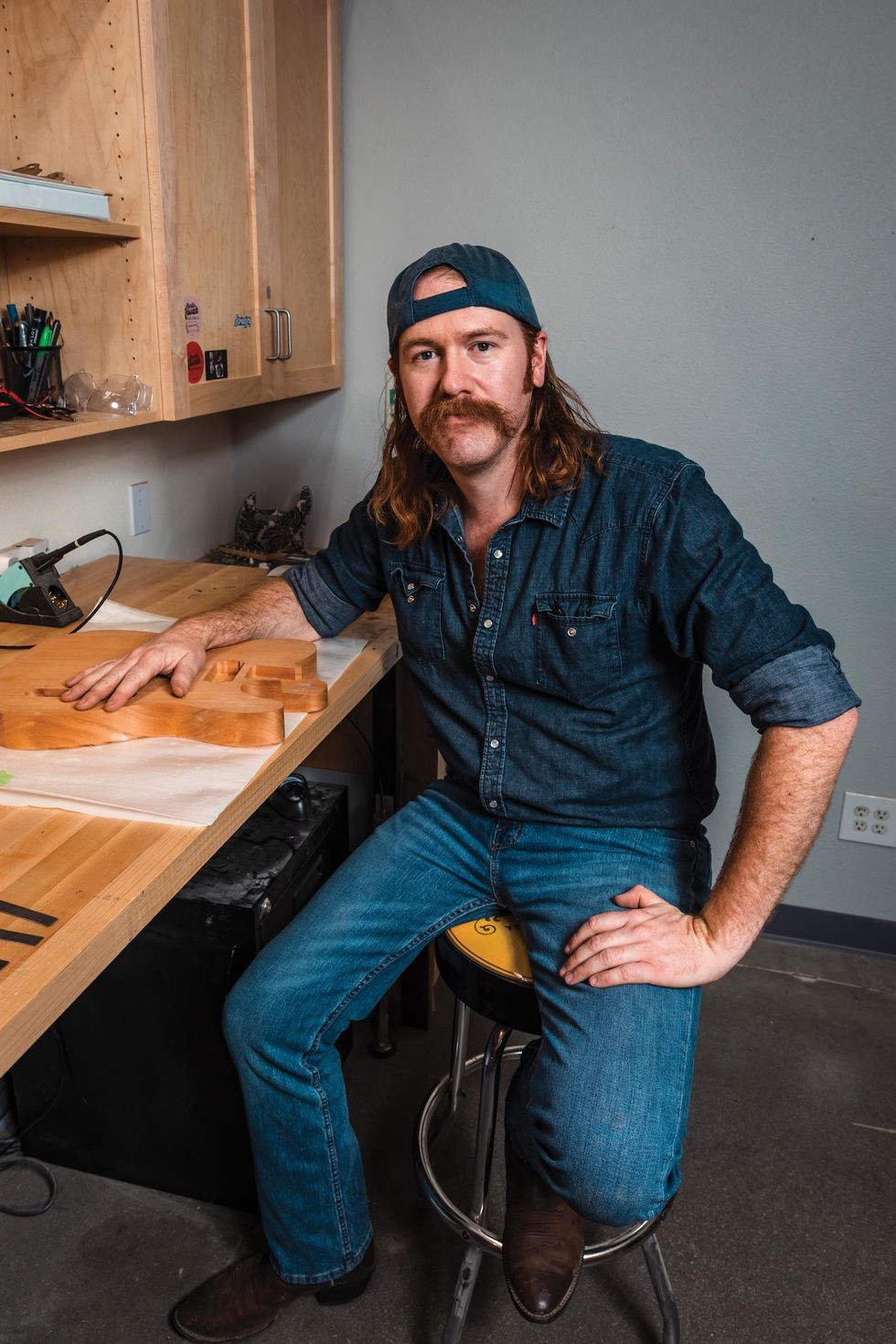 Master builder Austin MacNutt joined the Fender Custom Shop team in March 2022.
Photo by Han-Su Kim
When he took on the project, MacNutt was already familiar with Alligator and some of its unique attributes. "I've seen pictures of it," he says, "but not detailed shots. There's not a lot of great pictures of it from back in the day." MacNutt was given one day to spend with the guitar and collect all the necessary data. "That day when we brought it in," he recalls, "we opened it, and the room was just silent—everyone taking it in for a good minute or two before anyone even touched it. We pulled it out, put it on the table, and started taking it apart. To get to disassemble it is such an honor."
MacNutt knew he had his work cut out for him. "There's a lot of strange stuff on it," he says. "It's one of a kind, for sure. It was definitely a work in progress, like a test bed, where they're trying out different things." He took extensive notes and photos on everything from the guitar's boost circuit and the unique metal bar that serves as a string retainer, to more refined details, like the scalloping on the brass nut and unique hammer-pattern on the control plate. "I was writing down how thick this thing is, what size this screw is, how long is this screw," he explains. Surprisingly, when he disconnected the neck joint, MacNutt discovered that Alligator—believed to be a 1957 Strat—was actually assembled by ground-floor Fender employee Tadeo Gomez back in 1955.
"That day when we brought it in, we opened it, and the room was just silent—everyone taking it in for a good minute or two before anyone even touched it."
Over the course of a couple months, MacNutt set about creating a prototype for a limited edition run of instruments. When we talked in mid-November, the production of those guitars was under way, and MacNutt sat at his computer with a rack of six in-progress Alligator builds behind him. When MacNutt talks about the process, his face lights up. It's not lost on him that the Alligator model is a full-circle project with deep personal roots.
Growing up in a musical family in Saskatoon, Saskatchewan, both of MacNutt's parents played country music. His older brother is also a guitarist and helped Austin find his way to classic rock when he got started playing around the age of 11. While MacNutt's first guitar was a Hondo Paul Dean II, it wasn't the Loverboy guitarist's signature model that really inspired him. It was his dad's 1963 Fender Jaguar that was often laying around the house. He says he felt that the Jaguar was special even before he started playing.
MacNutt's first build was a Tele copy with a Jerry Garcia-style flourish. Here, he works on an actual Fender Telecaster.
Photo by Han-Su Kim
"My dad tinkered on his stuff a lot," he reminisces. "He worked in a music store. When I was real little, I have faint memories of being in the basement where all the parts are. It was always fascinating to me." Austin took to tinkering at a young age and, after high school, he decided to attend the Guitar Craft Academy in Hollywood.
During the program, he built his first guitar, a Telecaster-style instrument with some auspicious modifications. He explains, "The bottom horn was kind of like some of Jerry Garcia's Alembic builds, with the little thumb. Three P-90s, a wraparound bridge, the big Strat headstock on it, ebony build with no face dots. It was a lot of weird stuff. A lot of times, people's first guitars are filled with strange choices."
The folks at the Guitar Craft Academy must have noticed something special in Austin's work, because once he finished the program, they offered him a job. "Before, I was working at a grocery store, saving up money to go there, and I didn't know what I was gonna do next," he explains. "At the end of it—honestly, I wasn't even sure I was gonna stay in L.A.—they offered me a job."
The painstakingly detailed Custom Shop Jerry Garcia Alligator Stratocaster prototype.
Photo by Han-Su Kim
He found teaching to be a great experience. "It was a perfect opportunity," he says with a warm, appreciative tone. "Not only did I get to work there, I kind of got to continue my education by continuing to keep the rate at which I was doing all that stuff up." But that wasn't the only opportunity that came from working at the Academy.
"We brought Ron Thorn [of L.A.'s Thorn Custom Guitars] in for a day, and he'd go over inlay work—he's a master of inlay," he says of the esteemed luthier. The two hit it off and Thorn invited the up-and-comer to join him at his shop. Starting first as a part-time employee, MacNutt eventually moved on after five years of teaching to join Thorn Custom Guitars full time. In the small, dedicated shop, MacNutt gained loads of new experience. "I was resawing wood, fretting, truing boards, picking the wood, gluing body blanks, whatever needed to get done," he says. "I got to learn a lot of skills under the whole umbrella of guitar building."
But in 2018, Ron Thorn took a job at Fender and closed his shop. MacNutt moved on to Xotic and also began running his own shop, where he focused on repair work. Along the way, he stayed in touch with his old boss. And when there was a position available in the shop, Thorn gave him a call. "I jumped at the chance," MacNutt says.
"A lot of times, people's first guitars are filled with strange choices."
Last March, MacNutt joined Fender as a master builder and says there have been "whirlwind aspects of it, definitely diving in and just getting the lay of the land." It's not lost on him that, like many builders, his first build was a Telecaster copy, and now he gets to build the real thing. "The first one I put my signature on the back of the headstock," he says, "I had to sit and look at it for a little bit, taking it in."
By the time we spoke, about eight months later, MacNutt estimated he'd built about 100 Fenders. In the shop, he spends his days bouncing between various builds and says he gets to work on a nice variety of instruments. "It's a good mix between spec pieces—things I want to build—and something a customer or a dealer has ordered," he points out.
His favorite spec piece so far was a special one: a copy of his dad's '63 Jaguar. "I pitched it to a dealer, and they loved it," he enthuses, "and they wanted me to go ahead and do it. I had my dad take pictures and send them to me. Nobody else knows that guitar, but it was special to be able to do that." He adds that it was weird to play a copy of the guitar he's admired for his entire life. "There's a few paint chips on the back that I remember noticing when I was a kid. To see the paint chips on there, they're strange."
MacNutt and longtime Grateful Dead crewmember Steve Parish take a close look at the Alligator prototype.
Photo by Han-Su Kim
The Alligator project drew on the same inspired, detail-oriented skills. "When that opportunity came up, I knew the guitar," he exclaims. "Ron pitched it to me, and immediately, I was on board." While MacNutt was the expert on his dad's Jaguar, he turned to former Grateful Dead crew member Steve Parish—who made some of the guitar's modifications—to give his Alligator prototype an enthusiastic thumbs up (and there's a video to prove it).
Re-creating the iconic Alligator has a unique angle. "To see a vintage Strat like that heavily modified, you'd never see that now," he says, shaking his head. "But in the early '70s, it was just an old guitar—'Let's hack it up, let's customize it.'" And reproducing his reproduction is another endeavor. "Up until this point," he says, "I've been building different guitars, and I relic them however I want them to look. Whereas with these, I've got a template that I stick to. That's been a new experience. It's fun the whole way through."
Looking ahead, MacNutt sees a lot of builds in his future and is plotting out some new spec pieces. But he feels like the Alligator will loom large for quite some time. "I know that guitar pretty well at this point. I'll come across a picture of it on a random Instagram post now, and it's like, 'Hey, there it is!' It feels strangely like a part of me now."
Photo by Rod Franklin
In an exclusive interview with Premier Guitar, the Stradivari of archtop lutherie reflects on a lifelong synthesis of art and guitars, while discussing the new film that documents his journey.
Woody Mann loved John Monteleone's guitars so much, he thought there should be a movie about them.
After years of playing Monteleone's legendary archtop guitars, Mann, the great fingerstyle player who died in January 2022, pitched his filmmaker friend Trevor Laurence on a documentary following Monteleone's work. Laurence agreed, and when Mann shared the idea with Monteleone, the luthier had just one condition.
"I said, 'Sure, sounds good, as long as we can do it in a way that allows me to express the artistic side of creating these instruments over the years," says Monteleone over the phone from his home in Long Island, New York. "Not only the fine art of instrument making, but the fine art of art itself."
This, in a nutshell, is the story of John Monteleone: The Chisels Are Calling, the new feature-length documentary directed by Laurence and produced by Laurence and Mann. The film burrows through Monteleone's life story, from childhood tinkerer to world-revered archtop luthier, but it also serves as a profound rumination on what moves people to build and create.
John Monteleone: The Chisels Are Calling
Even the documentary's title reflects this depth. It's a phrase that Dire Straits' Mark Knopfler, a Monteleone fan, saw the luthier use often while signing off his emails: "The chisels are calling, it's time to make sawdust." One day, Knopfler was stringing together new chords and melody. Words began to fit together, and he realized he was writing a song about John Monteleone.
It's an eyebrow-raising trivia tidbit, but it also suggests something about Monteleone and his work. It's not just that Knopfler liked his guitars. Monteleone's process and total commitment to his craft stirred something in Knopfler. At a performance in 2009, he discussed the song and his appreciation for Monteleone. He describes witnessing the luthier in his shop, tapping on different pieces of wood and navigating an array of chisels. Knopfler gathered that something stirred Monteleone to do this work. It was more than a job.
"I realized he has this compulsion to be with his chisels and his work," Knopfler told the audience. "It was inspiring, so I wrote this song."
The Chisels Are Calling is a window into Monteleone's workshop, but it's also a window into the soul of a creator.
The Operating Table
The Chisels Are Calling documents John Monteleone's life story, from childhood tinkerer to world-revered archtop luthier, but it also serves as a profound rumination on what moves people to build and create.
Photo by Rod Franklin
Early in the documentary, Monteleone says one of the greatest things that ever happened to him was his family getting a piano. Three years after they bought it, he says, the piano started breaking down, and he convinced his parents to buy a new one. Before it was to be delivered, Monteleone, age 10, asked his mother to "have his way" with the old one: He wanted to tear it apart and study it. She consented, and the young Monteleone set to it, disassembling and diagnosing the marvelous old instrument. Then he started fixing it. By the time the new piano arrived, he had the broken-down beauty fully operational again. Later, he'd use the smash-'em-up tactic again to gain access to the innards of an acoustic guitar sitting around their house.
These were Monteleone's initiations into a lifetime of repairing, building, and creating. His father was a sculptor, so, from a young age, Monteleone had an appreciation for tools, the people that use them, and the things they make. By 14, he had built his first guitar, a Martin-esque dreadnought. And he just kept building. "Once you start, you just can't stop," he says in the film.
In college, he operated on a Harmony 12-string acoustic, repurposing his spruce study desk drawer for tone bars and bracing inside. The guitar lasted a month before it began to "fold up like a banana," he laughs. But that wasn't the end: Monteleone took it back to the operating table, cut it open, and fixed it up. After graduating, he got his first professional gig doing repair and restoration for a vintage mandolin shop in Staten Island.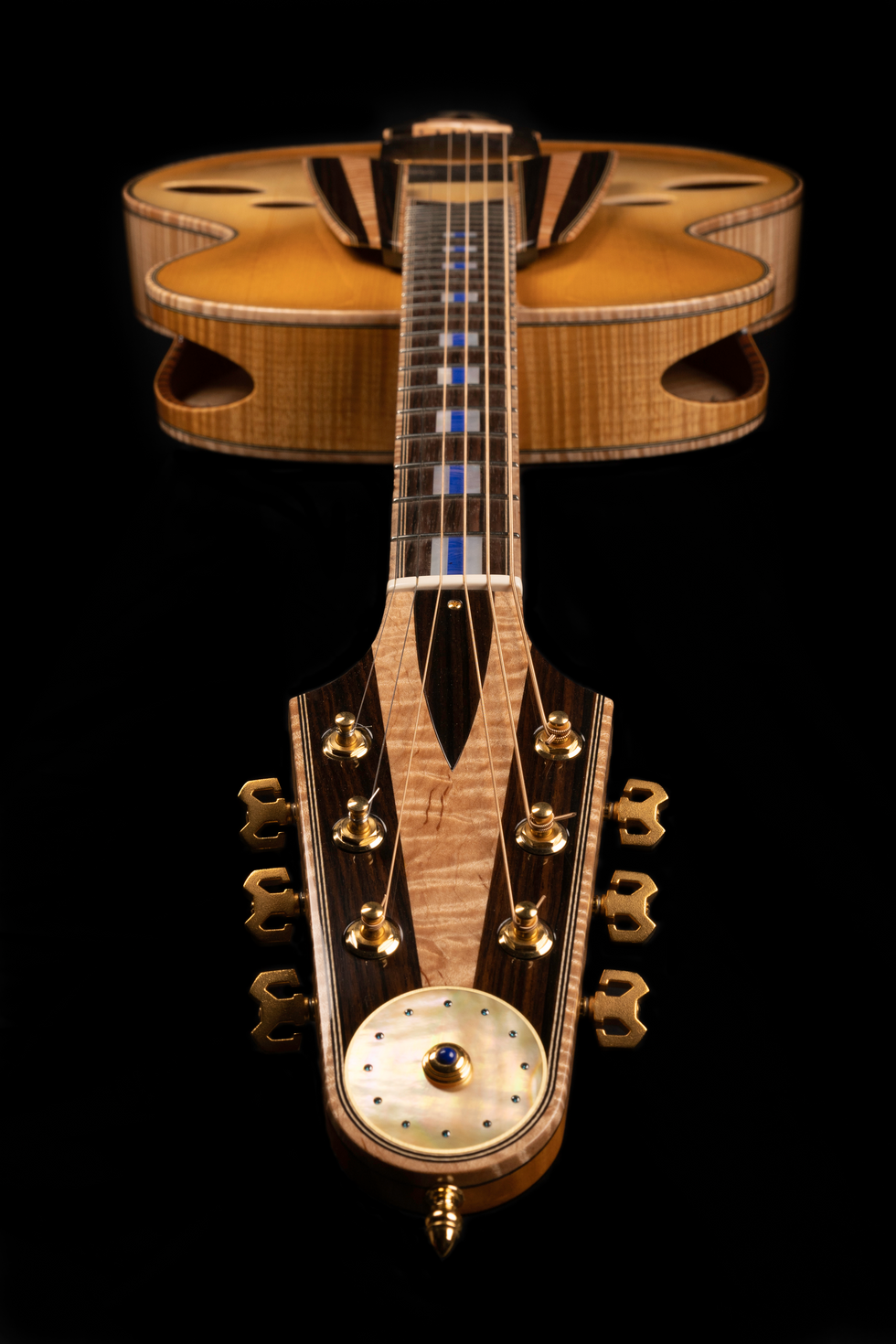 A stunning closeup of John Monteleone's Grand Central archtop.
Photo to Rod Franklin
The rest of the story is fairly well known. Over the years, inspired by legendary archtop luthiers John D'Angelico and mentor and friend Jimmy D'Aquisto, Monteleone has become, according to former Martin Guitars designer Dick Boak, the "patriarch of the archtop guitar community." His guitars have been celebrated as works of art and are on permanent exhibition at the Metropolitan Museum of Art. It's been a pretty swell ride. Monteleone admits in the film, "I always thought of it like I've been retired for the past 45 years." So, what drew him to the jazzy archtop over other guitars?
"The archtop guitar as an acoustic instrument was not really as well-defined as it could be," says Monteleone. "When I started building them, there was something else I wanted to hear from them." As the documentary shows, Monteleone came of age in the American folk renaissance of the 1960s. Fingerstyle guitar playing was exploding in popularity, but it was almost entirely heard on flattop guitars. Monteleone thought it would sound great on an archtop.

"I could hear it, I could imagine it," he says. So, he set out to build an instrument that would be sensitive enough to satisfy and inspire the flattop acoustic player. He wanted to soften the traditionally metallic treble of archtop guitars and introduce a high-end that was fatter and thicker tonally.
"The harmonic balances became a real issue of focus as well as the extreme other ends, the bass," says Monteleone. "An archtop guitar tends to do fairly well responsively through the whole mid-section, but to extend the treble and bass regions of the instruments and bring them into a harmonic balance was more challenging."
In 1995, a collector commissioned John Monteleone to build a guitar with just one condition: It had to be blue. The luthier created the Rocket Convertible, a blue archtop with two ebony-bound soundholes built into the side, with sliding doors so the player can modify how much of the sound is directed to them versus listeners.
Photo by Vincent Ricardel

Monteleone succeeded, as demonstrated through the film by the scores of fingerstyle and hybrid players who have taken up Monteleone archtops for their sensitivity and touch. From Mann to Knopfler to Julian Lage to Anthony Wilson to Ben Harper, Monteleone's guitars are revered among masters of the craft. But one glimpse of a Monteleone reveals that the instruments aren't just about function. They're about form and aesthetics, too. Monteleone has created guitars based on architecture, Art Deco locomotive design, even the four seasons.
In 1995, a collector commissioned Monteleone to contribute a guitar with just one prompt: it had to be blue. The luthier initially set out to build one of his classic Radio City models in blue, but deviated from the path and created the experimental legend Rocket Convertible, a blue archtop that skipped the popular F-hole design in favor of an updated traditional oval soundhole in its spruce top. Monteleone built two ebony-bound soundholes into the flamed maple side facing the player, then fitted both with sliding doors so the player can modify how much of the sound is directed to them versus listeners. They worked like a monitor for the unplugged player, letting them hear more clearly what their audience was hearing. Just like in a classic convertible, a guitarist could roll the top down or put it back up as they pleased.
Archtop Alchemy
Monteleone's Grand Artist guitars are inspired by his mandolin-making years and feature an elegant scroll on the bass-side bout.
Photo by Rod Franklin
Monteleone's approach turns a practical instrument into a gesamtkunstwerk: a total work of art. Though it feels novel in a world of mass-production pragmatism, Monteleone is quick to note he's not the first to elevate form alongside function in musical instruments. It's a tradition that goes back centuries. "We can go back and look at keyboard instruments, we can look at organs in cathedrals, where the basic instruments had been ornamented to a degree that goes beyond the basic idea, to express or make a connection to what that musical idea is all about," says Monteleone. Indeed, late in the documentary Monteleone traces the archtop back to its ancestral roots in violin making in northern Italy, where Antonio Stradivari made his masterpieces in the 17th and 18th centuries.
This somewhat luxe approach might strike some as extravagant amid a cultural era structured on planned obsolescence, instant gratification, and minimalism. But for Monteleone, this extra element is the basis of a fuller experience. "The guitar is so accessible, you can pick it up and have at it right away," he says. "But the musician will sit there and observe, for years, and look at their instrument, and just enjoy the material that it's made from. That's a kind of satisfaction that relates to an enjoyment of the instrument beyond what they're hearing. Now they're seeing something that is connected to that idea of what they're hearing."

He likens it to having a dinner party with friends in a beautiful environment: When the food is great, the company is comfortable, and the setting is pleasing, an evening can be elevated from fine to perfection. Those are the rare evenings that stay in our minds for the rest of our lives.
Monteleone's archtops serve as a reminder that we are surrounded by and indeed entitled to experiencing beauty and spectacle and wonder—things which often feel impossibly out of reach in the sprint of 21st century life.
"There's a completion of the experience that really begins to tie it all together when everything is just right," says Monteleone. "Musically, that's what we're doing, trying to express ourselves. We do that with music and also in conversation and many other forms of art. It makes the experience that much more dynamically enjoyable."
The Thrill of the Hunt
Among their many other functions, Monteleone's archtops serve as a reminder that we are surrounded by and indeed entitled to experiencing beauty and spectacle and wonder—things which often feel impossibly out of reach in the sprint of 21st century life. So rarely do the stars align to produce a complete harmony of sensory experience, but that's exactly what Monteleone has been chasing for nearly five decades.
He says his routine hasn't changed much over time. He's still dreaming up new sounds and expressions to squeeze out of pieces of tone wood. "I continue to do what you see [in the documentary] every day," he says. "There's vision in what I do, and that vision includes what I hear and what I want to hear."
In his own way, this is Monteleone's thrill of the hunt: a tense, invigorating pursuit of the sound and feeling in his head. "It's always maybe a little challenge of expectation," he says. "I can't wait to hear if it measures up to what I think I'm gonna hear. When it all turns out right, it's very rewarding. It's an exciting thing."