Motherload pays homage to the classic fuzz/distortion pedals that set the benchmark of saturated guitar sound.
At the heart of this pedal, you will find two distinct all analog circuits inspired by the Holy Grail of Big Muff® and RAT® designs.
R circuit goes from a touch of overdrive all the way up to roaring distortion. The filter knob is there to ensure that you will smooth out high frequencies or cut through the mix when needed.
M side is the classic fuzz distortion beast you would expect but with great string separation and rich in harmonics for almost infinite sustain. The tone knob is the classic muff-style knob while the voice knob helps you cycle through the wide spectrum of muff design variations.
Each circuit is independent from the other with its own EQ control(s) until…you hit the LINK EQ button. This is where all the magic happens! Now all the EQ controls are active in both circuits and a whole new sonic palette is revealed.
Features:
toggle switch to select between M or R circuit.

DRIVE SECTION:
gain knob controls the amount of saturation.
volume knob controls the overall output volume.
EQ SECTION:o filter is the EQ control - variable low pass filter - of the R circuit
tone is the EQ control – blend between fixed lowpass and highpass filters - of the M circuit.
voice control sweeps through the mid frequencies' tonal variations of the different muff circuits throughout the years
LINK EQ activates all three tone controls (filter, voice, and tone) in both fuzz distortion circuits.Top mounted jacks

Click-less True Bypass design via high-quality relay
Power Supply: 9V DC, center negative power supply (not included)
Current consumption 35mA @ 9V DC
Dark grey die-cast enclosure with holy grail image
Made in Greece
Photo by Scott Kowalchyk
The self-described "utility knife" played drums with John Scofield and Marcus Miller and spent time in the studio with Q-Tip before landing on Stephen Colbert's show as a multi-instrumentalist member of the house band. Now, he's taken over as the show's guitar-wielding bandleader and is making his mark.
It's a classic old-school-show-biz move: Bring out the band, introduce them one by one, and build up the song to its explosive beginning. It's fun, dramatic, audiences love it, and that's how every The Late Show with Stephen Colbert taping starts.
By this time, us audience members have been sitting in Manhattan's chilly Ed Sullivan Theater for about 90 minutes. We've gotten our seats, had a bathroom break after getting settled, and had some fun with warm-up comic Paul Mecurio. The first musician summoned by announcer Jen Spyra is drummer Joe Saylor. Wearing his trademark cowboy hat, he jogs out, gets behind the kit, and kicks off an up-tempo second-line groove. Next comes upright bassist Endea Owens and percussionist Nêgah Santos. The band's trumpeter, Jon Lampley, is introduced, and he's brought along his bandmates in the Huntertones as guests, so saxophonist Dan White and trombonist Chris Ott come out as well.
Louis Cato feat. Stay Human "Look Within"
The multitalented Louis Cato leads the Stay Human band through a special rooftop performance of his song "Look Within," from his album, Starting Now.
The audience is now on its feet, the band's pocket is thick, and the energy is building. When bandleader Louis Cato charges onstage, he reaches his mic on the bandstand and shouts, "I feel good today!" with explosive enthusiasm and a big grin, and the band launches into Jon Batiste's "I'm from Kenner." Cato sings the catchy and gleeful refrain: "I feel good, I feel free, I feel fine just being me / I feel good today." And the audience is feeling the love. Almost everyone is bouncing and clapping along.
A couple minutes in, when it seems like the song has reached its super-positive-vibe, high-energy climax, Cato shouts into his mic, "How do you feel today, Stephen?" And with that, Colbert comes running out from the middle of the set. Cato leaps from the bandstand toward the host as the crowd explodes. The two grab hold of each other and attempt to spin around, but the bandleader, holding his black-sparkle Tuttle T-style, loses his grip and goes sliding across the shiny stage. There's a second where both are comically stunned—Kevin McCallister Home Alone-expressions on both of their faces—but Cato quickly jumps to his feet, both he and his guitar unharmed, and runs back to the bandstand, where he keeps the song moving along with his bandmates, who haven't missed a beat.
All this excitement isn't even for the TV audience! Colbert is coming out for the un-televised pre-show Q&A. In a few minutes, they'll do a new taped intro that looks more like what we see every night. But they've gotten the crowd energized, and we need to keep it up. They need our energy to do their jobs.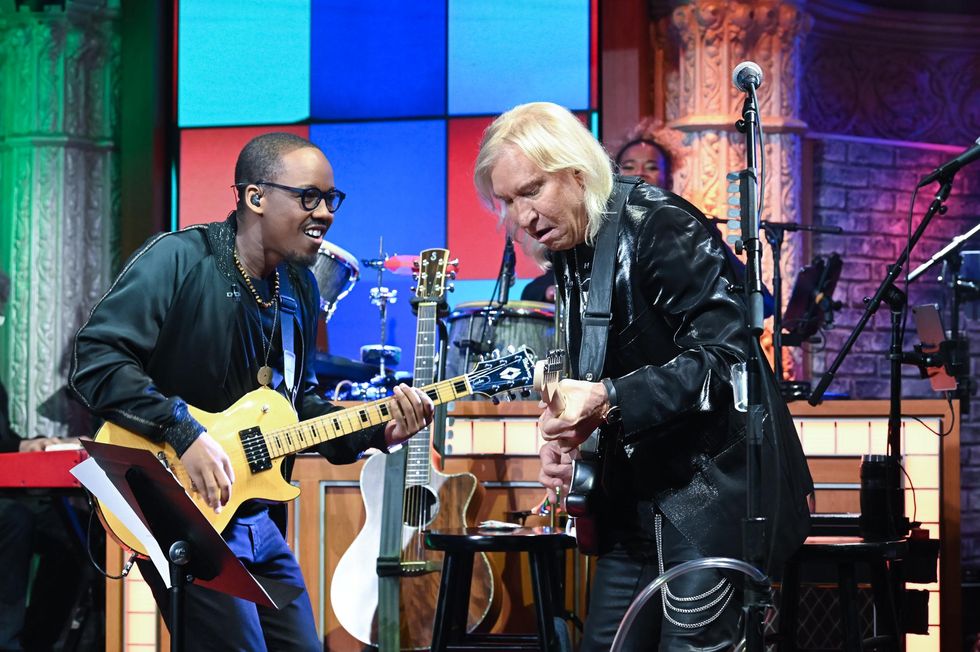 The Late Show Band welcomes a lot of guests up on the bandstand. Here, Cato and Joe Walsh boogie down.
Photo by Scott Kowalchyk
As Cato sees it, that's what his role as bandleader is all about: keeping the audience engaged and amplifying the drama and action of the show. "That translates to the energy that the viewers get at home," he explains. "For all of us here, we're able to feed off that energy and do the best possible show that we all can."
Colbert agrees with that job description and adds that the bandleader himself has the same contagious effect on his players. "Louis is an extraordinarily gifted multi-instrumentalist," he says, "whose spirit of creativity and collaboration not only elevates everything the band does musically but inspires me to be better at my job." He adds, "I'm so happy to call him my friend."
Beyond his infectious energy and charisma, there are a lot of ways Cato keeps the Late Show Band invigorated from night to night. For one, he keeps the music fresh by tackling a new cover song every day. That doesn't mean running down rote note-for-note charts. Cato and the band take a reconstructionist approach that fans of his work—whether from his collaborations with artists such as the Huntertones, Scary Pockets, or Vulfpeck, or from his regular Instagram cover-song posts—will recognize.
"Louis is an extraordinarily gifted multi-instrumentalist whose spirit of creativity and collaboration not only elevates everything the band does musically but inspires me to be better at my job."—Stephen Colbert
On this evening, the band runs through a host of multi-genre reinterpretations during the two-episode taping, including a slow-burning and soulful "Smokestack Lightning," a New Orleans-style "Down by the Riverside," and a fingerpicked, acoustic-led take of Joni Mitchell's "Free Man in Paris" that gets Colbert lip syncing along off camera. On a horn-driven arrangement of Stevie Wonder's "Love's in Need of Love Today," there's a re-worked bridge that creates a generous feature spot for the guest horn players.
Every arrangement brings a new and unique perspective to a classic track, to ensure the band is "not just a wedding band doing a cover of a song on the radio." Cato adds, "We're arranging it and making it our own—because that's the sonic fingerprint of our show."
St. Vincent jams with Louis and crew.
Photo by Scott Kowalchyk
A Lifelong Path
Listening to the story of Cato's musical life, it seems that this job—with its demand for a blend of careful strategizing and on-the-fly creative thinking, as well as effortless instrumental skills and charismatic showmanship—is what he's been training for since the beginning.
On the morning of the taping I attended, I meet Cato in his dressing room. Painted with sky-blue walls and a cloud mural on the ceiling, it's a comfortable place to hang. The bandleader is wearing slim-fit floral pants, a hoodie over a black T-shirt, and a long necklace. He sits across from me on his couch, next to a guitar stand that holds a few instruments—including his Tuttle, a Jesse Stern-built baritone acoustic, and his Univox LP-style—and a '65 Deluxe Reverb reissue with a Universal Audio Dream '65 pedal plugged into it.
"There's not a time in my brain when I was not making music in some way or form," Cato says. His mother, a pianist in the Church of God in Christ, bought her son a Diamond drum kit that he recalls having paper heads when he was just 2 years old, and she started teaching the toddler to accompany her. "I marvel at my mom," he laughs. "Like, who buys their 2-year-old a drum kit?" After playing those drums every day for a year, he started accompanying her at services.
The family moved around a lot. Cato's father was in the Air Force, and Louis was born on a base in Lisbon, Portugal, before moving to Dayton, Ohio. Not long after he started playing in church there, they moved again to Washington, D.C., and when Louis was 5 they settled in Albemarle, North Carolina. A few years later, Louis started playing guitar on a "little burgundy sunburst acoustic. Eventually, I busted a string and busted another string and just kept playing with four strings. I delved more into bass from playing bass lines on the acoustic guitar. So, for my 9th birthday, my dad bought me a 4-string bass."

"I'd show up to Tip's and we'd do a week of writing sessions with John Legend or have André 3000 in the studio for a couple of weeks."
While it was strictly pragmatic reasons that initially drew him to the bass, he says his biggest inspiration was the bass player he knew best: his mother's left hand. Her playing, rooted in the COGIC (Church of God in Christ) style, "involves heavy left-hand bass. I wasn't as psyched to play bass in church since the way my mom plays is very defined. But eventually I kind of had to learn how she plays. It was always just her and me playing. And I had to learn to move with that and follow that. She's a great bass player."
Along the way, Cato picked up more instruments. By the time he headed to Berklee, he was playing drums, guitar, and bass as well as tuba, trombone, and euphonium. "I was going from being a big fish in a small pond to a small fish in a large pond of super-talented people who had heard oodles of music I had never dreamed of," he recalls. So, he decided to focus his studies on the instrument he'd played the longest.
Louis Cato's Gear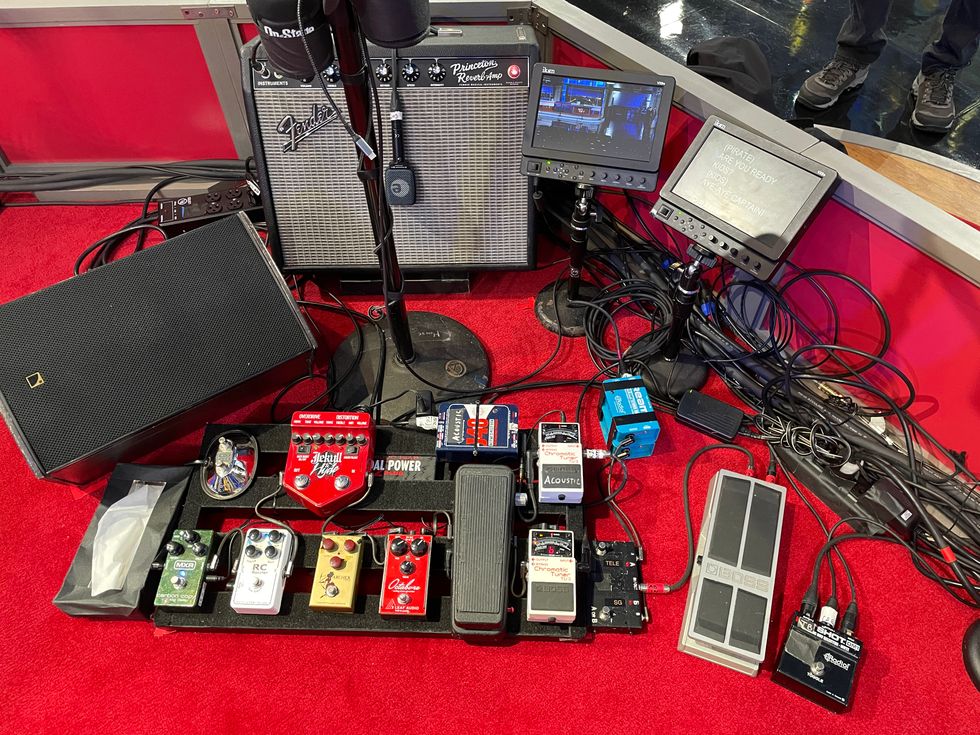 A glimpse at Cato's pedals and amp, which mostly live outside of the camera's eye, behind his stage monitor.
Guitars
Univox LP-style
Tuttle Custom Hollow T
1961 Gibson SG reissue
Martin OM-28
Amps
'65 Fender Princeton Reverb reissue
Effects
Boss FV-500H Volume Pedal
Boss TU-3 Chromatic Tuner
Dunlop Cry Baby
3 Leaf Audio Octabvre
J. Rockett Archer
Truetone Jekyll & Hyde
Xotic RC Booster
MXR Carbon Copy
Strings and Picks

D'Addario EJ16 (.012-.053)
D'Addario EXL110 (.010-.046)
Dunlop Max Grip .88 mm
Cato completed just two semesters—fall '03 and spring '04—before deciding to concentrate on playing the gigs that were paying his bills. "My rationale was, much to my parents' chagrin, here's an opportunity where I can keep learning on the job and be working my way out of the debt I went into in this year."
Gigging with wedding and church bands gave the multi-instrumentalist an opportunity to keep all his instrumental and vocal skills alive. "My oldest daughter was born soon after that," he recalls, "so I felt really, really aware of how lucky I was, how lucky any of us are, to make a living and support a family as a musician." Cato spent five years in Boston, playing various instruments in gigging bands, and he frequented local institution Wally's Cafe Jazz Club, just two blocks down the street from Berklee, "for self-education and inspiration. When that felt like I hit a ceiling, I looked at where I could go to continue my inspiration and working on the kind of projects I wanted to be working on, and that led me here."
By that time, Cato's friend Meghan Stabile, had moved to New York and created the promotion and production company Revive Music, which was dedicated to the kinds of jazz and hip-hop collaborations he wanted to pursue. Cato moved to Bushwick, Brooklyn, with his band Six Figures— "There were six of us; we did not make six figures!"—and would head back to Boston each weekend for the gigs that were paying his bills. Eager to soak up the New York scene, he'd return to New York on Sunday nights and go directly to jam sessions.
All that time back and forth on the Northeast Corridor paid off. A self-described musical "utility knife," Cato's multi-instrumentalism, as well as his talents as a songwriter, arranger, producer, and engineer, made him a major asset as a collaborator, and the New York scene took notice. Soon, he established essential connections that would affect his career, forming "an instantaneous brotherhood that continues to this day" with producer Kamaal Fareed, aka Q-Tip. "Through that, I ended up really delving into a lot of relationships and credits."
The two artists worked on high-level collaborations that not only bolstered Cato's reputation but served as a major piece of his education. "I'd show up to Tip's," he explains, "and we'd do a week of writing sessions with John Legend or have André 3000 in the studio for a couple of weeks. Sometimes things would come from it, and sometimes nothing would come from it. But being in the creative process on that level in a trusted space was invaluable for me. I learned so much."
Outside of Q-Tip's studio, Cato was learning from plenty of masters, mostly from behind the kit. "It's really special when you find yourself learning things you connect to," he says about his work alongside artists such as bassist Marcus Miller, keyboardist George Duke, and guitarist John Scofield. "And I learned so much about myself from connecting to some of these people."
Staying Human
Back in 2015, Cato received a phone call from pianist Jon Batiste. The two had never met, but Batiste rang him up about a mysterious project—a theme song for a TV show that he couldn't disclose. "I had a wisdom tooth appointment back in Boston, and I got a random call," Cato remembers. "I think his exact words were, 'I'd love to have your ears on it.' And I followed my gut, rescheduled my trip, stayed in New York an extra day with an abscessed wisdom tooth."
The two got together to co-write and produce "Humanism," which would become the theme song for the Stephen Colbert-hosted Late Show. Batiste played piano, Cato played the guitar, bass, and drum parts and "put on my editing hat." They brought in Joe Saylor—who would become the show's drummer—to play tambourine, as well as saxophonist Eddie Barbash. "After the session," Cato remembers, "I went back, got my wisdom tooth out, and went back on the road with John Scofield."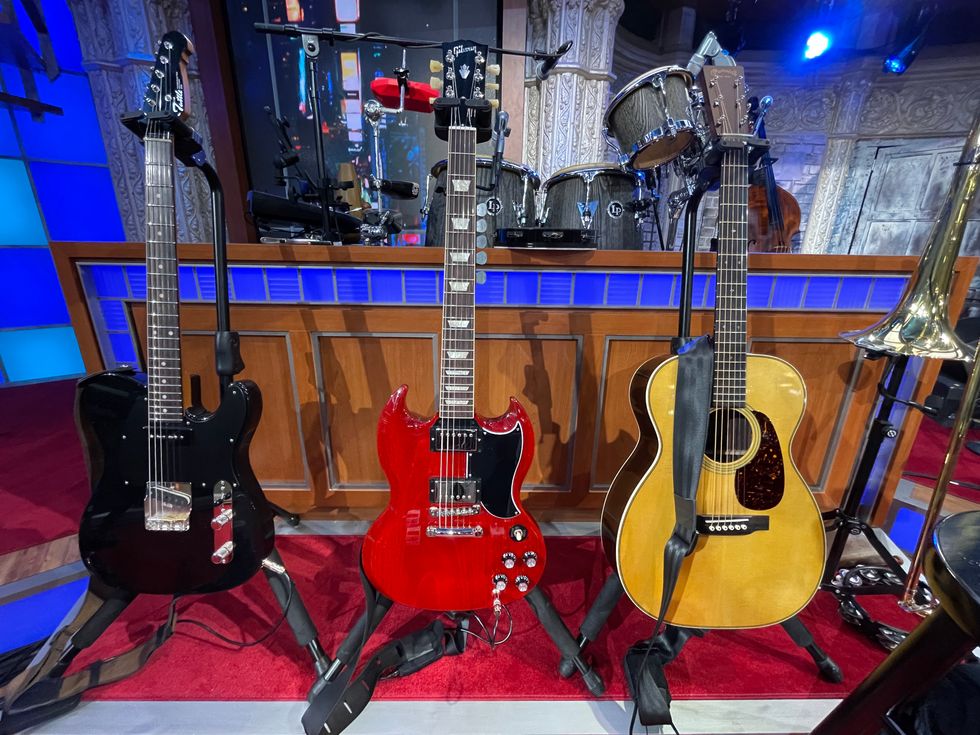 Three of the four go-to guitars Cato uses on The Late Show: a black Tuttle T-style, a cherry-red Gibson SG, and a Martin OM-28.
At first, Cato played the multi-instrumental role of his dreams, attempting to surround himself with every instrument he could play. "That lasted about three days before reality set in," he laughs. "Slowly, one by one, things started disappearing—a floor tom going away here, a Pro Tools setup going offstage there. Eventually, as the band formed out, I moved around to what was needed. I was the utility guy—played a lot of kazoo, a lot of cowbell."
While on the road drumming with Sco', Cato got the invite from Batiste to join the show's band, Stay Human. "It was a huge life shift for me," Cato explains. "I was making really good money on the road with really good musicians, which was really fulfilling. And I took a chance. I loved the idea of being a part of something creatively from its inception."
Eventually, Cato settled into a more consistent electric bass role, until Batiste brought in upright player Endea Owens, and he moved to guitar, where he's mostly stayed. When Batiste left the show last year, Cato took over as bandleader—officially starting this season, back in September—and decided he'd lead from his role as guitarist. "Of all the places I occupied," he says, "guitar was the easiest and most natural to me to lead the band, in the energy. From behind the drums, it's a different thing, and we've done it when Joe was out. But it just was a really natural progression."
Same Show, New Job
In just a few months, Cato's new role as bandleader has had an impact on the show. The renamed Late Show Band's engine seems to be burning on a new kind of fuel. And it feels as though that energy is coming directly from Cato.
When we talk, the guitarist is deeply engaged, in a kind of hyper-focused way that is not intense but more casually un-distractable. He brings that same focus to the show. While Colbert delivers monologues, Cato is zoomed in on the host, listening to every word, often riffing around on his guitar to contribute musical commentary. During interviews, he's taking cues and following the tone of the conversation, looking for ways to adapt.
The bandleader gig requires loads of big-picture improvisation, but also lots of prep. Cato explains that each week he makes a set list, but the band will react and make changes in the moment. "My job ends up being a lot of judgement calls that affect the flow of the show," he says. "We have a group of compositions we wrote for the show that can complement different moments. If there's a major energy shift in an interview that takes a turn or something happens in the day, like a tragedy, we'll call one of the songs we wrote for the show for a moment such as that. Recently, we had a guest on that started improvising a song. So, I have on our in-ear mic and call out the key and start playing, and we all jump in, and now we're doing this instead."
Cato poses with his black-sparkle chambered T-style, made by Tuttle. "When I'm checking off core priorities in sound," he says, "if I'm going for rhythmic things, I go to the Tele."
Photo by Scott Kowalchyk
Watching the Late Show Band in person, I see this play out as Treasury Secretary Janet Yellen explains the steps the U.S. can take to avoid a recession. It's a heavy and heady conversation, and, frankly, it's anything but fun. Cato knows he'll need to pick the audience back up. As he watches from the bandstand, he gives tempo cues to the band, who nod along, so they can effectively shift the energy and get the audience re-focused for the next guest, actor/director Sarah Polley.
As a guitar player, Cato says he sticks to playing things that feel most natural to him so he can concentrate on his bandleading duties. He adds that he considers himself more a rhythm guitarist than a lead guitarist. (It's worth noting that his delineation is more conceptual than musical: Cato is an inspired and dynamic melodic lead player, but his deeply rooted phrasing and feel is at the forefront of everything he plays, so the rhythm-first thing applies to it all.) "This is not a space as a guitar player where I'm jumping out of the box trying any and everything and exploring," he explains. "You get to some of those places. But for me, it always has to start from something I can do while leading the band and reading the energy and making judgement calls."
"We're arranging it and making it our own—because that's the sonic fingerprint of our show."
That rooted, pragmatic ethos applies to the gear he chooses as well. "I never was a big gear person," he admits. Luckily, he has Late Show Band tech and informed gearhead Matt Mead to help him keep his pedalboard well-stocked. "There's so many things I'm learning about the job and trying to keep straight in my head that this ends up getting the short end of the stick, and it wouldn't work if there was not a Matt Mead to make up the rest of that stick and make it sound good."
"The show throws a lot of curveballs," Mead points out. "He steers the boat as far as the tones he's looking for and if there's a particular sound he's looking for. Sometimes, I'll recommend stuff and say, 'Hey I notice you're doing this, maybe we should try this.'"
Cato's collaboratively curated pedalboard is pretty simple at its core: It starts with a Boss FV-500H volume pedal, a Boss TU-3, a Dunlop Cry Baby, and 3 Leaf Audio Octabvre. Cato shows me how he uses the latter for more traditional, Hendrix-style playing, but he points out that the band plays a lot of montunoes, and he tends to use the octave pedal for those. For drive, he uses a J. Rockett Archer and a Truetone Jekyll & Hyde, which are followed by an Xotic RC Booster and an MXR Carbon Copy, all into a Fender '65 Princeton Reverb reissue, and powered by a Voodoo Labs Pedal Power Plus.
In live performances outside of The Late Show, Cato uses various guitars, but says that the studio's cold temperature doesn't do many favors for instruments such as his Gibson Luther Dickinson ES-335 or some of his acoustics, so he's careful when selecting which guitars come on stage at the Ed Sullivan Theater. The three guitars that most commonly appear on the show are his black Tuttle Custom Hollow T, a cherry red Gibson SG 1961 Reissue, and a Martin OM-28.
Another guitar that sometimes appears on the Late Show is his LP-style Univox, which I ask Cato about in his dressing room. "If I need to be altogether comfortable," he explains, "I pull out the Univox, because it's my earliest guitar. I've had this since high school."
Cory Wong "Lunchtime" - The Late Show's Commercial Breakdown
When musical guests visit The Late Show, they get the full-band treatment from Cato and company. Here, Cory Wong sits in for a rhythm guitar showdown of the highest level.
Back when he first got the guitar, Cato remembers, it was in rough shape, desperately in need of wiring and pickup repairs and a new set of tuners. It stayed that way until he was in Boston. When he picked up a wedding band gig playing trombone and guitar, he was lucky enough to have a roommate who could get the Univox performance-ready by replacing the original tuners with locking units, cleaning out the electronics, and swapping the pickups for a pair of Seymour Duncans.
"I didn't even know there was a such thing as a professional musician."
But Cato says that even before those repairs, he's always "loved it because it's all I had. I remember I was playing a little Vox amp, and this guitar had a feeling out of that amp. This guitar just became home base and felt super natural to my fingers. If I need to just not be thinking at all, this is home."
Did he ever dream he'd be on television every night, holding this Univox and chumming with a late-night host? "Never! Not once!" he says. "It was just a product of my nurture growing up in a small town. I didn't even know there was such a thing as a professional musician." And yet, Cato pursued music as fully and single-mindedly as he could. "I just knew that I liked it and felt connected to it."
A multi-effects powerhouse that serves session aces and free spirits.
Seemingly endless sounds on tap. Relatively streamlined functionality. Fun in spite of its complexity. Many authentic analog-style tones. Dual algorithm capacity.
Maximizing pedal potential takes homework. Some digital artifacts in some voices. Spendy.
4.5
5
3.5
4.5
Eventide's Harmonizer family of products are a curiously named bunch. Most do, in fact, harmonize and produce related pitch effects. But Eventide's new H90 Harmonizer, like its predecessor the H9, also does about a million other things very, very well. It's a powerful multi-effect that, in its new incarnation, offers thousands of vintage and future sounds and generates rich textures and tone colors that can transform the germ of an idea into a foundation for composition, or something grander, quickly and with relative ease.
Brother to Legends
The H90's architecture is rooted, to some extent, in that of the H9000 Harmonizer, an $8K, rack-mounted, ultra-deep studio instrument utilized to wildly varied effect by producers, film score composers, and deep-pocketed sound experimentalists. The notion of a compact derivative of the H9000, even with a fraction of the functionality, at a little more than a tenth of the price, is appealing for obvious reasons. But the H90 is impressive outside of comparisons to the H9000. It's very practical— particularly if you work sessions, multiple bands or gigs, or create and produce music on the move. Its footprint isn't much larger than its predecessor, the H9. And, if you consider its size relative to its capabilities, there is little that even space-obsessed pedal heads can complain about.
If you're the impatient sort, or just like to chance upon sounds, you can dive headlong and blind into the H90's world of sound and get cool results. The excellent factory presets make intuitive voyaging a lot of fun. And the streamlined control set makes transformative tweaks easy. That said, you can get in the weeds pretty quickly if you choose to forego a read of the manual or quick start guide. The H90 does a lot. And if you intend to unlock even a fraction of its capabilities you should plan on some homework.
The H90 features 10 new algorithms. Some are familiar effects, like the SP2016 plate reverb emulation, a TS-style overdrive called the "weedwacker," and an emulation of the old Eventide PS101 phaser. Other vintage flavored algorithms include a multi-head delay and Uni-Vibe emulations. More "modern" sounds come via a polyphony algorithm that enables harmonization in specific intervals, and a "wormhole" algorithm that creates the kind of spacious, pitch-modulated reverb washes you associate with CGI animations about the vastness of the cosmos.
Perhaps the most significant enhancement in the H90 is the capacity to use two algorithms in series or in parallel and shape them independently. This capability, along with the streamlined, well-considered parameter controls for each algorithm, exponentially stretch the depth and potential of factory presets and the ones you'll make on your own. Routing and connectivity options are impressive, too. Dual routing means you can set up two independent stereo paths utilizing two different algorithms. There are also MIDI in and out jacks, two inputs for expression pedals or auxiliary switches, and a USB-C port for use with the Eventide H90 Control app.
Harmony of the Spheres—And Many Other Shapes
Listing the sounds the H90 makes would take a review many times the length of this one. And that would only scratch the surface. But it's easy to see why so many musicians that have to cover a lot of bases found the H90's predecessor, the H9, so appealing and valuable. Because once you get your presets dialed in, you can switch readily between familiar vintage sounds and completely alien ones.
As anyone that has used an H9, Space, or TimeFactor can tell you, modern Eventide effects tend to be deep, expansive, and capable of very rich sounds. But the twin algorithm capabilities often create a perceptible extra layer of intricacy that, when dialed in carefully, generates intriguing lattices of sound that can be subtle or strange.
"For a lot of players, the H90's price tag, which is roughly the same as a high-quality affordable guitar or amp, will be worth every penny."
Sometimes the dual algorithms can produce familiar tones. The "hey floyd" program, heard in the accompanying audio clip 1 combines the weedwacker and "spacetime" programs' "outer limits" preset to create a pretty convincing take on David Gilmour's Big Muff and Electric Mistress tones circa The Wall. In the "fuzzy old bits" program (clip 2), a vintage rack delay model and spring reverb emulation combine to create a combination of '80s dotted-eighth delay and '60s surf 'n' psych ambience.
The complexity in dual program settings doesn't necessarily mean they are a washy mess. Combining harmonic modulation with a modulated echo and reverb lends weird animation and movement from odd harmonizing overtones in the "gentle arps" setting (clip 3). "Floating in Space" (clip 4) demonstrates the intricate but clear wash you can create by using two blackhole algorithms at different settings. "Dream Sequence" (clip 5) probes the more ethereal capabilities of the H90, combining emulations of the old Eventide H910 and the spacetime algorithm.
The Verdict
At about 900 bucks, the H90 is a high-ticket piece of kit. If you're strictly a guitarist, your tastes include unconventional styles, and you have a very open mind, the H90 can transform what you play, guide you along unexpected creative vectors, and extract you from a rut in a flash. It also gives you access to a vast library of familiar sounds And for a lot of players, the H90's price tag, which is roughly the same as a high-quality affordable guitar or amp, will be worth every penny. Multi-instrumentalists are likely to get even more out of the investment.
Whether you want to invest the time in digging deep into the H90's considerable powers so that you can justify the price tag is another matter. The H90 is intuitive enough that it takes just minutes with the unit to yield buried treasure. But this is also the kind of pedal that can chew up hours of studio time if you're not careful. A little focus and discipline—and a concerted investigation of the manual—can go a long way toward making freer, more intuitive exploration possible down the line. And unless you're really averse to digital interfaces, there's little cause to be intimidated by the H90's deep capabilities. With practice, programming your own very individual presets becomes a satisfying, creative endeavor, and you're likely to make a lot of amazing sound discoveries along the way.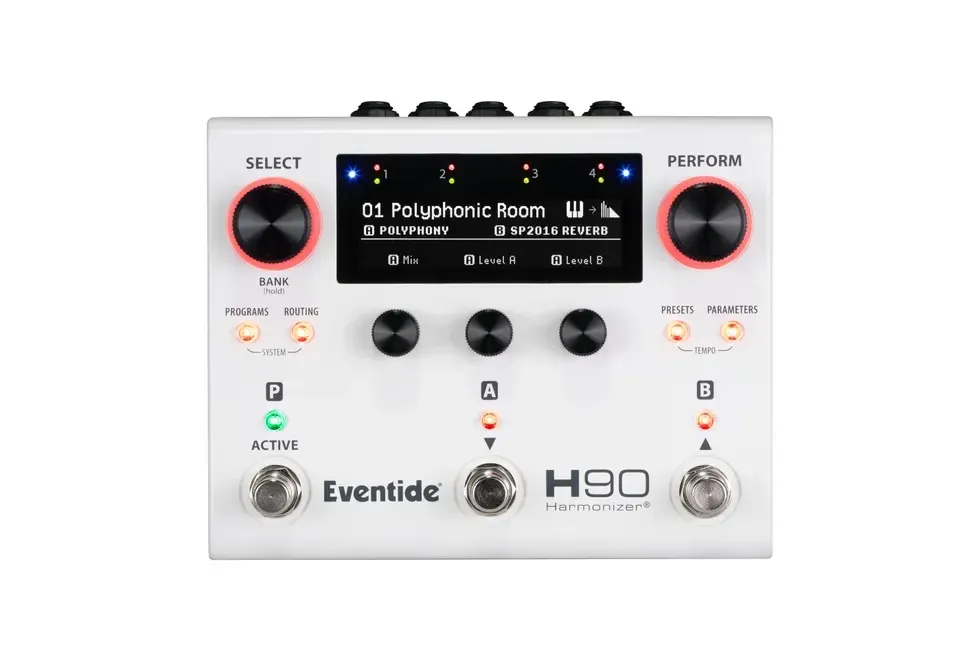 Eventide
A fly rig that gets freaking huge.
Convincing Marshall tones in a very tiny package. Rich high gain, and detailed low-gain sounds. Cool fuzz.
Channels lack independent EQ.
4
4.5
4.5
4.5
As adjectives go, "cute" and "raging" are usually an odd fit. But apart from, perhaps, a rabid pug with vampire fangs, few things are as deserving of both descriptors as Tech 21's Fuzzy Brit. This light, solidly built, and miniscule menace machine is an all-analog, 2-channel approximation of Marshall amps from the Bluesbreaker to '60s plexi and '70s JMP models—all paired with a cool take on a Fuzz Face. And it's a satisfying substitute when you can't lug a massive Marshall head and 4x12 along to the show.
At just 7.75" x 2.75" x 1", the Fuzzy Brit is smaller than it looks. It's slender enough to stuff in your back pocket, which makes its capabilities impressive. Channel A is the cleaner of the two channels. It's lively, clear, and present, sounds particularly pretty and chimey with a Telecaster, and readily lends sass and energy to mid-scooped tube amps that get flat and characterless at lower-club volumes. Channel B is dirtier. It responds exceptionally well to advanced-gain levels that generate a plexi's signature punky, fat, and growling distortion, but also excels at recreating the creaky nuances of a loud, unadorned Marshall at lower-gain settings. Speaking of adornments, the Fuzz Face rips and is a superb pairing, particularly in Channel B. The Fuzzy Brit's one obvious limitation is a lack of independent EQ for each channel. Still, it's a very convenient and satisfying way to get Marshall might from a backline amp that's easy on the back and the bank.
Tech 21
A clever triple-delay offers infinite avenues to echo bliss.
Mysterious, hazy, and uncommon echo colors. A cool break from the same-old-delay blues. Streamlined design.
Clock noise could turn off some users. Limited numbers available—so far.
4.5
4.5
4
4.5
If you don't follow the many-splendored musical world of noisy psychedelia, you might be surprised to know that Oliver Ackermann, co-founder of the sometimes psychotic but often thrilling stompbox concern Death By Audio, also helms the equally psychotic and thrilling band A Place to Bury Strangers. If you've seen APTBS live, you'll understand much about what makes Death By Audio pedals unconventional. APTBS is generally a sensory overload experience. They are loud, sonically confrontational, and capable of oscillating between chaos and dark beauty. Last year marked the 13th anniversary of the band's breakthrough LP, Exploding Head, and,in typically perverse fashion, Ackermann elected to celebrate that most unlucky of anniversaries with a triple delay named in the LP's honor.
In very relative terms, the Exploding Head seems normal compared to many DBA pedals. It's three identical delays run in series. Simple, right? But that simplicity belies great range and a deep capacity for weirdness and subtlety. Exploding Head creates washy reverbs, percussive multi-head delay effects, and mutant delays that chatter like rogue tremolos. It can feel quirky and tricky to handle as you get to know it's weird ways. But mastering just a few simple tricks makes the Exploding Head an engaging, painterly, and even practical effect.
Honed To Honor the Head
Delays arranged in series are one of the coolest ways to mangle and massage sound and time. I often prefer the texture and complexity of two simple delays to traditional delay-and-reverb setups because fewer overtones and harmonics go missing in the wash. In fact, a two-delay setup can actually enhance certain overtones as echoes intertwine and collide. The Exploding Head expands on this concept and enables deep exploration of those interrelationships.
The Exploding Head is effectively an evolution of DBA's own extinct and much-coveted Ghost Delay—an effect instrumental in creating the blown out, industrial, Jesus and Mary Chain-meets-Isn't Anything haze of Exploding Head. The Ghost Delay utilized three cascading delays as well, but featured preset wet/dry blends instead of the three independent blend controls on the Exploding Head. That design change, however, makes a big difference.
"The bright, rhythmic underpinning of the echoes makes individual delay lines more distinct as you add in others."
Controls are superficially simple. There are delay time, feedback, and wet/dry blend knobs, just as you'd see on any delay. But like an analog synthesizer, the interactivity between the three cascading sets of controls makes it hard to replicate sounds precisely, and there are no presets or digital control. Practice and tuning your ear to the pedal's quirks and tendencies helps you engineer roughly identical setups pretty readily. Still, I was inclined to snap pictures of settings that made my favorite sounds—just in case.
Exploding Head's infinity switch is another treat that distinguishes it from the Ghost Delay. Engaging it feeds the output from the third delay in the sequence (red) into the first (black), which enables momentary self-oscillation effects. The addition of this option—on top of a delay array that already lives happily at the edge of feedback and creates blurry washes of polyrhythms—makes the Exploding Head a delightful chaos engine if you choose to take it there.
Willows and Hurricanes
The Exploding Head's chaotic side is a big part of the pedal's personality. But it can be civilized and subdued, too. It happily generates trad delay textures. And when you get a feel for how Exploding Head works as an organism, you'll find a varied lot of echo colors that are as familiar as they are freaked out.
While digital, the basic tonality of a single Exploding Head delay line is not worlds apart from a bright analog echo. It's a touch trebly. There is also perceptible clock noise at many settings, just like an analog unit. This can be jarring at first if you like your delay lush and dreamy, but the bright, rhythmic underpinning of the echoes make individual delay lines more distinct as you add in others, which also has a thickening and darkening effect that blunts the clock noise.
A good place to start exploration of the Exploding Head is to turn all the blend controls to completely dry settings, set the time and feedback controls to near-identical levels (each at high noon is a good place to start,) and then advance the blend of the first delay until it sounds right. As you slowly, incrementally elevate the blend levels of the other delays and shift the other parameters, you'll hear the signal get thicker and wider. And, depending on your time and blend settings, the pedal will generate wild multi-head patterns or subtler variations that have the quality of tremolo or chorusing.
Like any delay, you can use short delay times, dry blends, and long feedback levels to approximate reverb textures. These are a great addition to composite delay images in any position. But I found that situating reverb-like textures in the middle position enables the most ambient colors. The middle delay can also be critical in creating polyrhythmic echoes. Mating a delay-forward blend setting to an odd subdivision of the first delay generates complex percolating repeats that vary in volume. It sounds a little like a multi-head delay arranged via William Burroughs cut-up method—disorienting but also a source of sound poetry that shifts your perspective dramatically.
The Verdict
It seems preposterous to try to assign ratings to the Exploding Head. Some players will find great utility in the pedal, readily encounter beauty in theintermingled echoes, and get blissfully lost exploring the interactive controls. Other players will be baffled. Given that, a prospective customer should be prepared to round up or down—particularly where the tone and ease of use scores are concerned.
One thing all users will agree on, though, is that the Exploding Head sounds colossal. And with a loud amplifier, it sounds wonderfully alive. In the absence of presets, you'll have to be pretty fearless to make changes to the controls on the fly. But perhaps a chain of Exploding Heads is the answer? That would be an expensive proposition. But it might actually result in few exploding heads, too.
Death By Audio