The Rascal returns in an affordable, stylish format—this time with hot humbuckers driving the works.
Gorgeous lines. Balanced, comfortable design. Super playable. Excellent quality. Sweet value. Varied high-output tones.
Humbuckers mean less vintage headroom.
4
4.5
4.5
5
Whether you're a bassist or a guitarist who occasionally fills in as one, short scale basses can be a source of joy, ease, and worlds of expressive potential. Great ones feel like lightning under the fingers. They pack a punch in the fundamentals. And the right ones look and feel a little less like an oversized Viking war ax if you are not a towering Viking. In the case of the newest version of the Rascal, the Paranormal Rascal Bass HH, all of those attributes come together in a bass that's potent and cuts a unique and beautiful silhouette. And though it may be an amalgam of elements from less iconic but beautiful Fender shapes (not least the Fender version that preceded it nearly a decade ago), the Paranormal Rascal Bass HH is a striking, well-proportioned instrument that looks gorgeous and fits like a glove.
Offset Offspring
The first Rascal was an experimental prototype built by Fender Custom Shop master builder Jason Smith for the 2014 NAMM Show. The original version featured a few very substantial design elements. The sweeping bridge was inspired by the tailpiece on the Guild Starfire bass. The headstock matched the contoured take on Fender's trademark headstock that graced the Coronado hollowbody line. The lipstick pickups, meanwhile, were a clear nod to Danelectro. The new Squier version sticks a little closer to Fender convention, and the shared parts bin. The bridge is a Mustang unit, while the pickups are a big, contemporary variation on the Fender Wide Range bass pickup that 1970s Telecaster basses made famous. Like Smith's original Rascal, the Squier version is a pretty thing, and the combination of Fender design elements feels more like an organic whole than a product of Frankenstein's secret bass lab.
The bass is well balanced. Neck dive is a non-existent problem, thanks perhaps in part to the biggish Bass VI body, which has ample mass in the lower bout, and the instrument's 30-inch scale length. The body contours will feel familiar to any player that makes a Jazz Bass home, and the length has the effect of making the Rascal feel substantial where its short scale cousin, the Mustang, can feel almost toylike. It feels very much of a piece, too. So much so that it rattles the ribs with resonance before you ever plug it in.
The neck is lovely. It feels more than a little like a Precision Bass neck in spite of the 4-inch difference in scale length. Again, the curvaceous body probably has a part in this sensory illusion. For more obvious reasons, it also evokes the feeling of the more substantial 1960s Mustang necks I've met. It's a great compromise between fat and thin.
Robust and Rascally
Curiously, the Rascal is the only bass in the Squier or Fender lines that uses Wide Range humbucker bass pickups—either in cunife or more conventional pole-piece formats—which makes you wonder what else the company has in store for the type. (I know a few players that would love to see a Telecaster bass.) And as their impressive, gleaming visual presence suggests, they are a bold-sounding lot. Almost needless to say, they are loud. They'll out-thump a Precision in terms of sheer volume. And they'll blow the Rascal's short-scale stablemate, the Mustang, out of the water when it comes to output and mass, which is a smart move in terms of differentiation among Squier bass models and features.
It's a safe bet that the Rascal's style and price will make it popular to younger, more punk- and punk-pop-aligned players. But the Rascal would not be out of place in an Albert Hall-era Cream tribute band, and could probably give a Gibson EB-0 a run for its money in terms of punch. The tone differences between the pickups, too, lend real utility to the Rascal's attitude. Bridge position sounds are in-your-face and bossy, and will induce breakup in 10" speakers with the right amount of amp push. They can also drive a fuzz or overdrive to fizzy heights. In combined mode, you can use the bridge pickup's mid-forward attributes to convincingly coax Rickenbacker-like tonalities. And the neck pickup has the personality of a gentle bear. I loved using it for mellower, vintage-style sounds.
The Verdict
The Squier Rascal impresses on many fronts. The construction quality is excellent for an instrument in any price class, but it's particularly impressive for an accessibly priced bass. The lines of the instrument are elegant, pretty, and proportioned in a way that suggests an original design rather than an amalgam of existing style moves. But the best thing about the Rascal is the way it feels. It's an instrument that will inspire confidence in a pro or a beginner (and it is very cool, indeed, to imagine a player getting to learn the ropes on this fine machine).
The pickups won't be everyone's lot. They are pretty aggressive and have little of a 1960s-style Precision's or Mustang's high-headroom, rub-a-dub contoured edges in the voice. These are rocking, punky-sounding units and, even with volume and tone attenuation or foam dampening at the bridge, they pump out weight and attitude. For most tunes, these pickups will be a great fit—provided the player has a sensitive touch. But it's hard to not recall the original Rascal's lipstick units and wonder what a little less output could do for such a great feeling bass. Then again, this Rascal is a Paranormal Series instrument, and it exists to accomplish the unconventional and unexpected. Who knows? Maybe a future iteration of this beautiful bass will be more tuned for vintage ears. In the meantime, even strict low-output adherents will likely find something to love in the way this fantastic value looks and feels.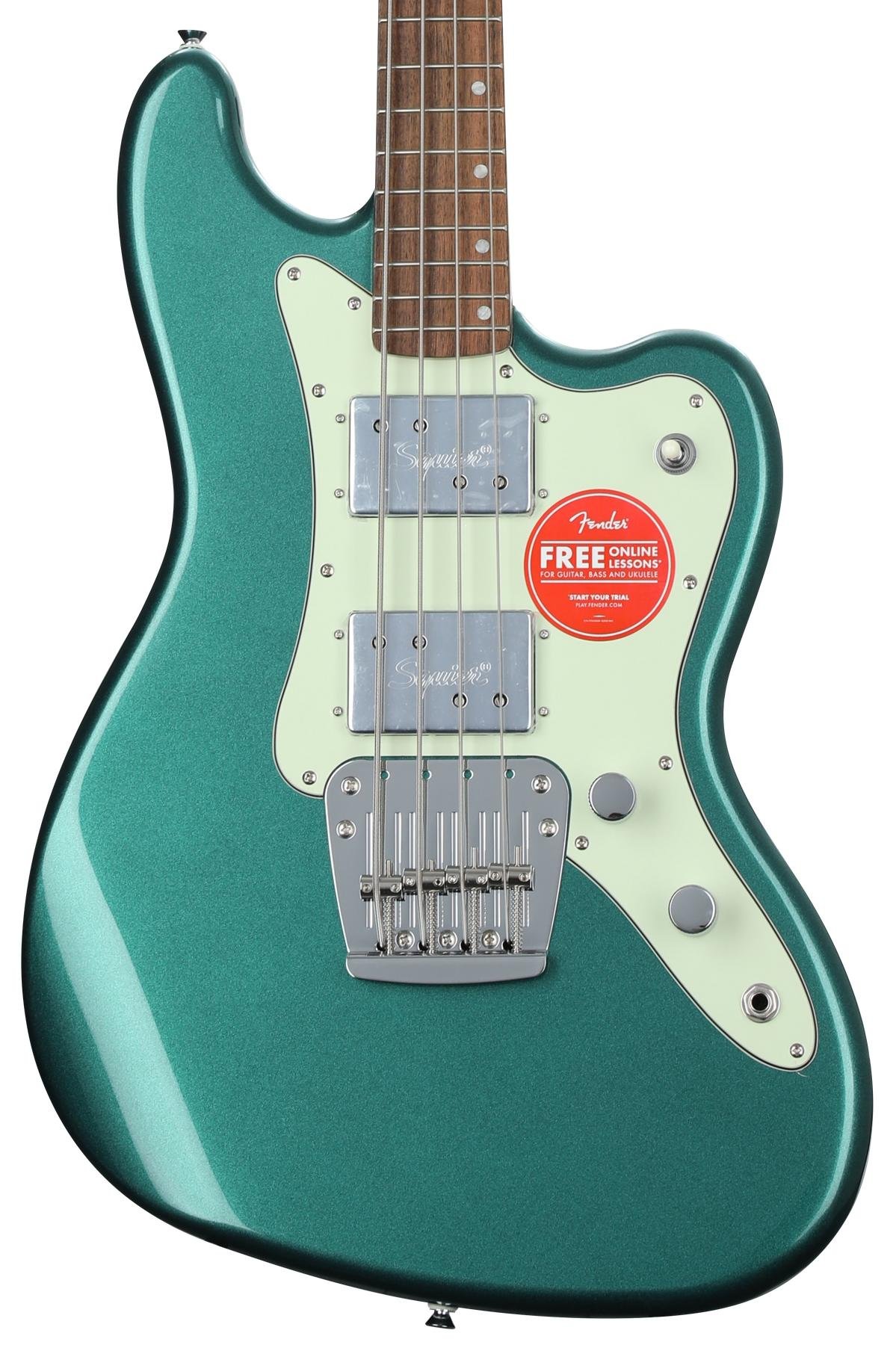 Squier
Stompboxtober is back for 2023! Enter here for your chance to win a Hotone Ampero Mini! Hurry, enter by tomorrow at 11 AM central for your chance to win!
Hotone Ampero Mini
Ampero Mini is the smallest guy in our Ampero family so far, offering you uncompromised Ampero sound in an ultra compact aluminum case.

✪ Ultra compact amp modeler & effects processor
✪ Powerful dual-core DSP platform ensure Ampero-grade tone quality
✪ CDCM & F.I.R.E. modeling system ensures high end tonal expressiveness and realistic playing experience
✪ 24-bit signal processing, 112dB S/N ratio
✪ Iconic touch screen operation and straight-forward UI for intuitive control
✪ Editable effect chain
✪ USB-C port for firmware upgrading, loading/editing/managing effects/IRs via free Mac/PC software or for use as an USB audio interface
✪ Up to 9 simultaneous effect modules
✪ Selected effects from stunning Ampero effects library including: -100+ CDCM HD & F.I.R.E. based amp, cab, legendary pedal models -Next-gen mic position and microphone type simulations -Selected Hotone original effects (drive/dynamic/filter/mod/delay/reverb models and more)
✪ User custom IR loader with 3rd party IR support
✪ Specially designed input jack for both electric and acoustic instruments
✪ 198 presets
✪ Ampero-style acoustic effects and patches
✪ Built-in drum machine with 100 patterns
✪ Built-in looper with max. 100 seconds recording time ✪ Authentic stereo output processing ✪ External controller jack for connecting external footswitches/pedals ✪ Customizable main display modes and theme colors and UI language
✪ Road-ready, light-weight aluminum casing
✪ 9V DC power supply
Dimensions:134mm (W) × 120mm (D) × 49mm (H)
Weight: 529g
Hotone
With funky-cool looks, a comfy short scale, and built-in fuzz, this 4-string is a whole lotta cool. The PG Serek Grand bass review.
Great feel and vibe. Big tone. Onboard fuzz circuit.
I'm like Janet Jackson. I need control … tone control.
4
4.5
4.5
4
Recorded direct using PreSonus FireStudio and PreSonus Studio One 3.

Clip 1: Tone switch off

Clip 2: Tone switch on

Clip 3: Fuzz circuit engaged
You know what I would love to do? Tour the world in support of some heavyweight bands, then maybe intern at a respected bass builder's shop, and then, just maybe, design bass guitars that make a big impact among players in the know.
Or, I could just live vicariously through Jake Serek, who has done everything on my list, and then some. Jake has pulled from his experience on the road, his work at Lakland, and—through his own trial and error—made Serek Basses into a Cinderella story about an independent builder who hit the jackpot.
In a relatively short period, Serek's Chicago-based company has made a name for itself by designing unique, vintage-inspired basses. Even though Serek makes 34"-scale instruments, industry heavies such as Tim LeFebvre (David Bowie) and Brandon Boone (Tedeschi Trucks Band) lean toward its short-scale offerings. We recently got to look at Serek's latest 4-string shorty: the Grand.
The Grand Design
The Grand's appearance is just that. Opening Serek's very stylish gig bag, I giggled a little at what I saw. First, there's the body shape, which is vintage-inspired and sits like a race car. There's the gold racing stripe, the bowling ball scratch plate, and the offset TV Jones Thunder'Blade pickup. And finally, there's the simple control set that just begged me to say hello.
The Grand basses are made in small batches. A 30.5" scale is how manufacturers typically design short-scale basses. But Sereks play bigger, so there's no loss of bass integrity just because the instrument is shorter or lighter. (This Grand weighed in at just over 7 pounds.) The roasted-maple neck has the right amount of heft and feel, with an easy C-shape, and the bone nut measures at 1 5/8", so it's very Jazz-like in that regard. The nickel frets were perfect, with no edges or anomalies, and the action from the factory was set very comfy. The oversized headstock with Hipshot Ultralites balances the Grand quite well, and the 4-bolt design is solid, with a super-tight neck joint.
A Grand Vernacular
I plugged the bass into an Eden Terra Nova head pushing a ported 2x10 cabinet. The controls on the Grand are minimal, with just a volume dial and a 3-way toggle switch. Instead of a traditional tone control, the toggle essentially offers "tone open" or "tone off," plus a mystery third position to be revealed in a moment.
This isn't a P- or J-style setup, because it speaks a language all its own.
With the tone open (middle position), I rolled up my lonely volume pot and got to work. Thunder'Blade pickups are true supercharged engines on basses, and this one's no exception. The bass sounded big and authoritative with tons of low-end air movement and all the articulation you'd need. But to isolate the Grand's bass tone to one lane wouldn't be fair. This isn't a P- or a J-style setup, because it speaks a language all its own. The Grand is a touch throaty, which allows it to cut through the mix, for sure.
Flipping the toggle to the tone-off position, I wasn't quite as excited with the prospects. The tone-off vibe certainly has a place in the musical universe. (Earth-shaking reggae and dub bass players take note.) I'm not a designer or audio engineer, but maybe a "half-tone" option would have been cool on this bass, as opposed to the nothing-or-all approach.
The third position on the toggle is the activation point for the "Skuzz Serkit," a very clever passive-fuzz circuit. I am a fan of onboard effects. I know that some companies back in the day went a bit overboard at times, but being able to hit some fuzz on the fly is a wonderfully freeing feeling. And it adds to the nostalgia this bass evokes. Plus, the fuzz circuit sounds really good, so that certainly helps. It's beefy and impactful, without being overbearing.
While I appreciate the design of the controls, I do wish I could have a bit more, well, control over the tone. In my world, a tone control is my "situation adjustment," so I like being able to go higher or lower depending on the vibe of the session, the push of the effects, or even the genre of music. This option is not available here, but it's also not necessarily a bad thing. To many players, this won't be an issue at all, because the tone in the open position is a great one that will work in numerous situations. Those few times adjustments might be needed, players will just need to take a different route to their exact tone.
The Verdict
I really like this bass. For those of you thinking a short-scale isn't your bag, you'd be pleasantly surprised with this one, simply because it plays and sounds much bigger than it really is. Being an old soul with retro love, I like that the Grand has an onboard fuzz switch (and no battery required!) that gives plug-and-go purists an option to dive into some grit without a pedal.
The Grand is well-balanced, super comfy, and just looks cool. With the absence of a traditional tone control, I did, however, wish there was maybe a "half-tone" setting, or maybe an additional mini-toggle. Sure, the price might be hefty for some, but there is something to be said for a well-built, U.S.-made instrument that will mature with age—and with grand style.
This 30"-scale 4-string has a velvety voice, vintage vibes, and comfort for both the hands and wallet.
Recorded direct into Focusrite Scarlett 2i4 interface into GarageBand.
Clip 1: Tone knob at 50 percent. Picked.
Clip 2: Tone knob rolled all the way off. Thumbed.
 

Ratings

Pros:

Comfy build, cool look, and nice finish. Fat and full bass tone without floppiness.

Cons:

A tug bar would have been cool to keep with vintage vibe. Test bass in need of an intonation tweak.

Street:

$699

Schecter Bansheeschecterguitars.com

Tones:Playability:Build/Design:Value:
These are exciting times for fans of short-scale basses. Because of their increasing popularity, more and more options have been coming to market over the past several years. Shorties have long been a favorite of studio cats because of their fat and rich tone that sits nicely in a mix, but they're also ideal for a range of other players. For those smaller in stature and/or hand size, beginners, or guitarists making the switch to a 4-string, less neck real estate to manage and quicker shifting and skipping are things few are going to complain about.
With close to 50 years in business, Schecter continues to be a force in the bass and guitar arena with their huge range of instruments and forward-thinking designs. For many, Schecter means metal, thrash, and hard rock because of the company's legions of players who lean towards the heavy and dark side. But Schecter also has deep roots with more traditional instruments going back to their modest beginnings as a parts-only shop, and they've released their share of decidedly traditional-looking guitars and basses over the years. One such new addition is the Banshee bass, a 30"-scale monster that takes some cues from classic Fender style, but remains a 4-string go-getter all its own.
The Long and Short of It
As a P bass player, primarily, the short-scale Banshee's classic single split-coil aesthetic spoke to me straight away. Like Schecter's original Banshee guitar on which it's based, the body cut somewhat resembles a Fender Mustang. The inspiration for the Banshee's classic-looking 4-in-line headstock (not that common on most Schecters) also comes courtesy of the original Banshee, as does its shape and finish, which gives a flash of the natural maple underneath.
Other standout appointments on the Indonesia-made Banshee include offset/reverse pearloid fretboard inlays, a Tele-like control plate backing the volume and tone knobs, and Schecter's stout high-mass bass bridge, which can be top loaded or strung through. Another nice touch is the spoke-wheel truss-rod nut (which I didn't need to use), for super-easy neck-heel adjustments. Our test bass was finished in olympic white, and the Banshee is also available in carbon grey and vintage pelham blue.
What grabbed me from the get-go is the Banshee's feel. I'm most at home with a standard-scale bass, but I do like mixing it up from time to time with a shortie, because, well, they're fun and fast. The Banshee doesn't disappoint with its thin, C-shaped 5-bolt neck and balance. When strapped on, there was little to no neck dive from my desired position, and at just a hair over 8 pounds, it's easy on the shoulders and back. The Banshee's neck is capped with a rosewood fretboard, its backside kissed with a fast, satin finish, and its nut width will be pleasing to Jazz players at 1.5". The smooth fretwork and action aided in easy shifting, and the construction overall was impressive. All the hardware was locked down clean and tight, and I didn't come across a single ding, scratch, or glue miscue.
It has noticeable P bass characteristics with its solid lows, but the tone is certainly thicker, fatter, and boomy.
For electronics, the Banshee is outfitted with the simple, tried-and-true combo of a single split-coil managed by a volume and tone knob. I ran the bass through a GK 800RB/Orange OBC212 combination, and later plugged direct into a Focusrite Scarlett 2i4 interface to my DAW.
Get Width It!
Starting out with the tone at about 50 percent, I was introduced to the Banshee's vintage-vibed timbre. It has noticeable P bass characteristics, with its solid lows, but the tone is certainly thicker, fatter, and boomy. The Banshee doesn't feel or sound overly floppy, like some other shorties I've played, nor did I experience noticeable fret buzz. It should be said, however, that our test bass did have some intonation blips in the higher register and away from the money notes—most evident on the 4th string—but I think they could be easily remedied with a setup.
Rolling the tone down a bit and fingerpicking near the pickup produced a more old-school timbre, apt for Motown-inspired licks. And when taking the tone almost all the way down and thumb picking towards the neck, the Banshee showed that it will get along with reggae and dub, too. Its darker tones are certainly woofier and woolier here, but not to the point of being too muddy with little definition, probably also thanks in part to the new strings. And speaking of strings, I'm confident the Banshee would pair nicely with a set of flatwounds.
When I favored the other side of the responsive tone control by diming it and using a plectrum, the Banshee shined as a rock machine that was begging for more aggressive post-punk and power-pop runs. I'm typically a heavy hitter with a pick, but the Banshee was responsive for a short scale and held up to a stronger attack. The Banshee probably won't win any slap contests, and, nope, the Banshee doesn't have the same tight zing, snap, and top end of a standard-scale instrument. But, that said, my treble frequencies were plenty pronounced for a hard-hitting sound that worked especially nice with a good-sized dose of overdrive in the signal.
The Verdict
Banshees are known to wail, and the Schecter Banshee can do so, but it makes its mark with its thick and powerful low end. Its DNA couldn't be much simpler, with a single pickup and single tone control, so I'll call the Banshee elegantly simple thanks to its subtle but noteworthy aesthetic features that set it apart from the growing number of available short-scale basses. Its combo of deep-fat tones and smooth playability make the Banshee a blast to play, and, in turn, hard to put down. And while it's probably a bit pricey for a beginner's bass at 700 bucks, I think it still brings plenty of bang as a well-built, big-sounding shortie that would make a useful addition to a player's stable.
Convincing 12-string tones, anyone? The compact-stomp vets retreat from less-used OC-3 features while preserving vintage octave vibes and serving up stunning new capabilities.
Recorded using a Squier Tele with Curtis Novak Tele-V and JM-V pickups into a 1976 Fender Vibrolux Reverb miked with a Royer R-121, going into an Audient iD44 then into GarageBand with no EQ-ing, compression, or effects.
Clip 1: Both pickups in poly mode (with direct level at 11:30, +1 octave at 1:30, -1 octave at minimum, and -2 octave range at minimum).
Clip 2: Bridge pickup in vintage mode (with direct level at max, +1 octave at minimum, -1 octave at 10 o'clock, and -2 octave range at minimum), then with fuzz also engaged. SImultaneously routed through a Fender Rumble 200 miked with an Audix D6.
 

Ratings

Pros:

Capable of yesteryear's quirkiness

and

myriad subtle and practical applications.

Cons:

Not completely immune to digital-sounding artifacts. Careful dialing still crucial to avoiding cheesy vibes.

Street:

$129

Boss OC-5 Octaveboss.info

Tones:Ease of Use:Build/Design:Value:
A lone octave effect can easily veer toward the land of Cheez Whiz. Part of that boils down to lack of user restraint, of course, but also because note tracking on many octave pedals isn't conducive to much other than single-note lines. Even then, you have to be either careful with pick attack or okay with the note glitching common to a lot of octave circuits.
Some of us find that old-school octave-pedal glitchiness endearing, but with Boss' new OC-5 you don't have to take sides.
Some of us find that old-school glitchiness endearing, but with Boss' new OC-5 you don't have to take sides. "Vintage" mode yields a response similar to the original OC-2 from 1982, but flip to "poly" mode (first introduced on the OC-5's predecessor, the OC-3, but now enhanced with the engine from Boss' SY-1 synth stomp) and whole new worlds open up. The new Boss jettisons its forerunner's drive mode and dedicated bass input, but improves on its tracking and ability to handle several notes simultaneously. Pair this with the OC-5's ability to precisely and independently dial the level of a note one octave down and/or a note two octaves down—plus one up, if you like—and the OC-5 can morph from lovable niche attraction to full-time stealth weapon. Tracking, frequency control, and note separation are so good that you can use the OC-5 for everything from adding a root bass note to chords to subtly thickening 6-string, 4-string, or acoustic tones, or making guitarists in the crowd wonder where that wonderful-sounding 12-string is coming from.
Test Gear: Squier Tele Custom with Curtis Novak JV-M and Tele-V pickups, Gibson Les Paul with 57 Classics, SolidGoldFx Electroman MkII, Anasounds Element, Jordan Fuzztite, 1976 Fender Vibrolux Reverb, Fender Rumble 200 1x15.