Our columnist shares how this guitar comes alive when played, with its small body belying its impressive voice.
Last month, I was talking about fragile guitars and how I'm always afraid of damaging or marring delicate things. Well, this month, I'll take another look at a small hollowbody that, when I first got it, scared me in a different sort of way. Gentle reader, this guitar was alive —and I mean that in a sincere way. Good grief; this little guy vibrated and shook like an old-school 1970s stereo at full tilt! Let me introduce you to the St. George EP-85, dating to around 1964.
In the early days of guitar importing, there were a few Americans who ventured over to Japan, and Anthony George was one of the first. Mr. George owned several George Music Stores in upstate New York and one in Los Angeles, California. And, you guessed it, he used "St. George" as his brand name. He was influential in getting instrument manufacturer FujiGen Gakki up and running, and he was a rather prolific importer of Japanese guitars. He would often make specifications to Japanese factories and ask for certain models. Many of his early designs were originals, and kinda cool in their own right. The guy had an eye for design and sales, so most of his guitars sold pretty well. During one of my trips to Japan, I got the chance to look over sales receipts and shipping orders (FujiGen saved everything), and Anthony George was all over the earliest records. (One of his grandsons is still around, and is a fine fella!)
Now, the St. George EP-85 was made by Kawai , since the company was earlier to the game than FujiGen. Kawai had already designed a few pickups and had a full woodworking factory, since their previous business was in making pianos. The Kawai company had several decades of woodworking experience, and it had amassed a stockpile of properly aged wood. Some of the finest wood I've ever seen can be found on the earliest Kawai guitars. Seriously, there's gorgeous Brazilian rosewood and finely flamed maple on basic student models! I'm not usually a wood fanatic, but I have seen Japanese factories with whole warehouses full of 100-year-old wood, and I've seen drying facilities with classical music being pumped in so the wood can be happy, I guess. What I'm trying to say is that in the traditional Japanese manner, they take their art seriously, no matter what the medium. And this undersized EP-85 is a perfect example.
"Good grief; this little guy vibrated and shook like an old-school 1970s stereo at full tilt!"
I no longer own this guitar, but I remember my experience with it pretty clearly. I'm guessing that this model was designed to resemble an early 1960s Gibson ES-140T because of the size, single Florentine cutaway, and P-90-like pickups. The St. George has a similar wood construction to the ES-140T as well. I have some experience with older Gibson hollowbodies, because there was a Gibson retailer in my area, and I used to see some cool examples show up in the classified ads back in the day. I also own a 1956 Gibson ES-125, and that thing projects like a cannon! The St. George, though smaller, also projects well, and when I first played it, it was shakin' all over! The guitar was one of the most resonant instruments I have ever owned! I have guitars hanging all over the walls here and I often just strum them and listen, or feel, for resonance. The EP-85 was always the belle of the ball!
The electronics feature a basic layout of two volumes and one tone knob, and then a pickup switcher located on the upper bout. The pickups, in common Kawai fashion, read out at around 4k. But also in Kawai fashion, the wiring is in series, so the middle position puts out close to 8k, which can really drive a small tube amp. Thankfully, the neck angle is serviceable, which really is a blessing since the truss rod isn't adjustable.
For slide players, this guitar is the bee's knees! It can handle a little overdrive without totally losing it, and the constant string contact allows for some control over the feedback. Otherwise this guitar wants to take off and fly into the feedback zone, which is always sort of a cool adventure.
This model only had a short run, and was gone from Kawai catalogs by around 1965. Those big white cupcake knobs and pickups help to place a date of the early 1960s, and as the years passed, so did the quality of Kawai electrics. The company did go through an insane design phase in the late 1960s, but none of the guitars shake like this one. And, I didn't break it!
1964 St. George EP85 Guitar Demo
This vintage LG120T wasn't in production long, but its movable neck pickup still might seem like a fresh idea.
So many novel guitar ideas have been forgotten to time. If you're a guitar designer and you think you've come up with some epic concept, chances are that someone somewhere already tried it. This month, I was thinking about a rare vintage Guyatone that featured a design that still seems novel when builders toy with it today : the movable pickup.
This instrument probably wasn't the first guitar to use something like a movable pickup. It's worth noting that DeArmond's famed Rhythm Chief pickups , which debuted in the 1940s for mounting on round-soundhole acoustic guitars and hollowbodies, offered a pole along which the pickup could be slid to different positions beneath the strings. But for some, the LG120T was probably a wild introduction to varied sonic possibilities. Introduced in the Japanese domestic market in May 1966, the LG120T was a bit like those old science kits you could buy as kids. Maybe you remember those old sets where you could connect wires and make lights flash?
"The LG120T was a bit like those old science kits you could buy as kids."
The body is similar to that of the Kent guitars offered here in the States, but the electronics were unique for Guyatone. Check out those mini switches above the pickups. They offer options such as "cool" and "hot." But what they really do is select phase, tone cut, and pickup options. Those two switches really provide a lot of sounds.
Then, of course, for even more tones, you have the movable neck pickup, which is attached to the pickguard via two screws, allowing it to rotate. Sliding the pickup around accentuates the bass or treble response. It's a subtle change in tone, but it's still cool and innovative for the time.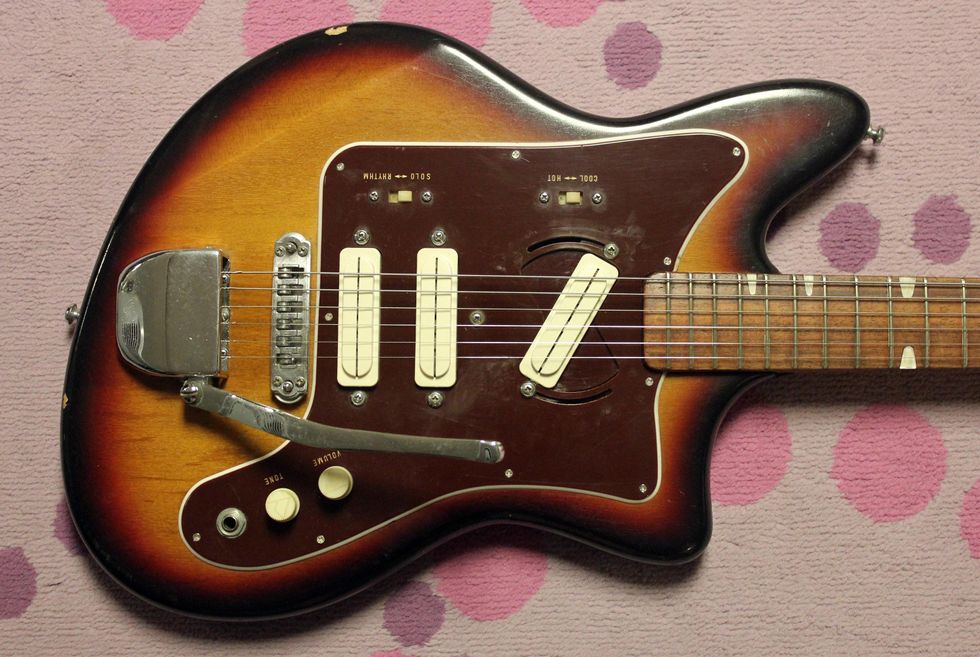 Look closely and you'll see the "solo/rhythm" and "cool/hot" switches, plus those fretboard inlays are pretty hip. But the neck pickup is the real showstopper.
There were problems with the design, though. The pickguard on these guitars often cracked due to movement, and the neck pickup wiring is prone to disconnect after many rotations. That was the case with this month's guitar when I acquired it, so it needed to be rewired at the neck.
Otherwise, the LG120T featured some typical Guyatone design cues of the time, such as a solid wood body and decent tuners. This model clocked in at the lower end of the price range and cost 16,000 yen back in the day. In comparison, the awesome LG180T Telstar was priced at 32,000 yen. The tremolo was somewhat unique on this model. It has a cool-looking arm with a rounded end. It's a little detail, but I like it! This model also featured the roller bridge found on the much more expensive Guyatone Sharp 5. But man, those old roller bridges can be tough to set up!
There were two types of pickups featured on the LG120T, but they are basically the same. This guitar features the plastic covers with a slit across the front, and some models had a more open design where you could see the magnet slugs.
These LG120T guitars only lasted for a year or two. By 1967, Guyatone was really starting to struggle. Their guitars might have been popular, but they were being relegated primarily to the Japanese market. It's sort of a bummer, but that's business, I suppose. It's no surprise that these days they're really hard to find—especially in working condition. Every now and then, you can still see a new take on the movable pickup design, even though it's never caught on en masse.
It sure looks like a banjo, but this vintage Kawai-made instrument is definitely a guitar!
I've been hunkered down in the basement with my dogs while my family is upstairs blowing their noses. I'm the only uninfected person in the house. Last night, while I was trying to stay germ-free, I was digging on Paul Thomas Anderson's 2021 film, Licorice Pizza . Set in 1973 in California, the soundtrack features a great assortment of songs I'd never heard before and some classics. One song that was playing in my head for the rest of the night after I watched the movie was "Let Me Roll It" by Paul McCartney and Wings. That song reminded me of the guitar education I got from my buddy Mike Dugan, who has been playing guitar since before the Beatles played in the U.S.
When Mike and I used to demo guitars in my basement, I learned something new every time. He insisted that every guitar had at least one song in it. I would hand him guitars, and he would play a little and tell me the song that was buried inside. I got to learn about a lot of music that I was otherwise simply never exposed to. Anyway, "Let Me Roll It" was the song that came out of one of my Kawai-made "banjo" guitars, sometimes called a banjitar. The other one I owned had Ten Years After's "Going Home" in it. Go figure!
I'm actually surprised I never wrote about this guitar before, because it is just so odd.
All Kawai banjitars share the model name CB-2V (the CB stands for concert banjo), even though they were sold under different brands—Splendor and Winston, in the case of my two. These were only made in 1968 (along with a bunch of other crazy Kawai-built guitars) and were primarily sold in Japan. I'm convinced that LSD was introduced in Hamamatsu, Japan , around that time because the Kawai designers were just straight trippin'! (I'm actually surprised I never wrote about this guitar before, because it is just so odd.)
A good friend used to travel for his work, and wherever he went to Japan, he would check out the local secondhand shops (which are hugely popular there) and send me pics of interesting guitars. I bought the Splendor guitar this way and had it shipped. I found the other one here in the U.S., where they were usually sold with the Winston badge.
Resplendent with body and neck binding, a German carve, a flip-up bridge mute, and a gently curved back, the CB-2V is also bizarre. The guitars have two pickup switches, a volume and tone knob, and, unfortunately, one of the worst of the Kawai tremolo units. But hey, you can't win 'em all.
The only reason this was dubbed the concert banjo is simply the round body, which was solid underneath the pickguard. Otherwise, it's just a regular old six-string with some plinky sounds thanks to the shallow break angle. I suppose you could even coax some sitar-like sounds with the proper set-up. Mike was always able to crank out some raw blues thanks to the Kawai pickups, which at this point were a little less hot than the Hound Dog Taylor guitars from previous years. But Kawai was still using my favorite series wiring, and with both pickups turned on, you can get 10.95k worth of output.
The CB-2V has a 24" scale and a thin laminated neck. Overall, the guitar feels super small on your body and does not balance well at all. The fatal flaw of these guitars is the neck and string alignment. The bridge puts both E strings at the very edges of the neck binding, which leads to a lot of misplaced notes and fretting errors as the strings just pull off the side of the neck. But hey, you probably weren't buying this guitar for the playability. In fact, I don't know why you would buy one of these other than the strange factor, which is worth something to certain types of players.
How an improbable instrument shaped the sound of one of music's most endearing curiosities.
Music has always been my escape. For a while, I was collecting obscure records from obscure bands, and that was just about as much fun as collecting obscure guitars. In my eccentric music collection, you can discover fife and drum music of Mississippi, 1960s Cambodian garage, furious punk, rap, hip-hop, ska, reggae, and raw blues that could peel the paint off the walls.
There was one legendary record that I was always on the lookout for: Philosophy of the World by the Shaggs. The only version I had was a scratchy cassette with a washed-out photo of the album cover. I was turned on to the band by one of my good friends, who also turned me on to the Ramones! But the Shaggs were really something else entirely.
There are two things that are most interesting to me about the Shaggs. One is the mixture of their off-tempo, off-beat sound with an innocent and endearing quality. It sounds like someone handed some sheltered kids instruments and then simply had them write songs without any training or theory or ideas of what was popular music. And that's pretty much the deal!
The band's backstory is basically this: The Shaggs consisted of the Wiggin sisters from Freemont, New Hampshire. Their father somehow thought that, through some kind of divine intervention, his daughters were to become a famous musical act, and the man devoted himself to forcing the sisters to practice, write music, and even record an album. This was in the mid-to-late '60s, when there were plenty of strange musical ideas being explored, but the Shaggs' sound was really different. It was music written in a bubble inside a cultural vacuum. And I think it's glorious.
Here's the bass version: The Avalon AV2B.
The second thing that drew me to the Shaggs was their guitars. In the grand tradition of matching instruments, the girls played an uber-obscure guitar called the Avalon AV-2T. I wrote about this exact guitar way back in 2014 , but as I was thinking about the Wiggin girls, it got me to examine how a guitar can influence an artist's sound or writing style. The Avalon was a Fujigen product from the late '60s, and during that era the guitars all featured rather slim, laminated necks that were perfect for smaller hands. But the tiny frets required some finesse to apply enough pressure. And the action was usually only decent up to around the 12th fret, so your chords and keys were limited. Plus, the bridge offered very little sustain. I mean … that is the Shaggs' sound! These Fujigen pickups have that resonant, thin tone that you can hear all over the recordings.
The body style of the Avalon is so psychedelic, like a crossbreed of a Burns Bison and a Mosrite, pollinated with a Teisco Spectrum 5. Like … this was one of the craziest of the old Japanese guitar designs and it was adopted by a family band from a small New England town. The daughters were home-schooled and weren't allowed to date until they were 18. And yet there they were on their album cover sporting tiger-flame maple electrics! If you think about popular bands or popular guitar players, most have a signature guitar that serves as the canvas of a signature sound. The Wiggin girls had the Avalon.
These guitars were only made for a year or two, circa 1968. But now they're real finds on the used market. There was also a bass version of the Avalon that came with either two pickups (AV2B) or one (AV1B).
If you want a truly radical music experience, search out the Shaggs and give a listen. While you're listening, think about the guitar sound, 1969, or whatever else you're tripping on at the moment. Because after you have a listen, you'll be changed.