This refinished and modded 1958 Gibson Les Paul Special exemplifies the plusses of buying a "player's guitar."
Sometimes, the easiest route to vintage tone and playability is by finding a guitar that's had a refinish, or other mods that haven't disturbed its musical essence. These are called "player's" or "player-grade" guitars in the vintage market, versus "collector's guitars," which are unaltered from their original state. This month's featured instrument, a 1958 Gibson Les Paul Special, is a player's guitar—and I'm that player.
The Les Paul Special has a deep lineage. The original Les Paul model, which came to be known as the Les Paul Standard in 1958, debuted in 1952. Two years later, as the line diversified, the Les Paul Custom arrived, as well as a student model called the Les Paul Junior. The Junior was the first slab-mahogany-body Gibson, with additional cost-saving measures evident in its single pickup, unbound fretboard, lack of binding, and plain dot neck markers. It sold for $99.50, versus the princely $225 price tag on the Standard, making the Junior the most affordable guitar in the 1954 Gibson catalog.
A year later, enter the Special. It also has a slab mahogany body, but upped the ante with two soapbar P-90 pickups, a Les Paul-style control set of two volume and two tone dials plus a 3-way toggle, a Tune-o-matic bridge and stop tailpiece (a combo Gibson debuted in 1953 on the Super 400), a wide '50s-style fretboard, and a 1-piece mahogany neck with binding along the rosewood fretboard. The model came finished in TV yellow, and from 1955 to 1958 it featured a single cutaway. Priced at $179.50 in 1958, the Special was intended as an intermediate-level 6-string, nestled between the Junior and the original Les Paul. By 1959, the Special's core design was changed to a double-cutaway and remained that way until a single-cutaway edition called the '55 Les Paul Special was reissued in 1974. Today, the Les Paul Special still remains part of Gibson's product line.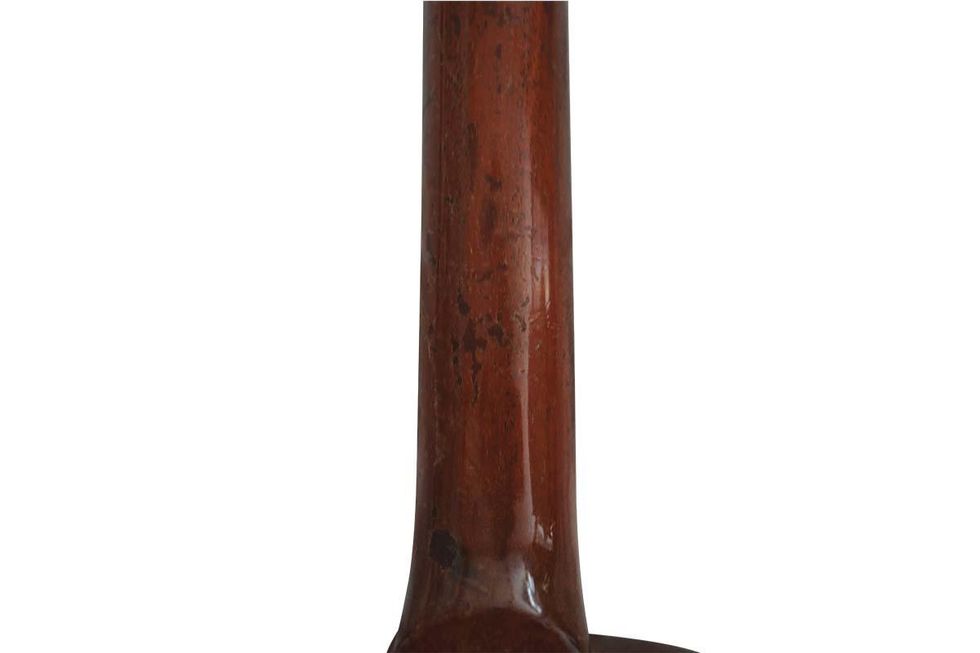 Long after someone had refinished this month's featured guitar down to its mahogany body, I purchased it in the mid-1990s at Cambridge Music in Cambridge, Massachusetts. The only other modification was the replacement of the original Kluson tuners with Schaller's, also done by a previous owner. And, of course, there's a story.
I first saw this guitar on consignment inside a glass wall case. At the time, I did not have a slab-style Gibson, and it immediately spoke to me. I also did not yet own a P-90-equipped guitar, which amplified that voice. Honestly, I was afraid that if I played it, I'd fall in love and need to shell out the $1,200 asking price. Months passed, and it sat in the wall case, teasing me every time I made my frequent visits to the shop. One day, the inevitable happened: I asked to play it. I plugged into a couple Fenders and a Marshall combo and was struck by how comfortable the 12"-radius neck felt and how sweet the guitar sounded through a Fender Deluxe, and how spanky and barking it was through a Marshall with low-to-moderate gain, thanks to those P-90s. The term "bite" was coined for this guitar.
"That day, I walked away … but in the ensuing weeks I literally dreamed about this Les Paul Special.
That day, I walked away … but in the ensuing weeks I literally dreamed about this Les Paul Special. And then, a check for the first band profile I wrote for Rolling Stone, on Thalia Zedek and Chris Brokaw's brilliantly edgy rock outfit Come, arrived. Clearing it with my wife, Laurie, I went to Cambridge Music with that check in my pocket. I explained to the shop's co-owner, Dennis Keller, that if the consigner would agree to a price of $1,000, tax included, I would cross the street to my bank and bring back cash. Miraculously, the consigner agreed, and about a half-hour later I hit the subway with that refin Special in a black plastic "chainsaw" case with the Gibson logo on its side. I felt like a courier, escorting home a million bucks.
This '58 Special is worth something in the neighborhood of $4,000 or a little less today. Similar single-cutaway Specials with the original finish, depending on road wear, are selling for between $13,000 and nearly $18,000. But I'm not jealous. This guitar is a flagship of great playability and classic, slab-body Gibson tone, and, due to that, this Special has paid back my initial investment with every trip it's made to the studio and stage for nearly 30 years.
Extolling the virtues and sharing some easy mods for Fender's littlest vintage bruiser.
This month, let's talk about the black- and silver-panel Fender Champ, the tiniest of vintage Fender amps. Weighing only 22 pounds, it is super portable and easy to carry wherever my music takes me. It's actually so small that I put it between my kids in the car's backseat when we go on vacations. Before I share what I've learned about the Champ, let's have a quick look in the rearview mirror.
Early in the Fender black-panel era, in 1964, the company reintroduced the previously tweed Champ with a new look and debuted the Vibro Champ. The single 8"-speaker combo configuration and single-ended 6V6-based power amp section was continued from the tweed Champ. These Champs produced only 6 watts, and the minimal control panel offered volume, treble, and bass—plus tremolo speed and intensity on the Vibro Champ. Unlike many other models, Fender kept these circuits almost unchanged during the silver-panel era, through 1982. After that, many popular and different offspring of the Champ have been produced, with both transistor and tube-driven circuits.
My appreciation for the Champ came late in life. When I was younger, I used my Super Reverbs for everything and never considered amps with anything less than one 12" or two 10" speakers. I saw no need for smaller amps with boxy tones fit for bedroom use only. But as I started to educate myself on Fender amps, I needed a Champ to study. I had to play it, experiment with tubes and mods, and learn everything about it. So, in 2005, I found a minty 1966 Vibro Champ on eBay for $800, completely original with the Oxford 8EV speaker.
When I want to play Elmore James Delta blues stuff, I use my ES-335 with my Vibro Champ.
With the Champ, Fender followed their scooped, black-panel tone-stack recipe with the 0.047 μF, 0.1 μF, and 250 pF tone caps and a fixed 6.8k mid resistor. As with the big brother Princeton Reverb, it lacked a mid control, bright switch, and a bright cap. The tone is straightforward, natural, and annoyingly modest and clean. Different from its Fender siblings, it hardly breaks up when pushed. In fact, the Champ stays clean all the way up to 10, but with loose, flabby bass and tinny speaker distortion. Humbucker guitars are able to get some cranked tones from Champs due to their hotter output. When I, for example, want to play Elmore James Delta blues stuff, I use my ES-335 with my Vibro Champ. It thrills me how single strings and soft picking come out clean, while hard pick attack and chords sound hairy and cranked.
Over the decades, players and techs have leaned towards modifications to get more distortion from the Champ. Personally, I've learned to like the clean and scooped tone, and I don't want to lose the original character of the amp. But I wouldn't mind a little more volume and punch, since it would open up a few important uses—like band practice with a loud drummer. And when it comes to modifications, I like easy and reversible mods. So here is what I have done to my Vibro Champ: First, I changed the rectifier tube from 5Y3 to GZ34 for increased plate voltage on the 6V6 power tube, which gives me a little more clean headroom. (A solid-state rectifier would also work.) Second, I replaced the original Oxford 8EV speaker with a Warehouse G8C. I have never looked back. I like Warehouse Guitar Speakers because they offer vintage Fender-style tone for a reasonable price. The WGS speaker makes the amp significantly louder, with more attack, firmer bass response, and without changing the Champ's character.
As I've alluded, my Vibro Champ follows me wherever I go and is a part of my family. In the back of the amp, I keep an overdrive pedal, a reverb pedal, and a tiny 230/12V transformer so I can plug into one of the car's 12V sockets. So, I am always Fender-ready.
May the tone be with you!
In a world of widely shared components, don't just dare to be different. Insist on it. Aesthetics matter.
Regardless of the number of companies swimming in the pedal pond, I often find myself thinking about aesthetic diversity. We builders tend to all use the same components when designing our devices. It's how we use them that is the subject here. And I'd like to focus primarily on the external components and how they are presented. Finish and graphics play a big part in a company's branding and identity. However, I'd like to almost solely talk about knobs, footswitches, toggles, and LEDs. These are the most common things that you'll see on a pedal.
I often ask people, "If you were to remove the labels and branding, could you tell which pedal it is or which company it was from?" As I've mentioned in a previous article, the pedal world is a kind and respectful place. Companies like to carve their name into the industry by having something that looks good and doesn't step on another company's toes. Builders achieve this by taking all of those same components that I just mentioned and organizing them in a manner that has a distinctive appearance. This leads to a question: If a company creates a knob and switch layout that's the same for all of their models, is that intellectual property that other companies should avoid using, or is it simply a design of round pieces of plastic and metal on a square box that's entirely public domain?
Let's try something. If a new pedal company hit the streets and had an aesthetic like the one in Figure 1, would anyone have an issue with it? I lean heavily towards no. This triangular 3-knob layout has become practically generic. But if the fictional company were to release a product that looked like the picture in Figure 2, would anyone have an issue with it? I'm inclined to say yes. Three dials on a plane evokes a famed boutique pedal maker, rather than a generic look, even though both examples consist simply of a few knobs and a footswitch. Somehow the components simply being angled a little helps the appearance of originality, but ... as a pedal builder, I wouldn't go there.
Often when a company releases a product with an interface that strays from the traditional path, it stands out. Non-traditional pieces of hardware can help a pedal's recognition. However, if there's already an existing company using these pieces of hardware in their designs, we have a problem.
If you were to remove the labels and branding, could you tell which pedal it is or which company it was from?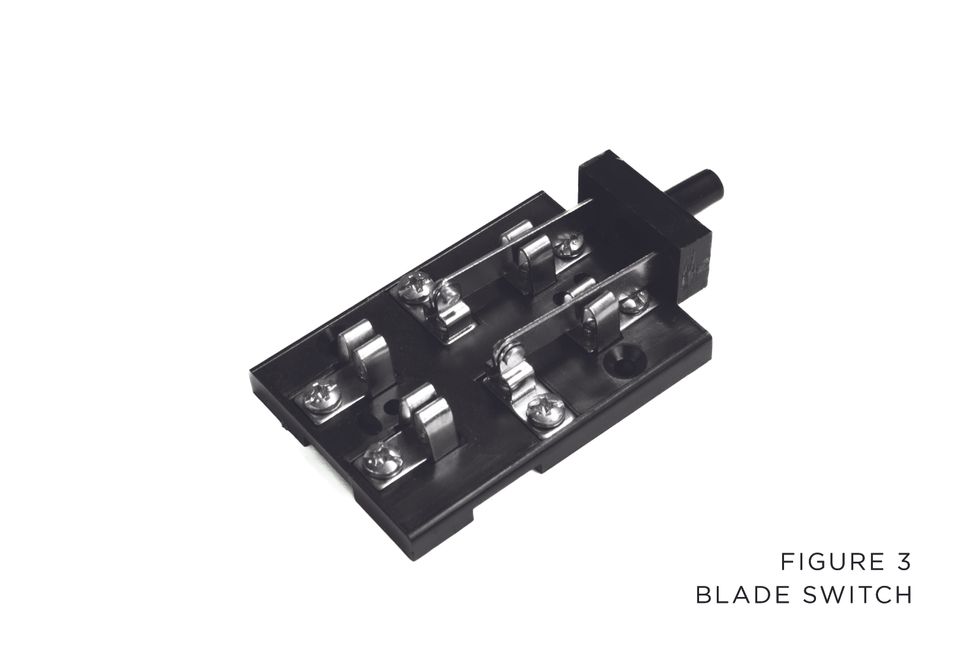 Going back to our scenario of a fictional new company releasing a product, if this company were to release a product with a blade switch (Figure 3) or telegraph key (Figure 4), there would be folks that would take issue with it. Now, it would be fair to say that a brand new company may not be fully aware of every existing pedal design—even with the internet at their fingertips. But the community of pedal nerds creates a nice monitoring/filtering system. If a new product hit the market with a telegraph key, for example, as found on our Telegraph V2 Autostutter & Killswitch and our Triplegraph Digital Polyphonic Octave pedals, the nerds would bring our attention to it.
There are only so many ways to locate knobs and switches on a rectangular box. So, what's a new pedal company to do? Well, when it comes to placement, avoid popular and recognizable layouts like those found in Figure 2 and create your own. If traditional stylings are more your bag, consider alterations to the formula. Look at the Canaglia by Lollygagger FX—a 3-knob, 2-footswitch pedal. What helps it stand out? Metal knobs, a hand-stained wooden enclosure, and debossed labels—characterful changes to formula.
Along with being in the golden era of pedals, we're also in the golden era of parts. I've never seen more knob choices in different finishes and styles than right now. Same with hardware finishes, enclosure shapes, and more. So, if you find yourself with a form factor that feels like it's infringing on another company, make several small changes. Tweak the knob location slightly and swap out the knob type, move the LED location and change the size, put a washer around the footswitch, or add colored dress washers to the toggles. Small changes add up to a big difference.
Wondering how to join a band and get some sweet gigs? Then this episode is for you. Rhett and Zach share their advice, from how to get in front of audiences and make more connections—if it's all about who you know, how do you get to know the right people? And how do you impress them enough to hire you?—to the skills you'll need to hone to get the job done. Sure, knowing your way around your instrument is really important, but it's not just about scales, arpeggios, and chord voicings. And different gigs—cover bands, wedding bands, singer/songwriters—require different skills. (Hint: Know how to get a good sound out of the gear you already have!)
Bad gig stories—from unappreciative wedding guests, to festivals who serve all beer and no water, to playing in the rain and getting all your stuff covered in mud—are just part of the fun, because all experience is valuable, at least in the beginning, and Rhett tells the story of how a single bad gig led to a wealth of connections and opportunity that landed him here today.Along the way, the duo dip Patreon supporter Ryan Paterson's vintage plus Strymon rig—dig that 1959 Gibson ES-345—and they pay their respects to the recently departed Jeff Beck and David Crosby. Plus, Rhett shows off the mystery amp ("a tweed amp on steroids") he just bought, but he needs your help to figure out where it came from. Who built this thing? If you know, drop him a line!

Thanks to Sweetwater for sponsoring this episode. Head to sweetwater.com/dippedintone today!
How to Get the Gig