Guest picker Anthony Pirog of the Messthetics joins PG staff members and reader Wojtek Drewniak in sharing about where it all began with their love of the guitar.
Q: When and how did you first fall in love with the guitar?

Anthony Pirog of the Messthetics
A: As I remember it, the first time I fell in love with the guitar was at a Nirvana concert in 1993. I was 13 years old, and my mother took me to American University in Washington, D.C. to see the show. I had been playing for about two years at that point, and remember the guitar was just riveting in the way that it could be played at the dynamic of a whisper or scream with unhinged violence. Thanks for taking me to the show, Mom!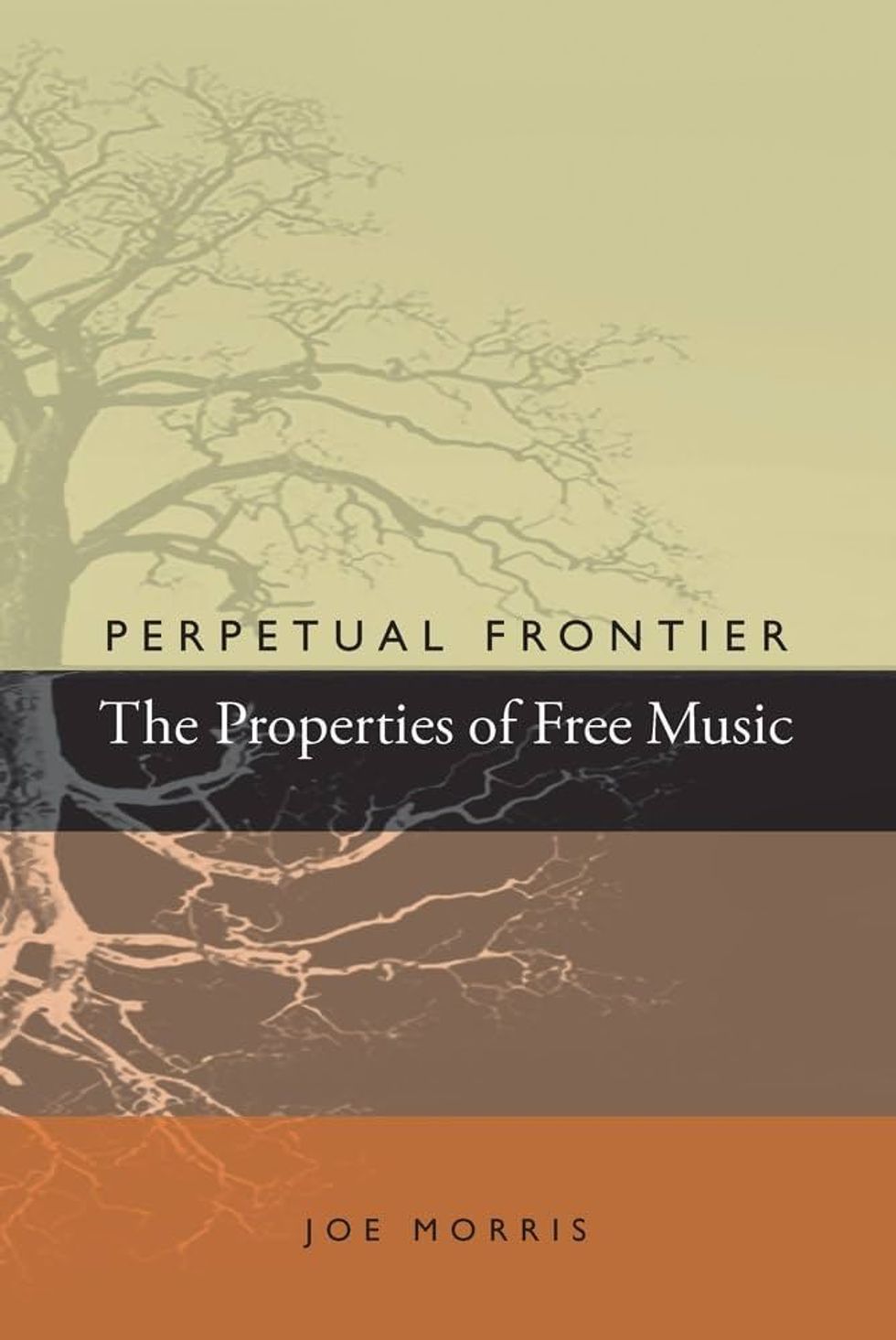 Current obsession: My current musical obsession is improvising off of small atonal melodic fragments that I compose. I was talking with Joe Morris about his book, The Perpetual Frontier, and it led me to this study. I'll take a small phrase that might be only a measure or two long and move it around to different keys, play chopped up versions of it, or play it in retrograde for about 5 to 10 minutes at a time. This gets me to where I want to be in terms of motivic free improvisation, and the surprising thing is that it's changing the way that I improvise tonally.
Brett Petrusek - Director of Advertising
Photo by Bud Ingram-Lile
A: I started on bass when I was 8 years old. I couldn't really reach the first fret. My instructor was teaching me 1950s bass lines from a Mel Bay Music book while I was busy listening to the debut Black Sabbath album. I loved the heavy sounds and giant riffs. Then, after a lesson, I was in the local music store and heard a guy playing the solo from "Whole Lotta Love." I watched him bend the strings and thought, "Hm…. I'd much rather do that."
Current obsession: Gibson Explorers (I've always been a Les Paul guy). I love the stripped-down simplicity. They hang great for me and have been inspiring new riffs and songs, plus they provide a new opportunity to change pickups and go down the rabbit hole and make them my own. I love wrenching on guitars.
Naomi Ruckus Rose - Graphic Designer
A: Dad would play goofy songs on his guitar when my sisters and I were little, and I just thought there was some kind of magical happiness that came from an acoustic guitar. Mom took me thrifting when I was 6 and I found a kid-sized guitar. I was hooked instantly.
Current obsession: ROCKS! I write a LOT of smart-ass songs (the rage flows easily, okay?). Now I'm spending more time soaking in nature and chilling the "f" out, and it's altered the way I write. Taking rocks home lets me feel connected with nature without actually having to be in it. Namaste, punks.
Wojtek Drewniak - Reader of the Month
A: Hearing the SWAT Kats theme as a kid. I knew I loved it from this very moment and I remember it perfectly: A 6- or 7-year-old kid sitting on the carpet in front of the TV with his jaw dropped in delight. From then on, I started paying attention to the sound of the distorted guitar. After a few years, I decided that I wanted to create these noises myself.
Current obsession: Given that I love music of almost all genres, I was delighted to discover [Japanese electronicore band] Fear, and Loathing in Las Vegas a few years ago. These people know no boundaries in music and I love it. Not everyone has to, but everyone should respect their musical courage. "Acceleration" is an absolute banger!
Day #2 is here with another chance to win! Enter inside for your chance to WIN an LR Baggs Align Series Session. Hurry, you've only got one day to enter!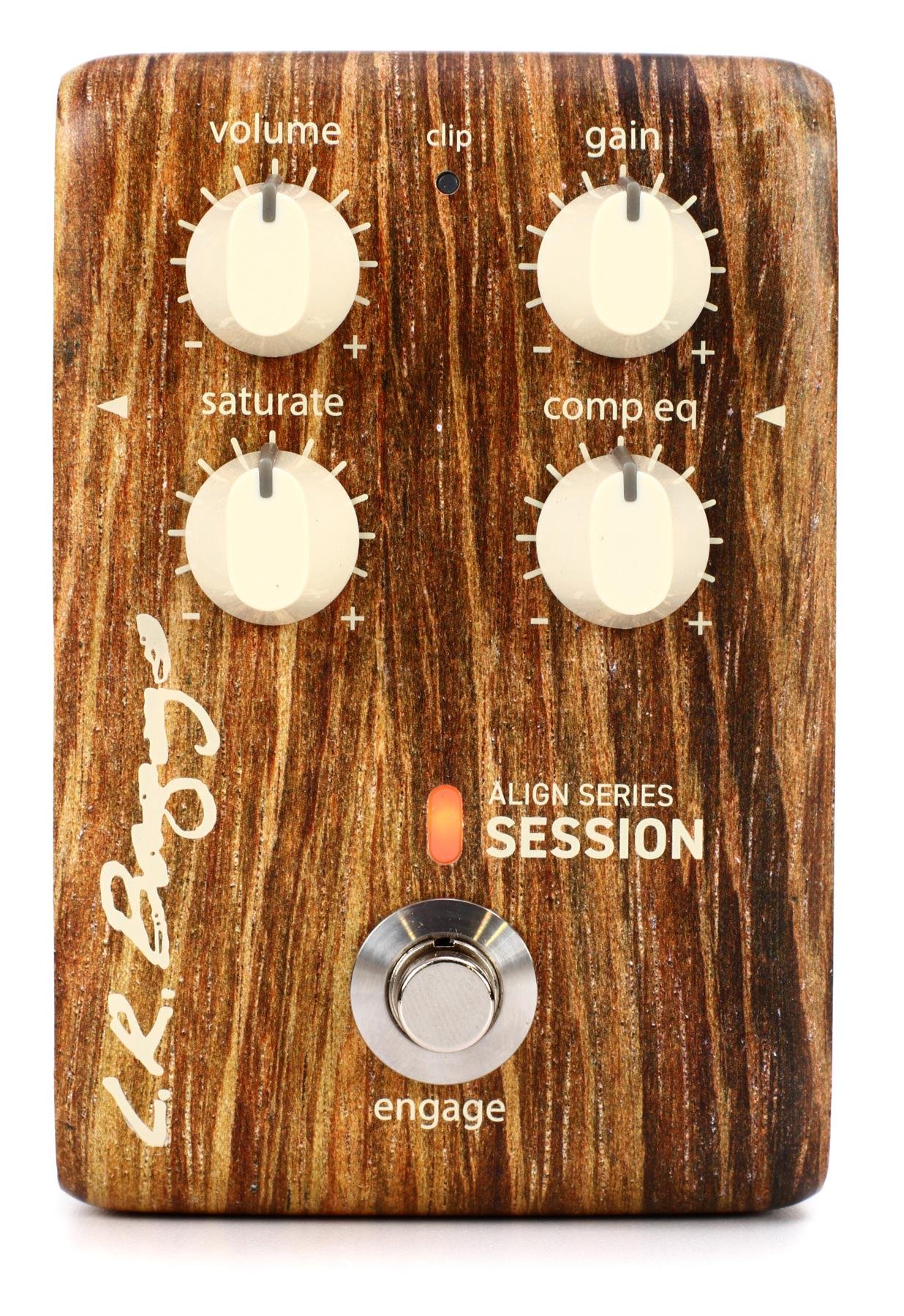 Inspired by the LR Baggs Handcrafted Video Sessions and our experience in some of Nashville's great studios, the Align Session brings our signature studio sound to your live rig. Session circuitry enhances your acoustic pickup and imparts the rich sonic character that you'd expect from an experienced audio engineer using some of the world's finest studio gear. We've captured this studio magic and put it into a compact, easy-to-use acoustic pedal that will transform your live sound.
LR Baggs
Nicole Atkins and PG editors share favorite memories from the last concert they attended. Plus, current obsessions!
Q: What was the last concert you went to? Describe the best moment.
Nicole Atkins—Guest Picker
A: It was Spoon in Wilmington, North Carolina. I went to see them the night before in Knoxville, and their opener got Covid, so I hopped on their bus and opened for them the next day and just used Britt Daniel's guitar. He let me sing "Jonathan Fisk" with them, and it's one of my favorite songs!
Spoon "Jonathan Fisk"
Thank god I had the day off. It felt like my birthday! Spoon are one of those special bands that make every album and play every show like they did not come to fuck around. They're very inspiring to me.
Nicole Atkins' Current Obsession:
Sam Cooke's version of "Unchained Melody." It's low and slow and breaks your heart in the best way. Anytime it comes on, I'm completely absorbed in it. Also, a lot of Rodgers and Hart songs are entering my wheelhouse lately, and I need those feeling changes in my music right now. It makes me wanna scream!
Chris Laney—Reader of the Month
A: In April 2019, I saw Buckethead at the National in Richmond, Virginia. I took a painting with me, specifically for Bucket, hoping to hand it to him. I got a position in the front row, on the right side, and enjoyed the show from the best perspective possible.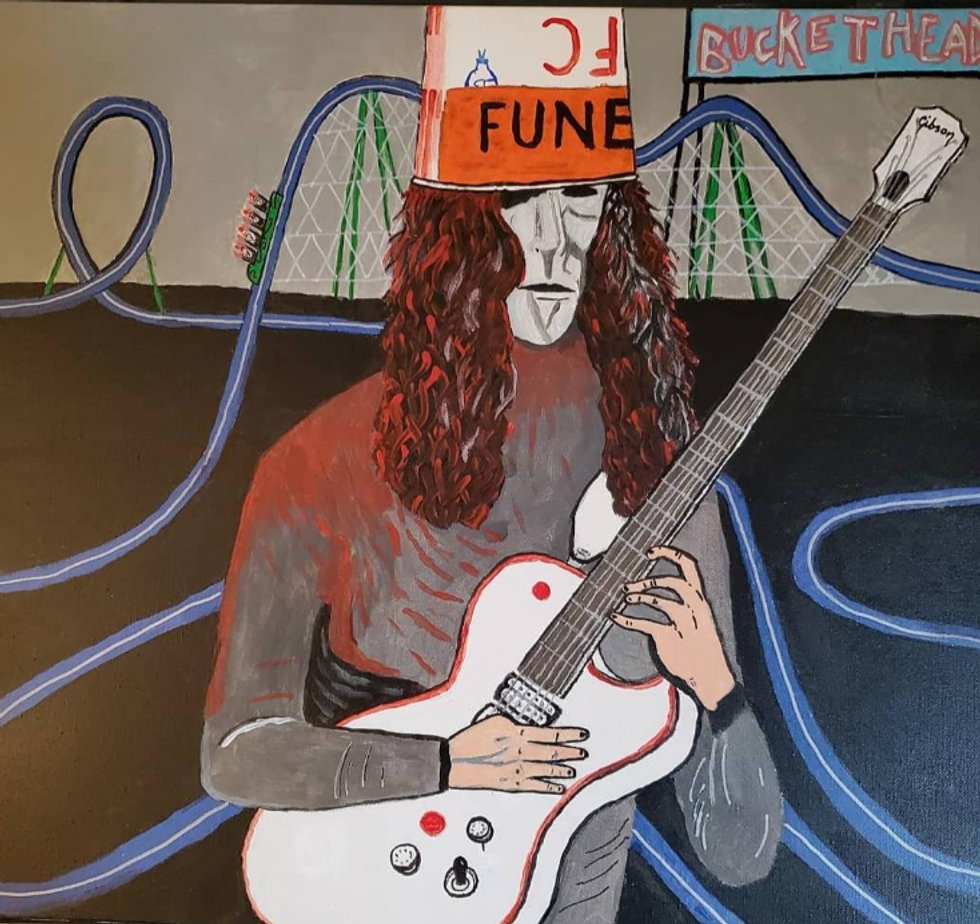 About a third of the way into the show, Buckethead gave out toys to fans upfront. As he got closer to me, I edged the painting to where it was partially resting on the stage. He approached me and took the painting! He took it back to his amp setup, and P-Sticks eventually displayed it behind the amps where a good portion of the crowd could see it. After that, Buckethead came back and gave me a bag of magnetic letters and shook my hand. It was amazing to interact with someone I looked up to, literally and figuratively. I consider it the best concert experience ever, with meeting Joe Satriani coming in as a close second.
Buckethead - Full Show, Live at The National in Richmond Va. on 4/5/2019
Chris Laney's Current Obsession:
Sweep picking. Cramming so many notes into such a short space and making it flow is hard, but so big of a payoff when it finally happens.
Shawn Hammond—Chief Content Officer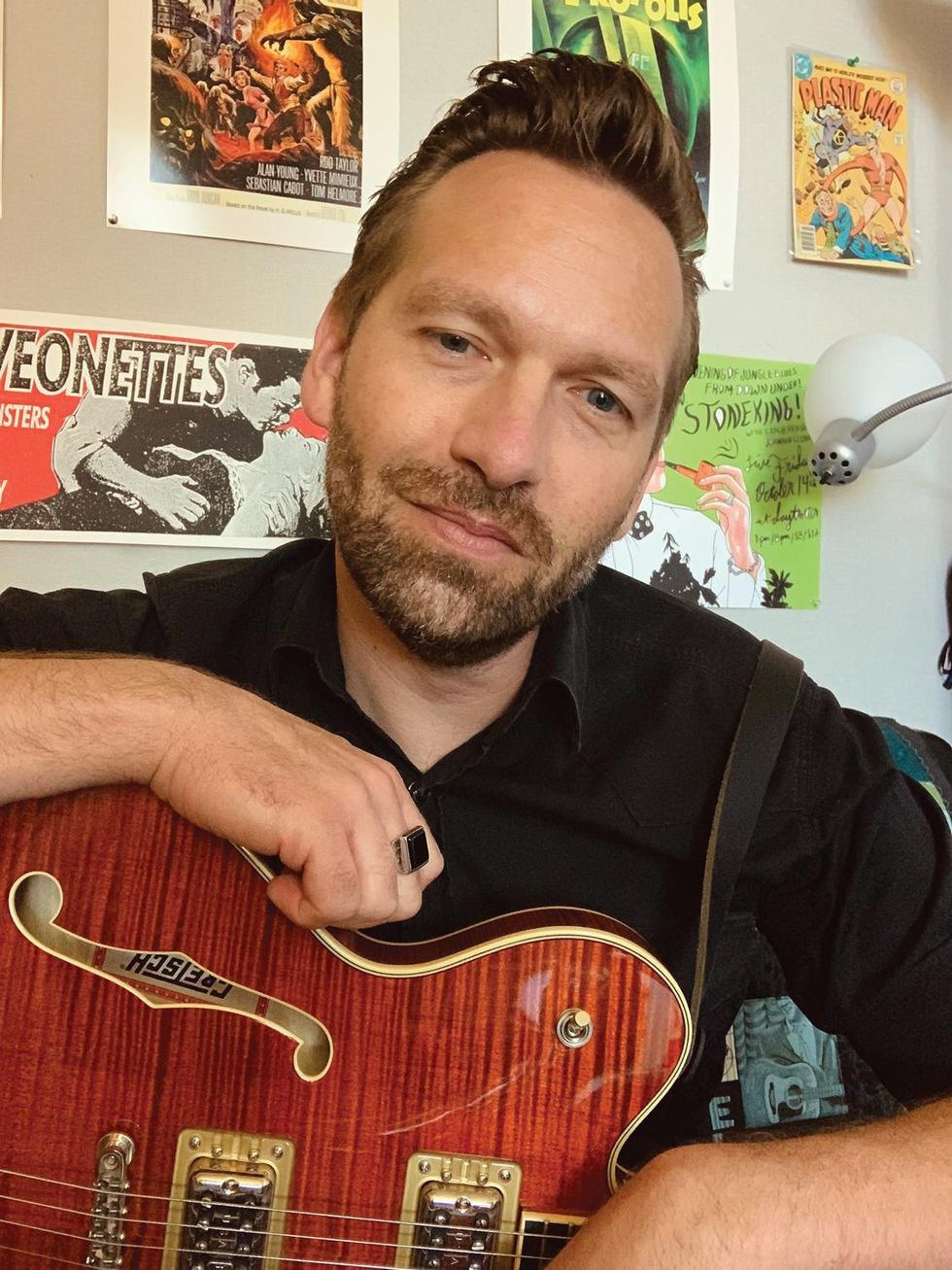 A: As a longtime fan of Together Pangea, I was super excited to see them play the Maintenance Shop in Ames, Iowa, earlier this summer—especially after Covid's long live-music drought. Their show was energetic and spot-on in every way, but even cooler was the fact that opening band Tropa Magica—which none of us had even heard of before—blew our minds.
Their hypercharged, incredibly nuanced blend of psych, punk, and cumbia alone would've made the four-hour round-trip drive worth it.
Tropa Magica's David Pacheco on the Power of Distorted Delays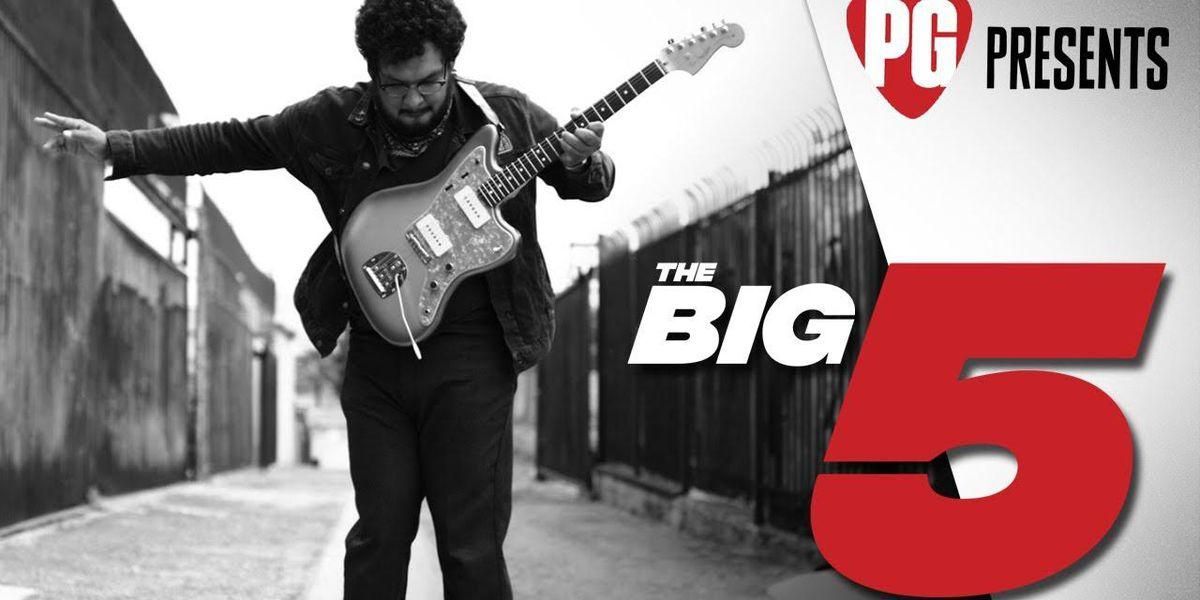 Tropa Magica's David Pacheco on the Power of Distorted Delays
Best moment: Band founders/brothers David and Rene Pacheco holding their Tele and red Nord Electro keyboard, respectively, aloft behind their heads and playing a mighty fucking crescendo in front of the venue's medieval-church-style stained-glass backdrop.
Shawn Hammond's Current Obsession:
Continuing to learn how best to ride the wild beast of hollowbody guitar at high-ish volumes.
Jason Shadrick—Associate Editor
A: About a month ago, I caught Bela Fleck's touring bluegrass festival that he put on with Sam Bush and Jerry Douglas. All three bands were loaded with all-star pickers, and seeing Bela, Sam, Jerry, Sierra Hull, Bryan Sutton, and Michael Cleveland at the same time was incredible.
Where else can you see bluegrass legends rip off solos over a 5/4 groove in Bb?
Béla Fleck - Wheels Up (Live)
One of the absolute highlights was Justin Moses, who stepped up and played Dobro alongside Jerry, banjo alongside Bela, and fiddle alongside Michael—and kept up with all of them.
Jason Shadrick's Current Obsession:
Fundamentals. Every once in a while, I need to go back and break down my technique, fretboard knowledge, and improvisation skills to their bare bones. I then turn to transcribing because it's all about vocabulary and sound for me.
Vanessa Wheeler joins us in naming the tracks we're currently playing "on repeat." Plus, our latest musical obsessions!
Q: What's your "on repeat" song/album right now and what drew you to it?
Vanessa Wheeler — VAVÁ
Photo by Derrick K. Lee
A: I've been listening to the Tycho remix of MUNA and the Knocks' song, "Bodies," consistently since it was released back in September 2020. I don't know if I can say that it's so much an "obsession" at this point, but a tune that makes it onto most of my playlists because of how I used to be obsessed with it during a time when I was both sad and yet dancing. The original is a fun song to be sure, but the Tycho remix brings in these satisfying acoustic drum samples, smoother and more subdued synth samples, and extended breaks between verses that allow the listener to really sit within the mood. I'm not even sure what the song is about, but hearing words like "bodies in the basement" and "I've been thinking about home," combined with the aforementioned, speaks to a certain kind of melancholy or longing for something that seems impossibly far away.
The Knocks & MUNA - Bodies (Tycho Remix) [Official Visualizer]
Vanessa Wheeler's Current Obsession:
I'd been looking for a little, black acoustic guitar that wouldn't break the bank —something I could travel with that sounded good and felt comfortable to my primarily electric-guitar-playing hands.
I was lucky enough to get a Taylor GTe Blacktop. I love how slack the short scale makes the strings feel, how compact the neck width is without feeling miniature, and the way it sounds particularly good with fingerstyle playing.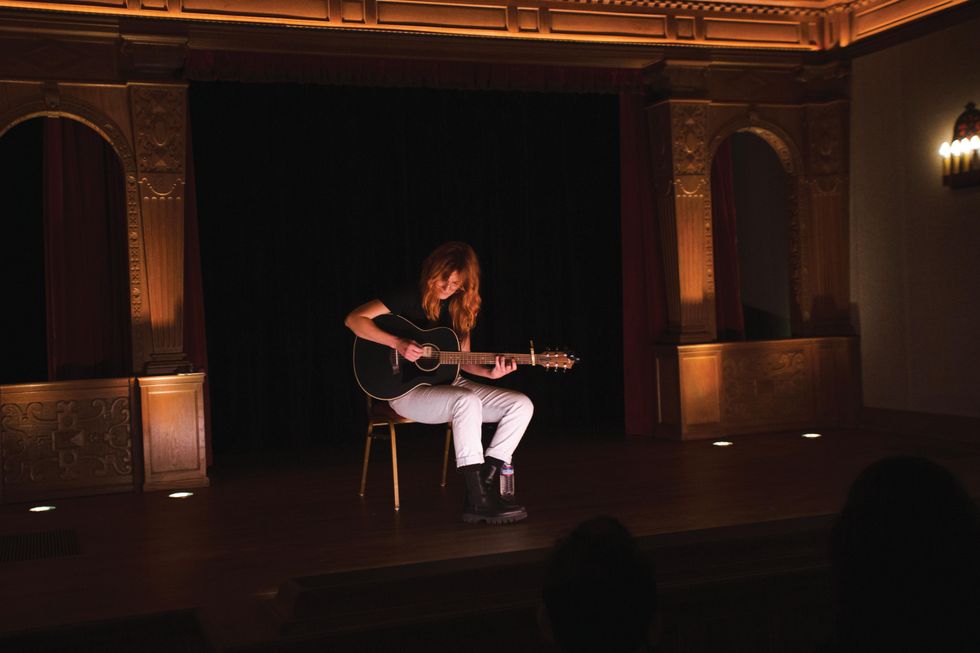 I recently played it unplugged in a beautiful 75-seat theater on the grounds of the Greystone Mansion in Beverly Hills, and it performed beautifully. As a traveling musician, I know I can pop this "little" guitar in an overhead bin and take it everywhere I go.
Joseph Torres — Reader of the Month
A: "In the Nick of Time," from Ken Burns' The War documentary. Ken Burns always knows how to pick good music for a documentary series, and this is no exception.
In the Nick of Time
This song drew me in because it gives an adventurous feeling when listening to it, like you're a fighter pilot in the middle of an epic dogfight.
Joseph Torres' Current Obsession:
The bass guitar. While primarily a guitarist, I've been playing bass on and off for the past seven years now. Until a few months ago, I'd lost interest in it and wanted to focus more on being a guitar player. However, as I kept listening to Cream, I kept paying more attention to Jack Bruce's bass parts. Jack Bruce has become a tremendous influence on me ever since. He, Geezer Butler, and James Jamerson have convinced me also to play more with my fingers. You get a more intimate connection with the instrument that way.
Tessa Jeffers — Managing Editor
A: Lord Huron's "Your Other Life." A friend included it on our road-trip playlist, and the instant it came on, I knew it was gonna be my track of the summer.
Lord Huron - Your Other Life (Official Music Video)
I've spun it every day for the last month. The swooning strings, terribly romantic bass line, and ohhh the singsong of a love gone wrong but still strong. Absolutely mesmerizing!
Tessa Jeffers' Current Obsession:
Musician biographies and memoirs. I've read dozens and dozens, but last month I finally finished Slash's bodacious (and ridiculous) larger-than-life tale. I just found Willie Nelson's My Life and Alicia Keys' More Myself at a used bookstore, so I'm set for a while.
Nick Millevoi — Associate Editor
A: "Synchro System" by King Sunny Adé. The sound on this track is so hip—it's like musical sunshine. The interaction between the acoustic percussion and the interlocking guitar and steel riffs creates a hypnotic texture, and the '80s production elevates the whole vibe.
Syncro System - King Sunny Ade & His African Beats - 1984
I keep watching live videos from this period, and "Synchro System" is always a set highlight, complete with dance instruction.
Nick Millevoi's Current Obsession:
My Strat XII. After spending the early 2010s touring the U.S. and Europe with this guitar, I needed a long break. But now, I'm obsessed once again! It's great for tight, clean riffs, and it keeps being the magic "something" that makes my recordings bloom.
Kevin Morby joins the discussion of what we're plugging our guitars into these days. Plus, musical obsessions!
Q: Do you own or use more than one amp—why or why not?
Kevin Morby — Guest Picker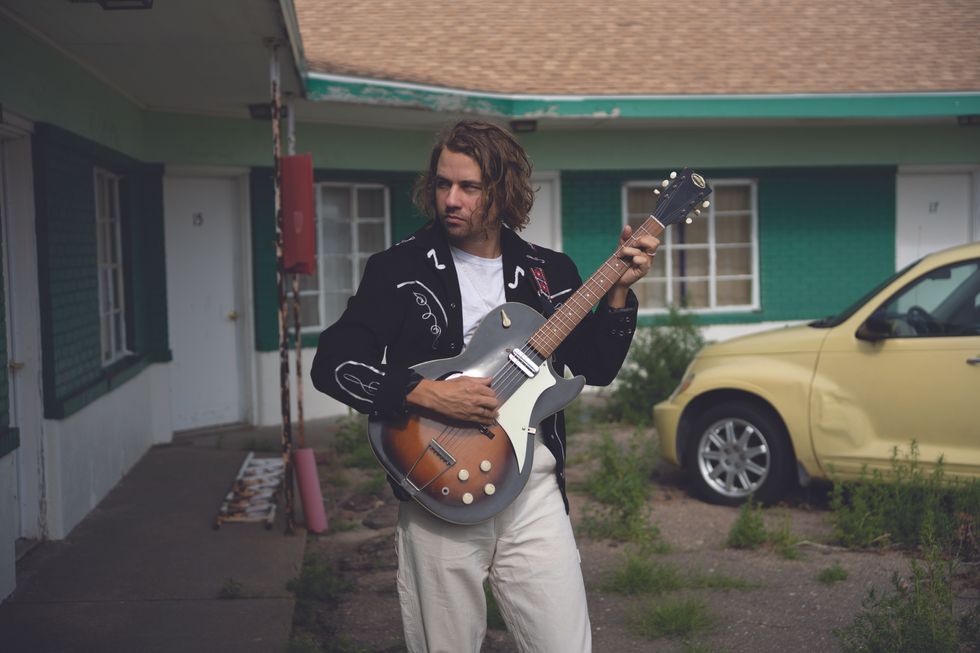 Photo by Johnny Eastlund
A: I technically own four different amps. Two different Orange 15-watt practice amps that are great for recording and running vocals through in my living room. I also own a Supro and Fender Vibrolux. The Fender Vibrolux is my most used amp, and the Supro is good if I ever want a lot of overdrive.
Kevin Morby's Current Obsession:
My current musical obsession is MJ Lenderman, a young artist from Asheville, North Carolina, who is making incredible music. If I didn't know his backstory, I would maybe think I was listening to a lost demo from the early '90s Drag City submissions bin. But it's not from then, it's from now, and it's amazing. I listened to it while mowing the lawn recently and it was perfect lawn-mowing music. He is also incredible at guitar. Go listen!
Joseph Müs Contento's — Reader of the Month
A: Yep, and I use them both at the same time. Got a Vox Night Train combo set clean and a Marshall Class 5 set dirty, and the resulting sound is a sparkly, gritty mix. Chimey and articulate, while warm and meaty. Best of both worlds.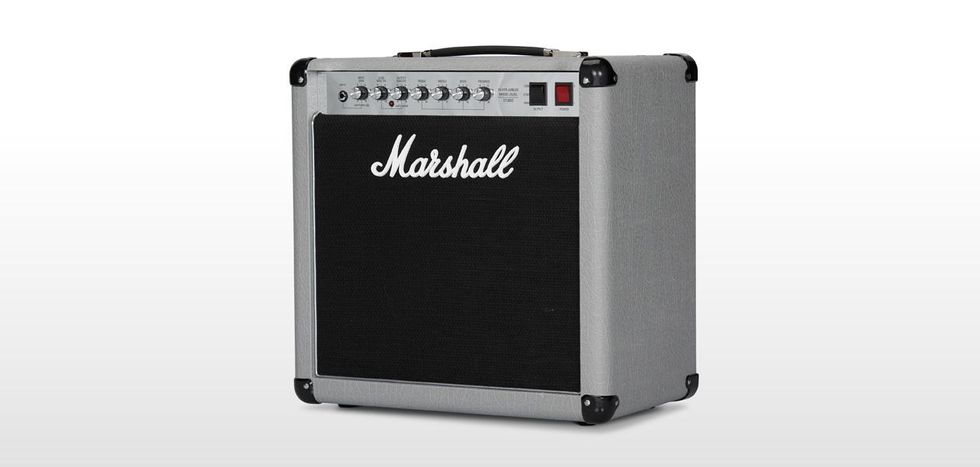 Eventually I want a Fender '65 Princeton Reissue and a Marshall Silver Jubilee 20-watt combo to really accentuate those qualities. I also use stereo delay and ping-pong the signal between the two amps. The further I physically keep the amps away from each other, the more dramatic the effect. It's trippy and atmospheric AF, fills out the space between notes, and I love it.
Joseph Müs Contento Current Obsession:
Continuing to build the coolest guitars I can. I've settled into my job at Gibson Custom and have slowly built up a woodshop of my very own. The inaugural build that I just started this spring is my entry to this year's Great Guitar Build-Off. I'm excited to dig my teeth into my new tools and techniques and to see how far I've come as a luthier in the past two years!
Shawn Hammond — Chief Content Officer
A: Yes! I love the variety of tones and textures imparted by different types of power tubes—and that you can further tweak responsiveness with preamp-tube swaps.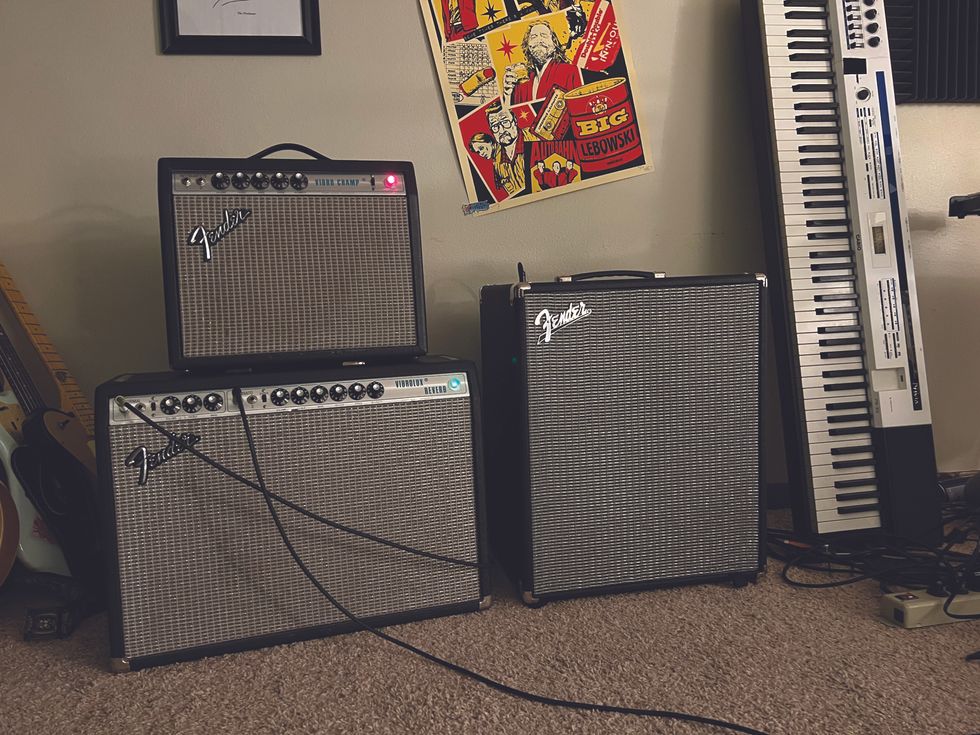 My '76 Fender Vibrolux Reverb (6L6 tubes) is a killer pedal platform and pairing it with a Fender Rumble 200 bass amp adds massive oomph. An old Fender Vibro Champ (6V6) is great for middle-of-the-night playing that still sounds nice (I hate headphones).
A Sound City SC30 (KT66s) yields a huge array of British tones with killer reverb, a Goodsell Valpreux 21 (6973s) is great for soulful, old-school tones at a reasonable volume, while a Jaguar HC50 (EL34s) combo has big, brawny sounds, thanks to its Hiwatt-esque circuit and oversized cab.
Shawn Hammond's Current Obsession: 
Current obsession: Fontaines D.C.'s new album, Skinty Fia.
Ted Drozdowski — Senior Editor
Photo by Johnny Hubbard
A: I've curated my amps for a wide variety of tones, and I love having Marshall, Fender, Carr, Supro, Orange, and Quilter sounds at ready for the stage—where I run in stereo—and studio.
After many years, I've found a voice as a guitarist that's my own, and blending a variety of amps, guitars, and effects is part of it.
Ted Drozdowski's Current Obsession:
Germanium fuzz and octave fuzz pedals. Over the past year I've gone deep into fuzzworld and acquired a pile of stomps, including three custom builds (my one-off Burns Buzzaround clone with four germanium chips is satanically heavenly), and they've expanded my sonic vocabulary even more. I want to keep it expanding, like the universe.