Busted stompbox? Here are tips from a tech on when to repair and when to despair.
It is a cruel world out there, and no quarter is offered to your pedals, no matter how carefully you proceed from gig to gig. Just like an amp or guitar, your pedalboard can become an instrumental part of what you do as a player. But broken pedals are natural given they're instruments that you step on, so getting them repaired is something we'll all need to confront. While we'd love to have nothing wasted and everything working, whether or not something can be fixed reasonably is not always cut and dried.
The value of the pedal is an important factor. Since the cost of labor and expertise is so high, it can be very easy for repair costs to quickly exceed the value of the thing being repaired. For example, there's a multitude of guitar effect pedals available between $30 and $40. Should one of the footswitches in those pedals fail, a replacement footswitch goes for 25 percent of the pedal's entire value, and that's before any work has been done to make an actual repair. At typical labor rates, spending 15 minutes fixing a broken footswitch can bust the bank on a budget pedal. As sad as it is, some stuff just isn't worth having it be fixed professionally.
Conversely, a great candidate for repair is something like a vintage Nobels ODR-1. The values have skyrocketed, so there's no question it's worth fixing. Since minimizing labor is critical, it is triply good that they are simply constructed, made from mostly sourceable components, and contain relatively basic analog circuits with widely available circuit diagrams. But there are high-value pedals that aren't as tech-friendly. Our benches have seen pedals plagued with complication and no documentation, constructed from unobtanium parts and assembled like a house of cards. In such cases, a technician will need to disassemble the box, study the circuit long enough to understand its operation (despite the fact it is not currently working), deduce what is malfunctioning, and spend time sourcing replacement parts. The tech will then have to decide how little to get paid for all that work, since after developing this plan, the client can simply say no to the repair if the price is too high. Repair work is brutal. Bake your technician some cookies.
Repair work is brutal. Bake your technician some cookies.
A horde of critics will complain that no one should be able to charge the hourly rates that most repair work demands. Most of them have not had the misfortune of actually running businesses. The unvarnished economics is that a busy tech can choose to either work on something at a discount, or pass and move on to something that will put food on the table. The obvious answer means that there's a great deal of gear out there that, hypothetically, could get fixed, but, practically, can't get fixed.
If you have a new production pedal that is malfunctioning, I highly recommend first contacting the manufacturer. Most manufacturers, particularly boutique builders, are extraordinarily helpful when it comes to getting their customers' pedals working again. As the creator of your device, they will have all of the experience and documentation to make quick repairs and a vested interest in giving you an optimum experience. Most builders recognize that a repair can be an opportunity to take a situation from bad to good, since going the extra mile serving a customer may more than make up for any bad feelings associated with a pedal that suddenly stopped working properly.
For pedals made by larger manufacturers, check and see if there are any authorized service centers. Companies like Line 6 often outfit local repair shops with the equipment and resources needed to repair their products. This can save you the hassle of sending your pedal across the country or the world for repair. These types of shops are often limited to major markets, but if you live in or near an urban area, you may have access to local repair.
DIY is another great avenue! There is a ton of information out there, and a person who learns how to replace footswitches, jacks, and potentiometers will be able to fix 50 to 75 percent of all the broken pedals in the world. But if you've no interest in self-sufficiency and want to keep your maintenance costs down, buy effects that are simple circuits or buy from companies big enough and benevolent enough to provide easy-to-access long-term support. May the odds be ever in your favor!
Photo by Scott Kowalchyk
The self-described "utility knife" played drums with John Scofield and Marcus Miller and spent time in the studio with Q-Tip before landing on Stephen Colbert's show as a multi-instrumentalist member of the house band. Now, he's taken over as the show's guitar-wielding bandleader and is making his mark.
It's a classic old-school-show-biz move: Bring out the band, introduce them one by one, and build up the song to its explosive beginning. It's fun, dramatic, audiences love it, and that's how every The Late Show with Stephen Colbert taping starts.
By this time, us audience members have been sitting in Manhattan's chilly Ed Sullivan Theater for about 90 minutes. We've gotten our seats, had a bathroom break after getting settled, and had some fun with warm-up comic Paul Mecurio. The first musician summoned by announcer Jen Spyra is drummer Joe Saylor. Wearing his trademark cowboy hat, he jogs out, gets behind the kit, and kicks off an up-tempo second-line groove. Next comes upright bassist Endea Owens and percussionist Nêgah Santos. The band's trumpeter, Jon Lampley, is introduced, and he's brought along his bandmates in the Huntertones as guests, so saxophonist Dan White and trombonist Chris Ott come out as well.
Louis Cato feat. Stay Human "Look Within"
The multitalented Louis Cato leads the Stay Human band through a special rooftop performance of his song "Look Within," from his album, Starting Now.
The audience is now on its feet, the band's pocket is thick, and the energy is building. When bandleader Louis Cato charges onstage, he reaches his mic on the bandstand and shouts, "I feel good today!" with explosive enthusiasm and a big grin, and the band launches into Jon Batiste's "I'm from Kenner." Cato sings the catchy and gleeful refrain: "I feel good, I feel free, I feel fine just being me / I feel good today." And the audience is feeling the love. Almost everyone is bouncing and clapping along.
A couple minutes in, when it seems like the song has reached its super-positive-vibe, high-energy climax, Cato shouts into his mic, "How do you feel today, Stephen?" And with that, Colbert comes running out from the middle of the set. Cato leaps from the bandstand toward the host as the crowd explodes. The two grab hold of each other and attempt to spin around, but the bandleader, holding his black-sparkle Tuttle T-style, loses his grip and goes sliding across the shiny stage. There's a second where both are comically stunned—Kevin McCallister Home Alone-expressions on both of their faces—but Cato quickly jumps to his feet, both he and his guitar unharmed, and runs back to the bandstand, where he keeps the song moving along with his bandmates, who haven't missed a beat.
All this excitement isn't even for the TV audience! Colbert is coming out for the un-televised pre-show Q&A. In a few minutes, they'll do a new taped intro that looks more like what we see every night. But they've gotten the crowd energized, and we need to keep it up. They need our energy to do their jobs.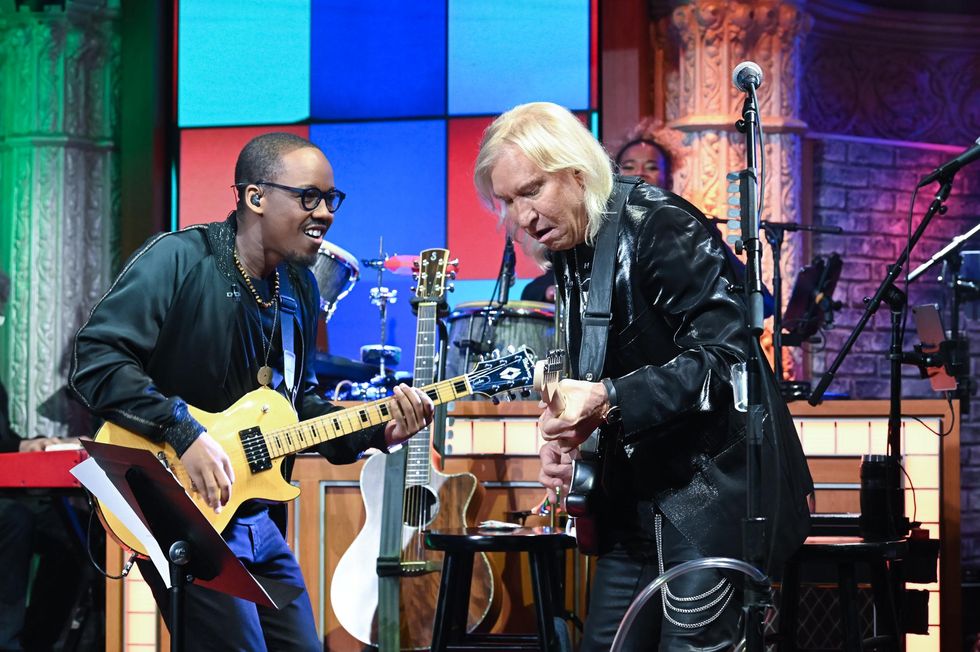 The Late Show Band welcomes a lot of guests up on the bandstand. Here, Cato and Joe Walsh boogie down.
Photo by Scott Kowalchyk
As Cato sees it, that's what his role as bandleader is all about: keeping the audience engaged and amplifying the drama and action of the show. "That translates to the energy that the viewers get at home," he explains. "For all of us here, we're able to feed off that energy and do the best possible show that we all can."
Colbert agrees with that job description and adds that the bandleader himself has the same contagious effect on his players. "Louis is an extraordinarily gifted multi-instrumentalist," he says, "whose spirit of creativity and collaboration not only elevates everything the band does musically but inspires me to be better at my job." He adds, "I'm so happy to call him my friend."
Beyond his infectious energy and charisma, there are a lot of ways Cato keeps the Late Show Band invigorated from night to night. For one, he keeps the music fresh by tackling a new cover song every day. That doesn't mean running down rote note-for-note charts. Cato and the band take a reconstructionist approach that fans of his work—whether from his collaborations with artists such as the Huntertones, Scary Pockets, or Vulfpeck, or from his regular Instagram cover-song posts—will recognize.
"Louis is an extraordinarily gifted multi-instrumentalist whose spirit of creativity and collaboration not only elevates everything the band does musically but inspires me to be better at my job."—Stephen Colbert
On this evening, the band runs through a host of multi-genre reinterpretations during the two-episode taping, including a slow-burning and soulful "Smokestack Lightning," a New Orleans-style "Down by the Riverside," and a fingerpicked, acoustic-led take of Joni Mitchell's "Free Man in Paris" that gets Colbert lip syncing along off camera. On a horn-driven arrangement of Stevie Wonder's "Love's in Need of Love Today," there's a re-worked bridge that creates a generous feature spot for the guest horn players.
Every arrangement brings a new and unique perspective to a classic track, to ensure the band is "not just a wedding band doing a cover of a song on the radio." Cato adds, "We're arranging it and making it our own—because that's the sonic fingerprint of our show."
St. Vincent jams with Louis and crew.
Photo by Scott Kowalchyk
A Lifelong Path
Listening to the story of Cato's musical life, it seems that this job—with its demand for a blend of careful strategizing and on-the-fly creative thinking, as well as effortless instrumental skills and charismatic showmanship—is what he's been training for since the beginning.
On the morning of the taping I attended, I meet Cato in his dressing room. Painted with sky-blue walls and a cloud mural on the ceiling, it's a comfortable place to hang. The bandleader is wearing slim-fit floral pants, a hoodie over a black T-shirt, and a long necklace. He sits across from me on his couch, next to a guitar stand that holds a few instruments—including his Tuttle, a Jesse Stern-built baritone acoustic, and his Univox LP-style—and a '65 Deluxe Reverb reissue with a Universal Audio Dream '65 pedal plugged into it.
"There's not a time in my brain when I was not making music in some way or form," Cato says. His mother, a pianist in the Church of God in Christ, bought her son a Diamond drum kit that he recalls having paper heads when he was just 2 years old, and she started teaching the toddler to accompany her. "I marvel at my mom," he laughs. "Like, who buys their 2-year-old a drum kit?" After playing those drums every day for a year, he started accompanying her at services.
The family moved around a lot. Cato's father was in the Air Force, and Louis was born on a base in Lisbon, Portugal, before moving to Dayton, Ohio. Not long after he started playing in church there, they moved again to Washington, D.C., and when Louis was 5 they settled in Albemarle, North Carolina. A few years later, Louis started playing guitar on a "little burgundy sunburst acoustic. Eventually, I busted a string and busted another string and just kept playing with four strings. I delved more into bass from playing bass lines on the acoustic guitar. So, for my 9th birthday, my dad bought me a 4-string bass."

"I'd show up to Tip's and we'd do a week of writing sessions with John Legend or have André 3000 in the studio for a couple of weeks."
While it was strictly pragmatic reasons that initially drew him to the bass, he says his biggest inspiration was the bass player he knew best: his mother's left hand. Her playing, rooted in the COGIC (Church of God in Christ) style, "involves heavy left-hand bass. I wasn't as psyched to play bass in church since the way my mom plays is very defined. But eventually I kind of had to learn how she plays. It was always just her and me playing. And I had to learn to move with that and follow that. She's a great bass player."
Along the way, Cato picked up more instruments. By the time he headed to Berklee, he was playing drums, guitar, and bass as well as tuba, trombone, and euphonium. "I was going from being a big fish in a small pond to a small fish in a large pond of super-talented people who had heard oodles of music I had never dreamed of," he recalls. So, he decided to focus his studies on the instrument he'd played the longest.
Louis Cato's Gear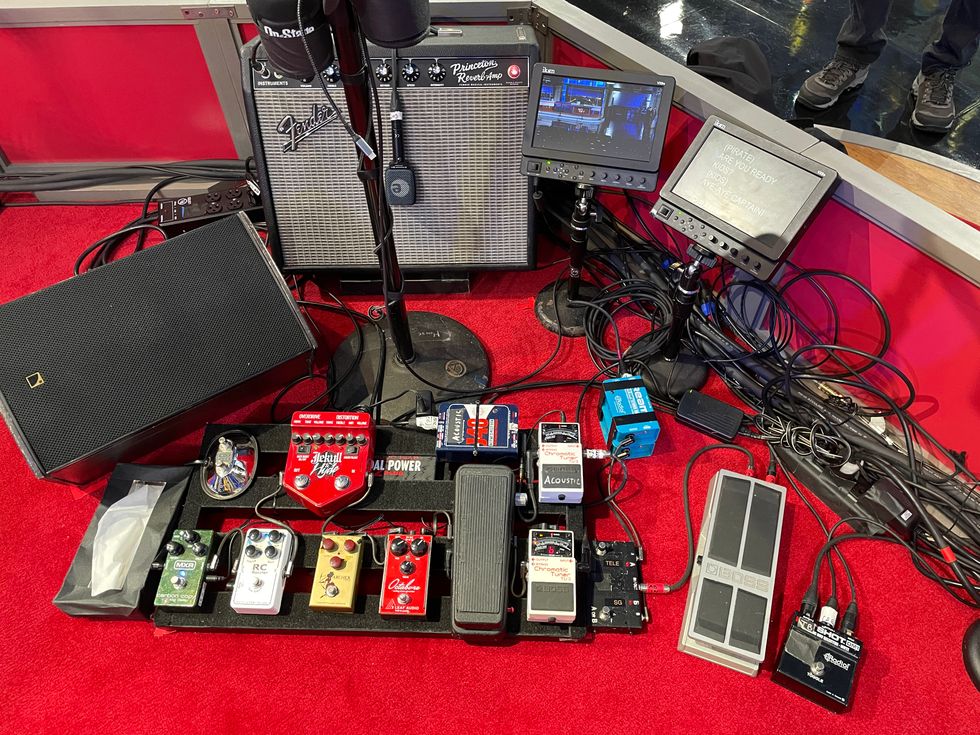 A glimpse at Cato's pedals and amp, which mostly live outside of the camera's eye, behind his stage monitor.
Guitars
Univox LP-style
Tuttle Custom Hollow T
1961 Gibson SG reissue
Martin OM-28
Amps
'65 Fender Princeton Reverb reissue
Effects
Boss FV-500H Volume Pedal
Boss TU-3 Chromatic Tuner
Dunlop Cry Baby
3 Leaf Audio Octabvre
J. Rockett Archer
Truetone Jekyll & Hyde
Xotic RC Booster
MXR Carbon Copy
Strings and Picks

D'Addario EJ16 (.012-.053)
D'Addario EXL110 (.010-.046)
Dunlop Max Grip .88 mm
Cato completed just two semesters—fall '03 and spring '04—before deciding to concentrate on playing the gigs that were paying his bills. "My rationale was, much to my parents' chagrin, here's an opportunity where I can keep learning on the job and be working my way out of the debt I went into in this year."
Gigging with wedding and church bands gave the multi-instrumentalist an opportunity to keep all his instrumental and vocal skills alive. "My oldest daughter was born soon after that," he recalls, "so I felt really, really aware of how lucky I was, how lucky any of us are, to make a living and support a family as a musician." Cato spent five years in Boston, playing various instruments in gigging bands, and he frequented local institution Wally's Cafe Jazz Club, just two blocks down the street from Berklee, "for self-education and inspiration. When that felt like I hit a ceiling, I looked at where I could go to continue my inspiration and working on the kind of projects I wanted to be working on, and that led me here."
By that time, Cato's friend Meghan Stabile, had moved to New York and created the promotion and production company Revive Music, which was dedicated to the kinds of jazz and hip-hop collaborations he wanted to pursue. Cato moved to Bushwick, Brooklyn, with his band Six Figures— "There were six of us; we did not make six figures!"—and would head back to Boston each weekend for the gigs that were paying his bills. Eager to soak up the New York scene, he'd return to New York on Sunday nights and go directly to jam sessions.
All that time back and forth on the Northeast Corridor paid off. A self-described musical "utility knife," Cato's multi-instrumentalism, as well as his talents as a songwriter, arranger, producer, and engineer, made him a major asset as a collaborator, and the New York scene took notice. Soon, he established essential connections that would affect his career, forming "an instantaneous brotherhood that continues to this day" with producer Kamaal Fareed, aka Q-Tip. "Through that, I ended up really delving into a lot of relationships and credits."
The two artists worked on high-level collaborations that not only bolstered Cato's reputation but served as a major piece of his education. "I'd show up to Tip's," he explains, "and we'd do a week of writing sessions with John Legend or have André 3000 in the studio for a couple of weeks. Sometimes things would come from it, and sometimes nothing would come from it. But being in the creative process on that level in a trusted space was invaluable for me. I learned so much."
Outside of Q-Tip's studio, Cato was learning from plenty of masters, mostly from behind the kit. "It's really special when you find yourself learning things you connect to," he says about his work alongside artists such as bassist Marcus Miller, keyboardist George Duke, and guitarist John Scofield. "And I learned so much about myself from connecting to some of these people."
Staying Human
Back in 2015, Cato received a phone call from pianist Jon Batiste. The two had never met, but Batiste rang him up about a mysterious project—a theme song for a TV show that he couldn't disclose. "I had a wisdom tooth appointment back in Boston, and I got a random call," Cato remembers. "I think his exact words were, 'I'd love to have your ears on it.' And I followed my gut, rescheduled my trip, stayed in New York an extra day with an abscessed wisdom tooth."
The two got together to co-write and produce "Humanism," which would become the theme song for the Stephen Colbert-hosted Late Show. Batiste played piano, Cato played the guitar, bass, and drum parts and "put on my editing hat." They brought in Joe Saylor—who would become the show's drummer—to play tambourine, as well as saxophonist Eddie Barbash. "After the session," Cato remembers, "I went back, got my wisdom tooth out, and went back on the road with John Scofield."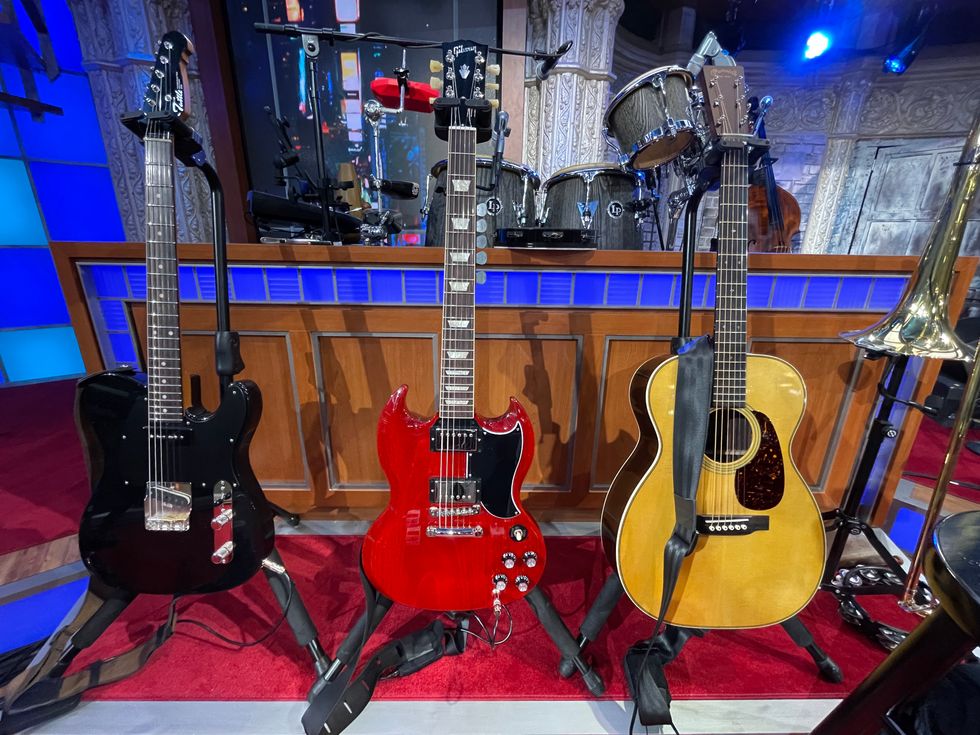 Three of the four go-to guitars Cato uses on The Late Show: a black Tuttle T-style, a cherry-red Gibson SG, and a Martin OM-28.
At first, Cato played the multi-instrumental role of his dreams, attempting to surround himself with every instrument he could play. "That lasted about three days before reality set in," he laughs. "Slowly, one by one, things started disappearing—a floor tom going away here, a Pro Tools setup going offstage there. Eventually, as the band formed out, I moved around to what was needed. I was the utility guy—played a lot of kazoo, a lot of cowbell."
While on the road drumming with Sco', Cato got the invite from Batiste to join the show's band, Stay Human. "It was a huge life shift for me," Cato explains. "I was making really good money on the road with really good musicians, which was really fulfilling. And I took a chance. I loved the idea of being a part of something creatively from its inception."
Eventually, Cato settled into a more consistent electric bass role, until Batiste brought in upright player Endea Owens, and he moved to guitar, where he's mostly stayed. When Batiste left the show last year, Cato took over as bandleader—officially starting this season, back in September—and decided he'd lead from his role as guitarist. "Of all the places I occupied," he says, "guitar was the easiest and most natural to me to lead the band, in the energy. From behind the drums, it's a different thing, and we've done it when Joe was out. But it just was a really natural progression."
Same Show, New Job
In just a few months, Cato's new role as bandleader has had an impact on the show. The renamed Late Show Band's engine seems to be burning on a new kind of fuel. And it feels as though that energy is coming directly from Cato.
When we talk, the guitarist is deeply engaged, in a kind of hyper-focused way that is not intense but more casually un-distractable. He brings that same focus to the show. While Colbert delivers monologues, Cato is zoomed in on the host, listening to every word, often riffing around on his guitar to contribute musical commentary. During interviews, he's taking cues and following the tone of the conversation, looking for ways to adapt.
The bandleader gig requires loads of big-picture improvisation, but also lots of prep. Cato explains that each week he makes a set list, but the band will react and make changes in the moment. "My job ends up being a lot of judgement calls that affect the flow of the show," he says. "We have a group of compositions we wrote for the show that can complement different moments. If there's a major energy shift in an interview that takes a turn or something happens in the day, like a tragedy, we'll call one of the songs we wrote for the show for a moment such as that. Recently, we had a guest on that started improvising a song. So, I have on our in-ear mic and call out the key and start playing, and we all jump in, and now we're doing this instead."
Cato poses with his black-sparkle chambered T-style, made by Tuttle. "When I'm checking off core priorities in sound," he says, "if I'm going for rhythmic things, I go to the Tele."
Photo by Scott Kowalchyk
Watching the Late Show Band in person, I see this play out as Treasury Secretary Janet Yellen explains the steps the U.S. can take to avoid a recession. It's a heavy and heady conversation, and, frankly, it's anything but fun. Cato knows he'll need to pick the audience back up. As he watches from the bandstand, he gives tempo cues to the band, who nod along, so they can effectively shift the energy and get the audience re-focused for the next guest, actor/director Sarah Polley.
As a guitar player, Cato says he sticks to playing things that feel most natural to him so he can concentrate on his bandleading duties. He adds that he considers himself more a rhythm guitarist than a lead guitarist. (It's worth noting that his delineation is more conceptual than musical: Cato is an inspired and dynamic melodic lead player, but his deeply rooted phrasing and feel is at the forefront of everything he plays, so the rhythm-first thing applies to it all.) "This is not a space as a guitar player where I'm jumping out of the box trying any and everything and exploring," he explains. "You get to some of those places. But for me, it always has to start from something I can do while leading the band and reading the energy and making judgement calls."
"We're arranging it and making it our own—because that's the sonic fingerprint of our show."
That rooted, pragmatic ethos applies to the gear he chooses as well. "I never was a big gear person," he admits. Luckily, he has Late Show Band tech and informed gearhead Matt Mead to help him keep his pedalboard well-stocked. "There's so many things I'm learning about the job and trying to keep straight in my head that this ends up getting the short end of the stick, and it wouldn't work if there was not a Matt Mead to make up the rest of that stick and make it sound good."
"The show throws a lot of curveballs," Mead points out. "He steers the boat as far as the tones he's looking for and if there's a particular sound he's looking for. Sometimes, I'll recommend stuff and say, 'Hey I notice you're doing this, maybe we should try this.'"
Cato's collaboratively curated pedalboard is pretty simple at its core: It starts with a Boss FV-500H volume pedal, a Boss TU-3, a Dunlop Cry Baby, and 3 Leaf Audio Octabvre. Cato shows me how he uses the latter for more traditional, Hendrix-style playing, but he points out that the band plays a lot of montunoes, and he tends to use the octave pedal for those. For drive, he uses a J. Rockett Archer and a Truetone Jekyll & Hyde, which are followed by an Xotic RC Booster and an MXR Carbon Copy, all into a Fender '65 Princeton Reverb reissue, and powered by a Voodoo Labs Pedal Power Plus.
In live performances outside of The Late Show, Cato uses various guitars, but says that the studio's cold temperature doesn't do many favors for instruments such as his Gibson Luther Dickinson ES-335 or some of his acoustics, so he's careful when selecting which guitars come on stage at the Ed Sullivan Theater. The three guitars that most commonly appear on the show are his black Tuttle Custom Hollow T, a cherry red Gibson SG 1961 Reissue, and a Martin OM-28.
Another guitar that sometimes appears on the Late Show is his LP-style Univox, which I ask Cato about in his dressing room. "If I need to be altogether comfortable," he explains, "I pull out the Univox, because it's my earliest guitar. I've had this since high school."
Cory Wong "Lunchtime" - The Late Show's Commercial Breakdown
When musical guests visit The Late Show, they get the full-band treatment from Cato and company. Here, Cory Wong sits in for a rhythm guitar showdown of the highest level.
Back when he first got the guitar, Cato remembers, it was in rough shape, desperately in need of wiring and pickup repairs and a new set of tuners. It stayed that way until he was in Boston. When he picked up a wedding band gig playing trombone and guitar, he was lucky enough to have a roommate who could get the Univox performance-ready by replacing the original tuners with locking units, cleaning out the electronics, and swapping the pickups for a pair of Seymour Duncans.
"I didn't even know there was a such thing as a professional musician."
But Cato says that even before those repairs, he's always "loved it because it's all I had. I remember I was playing a little Vox amp, and this guitar had a feeling out of that amp. This guitar just became home base and felt super natural to my fingers. If I need to just not be thinking at all, this is home."
Did he ever dream he'd be on television every night, holding this Univox and chumming with a late-night host? "Never! Not once!" he says. "It was just a product of my nurture growing up in a small town. I didn't even know there was such a thing as a professional musician." And yet, Cato pursued music as fully and single-mindedly as he could. "I just knew that I liked it and felt connected to it."
Extolling the virtues and sharing some easy mods for Fender's littlest vintage bruiser.
This month, let's talk about the black- and silver-panel Fender Champ, the tiniest of vintage Fender amps. Weighing only 22 pounds, it is super portable and easy to carry wherever my music takes me. It's actually so small that I put it between my kids in the car's backseat when we go on vacations. Before I share what I've learned about the Champ, let's have a quick look in the rearview mirror.
Early in the Fender black-panel era, in 1964, the company reintroduced the previously tweed Champ with a new look and debuted the Vibro Champ. The single 8"-speaker combo configuration and single-ended 6V6-based power amp section was continued from the tweed Champ. These Champs produced only 6 watts, and the minimal control panel offered volume, treble, and bass—plus tremolo speed and intensity on the Vibro Champ. Unlike many other models, Fender kept these circuits almost unchanged during the silver-panel era, through 1982. After that, many popular and different offspring of the Champ have been produced, with both transistor and tube-driven circuits.
My appreciation for the Champ came late in life. When I was younger, I used my Super Reverbs for everything and never considered amps with anything less than one 12" or two 10" speakers. I saw no need for smaller amps with boxy tones fit for bedroom use only. But as I started to educate myself on Fender amps, I needed a Champ to study. I had to play it, experiment with tubes and mods, and learn everything about it. So, in 2005, I found a minty 1966 Vibro Champ on eBay for $800, completely original with the Oxford 8EV speaker.
When I want to play Elmore James Delta blues stuff, I use my ES-335 with my Vibro Champ.
With the Champ, Fender followed their scooped, black-panel tone-stack recipe with the 0.047 μF, 0.1 μF, and 250 pF tone caps and a fixed 6.8k mid resistor. As with the big brother Princeton Reverb, it lacked a mid control, bright switch, and a bright cap. The tone is straightforward, natural, and annoyingly modest and clean. Different from its Fender siblings, it hardly breaks up when pushed. In fact, the Champ stays clean all the way up to 10, but with loose, flabby bass and tinny speaker distortion. Humbucker guitars are able to get some cranked tones from Champs due to their hotter output. When I, for example, want to play Elmore James Delta blues stuff, I use my ES-335 with my Vibro Champ. It thrills me how single strings and soft picking come out clean, while hard pick attack and chords sound hairy and cranked.
Over the decades, players and techs have leaned towards modifications to get more distortion from the Champ. Personally, I've learned to like the clean and scooped tone, and I don't want to lose the original character of the amp. But I wouldn't mind a little more volume and punch, since it would open up a few important uses—like band practice with a loud drummer. And when it comes to modifications, I like easy and reversible mods. So here is what I have done to my Vibro Champ: First, I changed the rectifier tube from 5Y3 to GZ34 for increased plate voltage on the 6V6 power tube, which gives me a little more clean headroom. (A solid-state rectifier would also work.) Second, I replaced the original Oxford 8EV speaker with a Warehouse G8C. I have never looked back. I like Warehouse Guitar Speakers because they offer vintage Fender-style tone for a reasonable price. The WGS speaker makes the amp significantly louder, with more attack, firmer bass response, and without changing the Champ's character.
As I've alluded, my Vibro Champ follows me wherever I go and is a part of my family. In the back of the amp, I keep an overdrive pedal, a reverb pedal, and a tiny 230/12V transformer so I can plug into one of the car's 12V sockets. So, I am always Fender-ready.
May the tone be with you!
In a world of widely shared components, don't just dare to be different. Insist on it. Aesthetics matter.
Regardless of the number of companies swimming in the pedal pond, I often find myself thinking about aesthetic diversity. We builders tend to all use the same components when designing our devices. It's how we use them that is the subject here. And I'd like to focus primarily on the external components and how they are presented. Finish and graphics play a big part in a company's branding and identity. However, I'd like to almost solely talk about knobs, footswitches, toggles, and LEDs. These are the most common things that you'll see on a pedal.
I often ask people, "If you were to remove the labels and branding, could you tell which pedal it is or which company it was from?" As I've mentioned in a previous article, the pedal world is a kind and respectful place. Companies like to carve their name into the industry by having something that looks good and doesn't step on another company's toes. Builders achieve this by taking all of those same components that I just mentioned and organizing them in a manner that has a distinctive appearance. This leads to a question: If a company creates a knob and switch layout that's the same for all of their models, is that intellectual property that other companies should avoid using, or is it simply a design of round pieces of plastic and metal on a square box that's entirely public domain?
Let's try something. If a new pedal company hit the streets and had an aesthetic like the one in Figure 1, would anyone have an issue with it? I lean heavily towards no. This triangular 3-knob layout has become practically generic. But if the fictional company were to release a product that looked like the picture in Figure 2, would anyone have an issue with it? I'm inclined to say yes. Three dials on a plane evokes a famed boutique pedal maker, rather than a generic look, even though both examples consist simply of a few knobs and a footswitch. Somehow the components simply being angled a little helps the appearance of originality, but ... as a pedal builder, I wouldn't go there.
Often when a company releases a product with an interface that strays from the traditional path, it stands out. Non-traditional pieces of hardware can help a pedal's recognition. However, if there's already an existing company using these pieces of hardware in their designs, we have a problem.
If you were to remove the labels and branding, could you tell which pedal it is or which company it was from?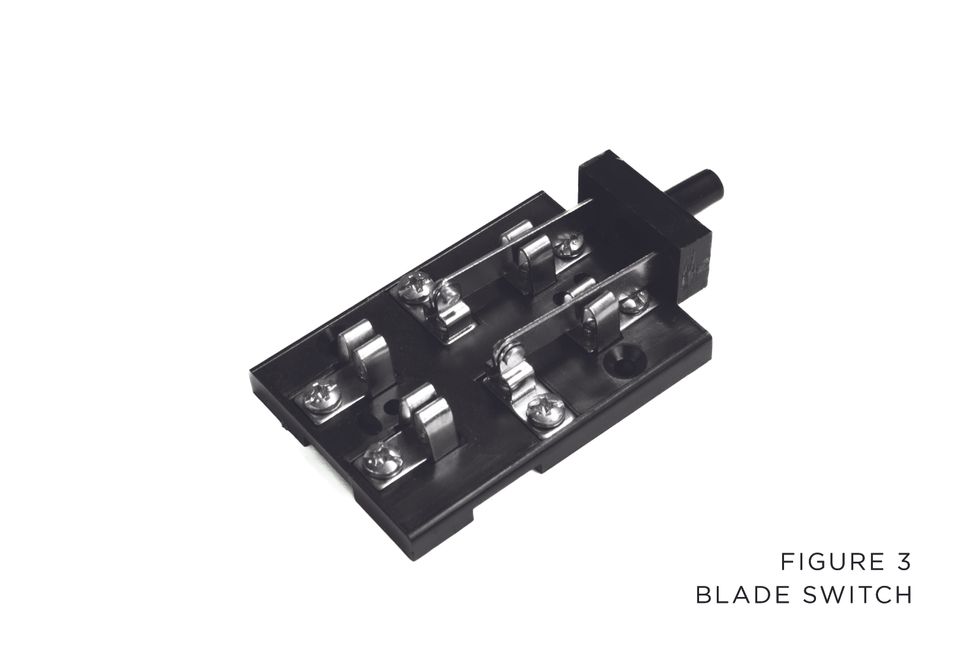 Going back to our scenario of a fictional new company releasing a product, if this company were to release a product with a blade switch (Figure 3) or telegraph key (Figure 4), there would be folks that would take issue with it. Now, it would be fair to say that a brand new company may not be fully aware of every existing pedal design—even with the internet at their fingertips. But the community of pedal nerds creates a nice monitoring/filtering system. If a new product hit the market with a telegraph key, for example, as found on our Telegraph V2 Autostutter & Killswitch and our Triplegraph Digital Polyphonic Octave pedals, the nerds would bring our attention to it.
There are only so many ways to locate knobs and switches on a rectangular box. So, what's a new pedal company to do? Well, when it comes to placement, avoid popular and recognizable layouts like those found in Figure 2 and create your own. If traditional stylings are more your bag, consider alterations to the formula. Look at the Canaglia by Lollygagger FX—a 3-knob, 2-footswitch pedal. What helps it stand out? Metal knobs, a hand-stained wooden enclosure, and debossed labels—characterful changes to formula.
Along with being in the golden era of pedals, we're also in the golden era of parts. I've never seen more knob choices in different finishes and styles than right now. Same with hardware finishes, enclosure shapes, and more. So, if you find yourself with a form factor that feels like it's infringing on another company, make several small changes. Tweak the knob location slightly and swap out the knob type, move the LED location and change the size, put a washer around the footswitch, or add colored dress washers to the toggles. Small changes add up to a big difference.
After our columnist had a serious accident, respected indie pedal maker James Mackey organized the community to help. Here's his story.
Summer 2022 sure was crazy for me. Between trying to keep my small pedal business alive and juggling the few other hustles I have going to survive financially in this current economic climate, things were pretty hectic. Then, in August, I was involved in a serious car accident … a head-on collision. Thankfully, the airbag and seat belt saved my life. I stumbled out of the car, completely shocked and humbled to be in one piece after I saw the wreckage. While I will most likely be dealing with the resulting lumbar issues for the rest of my life, I can't express how grateful I am to still be here.
My dear friend James Mackey, who runs a small pedal business here in California called Lauren Audio, reached out to me shortly after the accident. James hosted a benefit in our pedal builders' community a couple of years ago. I donated one of my Atari Fuzzes, and our friendship blossomed from there. Now, he organized a raffle to benefit us, involving nearly 40 independent pedal makers. So, since this issue's cover story is about builders, let me take this opportunity to introduce you to James and his work.
Lauren Audio focuses on creating studio-inspired effects and modules, while also offering PCB design and prototyping services to other makers. The Mustang, which is their current pedal offering, is a class-A overdrive based on one of the most iconic recording channels, the Neve 1073. Supercharged with a modified gain control and variable feedback, the Mustang has quickly become an indispensable tool for some players. Built with high-quality parts, this pedal runs at an internal 24V just like the classic Neve rack unit, for impressive headroom and dynamic depth.
James, I know all about your rad pedals, but what is your musical background?
My first real instrument was the trumpet. While I was in high school band, someone introduced me to FruityLoops and digital production. I was blown away. I had begun DJ-ing in high school and making my own tracks. This became so accessible with DAWs. This was my first intro to effects. I really loved finding new plugins, but I spent the most time looking for distortions and saturators. I mostly studied mixing and production by bouncing between a few community colleges. I moved to Los Angeles, as I had gotten a job at Guitar Center. From there, I went to Perfect Circuit, then British Audio Engineering (BAE). I recorded and mixed in my spare time. I moved back down to Orange County after a five-year run in LA, and began Lauren Audio in 2016.
I was working with a partner who was a metal guitarist. He had designed a pedal in the aim of a metal distortion/OD. I wanted to design pro audio gear, but since we had the pedal design, it seemed like a logical first step. I added a multi-clipping option, some extra goodies, and we had our first pedal: the Spitfire. During this time, I was picked up by a local touring band as a front-of-house engineer. I learned a lot working in different venues, and got to hear lots of different rigs. I've since focused on Lauren Audio full-time. I have the pleasure of playing guitar often when designing and testing, and every now and then I'll do some mastering for friends.
What drew you into DIY, building, and then designing effects pedals and gear?
I had always liked building things. I was super into LEGOs as a kid. I've always wanted to make my own things, so I guess it wasn't a big leap. At Perfect Circuit, I worked in the warehouse near the tech bench. I would always bug the techs about what they were working on. I was already into gear, but seeing the repair process and internals of lots of different pieces changed my trajectory. We had the ability to pitch new ideas at BAE, and I really enjoyed being able to test prototypes. I was always trying to think of something new to impress my boss, so my gears were constantly turning for audio designs.
How did the raffle start? I am truly grateful, humbled, and blown away by it.
Credit goes to Al from The Cultured Guitarist[podcast]. We knew about your accident but weren't aware of the depth of the situation. It was really sweet to see how far your vibes have spread through the community. I, too, am blown away by the support this community has offered.
What do you foresee yourself building 10 years from now?
I really look forward to building pieces specifically for mastering. My goal is to build my own mastering rig. One of my first concepts was a mastering EQ, and I still aim to make it a reality. Long term, I would like to help design renewable energy systems.
YouTube It
Check out a demo of Lauren Audio's Mustang, based on the Neve 1073 preamp.