After feeling inspired to make inventive pedal enclosures, our columnist met a blacksmith who lent him unique guidance in the process.
I'll never forget this comment on my Instagram video of me making a sand-casting aluminum enclosure on one of my pedals: "Dude are you serious? Holding melted aluminum more than 1000 degrees Fahrenheit and only wear short pants and flip flop? if it blown you die." Well, at Sehat Effectors, we make our own enclosures, but there's another builder who makes sand-casting enclosures, G.S. Wyllie, who inspires me. The first time I saw Wyllie's Moonrock Fuzz pedal online, I said to myself, "I have to make pedals as cool as that." For years, I'd always thought about interesting and distinctive enclosure designs to create on my own, but always ended up with the question, "How?" One day, out of the blue, the universe answered me, guiding me to the right person. I was introduced to Mr. Yanto, a skilled traditional blacksmith in my hometown of Yogyakarta.
Mr. Yanto and I had been friends for a few years after having met at a flea market where I was, and still am, a customer of his. (Now, he's one of my suppliers for my Telepunk Fuzz pedal enclosure.) At his shop, he makes and sells aluminum signs for coffee shops and restaurants. At one point, he told me he was making them at his workshop. Instantly, I thought to myself, "Eureka!" I showed him a picture of my Fuzz Face pedal and asked, "Can you make something like this?" He replied, "Kecil!" ("Kecil" means "small" in Indonesian but is often used to say something is easy to do, like the expression "piece of cake" in American English.)
The next day, I visited Mr. Yanto's workshop, and I was completely astonished and speechless. The building had red brick walls and a bamboo roof. There were several giant furnaces, which made the room extremely hot. I couldn't believe how someone could live there—it felt like a funhouse tour in Hell. That said … I think being a blacksmith is one of the coolest jobs in our solar system, and throughout the history of human civilization.
"I think being a blacksmith is one of the coolest jobs in our solar system, and throughout the history of human civilization."
I asked Mr. Yanto to show me the process of making an object using the sand-casting method. Unfortunately, I discovered that I had barely approached the beginning of the process, and that creating my dream enclosure was not as easy as pouring molten metal into a sand hole. To create a custom shape, a base pattern or master form is needed—which is then placed in a wooden frame filled with sand—to achieve the desired pattern. After compacting the sand, holes are made for the molten aluminum that will be cast. But, at that time, I only had imaginary designs in my head. In the end, my first visit to Mr. Yanto's workshop was nothing more than a tourist experience.
However, I didn't want the designs in my head to remain imaginary forever. So, on my next visit, I prepared various objects that had the potential to be modified into stompbox enclosures. I collected these items from flea markets: They ranged from various sewing machine pedals to video game consoles to podium microphones to aquarium water pumps. Fortunately, Mr. Yanto was willing to assist me in modifying these objects to be repurposed as stompbox enclosures, and even taught me how to add ornaments as part of the enclosure artwork. Yet most of the modified objects turned out to be unreliable for use in this context. Maybe my enthusiasm was too overwhelming, but ultimately, all this effort was not just about wanting to look cool. I simply wanted to condense my own thoughts and pour them into various creations in the real world.
Moreover, as a pedal builder who's fortunate enough to live in the era of globalization and free markets, I wanted to involve people close to me who are local workers. I wanted to invite them to cross the Indian and Pacific Oceans, to every corner of this planet, with our own work and sweat. Well, to conclude this article, one of our customers said: "I don't play guitar. I'm a music producer, but I bought this because I respect you risking your life to make this pedal, and the story behind it—it's a piece of art." And that's why I want to keep converting my thoughts into real things in this real world.
When designing a guitar rig, stick to your music's essentials.
Whether you navigate it consciously or unconsciously, guitar-rig building has multiple stages. In the beginning, it's all possibilities and no responsibilities. The current state of the art and status of the market are such that nearly anything that you can conceive of is within your grasp. If you'd like your pedalboard to produce the sounds of yesterday, the guitar hive mind will provide you multiple methods. If you want to do something that's never been done, the sheer volume of pedals and other gear that's available makes for a set of permutations whose depths can likely never be fully sounded.
As a rig builder, I'm often brought in after the initial conception stage. The player has at least a general sense of what this pedalboard or rig has to be and do. There are lots of potential problems that can manifest at this point. A very common one plays out as follows: A young player (either in stage of life or stage in career) gets their first major gig. Their initial desire is to build the rig of their dreams— something with enough pedals and sounds to ensure there is next to no chance they won't have what's needed in every situation from stage to studio. This leads to a sort of feature creep as they add more pedals to deal with musical edge cases. "I'm going on the road with a mid-market Americana band, but one time 10 years ago, I sat in with a band to play 'Shakedown Street.' So, I should probably have an envelope filter."
The result of this unfettered specification can be a pedalboard three sizes too large. For bigger touring outfits, any remotely reasonable size is manageable, as semi-trailers are spacious. But I can tell you from experience that inappropriately prepared players can open themselves up to chiding by bandmates and crew who might perceive the player as pretentious or, worse, clueless. The problem really comes to a head when this well-intentioned player now has to play the employer's a-shade-over-three-minute 1–5–6–4 single at the Opry as a host of grizzled veterans stand in the wings wondering why there is a spaceship preparing for takeoff at the stage's edge for an act that is going to come and go between commercial breaks.
Picking pedals for a gig means knowing the songs, arrangements, and having a producer's ear.
Is the rig "good?" Without a doubt. Is it "right?" In terms of essential simplicity, maybe not. During that initial design phase, having a very clearheaded understanding of what the board should not be is just as important as determining what the board should be. You might be thinking this overzealous gear response is strictly the domain of newbs and rookies, but you'd be wrong. I've sat in hour-long rig consults with some of the most recorded guitarists in history—card-carrying guitar heroes—and in the first conversational lull after arriving at the "final" plan, this supremely confident, completely secure player will say, "Is there anything else I should be putting in there?" The idea that we might be missing something is no respecter of persons.
I've been having this same conversation with guitarists of all ages and stages for over 20 years. Recently, it has gotten me thinking of a certain Swiss patent clerk who said, "Everything should be made as simple as possible, but not simpler."
So, how do we follow patent clerk Albert Einstein's exhortation to keep it simple? Picking pedals for a gig means knowing the songs, arrangements, and having a producer's ear for what sounds and parts are actually required to make it through a full set, a shortened direct-support position, or a one-off TV date. Having drive pedals that are useful separately and stacked can round out your tonal core. Adding your bread-and-butter modulation and time-based effects will keep that section from becoming too expansive. A multi-effect pedal can catch all those edge-case scenarios that would otherwise add low-utility square footage.
Consider a more modular approach where a primary board can have auxiliary boards patched into it to expand its utility and allow it to collapse in size easily when necessary. Don't be afraid of adding what's called for, I've built super complex rigs that were as simple as they could be, but don't fall into the trap of thinking a single monolithic pedalboard setup is the only answer.
To go or not to go, and the perils of the no-show.
"The NAMM Show is quickly approaching!"
That's either a battle cry or a warning, depending on your perspective, heard biannually in the music industry. (At least in non-pandemic years.) The most universal analogy I use for NAMM is: "Think of it as Comic-Con for music gear." For many of us in the instrument business, the trade show seems to be constantly looming. In addition to convention preparations always occupying the back of our minds, I feel it has also created pressure for companies to release products around its schedule, if not almost dictated it.
I have lived on both sides of the curtain. I used to be in the audience, wondering how I could gain access to the show as an exhibitor. I have also been backstage, directly involved with most of the aspects of presenting Coppersound's pedals. So, I've got a perspective of NAMM from both viewpoints. And with the latest NAMM show just behind us, that perspective is the catalyst for this month's column.
As an outsider looking in, a big attraction to attending the event is seeing what new products are going to be released by some of my favorite companies. That hunt rarely requires clues because exhibitors typically plaster their booths with media and signage that promotes their newest releases. For us manufacturers, that also raises a big question: "Should a company present at NAMM without a new release?" That query naturally does a cannonball into the pool of philosophy. But for the sake of this article, I would prefer to keep the focus more in the pool of psychology—most notably appearances and perception.
As an insider looking out, I have had many conversations in the past with industry colleagues about all aspects of attending NAMM. We often discuss booth layout, travel plans, shipment logistics, costs, and more. There is also a specific day that we all wait for: the day the show map is made public, and each exhibitor can see the upcoming floor plan. We can see who our booth neighbors are going to be and take stock of what other companies will be attending. And therein lies the root of the most speculation, along with possible concerns.
"What should drive new products is the excitement of innovation and not the notion of releasing something just to release something."
The showroom floor is filled with many types of companies within the industry, big and small—from single-owner outfits with a small table-top booth to medium operations with five to 10 employees to large household names occupying a booth the size of a mall food court.
Everybody, regardless of size, attracts attention in one way or another. However, it is not uncommon to worry about a lack of attendance if we see large companies—who tend to attract lots of music-store order writers—not attending the event. That's especially troublesome if there is a lack of big presenters within our own line of business.
If a large, established company does not attend the show, people will notice and ask themselves, "Do they know something we don't?" If a small, younger company does not attend, it's quite possible those who are used to seeing that company's booth will ask, "Are they not around anymore?" Especially in our Covid-tinted world.
I also wonder if attending the NAMM show is the perceived benchmark of determining if one has "made it." I often define success by the act of achieving a premeditated goal. For those that do not know, registration for NAMM is many months before the show dates. If you are a company that has presented at these shows in the past, you will most likely not want to attend again without a new product. After all, new products are the big attraction. This brings us back to the release schedule for new products. NAMM is traditionally held twice a year: during winter in Anaheim and summer in Nashville. These shows are about six months apart. If a company decides to present at both shows, that entails a pretty intense product-release schedule—especially for small outfits. For larger companies, that's typically not as difficult. But for even a medium-sized company looking to place and/or keep their flag in the ground, it can still be very tough.
I am a big proponent of the belief that deadlines create productivity. So, the NAMM release schedule may actually be a good thing for companies like ours. However, I feel that what should drive new products is the excitement of innovation and not the notion of releasing something just to release something.
So, while I deliberate our future NAMM events, here's another thing that's under my skin: Does anyone else find that the word biannually meaning both twice a year and once every two years is confusing?
Want to play different pedal sequences in a flash? These handy boxes provide more tone solutions than you might realize.
There is no right or wrong way to wire a pedalboard. It's really a matter of personal taste and what our ears find pleasing. Every musician has their own thing, and our pedalboards are certainly an extension of that. For some, reconfiguring the pedalboard is a lifelong process, and adding a new device often means something has got to go, because real estate is crucial!
Whether you are a fan of effects loops or not, they can be useful tools. One of the go-to pedals in my collection isn't an effect. It's a standalone effects loop order switcher, which is basically a pair of dedicated effects loops (A and B) in an aluminum pedal enclosure. There are quite a few companies that make a version of this type of device. Some of these units have many other options included and some are very basic, with no knobs at all. I like to have a somewhat simple one hanging around, with an input, an output, and two sets of send/return jacks. Each channel needs a volume knob, a foot switch, and a bypass indicator light.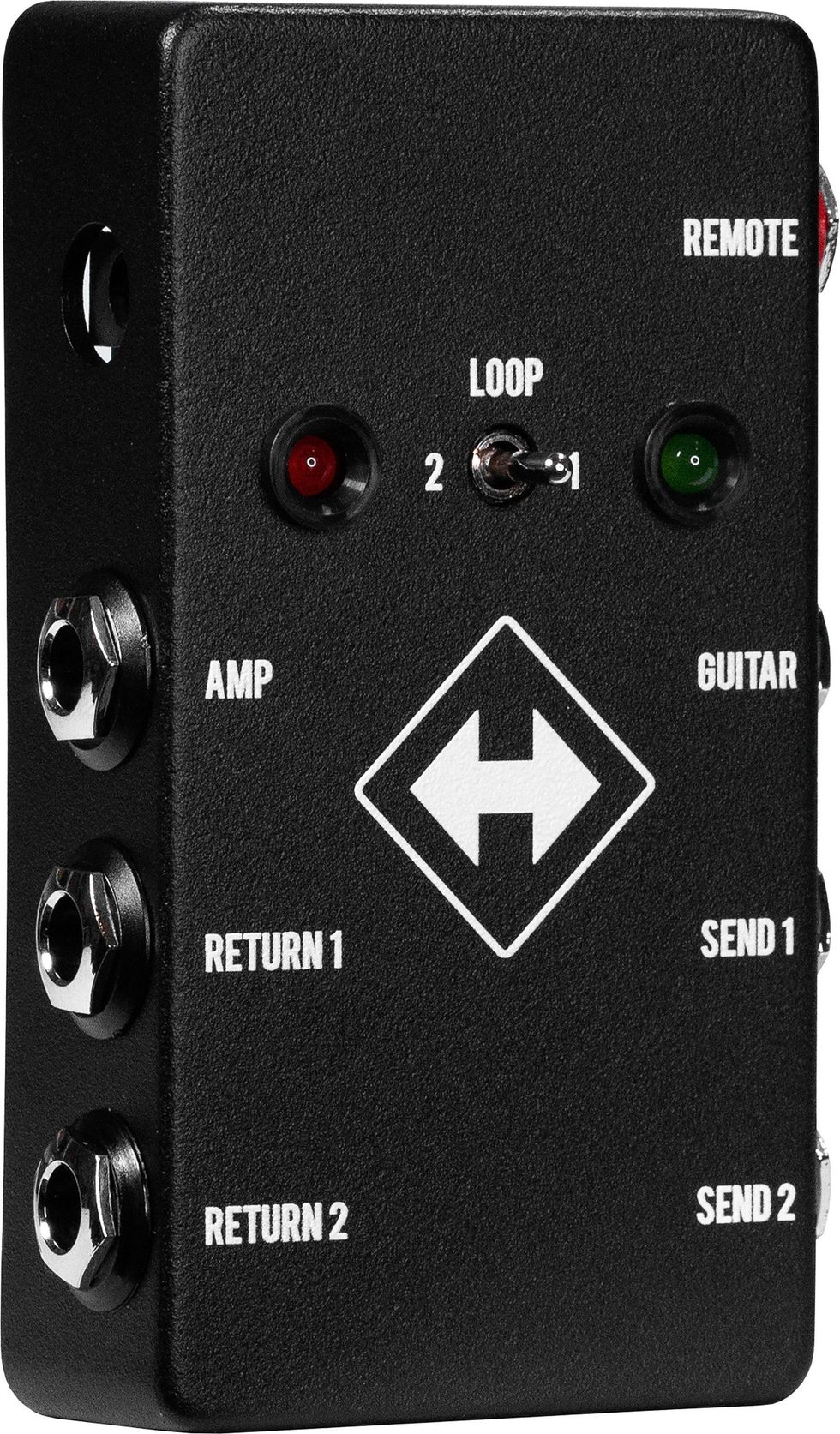 A loop switcher can be an especially useful tool when putting together a pedalboard, or even just adding a new stompbox to the mix. Signal paths can be auditioned to see how pedals will interact together before committing them to Velcro. I find it is also super fun and handy to use a switcher when doing sound explorations and, ultimately, in my writing and recording processes. There are so many more options sound-wise, depending on how effects are ordered. The rather simple unit I made allows for quick changes, which helps me economize my time. In fact, it's so useful that I have one living full-time on my pedalboard, in a really accessible spot, so I can plug and unplug on the fly if something isn't working out sound-wise.
Fancier loop-switching devices can have true bypass switching, buffers, lots of sends and returns, knobs, signal paths routed any which way.... The options are nearly endless. Plenty of pedal builders out there can build custom units for a reasonable price, tailored to anyone's specific taste. You might even go the rackmounted, pro-audio hardware route if you want to get extra fancy!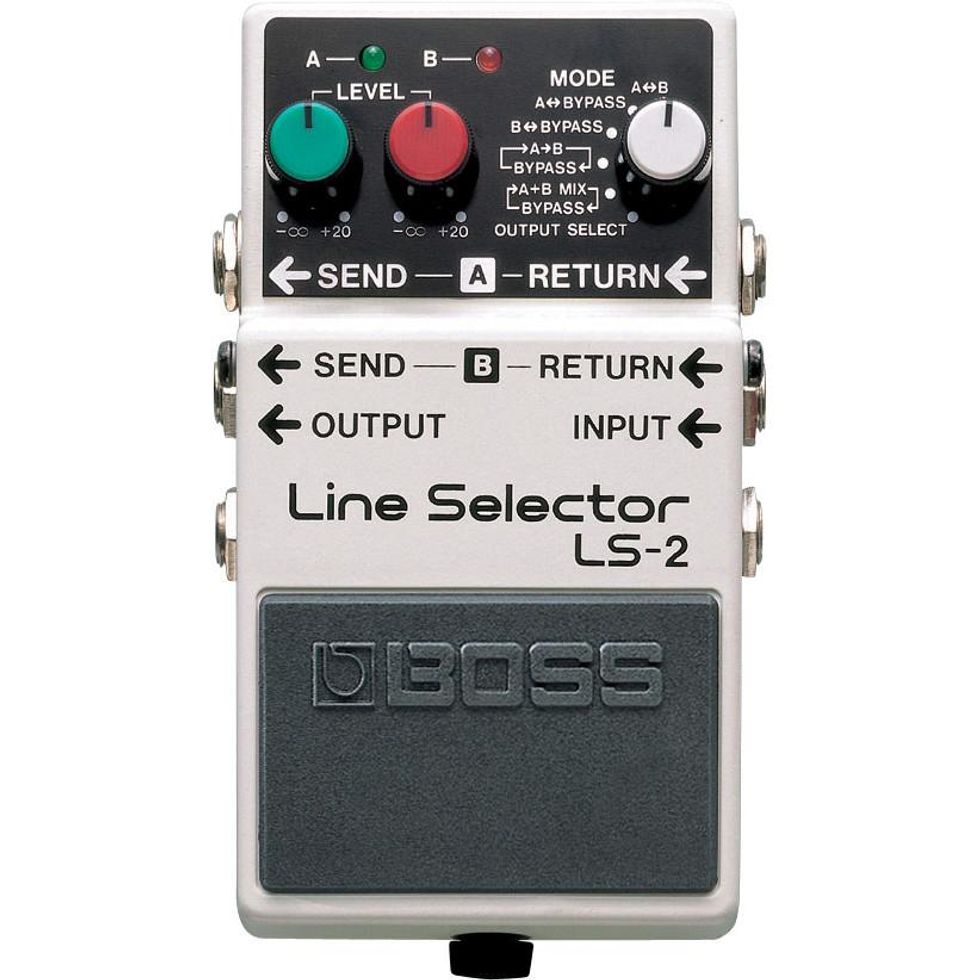 There are several different commercial A/B loop switcher units available that are on the simpler end of the spectrum, like the JHS Switchback A/B Effects Loop Switcher ($102 street) and the MXR M196 A/B Box Pedal ($59 street). The EarthQuaker Devices Swiss Things Pedalboard Reconciler ($249 street) is an awesome utility pedal with a few more helpful options. My absolute favorite simple go-to is the Boss LS-2 Line Selector Pedal ($113 street). It's got a small footprint and does all the basics. Plus, it's Boss, so it's built like a tank. Mine has survived 20 years of abuse so far.
Whether you are a fan of effects loops or not, they can be useful tools.
Some pedals sound totally different when inserted into an effects loop instead of being inserted directly in line. It's really informative to be able to hear those differences. I feel like a whole new world opened up to me when I started using the LS-2. Some of my favorite sounds that I have been able to create came from putting pedals in the loop that normally get chained up in line directly. Give it a try! And for those who DIY, check out Beavis Audio Research's awesome site. There are several different iterations to build.
From DIs to multi-effects processors to IRs, there are plenty of ways to make your sound golden.
Whether you're a professional player, weekend warrior, or a once-in-a-blue-moon open miker, you will likely be put in a position to play both electric and acoustic instruments on a gig. As you're looking to build your switch-hitting pedalboard, you may find that electric and acoustic guitar processing haven't exactly been treated equitably in the marketplace. Even a bog-standard electric guitar rig these days is populated with three overdrives du jour and a gaggle of space-age DSP-driven effects culled from a market saturated with bobs and bits intended to fatten your sound and thin your wallet. When compared to the smorgasbord of electric guitar processing products, the selection of acoustic-guitar-specific offerings may seem a bit spartan.
But flattop pickers need not be forlorn! I've had the opportunity to build lots of guitar rigs for players who needed to serve both the electric and acoustic parts of a setlist, and there are many options for getting your acoustic signal out of your instrument and into the PA. Some of these builds were biased toward the electric side of things, when acoustic playing was just a small part of the job description, and others were mostly acoustic-minded affairs with just a sprinkling of electric-centric equipment. You'll need to look at your situation to determine how much board real estate and budget resources you should be allocating to your double-minded setup.
The simplest way to get your acoustic instrument's sound to the PA is to add a plain old DI to your board. I'd highly recommend the transformer-isolated variety, like the Radial ProDI ($114 street) or, if you can spring for it, something like their J48 ($229 street), which includes a higher-quality Jensen transformer. You can stick this DI to your board with a permanently connected guitar cable and simply plug in your acoustic when you need it. Neutrik silentPLUGs ($12 street) will help you avoid those nasty connecting/disconnecting pops as you transition from electric to acoustic by automatically muting the unused signal chain.
If you wind up sharing effects between acoustic and electric, be cautious about the settings of your overdrives and distortion pedals.
Maybe you'd like to have only one instrument cable into your rig? Put a simple A/B switch in front of your first electric pedal and the DI. Whenever you select your DI, the electric chain will be muted. Turn off the effects in your electric chain, particularly overdrives and distortions, to keep the white noise from the deselected backline amp at a minimum. Switching the A/B selector back to the electric will effectively mute the DI output to front-of-house. You'll need to be careful here as you can accidentally send electric guitar to FOH or acoustic guitar to your backline amp if you lose track of the state of your A/B switch. You can alter this arrangement by putting additional effects after the A/B switch and in front of your DI or sharing effects in both chains by putting your A/B switch after your electric-guitar effects. If you wind up sharing effects between acoustic and electric, be cautious about the settings of your overdrives and distortion pedals. Accidentally engaging one could lead to some surprising—and painfully loud—results. The line between exciting and execrable can be very thin.
If you want to go beyond the straight piezo-pickup sound of your acoustic, consider acoustic imaging. You can replace your simple DI with something like Fishman's Aura Spectrum ($399 street) or LR Baggs' Voiceprint ($399 street), which use impulse responses (IRs) and DSP to produce realistic miked and in-the-room sounds from a humble undersaddle bridge pickup. Alternatively, if your rig already contains something like the Line 6 HX Stomp ($649 street), you can use it to process and route your acoustic signal. Several purveyors produce acoustic IRs that you can load as effect blocks on your Stomp (3 Sigma Audio and Worship Tutorials are two). You can then use your Stomp's FX send port to connect it to a plain external DI and configure your specific electric and acoustic presets so they output to the correct port. An additional benefit to this type of setup is that you have access to all the HX Stomp effects as well, so compression, modulation, delay, and reverb are readily available for your acoustic processing needs.
Whether you connect your acoustic instrument to the PA via a run-of-the-mill DI or the latest in high-tech signal processing, there are many ways to sound great in our amplified world. Don't let your electrics have all the fun, bring acoustic signal processing into your pedalboard world!