In the modern world of immersive audio capabilities, knowing how to automate mix parameters is essential.
Let me focus on the paradigm shift in the mixing world—immersive audio. It's been coming quietly for a long time, and I believe it might just survive the bleached-bone-littered landscape of previous multi-channel mixing technology incarnations that were left for dead and never destined for success, like Quad and 5.1 surround sound.
Unless it's a live recording and you're being true to the original audience experience, I've never really been that enthralled with the "static mixing" mindset—where once the instruments are placed in the stereo field, they never move—as has been the case on the vast majority of records over the last several decades. Especially when one considers immersive audio and the vast amount of possibilities to place and move musical elements of a song in space over time, listening to static mixes seems, well … boring. Granted, my attention span is shorter than a ferret's on espresso, but c'mon folks, we're 20-plus years into the new millennium. Onward!
The Good News
With the ever-evolving immersive audio environment and renderers, and breakthroughs in HRTF (head-related transfer function) technology, now more than ever we are able to experience decoded, folded-down 7.1.4 spatial audio mixes in a binaural audio format through a regular pair of headphones (or earbuds). Finally, we're making progress.
With this in mind, your automation skills need to be on point in order to take full advantage of these new possibilities. This time, I'd like to highlight core types of automation for you to start employing (regardless of your DAW) to add some new dimension within your mixes. Tighten up your belts, the dojo is now open.
All Hands on Deck
I suppose you could say automation has been around and available to mixing engineers since the first time multiple pairs of hands were on a console and engineers were choreographing fader rides as the mix printed. One of my favorite, extreme examples of this is the classic, smash hit "I'm Not in Love" by 10cc, released in 1975. Remember all those gorgeous pads? Those chords were created by having the group sing "ah" multiple times, which created a 48-voice "choir" for each one of the 12 notes of the chromatic scale. With the tape machine looping the 12 tracks of "ah"s, the band rode the console's volume faders for each track to create the appropriate chord progressions.
By the end of the decade, Brad Plunkett and Dave Harrison's Flying Faders came online and allowed installed motorized faders to be automated by a dedicated computer. We still use this technology on our Neve 8078 console here at Blackbird Studios.
By the early '90s, DAWs offered comprehensive automation capabilities within the program itself that spanned from volume and panning to console settings, MIDI data, and now, plugin settings for spatial audio parameters.
Latch or Touch
Let's start with top-level volume automation choices. These are perhaps the most important to your overall mix, and there are various ways of writing volume automation. DAWs can vary in number of options, but most feature the five following choices: off, write, read, touch, and latch. The first three are very intuitive—don't play back the automation, write it, or play it back. But what is the difference between "touch" and "latch?" It's important to know, especially since this can be applied to every kind of automation parameter, such as advanced things like effect sends, MIDI data, and plugin controls that allow every parameter to be automated. I use "touch" for highly nuanced fader rides and "latch" for more general maneuvers.
"Now more than ever, we are able to experience decoded, folded down 7.1.4 spatial audio mixes in a binaural audio format through a regular pair of headphones."
After your initial "write" pass, "touch" automation plays back any previously written automation and only writes over it when you touch or move the fader, and upon release. It then immediately goes back to reading the previous automation.
In contrast, "latch" reads and writes automation similarly, but once a fader is released, it overwrites any previous automation and stays (or "latches") at the point where the fader was released. This can be useful if you need to have certain sections higher or lower in volume, or are using effects sends. But remember, as soon as you let go of the fader, it's going to keep overwriting all previous automation!
Universal Audio's LUNA DAW adds another level of fine control by adding the "trim" option, which allows you to reduce or increase the overall level of an automation pass while still preserving the underlying automation. This is helpful when you need to do stem bounces, vocal up/vocal down mixes, etc.
Now you know the main differences of writing automation and can let your imagination go wild by experimenting with automating every possible parameter available in your DAW—from MIDI to soft synths to all your plugins. Until next time, namaste.
"It's maybe the most important thing to me that the solos [I record] are things that I haven't done a million times," country guitarist and singer/songwriter Brad Paisley shares on this episode of Shred With Shifty. "That's getting harder and harder to do." But as Paisley walks host Chris Shiflett through his solo on "Mud on the Tires," the centerpiece of the interview, it's clear that Paisley can improvise melodies that don't necessarily need to clear that bar in order to hook and make a lasting impression on his listeners.
Brad was learning Chet Atkins-style thumbpicking in lessons from the age of 12, and while he later absorbed a rock vocabulary, Shifty comments that Brad always seems to play with a country feel. Throughout the episode, Brad frequently illustrates his points by playing riffs, in a way that shows that his connection with the instrument is a fluid one and a key part of how he expresses himself.
"Mud on the Tires" was originally recorded 20 years ago, in 2003. Brad's setup was either his '68 Paisley Tele or '52 Tele, recorded through a '63 Vox AC30 and a Dr. Z Z 28, the latter of which was run through a 15" JBL speaker. As he puts it, the AC30 fills the frequency gaps left by the Fender, making the combination a perfect sonic marriage. He says that live, he normally plays the solo on a guitar he's nicknamed "Splash," and they've had to replace the nut on it three times, due to how Paisley bends the 4th string on the space behind it at a certain point in the solo.
While rockin' his G bender, Brad has some trouble executing the solo's most elaborate middle riff during the solo breakdown, but his incredible chops pull through towards the end of the ep as he whips out the impressive lick. Shifty encourages followers to see if they can match it! That might be a tall order, but it is all part of the fun.
Credits
Producer: Jason Shadrick
Executive Producers: Brady Sadler and Jake Brennan for Double Elvis
Engineering Support by Matt Tahaney and Matt Beaudion
Video Editors: Dan Destefano and Addison Sauvan
Special thanks to Chris Peterson, Greg Nacron, and the entire Volume.com crew.
You can fine-tune families of instruments by boosting their volume with this handy technique.
Welcome to another Dojo! This month, I'd like to show you the benefits of creating and using VCAs (Voltage Controlled Amplifiers) when mixing, for added control and nuance. Tighten up your belts. The Dojo is now open.
Diving right in, what is a VCA? Think of it as a glorified volume-only control that uses voltage to adjust the amount of a signal's/track's volume when routed to its output.
Say you want to easily adjust the overall volume of your drum tracks within your mix. Perhaps you have several drum-loop tracks, drum machine soft synths with MIDI sequence tracks, and a full drum kit with multiple mics spread over multiple tracks (you know, a typical session). Or you might want to combine (sum) four individual rhythm-guitar track outputs into one VCA and be able to control the overall volume of all four from one channel. You can create a single VCA channel for all the drum tracks, another VCA for the rhythm-guitar parts, and then assign the outputs of those grouped tracks to their dedicated VCAs. Now, you can globally tweak the overall volume of all your drum tracks and all your rhythm guitars in your mix without changing the routing, plug-in levels, or effects sends, or the panning of any other tracks or groups.
The benefits of using VCAs really emerge after a mix has come together. For example, you might need to make an "all guitars up" version of the mix, or a "drums down 2 dB" version, etc. You may even want to automate volume rides in certain sections of a song—particular licks and fills, or even solos. You can also do this with vocals, background vocals, synths, etc.
Following the hypothetical example above, I'm going to show you how to create a VCA within Pro Tools and assign it to tracks of your choosing. Remember, every DAW has its own idiosyncratic way of creating and setting up a VCA channel, so be sure to consult your help section and/or read your instruction manual. Key commands may differ, but the process is essentially the same.
Fig. 1
Fig. 2
First, group (Cmd+G) all the tracks you want to be assigned to a VCA and name that group. I've named my group "DRUMS" [Fig.1]. Now, I'm going to create a VCA. Cmd+Shift+N, select VCA, and name it. I've named this "DRUMS" as well [Fig.2].
Fig. 3
Notice the new VCA channel and how there are no options for FX inserts, EQ, or panning [Fig. 3]? That's exactly what we want, and it's proof that we've set it up correctly.
Fig. 4
Finally, I'm going to assign my drums into a single VCA by clicking on the "no group" button and selecting "DRUMS" from the dropdown list [Fig.4]. That's it!
Now you can rinse and repeat as many times as you like for as many instrument groups as you like. This is where VCAs really shine and can help you fine-tune specific volume relationships of instruments (and groups therein) within the fluid environment of a mix.
If you're new to using VCAs, allow me to offer some suggestions that will help you get the most out of employing them. I use VCAs after I've shed proverbial blood, sweat, and tears obsessing over all aspects of the mix. Only after I feel like I've worked out a solid approach to EQ, compression, effects, parallel processing, outboard gear, aux busses, and all automation do I start using VCAs. On a self-judged scale of 0 to 10, my mix should be hitting about a 9. Then, I'll typically fold all drum tracks into a single VCA, all bass (synth, stringed, etc.), all electric guitars (minus the solos), all synths and keys, all background vocals, and then group the lead vocal(s) and instrument solo(s) if appropriate. In this case, I have six VCAs to control the entire mix from a high level, and I can automate gain (volume) rides as needed to get that extra bit of focus and excitement out of the mix.
Next month, I'll be guiding you through how to use aux busses to make your mixes better at an earlier stage.
Blessings and keep rockin'! Namaste.
How to bring the mojo of modulation, delay, distortion, and other effects to your recordings of … everything.
We guitarists have a long tradition of changing the electric guitar's inherent tone by experimenting, inventing, and developing new tones and timbres through effects. More specifically, effect pedals. I believe our continued open-mindedness has kept our instrument relevant throughout the many decades and proven just how limitless a musical chameleon it truly is.
There is also a parallel tradition, almost as long, of using guitar pedals in unintended ways on other musical material. This time, in honor of our all-things-pedal issue, I'm going to show you how to set up and use your existing pedals on other audio sources besides your guitar. Before we get too far into the woods and try to connect our pedals to and from our audio interface, I want to briefly address two subjects—"levels" and "balanced/unbalanced signal cables"—that are important to understand, so you'll get the best results.
Listed from weakest to strongest, there are four types of signal levels in the audio world: mic, instrument, line, and speaker level.
Mic level is the signal voltage generated by a microphone and is so weak, it requires using a preamplifier (preamp) to bring it up to line level.
Instrument level is the inherent signal output level (impedance varies) put out by an instrument, like the electric guitar or bass. It also requires a preamp to bring it up to line level.
Line level is the highest of the three levels but still needs a preamp and comes in two varieties: consumer (-10 dBV) and professional (+4 dBu). The latter is what your audio interface will boost everything up to before sending the signal to your monitor speakers.
Speaker level comes after all the signals (any of the previous three) are collectively boosted to line level and is then (post-amplification) output to your monitors. Because of the comparatively high voltage, this is why we use dedicated speaker cables and not instrument cables to connect the output of your interface to your monitors.
Now, let me quickly define the difference between balanced and unbalanced signal cables.
Fig. 1
• Unbalanced signal cables: The two most common are our standard, high impedance 1/4" TS (tip, sleeve) instrument cables and RCA cables [Fig.1].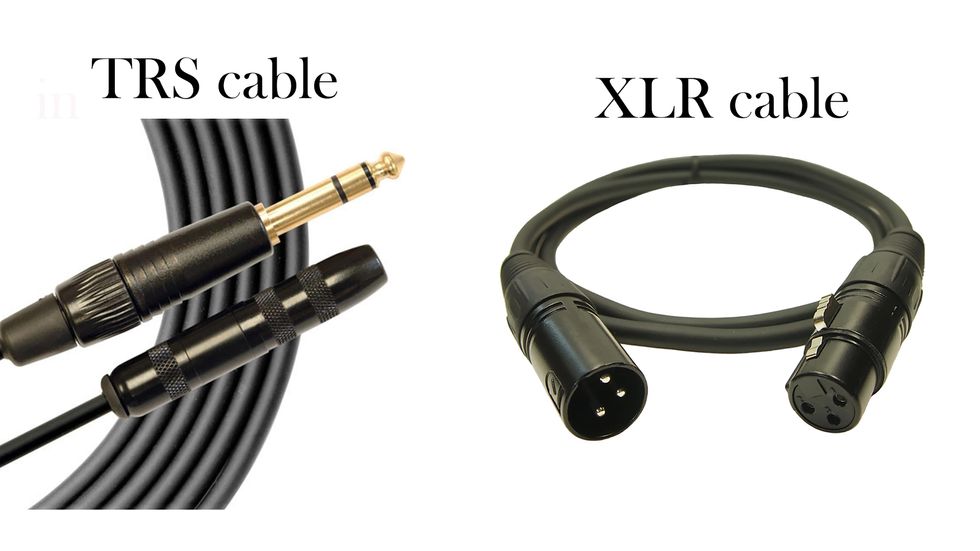 Fig. 2
• Balanced cables: The two most common are XLR cables and TRS 1/4" cables [Fig. 2].
Using this knowledge, we can get started making some musical mayhem and connecting our pedals.
Step 1: Connect a balanced XLR or 1/4" TRS cable from a line output of your audio interface and to the input of your reamp box. I highly recommend the Radial EXTC Effects Reamper Class A Guitar Effects Router ($329 street), which further offers the possibility of combining two different effects loops. The reason why we need a reamp box (there are many on the market) is because it will convert the balanced, line level output of your audio interface to an unbalanced, instrument levelsignal that guitar pedals are designed to accept. A good reamp box can also match the impedance of your particular instrument for even better signal fidelity.
Step 2: Connect a standard 1/4" instrument cable from the output of the reamp box to your pedal(s).
Fig. 3
Step 3: Connect another 1/4" instrument cable from the output of your last pedal to either your guitar amp and record your new tracks through your guitar amp, or plug into a regular DI box (which will convert the signal back to a balanced, line-level stage) and take that output to the input of your audio interface. If you have the Radial EXTC Effects reamper, you can do this all in one box [Fig. 3]!
Once this is set up, you can start sending any track you wish from your DAW/audio interface to all your pedals and go crazy! Soak your vocals in pitch-shifted, distorted reverb. Flange your synths and add delayed chorus. Or bit crush your drum tracks.
What I particularly love to do is play with various delay pedals' feedback amounts and delay times as I record and get all of those quirky pitch-shifted pings and pongs from adjusting those values on the fly. You can also consider adding distortion and harmonies to a vocal on key words or phrases within your song. Your imagination is the only limit!
Finally, I encourage you to drop me a line at recordingdojo@premierguitar.com if you have questions and requests for future topics to cover. Until next time, namaste!
Comprehending one of the studio's most important but mysterious tools—with metaphorical cocktails!
[Originally published 6/8/2020]
Welcome to Recording Dojo—PG's new monthly column pertaining to recording and engineering, with guitarists in mind. Think of this column as your place to develop better audio-recording skills, experiment with new techniques and gear and, most importantly, mindsets. So bring your best self forward and your willingness to learn … the dojo is now open.
1. TKARR
Let's begin our training with compression: a confusing topic for guitarists as players and as engineers wanting to make their recordings more professional. Compression has five core parameters: threshold, knee, attack, ratio, and release—or TKARR. I'm going to explain this metaphorically, as if you are at a major event, say, the Grammys, and you've just won. You've condensed a lifetime of "I'd like to thank" into 15 seconds, and you've been regally whisked offstage by an anonymous beauty in a ball gown.
2. Threshold
The next thing you're instructed to do is leave backstage, go through the giant ballroom (where a band is playing and people are partying), and go to the press room for photo ops and post-win interviews. You walk down the long hallway towards the ballroom door, where a burly 6'8" doorman stands behind velvet ropes. The doorman is the threshold and the velvet ropes are the knee.
3. Knee
In order for you to get into the ballroom, the doorman has to let you in. As you arrive at the door, he takes his hands off the ropes (hard knee), crosses his arms, coldly stares at you, and says, "What are doing here? This is for Grammy winners only." Ouch! He doesn't recognize you. He only listens to Siberian reggae bands. High threshold. So high that you can't pass though. Conversely, if, as you approach, he gently unfastens the ropes (soft knee), says "I'm a huge fan," and moves aside without you having to break stride, you have crossed the threshold and are now inside the ballroom. This is a well-set threshold, only allowing in those who are authorized. Or perhaps, as you arrive at the ballroom entrance, you notice that the doorman has passed out, the ropes have long been knocked over (no knee), and anyone can enter. Low threshold.
4. Attack
As soon as you enter the ballroom, within a millisecond, a waiter comes up to you: "Champagne? The press room is on the other side of the ballroom." That's quick attack. You notice there's a string quartet playing Haydn's Op. 76, and the volume is comfortably loud (low ratio, somewhere between 1.5:1 to 4:1). Almost as soon as you enter the ballroom, you've got your libation and move directly to the press room—quick release. You arrive at the press room with your wits about you, ready to talk about your big win.
Or, upon entering the ballroom, you mill around in the crowded room looking for directions and you're in the middle of the ballroom before a waiter comes up to you and shouts: "Drink? Press room is over there." That's medium attack. The band is an '80s cover band and the volume is rather loud for the room (medium ratio, 5:1 to 9.5:1). You eventually find your way to the press room and arrive slightly stunned, but ready.
Another version: Upon entering the ballroom, you're immediately lost in a sea of people, shouting for directions and hopelessly trying to be heard above the Mötorhead tribute band. Your ears are ringing. Time passes, and you somehow find the press room door and a waiter shoves a drink in your hand just before you leave the ballroom. Slow attack. You arrive, dazed and confused, in the press room (high ratio, 10:1 and above).
These simple scenarios should help you understand the parameters of compression. It's very important you know that all of these scenarios are equally and musically valid, and by no means exhaustive. Want that "When the Levee Breaks" drum sound? Low threshold, high ratio, quick attack/release. Want your acoustic to sound natural and dynamic? High to medium threshold, medium attack/release, medium to low ratio. Remember, the focus of this article is to explain the five parameters of compression (TKARR). Based on their highly varied and different designs, not all compressors give you access to every parameter. So, this will be our subject next month!