Stop taking guitar strings for granted! Nikos Arvantis opens the book on the wildly varied world of guitar strings, the cheapest, fastest way to change your tone and improve an instrument's playability.
Round or hexagonal core? Flatwounds or roundwounds? Maybe a hybrid of both? Nickel, steel, high-carbon, coated, or nickel-plated strings? Looking for biting T-style leads or mellow darker jazz box sounds? Using various D'Addario .010-gauge sets, a Strat and a Fender Deluxe, Nikos displays how they sound. Check out the tone of high-carbon steel-core pure nickel wrap wire, high-carbon steel-core stainless steel flattened ribbon wire, high-carbon steel-core stainless steel wrap wire, NY steel-core nickel-plated wrap wire, NY steel-core phosphor-bronze wrap with a XS coating, pure-nickel roundwounds, extra-light chromes, bright toned half-wounds, NYXLs, nickel-plated roundwounds, light-gauge pure nickels, regular-light-gauge half-wounds, XS nickel-plated steels, pure nickel regular lights, half-wound regular lights, and regular nickel-plated steels. Nikos says, "Using different strings with the exact same setup will absolutely alter your tone, but the biggest and most noticeable difference will be how the guitar feels in your hands. At the end of day, selection of strings is a matter of personal taste and your decisions should be made after trying as many as you can to see what helps you express yourself better. Also, remember that many experienced players have changed their strings and gauges throughout their life, so keep in mind that what your ear finds pleasing will evolve over years of musical experiences. The most important thing to remember is that you should ultimately trust your hands and ears to make the choice that is best for you."
Looking for more great gear for the guitar player in your life (yourself included!)? Check out this year's Holiday Gear Finds!
Free your microphone placement and gain structure, and your EQ and compression will follow.
Hello everyone, and welcome back to another Dojo! In the last two columns, I've focused on bus mixing techniques to get your recordings more on point—and I hope that was helpful. This time, I'd like to place focus in the other direction and give you three tips to capture your best recorded tones yet.
In my experience, the best way to get great recordings begins with getting in tune with your inner ear and the tones you are hearing in your head. This understanding will act as a catalyst for the first important tip: choice and placement of microphones. As simple as this is, we run the risk of listening with our eyes instead of our ears, because we are creatures of habit. How many times have you placed the same mic in the same place on the same amp (or same place at the guitar, for acoustic players)? Did you really explore the possibilities, or was this the best solution at the time and now it has become ingrained? Maybe it's time to re-think the process and try something new?
Regular Dojo readers are already familiar with the three most common microphones used in recording: condenser, ribbon, and dynamic. Regardless of what mics you have, use your ears and listen to the source you want to record. For example, listen not only to where the amp sounds the best at the speaker, but also in the room. For acoustic guitar, placing the mics near the 14th fret in addition to other locations can yield a wide variety of tones. If you are recording by yourself, make several different short recordings and document the mic placement for each, listen, and then make decisions. The idea here is that you want to get the sound you're looking for without using any EQ. In short, if you don't like the sound you're getting, move the mics until you do!
Once the decision has been made, the second tip for making better recordings is to pay careful attention to your gain structure (aka recording level) and give yourself plenty of headroom. The best way to do this is to set the recording track's fader in your DAW to unity (zero), and then adjust your preamp's gain level until the signal meters between -15 and -5 for most DAWs (check your specific DAW to find out which VU metering type you are using). If you're somewhere in this range, you'll have good signal-to-noise ratio and ample headroom for loud passages, like when you kick in the overdrive channel for the chorus and solo sections.
A scenario like Fig. 1 has bad news written all over it. The track faders are pushed near the top of their range and the master bus has already peaked. This can happen quicker than you think if you didn't set your input levels properly to begin with. If you find yourself in this predicament, you'll need to recalibrate your gain structure for every track for the entire mix. Ouch!
The final tip is focused on signal processing and preserving the efforts of the first two tips. Once your tracking is completed, don't be too quick to start adding copious amounts of EQ and compression. The reason for steps one and two was to mitigate the need for EQ and preserve the natural dynamic range of your tracks. Now, when you need to use EQ and compression, you can use it with subtlety and not out of necessity to fix a poorly recorded track.
As always, if you have any questions you can reach me at recordingdojo@premierguitar.com, and I also want to invite you to checkout my new single "Christian Graffiti" on your favorite music platform to hear all of these tips in action. Until next time, namaste.
Christian Graffiti
Provided to YouTube by DistroKidChristian Graffiti · Bryan ClarkChristian Graffiti℗ Rainfeather RecordsReleased on: 2022-09-30Auto-generated by YouTube.



Believe it or not, on eight out of 10 guitars with tuning problems, the culprit is usually bad strings or the exotic ways they were installed. Here are some ways to combat these issues.
Welcome back to Mod Garage. I've wanted to cover this topic for a long time, but to be honest, I didn't dare because it seems so trivial. I'm sure a lot of you already have a natural routine to assess tuning, but I receive guitars daily for repairs, and enhancing tuning stability is something I hear about a lot—on electric as well as acoustic guitars. There are many reasons why a guitar has problems staying in tune, but today we'll discuss the simplest one: the strings.
A column about strings? Now he's crazy, you might say. Believe it or not, on eight out of 10 guitars with tuning problems, it turns out this is caused by the strings themselves and/or the way the strings were installed. For some guitars, the nut or the saddle/tremolo is causing problems; others have problems with the tuners or worn-out bridge pins on acoustic guitars, string trees, etc. But bad strings and exotic ways to install them are reason No. 1 for tuning problems. Let's have a deeper look into what happens here and what can be done.
"The more windings you have on your posts, the greater the chance for tuning problems."
Over the years I've seen the craziest things people do with their strings. Here are some simple guidelines for you to combat tuning problems, whether it's an electric or acoustic guitar, or if it has steel or nylon strings.
Possible Problem No. 1: The Strings Themselves
You all know this "problem" when setting up new strings on a guitar: After getting them in tune and playing for a minute, you need to tune them again, and this will last for some time, depending on the material of the strings. This is normal when strings are getting stretched for the first time; they'll stay in tune after they've settled. Here are some hints to get around this:
1. Stretching the strings several times after setting them up by simply pulling them upwards with your hands will speed up this process noticeably. There are also tools for this called string stretchers, but you can simply do it with your hands. This is called pre-stretching and is very simple to do. As a rule of thumb, steel strings will settle sooner than nylon strings.
2. A customer bought "pre-stretched strings" and brought them in so I could try a set of these in the shop. I could notice no difference other than the price, but I wanted to mention that such sets exist.
3. Cryogenic-treated string sets may stay in tune faster right from the start. This treatment is widely used to remove tension, especially out of metal parts—like on high-precision components for racing engines. This might work on steel strings, but I have my doubts that it will work on nylon strings. Funny enough, I've never read about tuning improvement on any cryogenic-treated string set, but a lot is mentioned about how good they sound, how long they will last, etc. It's up to you if these strings sound any different from other string sets. Give it a try. In time, each string set should stay in tune without any problems, no matter what method you use to speed things up.
"Cryogenic-treated string sets may stay in tune faster right from the start."
Some time ago, I had a British-made Burns guitar from the '60s on the workbench that was still equipped with the original flatwound string set it came with from the factory. These strings were perfectly in tune after almost 60 years. If the strings aren't damaged, there should be no problem. A problem I regularly see is that completely new string sets have a rotten egg under the hood, caused by problems during manufacturing. From my experience, it's mostly steel strings of certain brands and very often the G string, but I've also had bad D and B strings out of the box. With such strings, no matter what you try, you can't get them in tune, and you'll see they have an unnatural pattern of movement. I have no idea what causes this problem during manufacturing, but just keep this in mind if you run into tuning issues with a new set of strings. The solution is simple: Replace the bad string or the whole set with a new one.
Possible Problem No. 2: The More, the Merrier
Many people think it's right and important to wind up the complete string length so it can stay in tune better because of the many windings, adding stability (Photo 1). Exactly the opposite is true. The more windings you have on your post, the greater the chance for tuning problems. Getting as few windings as possible on the post is the way to go. Have a look at a locking tuner. They have zero windings on the post for the best possible tuning stability. We'll talk about how to do this in a minute. The best and funniest statement I've heard over the years was from a customer, when I tried to explain that it's not a good idea to wind up the complete string length. He explained he'll continue doing this because the manufacturer has good reasons to choose this length. I suppose somebody must do whatever makes somebody happy.
Possible Problem No. 3: Loose Tuners
Whenever you change your strings, make sure all screws and hex nuts from your tuners are tight. With a loose and moving tuner you'll not only have tuning problems, but it's also a common source for strange noises you can even hear in the amplified tone of a guitar. Sounds trivial but it's important.
Possible Problem No. 4: Improper String Installation
This is by far the most common problem, and everyone has their own way of stringing up guitars. Some are superior to others. I don't say my method I use in the shop is the best and only way that works. But over the years I tried a lot of different methods and the one I want to show and recommend to you is the best-working one for me. It incorporates what we just talked about: putting the least windings possible on the post for maximum tuning stability, mimicking the way a locking tuner works. This works on all standard tuners and is very easy to learn, so give it a try.
If you don't want to compromise, there is no way around using locking tuners on your guitar. But if locking tuners are 10/10, the winding method that follows is 8.5/10, which is not bad at all.
I'm showing the winding method on an acoustic guitar with a 3/3 tuner configuration, but it also works with a 6L or 6R tuner configuration. It won't work with the '50s vintage Kluson types you often see on Stratocasters and Telecasters because there is no string hole on the post other than the one on top.
1. Position the post of the tuner so the string hole will be in line with the corresponding string slot for a string on the nut.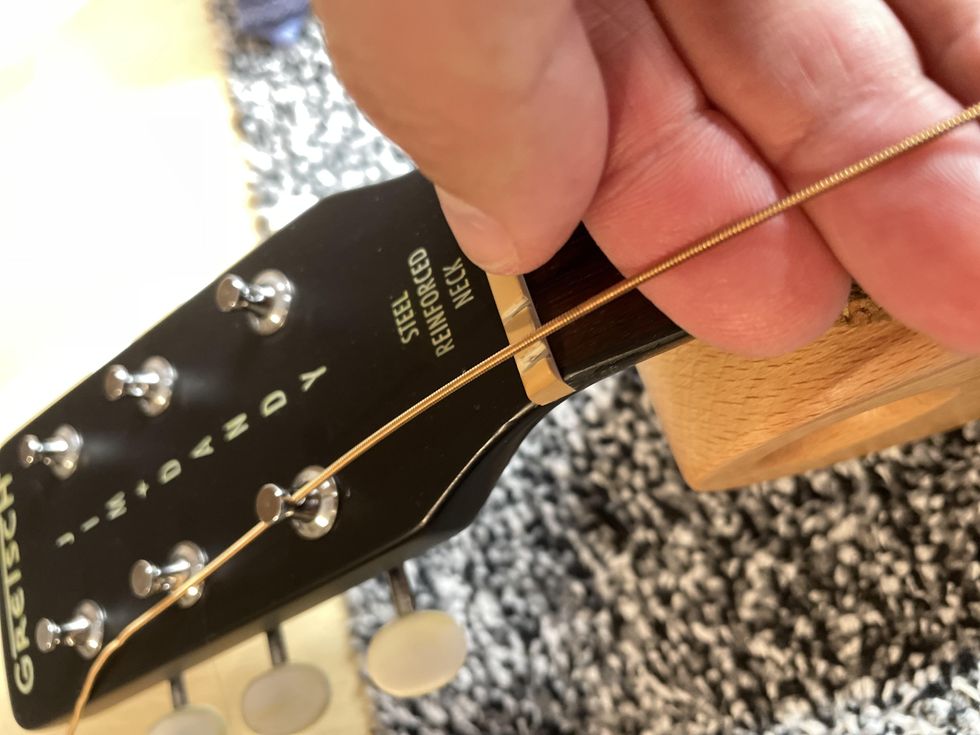 Photo 2
2. Guide the string through the string hole of the post and leave only a little slack. As a guideline, if you can put the fingers of your right hand underneath the strings, that's enough. Now, use a finger of your right hand and lock the string after the nut, leaving a little slack lying on the fretboard (Photo 2). I like to snip off a good portion of the rest of the string at this point, to make the following process easier. But you can also leave it full length until you're finished—whatever you like best.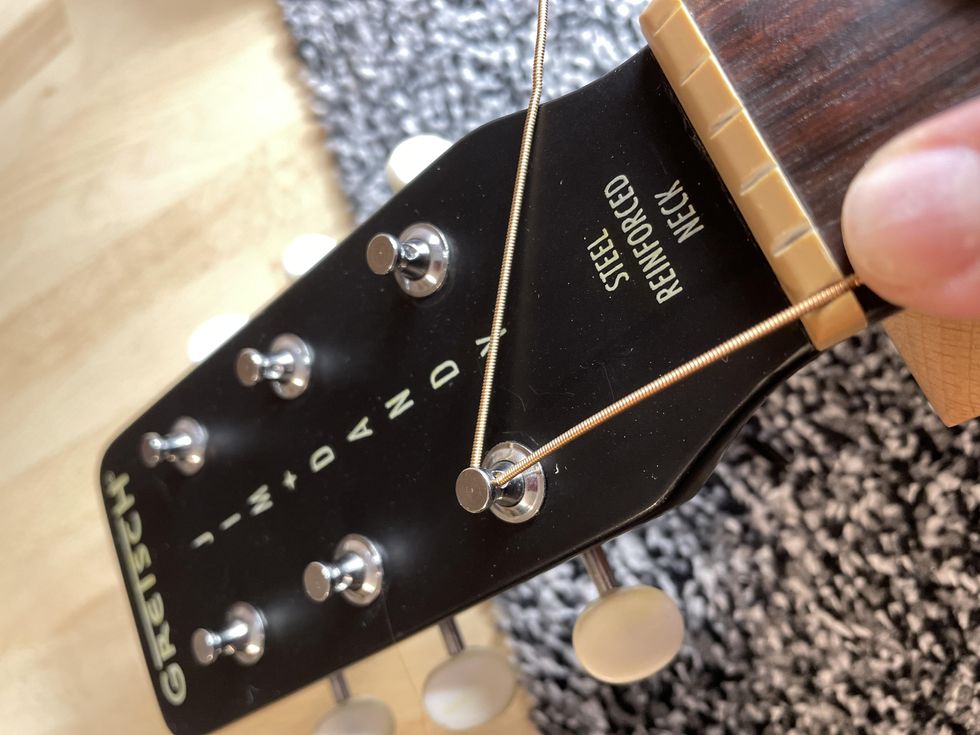 Photo 3
3. Bend the rest of the string around the post sharply so it will form a "V." Don't forget to still keep the string locked with a finger (Photo 3).
Photo 4
4. Next, put the rest of the string underneath the string, pressing it firmly against the post, still locking the string with your finger, and bend it over the string (Photo 4 and Photo 5).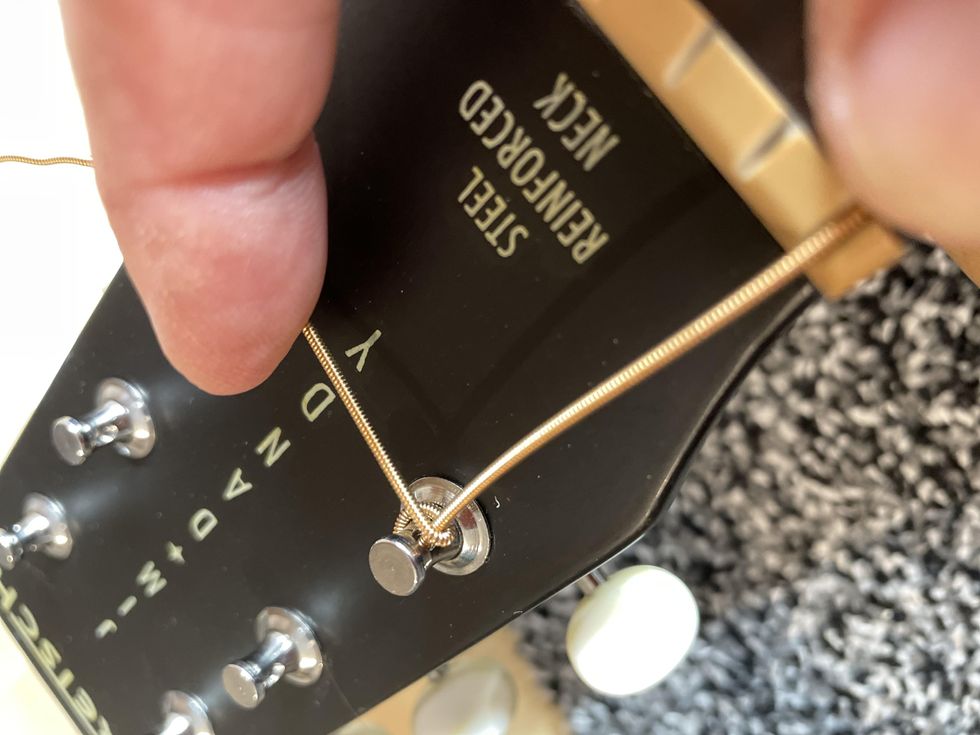 Photo 5
5. Tune up your string and release the finger you used to lock the string. You'll only need a very small movement of the tuner to get the string up to tune, so this is something you'll have to get used to. Cut off the rest of the string and you're done (Photo 6).
Photo 6
On a 6-in-line tuner configuration, you can proceed with the other strings as shown. With a 3/3 configuration, you'll have to mirror the process with the G, B, and high-E string. The rule of thumb is the rest of the string is always bent towards the middle of the headstock to create the "V."
It's very simple to do and very effective. It's also important to lock the string with your finger during the whole process until it's up to tune.
When you have a guitar that won't stay in tune, chances are good that this is all you need to do. If this doesn't help, at least you did everything that could be done before consulting your local luthier. And your luthier will be impressed about your troubleshooting, for sure. It will save them some time troubleshooting and it'll save you some bucks, too.
Next month we'll finally finish our DIY relic'ing project, so stay tuned.
Until then ... keep on modding!
Embracing and overcoming the quirky qualities of an under-appreciated hero of tube tone.
As a guitar player, I consider guitar amps to be tools. The more varied work I do, the more tools I need. There are some amps that excel in one or two things but often disappoint outside their playing field. These amps require experience to dial in good tones and to pair with guitars and other gear.
This month's amp is an underdog—a jack-of-all-trades but master of none. It is a tool you can bring with you to any type of practice or gig, small or large, and it will deliver. It truly lives up to its name: the Pro Reverb. So, let me explain why I love this amp … but also what annoys me about it, and what I do to get around that.
In 1963, Fender offered a single-speaker Pro amp with front-mounted controls. Various Pros with top-based controls had been in Fender's line since 1946. In '65, the Pro was replaced by the Pro Reverb, loaded with 6L6GC power tubes in a classic Fender push/pull class-AB configuration. The Pro had either a single 15"CTS ceramic speaker or a Jensen C15N. The Pro Reverb came as a 2x12, with either Jensen C12Ns, Oxford 12L6, or Oxford 12T6 speakers—the latter a very underestimated speaker and comparable to the more famous C12N. In 1967, a silver-panel model followed and was available through 1969. Several other speakers, including models by Utah and Rola, came throughout the '70s. And around 1978, a 70W version of the Pro emerged, with master volume and a push/pull boost, for a roughly five-year run.
The differences between the single- and dual-speaker black-panel Pros were most importantly the speaker configuration and the addition of reverb in the vibrato channel. There were two different versions of the output transformer: the 8-ohm 125A7A and 4-ohm 125A6A. This smaller output transformer is found in several medium-sized amps, such as the Vibrolux Reverb, Bandmaster, Tremolux, and also the rare and coveted 1964 Vibroverb.
How does it sound to play through a Pro Reverb, with its combination of the classic black-panel AB763 tone stack, dual 6L6GCs, a large and bass-y 2x12 cabinet with a 5U4GB rectifier tube and a small output transformer? Beautiful, full, clean tone at lower volumes and wildly cranked tones when pushed—much more than you'd expect from such a big Fender amp. Very few amps can do both of these sonic profiles.
Please find a Pro Reverb and plug in your Telecaster for a real Keith Richards experience, with one of the best rhythm tones there is.
The large open-back cabinet means you can point the Pro in almost any direction and fill the room or stage. At home, I sometimes want the most natural break-up from the amp at lower volumes, so I simply disengage one of the speakers and insert a 12AX7 in the phase inverter slot. I think the Pro Reverb delivers the most elegant and balanced cranked tones of all black-panel amps. I also love that the amp offers a bright switch that will support pedals and guitars well.
One annoying thing about the Pro is the lack of a mid pot. Since it is that good at delivering cranked tones, I would like more mids for heavier distortion at lower volumes without having to disengage speakers or swap tubes. A mid dial would also improve EQ control, for playing clean. Without a mid knob, I often have to dial the bass knob all the way down due to the bass-y cabinet and flabby output transformer. The solution is, as always, installing a switch on the back of the amp that toggles between the stock 6.8k mid resistor and a 25k. The Pro Reverb is the amp that benefits the most from this mod, I think.
Finally, do we really need a Pro Reverb in our toolbox? The Deluxe Reverb and Vibrolux Reverb are also low/medium wattage amps. Both are lighter, more snappy, more practical at home or in the studio, and don't carry two large 12" speakers, which are overkill for the Pro's light output transformer. The Super Reverb also breaks up—and with more punch, bass, treble, and attack overall. It is also more touch sensitive. The clean-voiced monster Twin Reverb is 17 1/2 to 22 pounds heavier but does not require more space than the Pro Reverb.
Given all the superior amps mentioned above, the answer to my question is still "yes." Our underdog can almost do all of what these legendary Fender amps excel at. But none of them will sound as warm as the Pro Reverb when cranked.
Please find a Pro Reverb and plug in your Telecaster for a real Keith Richards experience, with one of the best rhythm tones there is. Also, try a Les Paul or SG in the bridge pickup position and you might consider selling all your overdrive pedals. A semi-hollow ES-style guitar with P-90s in neck and the amp dialed-in clean will urge you to learn jazz! Please, don't just take my word for it. Go experiment.