Fig. 1
Let's go under the hood of these legendary rockabilly machines and explore different ways to enhance a passive guitar system.
Welcome back to Mod Garage. Before we start, some good news! After finishing the relic'ing series, I was able to raise $650 from our Harley Benton guinea-pig guitar in an auction. The money went to our local animal shelter for cats and dogs, to help pay some vet bills.
This month, we'll take a closer look at the typical wiring you can find in almost every Gretsch guitar. Since 2002, the Gretsch guitar company has been a division of Fender Musical Instruments Corp. But the company has a long history. It all started in 1883 in Brooklyn, New York, when a German immigrant from the town of Mannheim named Friedrich Gretsch started his own shop to make banjos and drums. Sadly, Gretsch died in 1895 at the untimely age of 39 during a visit in Hamburg, Germany. His 15-year-old son Fred (the Americanized version of "Friedrich") had to run the company. In the 1930s, Gretsch started making guitars and the company had their first heyday. Like many companies during WWII, Gretsch had to stop production of instruments to help in the armament industry. After the war, the two sons of Fred Gretsch (Fred Jr. and William) took their father's place and started making instruments again. In 1948, the Gretsch Broadkaster drum set was their best-selling item, and the start of another story with a certain Leo Fender offering an electric guitar with the same name, only spelled slightly different.
With the emergence of rockabilly and rock 'n' roll in the '50s, Gretsch guitars became popular in the hands of players like Chet Atkins, Eddie Cochran, Cliff Gallup, Duane Eddy, and even Elvis Presley. Later in the game, George Harrison, Brian Setzer, Malcolm Young, and many more became popular Gretsch players.
Sidenote: In 1999, Gretsch took over the Bigsby company, which was their exclusive hardware supplier since 1951. Instruments featuring a Bigsby tailpiece, like the White Falcon, Country Gentleman, Nashville, Duo Jet, etc. are real guitar icons today.
The wiring concept of Gretsch guitars is unique and noticeably different from that of most other companies, offering a volume control for each pickup along with a master volume control. This wiring is combined with a pickup-selector switch and a tone control in basically three versions:
"The interesting part is the arrangement of the volume controls—it's been said that this was a suggestion from Chet Atkins."
1. Master tone control (with or without no-load pot)
This is what we know from a lot of other guitars sporting a master tone control for all pickups: Sometimes a no-load pot is used to get rid of the pot's load when it's fully opened. Gretsch typically uses 500k audio pots and .022 µF tone caps.
2. Two-way tone switch
There is no tone pot, but there's a switch that activates two different tone caps as a kind of pre-set tone. Gretsch typically uses 500k audio pots, as well as a .012 μF and .0039 μF (3900 pF) tone cap on the tone switch.
3. No tone control at all
It is what it says: There is no tone control at all with 500k audio pots for the volume controls.
Use whatever tone cap you like best. The 500k choice for the tone pot is a good working solution in a passive guitar circuit. On my own Gretsch 6120, I decided to use 3300 pF and 6800 pF caps on the tone switch, and it works fine for me.
The interesting part is the arrangement of the volume controls—it's been said that this was a suggestion from Chet Atkins. Having a volume control for each pickup is common on other guitars, like on a typical Les Paul. But the combination with a master volume control is rare … and the source of some unwanted effects. Let's have a look at the typical Gretsch volume wiring scheme (Fig. 1). I decided to use the one without tone control because this is the basic wiring and can be found on the 6122 Country Gentleman. The wirings with a tone control are identical regarding the volume controls.
This arrangement in a passive guitar system will result in a loss of tone because of two reasons:
1. The three volume pots will drain a good portion of high-end to ground when rolling back the volume, which is the nature of the passive beast.
2. Long shielded wire runs are used inside the hollowbody Gretsch guitars, adding capacitance to the system, resulting in even more high-end loss.
Even with the pickup height adjusted correctly, the loss in high-end is clearly noticeable, so let's see what can be done. For some players, this is no problem at all and part of the tone. If you're happy with the way your guitar sounds, there's no reason to change the system. If you want a clearer tone with more high-end definition, you have the following options.
If you don't want to convert your Gretsch guitar into an active system to get rid of the high-end loss, you'll need to compromise by adding a treble-bleed network to the volume pots. We talked about this sometime ago in detail ["Mod Garage: Deep Diving into Treble-Bleed Networks"].
Selecting the right treble-bleed network is a matter of choice. What works for me might not work for you. Maybe you like some more high-end when rolling back the volume than others or vice versa. With the typical Gretsch Filter'Tron pickups, I like a 470 pF cap with a 150k resistor in parallel. Try this as a starting point and see if you like it. In theory, you'll need a treble-bleed network on all three volume controls, which gives you a wide control regarding sound. In my own 6120, I use different treble-bleed networks because I want more high end from the neck pickup compared to the bridge pickup. I've also seen configurations with a treble-bleed network on the two volume controls for the pickups and without one on the master volume control. Personally, I don't like this configuration. Using one on the master volume and not on the two controls for the pickups will have a better result.
You see, it's a wide field of experimentation, but it's worth the effort. While you're in there, I recommend changing the 500k audio volume pots for 250k audio pots to benefit from the much better taper in a passive system. The difference in high end is minimal (if audible at all), and you can compensate easily with the treble-bleed network by choosing slightly higher values. I did this in my 6120 and the difference was huge.
"Don't underestimate the time you'll need to get the electronics of a hollowbody guitar out and back in. Even on a good and clear day, you can't do this within 30 minutes, so don't hurry."
Don't underestimate the time you'll need to get the electronics of a hollowbody guitar out and back in. Even on a good and clear day, you can't do this within 30 minutes, so don't hurry. If you've ever changed the electronics inside such a guitar, you know what I mean.
Gretsch uses shielded wires inside, but sadly, the quality is only average. The wire has a high capacitance, and, especially inside big hollowbodies, you can find up to 2.5 meters (about 8.2 feet) of it, which is a real sound killer on its own. The shorter the wire, the less capacitance it will add to the circuit, so you should optimize the length of the wire wherever possible. If you want to stick with shielded wire, you should use a high-quality one with a low capacitance. I like to use the .155-diameter George L's high-end wire for this. It's very thin, with a capacitance of only 19 pF per foot, which is unbeatable ... but still affordable.
In comparison, I measured 46 pF per foot with the original wire from the factory. The before/after effect will be like lifting a blanket from the amp. But you can also use non-shielded wire if you're not concerned about shielding. I replaced all wires in my 6120 with the George L's .155-diameter cable and was able to reduce the original length of the wires to 50 percent, which means reducing additional capacitance to the circuit noticeably.
As you can see, tone is not set in stone, and there are ways to enhance your Gretsch wiring. Next month, we'll dissect the Scott Henderson Stratocaster wiring, so stay tuned.
As you can see, tone is not set in stone, and there are ways to enhance your Gretsch wiring. Next month, we'll dissect the Scott Henderson Stratocaster wiring, so stay tuned.
Until then ... keep on modding!
We've reached the final step in this series on how to superficially age a guitar. Let's add the finishing touches to complete our Harley Benton relic project.
Hello and welcome back to Mod Garage. This is the final installment of our DIY relic'ing series, and I hope you enjoyed it as much as I did. Today, in the last step, we'll add some dings and dongs to the guitar. You can decide if you only want a slightly aged look or if you want to bash it up like hell for a heavy-used relic look. There are many ways of adding dings and dongs, and if you do a Google search, you'll find a galore of pages and blogs about this. I will show you the way I do it in the shop, but this is only one way of doing it. In other words, I'm not saying you must do it exactly this way or that other ways won't work. Many roads lead to Rome.
My goal with this little series was to show you what's possible and how you handle such a project, step by step, and in a sensible order. In time, you can adopt and develop your own techniques, getting better from guitar to guitar.
"You can decide if you only want a slightly aged look or if you want to bash it up like hell for a heavy-used relic look."
When it comes to dings and dongs, you don't need much for a good result. I usually only use a round metal bar and a collection of old and obsolete keys (Photo 1). The metal bar should be a massive one—hollow ones don't work well because of their kickback behavior. I prefer a small but heavy one because it gives me a lot of control when using it. In my key box, I have a mix of mortice and cylinder keys in different sizes. I found this collection of old and obsolete keys on eBay for virtually nothing many years ago and it still works great for me.
Photo 2
Let's start with the metal bar. Hold the guitar in playing position and start tapping on the edges with the metal bar to create a random pattern of dents. It's easy to control the effect with your hand. If you hit the edges slightly, you create a slight dent. The heavier you hit, the deeper the dents, and with some very hard hits you can crack the lacquer to create the typical spots exposing bare wood (Photo 2). Start tapping the edges slightly and see if you like the effect. Work your way up to more damage if you want more. Don't forget: Less is more if you want to make it look authentic.
I receive the best results when tapping in a rhythmically constant pattern of about 45 degrees with the bar. If you want to get a cheap used-guitar body on eBay, it's a good idea to get some training on this. It's not difficult to do, but it helps to have some experience before tapping the real deal. Please do yourself a favor and wear goggles and gloves, because if you crack and burst the lacquer, it can jump off with high speed, and you don't want to get any in your eyes. Just as you don't want any splinters of wood in your fingers. Tap the body, the headstock, and the neck if you like.
Photo 3
If you're done and satisfied with your work, it's time to bring in the keys (Photo 3). If you want to leave some spots on the guitar free of dings and dongs, you'll need to cover and protect this area with strong cardboard or the like. A piece of paper or thin cotton won't work; the keys will win. Because the keys will jump off the guitar, it's a good idea to lay the guitar flat on a carpet or somewhere that the keys can't disappear. You know the "confetti effect" after a New Year's Eve party? No matter how often you clean your room, you'll still find some confetti right before Easter. It's the same with the keys; they'll jump off in any direction and gone they are.
Anyway, the process is very simple. Your guitar is lying flat on the ground, and you simply drop the keys on the guitar. You can do this one by one or all at once. I usually use the individual keys first, followed by some massive shots of several keys at once. You can simply hold them above the guitar and let them fall, or you can smash them. Be creative and see what you like best. I usually leave out the fretboard with this, covering it with a piece of carpet. But if you like, you can also treat the fretboard this way.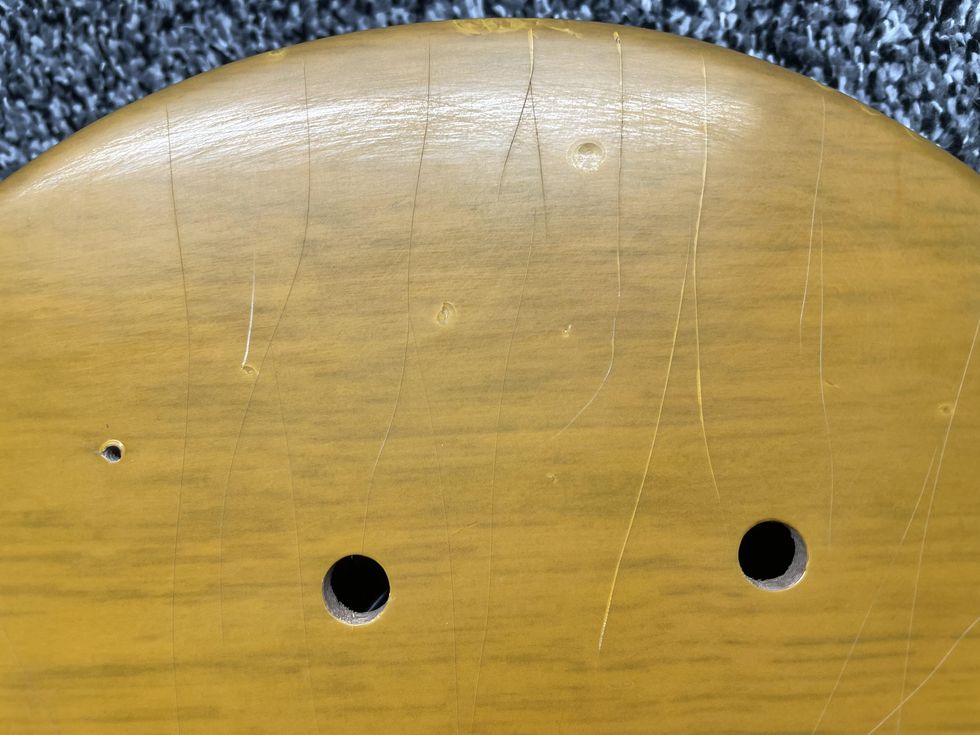 Photo 4
Don't be in a hurry. It will take some time to do it right, so don't stress yourself. You can see some of the dings and dongs I made with keys while treating the Harley Benton in Photo 4.
Photo 5
Remember the wood-aging dye from the last part of this series? You'll need it now to add 50-plus years to the exposed wood. Depending on the size of the spot, you can use a small brush or a Q-tip to put the dye on. Before doing this make sure you remove all loose parts from the lacquer. I simply use a small flat screwdriver and a brush for this. Depending on how dark you want the exposed wood, you'll need to repeat the process with the dye. Because the body of the Harley Benton guitar is already a dark mahogany, you won't need much of the dye (Photo 5 and Photo 6).
Photo 6
Congratulations, you're done aging your first guitar all alone with your bare hands. If you have the chance to look at some vintage guitars, you should. Over time, you'll get an eye for how old guitars look and you'll find typical signs of age and wear that you can duplicate for your own projects. This relic'ing guitar project will soon be available as a Premier Guitar eBook, with all steps in one place and downloadable as a PDF.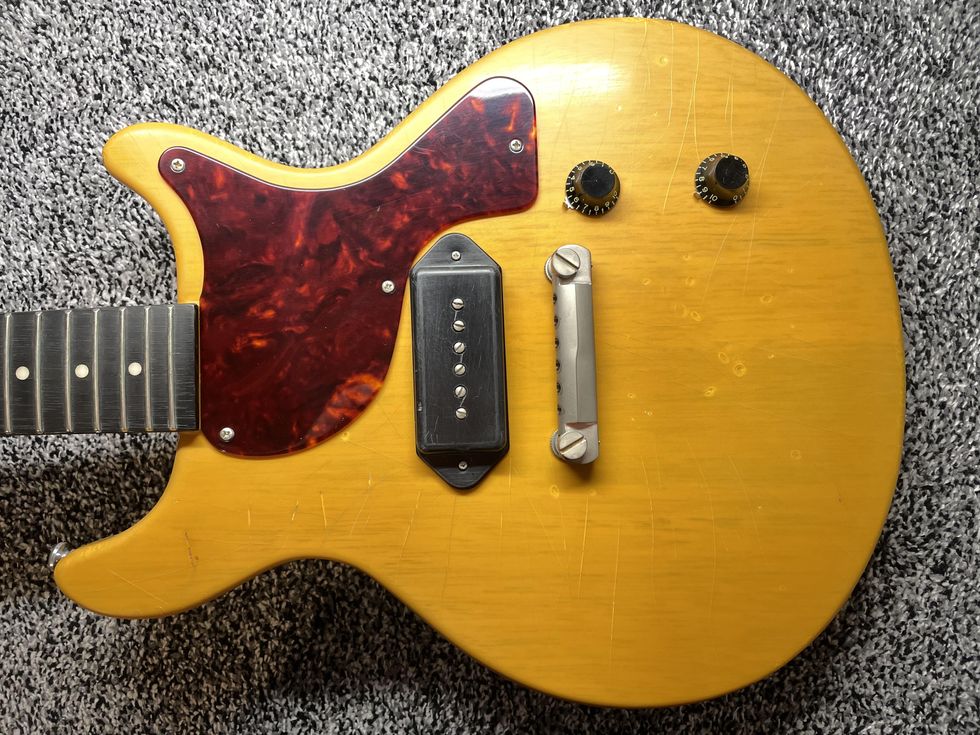 Photo 7
Our finished Harley Benton DC-Junior double-cut that we used to demonstrate the individual relic'ing steps is a cool-looking and great-sounding guitar (Photo 7). I decided to auction it, donating all the money to my local animal shelter, which is usually bursting at the seams this time of the year.
Next month, we'll have a deeper look into some typical Gretsch wiring basics, so stay tuned. Until then ... keep on modding!
Believe it or not, on eight out of 10 guitars with tuning problems, the culprit is usually bad strings or the exotic ways they were installed. Here are some ways to combat these issues.
Welcome back to Mod Garage. I've wanted to cover this topic for a long time, but to be honest, I didn't dare because it seems so trivial. I'm sure a lot of you already have a natural routine to assess tuning, but I receive guitars daily for repairs, and enhancing tuning stability is something I hear about a lot—on electric as well as acoustic guitars. There are many reasons why a guitar has problems staying in tune, but today we'll discuss the simplest one: the strings.
A column about strings? Now he's crazy, you might say. Believe it or not, on eight out of 10 guitars with tuning problems, it turns out this is caused by the strings themselves and/or the way the strings were installed. For some guitars, the nut or the saddle/tremolo is causing problems; others have problems with the tuners or worn-out bridge pins on acoustic guitars, string trees, etc. But bad strings and exotic ways to install them are reason No. 1 for tuning problems. Let's have a deeper look into what happens here and what can be done.
"The more windings you have on your posts, the greater the chance for tuning problems."
Over the years I've seen the craziest things people do with their strings. Here are some simple guidelines for you to combat tuning problems, whether it's an electric or acoustic guitar, or if it has steel or nylon strings.
Possible Problem No. 1: The Strings Themselves
You all know this "problem" when setting up new strings on a guitar: After getting them in tune and playing for a minute, you need to tune them again, and this will last for some time, depending on the material of the strings. This is normal when strings are getting stretched for the first time; they'll stay in tune after they've settled. Here are some hints to get around this:
1. Stretching the strings several times after setting them up by simply pulling them upwards with your hands will speed up this process noticeably. There are also tools for this called string stretchers, but you can simply do it with your hands. This is called pre-stretching and is very simple to do. As a rule of thumb, steel strings will settle sooner than nylon strings.
2. A customer bought "pre-stretched strings" and brought them in so I could try a set of these in the shop. I could notice no difference other than the price, but I wanted to mention that such sets exist.
3. Cryogenic-treated string sets may stay in tune faster right from the start. This treatment is widely used to remove tension, especially out of metal parts—like on high-precision components for racing engines. This might work on steel strings, but I have my doubts that it will work on nylon strings. Funny enough, I've never read about tuning improvement on any cryogenic-treated string set, but a lot is mentioned about how good they sound, how long they will last, etc. It's up to you if these strings sound any different from other string sets. Give it a try. In time, each string set should stay in tune without any problems, no matter what method you use to speed things up.
"Cryogenic-treated string sets may stay in tune faster right from the start."
Some time ago, I had a British-made Burns guitar from the '60s on the workbench that was still equipped with the original flatwound string set it came with from the factory. These strings were perfectly in tune after almost 60 years. If the strings aren't damaged, there should be no problem. A problem I regularly see is that completely new string sets have a rotten egg under the hood, caused by problems during manufacturing. From my experience, it's mostly steel strings of certain brands and very often the G string, but I've also had bad D and B strings out of the box. With such strings, no matter what you try, you can't get them in tune, and you'll see they have an unnatural pattern of movement. I have no idea what causes this problem during manufacturing, but just keep this in mind if you run into tuning issues with a new set of strings. The solution is simple: Replace the bad string or the whole set with a new one.
Possible Problem No. 2: The More, the Merrier
Many people think it's right and important to wind up the complete string length so it can stay in tune better because of the many windings, adding stability (Photo 1). Exactly the opposite is true. The more windings you have on your post, the greater the chance for tuning problems. Getting as few windings as possible on the post is the way to go. Have a look at a locking tuner. They have zero windings on the post for the best possible tuning stability. We'll talk about how to do this in a minute. The best and funniest statement I've heard over the years was from a customer, when I tried to explain that it's not a good idea to wind up the complete string length. He explained he'll continue doing this because the manufacturer has good reasons to choose this length. I suppose somebody must do whatever makes somebody happy.
Possible Problem No. 3: Loose Tuners
Whenever you change your strings, make sure all screws and hex nuts from your tuners are tight. With a loose and moving tuner you'll not only have tuning problems, but it's also a common source for strange noises you can even hear in the amplified tone of a guitar. Sounds trivial but it's important.
Possible Problem No. 4: Improper String Installation
This is by far the most common problem, and everyone has their own way of stringing up guitars. Some are superior to others. I don't say my method I use in the shop is the best and only way that works. But over the years I tried a lot of different methods and the one I want to show and recommend to you is the best-working one for me. It incorporates what we just talked about: putting the least windings possible on the post for maximum tuning stability, mimicking the way a locking tuner works. This works on all standard tuners and is very easy to learn, so give it a try.
If you don't want to compromise, there is no way around using locking tuners on your guitar. But if locking tuners are 10/10, the winding method that follows is 8.5/10, which is not bad at all.
I'm showing the winding method on an acoustic guitar with a 3/3 tuner configuration, but it also works with a 6L or 6R tuner configuration. It won't work with the '50s vintage Kluson types you often see on Stratocasters and Telecasters because there is no string hole on the post other than the one on top.
1. Position the post of the tuner so the string hole will be in line with the corresponding string slot for a string on the nut.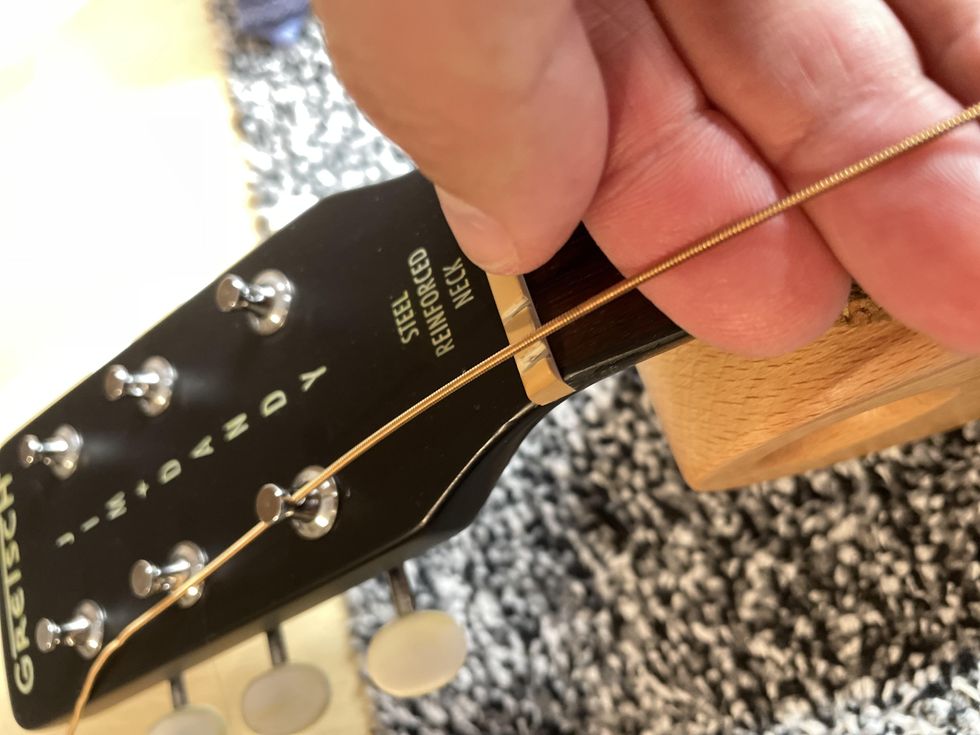 Photo 2
2. Guide the string through the string hole of the post and leave only a little slack. As a guideline, if you can put the fingers of your right hand underneath the strings, that's enough. Now, use a finger of your right hand and lock the string after the nut, leaving a little slack lying on the fretboard (Photo 2). I like to snip off a good portion of the rest of the string at this point, to make the following process easier. But you can also leave it full length until you're finished—whatever you like best.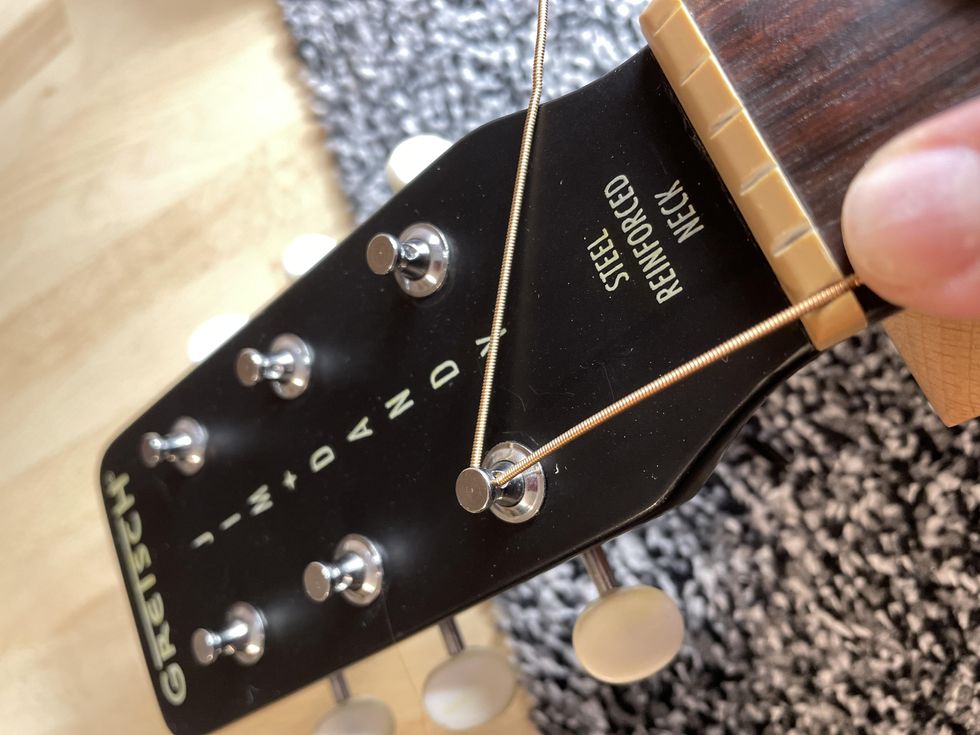 Photo 3
3. Bend the rest of the string around the post sharply so it will form a "V." Don't forget to still keep the string locked with a finger (Photo 3).
Photo 4
4. Next, put the rest of the string underneath the string, pressing it firmly against the post, still locking the string with your finger, and bend it over the string (Photo 4 and Photo 5).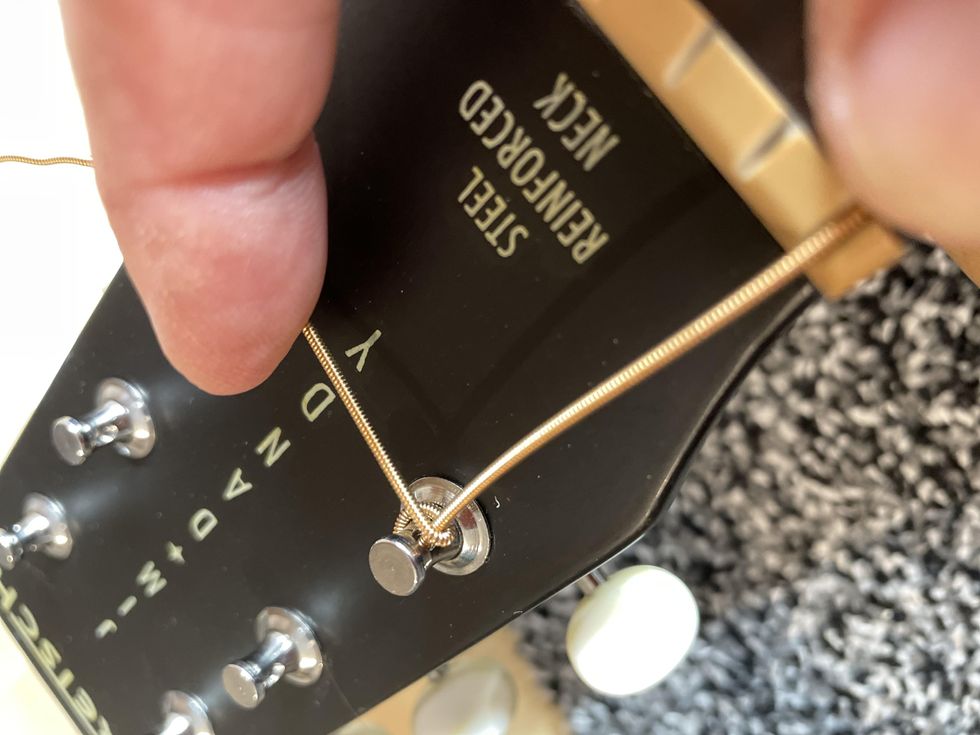 Photo 5
5. Tune up your string and release the finger you used to lock the string. You'll only need a very small movement of the tuner to get the string up to tune, so this is something you'll have to get used to. Cut off the rest of the string and you're done (Photo 6).
Photo 6
On a 6-in-line tuner configuration, you can proceed with the other strings as shown. With a 3/3 configuration, you'll have to mirror the process with the G, B, and high-E string. The rule of thumb is the rest of the string is always bent towards the middle of the headstock to create the "V."
It's very simple to do and very effective. It's also important to lock the string with your finger during the whole process until it's up to tune.
When you have a guitar that won't stay in tune, chances are good that this is all you need to do. If this doesn't help, at least you did everything that could be done before consulting your local luthier. And your luthier will be impressed about your troubleshooting, for sure. It will save them some time troubleshooting and it'll save you some bucks, too.
Next month we'll finally finish our DIY relic'ing project, so stay tuned.
Until then ... keep on modding!
Photo by Debi Del Grande
Learn the guitar setup used by the Smiths legend, along with different ways to implement it and make it your own.
Welcome back to Mod Garage. This month we'll take a deeper look inside the Fender Jaguar and what can be done to its wiring to make it more practicable. The 1962 Fender Jaguar is one of the offset outlaw axes and we dipped into this subject some years before in "Mod Garage: Rewiring a Fender Jaguar."
This time, we'll focus mostly on the controls of the standard Jaguar, instead of focusing on the numerous switches and additional pots as I covered before. I'm always happy about receiving requests to write something about such guitars, as I really like these outlaw buddies and I don't think they get the attention they should. So here we go.
Today we'll dissect the Johnny Marr Jaguar wiring found in the Fender Johnny Marr signature Jaguar model. My PG colleague Charles Saufley recently did a great interview with Johnny Marr, so definitely read it if you want to find out more about him.
The U.K.-born Marr is best known as the guitarist and songwriter behind the Smiths, who redefined and ruled British pop in the 1980s. He's also known for playing with The The, Modest Mouse, the Cribs, and, of course, his solo work as well as playing on countless sessions. Rolling Stone listed Marr at No. 51 of the 100 Greatest Guitarists and No. 67 on the 100 Greatest Songwriters of All Time. What else can one say?
Sound familiar? It is! The 4-way pickup switch is the 4-way switch from the series Telecaster wiring and the bright switch is the good old mid-tone cut switch (aka "strangle switch") from the original Jaguar wiring but in a doubled version.
Marr started playing a Fender Jaguar around 2005 and used it during his stay with Modest Mouse, resulting in his signature model, released in 2012. The guitar and its wiring underwent several changes since then, and today we'll talk about the actual version built by Fender (model #0116400705).
Regarding the electronics, you can spot the differences at first glance: Instead of the typical three switches on the lower-horn chrome plate, the Johnny Marr Jaguar sports a custom chrome plate with a Fender-style 4-position pickup selector switch. On the upper-horn chrome plate, the two additional pots were replaced with a second slide switch in a custom chrome plate, which sports two slide switches. In addition, the guitar has several hardware upgrades, custom-wound pickups, and the original master volume/master tone configuration.
Let's look under the hood as to what these elements are doing on the Jaguar, here, in Fender's own words:
Four-Way Pickup Switch:Rather than traditional slide switches, Marr's signature Jaguar has a special four-way blade pickup switch on the lower horn, delivering the bridge pickup alone, the bridge and neck pickups in parallel, the neck pickup alone, and the neck and bridge pickups in series.
Two "Bright" Slide Switches:In an extra-special design element, the upper horn of the Johnny Marr Jaguar features two slide switches—a "universal" bright switch that kicks everything up a notch or two, and a separate bright switch that only affects the "series" pickup switch position.
Sound familiar? It is! The 4-way pickup switch is the 4-way switch from the series Telecaster wiring and the bright switch is the good old mid-tone cut switch (aka "strangle switch") from the original Jaguar wiring, but in a doubled version.
In addition to this switching matrix, we find the typical vintage Jaguar master volume/master tone controls under the hood: two 1M audio pots with a 0.01 µF tone cap and a single 56k resistor on the tone pot.
Fig. 1
Before we dissect the wiring in Fig. 1, please note that it's in an optical simplified version for a much better overview. The two switches are the typical Jaguar on/off switches—the ground of the bridge pickup is connected to common ground and not to the pickup-selector switch, same as for the Telecaster 4-way wiring.
Replacing the pickup switches with a standard pickup-selector switch not only makes operating the guitar a lot easier, but it enables an additional tone a standard Jaguar doesn't have—both pickups together in series for a very fat and loud lead sound. It's the same 4-way switch that you all know from the Electroswitch company (formerly Oak Grigsby) that's used for the Telecaster. The downside of this mod is that you need a new custom chrome plate for the switch, but this type is available from several companies for a decent price. Fitting the switch can be a problem regarding the depth of the routing in the body. I've done this modification to several Jaguars, and in all cases I had to reroute the body to make it fit. It's not a big deal with a good handheld router tool, but you should know about this problem. If you order a new Jaguar body, you should mention that you need a deeper routing at this location, so it's a trouble-free operation.
Replacing the two additional pots with two switches on the upper horn also means that you need another new custom chrome plate, but this one is also available without any problems. The adaption of two individual strangle switches looks confusing, but, for whatever reason, Marr wants a general one influencing the whole wiring plus a special one only for the pickup position with both pickups in series. I can think of several applications for this wiring but it's a matter of personal choice and preferences. If you have the playing chops of Marr, you'll sound excellent with every guitar and every wiring inside. Us mere mortal pickers need some support from the wiring, so it's no crime to mod it, but more about this later. In general, the bright or strangle switch uses a 3000 pF cap forming a fixed high-pass filter. In other words, it cuts bass, so the sound gets much brighter.
Using two 1M audio controls for master volume and master tone follows in the heritage of the Jaguar, same as for the single 56k resistor on the tone control together with the 0.01 µF tone cap. Nothing new here.
The combination of all this works, at least for Mr. Marr. But let's break it down in sections.
The 4-way switch we all know from the Telecaster 4-way mod works perfectly and is a great addition to any guitar with two pickups, not only for a Jaguar. The switching order is the same as on the Telecaster (bridge only / bridge+neck in parallel / neck only / bridge+neck in series), so it feels like home. I don't think there's a useful variation for this mod: It's perfect the way it is.
It's up to you if you need a strangle switch, or if you need two of them. I think you should give it a try and play it for some time to see if you like it. Personally, I don't need or like this feature, and in my own Jaguar I would use the two switches to add a kill-switch and phasing like we did with the Duo Sonic guitar in 2021. The series feature is already present in the Marr wiring, so the second switch would be my kill switch in this wiring. You can also tinker with the value of the bright caps on the two switches. Reasonable values would be from 1000 pF up to 6800 pF and everything in between. I think Marr's concept behind the two switches was that he wanted to play a fat rhythm part without the bright switch, but when switching to solo mode (both pickups together in series) the sound gets very loud and fat and the dedicated bright switch helps to cut through the mix in this situation. So, it's a kind of preset sound you can dial in—a concept that has tradition at the Fender company.
I really like 4700 pF on a Jaguar to dial in some fine nuances of warmth.
Regarding the two pots using 1M audio pots, this strictly follows the Jaguar vintage route and is boon and bane at the same time. The benefit is that with the pots fully opened, they're close to a no-load pot with full high end. The downside is that in the Jaguar's pure passive system the useable range of the pots is close to zero, acting like an on/off switch rather than a useful control with an effect over the whole rotation of the pot. Personally, I would change out both pots for two 250k audio pots or a 250k volume and 500k tone pot if you want a tad more high-end. The useable range is much better compared to the 1M pots, but this is also a matter of personal choice. Marr seems to like it, so it's worth a try.
And last, the tone control. Choosing a 0.01 µF tone cap clearly shows the Jaguar was not designed for dark jazzy tones and that the tone should still have some good portion of treble when using the tone control. A 0.01 µF cap is a good choice, but if you need darker tones, go up to 0.015 or 0.022 µF and beyond. If 0.01 µF is still too dark for you, go down to 6800 pF and beyond. I really like 4700 pF on a Jaguar to dial in some fine nuances of warmth.
The 56k resistor on the tone control is a wired construction and there has been countless debates about it for decades. The physics behind it are very complex and I think Fender wanted to offer something new and versatile, but, as it often goes, the road to hell is paved with good intentions. Meaning, it works on the drawing board but not so good in reality. In very simplified words, it's a mixture of limited tone control and a little bit of Gibson '50s wiring. With the tone control fully opened, everything is normal and as you know it from other guitars like a Strat or Tele. When you start to close the tone pot, the 56k resistor is slowly pushed into the signal path, forming a low pass together with the 0.01 µF cap, resulting in attenuating the tone and the resonance peak. With the tone pot fully closed, it acts like a '50s wiring and there is no resonance shift.
It's not a bad design per se—some like it while others don't. An interesting detail is that when you start to close the tone pot, the pickup's inductance will be decoupled from the cable capacitance, resulting in a glassy and ice-picking tone, and I think this was exactly what the Fender designers had in mind. In reality, this effect is completely offset because of the following high-end roll-off caused by the guitar electronics. Maybe Fender wanted to try something new, putting as many tonal features as possible into the Jaguar. It shall remain a secret and a mystery.
I would remove the resistor and rewire volume and tone as in a standard Telecaster for a traditional control. Give it a try and see if you like the Jaguar method better. Who knows? You can also experiment with the 56k resistor; reasonable values are from 22k up to 100k.
That's it for now! Next month we'll cover something you've asked for a lot: a mod for both electric and acoustic guitars to enhance tuning stability.
Until then ... keep on modding!