Halfling Pin Bridge Acoustic Review
Halfling guitars are an unique hybrid of flattop and archtop guitars developed by master luthier, Tom Ribbecke in Healdsburg, California. He's been a luthier since 1972, concentrating primarily on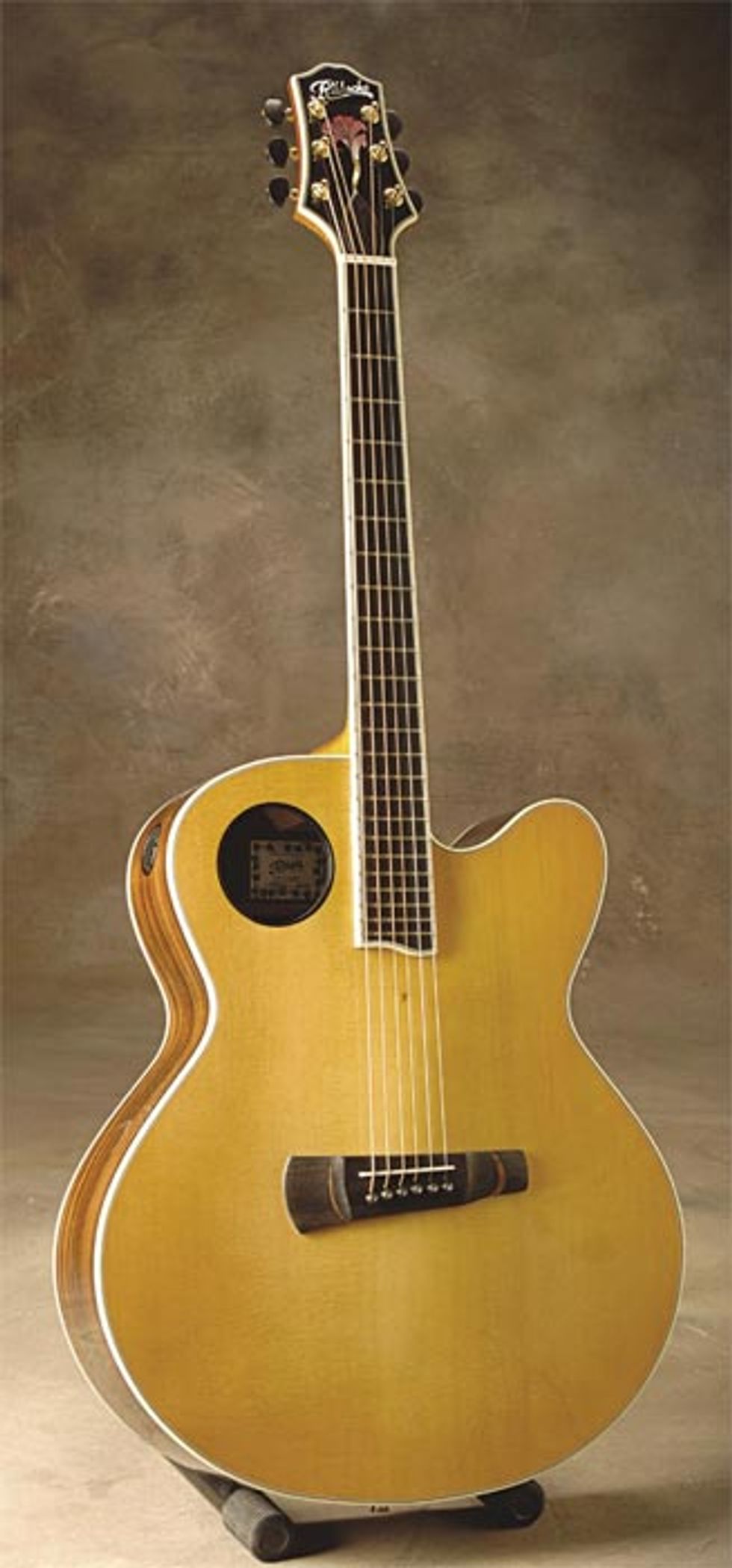 Halfling guitars are an unique hybrid of flattop and archtop guitars developed by master luthier, Tom Ribbecke in Healdsburg, California. He's been a luthier since 1972, concentrating primarily on archtop guitars – commissions only and all entirely hand-built by Ribbecke himself. These guitars sell for a base price of $20,000, and Ribbecke's reputation for impeccable craftsmanship and quality have his waiting list currently sitting at over five years long.
The Halflings originally came about through a commission from Paul Szmanda, a visionary guitar collector, who asked Ribbecke to build something, "historically significant." Given total freedom to create something unique, he had the inspiration to combine his passion and expertise in both archtop and flattop building. In a recent phone conversation, Ribbecke explained that, "if you take a good flattop guitar, like a Martin D-28, and a good archtop guitar, like a D'Angelico, and cut them both in half, right up the middle, then put them together with the archtop on the treble side and the flattop on the bass side – what you'd get is a Halfling." The top is carved like a traditional archtop, but the bass side ends up almost completely flat instead of arched like the treble side. The resulting instrument has an additional liveliness and brilliance that many traditional archtops lack, without losing the smoothness and warmth in the low-end those guitars are known for. The Ribbecke Guitar Corporation went into business four years ago in order to take the Halflings into production, and to make them affordable. Ribbecke now has a staff of 12 and produces approximately 20 Halflings a month.
The newest addition to the Halfling family is the Halfling Pin Bridge, which has the same bass/treble configuration as the jazz box side of the house, applied to an acoustic guitar. The result is a striking, retro-styled body with a voice like no other guitar I've heard. It's the guitar equivalent of a stallion – powerful and robust with a fierce and untamed beauty. The Halfling Pin Bridge is certainly a new breed and it's not for the faint-of-heart.
---
"if you take a good flattop guitar, like a Martin D-28, and a good archtop guitar, like a D''Angelico, and cut them both in half, right up the middle...what you''d get is a Halfling."
---
In thinking about how to describe this guitar, I was reminded of the VW Rabbit Rally car I owned many years ago. If you didn't know what you were doing, you could get yourself into a heap of trouble, but it cornered like a gazelle and flew over ground effortlessly. That's sort of what playing this guitar is like – it requires a confident touch and a little recklessness, which is definitely a good thing. When I got it tuned up to scale, it almost seemed to come to life. There was a sudden burst of extra resonance in the lows and the highs became startlingly brilliant and clear. The response to my input was immediate and powerful – almost like ringing a bell. If you approach it gently, it gives you a lovely, clear tone, but the more aggressive you get, the more it responds to you, opening up more overtones the more you play.
The craftsmanship is exceptional – the finish and trim are flawless, from the gorgeous inlaid flower on the headstock to the hand-carved bridge. The fretboard, bridge and headplate are made from the highest grade ebony, and it is the same wood Ribbecke uses in his private shop. The tuning keys are also ebony, adding to the luxurious feel of the instrument. The instrument has a "high-concept" look, extremely well designed and eye-catching, accented by the oversized bridge and the round soundhole on the bass side of the upper bout (more on this in a moment). The neck is comfortable and glassy-smooth, measuring 1.75" wide at the nut and about 2.2" at the 14th fret – that's slightly wider than your typical flattop, but Ribbecke prefers to have the strings sit a little further away from the fingerboard edge. The Halfling was setup with a fairly low action, almost like a hollow-body electric, which shouldn't be surprising, as that is the style of guitar Ribbecke is most famous for building. It's a setup that works for the Halfling, as even during extended play I felt very little hand fatigue.
That said, some acoustic players found it too alien of a design and were unable to get comfortable enough with that feel to find the Halfling's most rewarding sounds. Players with a less confident approach were even less able to get comfortable with it. I personally found myself not concentrating as much on playing things I already knew; I instead set out to find new things to play, improvising and experimenting to discover imaginative ways to play familiar things. This certainly isn't an "everything" guitar; it's not going to be one of those guitars that can be all things to all players, and Ribbecke never intended it to be. I found it to be best suited to jazz, blues and solo-acoustic playing ala Michael Hedges or Richard Leo Johnson. That's not "everything," but it's still a pretty significant palette.
Hearing is Believing
As alluded to earlier, a very cool detail is the 1.5" hole in the side of the upper bout, which gives the player a much richer listening experience than with a conventional acoustic. This little detail provides a wealth of feedback for the player; you can hear everything you're playing – and not playing – much more distinctly. This would also be a new and interesting spot to place a microphone in a recording studio to see what additional overtones might be captured.
The Halfling Pin Bridge comes installed with a B-Band 1/8" Under Saddle Transducer (UST) and an A2.2 preamp, so I decided to plug in and see if it could capture all of those robust and stunning overtones. Holy Halflings, Batman! I tweaked the bass back a hair, shaved the low-mids at 550Hz, cut the high-mids just shy of a quarter turn at around 1.7kHz and dialed the treble back a smidge. By adding just a kiss of reverb, I got a rich, full and vibrant sound with gain to burn; in a word, spectacular.
Dropping into DADGAD, the bass remained punchy, but it became slightly warmer. Dropping a step further into CGDGBD, the Halfling took on a dark and glassy sound – the sustain on the bass side was extraordinary, anywhere from 16 to 20 seconds. However, the top seems most active in good ol' standard tuning, probably because of the tension. There's a punch on the low E string that just about knocks your socks off; every note is crystal clear and rings until you get bored and decide to start playing again.
As for questions of durability, the guitar's top is slightly heavier than traditional flattops, making it "extremely roadable," according to Ribbecke. He travels with two Halflings and says he's never had any damage from air travel or otherwise. The neck has two carbon fiber rods and a two-way truss rod developed by Mark Blanchard, meaning you'll never have to worry about stability. The model I received had been to California, Toronto and Iowa over the course of ten days, and was holding up remarkably well, considering the extremes in climate it had experienced.
The Final Mojo
This Halfling Pin Bridge is not for everyone. If you're a tentative or shy player, it's never going to give you what it's capable of and it may feel very strange as well. If you're a serious and confident player who's not afraid to live a little bit large, this guitar will rock your world. This isn't the only guitar you'll ever need, but it's one hell of a ride.
Buy if...
you want a unique instrument that will enhance and challenge you as a player, and you have the chops to give it the life it deserves
Skip if...


you're set on a conventional flattop sound, look and feel


Rating...
 
MSRP $6000 - Ribbecke Guitar Corp- ribbecke.com

Our expert has stated their case, now we want to hear yours. Log on and share your comments and ratings.