Musicians For Minneapolis Benefit CD
Electro-Voice helping bridge collapse victims with a 57-song disc and celebrity memorabilia auction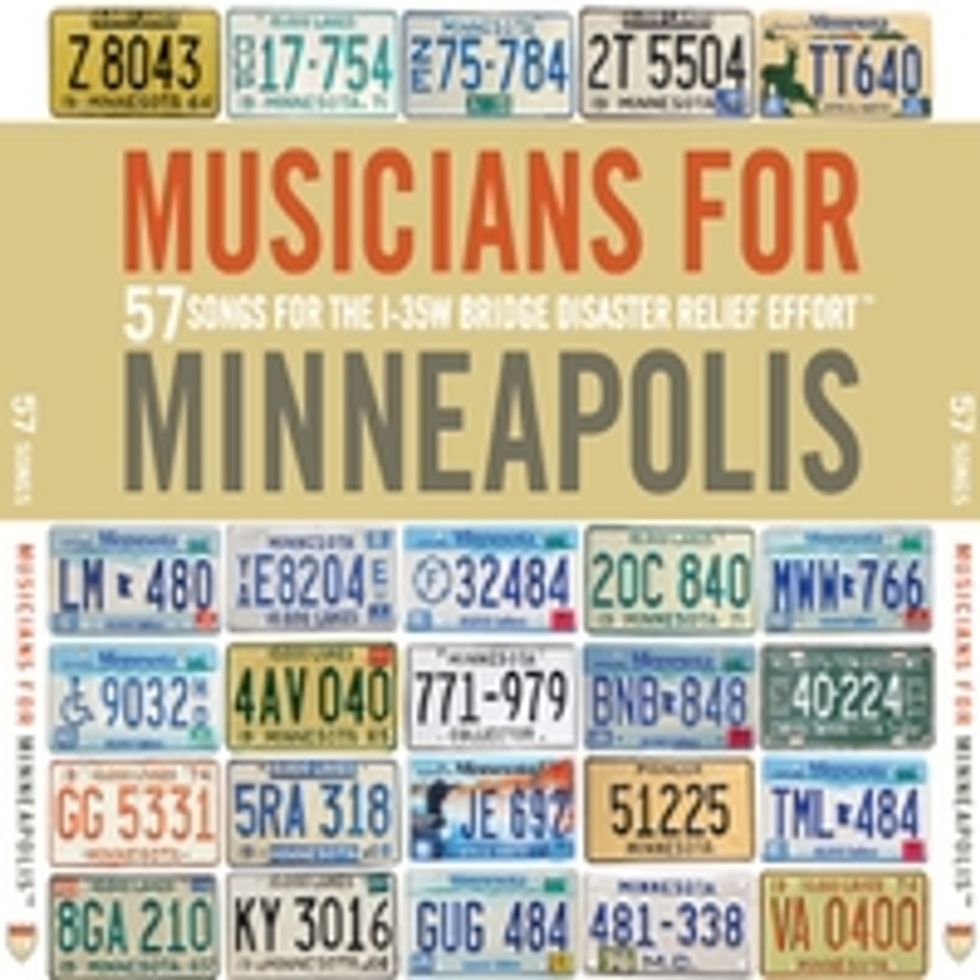 Burnsville, MN (March 13, 2008) -- When the I-35W Mississippi River bridge in Minneapolis, Minnesota, collapsed on August 1, 2007, the people at Electro-Voice audio company decided they wanted to help those involved. Seven months later, they released Musicians For Minneapolis: 57 Songs For the I-35W Bridge Disaster Relief Effort, a compilation disc with 100 percent of profits going toward the Minnesota Helps – Bridge Disaster Fund.
The compilation, released February 16, is an eclectic mix of genres and artists, including Steve Vai, Dick Dale, Calexico, Les Claypool, Howe Gelb, George Clinton and Rockie Lynne.  Many tracks are unreleased, and Lynne''s, the lead off single, is the only topic-specific song on the three discs. Around 1,600 copies have already been purchased, but the company hopes to sell all 5,000 copies and raise $100,000 before the first anniversary.
In addition to the CD, Electro-Voice is hosting a memorabilia auction through eBay''s Giving Works website (powered by Mission Fish) starting the first week of April. The benefit auction includes autographed gear from music and guitar greats. Autographed guitars were donated by Ozzy Osbourne (Les Paul), Zakk Wylde (Les Paul), Megadeth (Dean bass), Dick Dale (custom Minarik flamed), Steve Vai (Ibanez) and others. Four inked EV microphones -- Raven, N/D967 and N/D767a -- will also be available.
Electro-Voice has started talking to artists about a benefit concert to pull everything together toward the end of the summer. If plans move forward, the event would take place at a Minneapolis venue sometime before the first anniversary (August 1, 2008). Though plans are tentative, artists like George Clinton & the P-Funk All Stars, Calexico, Sparklehorse and Steve Vai have already shown interest.
The idea for the project came to a head shortly after the I-35W bridge collapse, when artists who endorse the Minnesota-based company called to make sure staff members were safe. Conversations started on how to help the survivors and victims'' families. Soon after, EV started receiving calls from artists who were unaffiliated with the manufacturer, but heard about the project and wanted to help.
"During conversations with the artists, we said, ''Hey, we need to band together and help people,''" said the project''s producer, James Edlund. He continued, "All these people realized and came together to say that the Twin Cities are important, and we can do something as musicians; we have a certain amount of power – we have ability to help people through our craft."
Since the set needed to be made quickly, they could only take enough to fill three discs. Though other artists offered, Rockie Lynne was the only one with an original track specific to the bridge''s collapse. After submissions were made, Prince engineer Tom Garneau remastered each song for the project. Six months later, the album was done and new plans were moving forward.