Before electrics became branded in the mainstream as typically solidbodies, there were some early 20th-century models that explored alternate avenues.
When you close your eyes and imagine an electric guitar, chances are you see something like a Stratocaster or a Les Paul: a solidbody, a few pickups, a metal bridge. But in the early 20th century, such popular features were yet to be codified by builders as a part of guitarists' collective imagination.
Back in the early fervor of electric guitar design, builders experimented out of necessity, trying to create working instruments by any means. When studying these guitars today, their choices might seem strange, but they present many wonderful "what-ifs" or guitar-building roads not taken.
qThe instrument we have here is such a guitar: a 1933 Vivi-Tone. This exact specimen appears in Lynn Wheelwright and Nacho Baños' The Pinecaster: Early Electric Guitars (1920-1955), which explores the "what-if" history of this period in captivating detail.
"When studying these guitars today, their choices can seem strange, but they present many wonderful 'what-ifs' or guitar-building roads not taken."
Vivi-Tone was a company founded in the early 1930s with the express purpose of manufacturing electric instruments—not just guitars, but violins, cellos, mandolins, and even an electric piano. Interestingly, its co-founder and chief inventor was Lloyd Loar, who in the 1920s famously created Gibson acoustic archtops and mandolins that are prized to this day.
A sliding drawer built into the guitar's body allows access to the pickup, which is set up under the bridge.
By the '30s, however, Loar wanted to bring out "pure string tone," as he called it, through the power of amplification. His patented pickup, which can be found in this 1933 guitar and throughout the Vivi-Tone lineup, works in a distinct way from modern pickups. Here, the bridge itself rests on top of a metal bar that is ever-so-slightly suspended over an electro-magnetic pickup system. When the strings move the bridge, the bridge moves the bar, and the resulting current goes out to the amp. While most modern guitar pickups require metal strings to work, Loar's Vivi-Tone design could work with any material, steel or gut.
The very first Vivi-Tones, released in 1932, were strikingly revolutionary. Loar, with a utilitarian spirit, did not give them much of a body at all. The skeletal design supported the pickup system, neck, and a thin body that featured only a decorative top—there were no back or sides. However, in '33, public sentiment forced the company to at least pretend their instruments were traditional. So, the then-newly built Vivi-Tones came with a full acoustic body like you see in this model, which features a spruce top and back, and composite sides. The pickup system can be accessed through a sliding drawer built into the guitar's body.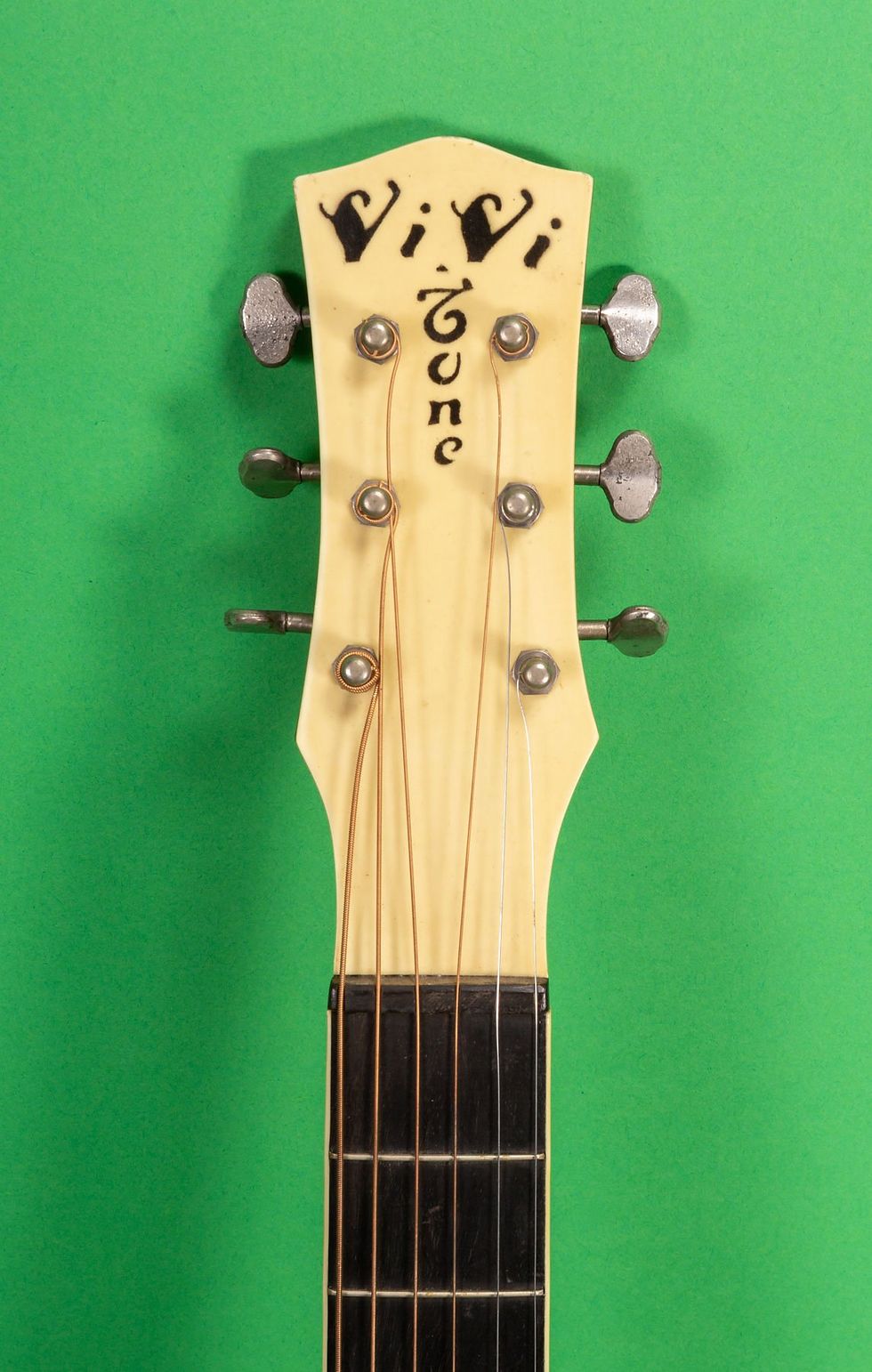 Before they folded in 1937, Vivi-Tone built just around 600 instruments.
Thanks to another twist of ingenuity, you can actually play this guitar as an acoustic. The contraption you see by the bridge is a lever you can use to separate the bridge from the internal pickup, cutting off any flow of electrons. Perhaps because the internal spine, pickup, and lever made the top too rigid, the guitar's back is its own resonating soundboard as well. It not only features two f-holes, but is actually inset from the sides so that a player's body doesn't press upon it or interfere with its vibrations.
Up for sale by Reverb seller Jay Rosen Music, this 1933 Vivi-Tone (serial number 220) is one of around 600 instruments built by Vivi-Tone before it shuttered in 1937. When new, this guitar likely sold for around $175. Today, being a surviving example in excellent condition—with its original pickup cable still intact—it's listed for $10,500.
Sources:
The Pinecaster: Early Electric Guitars (1920-1955)
by Lynne Wheelwright and Nacho Baños, Reverb listings.
This refinished and modded 1958 Gibson Les Paul Special exemplifies the plusses of buying a "player's guitar."
Sometimes, the easiest route to vintage tone and playability is by finding a guitar that's had a refinish, or other mods that haven't disturbed its musical essence. These are called "players" or "player-grade" guitars in the vintage market, versus "collectors' guitars," which are unaltered from their original state. This month's featured instrument, a 1958 Gibson Les Paul Special, is a players' guitar—and I'm that player.
The Les Paul Special has a deep lineage. The original Les Paul model, which came to be known as the Les Paul Standard in 1958, debuted in 1952. Two years later, as the line diversified, the Les Paul Custom arrived, as well as a student model called the Les Paul Junior. The Junior was the first slab-mahogany-body Gibson, with additional cost-saving measures evident in its single pickup, unbound fretboard, lack of binding, and plain dot neck markers. It sold for $99.50, versus the princely $225 price tag on the Standard, making the Junior the most affordable guitar in the 1954 Gibson catalog.
A year later, enter the Special. It also has a slab mahogany body, but upped the ante with two soapbar P-90 pickups, a Les Paul-style control set of two volume and two tone dials plus a 3-way toggle, a Tune-o-matic bridge and stop tailpiece (a combo Gibson debuted in 1953 on the Super 400), a wide '50s-style fretboard, and a 1-piece mahogany neck with binding along the rosewood fretboard. The model came finished in TV yellow, and from 1955 to 1958 it featured a single cutaway. Priced at $179.50 in 1958, the Special was intended as an intermediate-level 6-string, nestled between the Junior and the original Les Paul. By 1959, the Special's core design was changed to a double-cutaway and remained that way until a single-cutaway edition called the '55 Les Paul Special was reissued in 1974. Today, the Les Paul Special still remains part of Gibson's product line.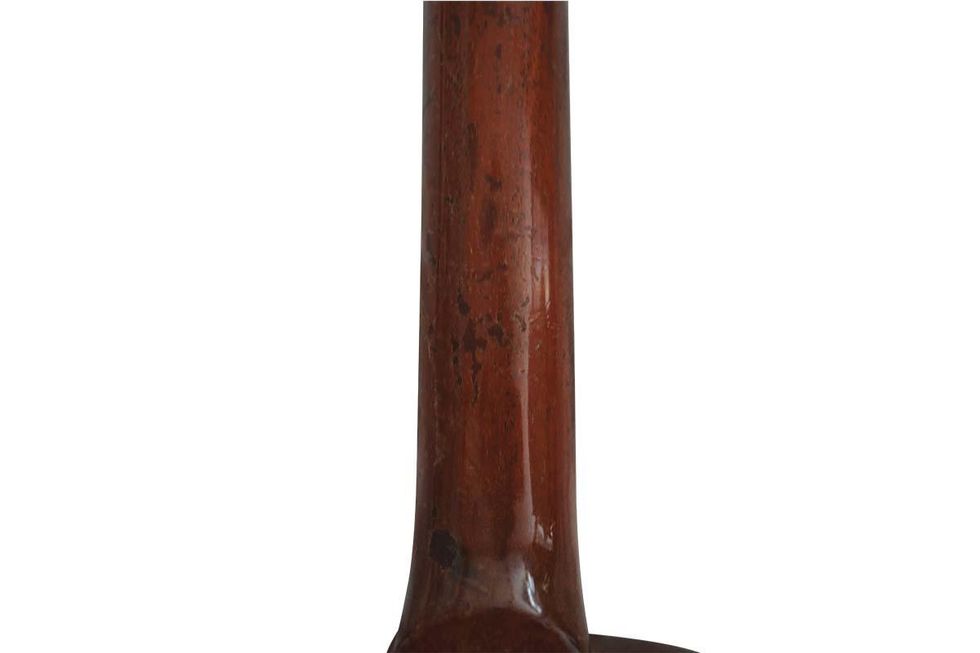 Long after someone had refinished this month's featured guitar down to its mahogany body, I purchased it in the mid-1990s at Cambridge Music in Cambridge, Massachusetts. The other modifications are the replacement of the original Kluson tuners with Schaller's and the swap of the original wraparound bridge with a Tune-o-matic, also done by a previous owner. And, of course, there's a story.
I first saw this guitar on consignment inside a glass wall case. At the time, I did not have a slab-style Gibson, and it immediately spoke to me. I also did not yet own a P-90-equipped guitar, which amplified that voice. Honestly, I was afraid that if I played it, I'd fall in love and need to shell out the $1,200 asking price. Months passed, and it sat in the wall case, teasing me every time I made my frequent visits to the shop. One day, the inevitable happened: I asked to play it. I plugged into a couple Fenders and a Marshall combo and was struck by how comfortable the 12"-radius neck felt and how sweet the guitar sounded through a Fender Deluxe, and how spanky and barking it was through a Marshall with low-to-moderate gain, thanks to those P-90s. The term "bite" was coined for this guitar.
"That day, I walked away … but in the ensuing weeks I literally dreamed about this Les Paul Special.
That day, I walked away … but in the ensuing weeks I literally dreamed about this Les Paul Special. And then, a check for the first band profile I wrote for Rolling Stone, on Thalia Zedek and Chris Brokaw's brilliantly edgy rock outfit Come, arrived. Clearing it with my wife, Laurie, I went to Cambridge Music with that check in my pocket. I explained to the shop's co-owner, Dennis Keller, that if the consigner would agree to a price of $1,000, tax included, I would cross the street to my bank and bring back cash. Miraculously, the consigner agreed, and about a half-hour later I hit the subway with that refin Special in a black plastic "chainsaw" case with the Gibson logo on its side. I felt like a courier, escorting home a million bucks.
This '58 Special is worth something in the neighborhood of $4,000 or a little less today. Similar single-cutaway Specials with the original finish, depending on road wear, are selling for between $13,000 and nearly $18,000. But I'm not jealous. This guitar is a flagship of great playability and classic, slab-body Gibson tone, and, due to that, this Special has paid back my initial investment with every trip it's made to the studio and stage for nearly 30 years.
While on tour to support his new album View with a Room, Julian Lage invited PG's John Bohlinger to his soundcheck at Brooklyn Bowl Nashville to share his insights into why he likes a straightforward rig and "honest" tone.
When it comes to jazz virtuoso Julian Lage, you'd be hard-pressed to find an electric guitarist who uses less gear. "Any time I've [used too much equipment], there's an awkwardness where I'm still grappling with the fact that I play here," he says, gesturing to his guitar, then gesturing to his amp, "but the sound comes out there." He continues, "It sounds like a joke, but it's been a struggle for me. Any time there's layers or filters or anything, I feel dissociated." Of course, Lage's rig, which buoys his clean, no-frills tone, makes sense for a musician like himself—whose playing often comes across fluidly, and as gently as his personality.
For Lage, that fluidity stems from his conception of music as a language. "I think that the way people speak is often more unfettered," Lage told Premier Guitar in 2021. "There might not be an obvious correlation between the way people speak in a lecture and the notes on the guitar. But it's just a little stretch of the imagination to see that those are pitches, those are rhythms, those are phrases."
On View with a Room, Lage's second release on the hallowed Blue Note Records, he's offering a fresh, bold continuation of the conversation he's created over the years. The album features his latest ensemble, made up of himself, bassist Jorge Roeder, and drummer Dave King—but this time, he's added the legendary Bill Frisell. Together, the musicians help to expand Lage's body of work with performances of 10 of his original compositions.
While on tour for the album, Lage invited PG's John Bohlinger to the soundcheck before his show at Brooklyn Bowl inn Nashville to share his insights into why he likes a straightforward rig and "honest" tone. In the interview, Lage elaborates on his three main guitars (his Nachocaster, Collings signature, and '55 Les Paul), explains why he prefers low volume on his amps, and offers a remarkably brief tour of his pedalboard.
Brought to you by D'Addario XS Strings.
Not Your Caster
As a bit of an anomaly in the world of jazz guitarists, Lage prefers Telecasters. His number one T-style is his Nachoguitars 1657 "Nachocaster"—a saffron-colored guitar equipped with an Ellisonic P-90-size neck pickup and Fatpups Blackguard bridge pickup, built by Spanish luthier Nacho Baños. However, Lage states that he never changes from the neck position. The Ellisonic pickup, which was created by Ron Ellis for Lage's other primary instrument, the Collings Julian Lage 470 JL, captures the clarity and acoustic-like feel of vintage single-coils. The guitar is strung with D'Addario Flatwound Electric ECG24 Chromes (.011-.050) with a .020 unwound G string. Lage also uses Tortex .88 mm picks.
Lage's Signature
The Collings 470 JL signature was built as a collaboration between Lage and Collings. It features a solid Honduran mahogany body with a laminated maple top, Ellisonic pickups, and a Bigsby B3 tailpiece. He shares that the Bigsby was added mainly for weight, as the guitar was 5 lbs. before its addition and 6 lbs. after. "That gets you right to this place where the fundamental is still there, and you have this brilliant overtone," says Lage, who adds that much like the bridge pickup on the Nachocaster, he doesn't touch the Bigsby. He strings this guitar with .011-.049 D'Addario flatwounds. "Honestly, I think it's more of a rock machine than anything," he adds.
1955 Lester
Lage's 1955 Les Paul goldtop was a gift from Spinal Tap's Christopher Guest, and sports Les Paul's signature. "I feel very much like a steward of it," Lage says of the guitar. "I'm learning how to play it constantly. It's so luxurious. Anything's possible, so it really comes down to what do you hear, what do you want to play, what's the voice of the music … and this guitar will be 8,000 percent there for you."
Les Paul's handwritten message to Christopher Guest.
It's Magic!
Lage is a longtime fan of low-watt, vintage Fender amps, in the past having remained ardently loyal to his Fender Tweed Champ, until it became impractical to bring it everywhere. On this tour, he's playing a Magic Amps Vibro Deluxe, reminiscent of a 1964 Fender Deluxe Reverb. He plugs into the normal channel and sets his volume to 3, treble to 2, and bass to 2. As he describes, "This one has this miraculous thing where it feels like it's being pushed at a lower volume. It's not terribly interesting, but it is what I do."
Julian Lage's Pedalboard
Lage's stripped-down pedalboard includes a Strymon Flint Tremolo & Reverb (just for reverb), a Shin-ei B1G 1 Preamp Gain Boost, and a Sonic Research ST-300 Mini Stomp Box Strobe Tuner.