The Lava Flow offers versatility disguised as a simple A/B/Y box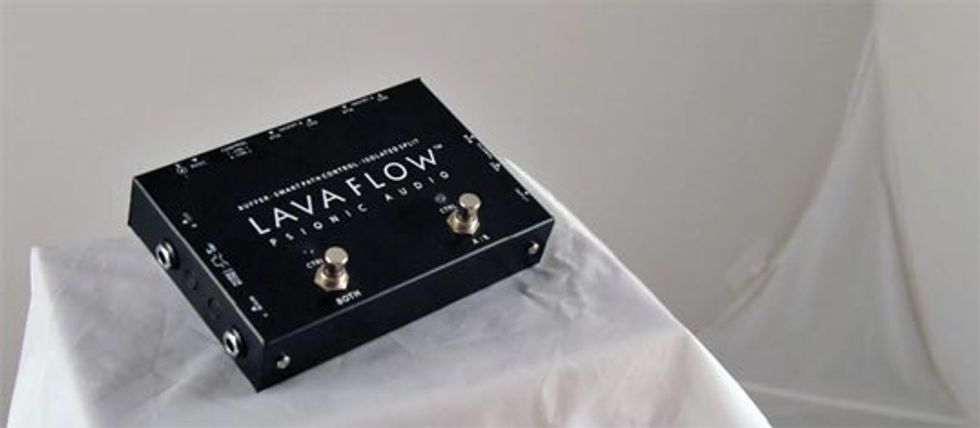 At first glance, the Psionic Audio Lava Flow looks like just another full-featured A/B/Y box. Digging in a little bit reveals designer Lyle Caldwell's mission when designing the Lava Flow – combining the most requested features from various custom projects into one box to offer an single, affordable solution.
Featuring a high quality buffer that can be switched in and out of the circuit by an internal dipswitch, the Lava Flow displays Swiss army knife-like utility at every turn. Inputs and outputs include a Global Insert placed after the buffer in the signal chain for effects used by both signal paths, in addition to independent insert loops for each channel. Channel B's output features an isolation transformer to sidestep ground loops when using two amps, while another internal dipswitch allows this to be lifted. High quality relays are used throughout and RFI protection offers quiet operation even in high-gain situations.
The Lava Flow also features dual mode operation, which allows guitarists to set up one pedalboard to handle both dual amp and dual-channel, single amp rigs. For example, let's say you use a Twin for clean textures and a Marshall for darker, distorted tones. Using the Lava Flow in MODE1, channel A could be assigned to the Twin, and the corresponding effects – delay, chorus, compression – could be routed to channel A's insert loop. The Marshall could then use channel B, with overdrives and fuzzes running through its insert loop. Any pedals needed for both sides would be assigned to the Global Insert. In this mode, the CTRL 1 switch toggles between amps and their respective loops, while CTRL 2 switches in both amps and loops. This routing/switching scheme allows guitarists to pre-select effects from the inactive loop, switching both amps and effects with a single click, perfect for going from a tastefully clean, slightly chorused fingerpicked verse to a Fuzz Face and Univibe-fueled Marshall freakout.
Switching the Lava Flow to MODE2 allows the same pedalboard to be used with a single, dual-channel amp. In this mode, the CTRL switch controls the amp's channel switching – as well as pedalboard loops – through the tip-sleeve of the CONTROL jack. CTRL 2 can then control any latching device on your amp such as a solo boost or reverb through the ring-sleeve connection. Also, because the Lava Flow doesn't mind seeing line level signals, it is equally at home in front of an amp as in the effects loop.
Another use of the Lava Flow is to control non-switching, dual channel amps. This is where a side-mounted switch comes in handy, reversing the isolation transformer's polarity, resolving the issue of running both channels of an amp that has its channels out of phase – such as an AC30 – at the same time.
All of this flexibility would be wasted if the unit messed with your tone. Thankfully it doesn't – a quick, thoroughly unscientific, pull-the-plug-out-quick-and-plug-it-back-in-again test showed no discernable signal degradation from plugging straight in, and isolated, discreet signal paths ensure that even the noisiest of vintage effects stay out of the way until it's their turn.
The Final Mojo
The Lava Flow will bring the ability to run quiet, efficient, two-amp rigs to the masses, as well as the flexibility to use the same pedalboard setup for dual-channel amps for smaller gigs. The inclusion of thoughtful touches like a phase switch and discreet signal paths that are clean enough to manufacture microchips allows enough flexibility to justify a healthy price tag on what might otherwise be considered an overpriced A/B box.
Buy if...
you''ve wanted to set up an effective two-amp rig.
Skip if...
you have dreams of an SRV-inspired wall of amps.
Rating...
 
Our expert has stated their case, now we want to hear yours. Share your comments and ratings below.