California surf-rockers Best Coast use tons of fun effects and interesting guitars to create their shimmers and other layered tones.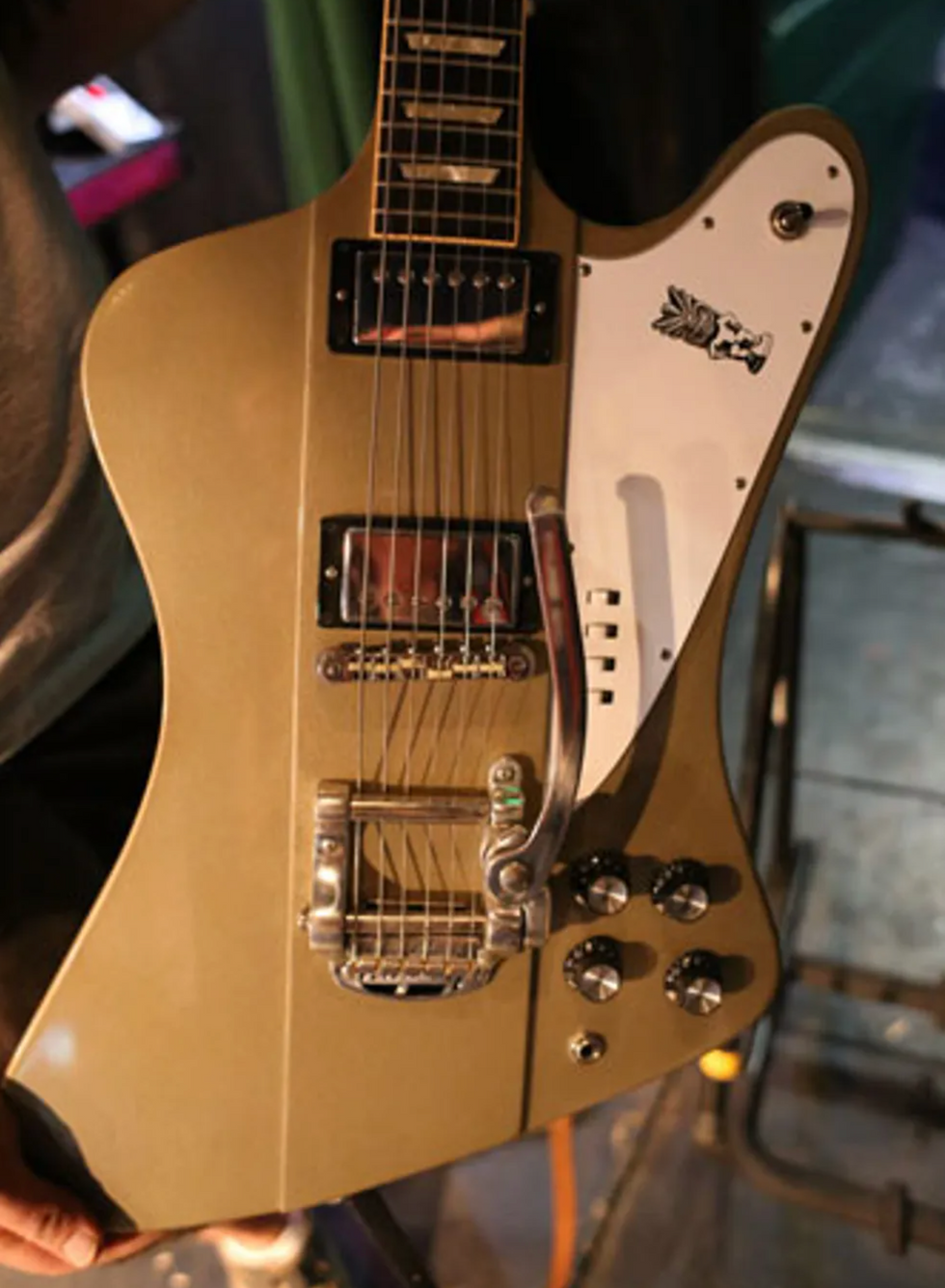 Bobb Bruno's current main guitar is a Gibson Elliot Easton Signature "Tikibird" Firebird with '57 Classic humbuckers. Bruno says he was in a "Cars phase" while recording Best Coast's latest album, California Nights. His favorite feature is the far left slider switch. When engaged, the signal bypasses the bridge pickup and goes straight to the output for a boost.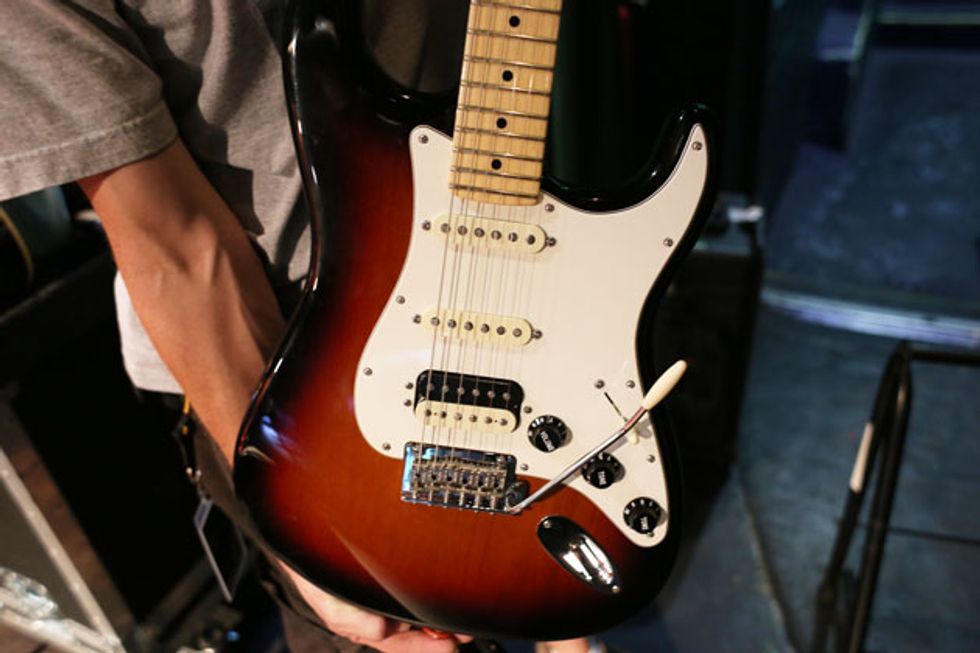 This Fender American Standard Strat HSS Shawbucker recently replaced Bruno's Gibson Joan Jett Melody Maker, which he says has become too valuable to tour with. "I love this pickup—it's super loud," Bruno says of the Shawbucker.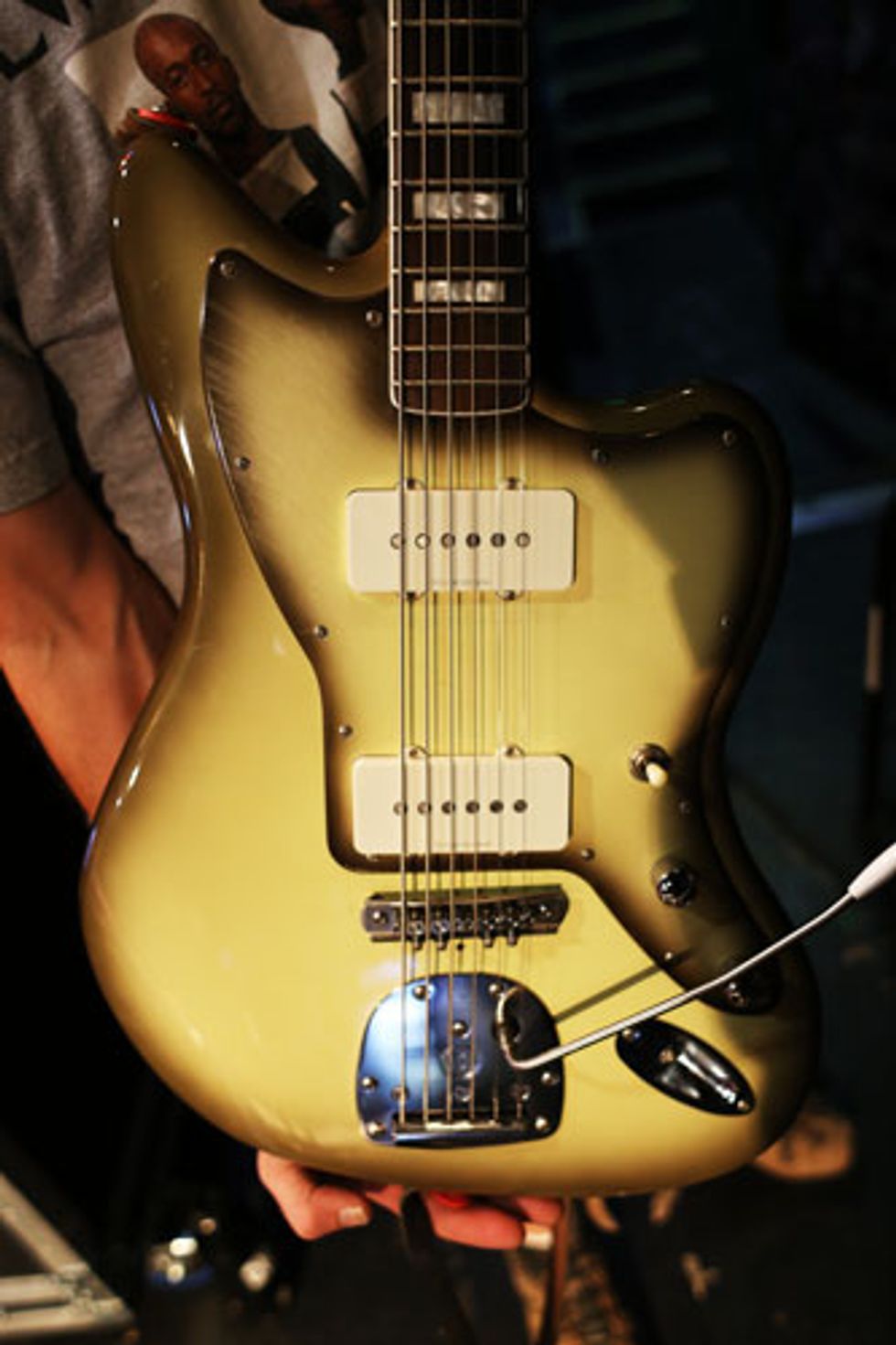 All of Bruno's guitar parts on Best Coast's debut album were played with a baritone guitar. His oldest guitar is an Eastwood Sidejack Baritone Deluxe, but now he's using this Squier Baritone Jazzmaster. He tunes his baris A to A, and added a Mastery bridge and vibrato system to both. Both are strung up with Ernie Ball baritone strings.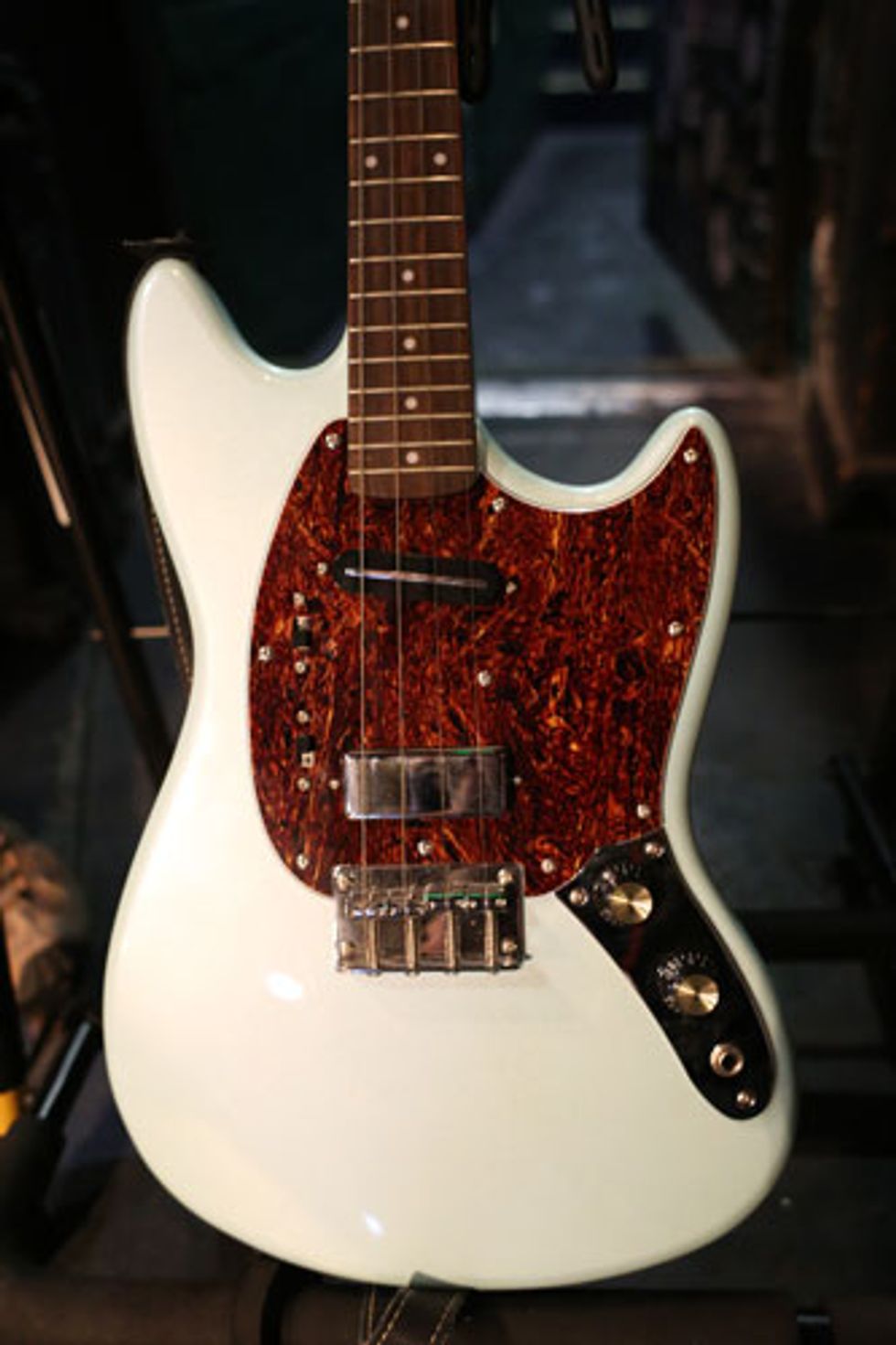 Bruno's Warren Ellis Signature Tenor Guitar Eastwood only has 4 strings, tuned to C–G–D–A. He plays it on the song "Sleep Will Never Come."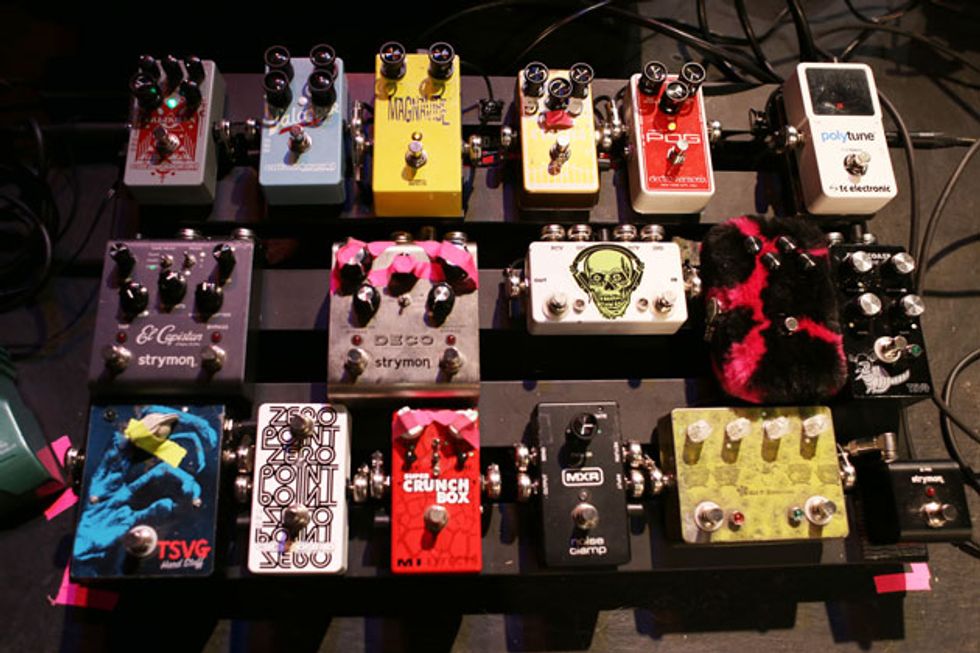 Upon first hitting his board, Bruno's signal goes into a TC Electronic PolyTune, heads to a TSVG Best Coast Signature Fluzzy (based on the old Ibanez Standard Fuzz), then goes to a custom American Loopers switcher (the white pedal with the green skull) that has an Electro-Harmonix Nano POG and a Mr. Black Eterna Gold in loop 1, and a Bigfoot FX Magnavibe and a Catalinbread Valcoder in loop 2. Bruno's "gnarly" Forever Fuzz—the pedal covered in purple-and-black faux fur—was given to him by Nels Cline and features a built-in filter circuit. A Strymon Tap Favorite switch triggers the tape-chorus simulation in Bruno's Strymon Deco, but he also uses the tape-delay simulation for slapback echo, and the tape-saturation section for solos and rhythm sounds. The Mid-Fi Electronics pedal next to the Tap Favorite houses two effects—a Psych Byke fuzz and Fuzz Wall—and the MXR Noise Clamp next door helps keep them manageable. An MI Audio Super Crunch Box, Bruno's main distortion, is used for roughly 75 percent of a given set. The board is rounded out by a Catalinbread Zero Point flanger, a TSVG Hard Stuff, a Strymon El Capistan, a Catalinbread Talisman plate-reverb simulator, and a Line 6 DL4 (not pictured).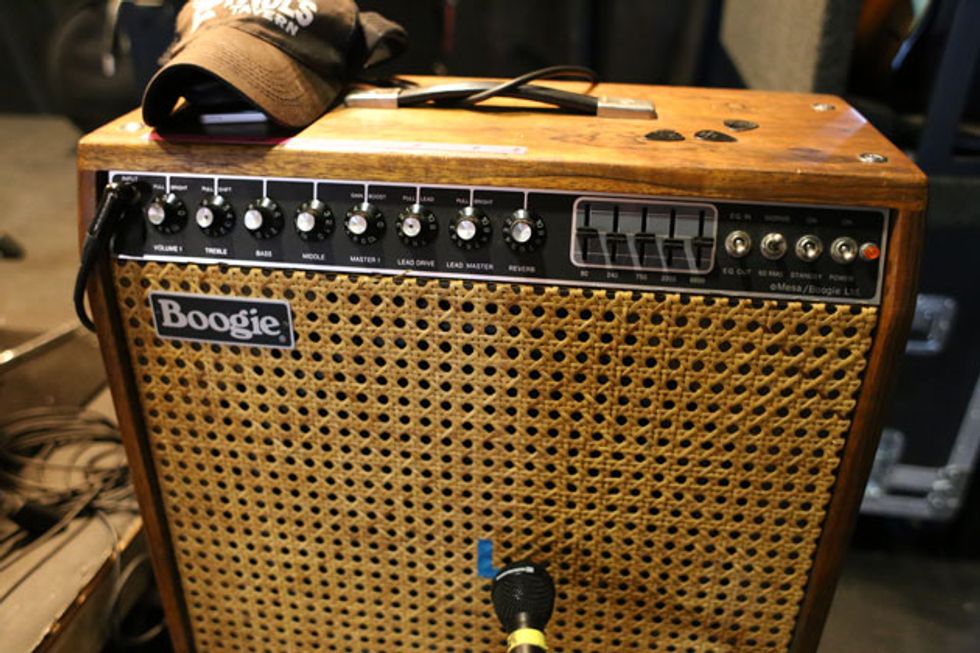 Bruno's amp is a 1982 115-watt Mesa/Boogie Mark II he bought on Craigslist, which he says is good for capturing the low frequencies in his baritones. "I only have it at 3 and it's plenty loud for me," Bruno says.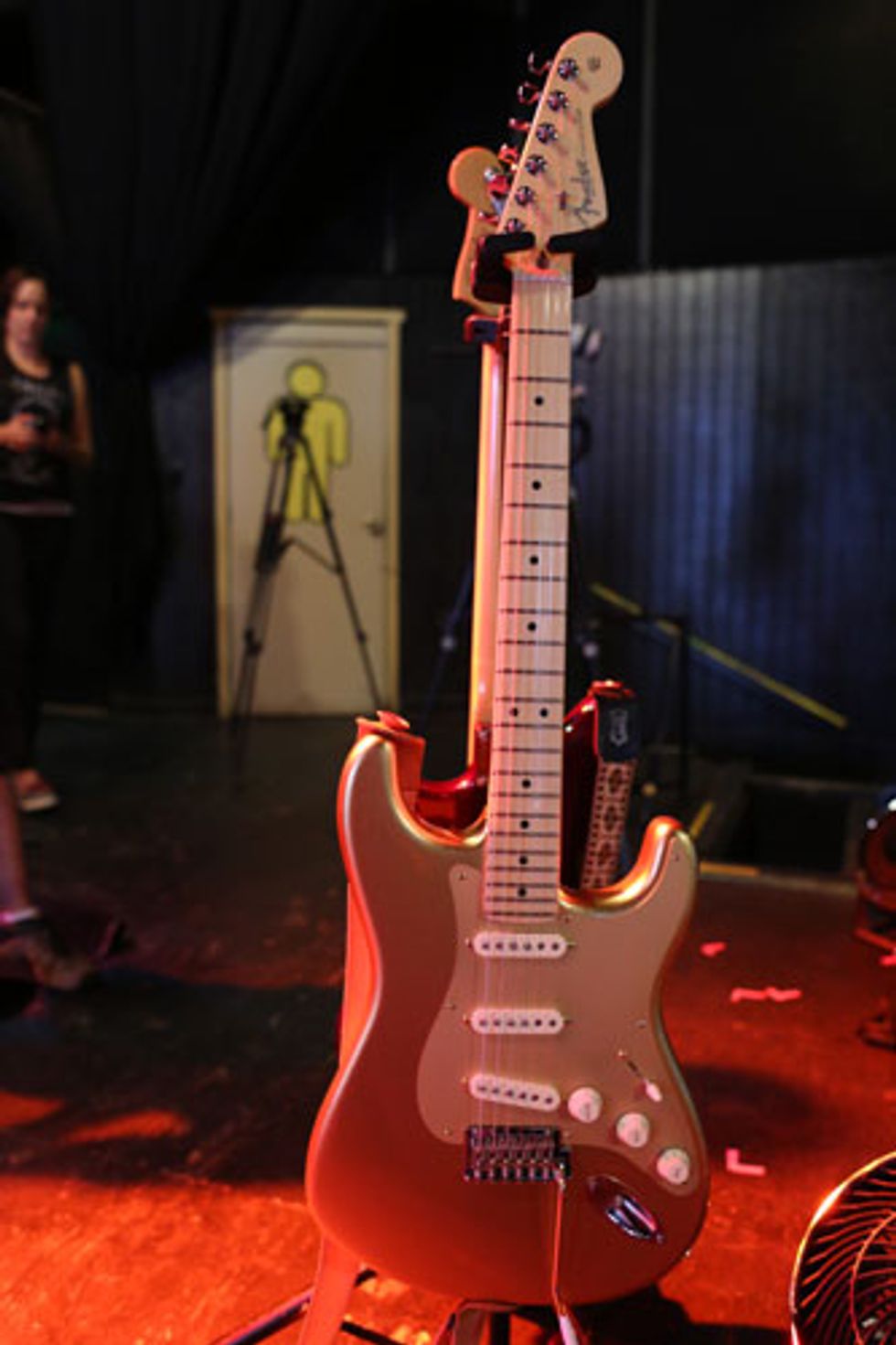 Bethany Cosentino has played Fenders her entire Best Coast career. She plays her new Limited Edition American Standard Strat in Azteca Gold for about 80 percent of the band's live set.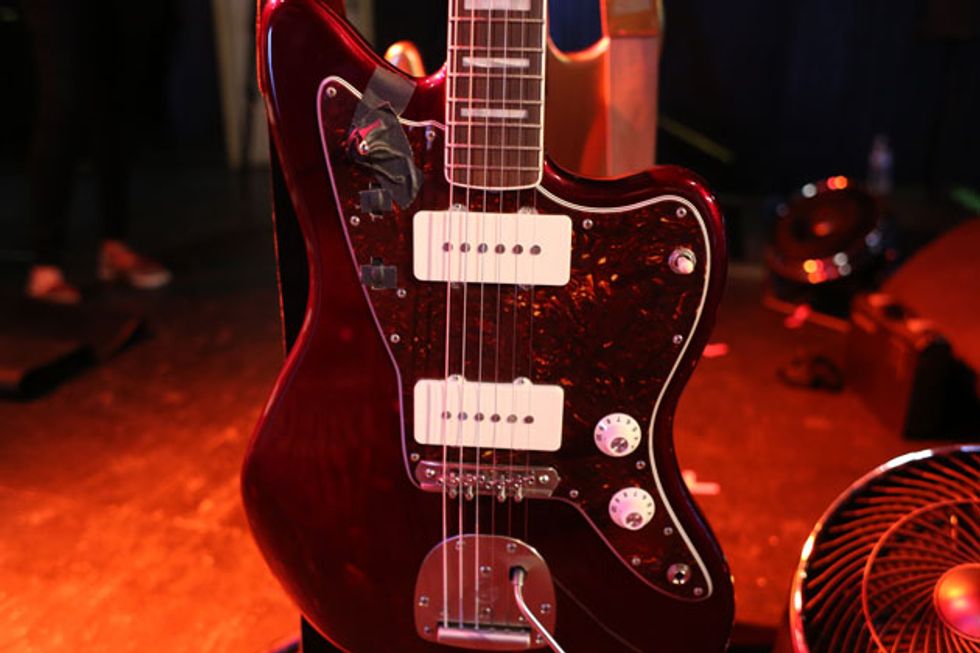 This Oxblood-finished Fender Troy Van Leeuwen Jazzmaster has a Mastery bridge installed by John Woodland himself. Cosentino uses the guitar to open the show with older, harder-rocking songs.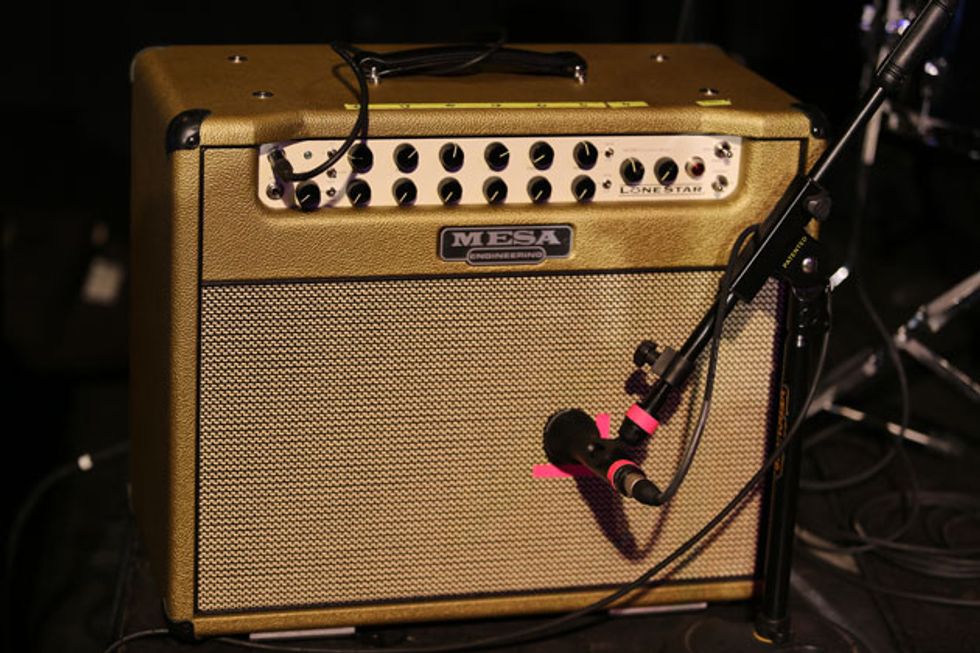 Cosentino's Mesa/Boogie Lone Star has customized gold tolex to match her Strat. Her settings are clean all the time, so she gets her distortion and reverb from her pedals.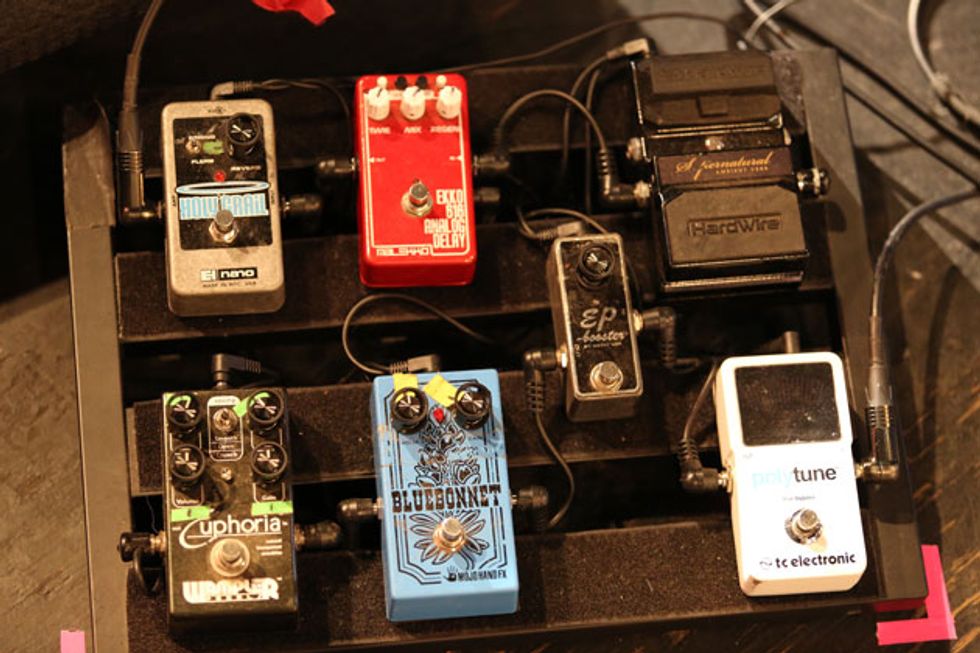 Bobb Bruno set up Cosentino's board with a TC Electronic PolyTune 2, an Xotic Effects EP Booster (on all the time), Mojo Hand Fx Bluebonnet, Wampler Euphoria, HardWire DigiTech Supernatural, Malekko Ekko 616 Analog Delay, and an Electro-Harmonix Holy Grail (stays on all the time).
[Updated 12/30/21]