Brian Tarquin first came up with the idea for the Guitar Masters series because of his personal experience getting the wonderful plastic records that used to come in every issue of Guitar Player magazine back in the '80s.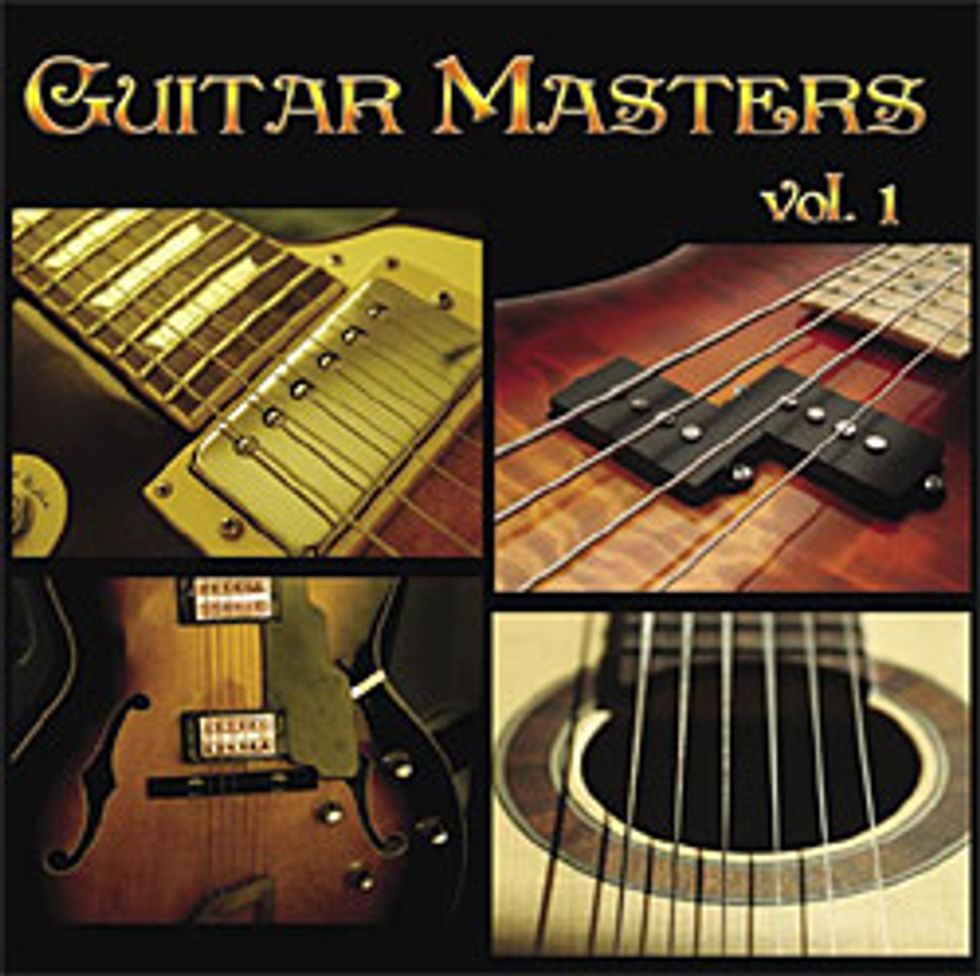 Bohemian Productions is an artist-run record label based in New York, headed by Emmy Award-winning guitarist, Brian Tarquin, producer Chris Ingram and publicist Miss M.
The label focuses on unique instrumental music which has fallen through the cracks in the music industry. They aim to give talented artists both known and unknown a voice to be heard among the plethora of mainstream releases. They consider themselves a home for disenfranchised musicians, building an eclectic catalog of releases. Being artists themselves, they are sensitive to the fact that the creative voice can be stifled in today's multimedia culture. BHP offers their artists a unique blend of exposure both in the traditional retail markets, as well as TV and film. They have 16 years experience in composing and producing for numerous television and motion picture productions and therefore have a unique perspective on what works for both the artists and the shows.
BHP Music also runs a state-of-the-art digital and analog recording studio in New York called Jungle Room Studios.
---
Track List
B Fingers
John Paul Jones & Trey Gunn
54-46 Was My Number
Toots & The Maytals
featuring Jeff Beck
I Wish
Randy Coven featuring Zakk Wylde
Unleash the Beast
Billy Sheehan
Hair
Stanley Clarke featuring Joe Satriani
Minute Mouse
Randy Coven featuring Steve Morse
Skippy
David Hines & Allan Holdsworth
Rumba
Marcus Nand
Shenandoah
Will Ray
Picture of a Purple Sky
Steve Booke
Frankenstein
Doug Stapp & Scott Stine
The Nag
John Scofield
Jack Hammer
Brian Tarquin
What Can I Say
Carl Tosten
Space Talk
James Ryan
Stay with Me
Martin Winch
Kruununvuori
Jason Carter
Zero Gravity
Doug Doppler
The Guitar Masters Series
Brian Tarquin first came up with the idea for the
Guitar Masters
series because of his personal experience getting the wonderful plastic records that used to come in every issue of
Guitar Player
magazine back in the '80s. It was such a simple idea, but it had a profound impact on the reader. Immediately you were exposed to such great players and songs as John Scofield's "Techno," Hans Reichel's "Solo Dachsophone and Guitar," Michael Hedges' "Because It's There," Eric Johnson's "Cliffs of Dover," Robert Fripp's "Easter Sunday," Danny Gatton's "Nit Pickin'" and Kazumi Watanabe's "Unicorn." Being a guitarist himself, he appreciated the wealth of talented players that the small, black record offered. That is why
Guitar Masters
has been a labor of love.
Through BHP Music, Brian has collected an astonishing group of players, along with some previously unreleased material and rarity tracks. The compilation is not your standard "greatest hits" package.
Guitar Masters, Vol. 1
strives to show the guitar's many styles by letting it take center stage. The CD features an incredible mix of players, both known and unknown, and each have their own unique style and influences which can be heard on every track. Listeners can hear such high-caliber collaborations as Jeff Beck playing alongside the reggae beats of Toots & The Maytals, to Zakk Wylde (of Black Label Society, as well as Ozzy) covering the Stevie Wonder classic, "I Wish," to bassist Stanley Clarke teaming up with Joe Satriani and John Paul Jones of the legendary Led Zeppelin.
Also included are lesser known players who are just as inspiring, such as the classically trained British guitarist Jason Carter, flamenco guitarist Marcus Nand, the smooth sounds of veteran New Zealand guitarist Martin Winch, New York native Steve Booke, who adds an East India vibe to "Picture of a Purple Sky," and fellow New Yorker, bassist Randy Coven, who supplied two tracks on the compilation. From fusion master John Scofield to Texas shredder Doug Stapp to Brian's own rock/electronica piece, listeners can really hear and appreciate what the guitar can do.
BHP Music received such a wonderful response from so many guitarists that Brian already has
Guitar Masters, Vol. 2
ready to rock. BHP hopes to expose all of these talented players to a new audience and refresh the ears of the diehard fans who haven't heard these rarity tracks.
Guitar Masters, Vol. 1
will be released May 15, 2007.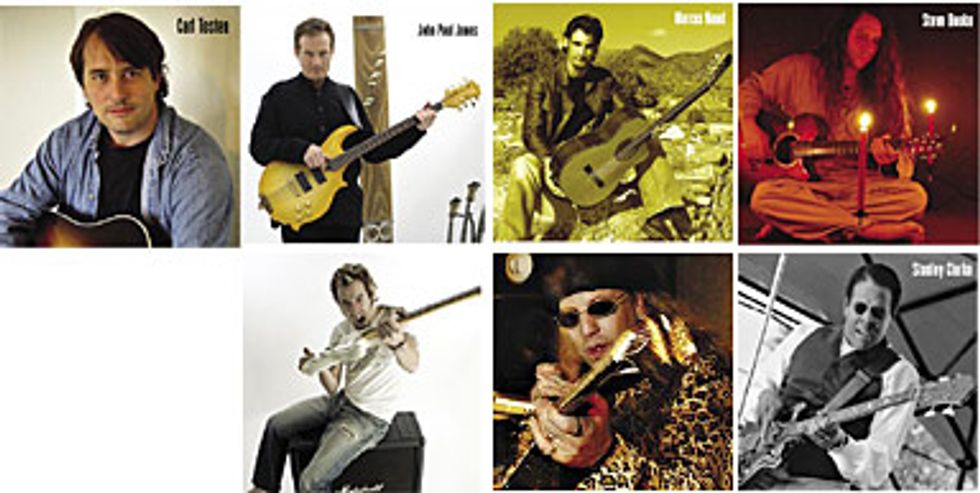 Who's Who at BHP Music
Brian TarquinOwner/Guitarist
Brian started at a jingle house as an Engineer/Producer in New York City. He produced commercials at Ogilvy & Mather and Grey Advertising Agencies. He also has worked as an engineer at various recording studios in New York City and Los Angeles. In 1991, Brian started composing music for the Olympics. In the '90s he worked for Virgin Records in Finance and Business Affairs and Radio Promotions for Restless Records. He started his artist recording career at MCA Records and moved on to Instinct, ROIR, Passion Records, JazzFM Records in the U.K. and Cleopatra/Hypnotic. As an instrumental guitarist, Brian has enjoyed commercial radio and sales success at R&R/Gavin and Billboard Top 20. In 1997 he formed the rock/ electronica band, Asphalt Jungle with his writing partner, Chris Ingram. In 2003 and 2005 he won two Emmys for Outstanding Achievement in Music Direction and Composition for a Drama Series.
Chris Ingram
Co-Owner/Producer
Chris produced and composed for Instinct Records for several years. He worked as keyboardist and programmer on Brian's solo Instinct albums and is the other half of Asphalt Jungle. Chris got his formal training in keyboard and composition with the late jazz great, Lou Stein. He has produced music for the PBS educational series,
Schooling that Works!
, and has also performed and toured on the East Coast. His producing and composing talents can be heard on several of Instinct Records solo albums and compilations.
For more on BHP Music and to submit music for future series, visit
bohemianproductions.net
---
BHP MUSIC
bohemianproductions.net