These Fat Wreck-label punkers keep it stupid simple with single-humbucker, classic-custom recreations for their ripping Ramones downstrokes and pogo-ready choruses.
Wyoming has a punk-rock scene? Well, if it does, Teenage Bottlerocket are its seminal stars.
Formed in 2000 by twin brothers Ray (bass and vocals) and Brandon Carlisle (drums), and eventually fortified by guitarist Kody Templeman and bassist Miguel Chen, the full-throttle four-pack have continuously proven you can have big fun with little gear. (When Miguel joined TBR in 2008, Ray moved over to guitar, and drummer Darren Chewka has filled in for Brandon since his untimely passing in 2015.)
Over the course of eight LPs and three EPs (mostly on Fat Mike's Fat Wreck Chords), their sound has changed about as much as their cover art. And that's just been slight-hue variations of the TBR logo. But that's okay, because their brand of pop punk is lighthearted, fast, frenetic, and infectious, providing a carefree bash full of big hooks and blitzkrieg-ing power chords.
At Nashville's Exit/In outdoor stage, the guitarists detail their custom Jason Ingrodi offsets, how random phone calls and sweat have influenced their pickup choices, and why their Oranges only need a slight CH-1 swirl for solos.
[Brought to you by D'Addario's XPND Pedalboards: https://www.daddario.com/XPNDRR]
Ray Carlisle's Jason Ingrodi Custom Guitar
Here is co-founding frontman/guitarist Ray Carlisle's custom Jason Ingrodi, heavily influenced by Johnny Ramone's Mosrites. One departure from Semie Moseley's original Ventures design is the move to a string-thru construction (something Ray stole from his days playing P basses when he started the band with his brother). The lone humbucker is an alnico 5 Wolfetone Marshallhead that aims to be an overwound P.A.F. He relies on D'Addario EXL 110 (.010–.046) strings and has downsized to Dunlop .73 mm picks (and .60 mm on bass) to help his tendonitis.
Teenage Bottlerocket Logo
A close-up of the Teenage Bottlerocket logo that sits at the 12th fret.
Jason Ingrodi Headstock
This Ingrodi headstock could fend off any unruly stage divers.
Orange Rockerverb 100 MkII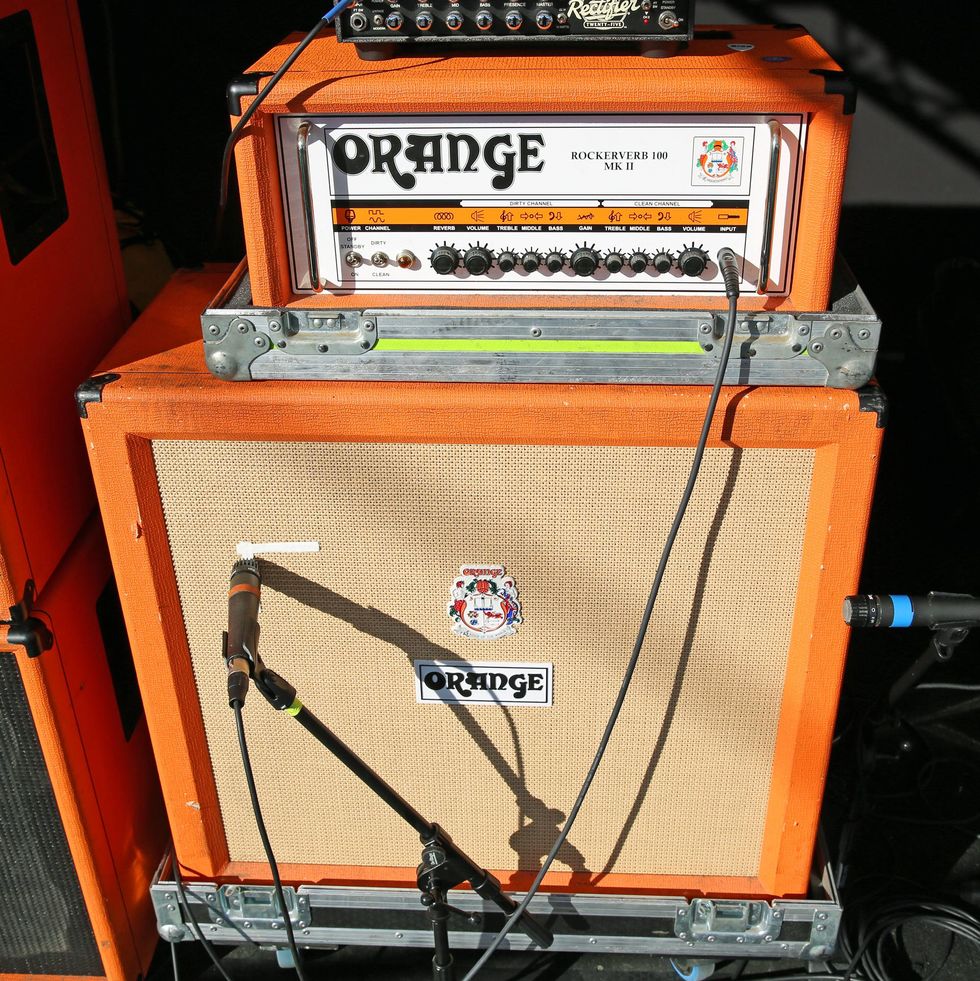 For the longest time, Ray Carlisle's amp of choice was a 1981 Marshall JCM800 50-watt head. That all changed when he was sideswiped by Queers frontman Joe Queer's tone. Queer was using an Orange Rockerverb 100 MkII, and the rest is history. It hits a matching Orange PPC412HP8 4x12 that has Celestion G12K-100s.
Boss CH-1 Super Chorus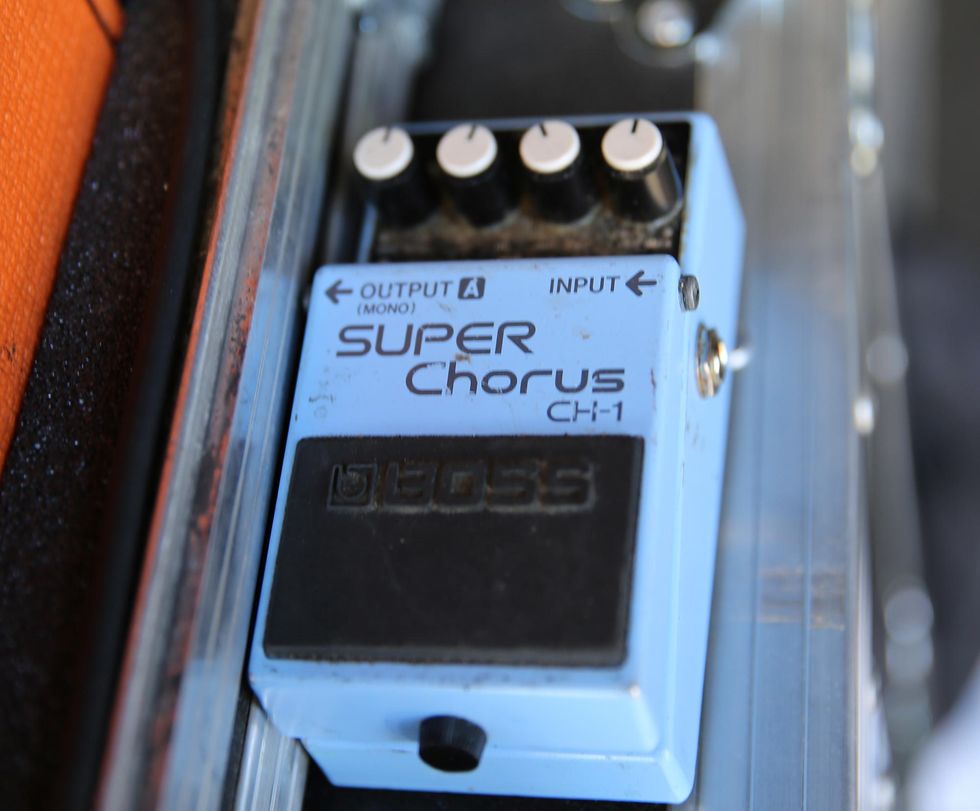 Carlisle's lone pedal is the Boss CH-1 Super Chorus that gets engaged for solos (sometimes).
Kody Templeman's "Jeff" the Jason Ingrodi Custom Guitar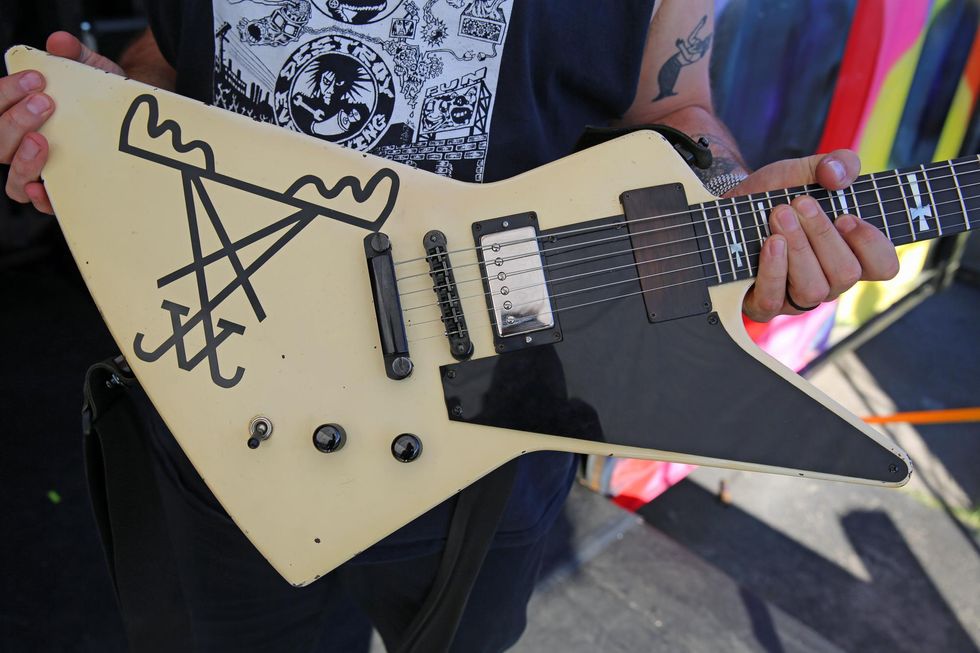 Guitarist Kody Templeman follows Ray's lead and takes the stage with a custom Jason Ingrodi model that's named Jeff. It blends together an Explorer-style body, a T-style headstock, and upside-down cross inlays that were popularized by Tony Iommi and his SGs in Sabbath (starting around Technical Ecstasy and Never Say Die!). This Ingrodi amalgamation originally came with a pair of DiMarzio Super 2s. Templeman would only use the neck pickup when the bridge would short out from sweat. He's since removed the 2s, put in a single Seymour Duncan SH-PG1b Pearly Gates, and covered the vacant neck-pickup slot with a wood cover.
The aforementioned 6-in-line, T-style headstock.
Orange TH100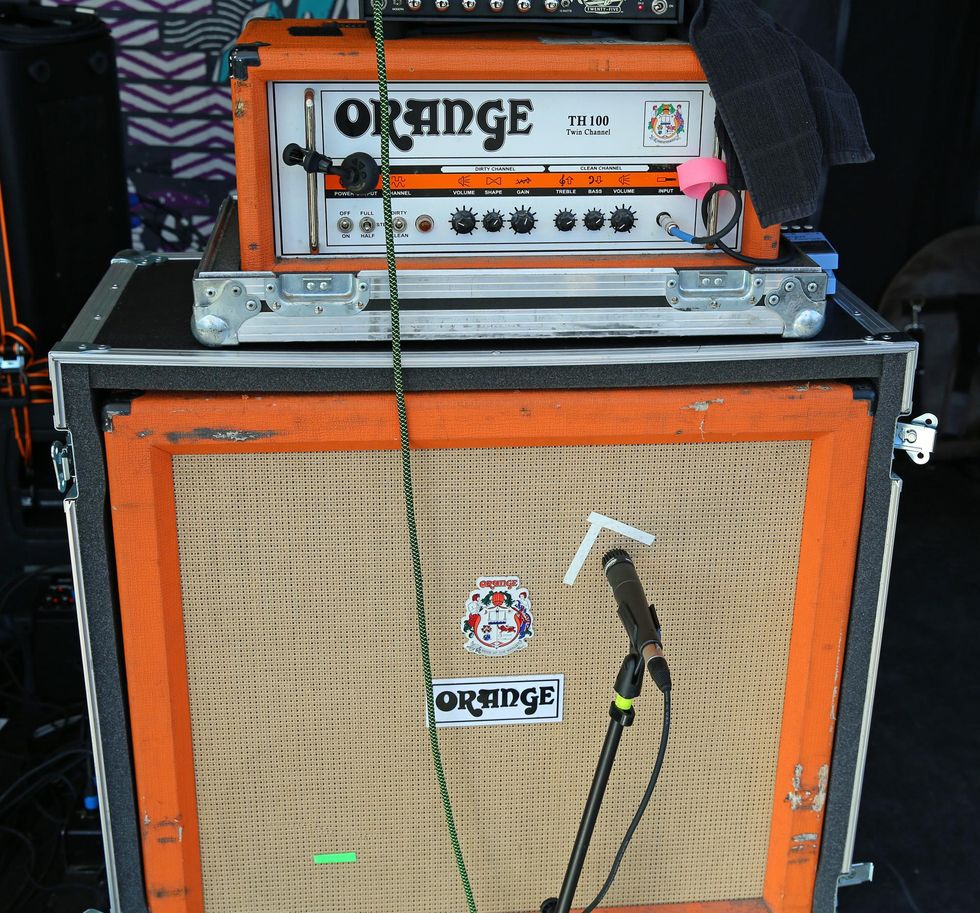 Like his bandmate, Templeman trusts his stage tone to an Orange. His simplistic approach gravitates to the spartan TH100 that has just three knobs for each channel. The 100W head runs into an Orange PPC412HP8 4x12 that also has Celestion G12K-100s. (Not pictured: For lead work, Templeman has a Boss CH-1 Super Chorus and Ibanez Tube Screamer.)