Gallagher''s Doc Watson Signature model is a bluegrass machine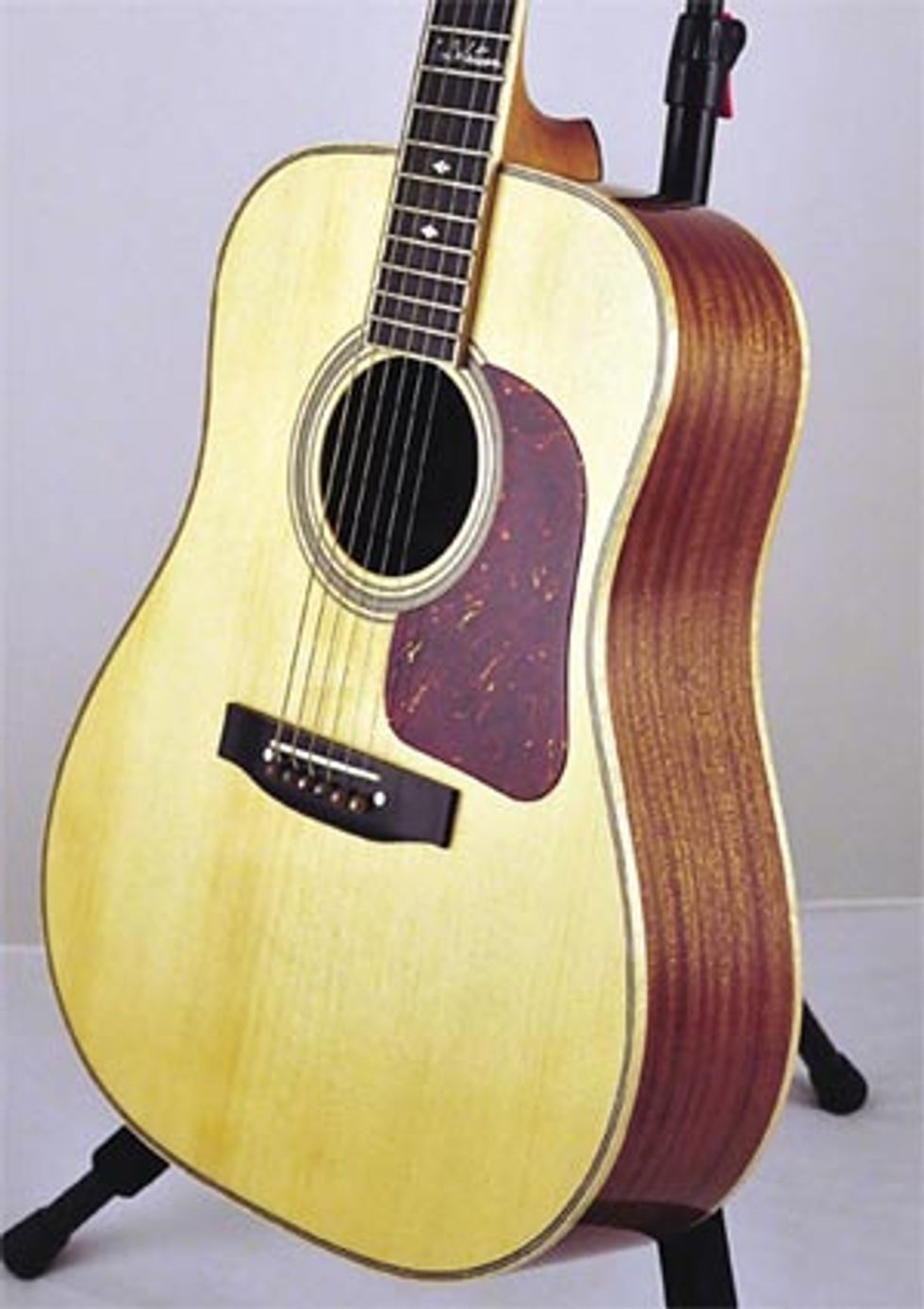 Writing product reviews for a guitar magazine is pretty much a rockstar gig, like when you're at your wife's Christmas party, dressed like a bum, and one of her coworkers drops the inevitable "So, what do you do?" bomb. It allows you the freedom to take a satisfying gulp of free hooch and mumble "I'm a writer," as nonchalantly as possible, being sure to not make eye contact while pretending to scan the room for something seemingly more important. When that individual eventually learns that a (meager) living can be made by basically playing with gear all day, they start thinking I'm living the dream. Those are the good times. As with most things, there is also a dark side, such as when facing the task of reviewing a high-end acoustic guitar. You almost need to possess the gift of premonition to determine what a solid wood guitar is going to sound like five years down the road, once it "opens up."
Don't get me wrong – much like adorable puppies and babies tend to make for attractive dogs and people, respectively, a lot of a guitar's signature is present from the get-go. But there's always that potential curve ball, like the Olsen twins – I don't think anybody could have seen hot in their future, which brings us back full circle to the dangers of reviewing acoustic guitars.
Tennessee Stud
J.W. Gallagher and Son has offered a Doc Watson model since 1974. What we have is a Doc Watson Signature model. While the original model features the minimal appointments typical of mahogany-bodied dreadnoughts, the Signature model throws in ebony fingerboard and body binding, diamond and square M.O.P. fingerboard inlays, herringbone trim and rosette, and a zig-zag back-strip. The fingerboard offers up plenty of room for flat, finger or hybrid-picking styles with its wide, 1 3/4" width at the nut, adding to the soft V-shaped neck's decidedly vintage feel. The Signature model is also available with a 1 11/16" nut-width and a more pronounced V shape as an option. Other niceties include a bound, asymmetrical headstock with abalone "G" inlay, Schaller tuners and bone nut and saddle on an ebony bridge, which is then finished off nicely with six handsome John Pearse faux tortoise shell bridge pins. And because it just couldn't be a signature model without it, Doc's John Hancock is inlayed at the 14th fret.
---
"Sonically, the Doc Watson Signautre offers plenty of room for notes too; coming out of the chute like any proper, bluegrass-intentioned flattop should, providing ample amounts of well defined bass."
---
The setup and action on this guy were on the high-end of medium – what I consider perfect "bluegrass action." Go ahead and dig in with the pick; it isn't going to rattle with 3/32" action on the low E and 1/16" on the high E at the 12th fret, capo'd at the first and .010" relief at the eighth fret measured with a straight edge. The action and generous string spacing offer plenty of room for fingers and take only a few minutes of acclimation.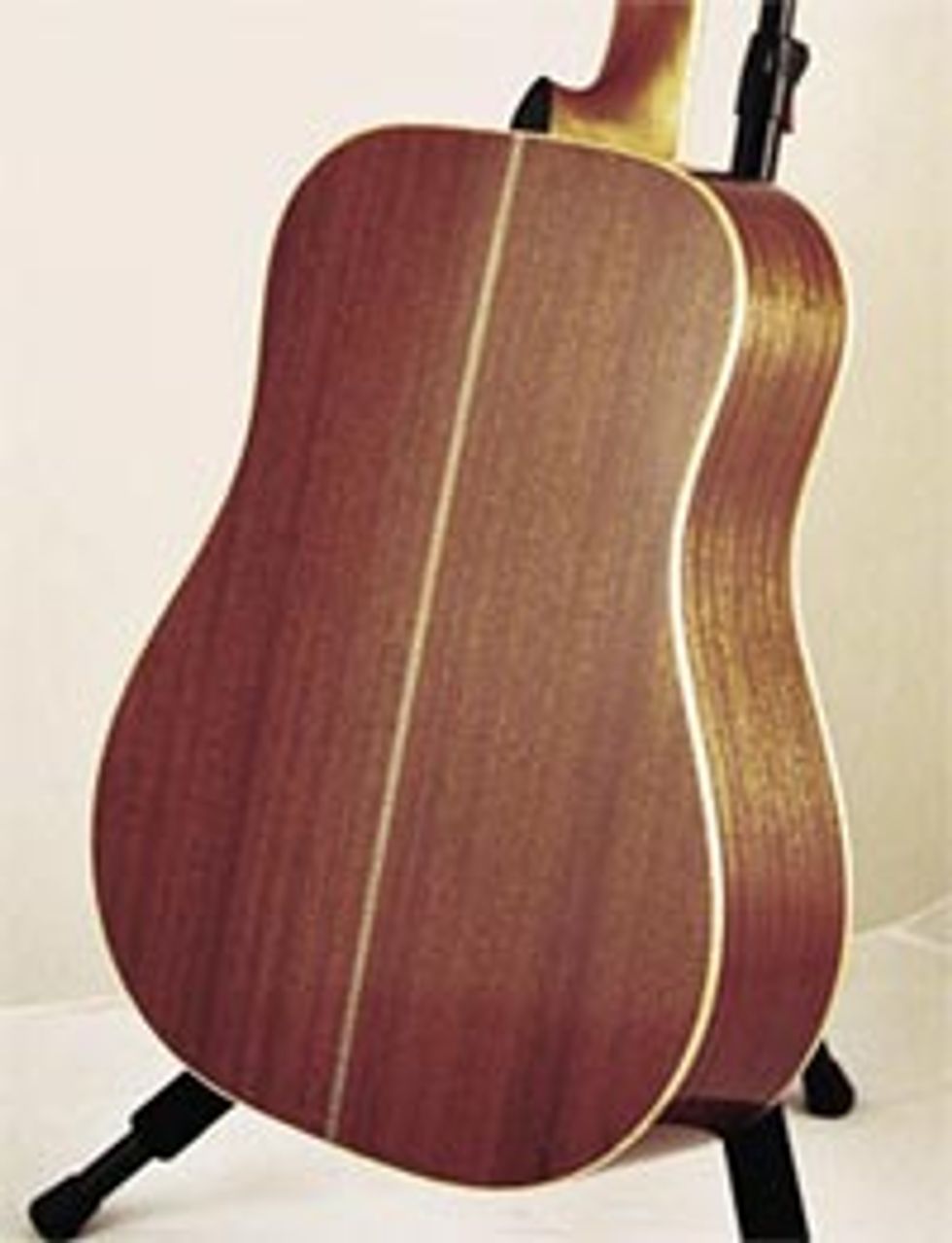 Sonically, the Doc Watson Signature offers plenty of room for notes too; coming out of the chute like any proper, bluegrass-intentioned flattop should, providing ample amounts of well defined bass. Where it departs from traditional mahogany tones is by backing off in the low-mid area, as if intentionally stepping aside to let the bass to do its thing. The mids pick up again around the G string, finishing with a nice, lacy shimmer up top in a manner not unlike dreads sporting rosewood back and sides. Dig in and it can get brash, but never brittle, perfect for flipping the bird to overzealous mandolin chord chops when it's your turn to solo.
At the other end of the spectrum, the space in the mids doesn't offer much to detract from bad technique or note choice. What you are left with is very pure, tonally, which works perfectly for someone with Doc's technique. It reminds me of a flat track motorcycle, like a Harley XR750 – no brakes to help back away from mistakes, but no unnecessary components to get between you and the finish line, either. The Doc Watson Signature is certainly better appointed than the nofrills XR, but its responsiveness to operator input is in the same league.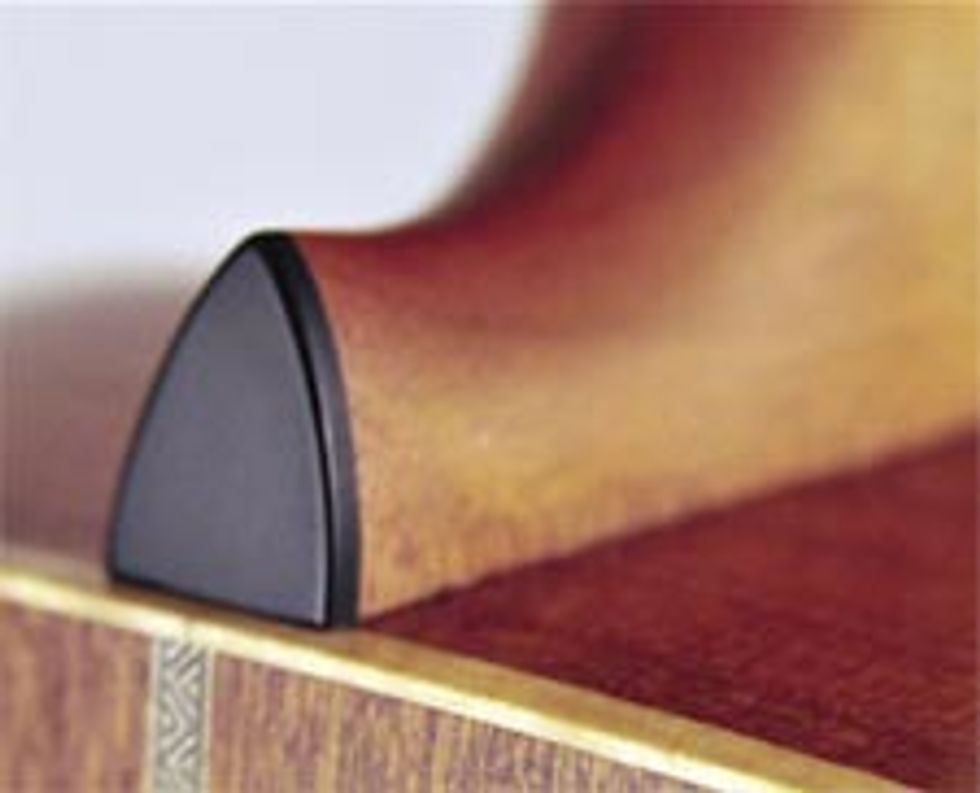 Now, here''s where the looking into the future part comes into play – throughout the review process I would find myself going back and forth between simply liking the Gallagher and getting lost in it in a manner beyond the typical thisguitar- isn't-set-up-exactly-the-way-I-like and that tightness so often found in new – particularly high-end – acoustics. I would vacillate between thinking the Gallagher had phenomenal note separation one minute and that it was a little dull and dry the next. This thing has a ton of volume, no doubt about it, but it was coming at me all wrong for a mahogany guitar, instead sounding like an early-fifties, Brazilian D-28 I once played. That guitar sounded great in a jam setting, but was a little on the harsh side when played solo. I wouldn't go so far to say that the Doc Watson is harsh, but it doesn't have the depth of midrange information I'm accustomed to with a mahogany dreadnought. Is this a good thing or a bad thing? I dunno, it all depends on what you're looking for.
You know that old saw used to describe every pre-war Martin since the mid-eighties – that each one is invariably a "cannon?" Well, the Doc Watson isn't a cannon. Instead, think of it as a sniper rifle, able to lay low until the firepower is needed. And you damn well better know what you're doing or it will hand your ass to you quicker than an XR ever could. Mind you, this little pearl of "wisdom" is coming from a man with his ankle held together with titanium pins, so take it for what it's worth.
But the Signature's precision comes with a caveat; none of that superfluous-ata-jam, midrange harmonic content that is so welcome on mic or when played solo is developed right now. At this very moment, this is a more than capable bluegrass machine that wouldn't disappoint even the most advanced pickers. In two years? My guess is the missing richness would be there in spades, but that's just my guess.
The Final Mojo
In the past couple of decades, guitar manufacturers have mastered the art making "opened-up" guitars, right from the factory. That isn't the Gallagher – it's old school and will open up correspondingly, through many notes played over many years. If you like what you hear now, I'd put money on the Signature becoming a really good friend on down the road, no matter how Mary-Kate and Ashley turned out.
Buy if...
you''re a flatpicker looking for a long-term relationship.
Skip if...
you''re still on the Windham Hill tip.
Rating...
 
Our expert has stated his case, now we want to hear yours. Share your comments and ratings below.