Introducing new members of our team
In my olfactory opinion, there's no scent sweeter or more viscerally engaging than sawdust with a faint harmonic of nitrocellulose. Nothing sets my pulse racing faster than a good French polishing. All kidding aside, guitars become extensions of a player's body. They're extra appendages that our minds can use to communicate things that there are simply no words for. Maybe that's why we get so attached to them, and our lust for more and different guitars can become almost frighteningly intense. Bottom line: acoustic or electric, tone is tone, and gear is gear… lovely, sweet-smelling, shiny gear.

For those of you who are scratching your heads thinking, Who are you and what are you doing here?, I'm PG's new Managing Editor. I've been writing freelance for PG since 2007, but came on board full time in March, and it's been a blast. Having the otherwise unmarketable skill set of "guitar player who can write," it's a piece of luck I sometimes feel I barely deserve.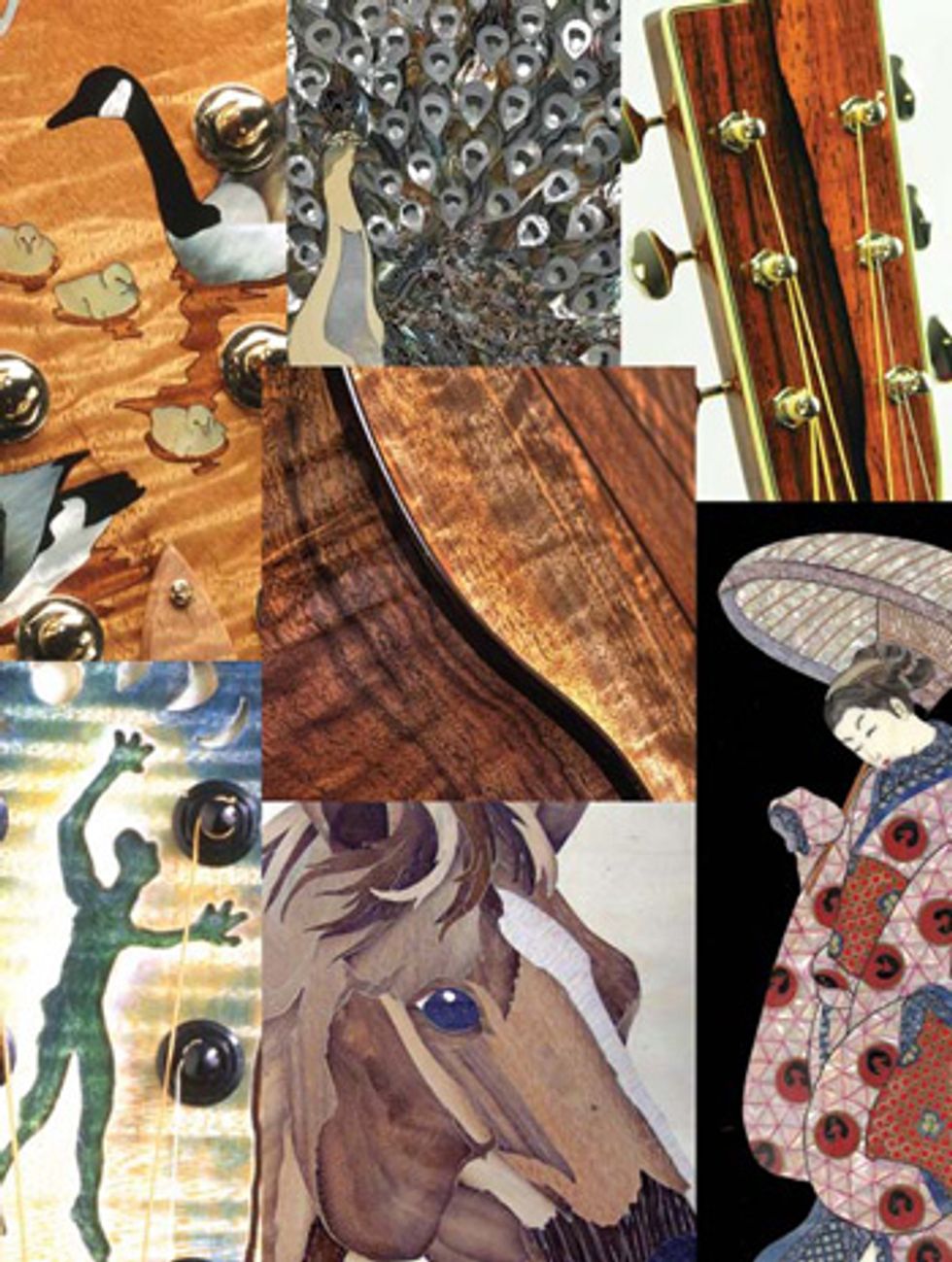 I'm particularly excited about this issue, our annual acoustic issue, because my lifelong relentless pursuit has been of the acoustic variety. It started when I was three years old: my folks let me stay up late to watch the Smothers Brothers one night, and I saw a guy with a guitar—it very well could have been Tommy Smothers himself, or Mason Williams, or Glen Campbell, I honestly can't remember. But I do remember the crux of that moment, seeing that glorious shining object in somebody's hands and knowing from the depth of my heart that my future lay thataway. Dad came home a few days later with a ukulele for me, but that didn't satisfy my need for steel. As soon as my big brother got his spanking new Gibson J-45, I was sneaking it from his room, laying it flat on the couch and wrapping my tiny hands around it, trying to play along with records from John Hartford to Loggins and Messina. Besides Big Bird, Bert and Ernie, there was Doc and Merle— and Crosby, Stills, Nash and Young.

As you turn the pages this month, you'll find something of a love song to acoustic guitars. You'll meet five artists who devote their lives to making guitars even more stunning through the arts of inlay and marquetry; you'll meet Linda Manzer, who has created some of the most famous guitars in the golden era of lutherie; and you'll go with us on a fact-finding mission to the new frontiers of acoustic tone, to discover the sonic opportunities that await those who aren't afraid to try guitars made of woods they've never heard of and possibly can't pronounce. We also scored some time with the Ambassador of Bluegrass, Ricky Skaggs, and the ever-astounding Peppino D'Agostino.

We got an interesting variety of guitars to review: one from a famous acoustic builder who has recently started making stunning electrics, two beauties from two old friends, and one from the other side of the planet with almost otherworldly tone. We're even taking a look at an acoustic bass guitar, a first in these pages.

Another cause for excitement is getting to introduce you to some new friends. Jane Miller joins us this month as a jazz guitar columnist with "The Jazz Box." She's been on the faculty of the guitar program at Berklee College in Boston for 15 years, and is currently gigging and recording with her trio, the Jane Miller Group. We're excited to welcome her on board with her first column, "A Bargain Chord." Pat Smith has already been generating some buzz for us on premierguitar.com with his video reviews, in large part because you are as blown away by his stunning chops as we are (not to mention his talent for inventing words: transistoriness, anyone?). He's also an incredibly knowledgeable fellow regarding virtually all things guitar, and we're pleased to add him to our column rotation with "Eclectic Guitar." This month he's introducing some of the tricks that made Lenny Breau such a legend. He kindly helped with some of the heavy lifting for this issue, too, including our seven-deep Soundhole Pickup Roundup.

Check out premierguitar.com for some more acoustic and electric goodies in June and July as well, including PG's exclusive look at Santa Cruz's new 1934 D, made from 80 year-old Brazilian rosewood.

Be sure to grab your favorite beverage because we've prepared a feast to whet your acoustic appetite like never before—and the last thing we want is for you to dehydrate from drooling.

Gayla Drake Paul
Managing Editor
gayla@premierguitar.com
877.704.4327