Big tones for big rooms takes big gear. The Grammy-winning guitar-and-bass team of Jake and Sam Kiszka gives us a tour of their on- and offstage rigs.
Few rock bands have made a bigger splash over the past five years than Greta Van Fleet. Since their first full-length, From the Fires, won a Grammy for Best Rock Album, Jake and Sam Kiszka have constantly dug deeper to expand their band's sonic scope. GVF's latest, The Battle at Garden's Gate, is packed with deep, nuanced sounds that all need to be created live by a classic rock-trio lineup with an amazing singer.
The guitar-and-bass-playing team of brothers showed PG the gear they use to make it happen, at a recent tour stop at the FirstBank Amphitheater in Franklin, Tennessee. And special thanks to Greta Van Fleet's tech Bryan Manley for helping with the details.
[Brought to you by D'Addario XPND Pedalboard: https://www.daddario.com/XPNDRR]
Jake Kiszka's No. 1
Jake's top dog hasn't changed from the band's first Rig Rundown in 2018. What is different about this guitar is that the crack around the control cavity he showed us then has been repaired, so duct tape is no longer this 1961 Gibson Les Paul's sole mod. (By the way, the SG name was adopted for this model in 1963.) Note the old-school sideways Vibrola whammy bar.
The Understudy
As a backup, Jake purchased a second all-stock 1961 Gibson Les Paul that has negligible signs of road wear or abuse.
Triple-Gainer
The updated whammy is the giveaway that the new, third Les Paul/SG you're looking at is a 1962 reissue. Jake uses Cleartone .010–.046 strings on all his electrics, plus Dunlop .60 mm picks and brass slides.
The Workhorse
Jake's main acoustic is a Gibson J-45 from the Bozeman, Montana, custom shop—a limited edition tobacco burst. This classic model has been a favorite for working musicians since back when Dylan hadn't plugged in yet.
High Flyer
His backup acoustic is a recent-year Gibson Hummingbird. This model was Gibson's first square-shouldered dreadnought, and debuted in 1960.
You Can See Us...
Onstage, Jake has a Marshall JCM800 and two matching 4x12 cabs, plus a vintage Selmer Zodiac Twin 30 amp that was once owned by Guns N' Roses' Richard Fortus. Looks good, sounds good!
...But Not Us
Onstage, Jake has a Marshall JCM800 and two matching 4x12 cabs, plus a vintage Selmer Zodiac Twin 30 amp that was once owned by Guns N' Roses' Richard Fortus. Looks good, sounds good!
The Keys to the Kingdom, Pt. 1
Here's where Jake keeps his Marshall Astorias set.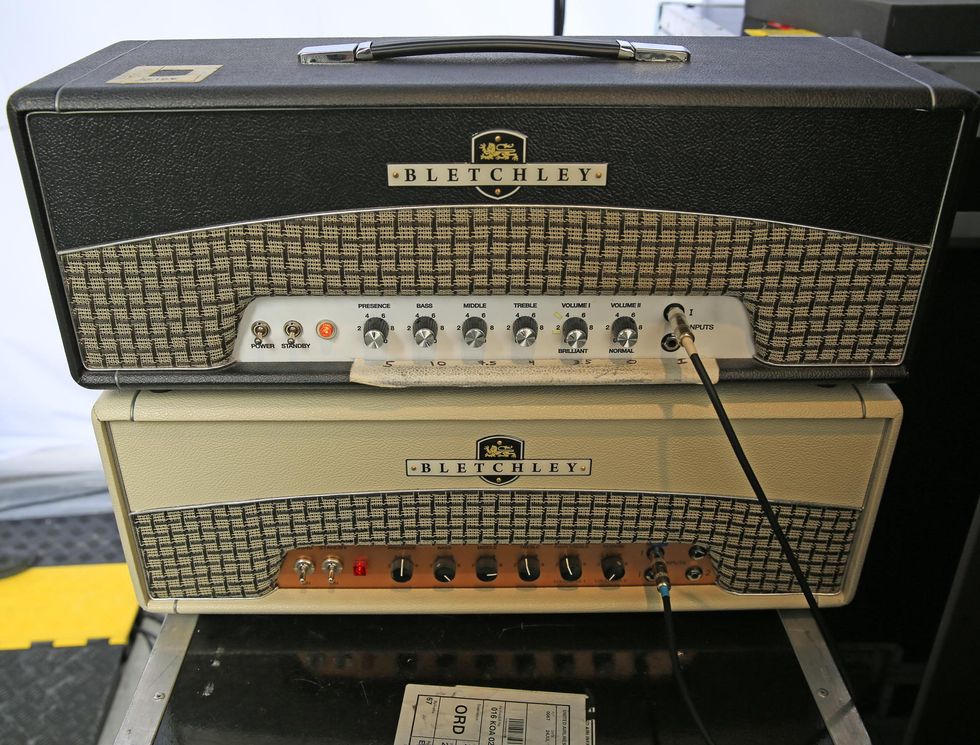 And zoom in to see how his Bletchley amps are dialed.
The Big Bad 'Board
First stop is a Dunlop Cry Baby wah wired to pan a wide sweep in stereo, in the PA and monitors. After that, an RJM Music Technology Mastermind GT controls the routing for all effects.
The Drawer-bridge
The bulk of the effects Jake needs to recreate his catalog of sounds live in three drawers. In the fullest, there are two TC Electronic Flashbacks, a Danelectro Back Talk, a EHX Mel9, a Jext Telez Range Van Lord, and a EXH Micro POG—all powered by an MXR Iso-Brick.
Inside Drawer Two Is...
The next drawer down includes an Electro-Harmonix Holy Grail, an MXR Micro Amp, a Fractal Audio FM3 Amp Modeler/FX Processor, and an MXR Iso-Brick.
Acoustic Doesn't Mean Unplugged
The final drawer is dedicated to acoustic effects—MXR Reverb, another EHX Holy Grail reverb, and a Line 6 HX Stomp.
Sam Kiszka's Green Hybrid
Sam Kiszka's main axe is still his green Fender P bass with a Jazz bass neck. This bass stays strung with D'Addario flatwounds, .050–.105.
Plus One-Half
Fender built Sam a bass aiming to give him the same feel as his No. 1. This black P also features a Jazz bass neck, and it's tuned up a half step. For that higher tuning, the D'Addario flatwounds are a bit lighter: .045–.100.
And Plus One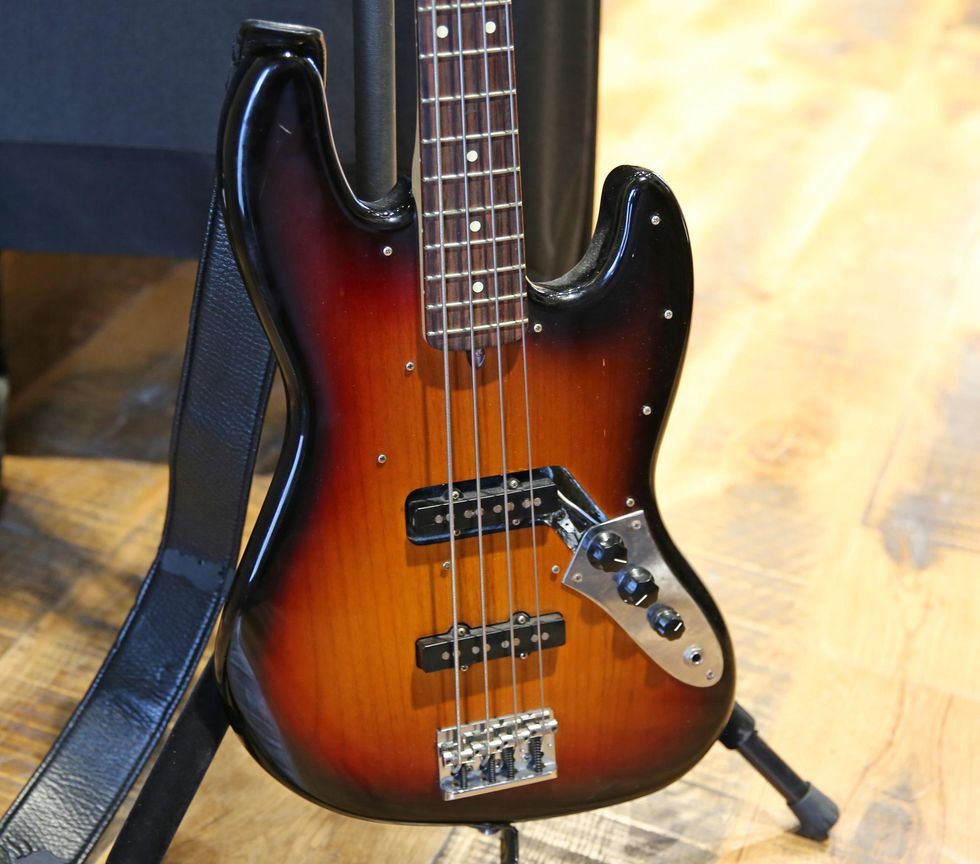 As a backup, Sam tours with this 'burst finish Fender Jazz bass, in standard tuning, and strung with D'Addario flatwound .050–.105s.
Ready to Rumble
Sam thinks two heads are better than one. So here's his Fender Super Bassman, for starters. It's 300 watts and comes loaded with four 12AX7s and six 6550 power tubes. The Super Bassman hits a matching Fender Bassman 810 Neo 8x10 bass cabinet.
Here Comes the Sunn
His other head is a classic: a vintage Sunn 2000S, with a potential total of 280 watts. It has a solid-state rectifier and four 6550 tubes. The 2000S runs into a vintage Sunn 2x15 cab.
Stage Dressing
Onstage, Sam stands in front of a trio of cool-looking Acoustic cabs and, when fully set up, an Acoustic 361 head. Currently, they're not actually being played through for shows.
Personal Effects
Down on the floor, Sam runs a Neo Instruments Mini Vent II rotary pedal, a Mooer Tender Octaver, and a TC Electronic PolyTune powered with an MXR Mini Iso-Brick.
All Keyed Up
Sam spends almost half the show on keyboards, running bass pedals with his feet. The pedal rig's a Hammond XPK-200GL.
The Right Spin
That Hammond runs through a Leslie 122 rotary speaker—perfect for classic '60s and '70s rock tones.
The keyboard rig is completed by a Mellotron M4000D Digital Mellotron on top of a super-versatile Nord Stage 3 keyboard. Down below there's another set of bass pedals, so he can make the bottom rumble from either keyboard deck.