Photo by Brad Elligood
The stripped-down production of the blues-rocker's latest captures his evolving mastery as an improviser on road-tested originals and Delta blues and jazz classics.
"We're always in a state of becoming," says blues-rock guitarist JD Simo. And his new album, Songs From the House of Grease, contains five tracks that spotlight his unrestrained, rock-informed improvisation, gritty vocals, and gristly slide guitar, along with a sense of emergence. "There's probably hints of Ry Cooder and Bill Frisell, just because they're such big influences," he shares. "But it's more natural than anything that I've done thus far, because every year that goes by I'm that much more comfortable with myself and whatever I can do to trick myself into not overthinking—which, in this case, was incredibly fortuitous."
The evolution of Simo, who's worked with Jack White, Beyoncé, Phil Lesh, and Luther Dickinson, and who contributed to the Grammy-nominated soundtrack of Baz Luhrmann's Elvis, stands in unironic juxtaposition with the fact that three of the tracks on the album are covers. Most notably, he applies a slightly dirtier, accentuated approach to John Coltrane's iconic "Afro Blue"—a task he didn't take lightly (more on that later). Then there's the propulsive, blistering Mississippi Fred McDowell tune "Mortgage on My Soul" and Blind Alfred Reed's raw, stirring "How Can a Poor Man Stand Such Times and Live." Fitting comfortably within that collection are Simo's originals, "Missy Strut" and the album-closing "Higher Plane Pt 1 & Pt 2."
When Simo and his band, whose current lineup includes bassist Todd Bolden and drummer Adam Abrashoff, had a break in tour dates in June 2022, he had the idea to put some recordings together inspired by what the group had been playing on the road, but not yet released. "I said to Todd and Adam, 'Hey come over, we'll record a couple of these things, and we'll figure out what to do with it after the fact.'" The entirety of the record was recorded in a day-and-a-half at his House of Grease home studio in Nashville, and Simo says the band didn't really play any of the tunes more than once. "It was very fast; not much thought."
Missy's Strut
At the time, he imagined the recordings would be made into an EP, or maybe put out as a vinyl-only release. But when he presented the end product to his record label, they told him, "This is your next record."
"The last couple of records I've made, there was a plan, and this was not that at all," Simo elaborates. "It was just a live document of awesome tunes that I enjoy playing. It was very organic. I'm very pleased with the performances, because it's just a live record with a lot of focus on the playing. There's really no production at all."
Songs From the House of Grease is Simo's fourth album as a solo artist. (He's also recorded three with his psych-rock group, SIMO.) He says of this one, "I feel like there's much more focus on my actual guitar, and my prowess as an improviser. On the other records, my guitar playing certainly has played a part, but on this one, it's the main focal point."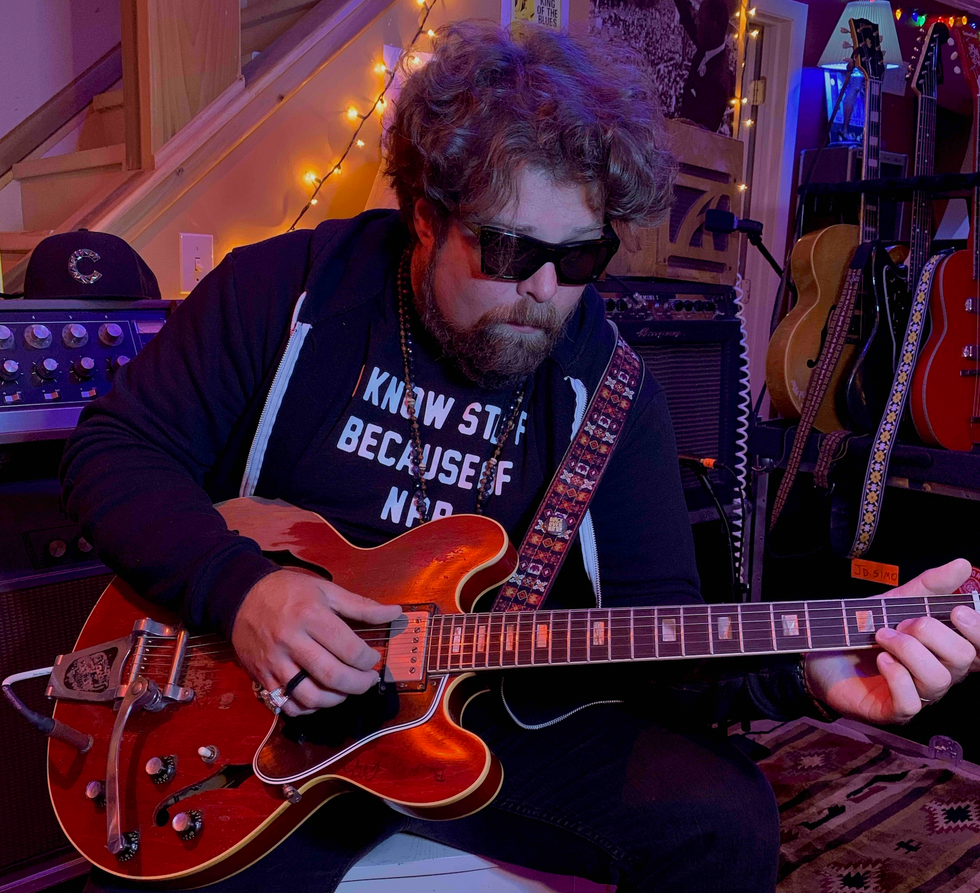 Simo plays his 1962 ES-335 in the depths of his House of Grease studio in Nashville. As the title of the band's new album alludes, it was recorded there.
Simo engineered the record himself. He used a splitter to record his guitar through both a '65 Fender Deluxe Reverb and a 1949 Alamo Model 3, using old Electro-Voice 666 mics. "The mic of the devil!" he jokes. "They're kind of dark, and it's easy for me to get a good sound with those on guitars." The bass was recorded direct through an old Motown DI with '60s transformers. But his minimalist approach shone most while recording drums.
"Guitarists will be probably chagrined to hear me say that I actually am not as focused on my own sound when I'm engineering," he shares. "I'm much more focused on drums and enjoy drum sounds way more than guitar sounds. More than part of the sound of this record is my use of room mics. With me, drums are usually two or three channels at the most … very much in the Daptones or jazz world school of engineering."
That "jazz world" style was serendipitous for the recording of "Afro Blue," a hallowed selection from the Coltrane catalog, originally composed by Mongo Santamaria and recorded by Coltrane in 1963. "If I'd thought about it a little harder, I probably would have been more insecure about it," says Simo. "I was hesitant to do it, but I'm really glad that we did." On "Afro Blue," the guitarist carefully and masterfully places some brazen yet lyrical, blues-tinged fluidity in the context of an otherwise bristling, tonally rugged record, creating a fresh example of how classic jazz and blues can thrive in concord.
Simo and his band recorded his new album in a day-and-a-half, only playing each of its five tunes once. "It was very fast; not much thought," he relates.
When it comes to fueling the evolution of his improvisatory abilities, Simo explains, "There's a diligence of always feeding your harmonic and technical ability, but not in a musical setting. You spend as much time possible, on your own, trying to continue to add words to your vocabulary, and how to use those words, so to speak, so that when you get into a musical setting you can just have your conversation and not be encumbered. And you start off small, just like when you're talking to somebody, with small punctuation … and then you just let it naturally build until it climaxes. That's the best I can describe it.
"The true art of it is to let go and have it just be that moment in time," he elaborates. "'Cause when you're truly engaged in it, you can't have other thoughts. There's this suspended time feeling when it's really great, and that's really addictive. If I don't have it for a few days, I crave it."
On Songs From the House of Grease, the main and only vehicle for satisfying that addiction was his Danocaster, a T-style fashioned by Nashville-based luthier Dan Strain of Danocaster Guitars. The guitar is outfitted with a '62 Gibson ES-335 humbucker neck pickup and a '56 Telecaster bridge pickup. Simo found it while visiting Strain at his home. It was also Strain's personal guitar. "I really fell in love with it. It's a pure guitar; it's kind of a magic instrument," says Simo. He purchased it before the House of Grease sessions. Among the many other guitars he owns are a few more favorites: a 1952 Gibson ES-5, a 1960 Gibson J-50 with a pickup made by California-based Galletta Guitars, and a '60s refin Fender Jazzmaster with a Wade Cofer Valco pickup in the bridge and gold-foil in the neck.
Simo on playing: "When you're truly engaged in it, you can't have other thoughts. There's this suspended time feeling when it's really great, and that's really addictive. If I don't have it for a few days, I crave it."
Photo by Adam Abrashoff
Simo recalls when he fell in love with guitar with perfect clarity: "It was seeing Elvis on television when I was 4, and seeing Scotty Moore play guitar." Since he was born in 1985, and Elvis died eight years earlier, it was obviously a rebroadcast or historic footage, but it set him afire, nonetheless.
That experience made his work on the film Elvis all that more exciting. "So much of the music that is encapsulated in the movie is a big part of my musical makeup from when I was very young," he shares. "It was just wonderful. It comingled a lot, because it was just, like, wow, this is a trippy thing to be playing something that I learned as a child."
But it was really a variety of influences that laid the foundation for his musical upbringing. After seeing Elvis and Scotty, "I became obsessed with '50s rock 'n' roll, whether it was Chuck Berry, Fats Domino, Bill Haley, or Buddy Holly." Then, growing up in Chicago in the late '80s and early '90s, he heard Red Hot Chili Peppers, Pearl Jam, Nirvana, and Dinosaur Jr. on Windy City radio station WXRT.
JD Simo's Gear
JD Simo specializes in timeless, classic guitar tones and compositions that resonate with his wide knowledge of electric 6-string history.
Photo by Brad Elligood
Guitars
Danocaster
1952 Gibson ES-5
1960 Gibson J-50
1962 Gibson ES-335
'60s refin Fender Jazzmaster
'60s Kay electric mandolin
Amps
1965 Fender Deluxe Reverb
1949 Alamo Model 3
Headstrong Lil King Reverb
Effects
Dominion Fuzz
Electro-Harmonix Freeze Sound Retainer
Strymon El Capistan dTape Echo
'70s Crybaby wah
Mythos Argo Octave Fuzz
J. Rockett Archer Ikon
Strings and Picks
Stringjoy Pure Nickel Broadways (.010–.042, for standard tuning)
Blue Chip TD55s
Divine Noise Cables
The third element? "I saw The Blues Brothers and I was just really taken, in particular, with Steve Cropper and [Donald] 'Duck' Dunn. And, of course, John Lee Hooker was in that movie. All of those things fanned out into a relatively big family tree of music really quickly."
Simo began playing with local, professional musicians—most of them decades older than him—when he was around 9. "No one I grew up with played music. I was the only kid at my school that was into music," he says. It wasn't until he moved to Nashville, at 21, that he started playing with people his own age. "It was wonderful. I was like, 'Where have you all been? Jesus.'"
In the 17 years since, he's seen himself transform as both a person and a musician. "In essence, just as a human being, I've become a lot chiller, more relaxed, and much more comfortable in my own skin. My playing has sort of mirrored my personal path in that regard. It's been to get to a point where, now, I really enjoy every minute that I'm making music. Or try to, at least. 'Cause for years and years, I thought I was enjoying myself, but I was really chasing manic stimulation. Now, I've sort of centered into a place where there's real joy, and it's just so fun.
"In all honesty, I've never had a regular job," he continues. "I certainly don't come from money, and I've had some really difficult times in my life. But at this point, with a wife and a young child, I just want to keep doing what I'm doing. If I can be lucky enough to do that for another 30 or 40 years," he laughs, "man, I'll have beat the system."
JD Simo - Higher Plane - 8/26/22 Orpheum Theatre - Flagstaff, AZ
Performing live with his trio, JD Simo exhibits his intuitive playing and bristling tone on one of the tracks from Songs From the House of Grease, "Higher Plane."