Australia's biggest metalcore export shares how a streamlined setup of signature ESP guitars and Kemper Profilers give the band a freer platform for high-energy performances.
Parkway Drive, from Byron Bay, Australia, formed in 2003 with a firm grasp and appreciation for American hardcore music. They quickly put out a split EP with pit-provoking countrymen I Killed the Prom Queen before releasing their own EP, Don't Close Your Eyes, in 2004. Those releases endeared them to American hardcore heavies touring internationally (Shadows Fall, Every Time I Die, Bleeding Through) and put them on many of their Aussie bills. They traveled to the States to record with metalcore poster boy Killswitch Engage's Adam Dutkiewicz, who produced 2005's Killing with a Smile and 2007's Horizons.
They graduated their sound with a wider, melodic attack for their next releases, working alongside Joe Barresi (2010's Deep Blue) and Matt Hyde (2012's Atlas). 2015's Ire saw the band lean more into the middle of the traditional metal lane, garnering the band No. 1 slots in both the ARIA and Billboard US Top Hard Rock Albums. 2018's Reverence balanced between the band's classic metalcore sound, iconic British metal à la Priest and Maiden, and the mass appeal of The Black Album, putting them back atop the ARIA chart and No. 2 on Billboard US Top Hard Rock Albums.
Those two records catapulted them to international headlining status, earning them top billing on the 30th anniversary of Wacken Open Air in 2019. The throwback power and continued evolution marks last year's Darker Still further establishing them as global gainsters.
The only downside to their rise is that it still hasn't eclipsed their collective first love. As guitarist Jeff Ling said of him and his bandmates during our Rig Rundown, "We're all crazy surfers. If you put us on the spot and said, 'Choose music or surfing,"…. Sorry fans, it's over, the music is done, out the window. We're all surfers that happen to play music [laughs]." Lucky for all of us, that ultimatum hasn't been dealt, so let the good times roll (and rock).
Ahead of Parkway Drive's sold-out show at Nashville's Marathon Music Works, Ling saddles up to talk gear with PG's Perry Bean. Ling details both his and bandmate Luke Kilpatrick's signature ESPs (Luke was unable to hang due to suffering from surfer's ear) and why the EMG 81 is the pinnacle of PWD's guitar tone, and explains how downsizing their rigs with a Kemper leveled up their playing experience and connection with the crowd.
Brought to you by D'Addario Nexxus 360 Tuner.
Signature Status
After a longtime friendship was solidified, Parkway Drive cofounding guitarist Jeff Ling and ESP took their relationship to the next level, creating this ESP E-II Jeff Ling JL-1 M-II signature model. Ling was floored by the invitation to work with the Japanese outfit. "For me, it was a wow, no-brainer moment because when I was younger, all my favorite bands were shredding away on ESPs. I couldn't believe I got the opportunity, and it was a huge win."
The string-thru, neck-thru, double-cut dynamo is based on ESP's M-II silhouette and features an alder body. It has a 3-piece maple neck that's carved down to an extra thin "U" shape and is paired with a 24-fret ebony board. The satin-black bomber has a 25.5" scale length, Gotoh hardware (locking tuners and Tune-o-matic-style bridge), bone nut, and breathes hot fire thanks to a set of EMG pickups (81 and 60)—a Ling preference. Another bit of customization came at the request of having just a master volume knob.
This one rides in drop-B tuning and takes a custom set of Ernie Ball Skinny Top/Heavy Bottom strings, where the standard .052 E string is replaced with a .060.
Black Beauty
Ling goes to battle with this ESP LTD EC-1000 Evertune for the band's most recent rippers off 2022's Darker Still, which are tuned to E standard. The stock single-cut arrived with a set of Seymour Duncan humbuckers (JB and Jazz), but he's opted for his favored EMG 60 in the neck and an experiment with the Fishman Fluence Modern humbucker in the bridge slot.
Lucky Luke
The band's other cofounding guitarist Luke Kilpatrick found himself in a similar situation to bandmate Ling—what do you do to an instrument you already love? In the case of Kilpatrick, you take an already favored Horizon recipe and give it some zest. Most of the ingredients on his E-II namesake are shared by other Horizons—a mahogany body with a maple top, 25.5" scale length, 3-piece maple neck with thru construction, ebony fretboard, Gotoh hardware, and a bone nut—but his special spiciness shows up in the pickups (EMG 81 and 60), 12th fret inlay (PWD logo), and headstock (pulled from ESP's Original Series FRX design).
Aussie Articulation
Darker Still requires E standard-tuned guitars, so Kilpatrick hits the stage with the above ESP LTD EC-1000S Fluence. It features a mahogany body with set-thru construction, a 3-piece mahogany neck, Macassar ebony fretboard, TonePros Locking Tune-o-matic-style bridge and tailpiece, and a set of active Fishman Fluence Modern humbuckers (ceramic in the bridge and alnico in the neck).
Cutting Down with Kemper
"We've found in the past that the more we incorporate with tube amps, heaps of pedals, guitar changes, and chords going everywhere, the more trouble we had. One piece of the puzzle can take down the whole rig, and then you're miming while a tech tries to figure everything out. You're just screwed, so our new mentality is that we're better off simplifying our setups for the confidence you'll get knowing that there's a 99.99-percent chance your shit won't fuck up. And if it does, you're only a few switches away from a fix." The nexus of their streamlined solution is a Kemper Profiler Rack for each guitar-playing member (including bassist Jia O'Connor). Both Kilpatrick and Ling upgraded their Kempers with the GGD All The Gains plugin. Luke deals his dirt through the framework of a 50-watt EVH 5150III, while Ling clobbers crowds with patches built around a Friedman BE-100. The band rocks untethered thanks to Sennheiser EW 100 G4-Ci1 Wireless units.
The modern Southern rockers recently played Nashville's Ryman Auditorium, and guitarists Charlie Starr and Paul Jackson displayed a bevy of gear every bit as hardworking as these road dogs.
Right now, they're in Europe, but Atlanta-based rockers with a distinctly Southern musical accent, Blackberry Smoke, smoked Nashville's Ryman Auditorium for two nights in February before jumping the pond.
Their latest album, You Hear Georgia, was produced by Dave Cobb in Nashville, and hit the top of the Billboard Americana/Folk chart when it was released in mid-2021. PG's John Bohlinger caught up with guitarists Charlie Starr and Paul Jackson before their sold-out show at the Ryman to run down their ever-expanding universe of gear.
Brought to you by D'Addario XS Strings.
Battered, Not Fried
This 1956 Gibson Les Paul Junior was professionally refinished in the '70s, but Charlie Starr has put some serious miles on this one-pickup wonder. The battered badass with a dog ear P-90 and all his electrics are strung with D'Addario XL Nickel Wound strings, .010–.046. He uses InTuneGP Heavy picks and a ceramic Charlie Starr Signature Osanippa Creek Slide.
Like Ernest Tubb and other guitarists from the classic annals of entertainment, Starr has a greeting on the back of his '56 Junior for the fans.
Barnburner
For some semi-hollow tone and feel, Starr goes with his stock 1964 Gibson ES-335 in Cherry Red with a Bigsby. The guitar belonged to a friend's grandfather, and when Starr acquired it, he says, "It had gouges at the C, G, and D," positioning his hand over the open chord shapes. He had it re-fretted by Stan Williams in Georgia, who told Starr, "This guitar looks like it's been sitting outside in a barn since 1964. And I don't know how the dude was able to get a bird to shit inside that f-hole."
Physical Advantage
Starr maintains that this 1965 Fender Esquire in factory black, like his other single pickup guitars, sounds larger than most as there are less magnets interfering with the string vibration. He adds, "I'm told that it's a physics thing. And I'm a physicist, so I subscribe to that theory."
The Rest of the Best
Here are the Starr's other main stage rides (clockwise from the top left): a 1956 Gibson Les Paul Jr., a 1963 Fender Esquire, a Fender American Nashville B-Bender Telecaster, and a 1964 Gibson SG Jr..
Tone Trifecta
"This is on all the time," Starr says of his Echopark Vibramatic 23, which he pairs with a tall cab. "It's basically a tweed Deluxe, and it adds that 6V6 creamy sweetness all the time." The maker of Blackberry Smoke's 50-watt Germino heads, Greg Germino, personally recommended this Germino Lead 55LV (left) to Starr, and is paired with a 4x12 cab. And the other Germino is a Master Model 50.
Charlie Starr's Pedalboard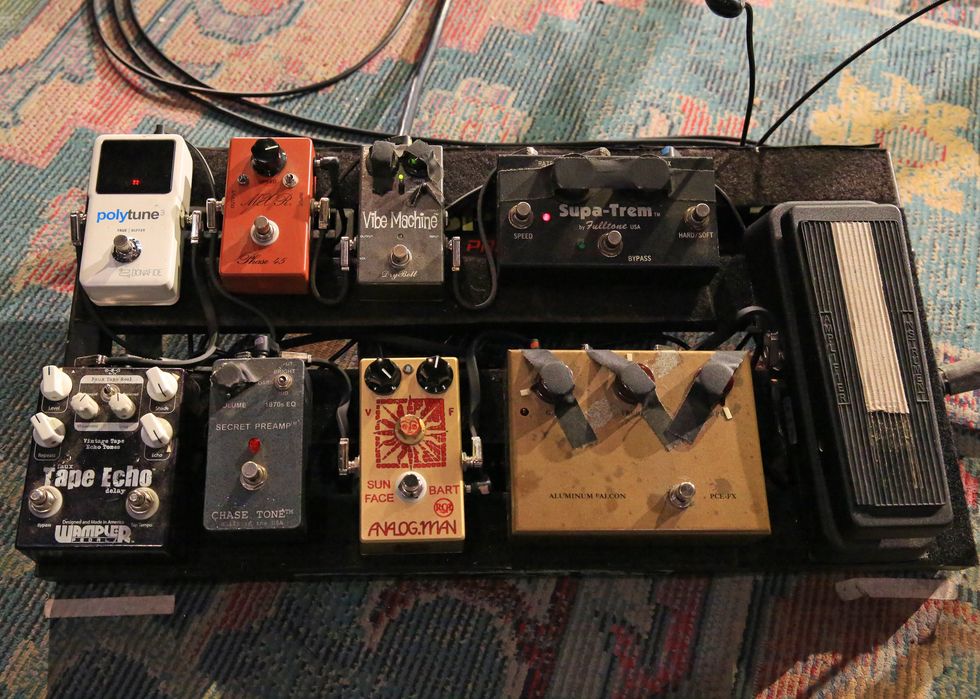 Starr's pedalboard features a Cry Baby Wah, a PCE-FX Aluminum Falcon Klon clone, an Analog Man Sun Face, Chase Tone Secret Preamp—"a preamp that accidentally made everyone's signal a little sweeter,"—Wampler Faux Tape Echo, Fulltone Supa-Trem, DryBell Vibe Machine, Analog Man-modded MXR Phase 45, and a Polytune 3. XTS XAct Tone Solutions supplies the juice. Starr tapes a few of the pedals' knobs to make sure his settings don't go missing in action.
Paul Jackson's Ol' Reliable
Paul Jackson's number one is his 1979 Les Paul, which has been modded with a Seymour Duncan '59 neck pickup and a Pearly Gates bridge pickup. He says he got it at a Guitar Center in Atlanta about 18 years ago—it also sports Dickey Betts' autograph. Jackson strings this and all his electrics with D'Addario .010-.046s.
Black Magic
This black Gibson SG Standard—one of Jackson's pair of SGs—was a gift from Frank Hannon of the band Tesla, who signed the back of it.
Keep It Together
Jackson's Martin D-28 currently has gaffer tape holding down its binding.
Gibsons Galore
The other three touring staples for Jackson include a 1978 ES-335, a 40th Anniversary Les Paul Ebony 1991, and a 1998 Gibson SG Les Paul Custom Shop Historic.
De-Modded For Classic Tones
One of the two amps Jackson tours with is a pre-'85 Marshall JCM800 50-watt with a stock 4x12 cab. You'll see it has a sticker that says "Paul Jackson Mod"—he had it modded at one point, but later took it to Andrews Amp Lab in Atlanta to have them "turn it back into a Marshall." Along with the Marshall, Jackson's Vox AC30 is on "all the time."
Paul Jackson's Pedalboard
Jackson and Starr's pedalboards have more than a few things in common—Jackson's also equips his with a Cry Baby Wah, Wampler Faux Tape Echo, and a PCE-FX Aluminum Falcon Klon clone—although Jackson's is an Aluminum Falcon III. Other pedals on his board include a Radial Twin-City ABY Amp Switcher, JHS 3 Series Reverb, MXR EVH Phase 90, Way Huge Overrated Special Overdrive, and an Ibanez Mini Tube Screamer. Power comes from a Truetone power supply. Of the EVH Phaser, Jackson says, "If you don't know what you're doing, hit the phase pedal. nobody will ever know."