Photo by Pepe Gomes
The intrepid guitarist celebrates his long collaboration with master percussionist Zakir Hussain and reflects on the groundbreaking cross-cultural fusion group, his longest running ensemble, and their new studio record, This Moment.
A few years ago, John McLaughlin's career hung in the balance. Stricken with painful arthritis in his right hand, the famously dexterous and ambitious guitarist couldn't maintain his playing. So, he announced his retirement from live performing, offering a final tour in 2017. In Billboard, the guitarist glumly mused: "You know, musicians never die. They just decompose. So, I'm on my way." Though he went on to mention planned recording projects, he now says, "I thought, 'Time's up,' the guitar goes under the bed, and that's it. I'm out."
"It was not to be," he now says from his home in Monaco. McLaughlin found his remedy in the teachings of Dr. Joe Dispenza, an American chiropractor, teacher, and best-selling author. The guitarist tuned into Dispenza's YouTube videos and found "a wonderful technique that incorporates meditation" in lieu of medication. "Since I've been meditating since the 1960s," he explains, "I incorporated this technique every morning."
Within six to eight months, the pain of McLaughlin's arthritis was gone. "It's amazing," he says. "I still do it, except I do it not just to my hands, I do it to my whole body." By 2019, McLaughlin was back on the road, and the records kept coming, too. In 2020, he released Is That So?—co-led with vocalist Shankar Mahadevan and percussionist Zakir Hussain—and his pandemic effort, Liberation Time, came out in 2021.
"I could not believe what I was seeing, hearing. It was like on Star Trek where you'd be instantly teleported to another planet. Another universe. Molecules taken apart and put back together." —Bill Frisell on Shakti
McLaughlin has now turned his renewed abilities to his longest running ensemble, Shakti, whose fusion of North and South Indian classical styles together with his intrepid guitar playing broke new ground in the '70s, helping to create a template for cross-cultural collaborations. The band continue to stand in a class of their own. "About 18, 20 months ago," McLaughlin said this summer, "I wrote to everyone and said, 'Let's record something before it's too late.'"
Shakti looks much different than when he first assembled the ensemble as a vehicle to work with master percussionist Hussain. Together, they are the two remaining original members, and they are now joined by Mahadevan as well as violinist Ganesh Rajagopalan and percussionist Selvaganesh Vinayakram, who is the son of Vikku Vinayakram, the group's percussionist during the '70s.
Shakti has naturally evolved throughout their span, but the inventive, collaborative spirit of the ensemble remains. With the release of This Moment earlier this year, the guitarist is reflecting on the evolution of the ensemble.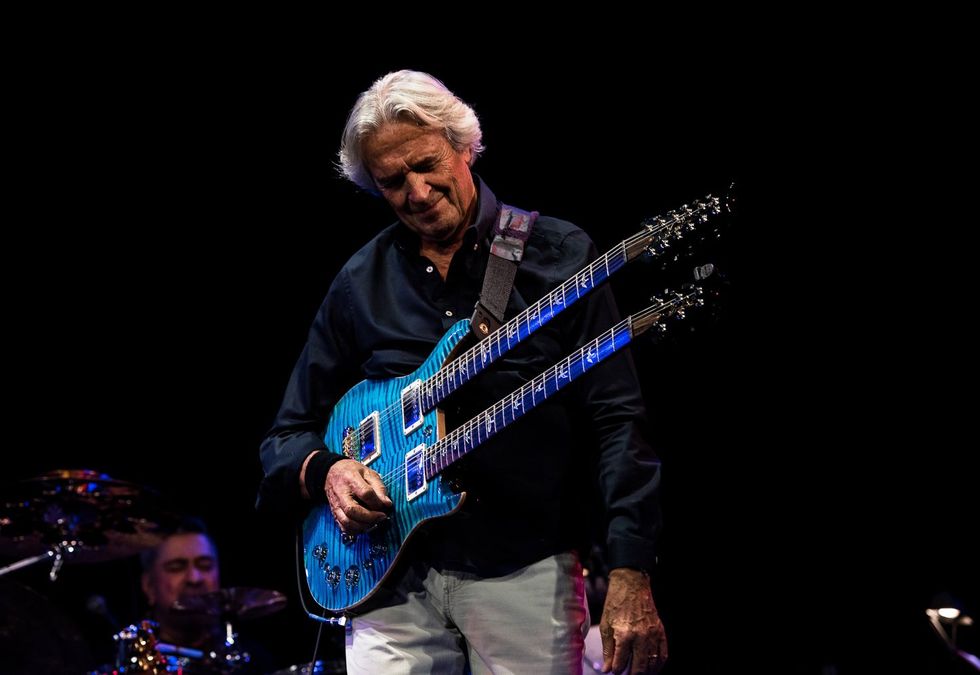 John McLaughlin with his doubleneck PRS on the 2017 tour that would not, in fact, be his last.
Photo by Alessio Belloni
 John McLaughlin's Gear
Guitars
PRS McCarty Violin model
Abraham Wechter nylon-string acoustic
Effects
Hermida Audio Zendrive 2
Sony DPS-M7
Seymour Duncan SFX-03 Twin Tube Classic

Strings & Picks
D'Addario strings
Jim Dunlop Jazz III Picks
First Run
McLaughlin says he became "enchanted" with Indian classical music in 1969. During this period, he was living in New York and playing with Miles Davis, and he began studying North Indian flute. "I don't play flute," he explains, "but it was really to learn some of the theory, some of the ragas, and to try to understand the rhythmic concepts that they used." That same year, he met Zakir Hussain, and the two musicians became friends.
It wasn't until 1972, though, that McLaughlin and Hussain would play together. During a visit with master sarod player Ali Akbar Khan at his school in Northern California where Hussain was teaching, the two had an auspicious impromptu musical meeting. "Being young and reckless," the guitarist recalls, "I just happened to have an acoustic guitar and Zakir had a tabla. After dinner, we decided to sit in front of the great Ali Akbar Khan and play something."
He continues, "Zakir Hussain is one of those rare musicians who are just instantly inspiring and are just masterly players. Within the first 10 seconds, I'm saying, 'I have to work with this guy somehow.'" When they were done, McLaughlin recalls that Hussain shared the feeling.
"I could not believe what I was seeing, hearing. It was like on Star Trek where you'd be instantly teleported to another planet. Another universe. Molecules taken apart and put back together." —Bill Frisell on Shakti
At this time, Mahavishnu Orchestra was on a creative hot streak—their conflagrant debut, TheInner Mounting Flame, was released in 1971, with the similarly scorching Birds of Fire to follow in 1973. Meanwhile, McLaughlin was studying the guitar-like South Indian veena at Wesleyan University, continuing to develop the vocabulary to converse with traditional musicians on his guitar. ("I'm not an Indian classical musician," he points out, "and I don't want to be an Indian classical musician. I'm a Western musician.") He was inspired to bring together South Indian violinist L. Shankar and a South Indian percussionist—initially Ramnad Raghavan—with both Hussain and himself, and the formula for Shakti was born. "This was the first time, in my experience," he explains, "that we had North Indian percussion and South Indian percussion together. The result was so marvelous."
Guitarist
Bill Frisell
, who was invited to open for Shakti on their 50th-anniversary tour this year, remembers the first time he heard the group while backstage before a gig in Denver, around 1975. A small black-and-white television was playing a PBS broadcast of a Shakti performance from Wesleyan. "Their first album hadn't come out yet," Frisell recalls. What he witnessed had no precedent.
Shakti in New York's Central Park in 2001, left to right: Zakir Hussain, U. Shrinivas, John McLaughlin, and Selvaganesh Vinayakram.
Photo by Ebet Roberts
Frisell remembers his reaction: "What was this?! I could not believe what I was seeing, hearing. It was like on Star Trek where you'd be instantly teleported to another planet. Another universe. Molecules taken apart and put back together. You find yourself in another world. A whole new world. John McLaughlin had already done this to me a few times before with Tony Williams, Miles, and the Mahavishnu Orchestra. Now this! Everything changes."
Over time, Frisell points out, the band's effect on him was profound, helping to inspire him to discover his own maverick voice. "A couple years later, I heard Shakti live for the first time at a concert in Boston. It was so overwhelming. There was a moment then where I thought I should stop playing. This was too much. Impossible. There's no way. This is too big."
Instead, he found a bigger message in the music. "I thought, 'I love music so much. Music is beautiful,'" he says. "Whatever I can do with whatever it is I've got, I'm going to try as best I can to make something out of it. Maybe I can't do what they are doing, but I'm going to find a way to do something. Music is big enough for everyone. Infinite. We all find our own way. Our own voice."
"That dang McLaughlin would certainly and regularly put all of us in our place." —Béla Fleck
John McLaughlin & Shakti "Joy" (Live Montreux 1976)
In 1976, the group released their debut, Shakti with John McLaughlin—now with South Indian percussionist Vikku Vinayakram—which to this day will test the limits of what an uninitiated listener might consider possible on an acoustic guitar. On the album, Shakti offers a dazzling display of rhythmic and melodic technicality that set them apart from their electric peers in the fusion scene.
"I can still remember hearing that first Shakti record and instantly feeling the connection to the music that I was getting involved into," reminisces Béla Fleck. The innovative banjo player and fellow Zakir Hussain collaborator was also tapped to join Shakti on their 50th-anniversary tour. "It was just such a shocking revelation that it could go in that direction. Everything about it had amazing personality, life, joy, and intensity."
Fleck, who has carved his own niche as a figurehead of acoustic fusion, recalls that Shakti's debut "seemed like an alternate world, but one somehow related to our burgeoning progressive bluegrass scene. I know it provided inspiration to many of my peers and heroes. But that dang McLaughlin would certainly and regularly put all of us in our place. No one could aspire to that level of ability and thought in our acoustic world!"
At the time of their debut, McLaughlin was using a large-bodied guitar built by legendary luthier Mark Whitebook, who also built instruments for artists such as James Taylor and Linda Ronstadt. By this point, he'd discontinued his veena study— "I don't have enough talent to master two instruments in one life," McLaughlin admits. "So, I went to my guru one day and I said I have to quit the veena [and focus on guitar] because that's how I eat, that's how I pay my rent, and I'm not able to handle both at once. And he was very understanding of that."
The veena, McLaughlin explains, "has giant frets with space underneath. The bending is marvelous." He sought to recreate that technique on an acoustic guitar with scalloped frets. After conferring with Ali Akbar Khan about adding drone strings to his instrument, McLaughlin and luthier Abraham Wechter, working for Gibson at the time, brought those ideas to life, creating a customized J-200 with scalloped frets and a set of seven drone strings underneath the main strings, which the guitarist played with a fingerpick he wore on his pinky.
While they've released a wealth of live recordings in the meantime, This Moment is Shakti's first studio recording since the late '70s.
That guitar can be heard on Shakti's subsequent pair of ambitious studio recordings, A Handful of Beauty and Natural Elements. If it seemed as though the group was just getting started, it sadly wasn't to last. "Around 1978, Vikku had to return to India to run the Academy of Percussion his father had founded," McLaughlin explains. "We finished our concert obligations with another South Indian percussionist, but we missed Vikku very much, and Shakti went to the back burner for a while."
Remember Shakti
While McLaughlin and Hussain continued to collaborate, it wasn't until the late '90s, when the percussionist received an invitation for the group to do a series of concerts, that Shakti returned. At some point, though, the guitarist had lent out his Whitebook and Wechter steel-strings. "When I called the people I'd loaned the Shakti guitars to," he regretfully recalls, "they both came back broken. So, here we have a tour coming up and the guitars were unplayable." (He adds, "I've given them away to people to hang on the wall. They're just decoration now. It's really a shame.")
Without either of his acoustic guitars from the earlier incarnation of the group, McLaughlin decided he would go electric. For this reinvigorated version of the group—which would be dubbed "Remember Shakti" on a series of live recordings, starting with 1999's self-titled release, though McLaughlin considers it all to be Shakti—he first called upon a Gibson ES-345 with a scalloped fretboard, though he used other guitars as well in this period.
Going electric helped usher in a new sound for the band. "What I wanted and what I got from the electric guitar was the sustain—to be able to play a chord and to hold," McLaughlin explains. He adds, "I'm the harmony department in the band, and I'm bending the rules because, basically, in Indian music, there's no harmony."
"I'm the harmony department in the band, and I'm bending the rules because basically, in Indian music, there's no harmony." —John McLaughlin
Remember Shakti - Live at Jazz a Vienne
In 1998, McLaughlin and Hussain invited electric mandolin virtuoso U. Shrinivas (often spelled Srinivas) to join Shakti. "I'd seen him when he was only 14 and he was already a killer," McLaughlin recalls. (By the time he joined the band, Shrinivas was in his late 20s.) He continues, "The electric guitar and electric mandolin work beautifully together. I was really happy about that. We had a sound together that really worked." Indeed, the two had a musical hookup so sympathetic that it can be easy to mistake one for the other on these recordings. Listen to the masterfully navigated high-paced musical twists and turns of "Maya," Shrinivas' composition from The Believer, to hear just how connected the ensemble had become.
In 2014, Shrinivas passed, and McLaughlin and his bandmates were distraught. Losing a member of the ensemble once again closed a chapter for the group. "We lost it for a while," he says.
Shakti 2023 (left to right): Zakir Hussain, Ganesh Rajagopalan, Shankar Mahadevan, John McLaughlin, and Selvaganesh Vinayakram.
Photo by Pepe Gomes
The Return
Now about a half century on, Shakti is back. McLaughlin explains that the band has always been geographically challenged—for the current lineup, Hussain is based in Northern California, vocalist Shankar Mahadevan in Northern India, violinist Ganesh Rajagopalan in Seattle, and percussionist Selvaganesh Vinayakram lives in South India. Getting everyone together simply became too difficult, which is why, he says, they haven't recorded a studio album since the '70s. But technology has caught up to their predicament, and the group was able to do a hybrid of live and remote sessions in order to create This Moment.
While the Shakti recordings of the 1970s were energetic, blazing sessions, the musical breathing room has continued to grow since the Remember Shakti period. That has much to do with the compositions, arrangements, and performances, but it's also easy, when comparing This Moment to the original recordings especially, to attribute that space in part to McLaughlin's long shift away from the plucky, percussive acoustic playing toward developing a softer electric tone.
McLaughlin has gone through many instruments over the course of his career—counting among them, in addition to his Shakti guitars, his iconic Gibson double-neck, a Gibson Johnny Smith, and a Wechter nylon-string. Most recently, he's been using a PRS. "I got my first PRS maybe 20 years ago from Paul. What a beautiful instrument," he remarks. McLaughlin owns several of Smith's guitars, but it's his black-gold McCarty Violin model he turns to most frequently. And it's that instrument that is primarily heard on
This Moment
.
PRS' new Private Stock John McLaughlin Limited Edition Signature Model features a maple top, mahogany back, hormigo neck, and African blackwood fretboard, plus some special electronic additions.
The builder is now paying tribute to McLaughlin with the Private Stock John McLaughlin Limited Edition Signature Model. Limited to just 200 instruments, it's an exquisite, detailed high-end solidbody. Featuring a maple top, mahogany back, hormigo neck, and African blackwood fretboard, the body has a high-gloss nitro finish, while the neck has only a clear grain filler. For electronics, Smith chose TCI pickups with volume and tone controls and a 3-way, plus two mini-toggles that act as high-pass filters.
"John McLaughlin is one of the geniuses of our business," says Smith. "He was at the forefront of inventing an entire genre of music called jazz rock. He's an extraordinary musician, guitarist, and songwriter. It's an honor to be involved with such a person."
As on much of his work in recent years, McLaughlin favors a soft, dark, and spacious, clean tone from his PRS for This Moment. On many of the songs—the driving multi-meter pulse of opener "Shrini's Dream," the waltz-like mid-tempo "Mohanam," and the bouncy "Las Palmas"—his simple diatonic chords create the center of gravity around which the ensemble work their magic. Don't dismay, we're still treated to plenty of high-speed McLaughlin picking throughout. But those moments give way to more sensitive ensemble interaction, which is at the forefront.
If the original trio of Shakti recordings at times feels as though the players were pushing each other to their breathtaking limits, then This Moment finds McLaughlin and Hussain warmly holding the door for each other and their collaborators. Tellingly, on "Bending the Rules," which finds McLaughlin taking a knotty solo, his most notable playing comes as he joins Mahadevan's expressive vocal melody, capturing the nuances in riveting unison.
"There's something profoundly joyful about Shakti and the spontaneity of it," McLaughlin shares as he considers the ensemble's long history. "This experience I had with Zakir in 1972 is still as valid today as it was 50 years ago. Which is, I think, the simple reason why Shakti is still together, although we've evolved and we're the only two original members."
When he talks about Shakti, McLaughlin repeatedly calls the members family and talks about their personal bond that extends as deeply as their musical one. Reflecting, he says, "Love, really, is what makes things work in the end, isn't it?" he says. "If the love is not there, especially in music, you might as well be a lawyer or an accountant."
YouTube It
Shakti performs an epic two-plus hour live set in Kolkata in January 2023, at the beginning of their 50th-anniversary celebrations, with a setlist culled from their entire history.