The Nashvillian's interstellar pop rock soars on the backs of a futuristic 12-string, a Gibson-Fender hybrid, and a "new" pedal that makes "old" sounds.
Aaron Lee Tasjan's metamorphosis from solid sideman (New York Dolls, Alberta Cross, Drivin' n' Cryin' and Everest) to a modernistic '70s-revivalist, psych-pop, songwriting frontman has been a thrilling transformation.
While making the musical transition from the shadows to the spotlight in the early 2010s, Tasjan left New York for slower-paced East Nashville. 2015's self-released debut In the Blazes was bouncy and buoyant like anything Newman or Nilsson put out. The following year New West signed him, and he dropped the humorous, charming, rootsy, alt-Americana Silver Tears.
Still mutating, still refining, 2018's Karma For Cheap psychedelically honors the music that first drew him to 6-strings—Beatles and the Heartbreakers. And 2021's Tasjan! Tasjan! Tasjan! mixes his tongue-in-cheek storytelling with '70s production sheen and spacy-pop jaunts. Needless to say, wherever Tasjan musically goes next, we're along for the ride.
In this episode, the good-vibes artist shows off some main rides—including a funky 12-string and a marriage between a Firebird and Telecaster—tells a heartwarming backstory on a sentimental 335, and shows how a modern pedal is the key to his vintage-sounding sonic disintegration.
[Brought to you by D'Addario Pro Plus Capos: https://www.daddario.com/ProPlusCapoRR]
Gorsuch 12-String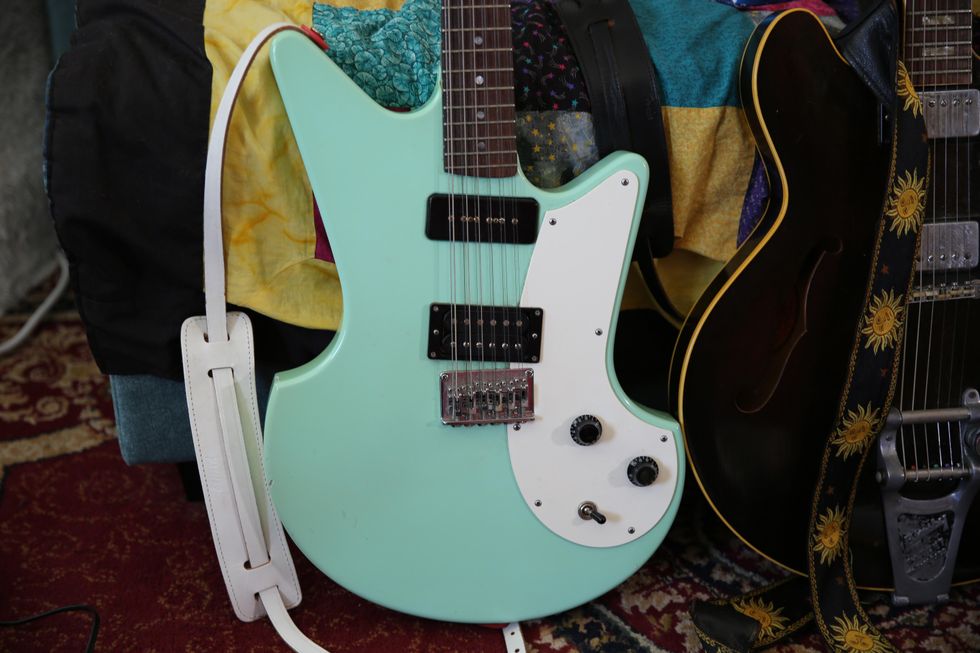 This space-age 12-string was built by luthier Scott Gorsuch who hails from Columbus, OH (one of ALT's former stomping grounds). Gorsuch specializes in modular doubleneck instruments that are secured by magnets. As you can see above, Tasjan has opted for the chambered, single-neck 12-string.
A hidden weapon on the 12 is the bridge humbucker that can be split, when the tone knob is down, unlocking single-coil chime and jangle. And as for the neck P-90, Aaron Lee loves throttling into a solo with it because it creates a unique grind and purr with single-note runs.
Gorsuch Headstock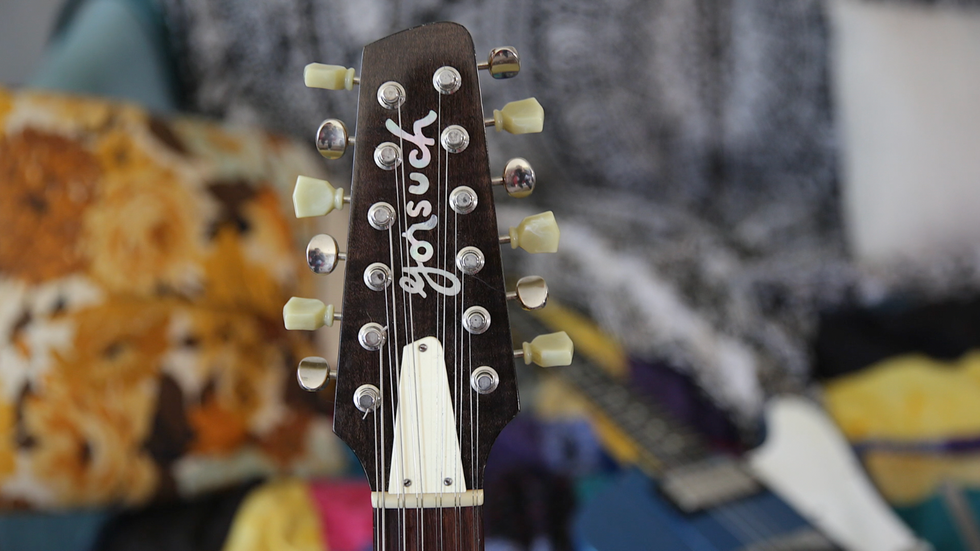 An oversight on the ingenuity of the 12's design might be the headstock utilizing two different style of tuning pegs. The Fender-and-Kluson-style keys allow for blind tuning (feeling for the key while talking to the crowd or staring at the tuner) and increased spacing so fingers don't unintentionally knock other keys out of whack.
Southside Custom Guitars Firebird-Tele Hybrid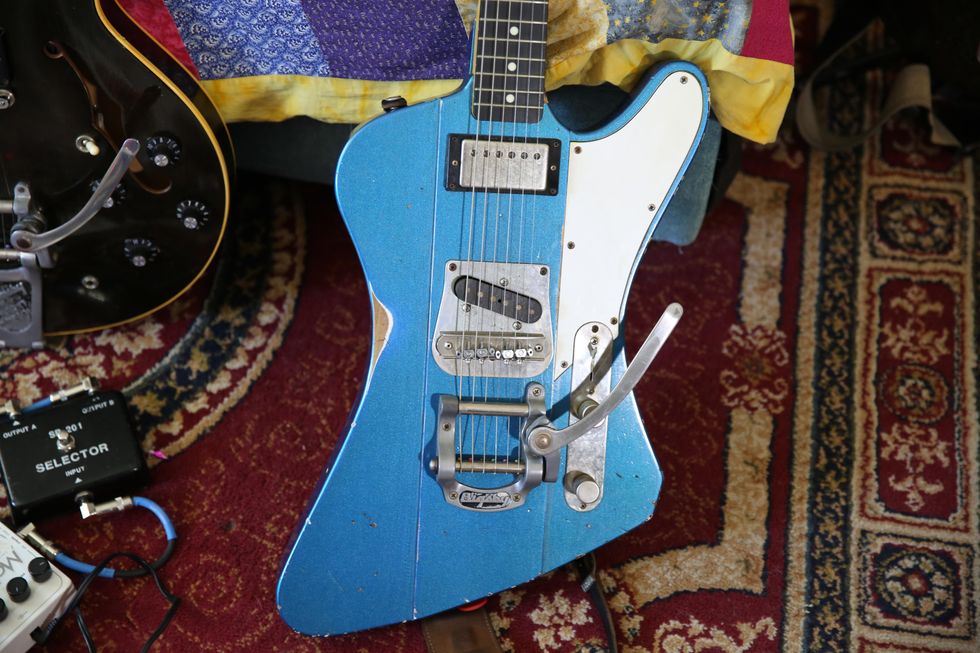 Depending on your opinion, this mash-up could either be a match made in heaven or a divorce forged in hell. This Southside Custom Guitars (built by luthier Tom Gauldin in Birmingham, AL) model combines a Gibson Firebird with a Fender Telecaster (and a little Jazzmaster touch with the bridge/saddles).
ALT got turned onto Gauldin's creations by way of St. Paul and the Broken Bones' guitarist Browan Lollar who rocks several Southside T-styles.
Tasjan typically cruises in either standard tuning, a full step down, or drop D.
Southside Custom Guitars JM Model
Here's another one-off from Southside Custom Guitars—a JM-style offset with black prism flow finish, a set of Seymour Duncan Antiquity Jazzmaster pickups, and Offset Mastery bridge.
1969 Gibson ES-335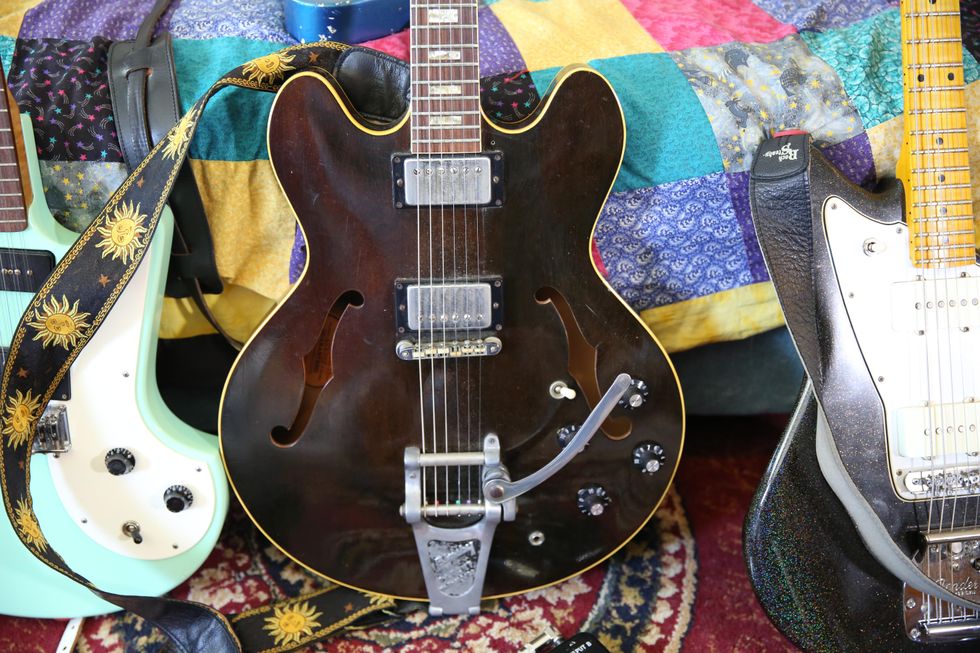 Here is a special instrument to Aaron Lee. It was a gift from his friend Ken Rockwood (of Rockwood Music Hall fame). Earlier in 2021, Tasjan told PG why it's so important to him: "My biggest gear regret would have to be a 1967 Gibson B-45 12-string that was stolen from me at SXSW in 2012. It was the first fancy guitar I could ever afford, and by "afford," I actually mean, "spend every last cent I had on it," [laughs]! There is a silver lining to this story though.
When I returned home to NYC a few days later (I lived there from 2005-2014), my old friend Ken Rockwood (of Rockwood Music Hall fame) had heard about my guitar being stolen and insisted he give me his 1968 ES-335. Obviously, it's not an acoustic 12-string, but it is an equally incredible guitar to the one that was taken and having a friend in your life who treats you the way Ken Rockwood treats people is a gift I wouldn't trade for anything."
Fender '68 Custom Princeton Reverb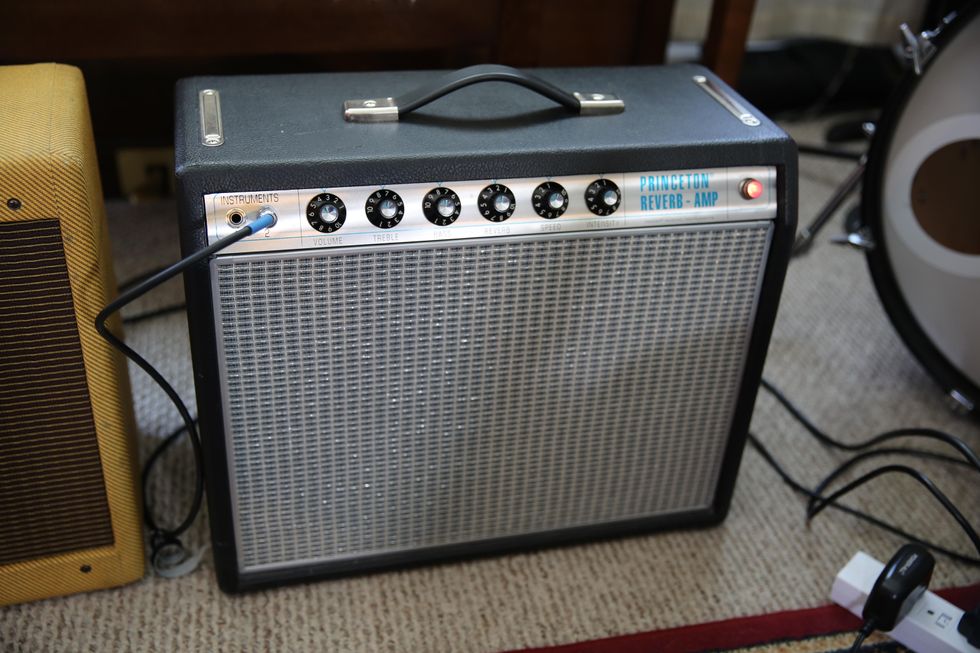 Aaron Lee Tasjan is two-amp kinda rocker. The first part of Fender pairing is the above '68 Custom Princeton Reverb that has a few mods up its sleeves. Both the bass and treble knobs independently pull out for their own boost function. This gives ALT added bass and increased midrange when the time feels right. He typically uses the 12-string with this one because it's cleaner and has onboard reverb.
Fender '57 Custom Deluxe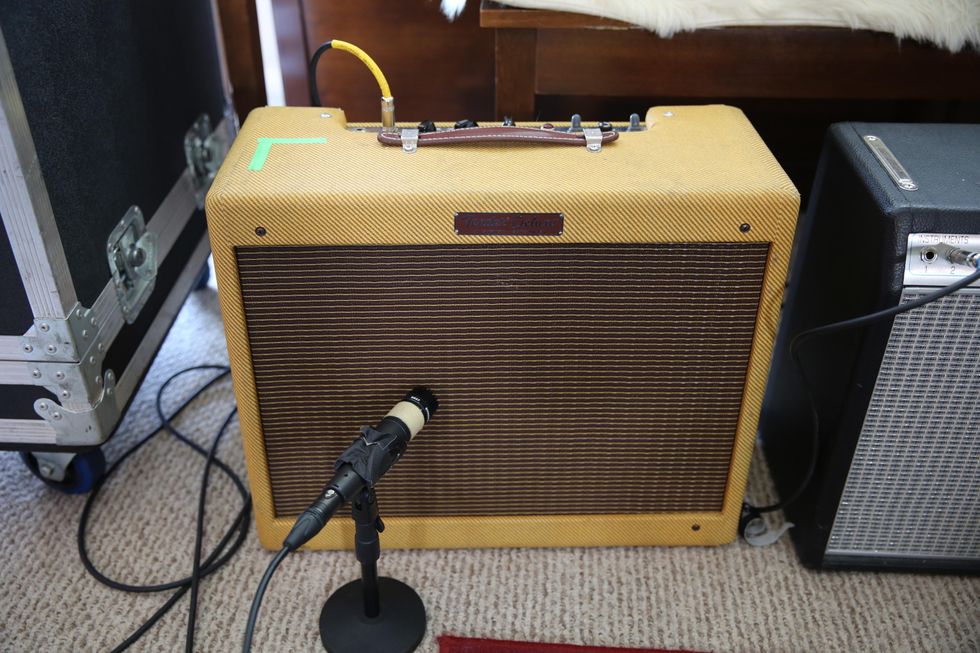 "This thing is full on rock 'n' roll, man," says Tasjan when referring to his handwired Fender '57 Custom Deluxe that's used for his dryer, hard-rocking songs.
Aaron Lee Tasjan's Pedalboard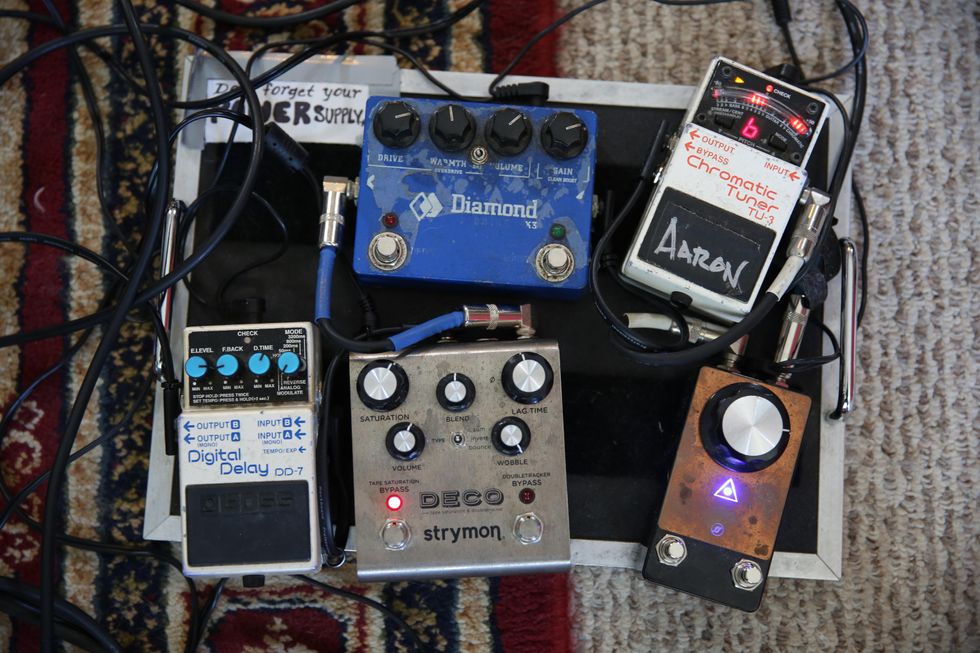 "The Strymon Deco is a perfect pedal for sounding like something is being destroyed as it's being made, [laughs]… and that was a big part of Karma For Cheap," says Tasjan. Reverse and deeper oddball delays are twisted by the Boss DD-7 Digital Delay. The Diamond Pedals J-Drive MkIII is there for added midrange-focused, overdrive crunch, while also offering an independent clean boost side, too. The single-knob jobber is an octave fuzz that was built by a Norwegian friend who gifted it to Tasjan. And a Boss TU-3 Chromatic Tuner keeps his guitars in check.
EHX Mel9
"I use this really cool pedal in really dumb ways," smirks Tasjan. The Electro-Harmonix Mel9 emulates nine classic Mellotron sounds, but ALT uses it as a synth-like fill in for songs like "Sunday Women" that feature keys on the recording but is typically performed as a guitar-bass-drums power trio.