A gift from Gary Holt, a bastardized Jazzmaster, a Squier baritone, bountiful boards, and stacks of amps litter the rocker's tone bunker.
The 2000s were an odd period for music sales. The decade was a tale of polar opposites. Songs and albums never exchanged hands faster (thanks to file-sharing services like Napster and LimeWire), and thus the industry's sales plummeted.
During the aughts, one of the few acts growing through the free-streaming floodwaters, were the dark, theatrical rockers My Chemical Romance who melded punk, post-hardcore, indie, and glam. Singer Gerard Way started the band in late 2001 after the 9/11 attacks. He recruited drummer Matt Pelissier (replaced by Bob Bryar in 2004), lead guitarist Ray Toro, his brother Mikey Way for bass, and in early 2002 Frank Iero joined.
As a result of their skyrocketing success, the quintet went from opening dive bars to selling out arenas in eight fast years. 2002's debut for Eyeball Records, I Brought You My Bullets, You Brought Me Your Love, was a scorcher (and sold over 3 million copies). The follow up, Three Cheers for Sweet Revenge, had the fist-pumping hooks for TRL, but still retained the edge for the pits. 2006's soaring anthemic concept album, The Black Parade, learned from past classics (A Night at the Opera, Sgt. Pepper, Mellon Collie and the Infinite Sadness), became a triple-platinum smash with the title track perching them on top of two charts (Billboard's U.S. Alternative and U.K. Singles Chart). And 2010's Danger Days: The True Lives of the Fabulous Killjoys dialed back the rage and ramped up the fun producing a rushing ride.

While the band did release new music (collection of singles eventually becoming a compilation, Conventional Weapons), they took a hiatus. Iero took this an opportunity to step out from just rhythm duties and added frontman to his resume.
First releasing Stomachaches as frnkiero and the cellabration in 2014. He followed that up by forming Frank Iero and the Patience who produced Parachutes (LP) in 2016 and Keep The Coffins Coming (EP) in 2017. After surviving a harrowing accident where he was drug approximately 10 feet by a passenger bus in Australia, he found catharsis in music and created Frank Iero and the Future Violents. So far, they've dropped Barriers (LP) in 2019 and earlier this year Heaven is a Place, This is a Place (EP).
Just after putting out his offbeat, stirring 4-song collection (complete with a ghostly cover or R.E.M.'s "Losing My Religion"), the good-time guitarist virtually welcomed PG's Chris Kies into his Jersey-based home and gear haven.
In this episode, Iero introduces us to his oddball offsets and sentimental single-cuts, he explains how unusual tunings and pinky rings give his "broken" riffs an extra off-kilter sound and extra gunk, and we witness how a pandemic turned his basement into a pedal warehouse.
D'Addario XPND Pedalboard:https://www.daddario.com/XPNDRR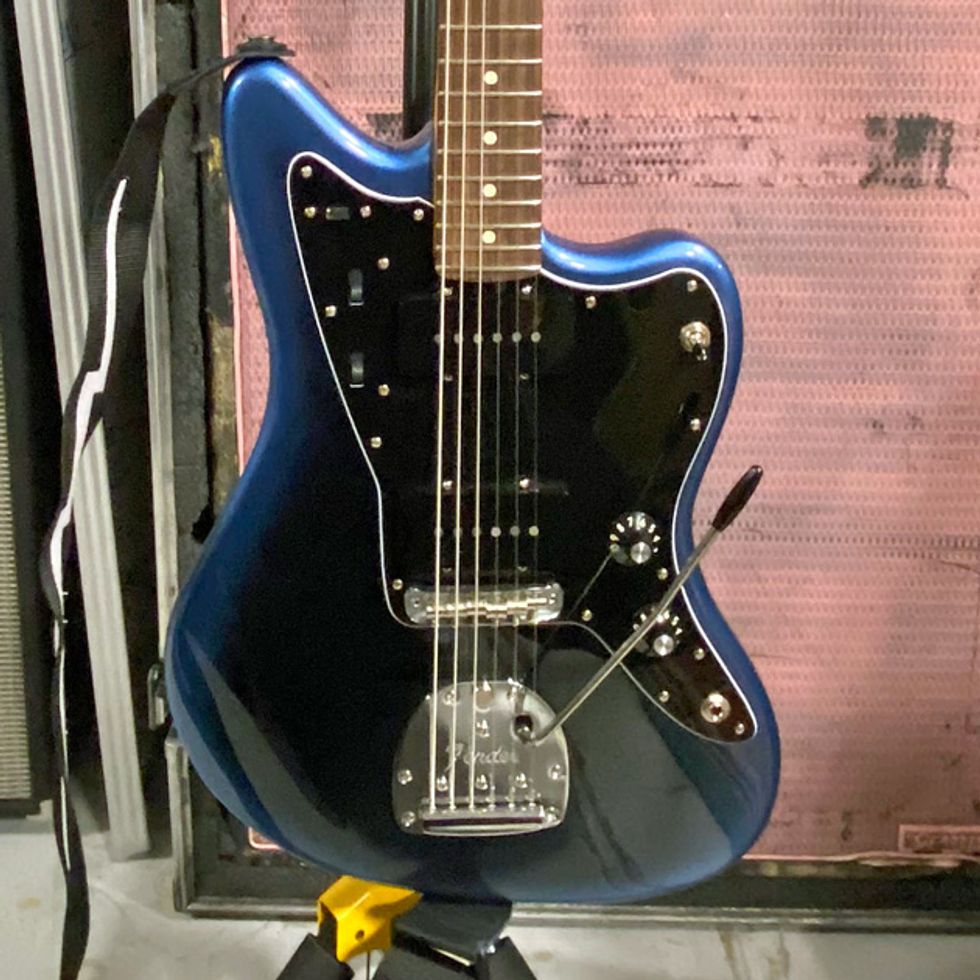 One of Iero's newest guitars is this Fender American Professional II Jazzmaster finished in dark knight. (Iero calls this 6-string "Batman.") His two favorite appointments are slight tweaks on the classic design—the responsive Panorama Tremolo and the sculpted neck heel improving access and comfortability.
Depending on the instrument and tuning, Frank will go with Ernie Ball Slinkys in various configurations of .011s to compensate for lower tunings and looser tension.
For My Chemical Romance, they're typically tuned to standard for Future Violents stuff he rides in Eb standard.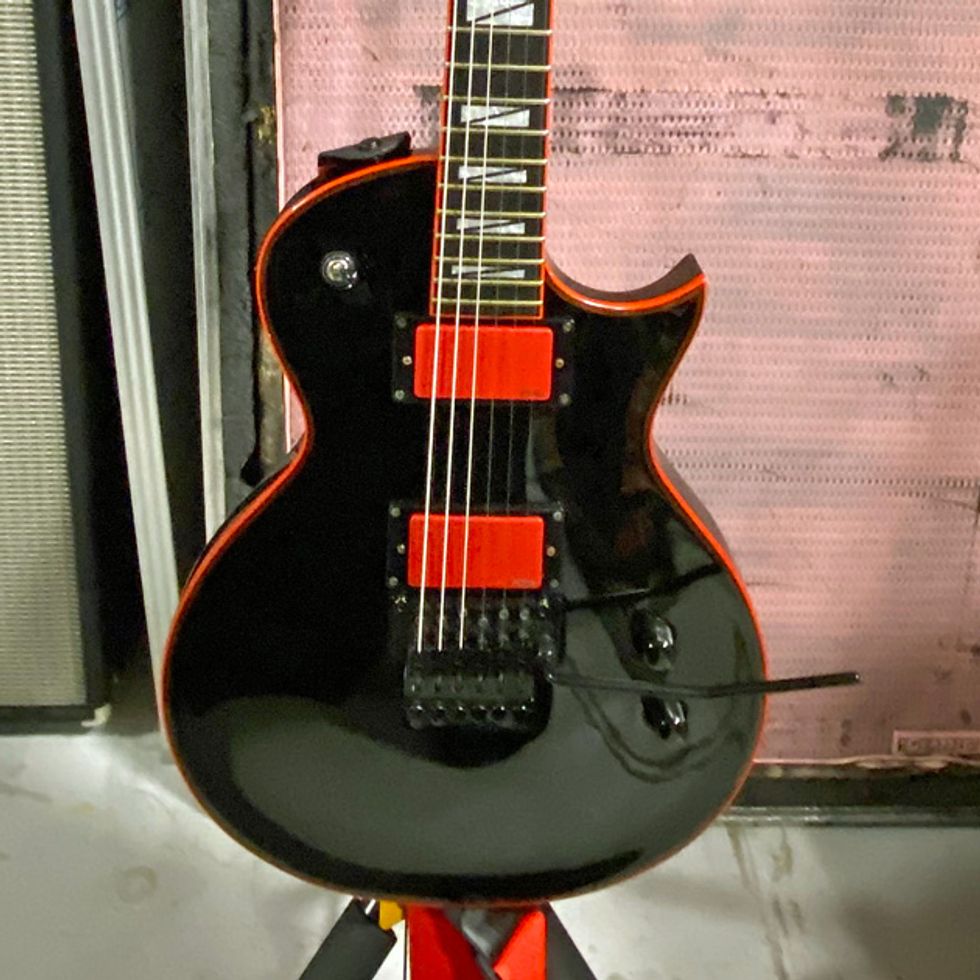 Here's a signature guitar owned by Iero, but it's not his namesake instrument. He and Gary Holt become fast friends and the thrasher for Slayer and Exodus offered a guitar swap. So Iero got Holt's ESP LTD GH-600 sig and Holt requested his Ampeg Dan Armstrong AMG100 BK reissue featured in the video for Iero and the Future Violents' rollercoaster "Young and Doomed".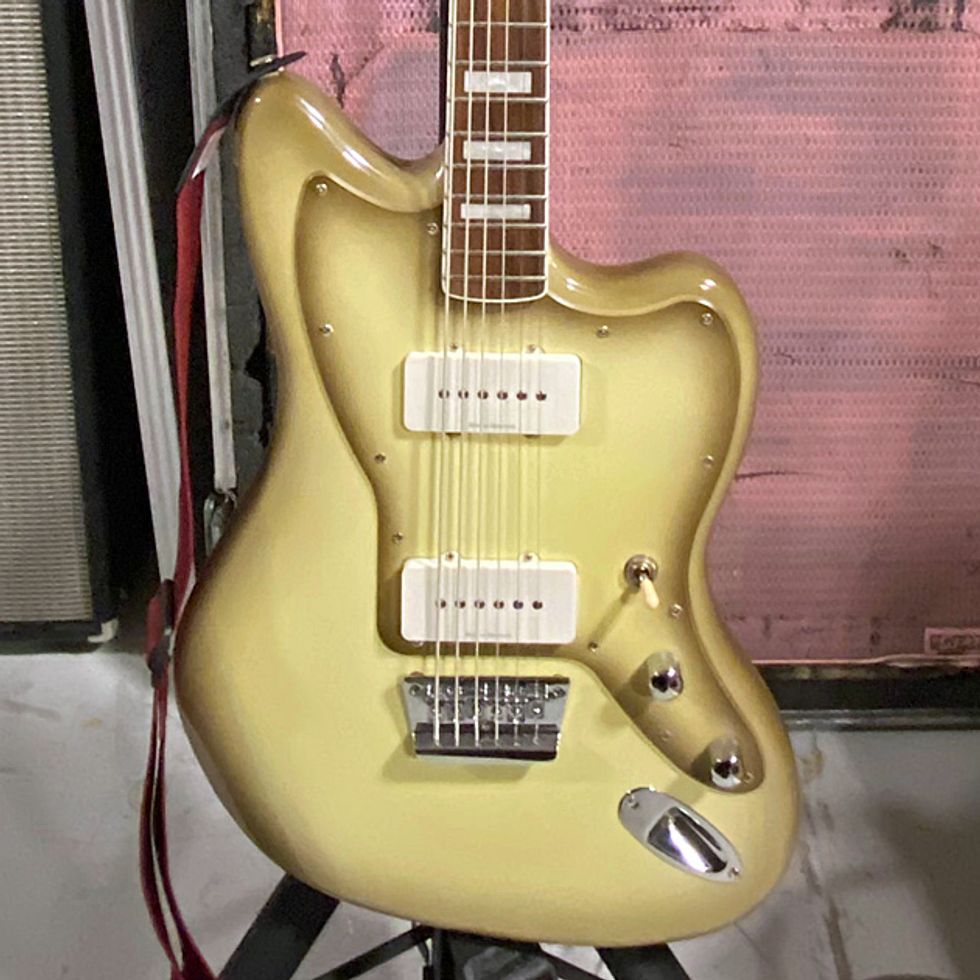 When touring with his first solo band (Frank Iero and the Celebration), they visited a guitar boutique in a Canadian mall. He picked up a Squier Vintage Modified Baritone Jazzmaster and quickly began coming up with fresh ideas on the spot. Not wanting to deal with customs, he went online, ordered his own Antigua model and it showed up to his New Jersey doorstep before he finished the tour. Tuned to A#, the baritone was workhorse for his last full-length release, Barriers, and his just-released EP.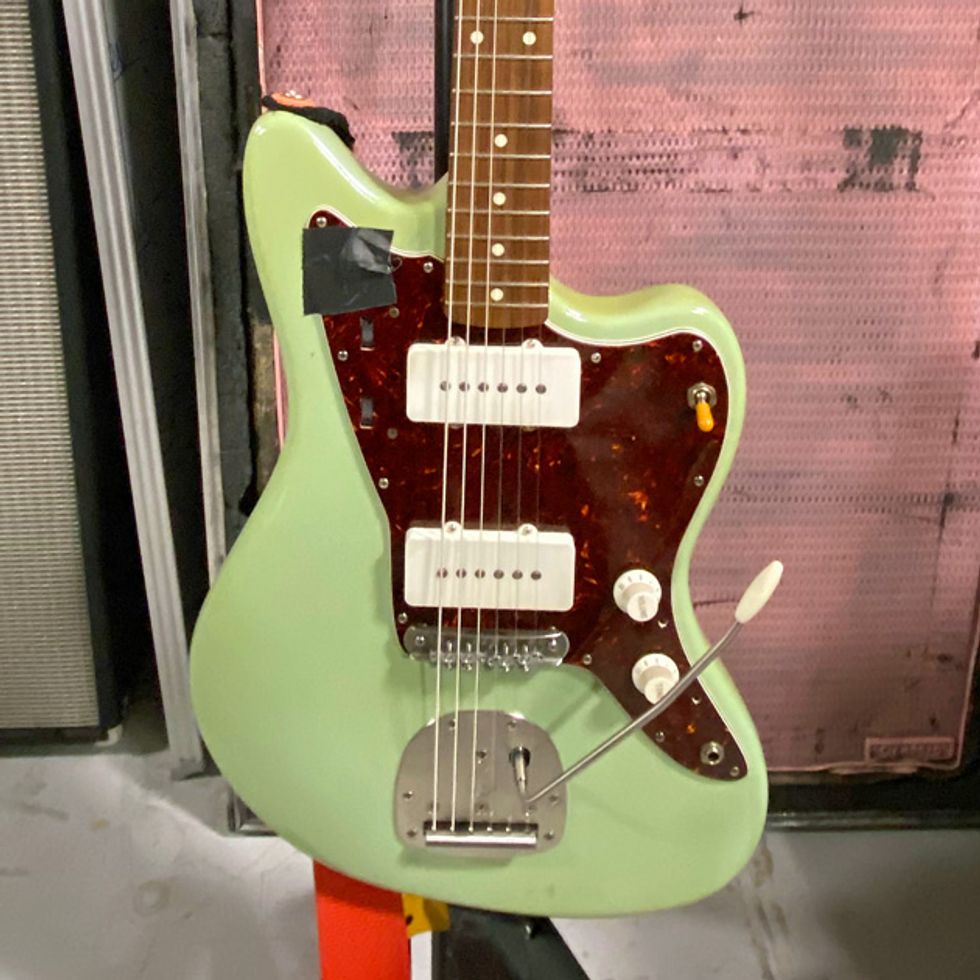 Always on the lookout for something unusual and different, Iero was on tour in Cincinnati scooped this Frankenstein Fender offset that has a '50s body matched with a '90s neck.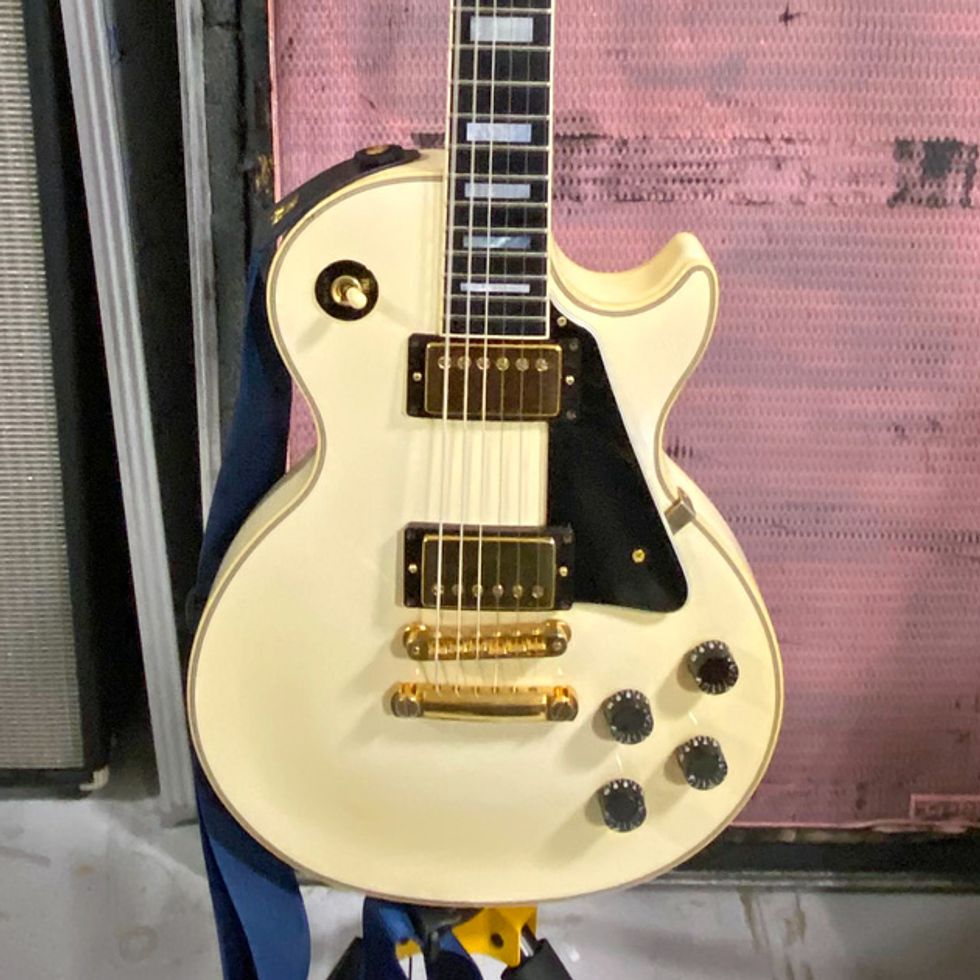 During My Chemical Romance's rise, Iero's main guitar was a white Epiphone Les Paul nicknamed "Pansy." He's since retired it from the road and was tired of playing similar same single-cut, humbucker-loaded guitars. As seen in this Rundown, he's got instruments of many shapes, sizes, and configurations, but he's always loved a white Les Paul. Wanting to bring one back into the fold, a serendipitous phone call from Thunder Road Guitars' owner Frank Gross put this 1992 Gibson Les Paul Custom into Iero's growing collection.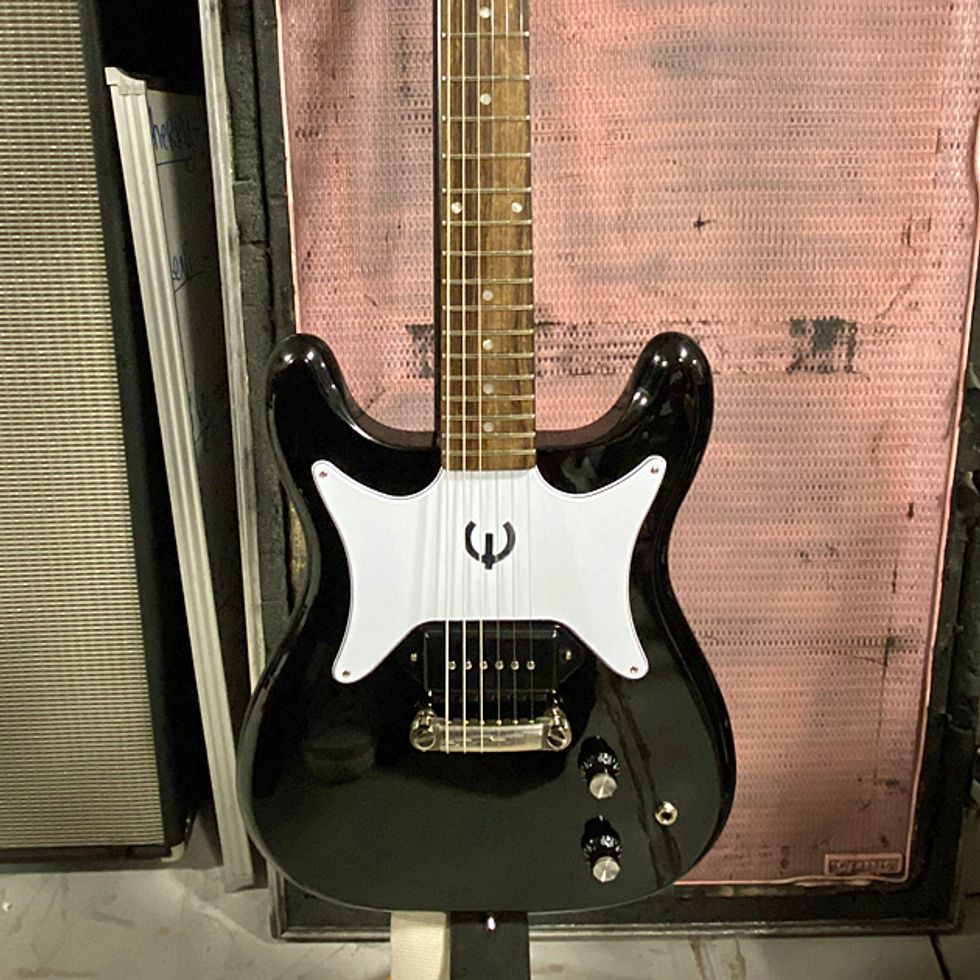 "If you're looking for something affordable that you can rip on, I don't think you can beat this one," says Iero when playing this 2020 reissue of the Epiphone Coronet.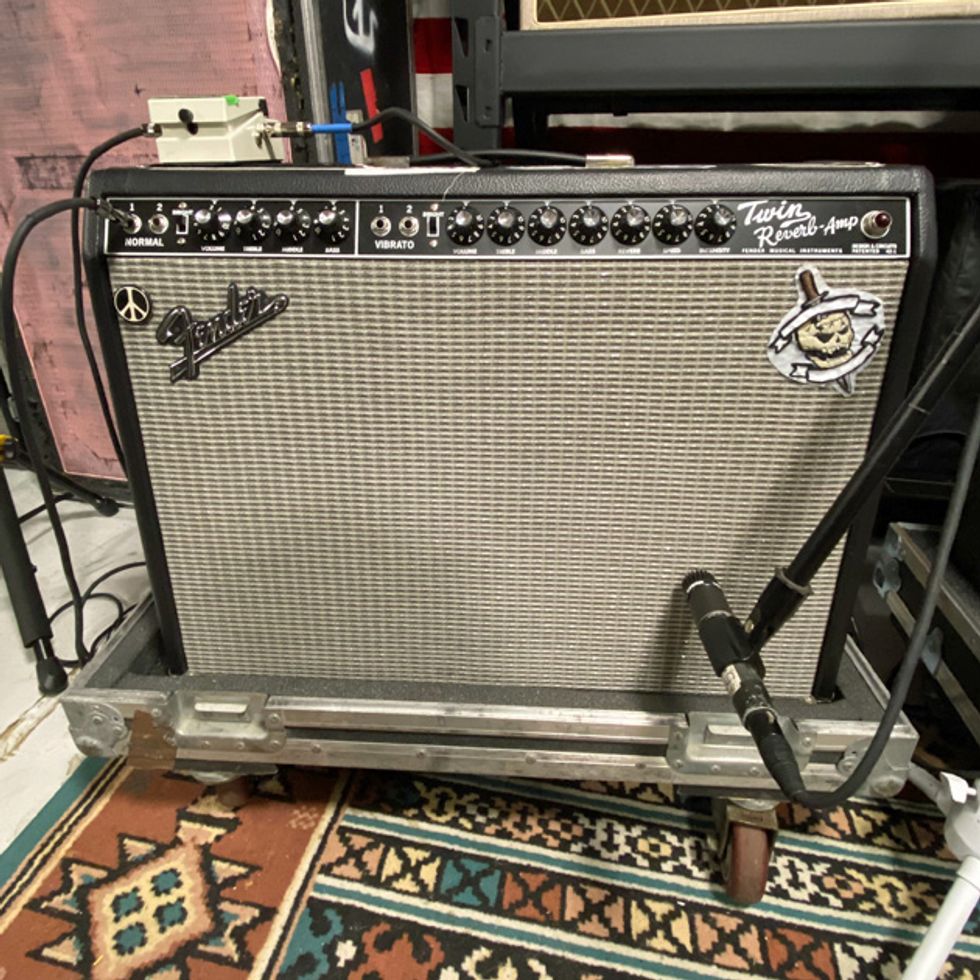 With touring plans still up in the air for 2021, Iero is unsure if he'll go fully digital, full tube, or a hybrid approach, but he did admit that this Fender Twin Reverb will for sure be the clean tone. (And for those keeping track at home, this is the amp he played during the Rundown.)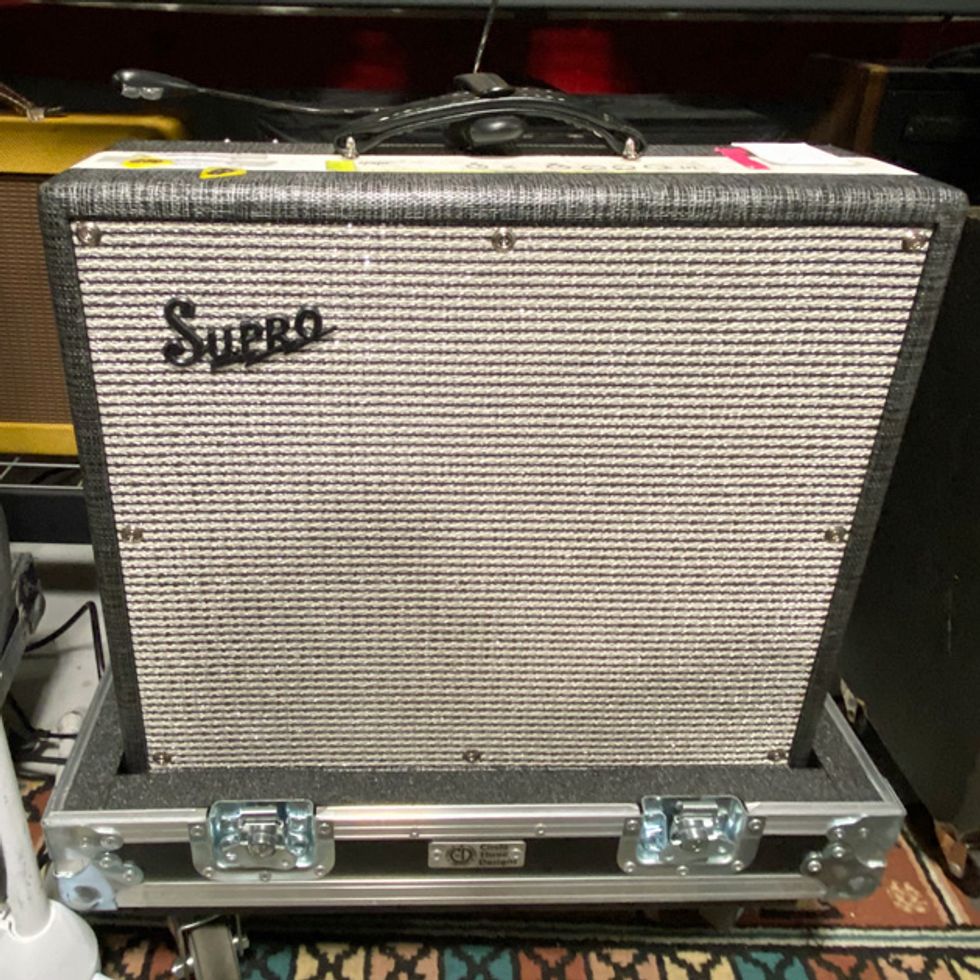 The last Future Violents tour saw Iero bring out the aforementioned Twin Reverb and the above Supro Black Magick.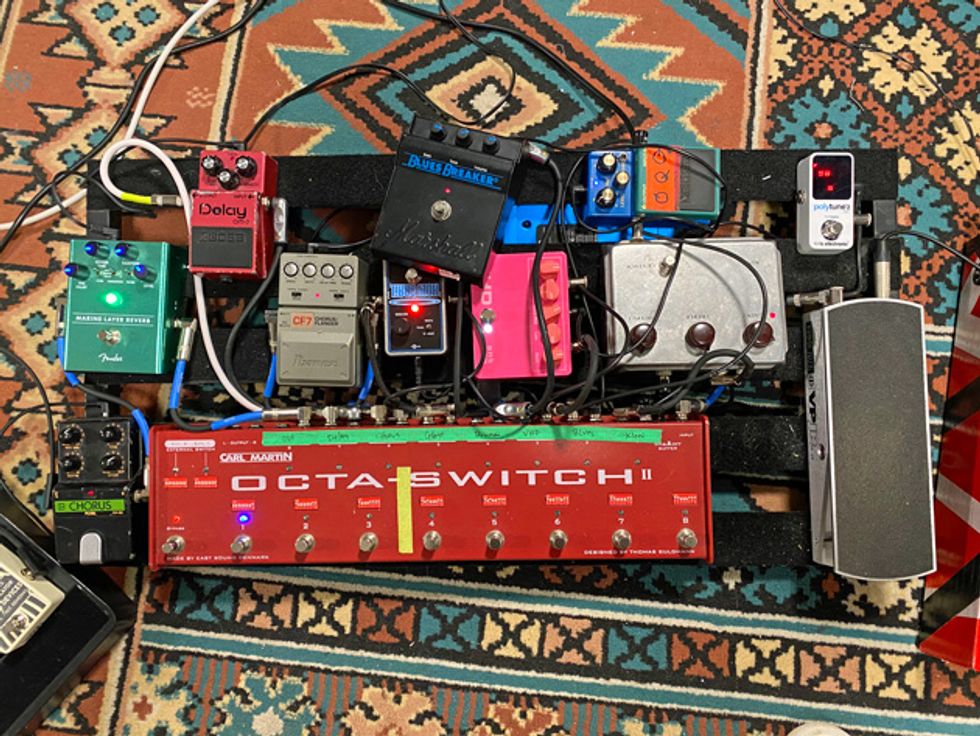 Like most of us, during the pandemic, pedalboards became fluid and tone hunting was a mind-saving pastime. Iero was no exception as you'll see in the next few slides he has some mainstays, but nothing is permanent.
Here's his closest gig-ready stomp station that has time-based effects and modulation on the left side (Fender Marine Layer Reverb, vintage Pearl CH-02 Chorus, old Boss DM-2 Delay, Ibanez CF7 Chorus/Flanger, and Electro-Harmonix Holy Grail). The right side is home to menace (Marshall Blues Breaker, SNK Pedals VHD Distortion/Preamp, Keeley-modded Boss BD-2 Blues Driver, and Klon Centaur). Everything is controlled by the Carl Martin Octa-Switch MkII. Utilitarian units include a TC Electronic PolyTune 2 Mini, Ernie Ball VPJR volume pedal, and a Strymon Zuma power supply.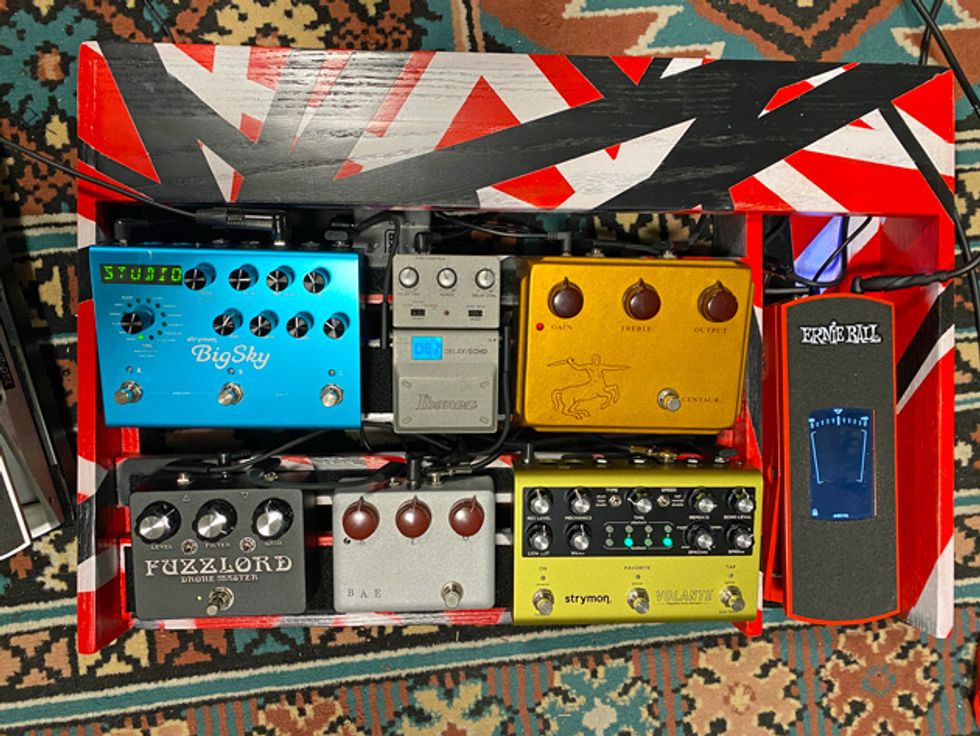 Here's his mess-around-the-house board (with a fine tribute to EVH) that has a pair of Strymons (BigSky and Volante), an Ibanez DE7 Delay/Echo, gold Klon Centaur, Fuzzlord Effects Drone Master, Bowman Audio Endeavors The Bowman (company ran by Rig Rundown alumnus and Against Me! guitarist James Bowman), and a Ernie Ball VPJR Tuner Pedal.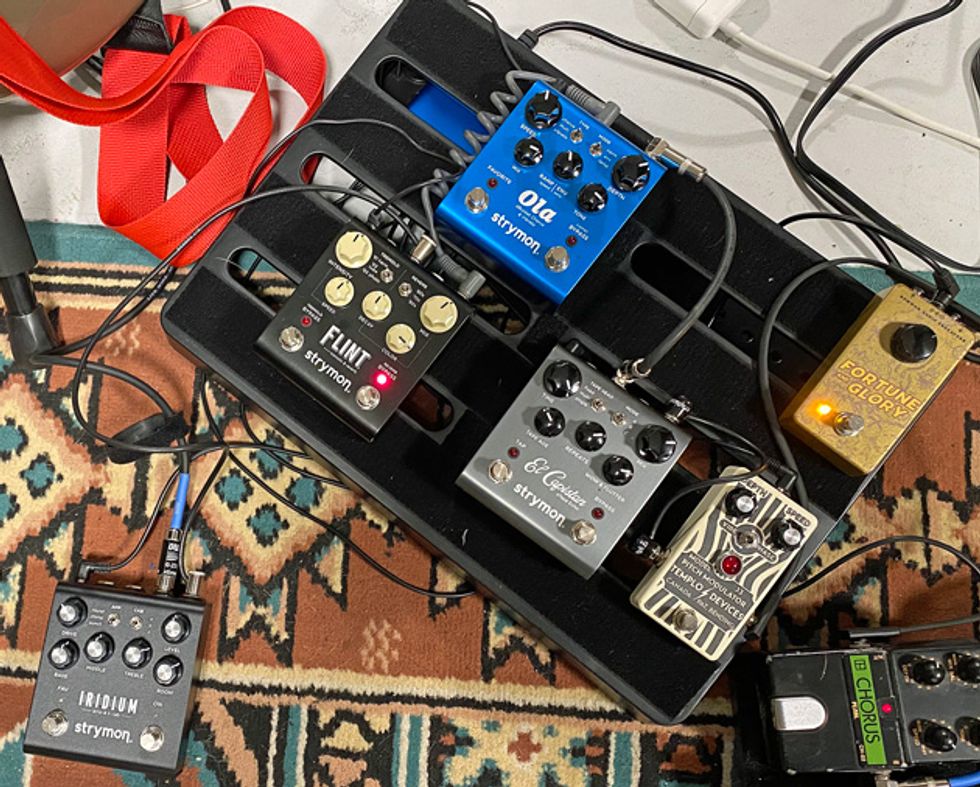 His recording board is made up of versatile staples including a 4-pack of Strymons (Ola, Flint, El Capistan, and Iridium), Bowman Audio Endeavors Fortune and Glory, and a Templo Devices Model 33 Supa vibrato.