www.youtube.com
The blues-rocker takes us inside his remarkable gear sanctuary to show off classic Gibsons, a heaping helping of Hiwatts, and a bunch of rare Pete Cornish pedals.
Facing a mandatory shelter-in-place ordinance to limit the spread of COVID-19, PG enacted a hybrid approach to filming and producing Rig Rundowns. This is the 42nd video in that format.
For nearly two decades, Caleb "Bones" Owens has been fulfilling other artists' and bandmates' visions. He was a member of moody hard rockers The Becoming and longtime collaborator with dirty-south rapper Yelawolf. Other notable credits include working alongside Mikky Ekko, composing credits for Rose Falcon and Mike Mains & the Branches, and other contributions to Nashville-based acts. Now primed to take the wheel on his own musical excursion, Bones' journey starts with his brand-new, self-titled debut album via Black Ranch Records/Thirty Tigers.
Just before releasing the his tight, rollicking 12-song collection, the frontman guitarist (and faux bassist) virtually welcomed PG's Chris Kies into his Tennessee home jam space (that could double as a Kustom Amplification museum).
In this episode, we find out why Gibsons just fit Bones Owens (and his sound), he explains his Hiwatt-heavy and Echopark-rich amp pairings, and details the Pete Cornish-heavy pedalboards that enable him to punch with the guitar and rumble like a bass.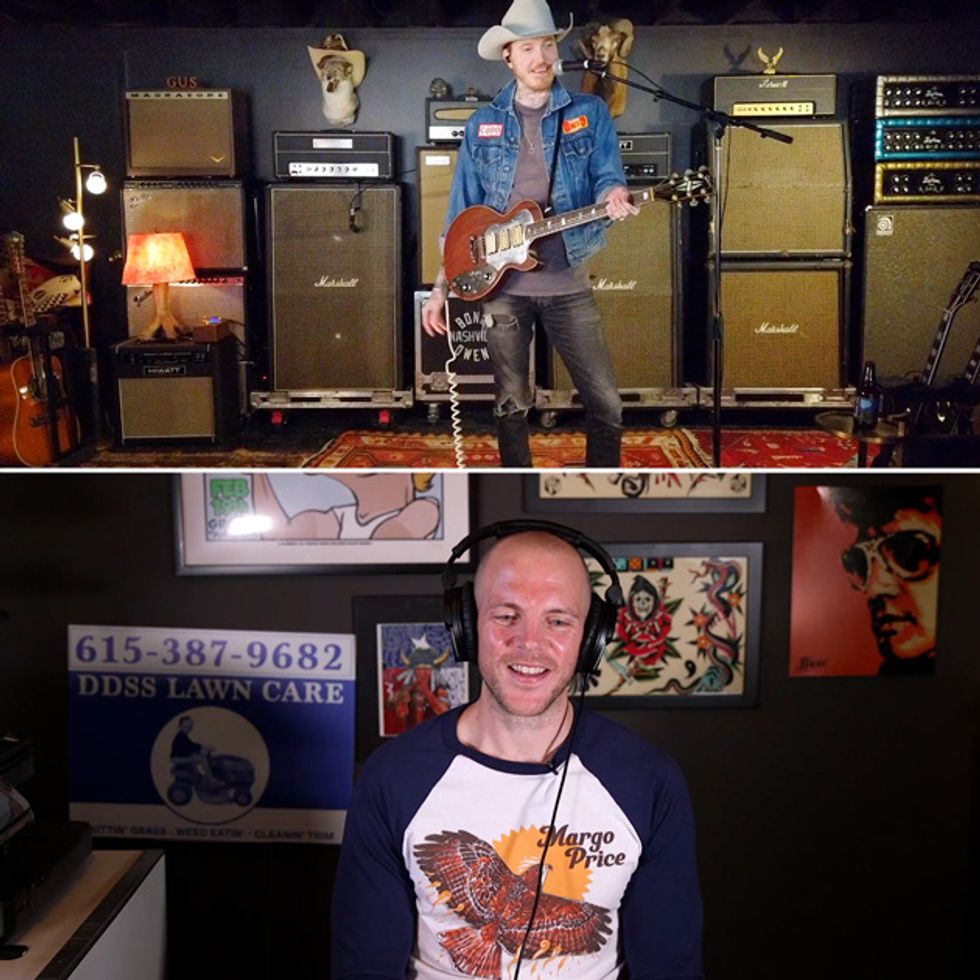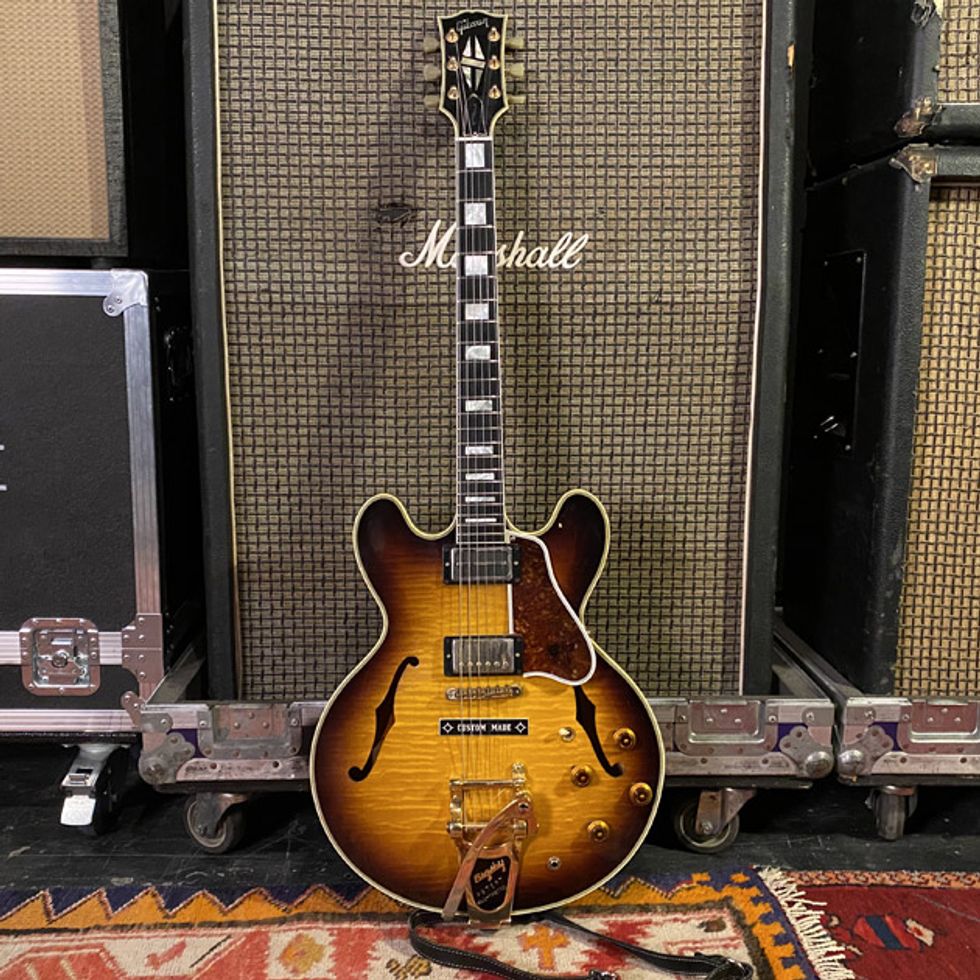 "This is one is special to me," admits Bones Owens. "It's been my main touring guitar for the last few years because it's a Swiss-Army knife." Above you'll see his 2002 Gibson ES-355. If you recognize it from a previous Rig Rundown, you're not wrong because it belonged to Guster's Luke Reynolds before Owens bought it off him. Reynolds upgraded the 355 with Lollar pickups—an Imperial humbucker in the bridge, and a Charlie Christian in the neck—replaced the nut, added a Tune-o-matic bridge, a Bigsby, and swapped in Grover Vintage Deluxe tuners. Since purchasing it, Owens hasn't done anything to the instrument and even hesitates to re-string it. Speaking of strings, Owens used to beat himself up with .012s but now loosens up with Ernie Ball Slinky .010s for most of his instruments.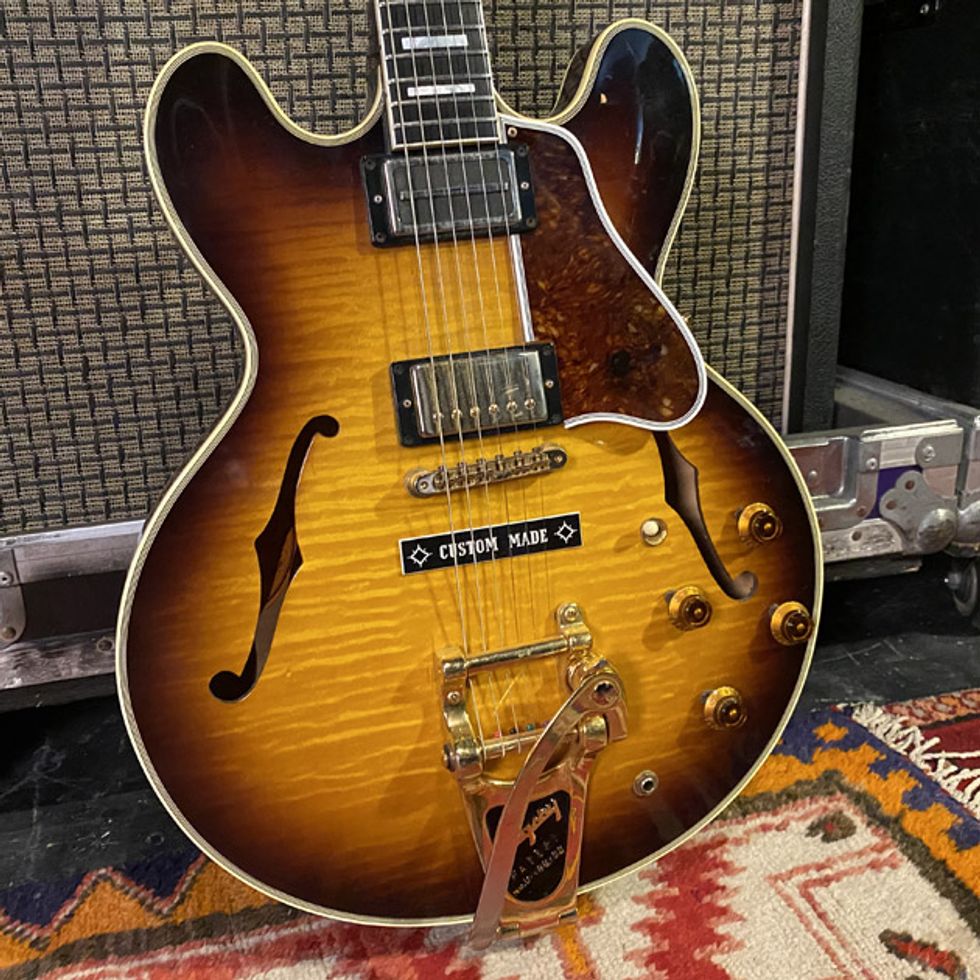 A close-up of Owens' 2002 Gibson ES-355.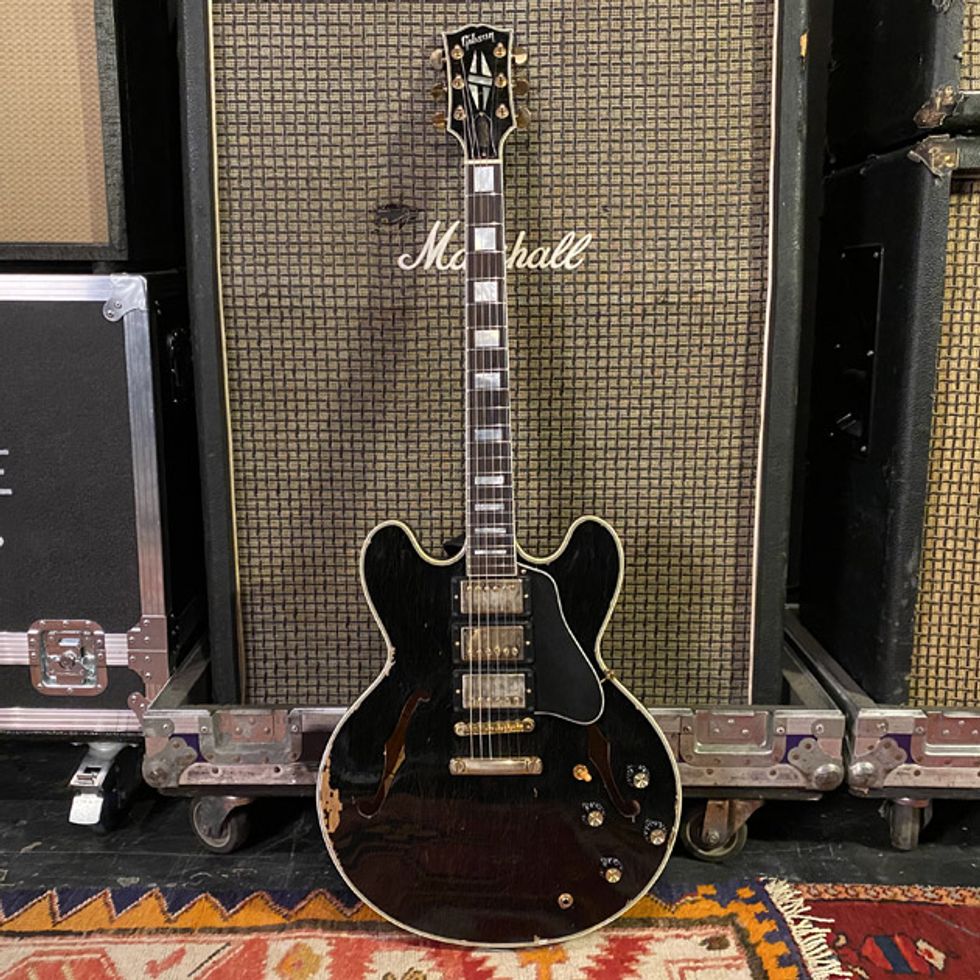 Owens' favorite over quarantine has become this 2018 Gibson ES-355 "Black Beauty" that he picked up at Nashville guitar store Rumble Seat Music. It was aged by Rock N Roll Relics and was enhanced with Monty's PAF pickups.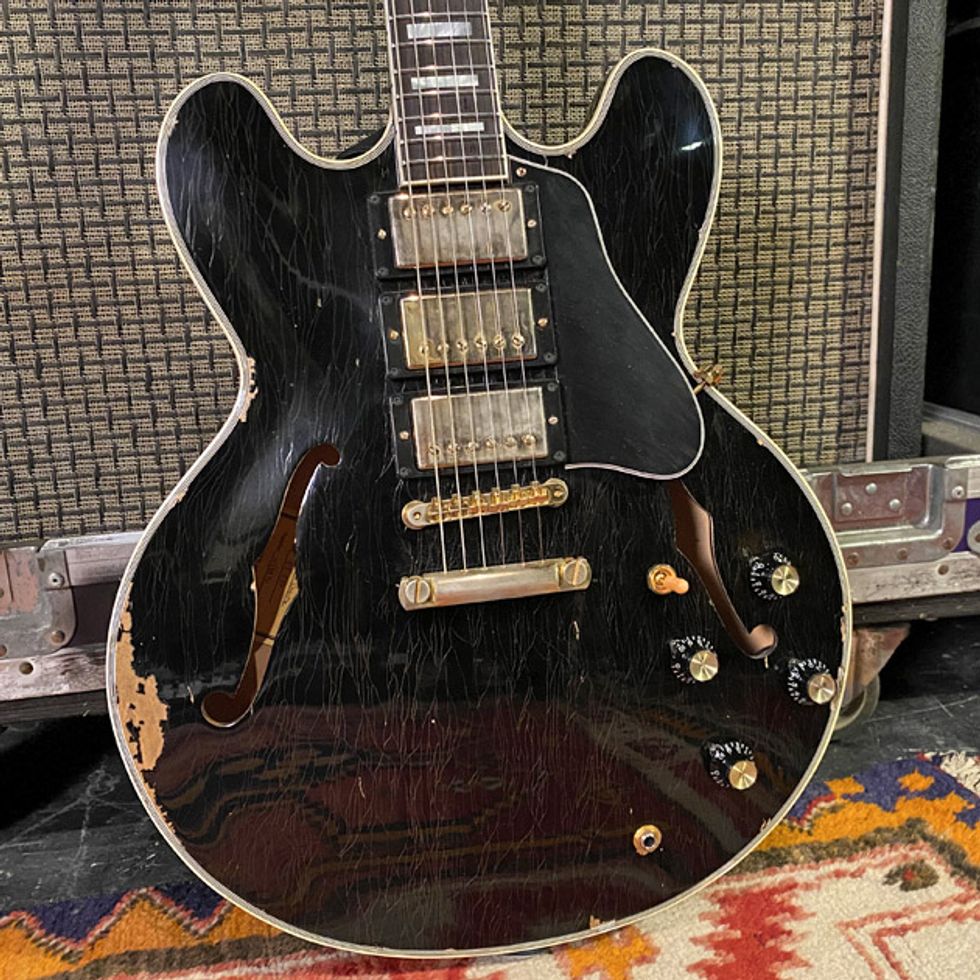 A close-up of Owen's 2018 Gibson ES-355 "Black Beauty".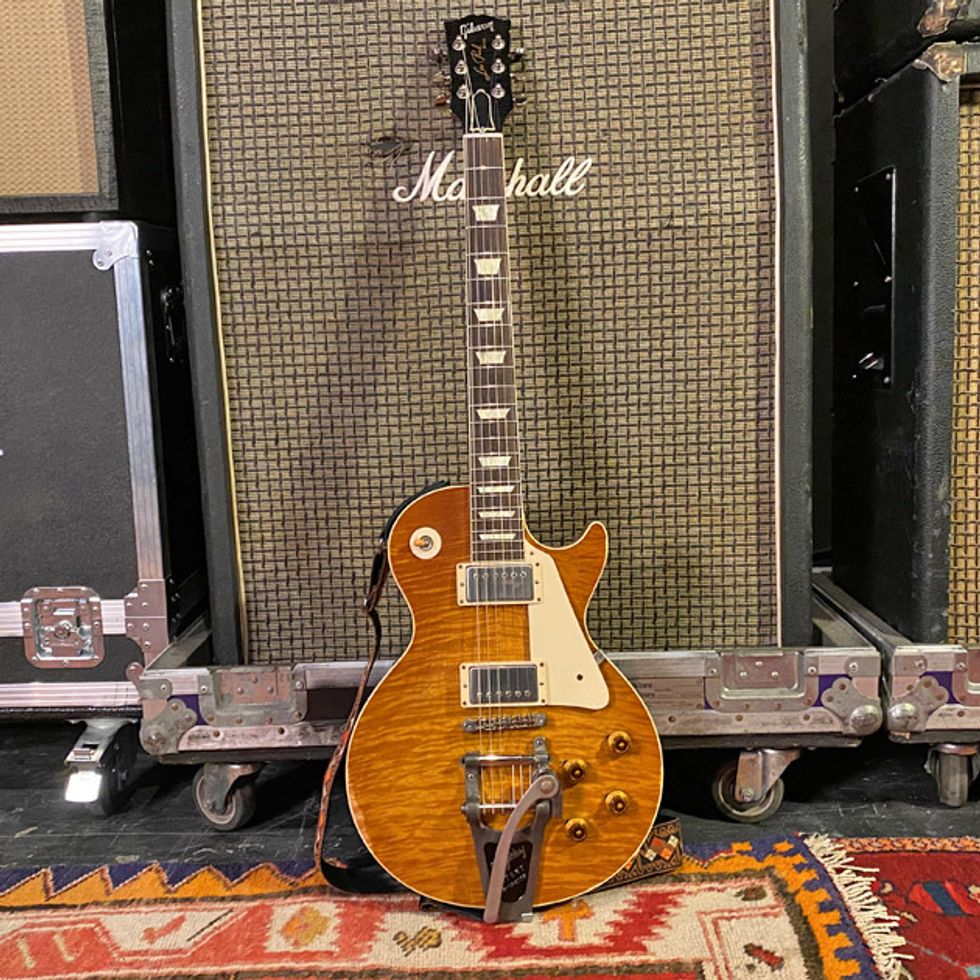 Here is Bones' cherry 2015 Gibson Custom Collector's Choice 1959 Les Paul Standard R9. While he mostly sticks to the bridge pickup, Owens says this 'burst begs to be in the neck position thanks to its warm alnico-III Custom Buckers.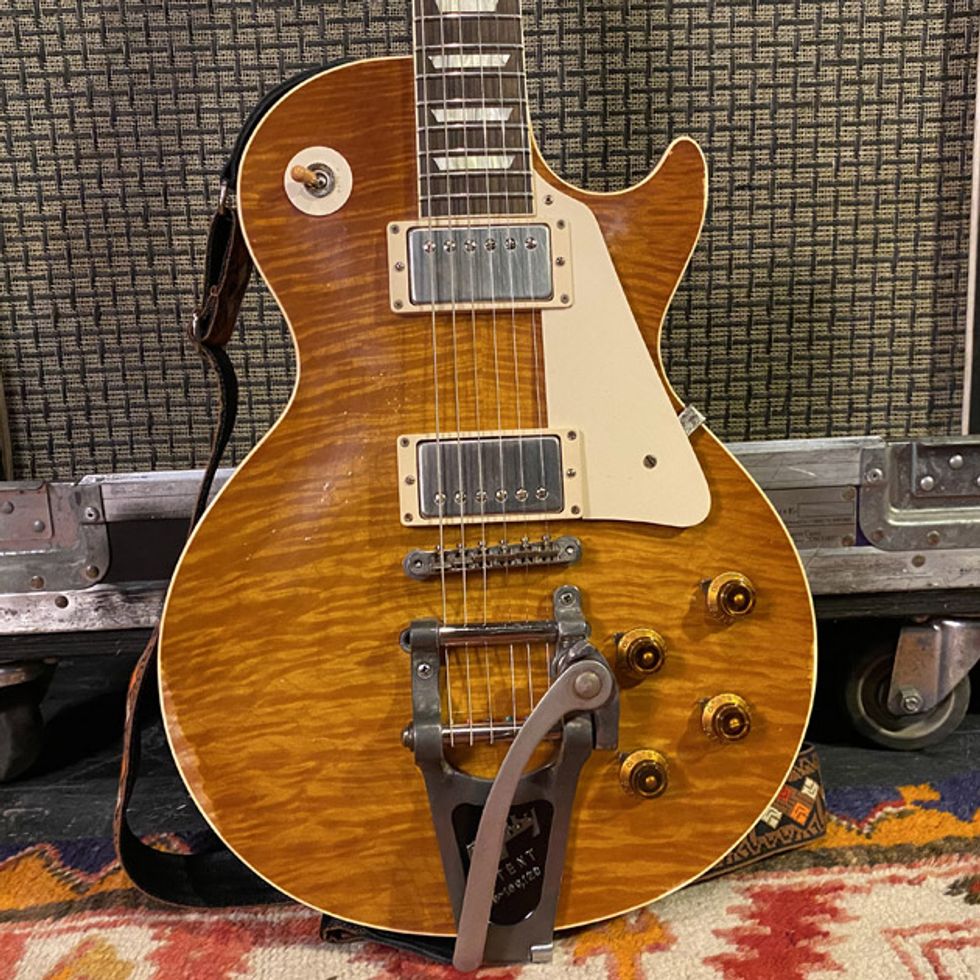 A close-up of Bones' 2015 Gibson Custom Collector's Choice 1959 Les Paul Standard R9.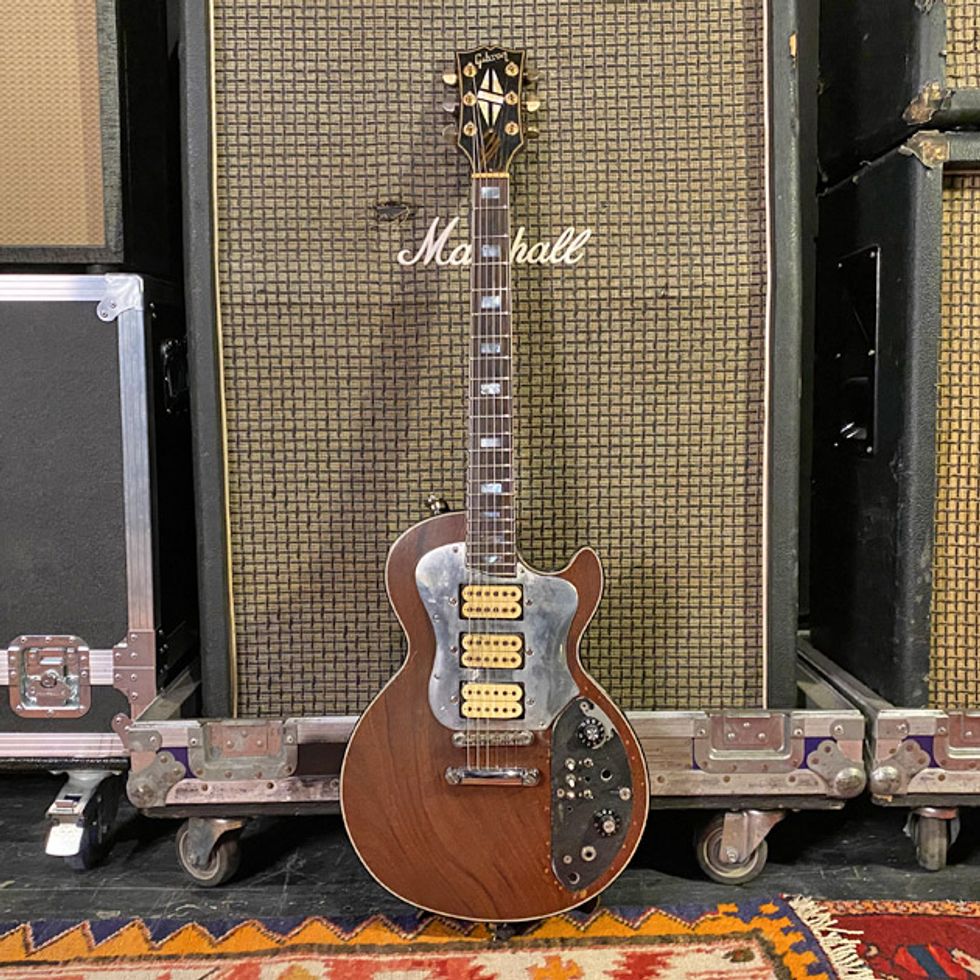 For the oddball lovers, Owens busted out his 1972 Gibson Les Paul Recording singlecut. Before he bought the weirdo from J Gravity Strings in St. Louis, someone gave it the Ace Frehley treatment and dropped in three DiMarzio Super Distortions and stripped out all the crazy original wiring.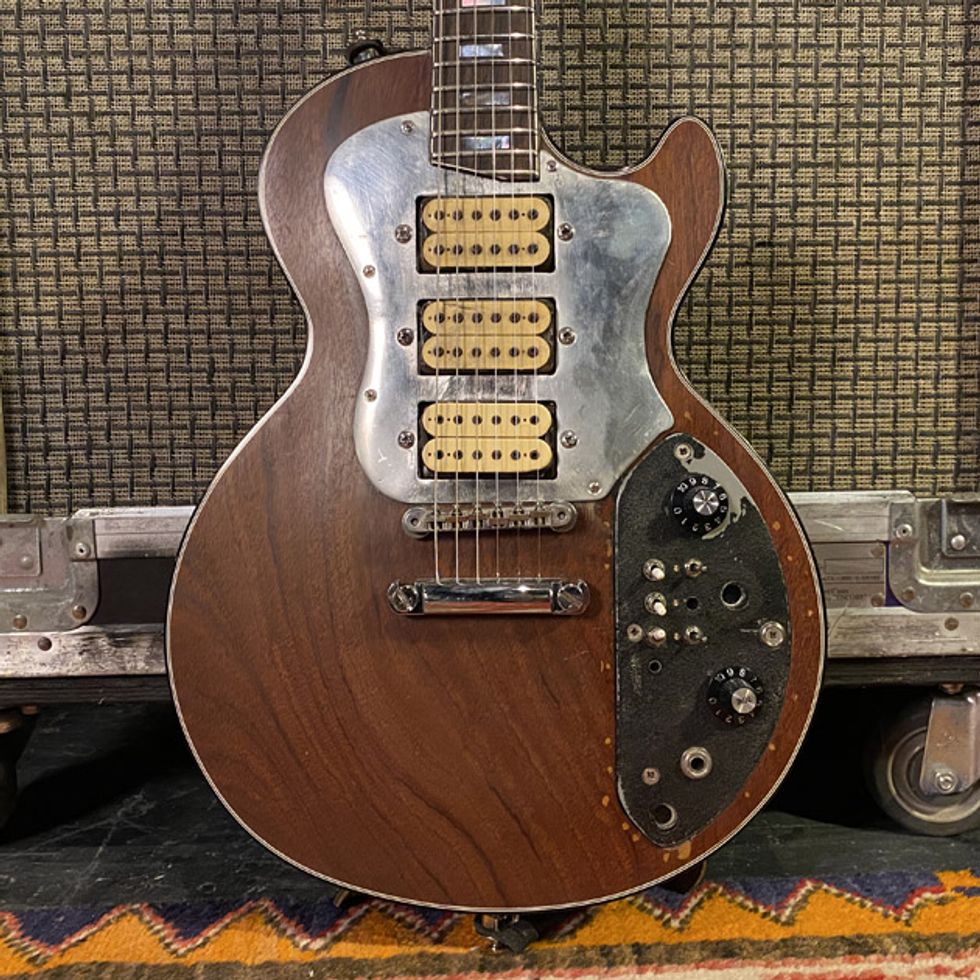 A close-up of his 1972 Gibson Les Paul Recording singlecut.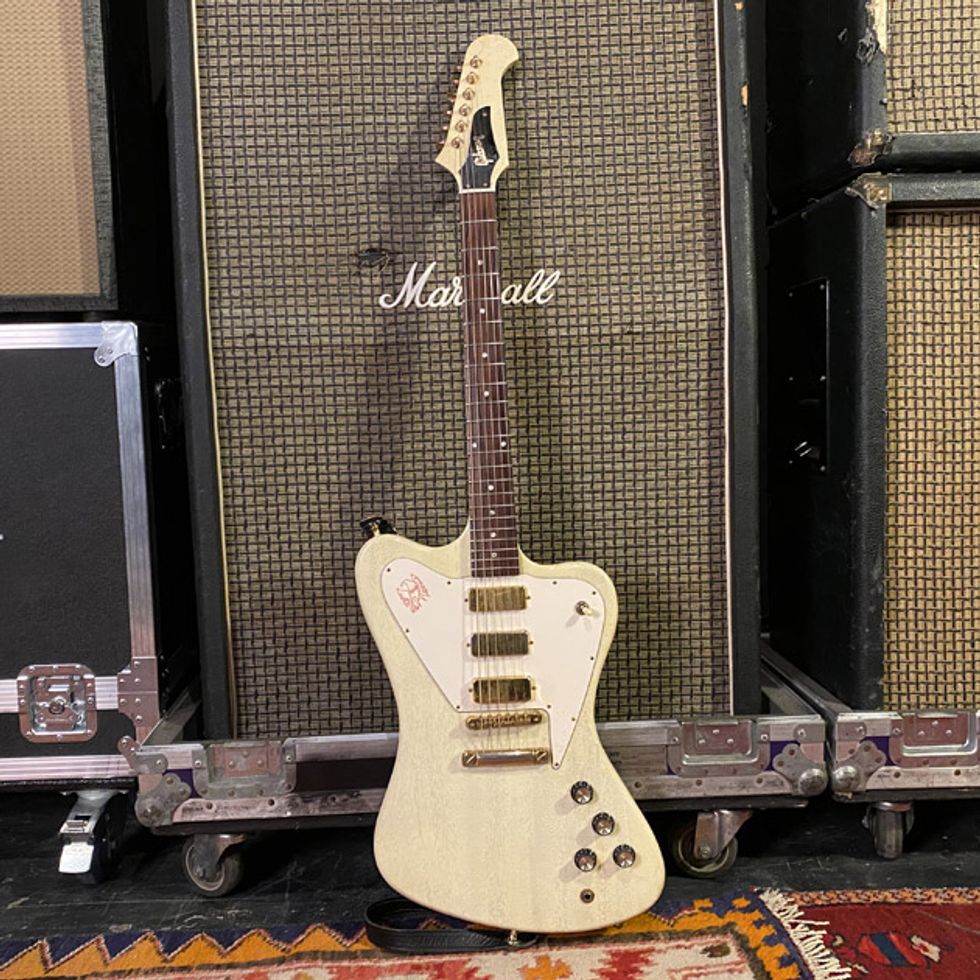 Meet "Ashtray," Owens' beloved 2000s Gibson Firebird non-reverse reissue (similar to the original run from mid-'65 through 1969) that is loaded with three mini-humbuckers. The nickname stems from the cigarette stench caked into the guitar when he bought it off a fine southern gentleman at an Alabama truck stop.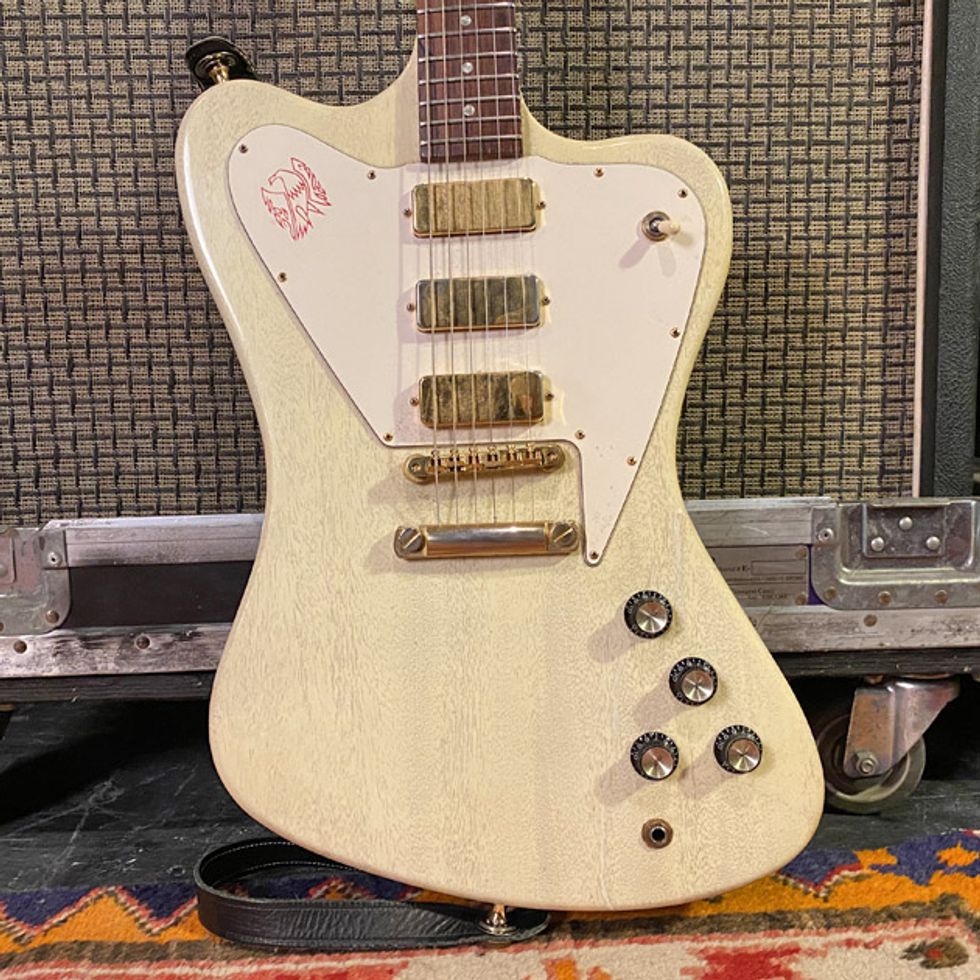 A close-up of Bones' 2000s Gibson Firebird non-reverse reissue.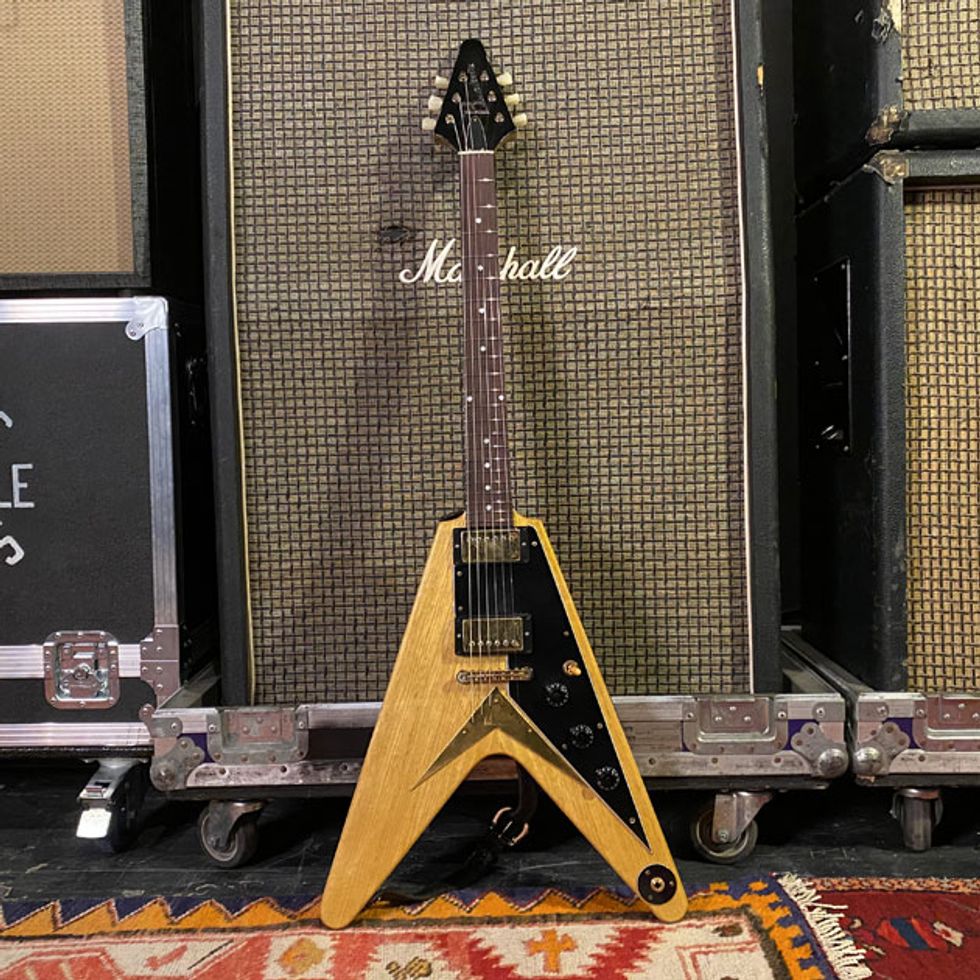 The only non-Gibson in Owens' Rundown is actually a licensed Gibson copy. Banker Custom Guitars is one of select few luthier shops that have been handpicked and authorized by Gibson to faithfully recreate their iconic instruments. Above is Banker's '58 V that has a period-correct two-piece korina body and neck, Indian rosewood fretboard, vintage-specific brass string plate, brad nails, and ferrules, and it came loaded with a set of OX4 Hot Duane PAFs.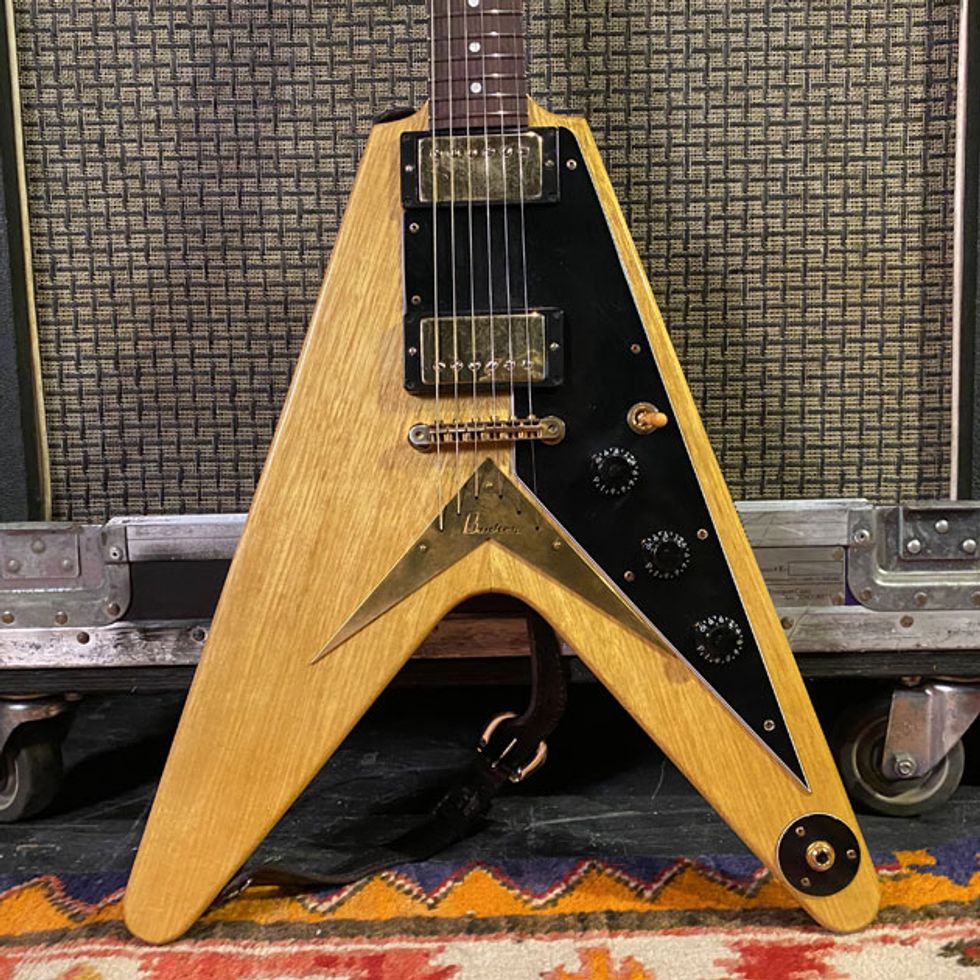 A close-up of his Banker '58 V.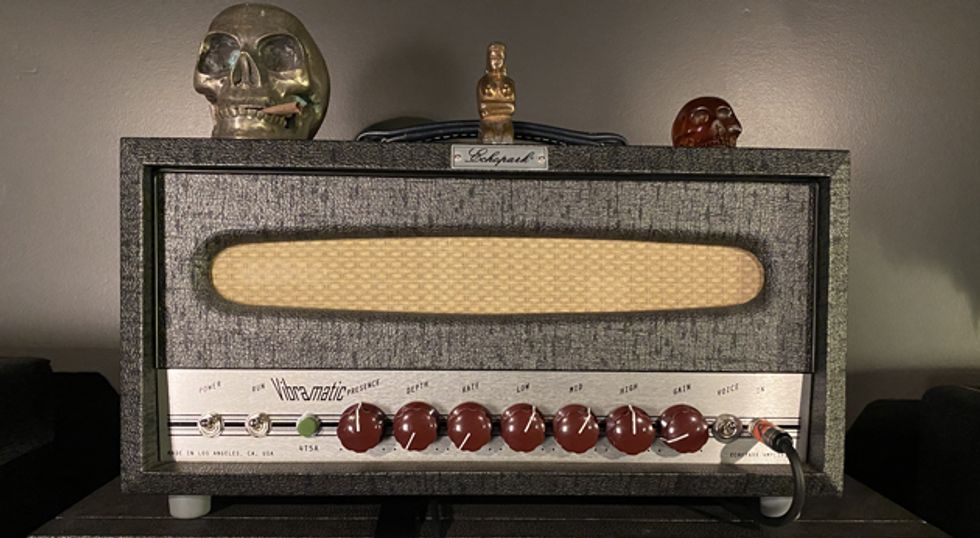 For most of today's Rundown, we were hearing this Echopark Vibramatic 4T5A. Owens mentions it is loosely based on a brown-panel Fender, but it does have a voice switch that kicks it into an earlier JTM45-style tone. This is supposedly one of 10 4T5A heads ever built.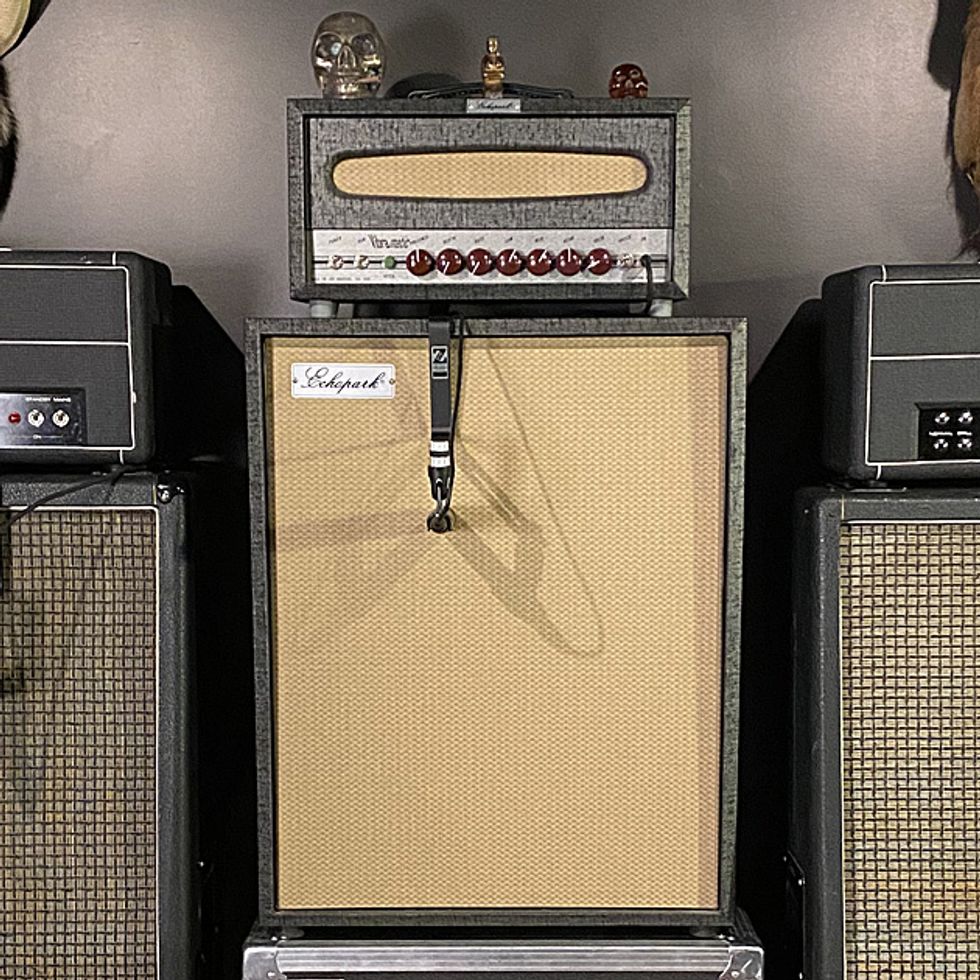 The Vibramatic head runs into a matching Echopark cab that has three ceramic Warehouse Speakers—two 10" up top and a 12" on the bottom.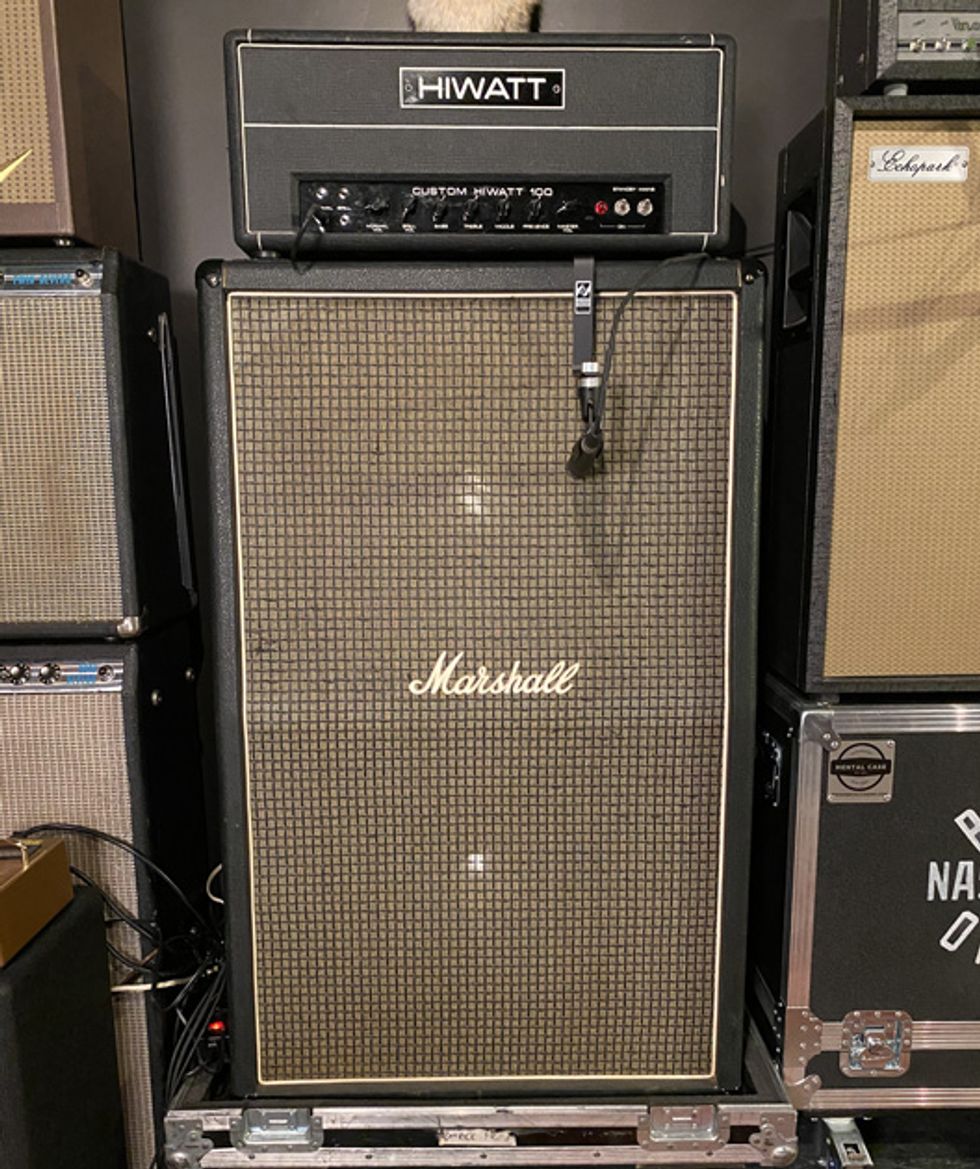 For a "bass" tone during his gritty blues-rock duo gigs, Owens will run this '90s (Audio Brothers) Hiwatt Custom 100 DR103 alongside the Vibramatic. The DR103 rocks through an early '70s Marshall 2034 cabinet. In a previous life, the 2034 was an 8x10 but now it's home to two 15s.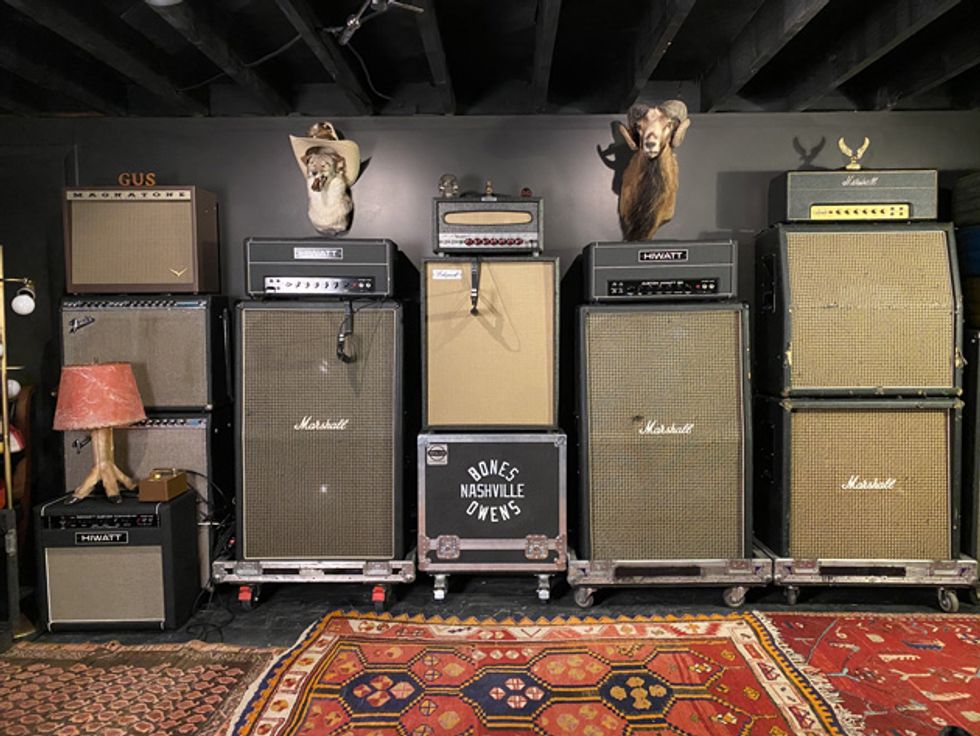 Just a fraction of Bones' immense amp collection.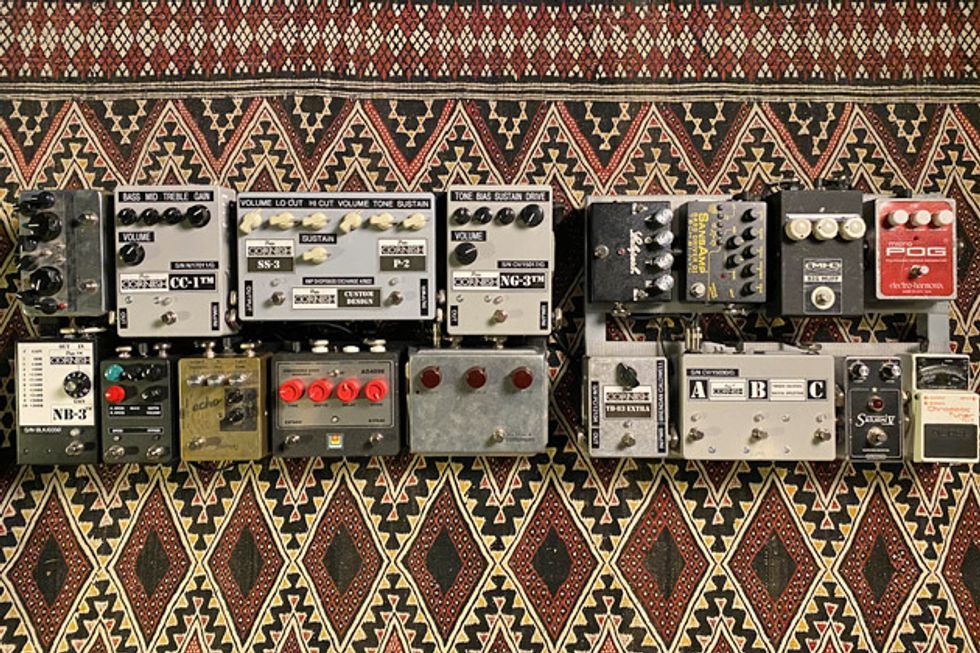 Owens' signal out of the guitar hits his first board that's dedicated to his "bass" sound that colors the DR103. The Spaceman Effects Saturn V Harmonic Booster is an always-on, no-matter-what pedal. Then it hits the Pete Cornish A/B/C amp splitter box. Out of that it runs into the Electro-Harmonix Micro POG (just for octave down) and then goes through a "tall font" EHX Big Muff that was rehoused by Mike Hill. From there, he has the Tech 21 SansAmp Bass Driver/DI. If things are cooking onstage, Owens will leave the Saturn V, Micro POG, Big Muff, and SansAmp all on, all the time.
The B signal path is much shorter—it incorporates the Echopark Echodriver that awakens the Echopark Vibramatic 4T5A.
(Typically, the C patch would hit a third amp and handle the bulk of effects, but for at-home-recording purposes, Owens routed all the stomps through the Echopark head.) Before jumping over to the second board on the left, the C path routes through the Cornish TB-83 Extra Treble Booster. Then we have plethora of Pete Cornish pedals—NG-3 ("imminent amp death" fuzz), a SS-3 (overdrive/distortion) & P-2 (distortion) housed together, CC-1 (boost/overdrive) that uses two fixed, low-gain, soft-clipping stages, and a NB-3 (linear boost). The other noisemakers and rebel rousers at Owens' feet include a silver Klon Centaur, Endangered Audio Research AD4096 Analog Delay, a Skreddy Pedals Skreddy Echo, a JHS-modded Boss TR-2 Tremolo (rehoused by PG columnist Barry O'Neal over at XTS—XACT Tone Solutions), and in the top left is a Toneczar Effects Halophaze.
Click below to listen wherever you get your podcasts: