Myers talks about his unwavering loyalty to PRS Guitars showing us his current touring collection while Bass discusses his various signature Dean basses and why he's using a solid-state guitar head for distorted bass tones.
PG's Chris Kies is on location in Cedar Rapids, Iowa, where he catches up with Shinedown guitarist Zach Myers and bassist Eric Bass as they headline the 2013 Carnival of Madness tour. In this segment, Myers talks about his dozen PRS models—including some that were built by Paul Reed Smith as birthday gifts—and switching from a five-amp rig to a simplified Axe-Fx II setup. Bass talks about his signature Dean Hillsboro models and why he prefers to use a solid-state Dime guitar head for his distorted tones.
Zach Myers Gear
Guitars
When it comes to PRS guitars, Zach Myers talks the talk and walks the walk, declaring right off the bat that he's always played PRS guitars and always will. Not to disappoint, Myers showed us 10 various PRS guitars including a tiger-charcoal-burst singlecut that Paul Reed Smith built Myers in 2010 as a birthday present (tuned to C#), a Starla with original 59/09 pickups that he uses on "Devour," a custom faded-blue-jean finish Zach Myers SE Signature with Louis Vuitton fret markers that he plays on "Enemies" (he changes nothing on signature models upon receiving them), and a Buck Owens-inspired Mira with 57/08 humbuckers he uses on "Unity." Other notable PRS axes out with him on tour are a 25th Anniversary Singlecut Hollowbody II (a 2009 birthday present from Mr. Smith) he jams with on "Diamond Eyes," another 25th Anniversary Singlecut Hollowbody II with stereo output so he can use the guitar's 57/08 pickups and piezo for "If You Only Knew," and yet another 25th Anniversary Singlecut Hollowbody II that he acquired to use in the "I'll Follow You" music video but now tunes to C# for "Amaryllis." Meyers' current favorite touring guitar is the 2012 birthday present—a Singlecut Hollowbody—that is based on his signature platform with three humbuckers, and its inlays are flowers derived from one of Myers' tattoos. For acoustic, Myers alternates between two Taylor dreadnoughts with cutaways—a 900 Series and an 800 Series—for the songs "Simple Man," "Crow and the Butterfly," and "Second Chance."
Myers uses SIT Strings exclusively. He uses .011–.049 gauge strings on standard-tuned guitars and for lower tunings he rocks with .011–.052 sets.
Amps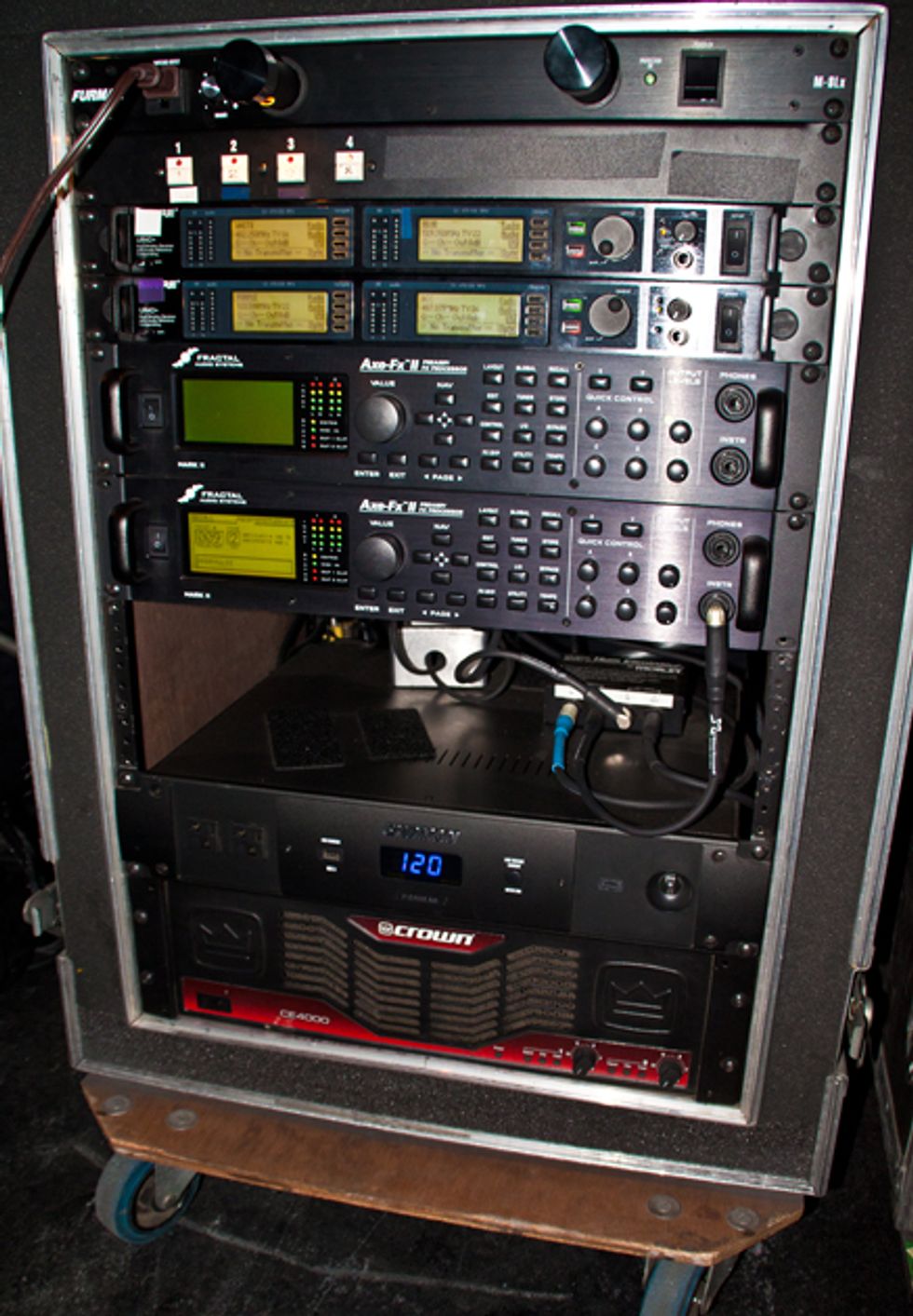 At the beginning of this year, Myers ditched his arena-rock-approved, five-amp "rig of doom" (including two Diezel Herberts, two Fuchs Mantis heads, and a Diamond Hammersmith) for a streamlined Axe-Fx II tonal headquarters. Myers' patches are built off pre-programmed amps (although he did sample his Fuchs Mantis): a Diezel Herbert, a Fryette, two AC15s, two AC30s, and a '65 Bassman. A Crown CE4000 power amp is cranking his Diamond 4x12 for stage volume.
Effects
Most of Myers' effects are based within the Fractal unit, but he does use a DigiTech Whammy and a Dunlop Buddy Guy Signature Cry Baby Wah because he prefers its wide sweep and onboard boost switch.
Eric Bass' Gear
Basses
Shinedown bassist Eric Bass' main rides are his signature Dean Hillsboro USA models. The J-style one on the left is his very first signature prototype, which features Bartolini pickups, while the matte white on the right features an active EMG pickup and onboard preamp, which he uses for drop-tuned or more aggressive songs. Bass wanted a thinner neck radius at the nut of his signature model, a flatter neck at the higher frets, and a strong emphasis on comfort—avoiding a neck-heavy design—as he believes you adjust the sound but comfort and feel on an instrument is either there or not. All of his basses use his signature SIT Power Steel .050–.110 string sets.
Amps
Bass' main amp and effects setup depends heavily on the combination of the Hartke LH1000 head and the Hartke Kilo 1000-watt tube preamp heads for his clean tone. He claims the first time he plugged one of his Hillsboro basses into the LH1000 head, he instantly identified it as the sound he'd been chasing for years. Now that Shinedown has a clean stage, his 8x10 Hartke and Dime 4x12 cabs run offstage.
Effects
Bass only kicks on his pedal treats sparingly during interludes and jams between songs that change and evolve from night to night. His pedalboard boasts a Voodoo Lab Pedal Power 2, a Radial SGI 44 Studio Guitar Interface, a Boss TU-2 Tuner, an Electro-Harmonix POG2, a HardWire DL-8 Delay/Looper, an EBS UniChorus, and a DigiTech Whammy. The secret to Bass' tonal setup is his usage of the solid-state Dime guitar head that he uses as a stompbox (with the switcher on his pedalboard) for overdrive and distortion tones because he grew tired of bass overdrive and dirt pedals adding gain but killing his low-end thump.