Photo by Ken Settle
Remembering the art and life of one of the world's greatest and most innovative instrumentalists, who died on Tuesday, January 10, at age 78.
Legends are immortal, but not human beings. And so, Jeff Beck, an immortal of the electric guitar, died from bacterial meningitis on Tuesday in a hospital near his sprawling county estate, Riverhall, in Wadhurst, England, at age 78.
To call Beck a giant of the instrument nearly diminishes his monumental and singular accomplishments. He established his own supremely influential language of the guitar and spoke it fluently for more than six decades. Although he never sang on his recordings, in his hands the 6-string was vocal—fluid, melismatic, melodic, and most important, full of heart. Attending a Jeff Beck concert was to witness inspiration at its most wild and relentless. And to bask in a tone so large and purposeful that it could seemingly be heard around the planet.
Which it was. Beck was known and revered across the globe—an instrumentalist who made albums for the first two decades of his career, (starting with the Jeff Beck Group's still stunning and innovative 1968 debut, Truth) that routinely made the top 20. Those include his groundbreaking duo of mid-'70s recordings, Blow by Blow and Wired, that transformed fusion into part of the soundtrack of popular culture. But Beck was not a jazz or rock guitarist. He was an omnivore, who digested every style—country, rockabilly, swing, Tin Pan Alley, punk, skronk—to both put his seal on them and twist them to his own ends, turning the Beatles' "She's a Woman" into a reggae playground and transforming an idea taken from a theme by composer Maurice Ravel and turning it into the epic, soaring, and harmonically supercharged "Beck's Bolero."
"Whenever I pick up a guitar, it will always be heavily blues influenced, but I try to push it further, because you have to expand your scales and melodic thinking." —Jeff Beck
When I asked Beck about his approach, during the '80s, he replied, "Whenever I pick up a guitar, it will always be heavily blues influenced, but I try to push it further, because you have to expand your scales and melodic thinking. But I'll play a blues solo on a non-blues song, bending the notes into whatever the song takes. That's my whole thing: trying to explore the blues to the maximum, really. It's in the blood."
Note that Beck said, "whatever a song takes," not whatever it needs. The courage and will of his playing were consistent, impulsive, and limitless. Listen to "Morning Dew" from Truth. His guitar toys with themes, playing fragments of melodies, dropping patches of wah wah, howling, rather than weaving a defined rhythm or tune through the song. Then hear "Pull It," from 2016's Loud Hailer, an album cut with vocalist Rosie Bones and guitarist Carmen Vandenberg of the English punk outfit Bones UK. Made nearly 50 years after Truth, that song is also telegraphy as music—dots, dashes, fuzzy blots of tone. And yet both performances not only work—they're riveting.
Beck considered blues to be the core of his music but saw its opportunities for expansion as limitless.
Photo by Ross Halfin
Beck was born in Wallington, Surrey, England, on June 24, 1944. Les Paul was his first guitar hero, followed by Cliff Gallup, B.B. King, and Steve Cropper. He became friends with Jimmy Page when they were both teenagers, and, while attending Wimbledon College of Art, he fell in with David "Screaming Lord" Sutch, with whom he first recorded in 1962. But Beck really began his 60-years-plus of breaking rules in 1965, when he replaced Eric Clapton in the Yardbirds. There, he pushed the group's blues envelope with his inflammatory guitar on "Shape of Things" and the demented "Over Under Sideways Down," where his hammer-ons, slides, and bends created the number's sitar-influenced riff. Although Beck was unhappy in the Yardbirds, his 18-month membership earned him his first induction into the Rock 'n' Roll Hall of Fame in 1992, followed by a second induction for his work as a leader and solo artist in 2009.
The inevitable formation of his own band, the Jeff Beck Group, featuring Rod Stewart and future Rolling Stone Ronnie Wood, occurred in 1967, and with the next year's Truth, he presaged Led Zeppelin's recasting of blues as psychedelic manifesto. Beck's playing on that album remains practically avant-garde at its least restrained, yet still directly speaks a dialect of the blues. But with the notable addition of pianist Nicky Hopkins, the Group tilted further into rock with its next release, 1969's Beck-Ola. Two more albums, Rough and Ready and Jeff Beck Group, followed, with the latter including "Going Down." Beck's version of the Don Nix tune that Freddie King had made famous became an instant FM radio staple.
"I saw Beck use the whammy bar alone to play a slow, lovely feedback melody through his array of amps, and then point the guitar's headstock straight down into the stage and push himself into the air by placing his hands on the rounded back end of the body. When he touched down, he tossed the guitar—still feeding back—into his arms, hit two notes that revealed where the tuning had drifted, and flawlessly picked up the melody he'd been playing before his acrobatic stunt."
That band was followed by the short-lived Beck, Bogert & Appice, who released an album of the same name in 1973. The group was a trio, with vocalist/bassist Tim Bogert and drummer Carmine Appice, from the Vanilla Fudge and Cactus. All along Beck had continued to maintain a studio career (which continued almost to the present) and had played on Stevie Wonder's Talking Book the year before. Beck, Bogert & Appice's rendition of Wonder's "Superstition" was one of their album's highlights, along with a beautiful slide-guitar-dappled reading of Curtis Mayfield's "I'm So Proud."
After this soul-music-influenced outing, Beck experienced a kind of rebirth. He was already a Gibson Les Paul player, but while recording in 1972 in Memphis he found a 1954 goldtop that was refinished in oxblood by its previous owner. That guitar is depicted in Beck's hands on the cover of 1975's all-instrumental Blow by Blow, which sold a million copies in the U.S. and reached number four on Billboard's Hot 100 album chart. The epochal Blow by Blow alone is enough to ensure that Beck's legendary status will endure. It's full of monumental performances, including his emotional tribute to Roy Buchanan, "'Cause We've Ended as Lovers," perhaps the greatest blues-inspired instrumental ever recorded.
Longtime friends Jeff Beck and Eric Clapton share the stage at the 2010 Crossroads Guitar Festival.
Photo by Chris Kies
And the die was cast. Although he went on to make albums and cut singles with exceptional vocalists—perhaps most notably a soulful 1985 version of the Mayfield gospel song "People Get Ready," with Rod Stewart, that's become a classic—from that point on Beck dedicated himself primarily to instrumental music.
The next year's follow-up, Wired, built upon Blow by Blow's success with performances of Charles Mingus' "Goodbye Pork Pie Hat" and Jan Hammer's "Blue Wind" that also set radio afire. More important, though, was the arrival of the Fender Stratocaster on its cover. For the rest of his life, Beck and Stratocasters were mostly inseparable onstage and in the studio. And by using banks of amps and unsparing volume, he crafted a unique sound on the single-coil instrument, huge and compelling, with a horn-like fluidity and endless, sustained tone.
His technique on the Strat's vibrato arm was extraordinary. It was as if it was grafted to his hand, or, at least, seemingly never left it. His subtle—and often radical—bending and pulling of notes with the bar made his playing even more voice-like, able to carefully craft and negotiate micro- or macro-tonal changes effortlessly. His intimacy with the Strat made for some truly uncanny performances.
In a '90s concert at the Great Woods Amphitheater in Mansfield, Massachusetts, I saw Beck use the whammy bar alone to play a slow, lovely feedback melody through his array of amps, and then point the guitar's headstock straight down into the stage and push himself into the air by placing his hands on the rounded back end of the body. When he touched down, he tossed the guitar—still feeding back—into his arms, hit two notes that revealed where the tuning had drifted, and flawlessly picked up the melody he'd been playing before his acrobatic stunt.
Beck's romance with the Stratocaster caught fire during the recording of 1976's Wired album.
Photo by Ken Settle
Beck continued to make excellent studio albums—most notably There and Back, Jeff Beck's Guitar Shop, Jeff, Emotion & Commotion, and Loud Hailer. He also racked up high-level session credits, recording with Roger Waters, Jon Bon Jovi, Kate Bush, and Tina Turner. And he accumulated eight Grammy Awards—seven for Best Rock Instrumental Performance. His most recent album was 18, a 2022 collaboration with Johnny Depp. Beck's final public performance was touring behind that release, on November 12, in Reno, Nevada.
After Beck's family announced his death on January 11, fellow guitar virtuoso Eric Johnson shared his thoughts on social media: "Hearing about Jeff Beck is a shock. He was one of the most original guitarists I ever heard. He never conformed to status quo guitar or conventional playing, always reaching for a new dimension, which he achieved multiple times. He was the most expressive lyrical storytelling guitarist there ever was and that's why non-musicians loved him. He garnered more affection from audiences than other guitar heroes because he had such a musical poetry to his playing.
"I believe that he and Jimi Hendrix were the most inventive and original rock guitarists there ever was. I had the gift of being able to visit with Jeff a few times and that is a treasured memory in my life. The guitar world will go on, but it won't be the same without the most inventive 6-string visionary we have been graced with on this planet. Joyous wishes to you, Jeff, as you soar on to your next magnificent adventure. Thank you for teaching me and inspiring me to want to play guitar."
JEFF BECK LIVE Cause We've Ended As Lovers
Photo by Julia Marie Naglestad
After seven albums with her trio, the avant-garde Norwegian guitarist branches out and collaborates with the Trondheim Jazz Orchestra on a concept album, Maternity Beat, which explores themes of empathy and parenthood, inspired by displaced persons fleeing war.
For a stiff contraption of metal and wood, the guitar can convey an extraordinary range of human emotions. Combine it with an 11-piece ensemble and the options expand like a flower. Norway's Hedvig Mollestad, her blonde Gibson ES-335 in hand, revels in these myriad possibilities on her latest album Maternity Beat, a commissioned project with the Trondheim Jazz Orchestra. (Previous TJO guest collaborators include Chick Corea and Joshua Redman—not too shabby.)
It's a logical progression. Over the course of seven albums for Rune Grammofon since 2011, the Oslo-based Mollestad remained focused on the decidedly rock-edged sound of the Hedvig Mollestad Trio, with Ellen Brekken on bass and Ivar Loe Bjørnstad on drums. Then came a shift in 2020, which led to the release of two solo albums, Ekhidna and Tempest Revisited (2021), also for Rune, that changed the sonic equation.
Instead of electric bass, Mollestad recruited two keyboardists for Ekhidna and added trumpet. On Tempest Revisited, the lineup grew to include three saxophonists and two drummers. She may not have known it right away, but she was laying the foundation for Maternity Beat and the expanded sound world made possible by the TJO.
Hedvig Mollestad & Trondheim Jazz Orchestra - All Flights Cancelled
Part of the catalyst was motherhood and the huge personal and professional changes it can bring. "My first child was born in 2015 and the second in 2017," she explains. But more than this, it was the plight of migrants, including many children, during this same period that triggered Mollestad's artistic response. "At that time, it was mostly people fleeing the Syrian war," she observes, "and a lot of them came to Norway. They were treated in a harsh manner, picked up in the middle of the night and driven up north where the weather was minus 40. It was so inhumane. This was happening while my children were very small, and it had a big impact on me."
The disconnect between this hardship and her own relative comfort proved jarring for Mollestad and others in her circle, and it prompted a search for new modes of expression. "You go around in your perfect everyday mood, happy to play with your children while people are experiencing real traumas so close to us. I wasn't doing anything in particular, except thinking about it. So, it made me wonder: What is caring for other people? What is it that makes us care? Do we have to be parents? What does it take to care for another's child? The title
Maternity Beat
grasps at our only common experience, that we are all born from someone. It's not an homage to perfect parenting or motherhood, but it comes from an experience of deep caring, and a kind of awakening on the question of what makes us care, what makes us act."
"It's so dangerous to play in a band with Ståle because he's such a box of extreme surprises and wonderfulness that you really have to step up and get your game on to match what he's doing."
To convey any of this, Mollestad realized, she needed words. And so, as a first, she wrote lyrics. More than sung melodies, they are mainly short spoken-word passages voiced by Mai Elise Solberg and Ingebjørg Loe Bjørnstad. At times the two also harmonize wordless melodies as part of the orchestra (joined by Mollestad herself on the culminating epic "Maternity Suite"). "Is there a boat on the horizon?" they intone on the album's leadoff track. "With mothers and children and fathers? … / Life is all they bring / Life is all we bring."
It wasn't just the heightened turmoil of this period that led Mollestad away from the direction of her trio. "I'd always been true to this guitar-only concept," she says, "but I found myself wanting to break it up a little more." This didn't necessarily mean downplaying the guitar, but rather featuring it in different settings to explore its capabilities more fully. In this respect, she mirrors the influence of a major role model, veteran ECM recording artist Terje Rypdal.
Hedvig Mollestad's Gear
Mollestad uses various Fender amps on tour, but her go-to setup is an early-'70s Fender Dual Showman Reverb atop a 2x15 cabinet.
Photo by Julia Marie Naglestad
Guitars
1988 Gibson ES-335 Showcase Edition (modified with'57 Classic pickups, Bigsby tremolo, gold hardware)
1970 Gibson ES-335 (for "On the Horizon, Part 2")
Gibson ES-345
Amps
Close to home:
Fender Dual Showman Reverb, 2x15 cabinet (approx. 1972)
For the road (options requested for backline):
Vintage Fender Super Reverb
Fender Bassman with 4x10 cabinet
Fender Deluxe Reverb
Orange Rockerverb 100 MKIII
Effects
EarthQuaker Palisades V2 Overdrive
Vulk Audio Germanium Fuzz
Boss TU-3 Chromatic Tuner
Moog Moogerfooger
Empress Superdelay
Boss DD-7 Digital Delay
Ernie Ball volume pedal
Roland EV-5 Expression Pedal
Strings and Picks
Elixir or Ernie Ball, .011–.048
Dunlop 1.0 mm (default)
Dunlop Jazz III 3 mm (for jazz)
Dunlop .73 mm (for strumming)
One priority was moving away from electric bass—and yet Brekken, who had always doubled on upright bass with Mollestad's trio for the more jazz-oriented numbers, had made herself indispensable enough to get hired on upright for Maternity Beat. "It's easy for a guitarist to play with bass guitar," Mollestad maintains. "It's the same kind of riffing, the same kind of fingering, and it's beautiful, but I wanted to move away from that, which is why I first chose the double keyboards on Ekhidna. But I still needed Ellen's presence on Maternity Beat. Her sound is so full, and her beat is so concise and steady, and I really needed her energy. It was also nice to involve her in such a personal project because we're close friends."
On keyboards, Mollestad brought in the formidable Ståle Storløkken, from the influential electro-acoustic improvising quartet Supersilent. Storløkken's toolkit includes otherworldly synths, warm Rhodes textures and a raw, earthy Hammond organ that can recall Jan Hammer with John Abercrombie on Timeless (or perhaps Larry Young with the Tony Williams Lifetime).
When she spoke to Premier Guitar, Mollestad was on the road with Storløkken as part of a new trio called Weejuns (a play on "Norwegians"). "It's so dangerous to play in a band with Ståle," she says, "because he's such a box of extreme surprises and wonderfulness that you really have to step up and get your game on to match what he's doing. There are so many beautiful details coming out and he's so musical. You can't dwell on your choices when you play with him, you just have to act."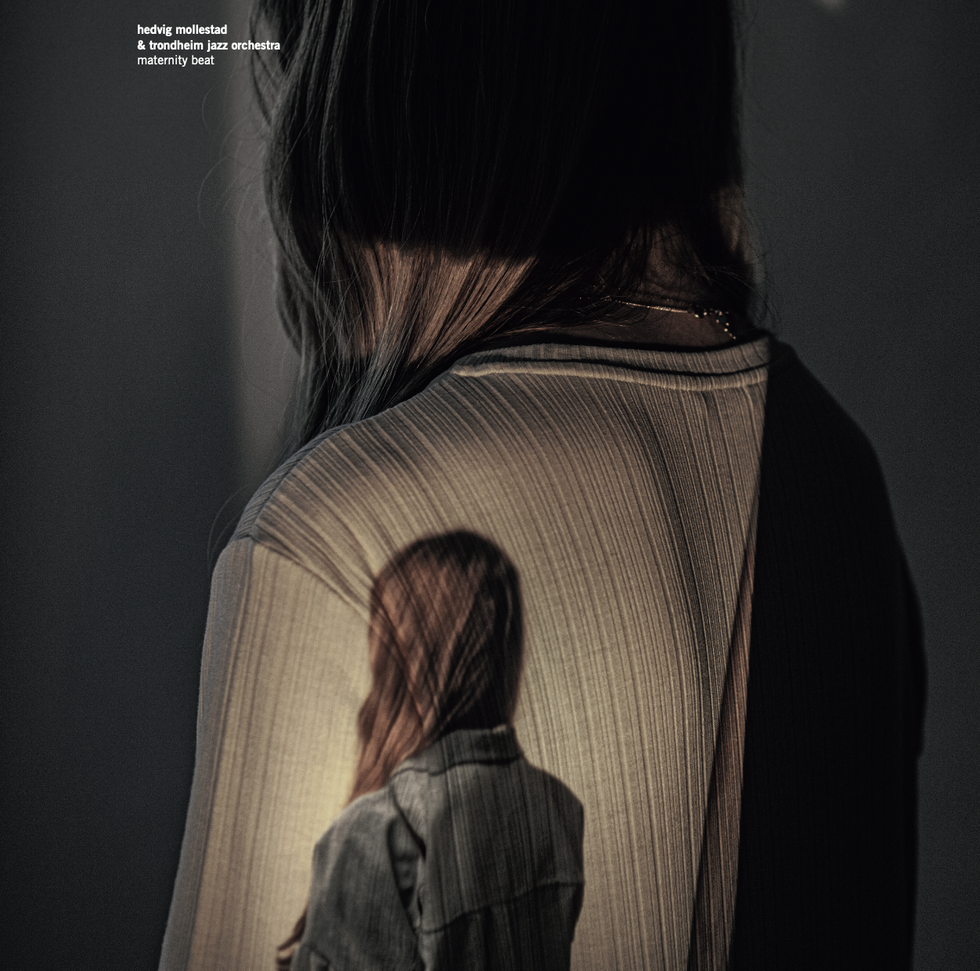 Hedvig Mollestad's Maternity Beat is a collab with the Trondheim Jazz Orchestra. Mollestad was moved by the plights of refugees and wanted to explore themes of empathy and how that relates to parenthood.
While Maternity Beat is a departure, one thing that hasn't changed for Mollestad is her main axe, the semi-hollow ES-335, chosen precisely for its versatility in jazz and rock settings. That plus vintage Fender amplification and a pedalboard full of fuzztones and delays keeps Mollestad in her happy place. "I need my tuner," she clarifies, citing fairly extensive use of the Bigsby tremolo arm, which can wreak havoc during a set. "Also, with the trio there are songs where we have to tune to drop D in the middle of a song. In 'Leo Flash' Return to the Underworld,' for example, we have to retune on the last drum break."
In aesthetic terms, Mollestad wanted her encounter with the TJO to depart from a mainstream big band sound. To that end, she enlisted not only Storløkken but violinist Adrian Løseth Waade and flutist Trine Knutsen as prominent melodic voices to supplement the guitar, two saxophones, and trumpet. There are complex, meticulously-notated lines and counterpoint but also room for the breath and collective release of improvisation. Elements of chamber music, prog rock, and fusion intermingle as Brekken, drummer Torstein Lofthus, and percussionist Ingvald André Vassbø lay a robust rhythmic foundation.
"You go around in your perfect everyday mood, happy to play with your children, while people are experiencing real traumas so close to us."
Mollestad's guitar is a shapeshifting constellation of sound, from the crunchy overdriven speed-riff of "On the Horizon, Part 2" to the fractured, echoing wails of the markedly dissonant, slow-grinding "Do Re Mi Ma Ma." Her glassy, expansive chording meshes with Storløkken's eerie melodies in a marvelous five-minute duet that opens the title track, before a transition to some of the richest ensemble orchestration on the album. And on "Maternity Suite," she goes full-on arena rock, with big anthemic chords that give way to a striking and truly imaginative flourish: a unison passage for fuzz guitar and flute.
"All Flights Cancelled" is an outlier, a song conceived for (and recorded by) Mollestad's trio but reworked for Maternity Beat as the one track without the full TJO ensemble. "I felt that we really needed a combo piece," she explains. "The album starts with dark, heavy emotional stuff and then this song is a little break in the middle, a fun song to play, focusing on Ståle with [Torstein and Ingvald] both playing drum sets."
Mollestad switches up her picks depending on what she's playing. Her default is Dunlop 1 .0 mm, but she'll use a Jazz III for jazz runs, and a .73 mm pick for strumming.
Photo by Arne Haug
Amid the lyrical guitar balladry and lush ensemble adornment of "Her Own Shape," the voices return, reciting words on what Mollestad calls parenthood's "extreme gift and responsibility." "My cell within me / Will split to become larger / Part to become stronger," they speak about watching one's offspring separate and blossom.
"It's so strong and sad at the same time," Mollestad says, "because they will always be your biggest concern and you will carry it with you everywhere. At the same time, they're here to live their own life. And they are perfect as they are. You don't have to interfere at all because they're the most equipped to be perfect people. You just have to be yourself because that is what they need from you."
But how to get through those difficult moments? On "Little Lucid Demons/Alfons" Mollestad recommends a way forward. In unison and with impeccable timing, Solberg and Bjørnstad offer a staccato pep talk of sorts for when the kids "pull your hair for you, and paint it gray." Think of everything, they suggest, in terms of music:
look for swing
look for flow
look for beat
and then
take it away.
Hedvig Mollestad Trio - Beastie, Beastie (Live)
Photo by Ebet Roberts
The fiery, incandescent, and visionary guitarist who died on January 28, 2023, helped spark a punk revolution—and then transcended the form entirely.
Musicians feel and experience influence in many ways. And to be certain, Tom Verlaine's guitar playing—his deconstructed melodies, pointed attack, and capacity for flight—inspired many to attempt imitation. But for a lot of us, Verlaine's guitar and voice, and the music he created with Television and as a solo artist, were much more than another set of musical tricks to nick. They symbolized liberation and freedom from musical constraints, the rush, promise, and exhilaration of bohemian city life, the world of poets, and the notion that outsider musical voices could find audience and reverence. In the end, Verlaine's playing may have been impossible to duplicate. But the electricity in his expression suggested an enormity of potential to those looking for a ray of light in weird times.
Tom Verlaine was born as Thomas Miller in Denville, New Jersey, in 1949 and grew up in Wilmington, Delaware. (He later changed his last name to honor the French Symbolist poet Paul Verlaine.) As a youth he was captivated by Stan Getz, John Coltrane, and Richard Wagner. He took piano lessons, was drawn to the saxophone, and, in his telling, found rock 'n' roll comparatively unexciting—at least until he heard the Stones, Yardbirds, Kinks, and Byrds. In their works he found the same sort of intensity he had found appealing in jazz. The revelation led Verlaine to guitar. And ultimately, the fusion of those influences—British Invasion energy, free jazz fire, and classical melodic instincts and concepts—would shape his approach to the instrument.
Verlaine conjured a visceral, even mystical sense of tension and release from his fingers. His lines could sound tattered and violent or hushed and tender. And in inhabiting the two worlds, he often approached the sublime elevation of his hero John Coltrane.
Verlaine moved to New York City in 1968. In time, he reconnected with fellow prep school delinquent and poet Richard Hell, with whom he formed Television in 1974. By then, Verlaine had also joined forces with another wildly talented guitar foil, Richard Lloyd. In 1975, Hell, whose bass chops and extroversion were better suited for punk's more brutish side, was fired and replaced with Blondie bassist Fred Smith. Along with drummer Billy Ficca, they formed a potent rhythm section uncannily suited to Verlaine's musical vision.
In this performance at Chicago's Riot Fest in 2014, Tom Verlaine plays his Frankenstein S-style with a super-strat body, Danelectro lipstick pickups, and a mid-'60s Jazzmaster neck.
Photo by Debi Del Grande
Even with the benefit of hindsight, it's still a wonder that Verlaine and Television managed to make their 1977 masterpiece Marquee Moon amid the ossified record industry environs of the mid '70s. Though Television was instrumental in jump starting New York City's punk revolution (Verlaine talked CBGB owner Hilly Kristal into taking a chance on the band, effectively launching punk's most celebrated venue), Television was an odd fit in a scene of misfits. Between Blondie's high-energy pop moves, the Ramones' bonehead-genius riff machine, and Patti Smith's live-wire, larger-than-life poet-goddess presence, Television's combination of wiry, twitchy garage-rock threads and searching, extended jams must have seemed alien at times. Had punk's ethos of "shorter, faster, louder" been more strictly codified at the time, they might have even been cast out for letting their jams sprawl in the fashion of the Grateful Dead or Quicksilver Messenger Service (Verlaine's quivering string vibrato often bore a more-than-passing likeness to that of Quicksilver lead guitarist John Cipollina).
Television's modest first single, 1975's "Little Johnny Jewel," recorded for NYC scenester Terry Ork's small label, offers a taste of how odd they must have sounded in contrast to their peers and the slick-and-super-mega chart toppers of the time. In some ways, "Little Johnny Jewel" sounds unbelievably small. Verlaine's guitar, sent direct to the console, sounds thin, plinky, even miniscule. Yet Verlaine's solo on "Little Johnny Jewel" is filled with deep yearning and ache. The bass riff, built on a few descending three-note figures, suggests back-alley mystery and creeping menace. It may sound small, odd, and misshapen next to the brutal linearity of the Ramones, but it perfectly captured the romance and sensuality of the city in which it was created, and the spirit of the art outcasts that inhabited its quieter, darker corners.
As Television found their footing and formalized their roles, they morphed from tentative and sloppy into a band capable of crooked clockwork precision and power. Verlaine and Lloyd, meanwhile, evolved into one of the most fascinating guitar duos ever. Lloyd leads were often marked by fluid exactitude. Verlaine, however, conjured a visceral, even mystical sense of tension and release from his fingers. His lines could sound tattered and violent or hushed and tender. And in inhabiting the two worlds, he often approached the sublime elevation of his hero John Coltrane.
Little Johnny Jewel
Television's wave crested and crashed early on. Marquee Moon was a masterpiece on arrival. And its centerpiece, the song which shares the LP's name, was anchored around an extended Verlaine solo that ascended from cool and spare to frantic and white hot. Live, the song was often explosively ecstatic. (If you want to know what musical freedom sounds like, check out the versions of "Marquee Moon" and "Little Johnny Jewel" from the official live bootleg, The Blow Up.)But Television's highly evolutionary approach to guitar music did not sit easily alongside the more accessible fare of CBGB compatriots Blondie or the Ramones. Their second LP, Adventure, was less visionary than its predecessor, yet it's a showcase for some of Verlaine's most melodic and lovely tunes, as well as some of his choicest solos ("The Fire" for one). In theory, Adventure was a more accessible work than Marquee Moon, yet it floundered commercially, effectively ending the band's first chapter.
In subsequent years, Verlaine, who had little interest in the more grotesque trappings of the rock business, remained quietly busy and prolific. His early solo LPs were rich with bright spots and great songs, but sometimes compromised by contemporary production or short on the extended incendiary guitar flurries that had become his trademark. However, 1992 marked a vernal, transformative year for Verlaine. It saw his reunion with Television, the release of the band's underrated third, eponymous LP, and his own instrumental LP Warm and Cool. The latter, in particular, a collage of beautiful, drifting, and fractured mood pieces and lost spy movie themes, hinted at the directions Verlaine would often take in the future—filmic, intimate statements that reflected his love of cinema, Morton Feldman, and painting, as well as a winking sense of humor. That thread found realization again in 2006's Around, another collection of enthralling instrumentals that found Verlaine at ease, and still capable of communicating palpable intensity and anxiety in a minor-key drift and a flurry of a few notes.
Tom Verlaine performs with Television at the Bottom Line in New York City on June 11, 1978.
Photo by Ebet Roberts
If you followed Verlaine in the press—and it would be fair to call him a bit press averse—it was easy to assume he was irascible and unapproachable. And when you felt his most intense musical moments penetrate your heart and gut like darts, it wasn't too hard to imagine that a spirit of confrontation, even anger, inhabited them. Yet when my partner Meg and I opened for Television and met Verlaine, I found him kind, open, quiet, even shy. We drank wine, smoked cigarettes, talked about '60s soul, painting, food, the stupid rents in our respective cities, and thoughts of getting away from it all. He asked that Erik Satie play before Television took the stage. And when he left to go to dinner, he left his guitar behind for me to play. He was a sweet guy, full of humility. In those moments we shared, it was very easy to understand where the tender melancholy in his songs and melodies came from. Verlaine possessed a blinding fire inside. But he was also impossibly cool, and positively overflowing with heart and soul.
Television - Foxhole (live)
Paul Gilbert will release an album celebrating the music of Dio on April 7th. Listen to "Holy Diver" now.
Guitar virtuoso Paul Gilbert, best known for his work in chart-topping hard rockers Mr. Big and Racer X – as well as numerous solo records – was in his car when he saw something that made his heart start beating faster in a moment of unexpected, unadulterated joy. This was not a high value item of interest or even particularly rare, simply a baseball cap with the word 'Dio' emblazoned across the front. Sometimes, even for the biggest of guitar legends, it's the little things that hit us in the most profound ways.

On his drive home, a plan was being formulated. Why not capture all of that raw energy and excitement on an album devoted to Ronnie James Dio's most celebrated tracks – spanning across his career from Rainbow to Black Sabbath and the singer's own solo endeavours? Gilbert is no stranger to instrumental music, but an entire album dedicated to replicating well established and world-famous vocal melodies on his trusty six-string genuinely felt like new territory. This was already shaping up to be a challenge that he would truly relish.
The Dio Album consists of 10 standout and career-defining tracks, from "Neon Knights" and "Long Live Rock 'N' Roll" to "Holy Diver" and "Man On The Silver Mountain". As well as analysing Ronnie James Dio's electrifying vocal melodies, Paul also enjoyed paying tribute to three incredibly talented guitar legends – Tony Iommi of Black Sabbath, Ritchie Blackmore of Rainbow and Vivian Campbell from the Dio band, who has been a member of British stadium rockers Def Leppard since 1992.
TRACK LIST

1. Neon Knights
2. Kill The King
3. Stand Up And Shout
4. Country Girl
5. Man On The Silver Mountain
6. Holy Diver
7. Heaven And Hell
8. Long Live Rock 'N' Roll
9. Lady Evil
10. Don't Talk To Strangers
11. Starstruck
12. The Last In Line
Paul Gilbert - Holy Diver (The Dio Album)