Blackheart BH100H "Hothead"
Blackheart is releasing the BH100H "Hothead" amp and BH412 Slant (SL) and Straight (ST) cabinets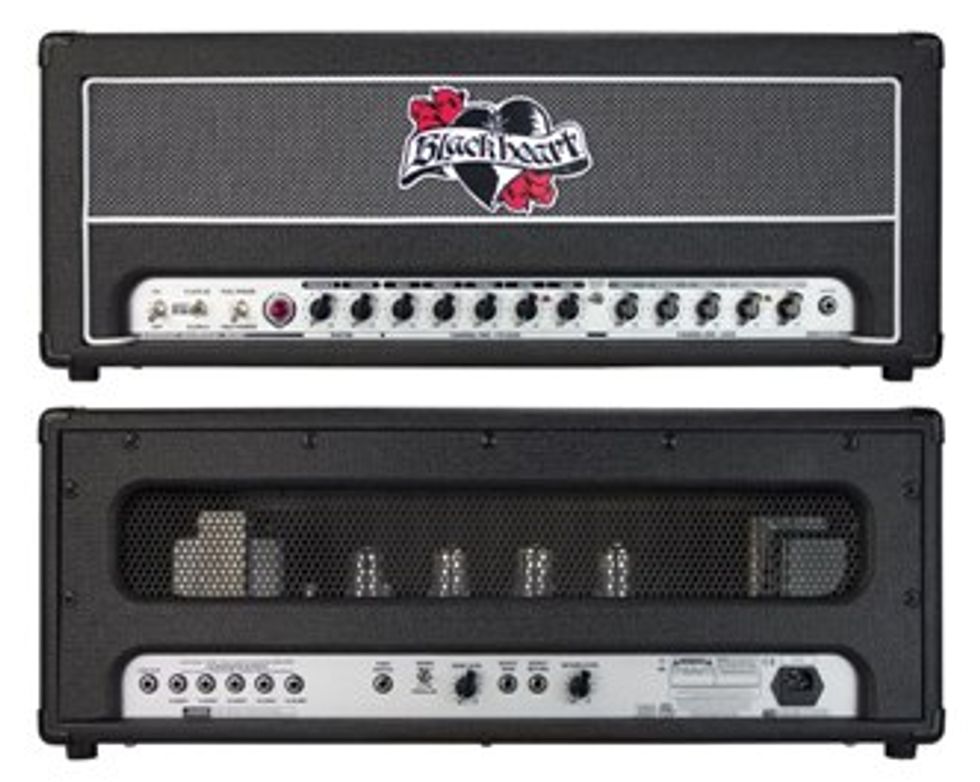 Woodinville, WA (March 13, 2008) -- Blackheart Engineering is releasing the BH100H "Hothead," a flexible 100-watt amp, starting in May.
The BH100H "Hothead" features two power modes (Class A/B and Class A) divisible by pentode (full power) and triode (half power) operation giving you four unique voices:
Class AB/Pentode: 100W for more power
Class AB/Triode: 50W for tighter headroom and crisper gain
Class A/Pentode: 60W for lots of headroom
Class A/Triode: 30W for less headroom
The two channels (literally called "Loud" and "F'n Loud") are selectable by a mini toggle on the faceplate or remotely via the included footswitch. The Loud channel is voiced to range from crisp cleans to classic rock and heavy blues tones. It controls drive, level, treble, middle and bass. The F'n Loud is meant to caputure crunch and overdriven lead tones via pots for gain, level, treble, middle and bass. Both channels share a tube-driven effects loop that can be hard bypassed and run in series or parallel modes.
Other Hothead amenities include a solid state rectifier, DC powered filaments (preamp) and 16-gauge, 1.5mm rugged chassis construction with folded and welded corners. Plus, one 16-ohm, two 8-ohm and two 4-ohm output jacks, a 1/4-inch line out and a rugged cabinet constructed of 15-ply, 18mm, void-free plywood. 


Watts: 100
Power Modes: Class AB and Class A divisible by pentode and triode operations
Channels: Two
Filaments: DC powered
Chassis: 16-guage, 1.5mm with folded and welded corners
Output Jacks: one 16-ohm, two 8-ohm and two 4-ohm
Line Out: 1/4-inch
Cabinet: 15-ply, 18mm, void-free plywood
Street Price: $649.99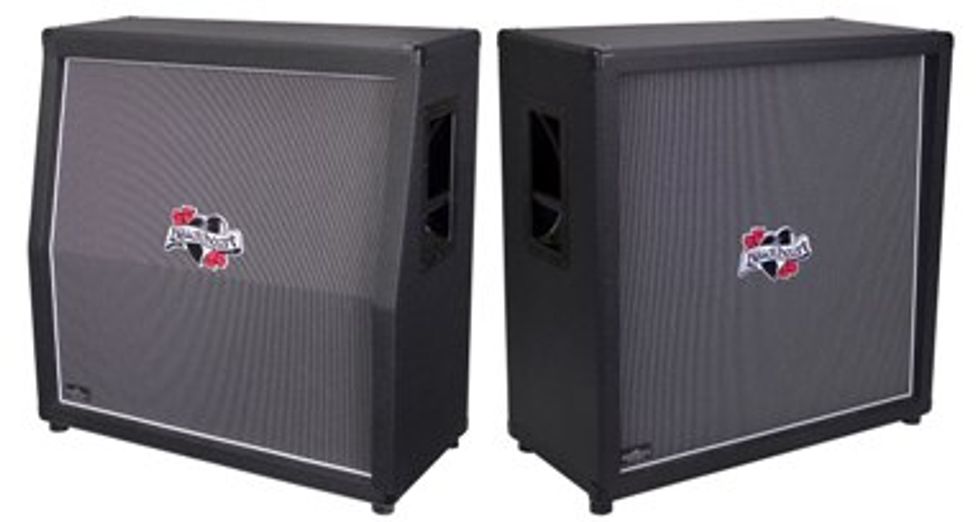 Blackheart Engineering is also introducing its BH412 Slant (SL) and Straight (ST) cabinets (each has a street price of $449.99) in May. Both are loaded with four 12-inch Blackheart by Eminence BH1216B Speakers, British-voiced and specifically designed for closed back cabinets.
Blackheart amps have durable metal handles and removable metal casters. The cabs are made with 15-ply,18mm, void-free wood, classically joined and glued.
With power handling rated at 300 watts, both cabs have an input impedance of 16 ohms and sport parallel 1/4-inch input jacks to daisy chain multiple speaker cabinets from a single source.
For more information:
Blackheart