Five Pedals You Must Try Before You Die!
Greetings fellow students of stomp; this month we're going to have a little fun with our list of pedals you must try before you die. Please note that the
Greetings fellow students of stomp; this month we're going to have a little fun with our list of pedals you must try before you die. Please note that the operative word here is "try" – we're not suggesting you need to actually go out and buy any of these, we just feel your explorations in effects may not be complete until you experience the essence of these classic pedals. Between the two of us, Analog Mike and I have played literally thousands of different effects and that's not counting the various different versions of certain pedals. In our opinion, you owe it to yourself to spend at least some time with each of these great pedals. You may decide there are a couple that you don't care for or aren't right for your style – that's okay! At least you know what they're about. On the other hand, you may just discover your signature sound – the one pedal you can't live without. Okay, let's get started:
1. Tube Screamer
The little green pedal that all other overdrives are measured against; smooth and mild with that prominent midrange hump that some players love and others could do without. Whether it's vintage or reissue, straight stock or custom modded, original or clone, TS-808, TS9, TS10, or what-have-you – a Tube Screamer is one of the most versatile dirt pedals ever created and sounds great with literally any combination of axe and amp. Analog Mike recommends, "Try it into a clean amp with high drive settings, and into an already driven amp at lower drive settings with higher volume to check out both of its common uses."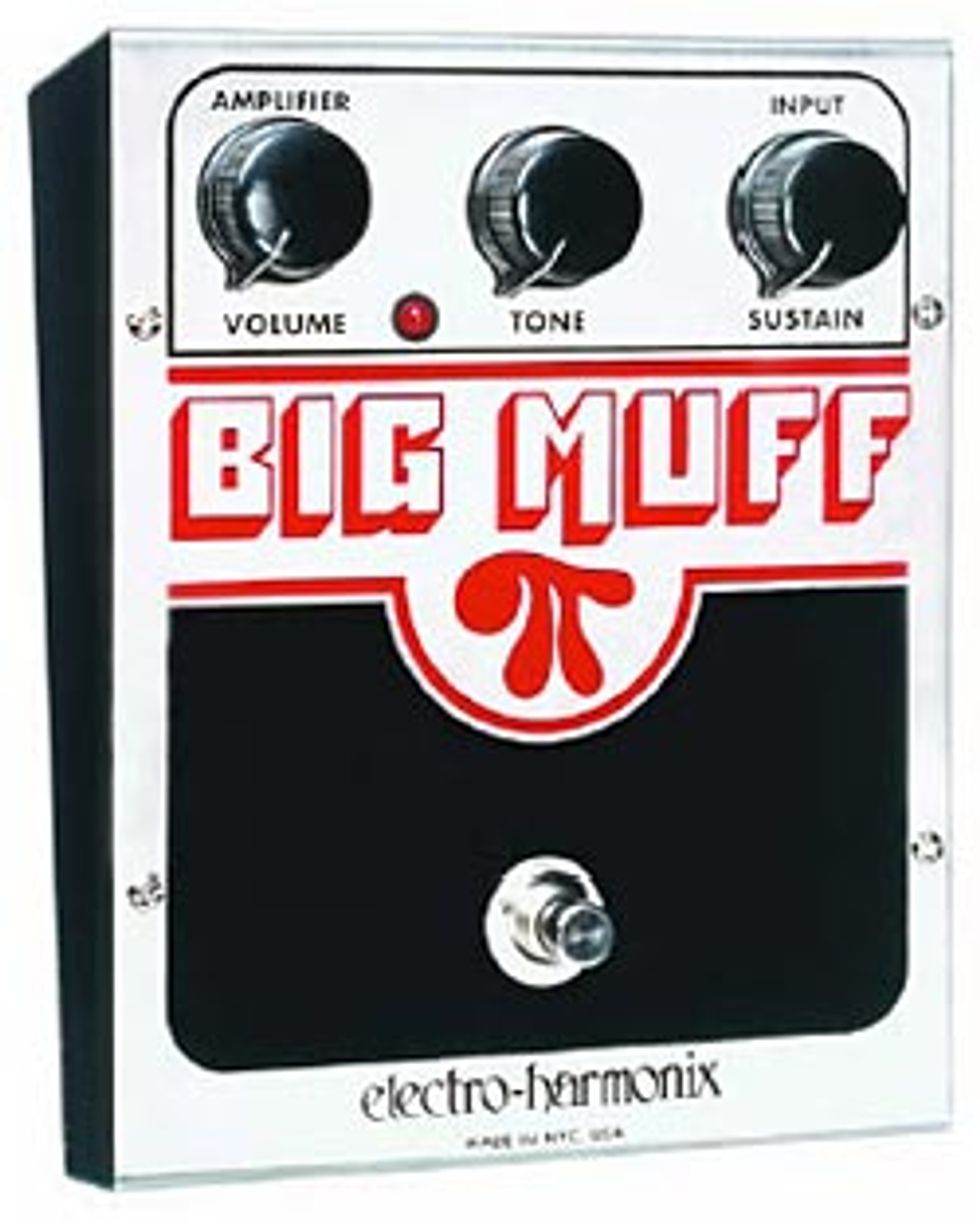 2. Big Muff pi
Since its first appearance (circa 1970), the Electro-Harmonix Big Muff pi has been associated with a diverse range of players, including Carlos Santana, Robert Fripp, David Gilmour, J. Mascis, and Billy Corgan. Surprisingly versatile, the Big Muff can cop an incredible range of useful fuzz tones, from warm and wooly to hot and nasty. But the Muff really shines like no other when delivering the smooth, singing sustain it's known for on single note leads. Any version will do to get you started, so you don't need to spend $500 for a triangle knob version on eBay just to get the idea. Your life ain't complete until you try a piece of the Pi!
3. Crybaby
By "Crybaby" we mean pretty much any wah-wah pedal, be it an original Clyde McCoy, a Dunlop reissue, or a Teese RMC. Even if it turns out that it's not your thing, you gotta at least give it a try. By its very design, a wah is a dominating, in-yourface effect, so you won't want to use it on everything. But there are some occasions when absolutely nothing else will do. It's also more versatile than it may at first appear, and responds well when applying different techniques – you can just tap your foot in time, a la Clapton with Cream; you can do the wakka wakka wakka "Theme from Shaft" thing; you can leave it halfcocked like Michael Schenker – and we're just getting started.
4. Germanium Fuzz Face
These days, an original Arbiter Fuzz Face is hard to find and prohibitively expensive, so what we're really talking about is a good, boutiquestyle remake of the original. Analog Mike suggests, "Don't put any other pedals before it, so you can see how it interacts with your pickups, playing sensitivity and volume knob on your guitar. Keep the fuzz knob up high, but also try it lower if your amp is running with some drive."
5. Univibe
In reality, the UniVibe is sort of a funky, malfunctioning phase shifter. With a circuit built around a flashing bulb and a photocell, the design is pretty off-the-wall. So it's no wonder the resulting sound is so distinct and identifiable. Though it won't really lend itself to a wide variety of styles, in the right context the smoky, lopsided, hypnotic throb of the 'Vibe is irresistibly appealing. Like the Fuzz Face, original examples of the UniVibe are rare and pricey. Fortunately, there are a number of high quality boutique remakes available from makers such as Sweet Sound, Black Cat, Fulltone and Foxrox.
We could easily come up with another five for our list, but we're out of space. So, until we meet again, keep on stompin'!
---
Tom Hughes
Tom Hughes (a.k.a. Analog Tom) is the owner and proprietor of For Musicians Only (
formusiciansonly.com
) and author of Analog Man's Guide To Vintage Effects. For Musicians Only is also the home of the FMO Gear Shop.
email:
stompschool@formusicainsonly.com
web:
formusiciansonly.com
Analog Man
(analogman.com) is one of the largest boutique effects manufacturers and retailers in the business, established by "Analog" Mike Piera in 1993. Mike can be reached at
AnalogMike@aol.com