Pretty sounds live alongside freakish modulations in a phaser, flanger, and filter combo with super-impressive range.
Fantastic range of phase, flange, and filter tones that span conventional and radical sounds. Cool, practical, and functional trip switch. Beautiful design.
Some tones tend toward metallic, which might put off classicists.
5
4.5
4
4.5
Somehow I sense that the Death By Audio team would appreciate that I wrote the review for their new Disturbance on the day I got a root canal. Dental drills whirring, bright lights, and flying spittle—this is the stuff of many DBA products. Yet the ominously named Disturbance—which manages to be a phaser, flanger, auto wah, and a sort of cocked-wah filter all in one—is actually capable of sounds that fall squarely in the category of beautiful. And like almost all DBA effects, it's also capable of radical and jarring tones. Its ability to span these extremes is the Disturbance's strength.
Silver Surfer Slides Away
The Disturbance is, even by DBA's lofty standards, a cool convergence of industrial and graphic design. The gleaming silver enclosure guarantees you won't mistake it for anything else on the floor. The control array is clear and functional, too, which is important for a pedal with such nuance and pretty-to-mangled sonic range. All told, it's a rather simple layout. A small 3-way toggle switches between fazer, flanger, and filter settings. The three knobs along the top of the pedal are familiar and intuitive, but also take practice to understand entirely. Grasping their interrelationships is key to unlocking the whole of the Disturbance's secrets.
The tensity control is a bidirectional intensity control. At noon, the modulation waveforms sound most fluid and even. As you turn it through its negative range, the output takes on an increasingly more metallic tone, and at maximum negative settings the waves peak with a trebly, whistling tonality. Yet, as you move back toward the middle, you'll find some of the pedal's clearest and most shimmering phase and flange voices, with hot, trebly peaks that elevate the modulation sound in a mix. You can even extract some great '80s-vintage, chorus-like tones in this range at the right rate. To the clockwise side of center, the tensity control yields more vocal modulation voices and more low-mid emphasis that lends a bubble-gum chewiness to the modulation. There are even rich, Leslie-style tones lurking here at faster modulation speeds. At peak levels you can get wailing siren-like sounds from the flange mode, as well as peaky, hollowed-out phase tones.
The center point knob changes the polarity and center point of the LFO wave. Interestingly, it can be very subtle in many applications, and its effects are best understood by messing with it in filter mode. At the furthest counterclockwise setting, you'll hear a distinct blunting of the transient note, tapering to a clearer tone. At the clockwise extreme you hear a clearer transient that swells into a more phasey tonality. At extreme tensity settings, the center point control has a more profound effect—emphasizing more trebly or bassier elements of the LFO cycle. The width control is, save for the self-explanatory speed control, the most straightforward function. It governs the LFO's range. At minimum settings you get little sense of modulation at all. But as you turn clockwise the waveforms get thicker and more aqueous. At maximum levels it will negate the effects of the center point control entirely.
Trip It Up and Trip Out
One or the coolest features on the Disturbance is the trip footswitch. It freezes the phase, flange, or filter cycle, adding punctuation in an arrangement or helping bring a solo to a head. When using wild, more intense flange or phase settings, it can be a great way to duck out of a super-swirly section without losing any weird essence, as you might by switching to a completely dry tone. Freezing the precise point of an LFO cycle takes practice—not unlike using a looper. But the more I used it, the more I got hooked. And it's a great way to extend the Disturbance's practical capabilities.
The Verdict
Like any DBA pedal, the Disturbance is designed to leave its mark in a musical situation. So, though many settings here border on conventional, they may not satisfy classicists seeking canonical modulation tones. If you're among this crowd, you may want to consider the tone score on a sliding scale. But I savored and bathed in the breadth of mellow to wild tones here. And I expect that to many players that relish the unexpected or crave sounds that make a statement, the Disturbance's range of tones will be thrilling. That said, you don't need to be a deviant or weirdo to find a wealth of inspiration in Disturbance. For musicians of just about any alignment, this is a pedal that will prompt invention. And while the $250 price is a touch high, it's not much to pay for a pedal that can offer unique phaser, flanger, auto wah, and filter tones—particularly when you consider DBA's build quality and generous break-it-and-we'll-fix-it guarantee. Restless modulation fiends take note—the Disturbance is a treasure trove of satisfying swirl and many other wobblingly nasty surprises.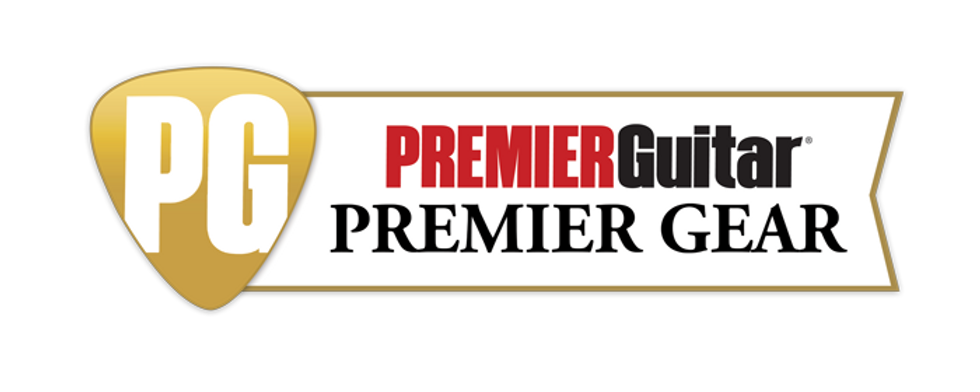 The effects guru puts two historic pedals—the TS808 and the Nobels ODR-1—inside a single box, with a fresh circuit design that allows for four variations on their revered voices.
At first glance, Keeley Electronics' new Noble Screamer seems like a guitarist's dream version of a Reese's Peanut Butter Cup. This enticing morsel tastefully pairs two classic overdrive flavors, the timeless (and ubiquitous) Ibanez TS808 Tube Screamer and the best-kept-secret Nobels ODR-1.
The two circuits lurk side-by-side beneath the Noble Screamer's sleek hood, ready for action. But there's more: Keeley Electronics' founder and designer Robert Keeley provides a nifty additional twist for creating your own sonic mashups. With the Noble Screamer pedal you can link the Tube Screamer-like overdrive section—a masterpiece of soft-clipping aural bliss—with the ODR-1's thumping sonic flavors. Or conversely, you can deploy the ODR-1's hard-clipping drive with the Tube Screamer's famously midrange-forward tone circuit. Voila! Suddenly you have four pedals in one.
Beyond providing some pretty darn sweet guitar tones, the Noble Screamer also embodies a few bigger and more profound themes. It shows increased emphasis on made-in-the-USA manufacturing, a trend that extends far beyond music gear. It offers additional options for buffering and true bypass as standard equipment on a guitar pedal—highly useful even for guitarists who remain stubbornly technology averse. And it aims to reinvent a key product line from an iconic company. But let's start at the beginning…
Nailing the Right Shade of Green
"Pairing the ODR and Tube Screamer isn't just about the green color, but it sure helped," laughs Robert Keeley. "There is a rhyme and reason why I chose those two pedals for the Noble Screamer. I had never done any mods or anything based on the ODR-1, but the idea for the pedal came from this: Wouldn't it be fun to combine two green pedals? And what if I could allow you to hear what makes each pedal unique, and borrow from one to the other? I was able to choose between the Tube Screamer tone control or the ODR tone control, and do the same thing with their clipping sections. So, I built both circuits in there, so people could mix-and-match and hear what makes each pedal unique."
Keeley Electronics Noble Screamer Overdrive and Boost - Tech Demo
Keeley knew he would face heavy scrutiny in tackling the ODR-inspired circuit. Introduced in 1992, the Nobels ODR-1 has attained near-mythic status in the Nashville scene, spurred by the advocacy of session veteran Tom Bukovac. Almost singlehandedly, Bukovac—fondly known as "Uncle Larry" to his online followers—helped popularize the original ODR-1 among his Nashville friends and collaborators. And over the years, many of Nashville's heaviest hitters have made the pedal an essential part of their arsenal.
Tom Bukovac x Keeley Electronics - Noble Screamer vs Vintage ODR-1 vs Vintage TS808
"There's a constituency in Nashville, Brentwood, and Franklin that really loves this pedal," Keeley notes. "They're all friends and they're damn near family, and this pedal works so well with their music. So, one of our goals became winning over that Nashville crowd. We carefully compared this to some great examples of 808s and ODRs—using audio analyzers, too—and then we took it to Nashville and asked veteran players to compare it to the original units."
The Noble Screamer passed the audition. After A/B'ing it with an original ODR-1, Nashville session and stage ace Guthrie Trapp acknowledged "we're sitting here and can hardly tell the difference. And to not have to spend $1,500 or $2,000 on a pedal…," he added, shaking his head. And even Bukovac himself says, "They sound pretty similar. The guitar tone sounds great."
Guthrie Trapp x Keeley Electronics - Noble Screamer vs Vintage ODR-1 vs Vintage TS808
Adding a Few Twists
Plenty of players will be hooked by the authentic sound of the Noble Screamer's two iconic overdrives. But for many guitarists, the real fun begins when you experiment with tone/overdrive mashups, combining a Tube Screamer with an ODR tone circuit, and vice versa. "The Noble Screamer's ODR tone control is a spectrum control," Keeley notes, "and it moves up the bass and the treble at the same time. The Tube Screamer is a simple low-pass filter that helps create the midrange hump. They make a fun combination and they allow you to get some unique sounds."
L.A.-based guitarist Brett Papa lauds the approach: "It's really interesting to see how it nails both of those classic tones. But for me, the hybrid is the coolest thing about that pedal, because it really is the best of both worlds. Some pedals are so temperamental circuit-wise, but it doesn't really matter with this pedal, because wherever your amp is at, you can dial in a great sound."

The stompbox also offers unusual flexibility in its switching and buffering capabilities. It utilizes the buffer that Keeley perfected with his earlier Halo pedal (designed with guitarist Andy Timmons). In the Noble Screamer, the player can easily select true-bypass or buffered bypass: Simply step on the on/off switch for two seconds and it'll toggle between the two settings.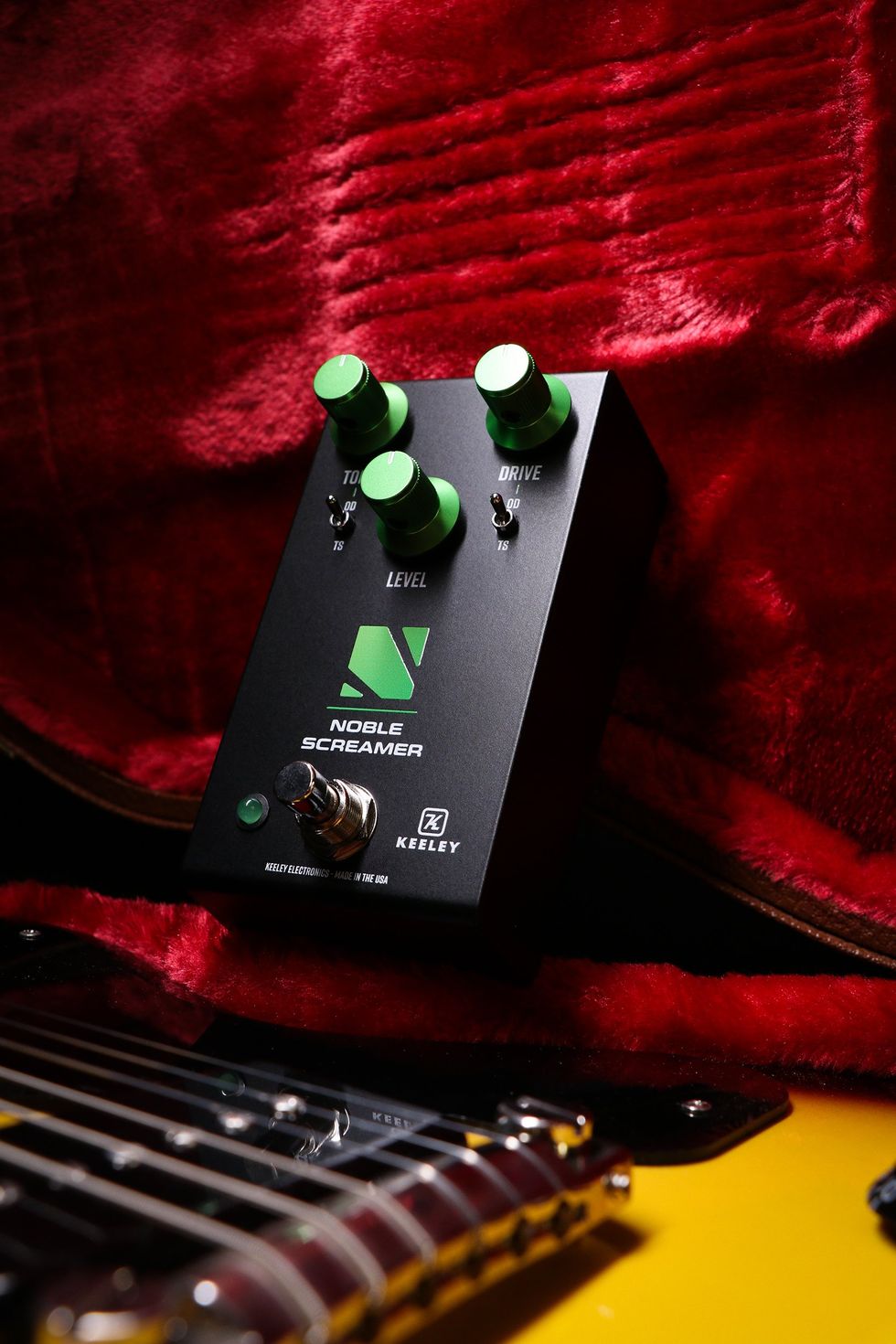 "This pedal's switching also makes it unique," says Keeley. "For years I had been carrying around the quote that Bill Finnegan put on his KTR pedal, which has a switch where you can choose true bypass or buffered. He printed 'almost always better' on the setting when you switch on the buffer. I think it's really valuable to have noiseless switching like the old Boss and Ibanez pedals. True bypass is great in a few cases, but the inevitability of it making a clicking sound can be a problem, so that's why we're offering buffered bypass, too."
Taking Control and Upping the Ante
Beyond its sonic characteristics, the Noble Screamer underscores important investments, production advancements and design choices from a company reshaping itself and preparing for its next chapter. The Noble Screamer is the first pedal to take advantage of Keeley's new Oklahoma City factory and its expanded production capabilities. The most visible sign is the pedal's newly designed heavy-duty aluminum case. The streamlined, rugged enclosure is built in-house following a large investment in specialized equipment. "Making my own folded aluminum enclosure is a brand new capability," Keeley explains. "I wanted to stop buying aluminum enclosures from China and start making my own. That way I can control the process and get exactly the type of enclosures that I want. To take full advantage of the enclosures, we also increased our capacity for circuit board manufacturing, and that was another big investment. We got another printer, powder coating booth, and oven. I doubled everything in the whole shop and invested in the future. Other manufacturers who are like-minded can do more manufacturing in the U.S. It's pretty cool to see so much manufacturing coming back to the States."
Keeley Factory Drone Video
Keeley chose to design a pedal that combines battle-worthy toughness and understated elegance. The Noble Screamer enclosure boasts a slightly slanted top—an homage to old-school classic pedals—but with a modern look and premium knobs. "The knobs and the subtle graphics speak really loudly on that slanted enclosure," he says. It's built like a tank—albeit a rather stylish one.
Was it a difficult decision to go with a standard-sized pedal when mini pedals have seen increasing popularity? Keeley is adamant. "At a time when a lot of people are cutting back on spending, I'm going against the trend and choosing to put out our boldest, most innovative ideas and give people a reason to spend their money on them," he declares. "I think I can control the costs. The Noble Screamer is the exact same size as comparable pedals. There's a definite trend toward small pedalboards with pedals that can fulfill one sound. Mini pedals are great and I plan on keeping them as an entry point for our product line. I don't see any reason why I can't fold aluminum for my own mini pedals at some point. But in the meantime, when we're releasing our next generation of pedals, I'm going to focus on this new platform. I want this new line to redefine our product line and what we're capable of. We've had success with compressors and reverbs and delays. This new line is hopefully going to redefine our drives."
The Noble Screamer heralds a new direction for Keeley Electronics, and guitarists can look forward to more exciting mashups in the future. After all, the Reese's Peanut Butter Cup turned out to be an enduring classic. So, you can expect plenty more ear candy from Keeley in years ahead.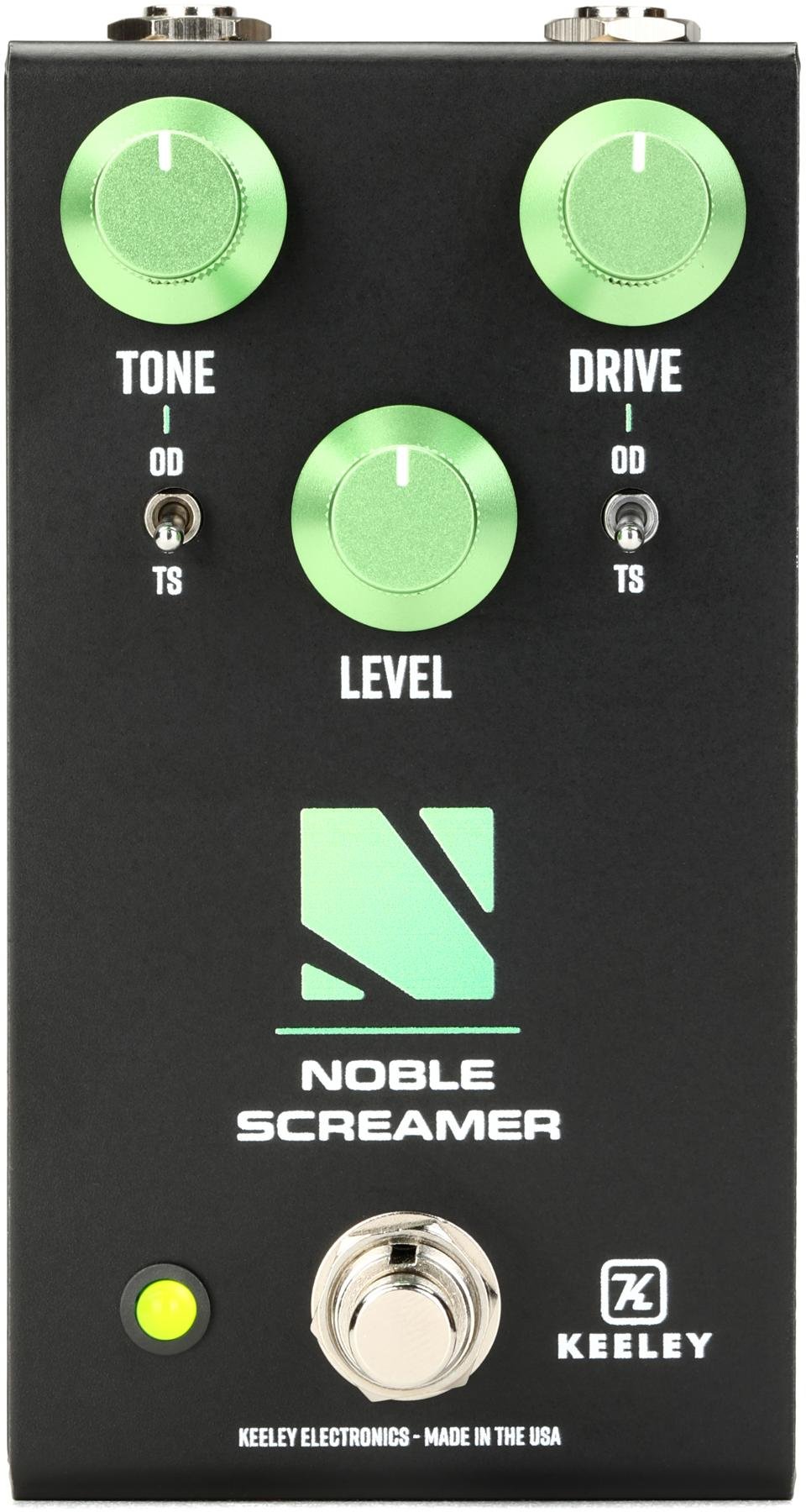 Noble Screamer Overdrive
Keeley
A session man's take on the sound of a great tube amp—without the glowing glass.
Wickedly great EQ controls. A very musical range of overdrive tones.
Tight control can be a bit too subtle.
5
4.5
4.5
4.5
The Tilt is a new collaboration between Revv and session ace Shawn Tubbs that combines a robust medium-gain overdrive with a nuanced clean boost. Around Nashville, Tubbs has a reputation for burning lead lines and immaculately crafted tones. Designed to emulate the feel and response of a cranked single-channel amp, the Tilt absolutely nails the mission at hand. The overdrive circuit is based on LED clipping and features a rather simple control setup with volume, gain, bass, and treble. On the other side you have a 12 dB clean boost with two rather interesting controls: tilteq and a three-way tight toggle switch.
I tested the Tilt with my HSS Fender Stratocaster and a T-style Schroeder Chopper TL into a clean Fender Hot Rod Deluxe. Starting with the overdrive, I was quite impressed with how accurate and clear the EQ controls were. There were useful settings throughout the different frequency ranges. The drive was softer in the midrange than I was expecting but allowed for richer harmonics as I moved through different pickup positions. Not surprisingly, the sound of a dirty, cranked Princeton came to mind as I was exploring the width of the gain control. Mike Campbell tones for days.
It's not likely that anyone would mistake the Tilt for a high-gain monster, but with the gain cranked it does an admiral job of emulating Marshall-style tones—especially when you kick in the boost. The standout feature on the boost side is the tilteq, which simultaneously affects the lows and highs depending on which direction you turn it. My setup with the Schroeder was a bit bright, so I was able to surgically slice out some high end with ease with both the EQ and toggle switch, which affects the overall voicing of the boost. While none of us will get the exact same tone that Tubbs is famous for, the Tilt can shine a brighter light on the best parts of what you sound like.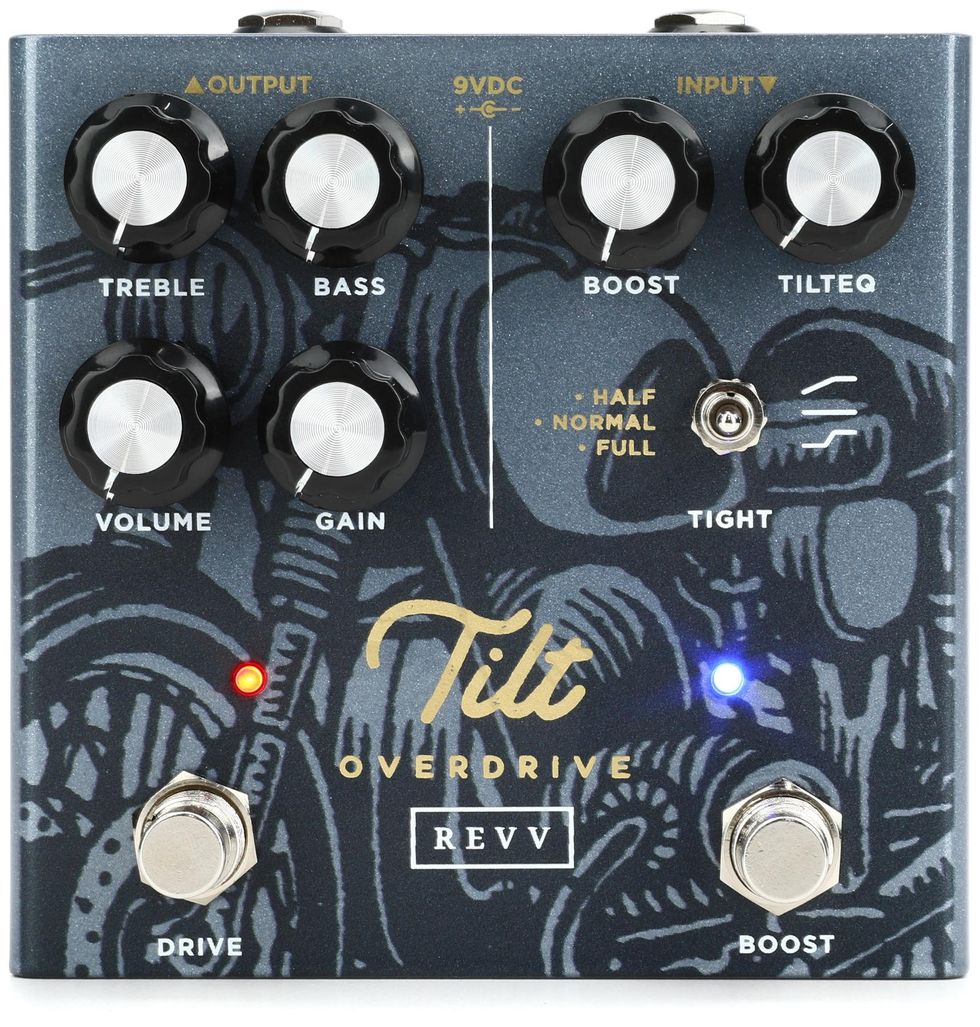 Collaboration between session/stage/YouTube guitarist extraordinaire Shawn Tubbs and Revv found Dan Trudeau
Exceptionally natural amp-like OD tones that are highly responsive to your playing
2-band drive EQ and tilt boost EQ for exceptional tone shaping capabilities
3-position tight switch to cut out the mud on higher boost settings
Road-worthy construction, with a blue sparkle finish and custom Shawn Tubbs graphic
Top-mounted 1/4-inch inputs to save room on your pedalboard
Revv
A flexible, dirty overdrive that holds the key to Billy Gibbons' tone, and much more.
Authentic BFG tones in a sturdy, easy-to-dial-in package. Also capable of a wide variety of other dirt tones, from American classic to British vintage.
Not suitable for clean boost.
5
5
5
4
Another 3-knob overdrive? What's the big deal? Let me tell you. The El Hombre by J. Rockett Audio Designs puts one of the holiest of holy grail guitar tones—those of the Rev. Billy F. Gibbons—at your fingertips. And for me and everybody else who has chased those tones, that's a big deal, indeed.
Not only that, but this sturdy op-amp-driven box with silicon clipping diodes is an excellent overdrive outside of that realm—capable of adding just a little hair, growling big and low like a fat alligator with a belly full of nutria, or being pushed to plexi-like explosiveness. It's also super responsive to the touch, so sustained bends sing, pinch harmonics ring, and … well, how, how, how, how.

Mighty Bite
The El Hombre is ridiculously approachable, with its self-explanatory volume and gain controls, complemented by the more mysterious bite dial. That bite control is a filtering matrix, with a wide, responsive range, but a very specific goal in mind. As I learned, this box's secret weapon is that bite dial, which brings highs forward or smooths them down. And it all runs on 9V DC, drawing 18 mA.
Oddly, when the builders at J. Rockett hit upon the formula for the El Hombre circuit, they were actually chasing a box that would zero in on Eddie Van Halen's early tone—but with an ear open to ZZ Top's influence on Eddie. (For more on that, consult "Mean Streets.") The project was put on hold for a while, but one day, while sorting through some old designs in the Eddie project box, they stumbled on the guts of what would become the El Hombre, and pronounced it bad and nationwide.
I Got the Five
I'm a stickler about truth in advertising, so job one was chasing those BFG tones. I grabbed five guitars with a variety of pickups and solidbody types: a '68 Les Paul Standard, an early '90s Les Paul Classic, a PRS SE Silver Sky, a 2012 Flying V, and my trusty Zuzu with coil-splitting humbuckers. My test amp was a Carr Vincent. For me, the perfect Gibbons guitar sounds are on "La Grange," "Jesus Just Left Chicago," and "Blue Jean Blues"—fat, tube-y, grizzled, sweet, and with Gibbons' Pearly Gates' Les Paul tone control dialed way back.
It literally took seconds, and minimal El Hombre dial twisting, for my Standard to get there. With volume at noon, gain at 4 o'clock, and bite at 2, the "La Grange" crunch arrived, and dialing back the volume on my guitar elicited the lightly sugared, corpulent blues lead sound on "Blue Jean." Both benefited from El Hombre's inclination to bring out lows and low-mids, which, to my ear, is where a lot of the glory of guitar tone dwells. Even at more relaxed settings, like all three of the pedal's knobs at noon, for a less edgy voice, or with all the knobs at a gnarlier 2 o'clock, I stayed in the neighborhood. As I learned, the guitar and pickups do matter. My other test axes sounded good, but not as on the nose. The Seymour Duncan Antiquity-equipped, slab-body V lacked a bit of that BGF depth and roundness, and my bass-heavy Classic lacked the requisite harmonic detail. In open D, the Zuzu sang the right tune, and was especially rich and greasy with a slide, and while I thought it would be a mismatch, the SE Silver Sky sounded thunderously swell in all five pickup positions.
Essentially, that's because the El Hombre sounds good all around. Abandoning my Billy quest, I just started turning dials, sweeping the gain and bite dials in particular to different positions. There were literally no disappointing tones. Plexi-ville was located with the volume at noon, the gain floored, and the bite at 4:30, crafting a sound—especially good with the PRS's single-coils—akin to the ultra-responsive growl of my vintage Marshall Super Lead head. Damn.
The Verdict
J. Rockett's El Hombre delivers on its promise to lead you to Señor Gibbons' tone. How much you dial that in is a matter of instrument and taste. Yet El Hombre is also a highly flexible overdrive that allows you to carefully determine how many shovels of dirt you want to spread over your sound. Compared to a lot of other overdrives, it's a little expensive. But if you've been searching for a box that'll quickly dial in that Tejas tone magic, and more, the El Hombre might be precisely what you've been yearning for.
J. Rockett El Hombre Overdrive Demo | First Look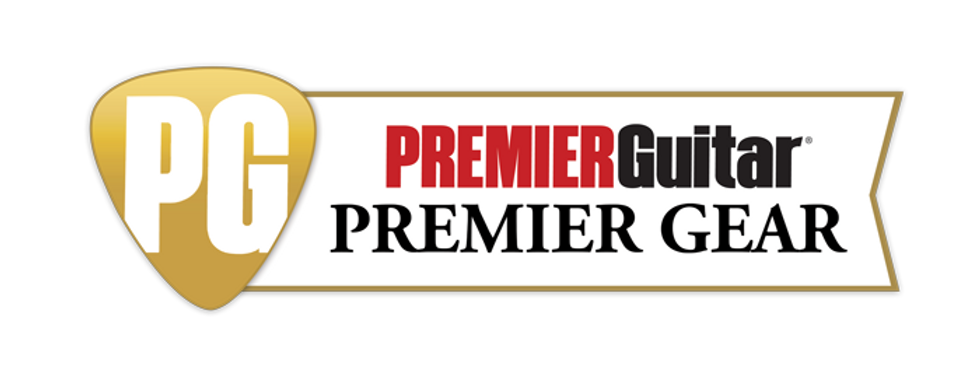 A chambered body and enhanced switching make this affordable Revstar light and loaded with tones.
Scads of cool tone combinations. Articulate pickups. Relatively light. Balanced and comfortable. Well built.
Some P-90 players might miss the extra grit the Revstar trades for articulation.
4.5
4.5
4.5
4.5
While the Yamaha name is famous in circles beyond the guitar world, they've made first-class guitars since the 1960s. And while they don't unleash new releases with the frequency of some larger guitar brands, every now and then they come down the mountain with a new axe that reminds us of their capacity to build great electric 6-strings. In 2015, Yamaha introduced the first generation Revstar. With a handsome aesthetic inspired by the company's motorcycle racing heritage, the Revstar combined sweet playability and vintage style touchstones. This year, Yamaha gave the Revstar an overhaul—including body chambering, updated pickups, and new switching. What's impressive is how these alterations enhance the already impressive playability and versatility of the original.
Keyed-Up Cruiser
At a glance, the newest Revstars look a lot like the originals. And streamlined controls suggest little difference between the Yamaha and a lot of other simple 2-pickup electrics. There's a volume knob, a tone knob, and a pickup selector. Simple, right? Not necessarily. Though the control layout is economical, it conceals a trove of tone possibilities. The pickup switch is now a 5-way selector. Positions 1, 3, and 5 are neck, neck/bridge blend, and bridge pickup settings. But positions 2 and 4 offer cool out-of-phase sounds. Yamaha also made the tone knob a push/pull pot which activates a passive boost called the focus switch. It effectively kicks up the low and mid ranges and shaves off the higher frequencies. In the case of our review guitar, the revised circuit is paired with a set of of Yamaha-designed VP5 P-90s with alnico 5 magnets. A humbucker-equipped model is also available.
The build quality on our gorgeous sunset burst Revstar is very nice. The double-cut body, which tastefully echoes vintage Yamaha style elements with a trace of '60s offset lines, is built around a layer of maple over chambered mahogany. And though the construction feels substantial, it's still light at just about 8 pounds. The carbon reinforced neck is built around a 24 ¾" scale and features a 12" radius rosewood fretboard. The tastefully subdued pearloid inlays are situated between jumbo, stainless-steel frets that will weather years of road rash before showing any wear. Unlike the deep glossy finish on the body, the back of the neck is finished in satin. It's an absolute dream to hold and feels faster and more precise for the lack of gloss.
In the context of a full band, the focus switch is also a handy solution when you need to duck into the rhythm pocket.
Shifting Gears on the Open Road
Yamaha succeeded in their efforts to make the Revstar more comfortable. Compared to a Gibson SG Classic, the Revstar feels a hair heavier but much more balanced. Hanging over my shoulder from a strap, it didn't exhibit any tendency toward neck dive. This isn't the only benefit of Yamaha's chambered design, but it pays a big dividend in this respect.
With the Revstar out in front of an Orange OR50 and a 4x12, additional comparisons with the SG classic were enlightening and edifying. In general, the Yamaha's P-90s have a moderately lower output, are less noisy, and exhibit greater overall clarity. While the pickups on both guitars sound similarly hefty playing campfire chords, the Revstar's output was more articulate playing barre chords further up the neck. Lead lines from the Revstar also brandish a bit more midrange honk that begs for funk riffs. Coupled with a glass slide, the Yamaha happily morphed into a blues monster.
Pulling up on the focus switch kicks sustain into high gear. That sustain comes at the cost of some detail in the top end, but it's absolutely perfect for long, drawn-out lead lines and slide. In the context of a full band, the focus switch is also a handy solution when you need to duck into the rhythm pocket. It's also a breeze to flip between the two voicings. Ultimately, the focus switch shines most with high-headroom amplifiers. With smaller amps, like a 5-watt Champ, the augmented lows and mids induce speaker break-up and some mud at moderate volumes, while the "unfocused" output remained gritty, yet eloquent.
The Verdict
At just a shade under $800, the Yamaha Revstar is a great deal. The array of available tones is impressive. And the sharp, unique looks speak for themselves. While the P-90s are a natural fit for classic rock and blues riffage, the overall capacity for picking detail, the out-of-phase switching capabilities, and the low/mid boost feature significantly extend the guitar's vocabulary—making the new Revstar a great companion for most pedals and very capable of being the only stage guitar you need. Whether you desire crystalline, single-coil chime or punchy, bottom-heavy power chord tones, the Revstar handles it all as gracefully as a café racer leaning into a sweeping curve, and feels great doing it.
Yamaha Revstar Standard RSS02T Demo | First Look