Hopefully not many of you have had to deal with this, and hopefully you never will, but there comes a time when a select group of us find ourselves the
Hopefully not many of you have had to deal with this, and hopefully you never will, but there comes a time when a select group of us find ourselves the victims of gear theft. For me, it was a first, even though I have been actively playing live since I was 15 years old.

On this particular night I was called up at the last minute, due to the originally slated act canceling because of car troubles. I jumped at the opportunity, as I don't mind earning an extra $100 for a gig just a few blocks from home – three to four hours of music and my gas tank is filled back up. I had played the place numerous times and felt very comfortable performing there. I travel pretty light, toting my acoustic amp/PA, a Martin Jumbo and a 12-string Ovation, along with mics, stands and all of my other performance gear, so it was really no problem to help out at the last second.

Following the gig, I loaded up my gear into my parked truck, only feet from the main entry. I walked back inside to pick up my payment from the bartender, but it seemed that he was momentarily busy, so I sat down with a friend of mine and struck up a conversation. A few minutes later I remembered that I had left my truck unlocked. Heading outside, I looked into the back of my truck, only to find an empty space where my brand new Ovation 12-string guitar had been. I had bought it only three weeks earlier, and had been digging the expansive acoustic tones it produced. A USA model 2751 LX-4 from Lightning Joe's Guitar Heaven, I had scouted out about a dozen various makes before settling on serial number #593993. The silver lining was that they left my Martin Jumbo – I would have been even more heartbroken had my trusty six-shooter taken flight.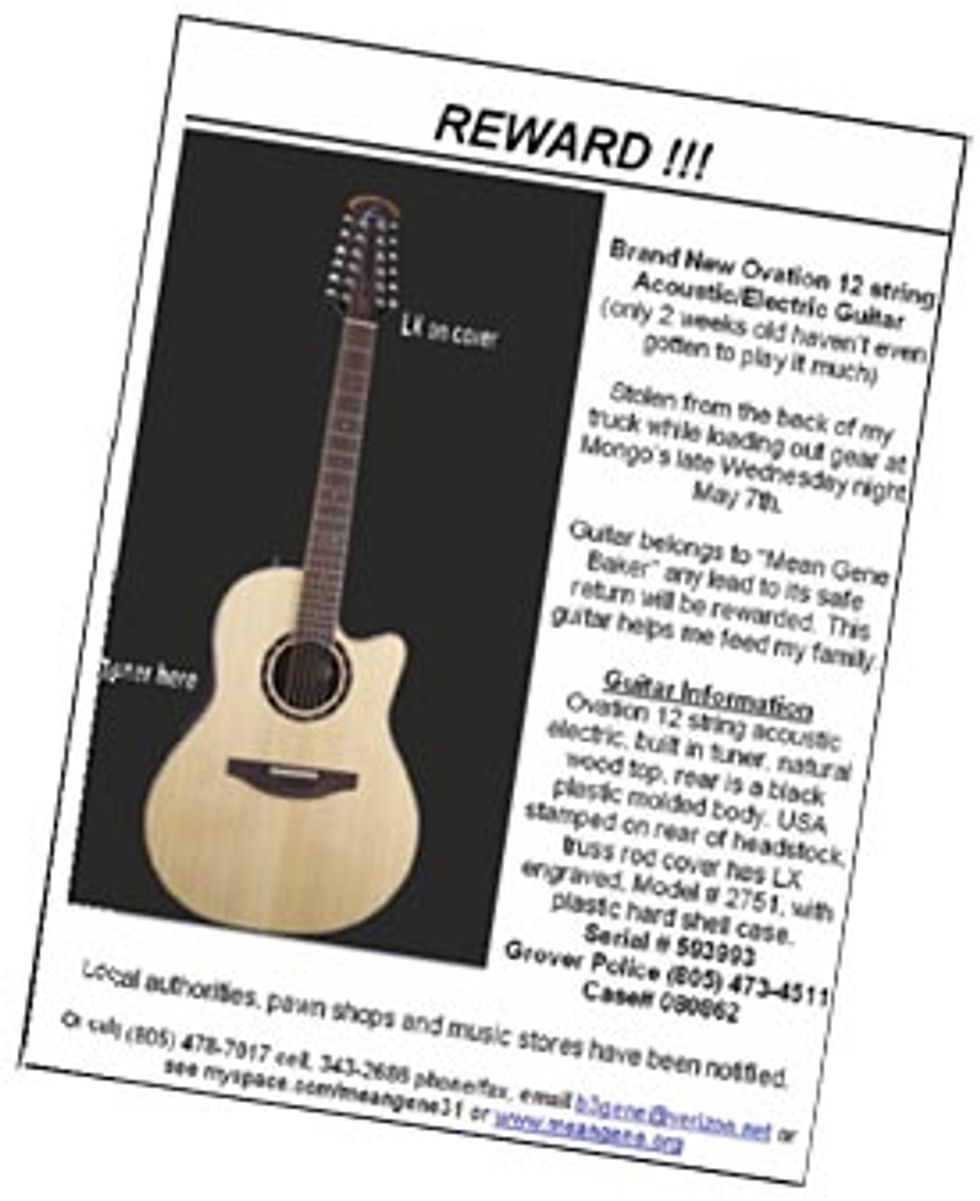 Instead of heading home for some muchneeded shuteye, I found myself waiting around for another hour to file a police report. I soon realized that I had potentially four avenues for recovering my stolen instrument: insurance coverage on the credit card used to buy the instrument, my homeowner's insurance, my auto insurance and my business insurance. I quickly found out that my auto policy was limited to what is actually attached to the vehicle, and my homeowner's policy had a $1000 deductible for a claim – the purchase price was only $1299, and I reasoned that it wasn't worth kicking the beehive for a measly $299. My credit card company refused to comment on If the purchase would be covered, and said that the process would require a variety of documents to be sent back and forth if it was to be pursued. I finally received a positive response from The Hartford, my business insurance company, and they informed me that I could file a claim for off-the-premises property with a $250 deductible.

Insuring your gear its well worth the homework – you'll find out how much coverage you currently have, as well as how much coverage you need, so that you won't have to keep making payments on an instrument you no longer have. Companies like Clarion Associates Inc. specialize in musical instrument protection (call 1-800-VIVALDI for a quote), and you can also find insurance through retailers like Musician's Friend. These companies will pay you directly for any shipping damage, accidental damage or theft, but if you already have a renter's or homeowner's policy, a simple phone call to your agent will answer any questions you may have about the need for specialized insurance.

Of course, sometimes you just have to take your guitar's safety into your own hands – I often install small microchips into the instruments we build, known as RFIDs (Radio Frequency Identification Device). This process embeds a serial number inside the object and can only be identified with a special scanner. They basically add proof of ownership that can be helpful without your presence. See snagg.com for more information; kits are available through stewmac.com. Technology has advanced so much within the last few years – cell phones can be traced to locations and everything is becoming increasingly wireless – that it will be interesting to see what advances in personal security take place. Perhaps it will be possible one day for your stolen guitar to call you and tell you where it's at.

So make sure you take the steps to protect your gear – keep receipts of your gear purchases on file, submit any warranty information to the manufacturer and take the extra second to lock up your vehicle, even if you're only going to be gone for "a few minutes." If you have nice gear that isn't easily replaced, you may want to consider contacting a dedicated instrument insurance agency for a quote, and keep records and photographs of the instrument on file – if nothing else, these will make it easier to create a flier to plaster around town. If you do become the victim of gear theft, make sure to file a police report as soon as possible. Notify all of the music stores and pawnshops in the area, and check eBay and Craig's List to see if it has been listed. If you're lucky, perhaps that wayward bird will find its way home.



---
Gene Baker
Any questions or comments visit
www.finetunedinstruments.com
www.meangene.org
email me at
b3gene@verizon.net
Fine Tuned Instruments LLC, home of his "b3" instruments.