What does this mean? I'll explain how to do a wiring that yields 16 different sound combinations.
Hello and welcome back to Mod Garage. This month, we'll talk about how to wire triple-shot humbucker pickups. I'll explain what this means and how to do it, so let's go.
When you have a humbucker with a traditional 2-conductor wiring, you don't have any sound variation by itself—only together with another pickup that you can put in parallel or in series with it, in phase, out-of-phase, or half out-of-phase, and so on. With a 4-conductor wiring on your humbucker pickup, you have access to the start and the finish of each coil, and this can be used to get a total of four different tones out of it, whether it's a bridge or a neck pickup. A 4-conductor wiring results in a total of five wires coming from such humbuckers:
North coil start / north coil finish
South coil start / south coil finish
Ground = bare wire (goes always to ground)
The possible combinations and sounds you can dial in are:
 1. Both coils together in series = standard humbucker operation mode.
This is the factory standard way all humbuckers are internally connected when they have a 2-conductor wiring with only hot and ground. This is also the standard way in almost every guitar loaded with one or more humbucker pickups, producing a warm, loud, and fat tone with maximum output and the humbucking function engaged.
 2. Single-coil-esque humbucker wiring (both coils together in parallel).
This option gives you a single-coil-like tone but keeps the humbucking function engaged. You won't get a crystal-clear Strat or Tele tone, but to me it sounds at least single-coil-esque, maybe closer to a P-90 than to a standard single-coil. It sounds different with any humbucker, so it's a matter of trying it out.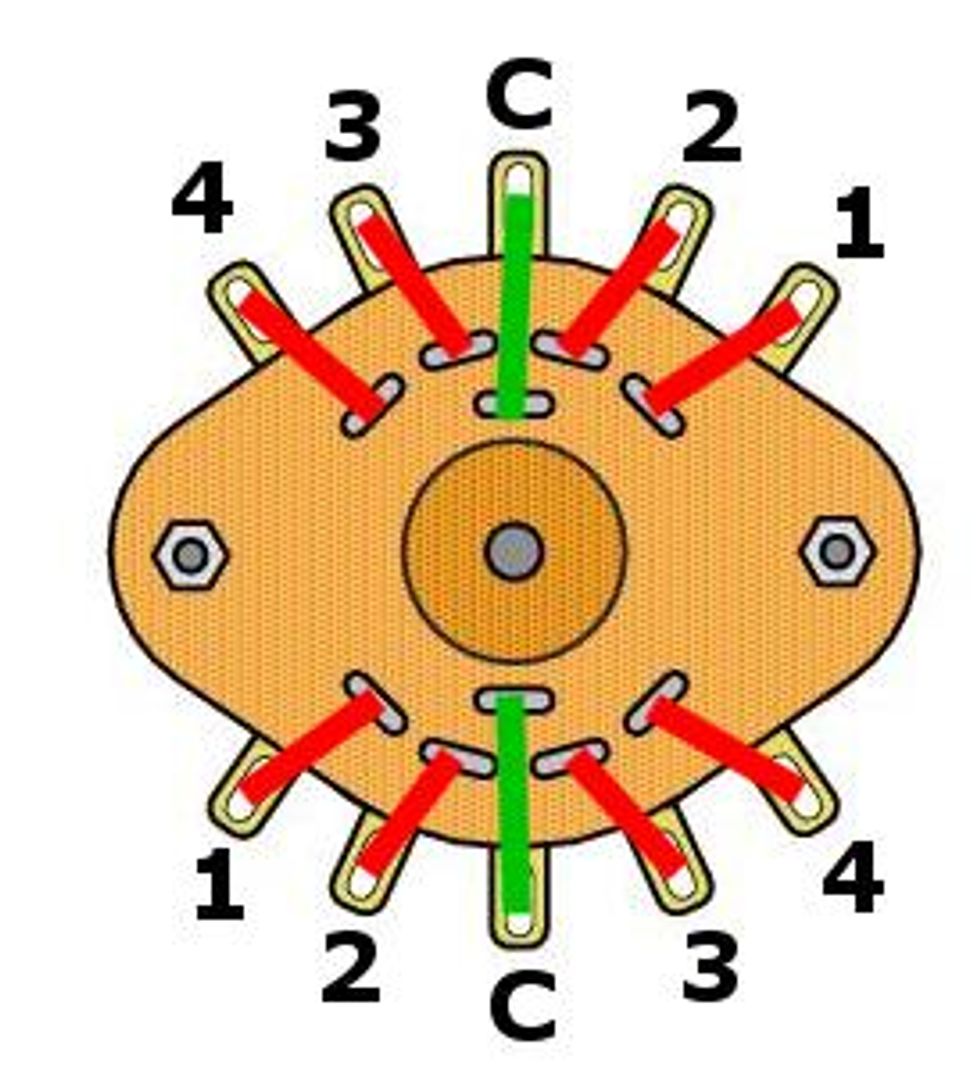 Fig. 1
3. Coil-splitting to the south coil.
This wiring is splitting the humbucker in half, shunting one coil to ground, leaving the other coil engaged like a true single-coil pickup. In this mode, the humbucking function is no longer active, so you'll receive all kinds of hum and noise, just like with any single-coil pickup. Don't expect a true Strat or Tele tone. If this is your goal, there are special humbuckers made of two real single-coil pickups. The downside of this special breed is they don't sound very good as a full humbucker, so it's always the art of compromising. Splitting to the south coil of the humbucker, which is the screw side, is recommended for neck humbuckers, but can also sound good for bridge humbuckers.
4. Coil-splitting to the north coil.
This wiring follows the same idea as #3, but will leave the north coil, which is the slug side, active. This version is recommended for a bridge humbucker because it gives a fuller sound compared to the screw side.
To clear up some terminology, there are several descriptions given to the individual coils of a humbucker and depending on the manufacturer of the pickup, they are sometimes used side by side: The (non-adjustable) slug coil is also called north coil or inside coil, while the (adjustable) screw coil is called south coil or outside coil.
Having two 4-conductor humbuckers in an HH guitar will result in four different sounds from each pickup. Plus, you can combine them for a total of 16 different sounds, which is a lot of choice, not counting possible additional options like phasing.
What sounds like a good plan or must-have often turns into a real issue, because space is your enemy! Try to do this on a Les Paul and you'll face that there isn't enough space for all the additional switches that are needed, and that's the same with a lot of other guitars. So, some years ago Seymour Duncan came up with a clever product called the "Triple Shot."
The good news is, you can get the exact same performance from a rotary switch, which costs only a fraction of a Triple Shot. The sad news is, you need one rotary switch for each pickup, and, naturally, you need space to place them somewhere on the guitar.
This is a humbucker mounting ring with two integrated slide switches and a ribbon cable going from the switches to a small printed circuit board (PCB), which is the connection terminal for the five wires coming from the humbucker plus a shielded output cable. The Triple Shot is available in different colors and shapes, so it'll fit virtually any guitar, no matter if it has a flat (Strat, Tele, SG, etc.) or arched (Les Paul, 335, etc.) top. With the Triple Shot, you don't have to drill any new holes into your guitar, and you don't lose any controls by replacing them with switches or the like.
Operating the Triple Shot is easy, but it takes some getting used to. Because of the two slide switches, you need to know what combination will produce each sound, which can cause some confusion at the beginning. Another benefit is that the optical appearance of your guitar is not altered in any way and it's easy to remove if you need or want to. An often-heard downside is the high price for the Triple Shot ($39 street). Personally, I think it's worth the price because it's high quality, but if you're on a budget, this can be a deal-killer.
The good news is, you can get the exact same performance from a rotary switch, which costs only a fraction of a Triple Shot. The sad news is, you need one rotary switch for each pickup and, naturally, you need space to place them somewhere on the guitar.
For this you need a 2P4T rotary switch, which means it has two poles (comparable to the standard 5- and 3-way switches you all know) and four switching positions. Physically you have five lugs on each switching stage, with one of them being the output of this stage. The lugs are numbered from 1 to 4 and the output on a rotary switch is always labelled with a "C" for "common." The rotary switch wiring you need is illustrated in Fig. 1.
Take care to get a good-quality switch. These switches are available in a wide range of quality and prices. There are open ones, like the one shown in the diagram, and closed ones. The trick is to connect both switching stages (output of stage #1 goes into stage #2), which is something you already know from your standard 5- or 3-way switch.
Fig. 2
Fig. 2 shows how to connect your 4-conductor humbucker to the rotary switch. With this wiring you receive the following switching matrix:
Both coils in series (standard humbucker)
Both coils in parallel (hum-free single-coil-like tone)
Slug coil as single-coil
Screw coil as single-coil
I chose the Seymour Duncan color chart for the diagram, but you can transfer it to any brand humbucker using color code transfer charts on the internet.

That's it for now. Next month we'll continue our relic'ing project, focusing on the neck and fretboard. We're getting close to the finish line on that one, so stay tuned.
Until then ... keep on modding

Small refinements make this Kurt Cobain-designed fusion of Fender short scales a sweet-playing serving of surprises.
Improved, more versatile pickups. Fast and narrow neck. Excellent quality. Unique styling by Kurt Cobain himself.
Humbucker can still feel a touch antiseptic and flat. Narrow neck will be too narrow for some. Mustang-style switching can be cumbersome.
4
4.5
5
4
It doesn't take deep analysis of Kurt Cobain's lyrics, journals, and visual art to glean that he was, in many ways, a fluid and impulsive artist—one that reveled in riding waves of free-association and stoking musical and poetic conflagrations from sparks of incidental information and observation. Cobain also admired (and collaborated with) author, poet, and visual artist William S. Burroughs, whose embrace of cut-up technique, a collagist approach to writing and language, informed his most famous work, the novel Naked Lunch.
The possibilities of cut-up and collage technique were not lost on Cobain. In fact, they are plain to see in the Fender he helped design, the Jag-Stang. The Jag-Stang was born from Cobain sketching mutant mashups of the two models, re-assembling scissored photographs of both, then pulling together components that could cover the breadth of his aggressive but melodically articulate sounds. The end product was a quirky instrument. I have an original that I treasure for punky, thrashy chording, open tunings, and unhinged soloing—practices Cobain would have no doubt approved of. But in more straight-ahead applications, the Jag-Stang always left me contemplating a laundry list of modifications I would enjoy to make it warmer and more stable.
Bridge humbucker alone
Neck single coil alone
Bridge and neck single coil together in phase
Bridge and neck single coil together out of phase
Pickups played in same order as above with Boss SD-1 Super OverDrive with level, tone, and drive at noon.
The most recent Mexico-made iteration of the Jag-Stang, while identical to original specification in nearly every respect, irons out a few rough edges that made the model less appealing to traditionally aligned players. It feels both more refined and more inviting.
More Horse Than Cat
The Jag-Stang favors the equine side of that relationship. The bridge, vibrato, pickup switching, control layout, and even the body dimensions owe much more to the Mustang than the Jaguar. In fact, the most overt nods to Jaguar lineage are in the shape of the upper horn and the lower hip, both of which accentuate the offset, flying-while-sitting-still Jaguar-ness in the body profile.
As with the original Jag-Stang, the neck (which was shaped to match one of Cobain's favorite Mustang necks) is a slinky, narrow, and relatively slim length of maple that evokes many slender necks I've encountered on mid-to-late-'60s Mustangs. By my ruler—and Fender's spec sheet—the nut measures around 1.575", which is narrower than the 1.650" nut width featured on the current Vintera '60s Mustang, American Original '60s Jaguar, and many other instruments.
It's perceptibly slimmer than your average Fender, and for players of smaller stature or that just like the sensation of navigating a neck this compact, it's a blast. In spite of the compact feel, the neck still has 22 frets. And while the fret spacing might frustrate players used to performing lead acrobatics in more spacious expanses, adaptive, creative, and open-minded players will dig how it facilitates navigation of odd intervals and chord shapes as well as fleet-fingered leads. My original's made-in-Japan neck has a little more roll at the edge of the vintage-correct 7.25" fretboard. For most players that already dig the comfortable, compact proportions, the ever-so-slightly sharper edge won't make much difference. Curiously, the guitar also features a slab fretboard—an unusual touch for a neck built to late-'60s specifications.
Through an overdrive, the bridge humbucker sounds awesome, and you don't need much pedal gain to make it mean and massive.
Mighty Mite
I bought my second hand Jag-Stang because I play Jaguars and liked the idea of a humbucker in a 24"-scale guitar. My dreams of a short-scale that could dish Peter Green tones were dashed pretty quickly. The original Jag-Stang humbucker was just too hot and comparatively flat in terms of color and character. The new Jag-Stang's bridge pickup, however, sounds and feels slightly but significantly improved. It's still explosive with a juiced amp or distortion in the mix. But it also sounds a lot less cramped and abrasive in the midrange than its predecessor. It's also more responsive to guitar volume and tone attenuation, which means you can add a touch of PAF-like wooliness and explore more nooks and crannies in the EQ curve. Through an overdrive, the bridge humbucker sounds awesome, and you don't need much pedal gain to make it sound mean and massive. It also retains great capacity for note detail in these supercharged modes.
The neck position single-coil has many characteristics of a hot Stratocaster unit. It's a bit more inclined toward overdrive than a vintage-voiced Fender single-coil, and at times feels less dynamically responsive and nuanced. But like the bridge pickup, it also feels responsive to guitar volume and tone adjustments. The two pickups work well in tandem, too. The in-phase combination (enabled by moving both pickup's slider switches to the aft position) sounds great straight into an amp, though it can sound a bit compressed and jumbled with added pedal distortion. The out-of-phase setup is fun, too, yielding scads of scrappy, toppy garage tones when you send the signal direct to a loud amp and super-focused pedal-distortion tones that sound deliciously nasty against prominent bass accompaniment.
The Verdict
The Jag-Stang is not the most fantastically versatile Fender ever, but it's full of surprises. As you'd expect, it shines in garage-y and punky settings. Distorted tones emphasize a dryish sense of detail over sheer mass or a PAF's soft contours. But there's a lot of room for expression in that palette, and the new pickups' improved response to volume and tone knob coloration expands the possibilities.
Like many Fenders from the company's Ensenada, Mexico factory, the Jag-Stang is pretty close to flawless. It's probably about 20 times as tuning stable as my MIJ original. The narrow neck and short scale won't delight everyone. But if you approach different guitars without preconceptions, you'll be thrilled and surprised at the fast maneuvers and phrasings the Jag-Stang makes possible. Needless to say, many fundamental sounds are geared for Cobain-style fire, but you do not have to be a Nirvana fan to extract unexpected tones and inspiration from this distinctive and unique Fender.