Origin Effects Releases the RD Compact Hot Rod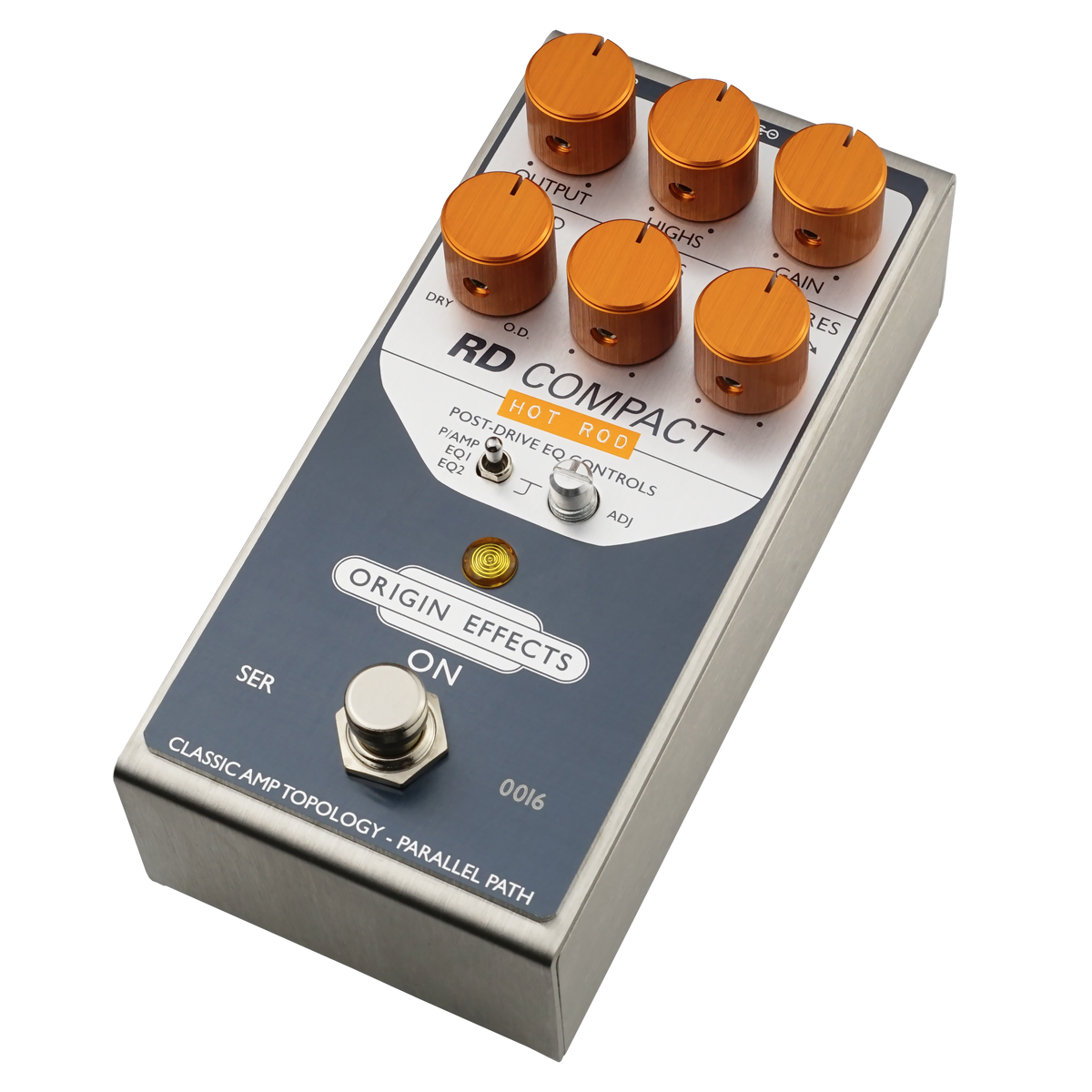 A stomp-sized take on the modified high-gain heads that defined the sound of hard rock and heavy metal.
Origin Effects release the RD Compact Hot Rod pedal. Since the original RevivalDRIVE was released in 2018, this range of pedals has gained a reputation as the very best in amp-like overdrive tones. The RD Compact Hot Rod is the latest in this lineage and it packs huge, hot-rodded amp tones into a compact-sized enclosure.
This pedal takes inspiration from the legendary amp techs of the '70s and '80s, who took vintage amps and pushed them to their limits, creating the iconic guitar tones that defined the sound of Hard Rock and early Heavy Metal. Using the same approach, Origin Effects have turned their RevivalDRIVE Compact pedal up to 11 - more gain, more sustain and more aggression.
The RD Compact Hot Rod recreates the entire signal path of a classic, modified valve amp using all analogue circuitry. Discrete transistors stand in place of valves, right down to the push-pull output stage and specially designed power supply which introduces just the right amount of "sag". All this means that this super-realistic pedal not only replicates the sounds but also the dynamics and feel of coveted hot-rodded amps, including Origin Effects founder, Simon Keats's late '70s Marshall JMP.
Not content to stop there, Origin Effects have also included their hugely versatile Post-Drive EQ circuit, found on their other highly acclaimed overdrive pedals. Rather than compromising your amp's tone to suit your pedals, this control lets you tailor the voicing of the RD Compact Hot Rod to perfectly match any amp – even FX returns and flat-response power amps!
A simple feature set offers a variety of easily accessed tones. The GAIN control acts like the volume knob on a non-master volume amp, making it easy to find the "sweet spot" at any output level. The innovative MORE/PRES control adjusts negative feedback and presence which dramatically changes the pedal's simulated amp circuitry, influencing the way it responds to pick attack and the transition into distortion. HIGHS and LOWS knobs shape not just the tone but also the character of the overdrive, while dialling back the BLEND control brings in some of your clean guitar signal, simultaneously rolling off the gain and ensuring that the RD Compact merges seamlessly with your amp's clean tone.
Offering an array of hot-rodded vintage amp tones, from classy and clean to full-on, fire-breathing savagery, the Origin Effects RD Compact Hot Rod is available now from Origin Effects dealers worldwide.
RRP: 320 GBP (Inc VAT) / $390 USD (Ex TAX)

For more information, visit origineffects.com