Week 3 continues with SIX more chances to win! Enter below for your shot at pedals from Eventide, Flamma Innovation, Karma Guitar Amplifiers, Silktone, Source Audio, or Universal Audio! Ends October 2, 2023.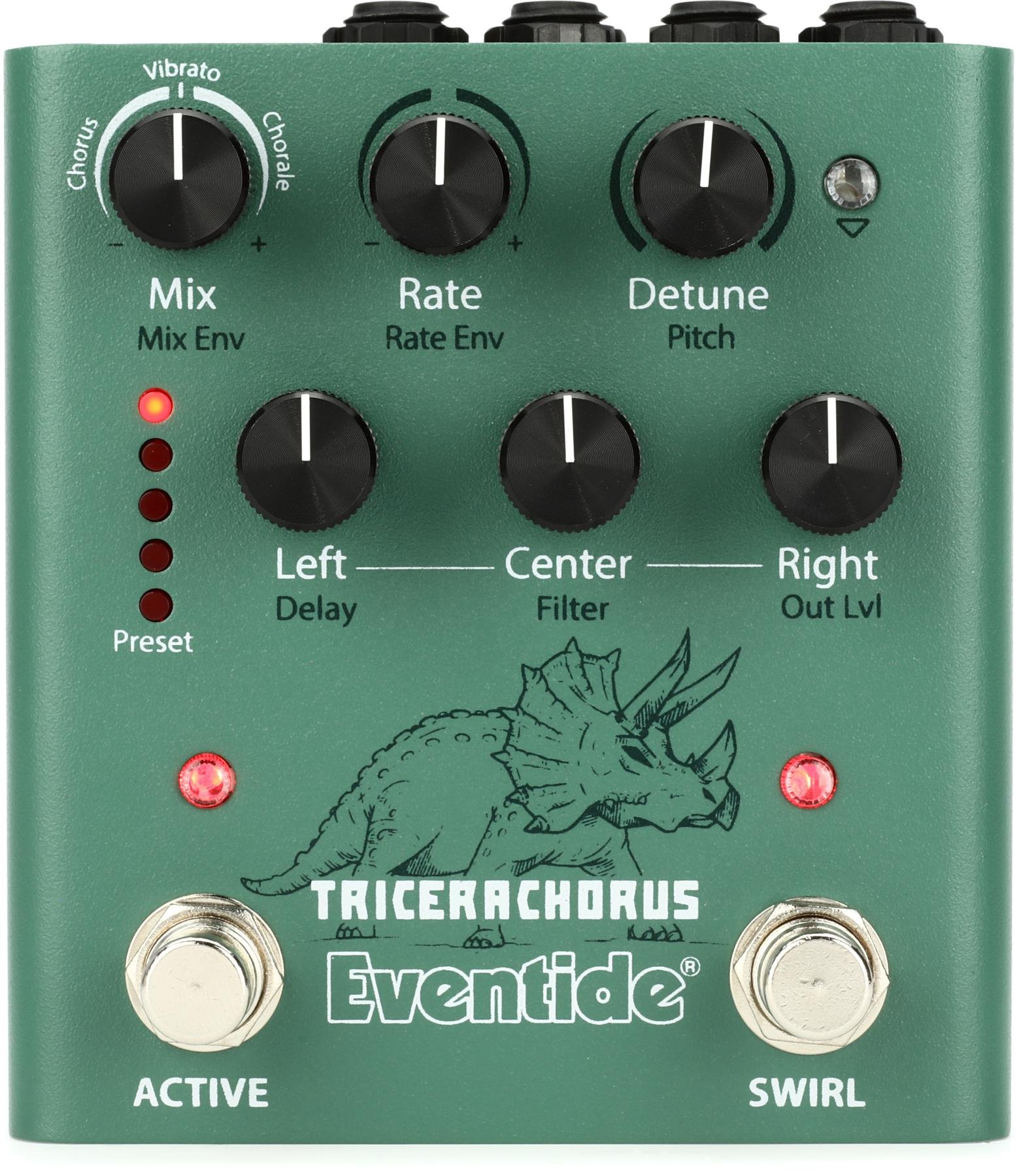 Inspired by the classic Tri-Stereo Chorus and stompbox choruses of the 1970s and early 1980s, the TriceraChorus pedal pairs rich Bucket Brigade-style chorusing with Eventide's legendary MicroPitch detuning for a lushness that rivals the jungles of the late Cretaceous Period. TriceraChorus features three chorus voices and three unique chorus effects which can be used to create a wide stereo spread with pulsing waves of modulation. The innovative "Swirl" footswitch adds psychedelic flanging, phasing, and Uni-vibe-style tones. It has never been easier to dial in syrupy smooth, deep modulation on guitar, bass, synths, strings, vocals, and more.
Eventide
This compact reverb pedal crams seven distinct digital reverb effects in to a sturdy, metal shell and several control features. The various reverb effects aim to simulate different environments from a small room to large, open cave. More niche effects are also included such as studio-style plate reverb, classic spring reverb effect, and the more far-out modulation reverb effect. Each effect can be modified with the Hi-Cut, Lo-Cut, Decay, and Pre-Delay knobs and then saved to their own save slot. An effect trail feature can be toggled on and off to have each effect fade out naturally after being switched off.
Flamma
The Karma MTN-10 is a much-improved clone of the revered but long discontinued Ibanez Mostortion, a must-have favorite of many Nashville session players.

The Karma MTN-10 is true-bypass and uses advanced construction techniques, including much sturdier and more reliable pots, switches, and enclosures. The elusive CA3260 IC chip used in the originals is a key component used in the Karma. All circuit board design and pedal assembly is done in the United States.
Karma Guitar Amplifiers
The Silktone Fuzz is a modern marvel with exploding with vintage tones.

"Cons: none:" writes Premier Guitar in the Fuzz's perfect score review. That was designer Charles Henry's favorite part, what else can we say?

At it's heart are two germanium transistors in the classic fuzz face topology, tweaked to get a huge array of tones and fix all the annoyances you get with a typical germanium fuzz. We wanted to nail the awesome tones everybody knows and loves when these transistors are biased to their sweet spot… and also when they're not. With our active bias monitor you can easily hit them all. Want that oh, so sweet sweet sweet spot? Dial it to ~4.50. Prefer some fat sticky fuzz? Dial it past 7.50. Want spitty gated fuzz? Cool, me too - dial it to ~1.10.

Combine this with the onboard pickup simulator to place this fuzz anywhere in your chain without the normal issues and a cleanup knob to get you into drive territory that rivals the best overdrives out there with beautifully musical germanium color - and you have one of the most useable, versatile fuzzes to date with sooo.. much.. texture.
Silktone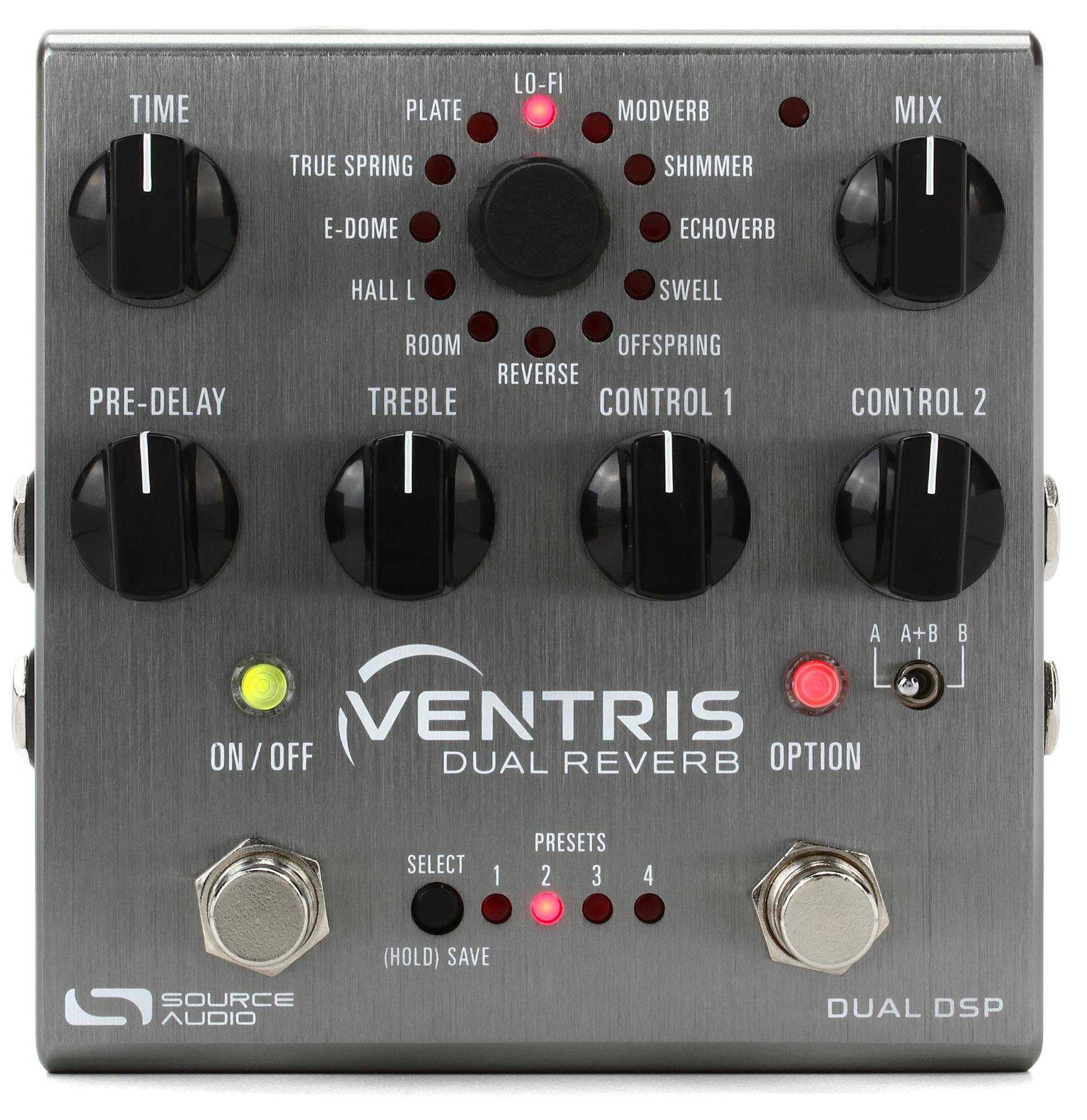 Create rich, spacious reverberations with the Ventris Dual Reverb. The Ventris features 14 meticulously crafted reverb engines built on two completely independent 56-bit signal processors, essentially housing a matching pair of high-powered, stereo reverb pedals in a single box. The pedal's dual DSP architecture provides massive processing muscle, adjustable preset spillover time, and advanced dual reverb effects. Step into a vast realm of ambient space.
Source Audio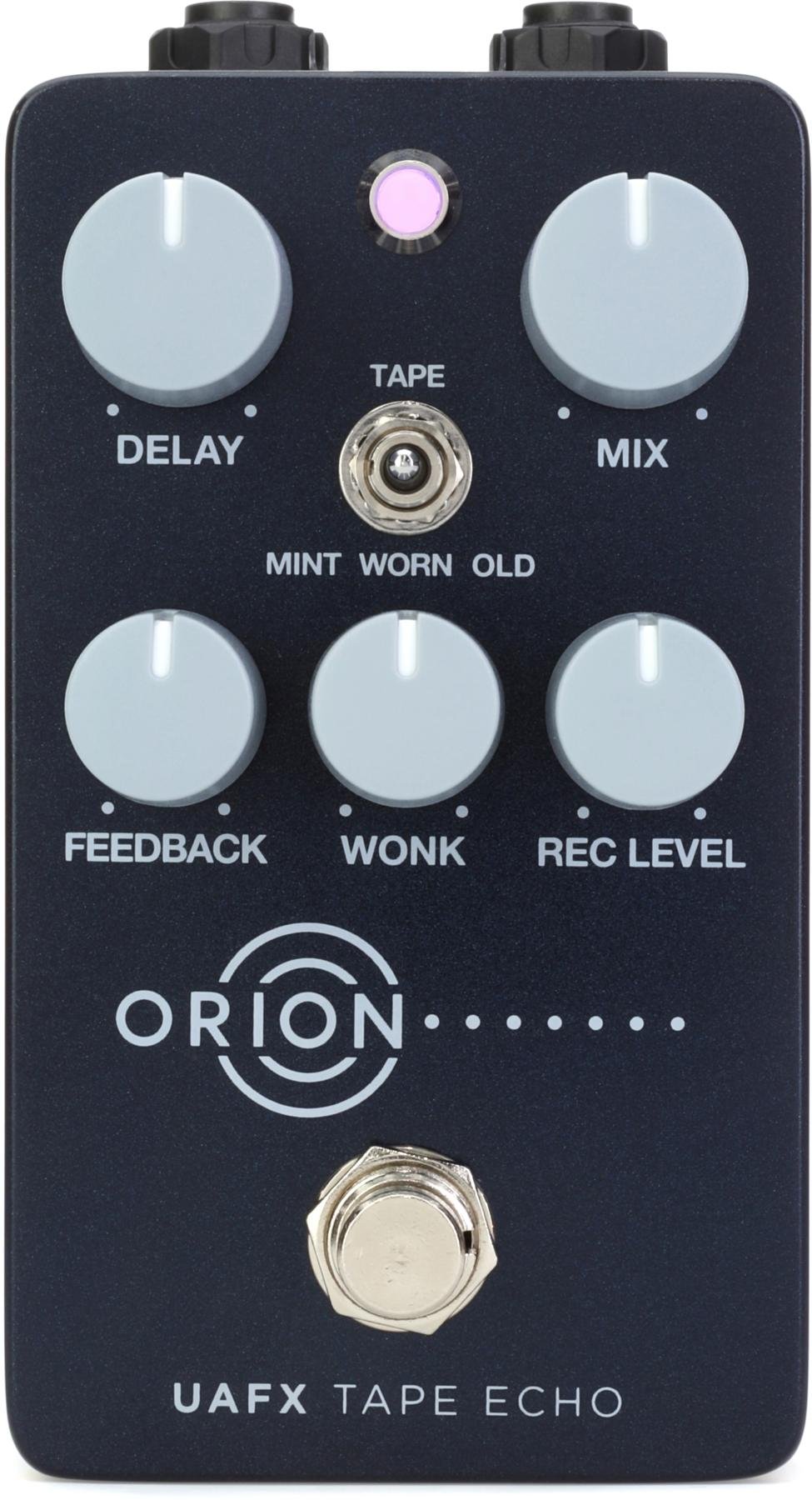 Emerging from UA's flagship Starlight Echo Station, Orion Tape Echo gives you the magical hazy delay effects of vintage '70s Maestro Echoplex EP-III tape delays, in a classy, compact package.*

- Create with a stunning emulation of the iconic vintage tape echo hardware

- Craft eccentric effects with authentic wow, flutter, and tape types

- Fatten your tone with a perfectly captured EP-III analog preamp

- Rely on timeless UA craftsmanship, built for decades of rock-solid performance

*All trademarks are property of their respective owners and used only to represent the effects modeled as part of Orion Tape Echo.
Universal Audio
You could WIN this Power Players SG from Epiphone in this PG Perks exclusive giveaway!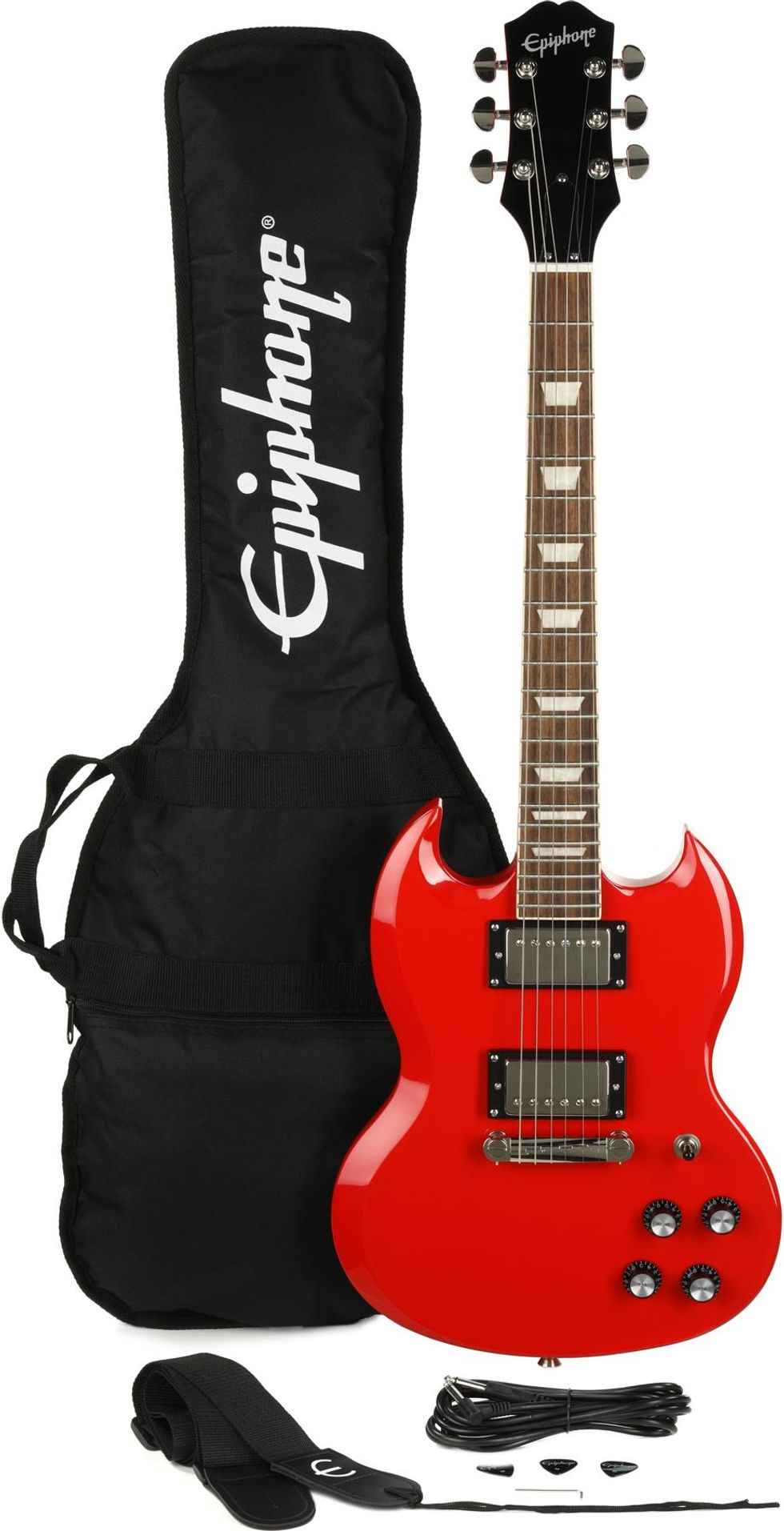 The Epiphone Power Players SG™ is a 3/4+ version inspired by the legendary Gibson SG shape. It has a 22.73" scale length and a slightly smaller mahogany body making it light, easy to play, and an excellent choice for younger players. The Power Players SG is also a great travel guitar choice for more experienced players. It sounds better and stays in tune longer than other "student model" guitars due to its high-quality components and excellent build quality. The bolt-on mahogany neck has a sculpted heel for improved upper fret access, and it is powered by a pair of authentic Epiphone humbuckers for rich, full SG tone. The Power Players SG comes equipped with a gig bag, strap, picks, and a guitar cable.
• Legendary Gibson Les Paul™ & SG Shapes
• Ideal Learning Guitar
• Perfect Youth Size, Easy to Play
• Sounds Better, Stays in Tune Longer
Epiphone
Win a year's supply (12 sets) of DR's Veritas Electric Strings, featuring "Coated-Core Technology" for extra-long life and stable tuning, and made with Quantum Nickel for more output and power. These will sound amazing on your new Guild Surfliner HH Guitar in Canyon Dusk, and pay homage to the companies made for each other! DR was founded by Mark Dronge, son of Guild's founder Al Dronge. A match made in musical heaven and history! (Combined retail value of over $800.)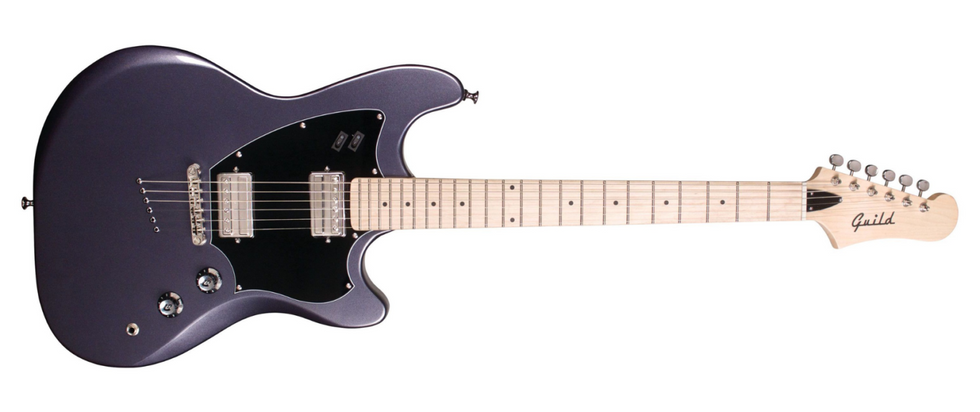 Vintage-inspired electric with offset appeal
A natural next iteration of the Surfliner platform, the Surfliner HH dips into rock and metal genres with an HH configuration and coil-splitting for a diverse tonal pallet. Influenced by the iconic heritage and eccentric shapes of vintage Guilds. The Guild Surfliner platform compliments the brand lineage by combining classic styling with modern features in an offset, solid body electric. A nod to Guild's new California Heritage, the Guild Surfliner takes its namesake from the Surfliner train that travels the California Coast. Gloss body available in Canyon Dusk and Shoreline Mist metallic finishes.
Sleek, contoured lines shape the asymmetric Poplar body, while a satin finished C-shaped neck provides smooth, fast playing experience. Evenly balanced and shaped to fit comfortably at any strap height. Featuring a neck to body joint at the 17th fret. One of Guild's few electric models to feature a 25.5" scale length.
Outfitted with two HB-2 Humbuckers with Alnico II magnets. The HB-2 pickups were developed to recreate the tone of vintage Guild HB-1 pickups in a standard-size humbucker format. Featuring Alnico II magnets, they deliver rich, warm vintage tone.
Guild Guitars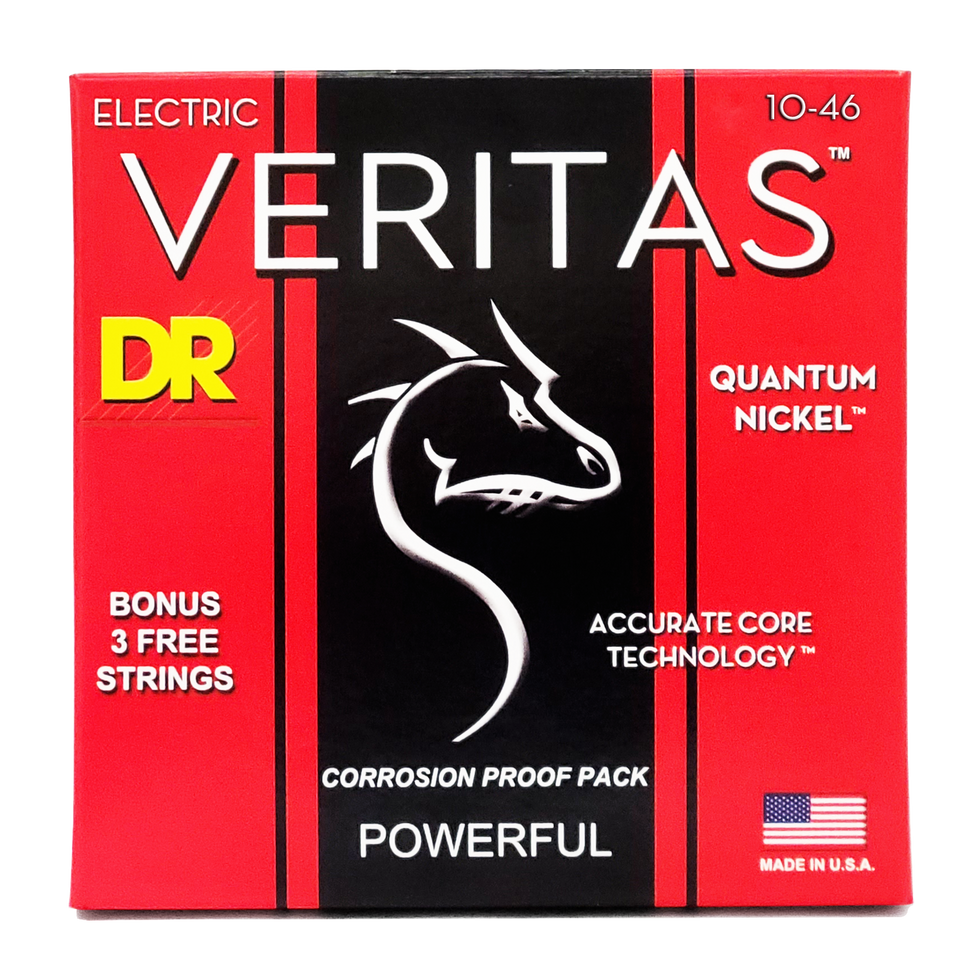 VERITAS™ Electric Guitar Strings maintain their tone, tuning stability and intonation thanks to Coated Core Technology™, a process of coating the round core wire, which locks the wrap wire in place and extends string life by protecting the core from corrosion. A Quantum Nickel™ wrap wire delivers more power, brighter tone and greater flexibility and responsiveness.
All VERITAS™ sets include both standard plain steel AND Xenon Power-Plain™ strings, which have increased output to balance with the wound strings.
Learn More: https://www.drstrings.com/veritas
DR Strings
Week #3 is here! Enter below for your chance to WIN one of SIX pedals from All-Pedal, Carl Martin, Electro-Harmonix, Fortin Amplification, Hagerman, and Vidami!
In Collaboration with Jeff Loomis of Arch Enemy, we are proud to introduce the Devil's Triad™. Jeff Loomis Signature Guitar Pedal.
All-Pedal
What's more groovy than a flanger? A new, smaller flanger, loaded with features and painted a bold psychedelic purple….that's what! Introducing the re-designed Carl Martin Axis Flanger. We simplified the controls to give you all the control you had with our Carl Martin Classic Flanger but reduced the size so you don't have to worry about leaving the Axis Flanger on your pedalboard 'cause you don't have enough room'. Complete with a buffered Bypass footswitch for on and off control (indicated by an LED), Speed, Depth, Pre-delay and Feedback controls, the Axis Flanger comes in a machined aluminum case finished in psychedelic purple, and those cool Carl Martin graphics. The Axis Flanger must be powered by a regulated 9v Power Supply like the Carl Martin DC Factory, and like all the Carl Martin fx pedals, we use the best parts to make sure you get the best sound! Watch out baby…the flange is back!
Carl Martin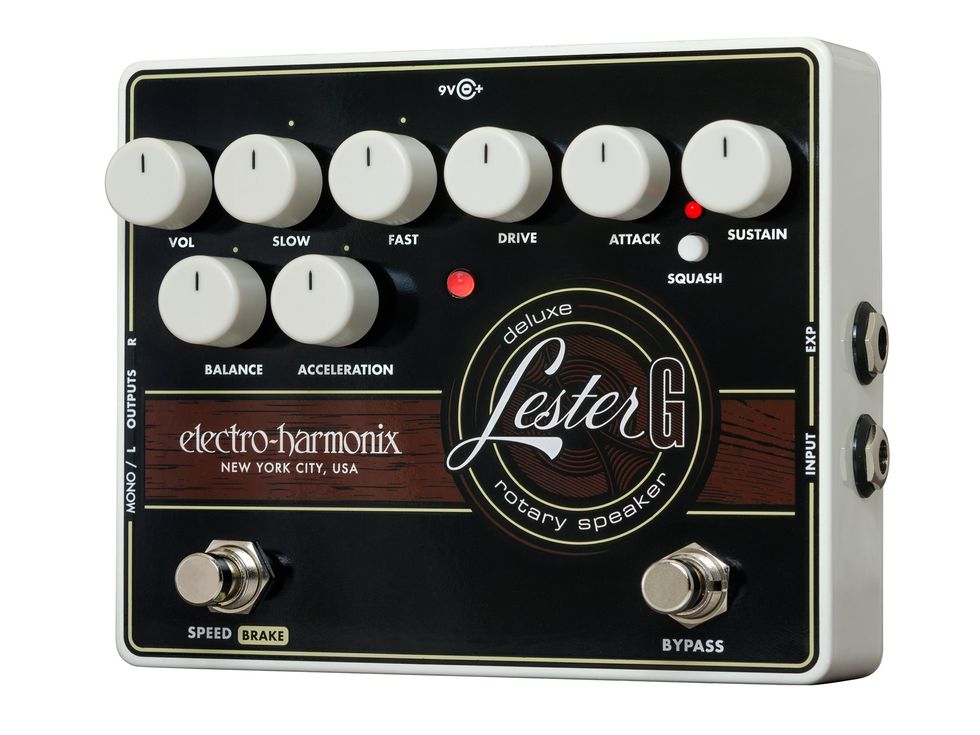 DELUXE ROTARY SPEAKER EMULATOR - The ultimate rotary speaker emulator packed with goodies like a specially designed compression circuit to supercharge the rotating speaker effect on guitar!

The EHX Lester G uses the finest rotary speaker simulation available today, and comes with a variety of deluxe features. Stereo outputs provide a lush, realistic effect. Tube-emulated overdrive is available with the DRIVE knob, and speaker mix can be fine-tuned with the BALANCE knob. Switch between adjustable FAST and SLOW modes for an accurate reproduction of a classic rotary speaker cabinet's speed adjustment. An expression pedal jack allows for fine tuning of the rotation speed with an expression pedal.

The Lester G also features a compression circuit that adds lush sustain to electric guitar. Using the compressor, the LESTER G provides guitarists with the fat, full sustain of an organ, to get the most out of the rotating speaker effect.
Electro-Harmonix
Within the modern guitar community, the Zuul has long been the industry standard for noise gate technology.
Fortin Amplification
Hagerman Thermionic Reinforcer
The new Hagerman Thermionic Reinforcer is an all-tube guitar preamplifier showcasing a proprietary new tube clipping circuit, delivering a more aggressive, modern sound. Employing a pair of 12AX7 tubes running at high voltage, this pedal has enough output to directly feed a power amplifier via effects loop (or operate as a normal pedal). There are two clipping modes; classic tube overdrive, and the novel high-gain symmetrical clipping circuit, recently developed by Hagerman. Another interesting feature is the use of a Contour control, which is a tone circuit placed ahead of clipping stages, offering the ability to tighten the sound, akin to placing a Klon or TS ahead of the pedal. Bass and Treble controls post-clipping provide a wide range of tonality, from bright to dark.
Hagerman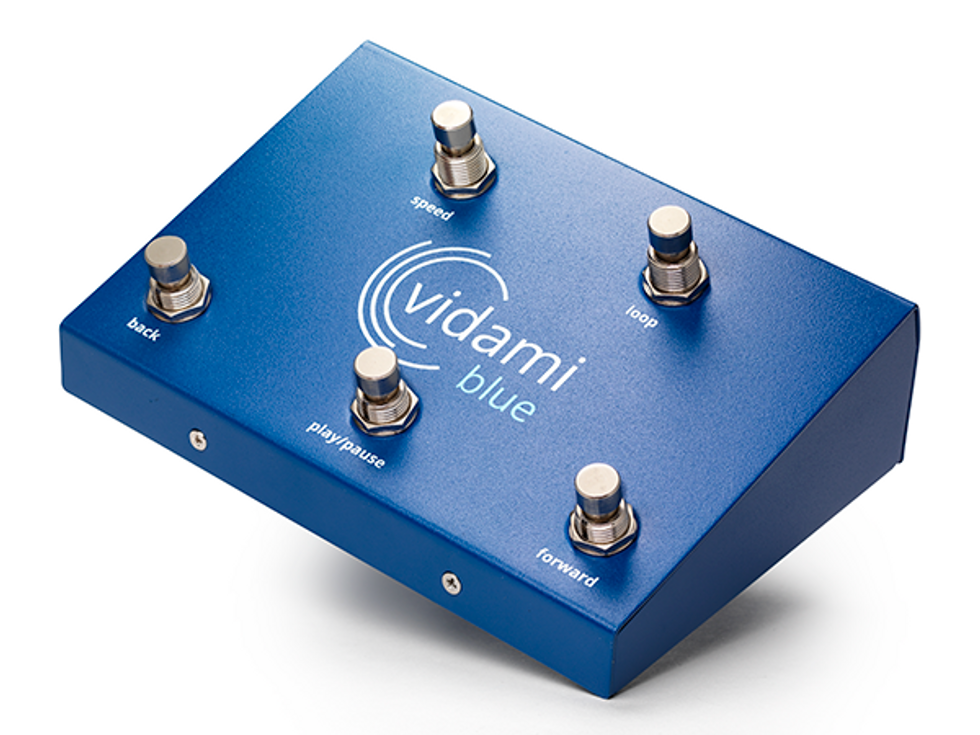 The Vidami Blue is a revolutionary 3-in-1 foot pedal that gives you hands-free control of today's most popular music and education technology, allowing you to Loop & Slow Videos, Turn Pages & Control your favorite DAWs.

Video Mode
Effortlessly Loop and Slow Down songs and riffs on YouTube and more than 55 compatible Online Video learning platforms including: FenderPlay, TrueFire, MartyMusic, JamPlay, Pickup Music and more. (Please note that YouTube, and all other compatible platforms must be used from within the Safari or Chrome browser on Desktop/laptop computers, or from within the Safari browser on iPad/iPhone)

Page Turning/TAB Mode
Easily Turn Pages, Scroll Tabs, Lyrics, and other functions on your favorite Digital Sheet Music apps and Tab sites like: OnSong, forScore, Ultimate Guitar Tab and others.

DAW Mode
Free your creative spirit as you Record, Loop, Add Tracks, Set Markers, and more on today's most popular Digital Audio Workstations including: GarageBand, Logic Pro, Reaper, Pro Tools, Studio One, Cubase & Ableton Live.

The Vidami Blue is compatible with iPhone and iPad on iOS 15 and Desktop Computers, Laptops & ChromeBooks
Vidami
You could win one of SEVEN pedals from CIOKS, Ibanez, Keeley Electronics, LR Baggs, Source Audio or Wampler Pedals in this I Love Pedals Giveaway!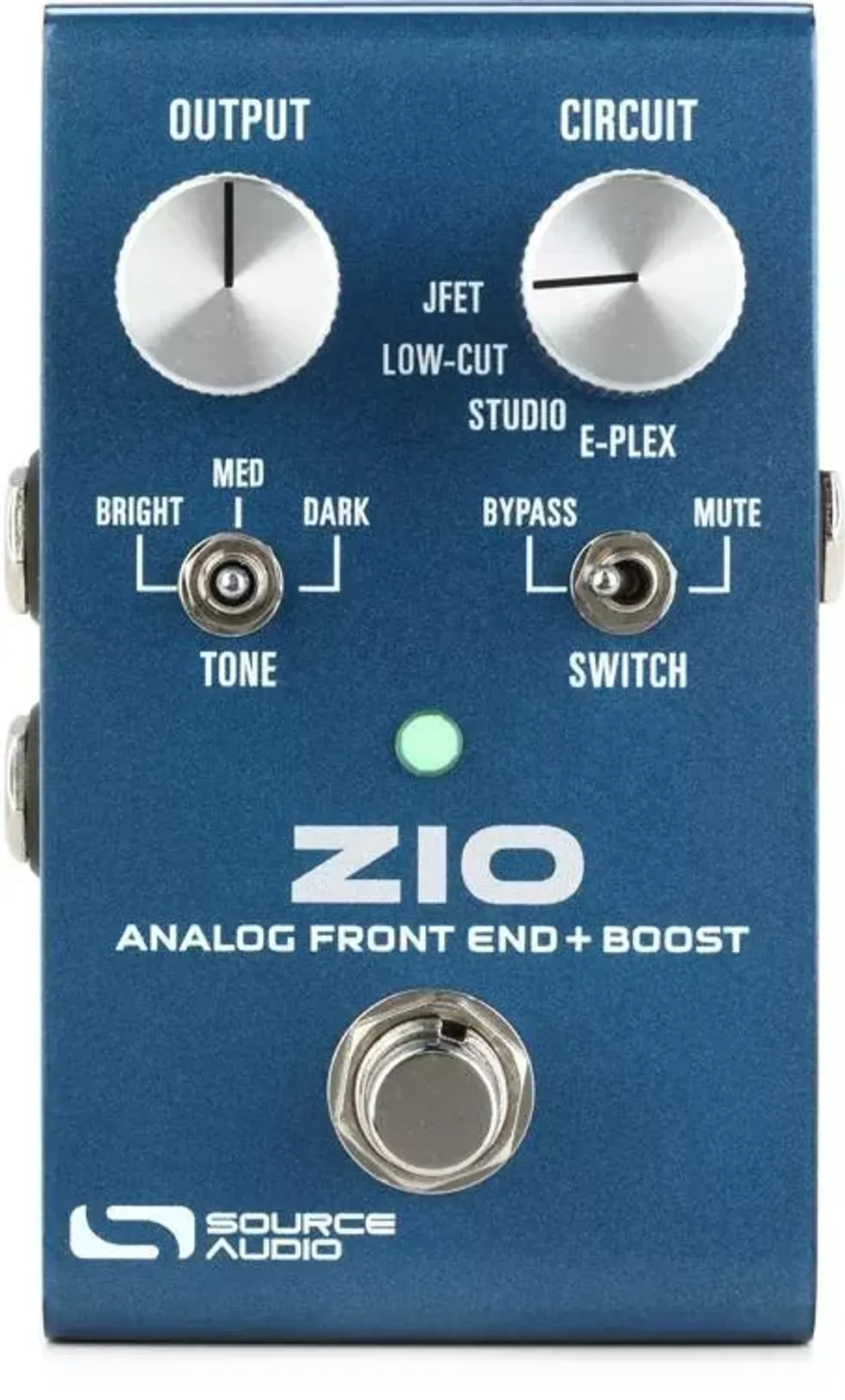 The goal in creating the ZIO Analog Front End + Boost was simple yet ambitious: "Make Everything Sound Better!" ZIO is an all-analog preamp/boost pedal that includes a choice of four distinct preamp circuits, each with up to +20dB of additional output boost. ZIO is Source Audio's first all-analog effects pedal and designed in collaboration with Christopher Venter, the owner and sole engineer at SHOE Pedals.
ZIO is a deceptively flexible unit that can serve many different purposes at various places in your signal path. Use it at the front of your chain of effects to shape the rest of your outgoing tone, after your drive pedals as an overall tone sweetener or clean volume boost, or at the the end of your pedalboard to drive a long cable run or as a restorative device to recreate the sound of your guitar going directly into the input of your amplifier. You can also use the ZIO in your amp's effects loop if you want to drive your power amp even harder, or to compensate for a level mismatch between two channels.
Source Audio
Extraordinary tone shaping control, dynamic arrays of distortion, and exceptional amounts of EQ are all laid out at your feet. The Pentatone preamp from Ibanez affords the perfect blend of features all wrapped up in an intuitive, all-analog platform. This preamp brings together five individual tone shaping sections in the form of a pre-boost, distortion with two-band EQ, a noise gate, 5-band parametric EQ, and post-boost. The pedal also includes a bright switch, which enhances treble response by boosting the high-frequency range. The two integrated footswitches control the preamp bypass and post-boost functions while adding an Ibanez IFS2L external foot-switch enhances the player's control even further by also making the pre-boost and 5-band parametric EQ foot-switchable. From simple tone shaping to crunchy overdrive and even the most crushing distortion, the Pentatone preamp covers it all.
•Controls: PRE BOOST, GAIN, BASS, TREBLE, LEVEL, 5-band parametric EQ frequencies, 5- band parametric EQ levels, POST BOOST, Noise GATE
•Switches: PRE BOOST on/off, BRIGHT on/off, 5-band parametric EQ on/off, Noise GATE on/off, BYPASS foot-switch, POST BOOST on/off foot-switch
•I/O's: INPUT, REMOTE, OUTPUT
•Size: 146(W) x 128(D) x 59(H) (mm)
•Size: 5.8(W) x 5.0 (D) x 2.3 (H) (inch)
•Weight: 1.0kg, 2.2lb
•Required Current: 110mA@9
•Power Supply: One 9V battery (006P) or external AC adapter
Ibanez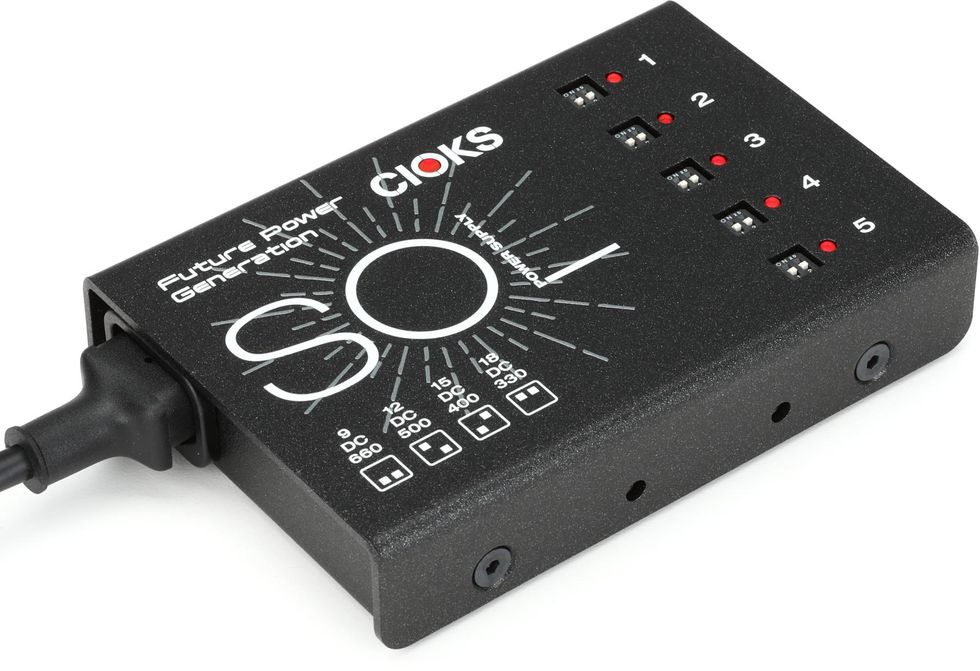 The Heart and SOL of Your Pedalboard
SOL is the ultimate solution for bringing life to a small to medium-sized pedalboard setup, especially if you are using power-hungry pedals. SOL is the smallest mains-powered switch-mode power supply we make at CIOKS (no wall-warts here) and the no-frills design plus massive power will leave you free to focus on your creative spark.

Featuring the same 660mA at 9V DC per outlet and four switchable voltages on each outlet as its bigger brother CIOKS DC7, SOL is the most powerful small form-factor power supply available today with a total of 30 watts of DC power available.

CIOKS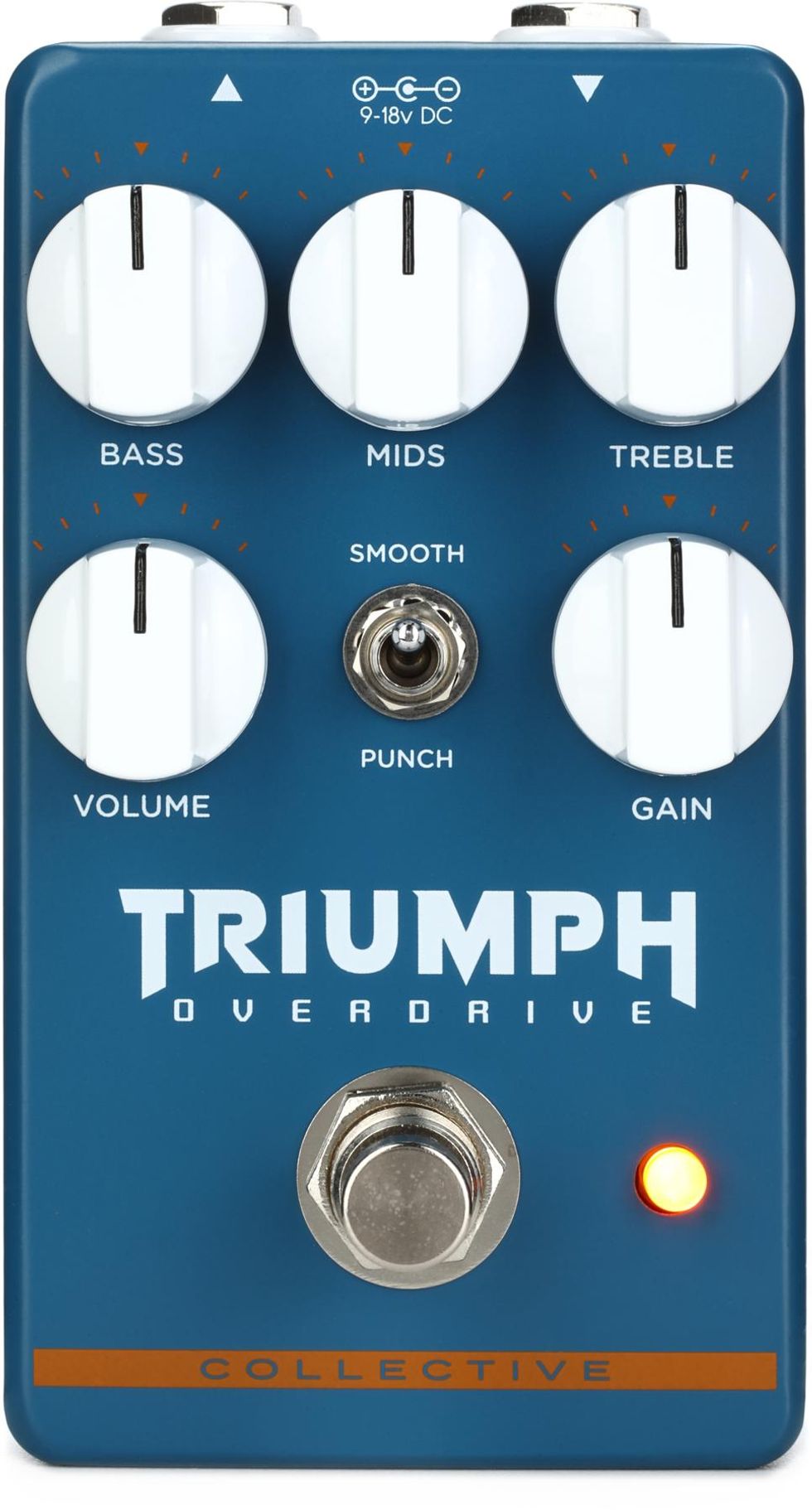 The Triumph is a versatile overdrive based around two of Brian's all-time favorite overdrives. In typical Wampler fashion, additional EQ stages have been added that allow a variety of different tones as well as internal circuit changes that add polished glassy overtones. In Smooth mode, the Triumph delivers a progressive gain structure with an unmistakable gritty presence and classic mid-hump profile. In Punch mode, Triumph adds more open tonality, less compression and is more touch sensitive, providing detailed note articulation
Wampler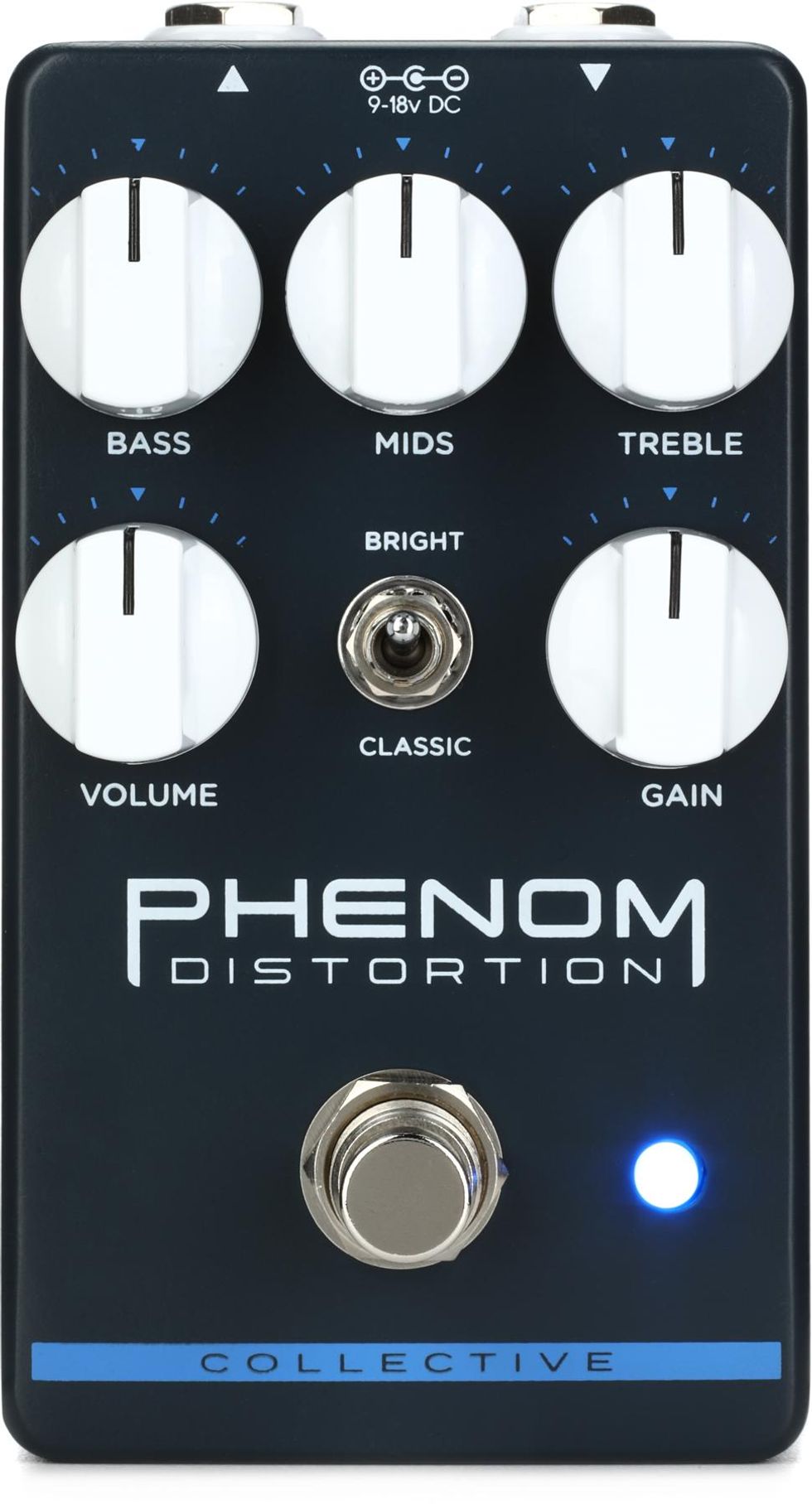 The Phenom Distortion is a dynamic distortion pedal which uses JFET based clipping instead of Op-amp and Diode based clipping and is loosely based on the legendary "5150" style tones. The fets are driven much in the same way that tubes can be cranked to overdrive an Amplifier into a distorted sound courtesy of a unique Brian Wampler circuit design. The Phenom offers a range of tones from a deep, punchy rhythm sound to an ultra-responsive lead tone perfect for soaring solos and crisp harmonics. It has a flexible voicing switch that selects either bright or classic modes, independent gain and volume controls, and a powerful 3-band EQ.
Wampler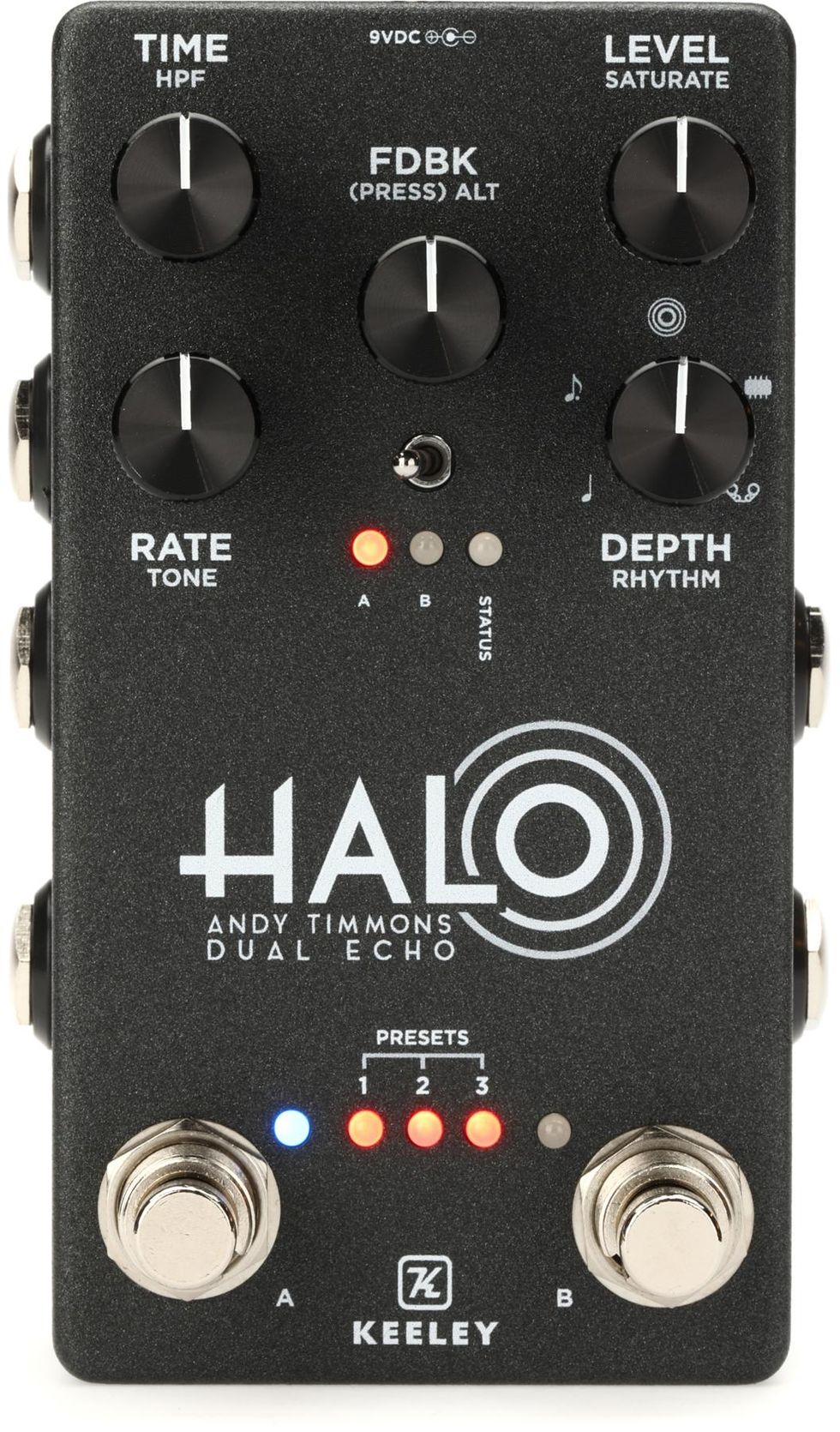 The Halo is a powerful dual stomp box that offers 5 delay modes that can be paired to work in
tandem, including Andy Timmons' highly-revered 'Halo" sound! The HALO features on-board tap
tempo, infinite hold, expression input control, user storable presets, and much more.
Keeley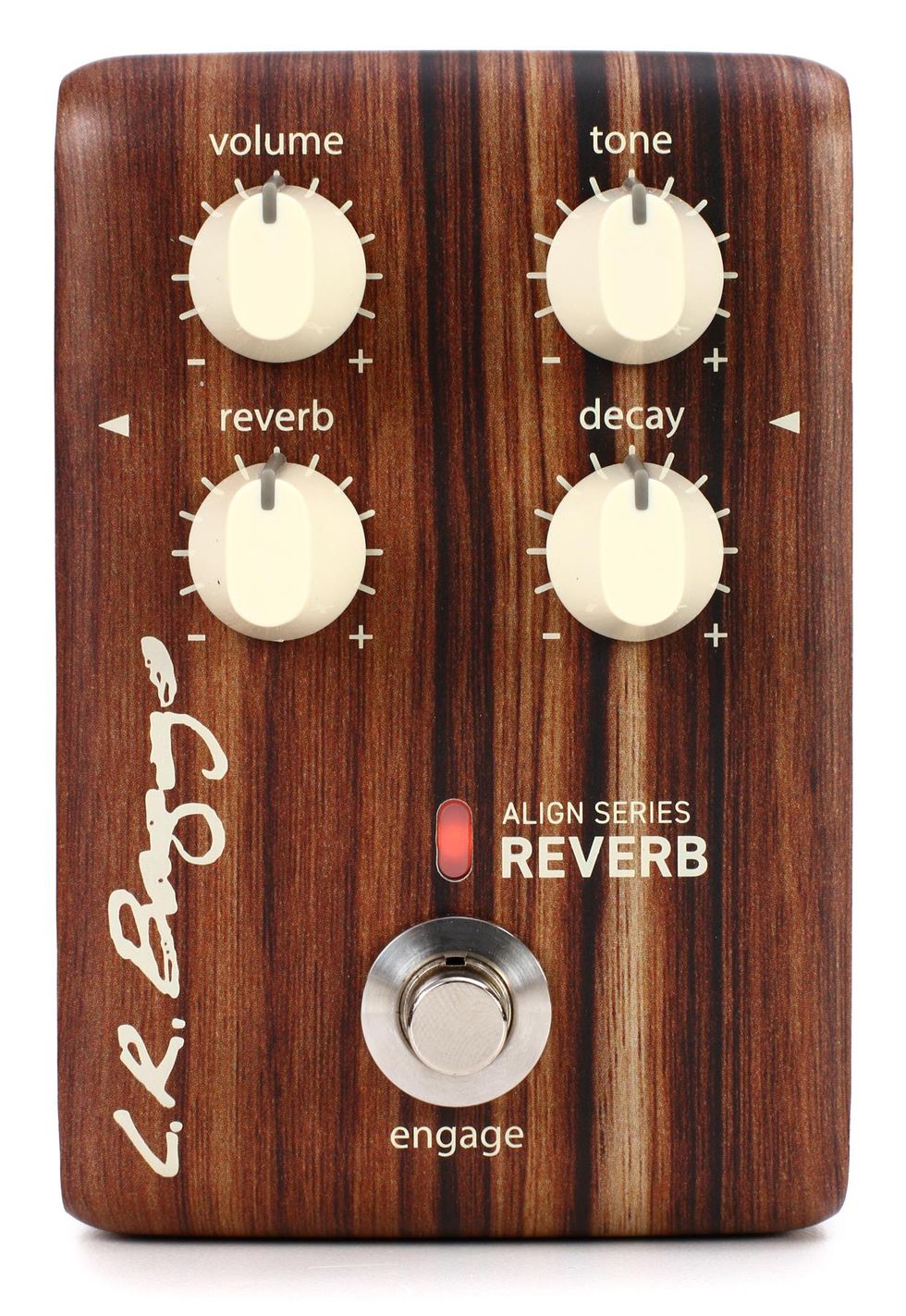 The Align Reverb was built from the ground up to complement the natural body dynamics and warmth of acoustic instruments that we love so much. The circuit seamlessly integrates the wet and dry signals with the effect in side chain so that it never overwhelms the original signal. We shaped the reverb with analog EQ to reflect the natural voice inherent in acoustic instruments. Additionally, the tone control adds versatility by sweeping from warm and muted to open and present. The result is an organic reverb that maintains the audiophile purity of the original signal with the controls set in any position.
LR Baggs