Seymour Duncan's SH-15 Alternative-8 Humbucker
Seymour Duncan introduces its first production pickup with an Alnico 8 magnet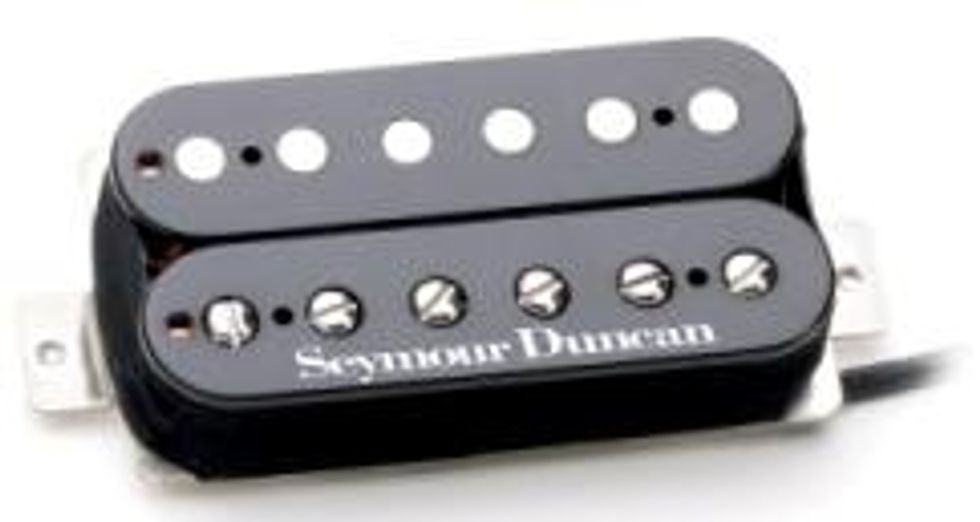 Santa Barbara, CA (April 22, 2008) -- To facilitate guitarists who are into today''s increasingly heavy guitar tones, Seymour Duncan has created a killer pickup that delivers the crunch people are looking for: the SH-15 Alternative 8. The Alternative 8 is the company''s first production pickup to use an Alnico 8 magnet.
The Alternative 8 starts with hot coils wound for maximum output. With the addition of the Alnico 8 magnet, the output is enhanced with a punchy sound, full of fat mids and present upper-mids. The Alternative 8 is recommended for the bridge position and is available uncovered, with gold or nickel covers, and in Trembucker spacing. The dynamic pickup is made for use with high gain amps.
The Alternative 8 matches a moderate output neck pickup like the SH-1n ''59 or the SH-2n Jazz Model. Duncan also recommends pairing the Alternative 8 with one of their distortion pedals like the SFX-04 Twin Tube Mayhem, the SFX-05 Lava Box or the SFX-08 Power Grid distortion -- the combinations yield primo tones ranging from straight-ahead rock to blazing metalcore.
The SH-15  Alternative 8 is vacuum wax potted for squeal-free performance. Mounting hardware (screws and springs) and detailed wiring diagram are included.
For more information:
Seymour Duncan