Steve Morse on Cruise Control
This month Brian sits down with veteran rocker Steve Morse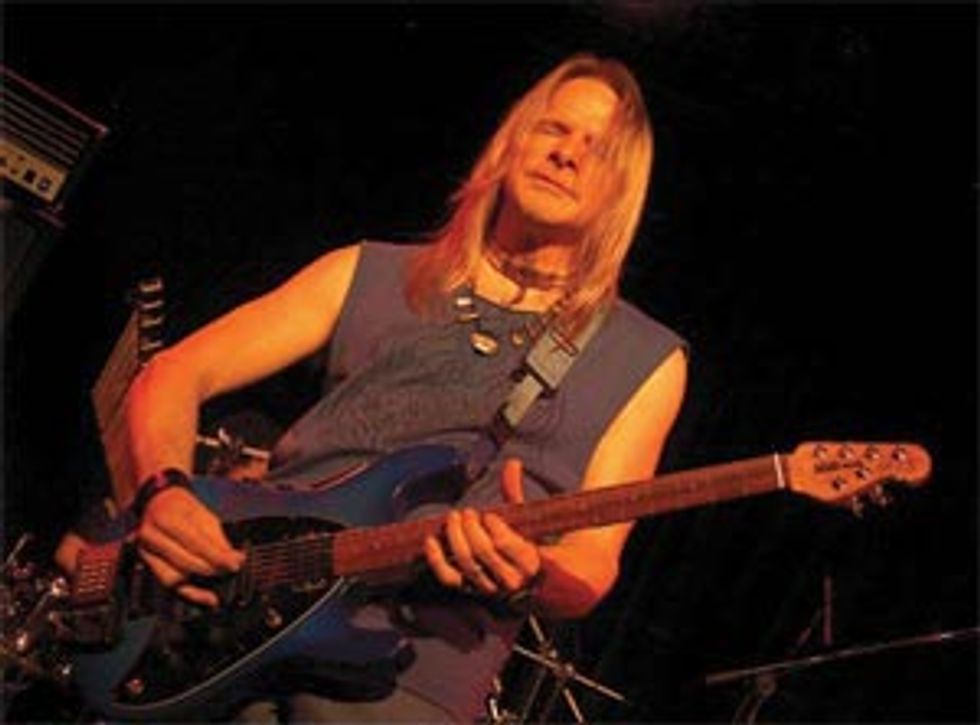 Having been a Steve Morse fan since his solo records like The Introduction and Stand Up, I was excited to learn that he's got a new project. Known for his blazing guitar riffs and instrumental sensibilities, Steve has ventured into uncharted waters by teaming up with singer/songwriter Sarah Spencer on her latest album, Angelfire. Being a hardcore instrumental guitarist, I was a skeptic about a guitar hero involved with a new folk/pop singer. But having listened to the CD thoroughly, it's well produced and Steve's style is very evident. It's nice to hear the softer side of Steve contained in the CD's ethereal passages.

I caught up with Steve to talk about this fresh project and other music news.

What guitars and amps did you use to record Angelfire?
I started with my normal Music Man electric. Then I used a Buscarino acoustic/ electric nylon string guitar, an Ovation steel string, a Steinberger 12-string, a Music Man baritone guitar tuned down to B and a Line 6 Variax. Everything was either mic'd or direct.


What studio did you use to record your parts?
I used my own studio. It's a very modest endeavor, built for space rather than sonic perfection. I'm attached to my old board, which is still wired to my old Studer 24-track, so everything went through the board on its way to being recorded by the computer. The old Urei compressors still work and are used on all vocals and clean guitars.


How did your guitar approach with Sarah Spencer differ from your solo productions?
My approach is always the same; to try and create sonic depth. With Angelfire, I wanted to have no distortion at all while she was singing since her voice is so perfect, which meant combining different sounds that were clean. For instance, while I'm playing a busy arpeggiated part on the nylon string, I might add a 12-string to double only the notes that are on the fifth and sixth strings, to accentuate and slow down the apparent density of what sticks out to your ear. So instead of hearing a lot of equal volume notes, there is a constant harmonic backdrop of arpeggios with a more sparse, ringing 12-string – just loud enough to notice the difference.

The material itself pushes you in a certain direction. For example, in the tune "Omnis Morse Aequat," the clean guitars are being wah'ed by rolling the tone control with my little finger instead of using a wah pedal. This gives the effect of unearthly brass and string accompaniment when it's mixed right, which fits the stately nature of the tune. In "Get Away" the riff was crying out to be played on the baritone guitar, since it's in a key that seems too high for standard tuning without distortion. The baritone with a clean sound gave it a slightly unusual framework.


What format did you record the songs on?
I used Cubase SX1, 2 and 3; it's very powerful and works well for me. I find the German approach easy to understand and remember, only after years of frustration. All software like this requires quite a ramp up period of time to learn what to do. Basically, you have to be able to edit almost everything on the fly or have a superhuman memory and "fix it later." With Sarah, I simply had to decide which take sounded better and keep it.

There were literally three notes of hers that I fixed, so we ran no pitch correction, which kept it natural.


What pedals did you use on this project?
I don't think I used a single footpedal, but I usually don't in the studio. One technique I used was a doubling effect; say a chorus delay on the opposite side of the dry part. Then, when doubling, pan the doubled part exactly opposite so that on take one you have dry on the left, effect on the right and on take two they flip flop. It makes it sound sonically complex without totally phasing out. The doubles need to be pretty close to make that work, since it's best if they are the same volume.


What other upcoming projects or albums are you working on?
I played on a track called "Towers," that will be featured on the album Brian Tarquin Presents Fretworx, which benefits the Friends of Firefighters. The Steve Morse Band is also finishing up a new studio album, somewhat in the style of Southern Steel and I recorded demos of my son's two bands, Haneda and Dose of Reality, which they instantly published on their MySpace pages.

"Towers" will be released October 19th. Check back next month for more details; in the meantime you can hear portions of Fretworx at briantarquin.com and Sarah's upcoming release at sarahspencer.org.
---
Brian Tarquin
Emmy Award Winning Guitarist Brian Tarquin scored a Top 20 hit in the 90's with "The Best of Acid Jazz, vol. 2" on Instinct Records and enjoyed several top 10 hits on the R&R charts. Founder of the rock/electronica band, Asphalt Jungle and has scored TV music for such shows as CSI, Smallville, MTV, Alias, 24, All My Children and many others.

bohemianproductions.net
jungleroom@optonline.net
myspace.com/bohemianproductionsmusic