Meet the players who've done more than any other to set heads a-bobbing, hips a-swaying, and dance floors afire around the globe.
Funk is much more than a style of music that evolved from R&B in the 1960s—it's a way of life. Or, as the late great James Brown said in "(Get up I Feel Like Being A) Sex Machine, Pt. 1," "You got ta have the feelin'." It's the sound of a tight ensemble powered by a relentless groove. It's sweat, soul, and everybody playing in the pocket. It's subservience to the first beat of every bar. Groove is the monarch of the genre.

But funk is also about hip, interlocking guitar parts that make the song pop. In funk, the song always comes first, and the best funk guitar parts are mini compositions within the song. Creating these mini compositions requires mastering a variety of techniques, each of which is inevitably and indelibly seasoned by each player's ethnic, regional, and musical backgrounds. That's why veteran 6-string funksters like Leo Nocentelli (The Meters), David Williams (Michael Jackson, Madonna), Johnny "Guitar" Watson, Paul Jackson Jr. (The Temptations), Phelps "Catfish" Collins (Parliament, Funkadelic), George Johnson (The Brothers Johnson), and Gary Shider (Parliament, Funkadelic) all have uniquely funky styles that don't just rely on stereotypical waka-waka wah hackery.

But the roots of funk reach back even further than the aforementioned masters to five greats—Jimmy Nolen, Freddie Stone, Tony Maiden, Nile Rodgers, and Al McKay. Each guitarist played the funkiest stuff on the planet with individuality, soul, and joie de vivre. They found their distinctive voices within the guitar techniques available to us all, and made great songs groove harder by adding feel, knowledge, and imagination.


Jimmy Nolen
Everyone knows James Brown essentially created funk. And if Brown was the Godfather of Soul, then the late Jimmy Nolen was the groovin' don's 6-string consigliere. Nolen played with Brown from 1965 to 1970, took a two-year break, and then joined forces with him again from 1972 until his death in 1983. Before hooking up with Brown, Nolen paid his dues playing blues on the Chitlin' Circuit and being the house guitarist for traveling acts coming through Oklahoma, Arizona, and California.
Gear-wise, Nolen used a variety of tools during his career. The guitars he was most often spotted with included Gibson ES-175 and ES-5 Switchmaster hollowbodies, a Japanese-made
Stratocaster
copy called a Fresher Straighter, and a Gibson Les Paul Recording Model with single-coils. To achieve his signature sound, he ran the guitars through a Fender Twin Reverb with the treble cranked. As any live version of "I Got the Feeling" proves, Nolen's tone was clean and full, and despite playing in such a large band, you can hear every note.
Nolen first played with Brown in 1965, and the stylistic elements he brought from blues, jazz, and R&B helped make James Brown one of the most successful soul acts of all time. His first session with the Godfather was for the race-barrier-breaking hit "Papa's Got a Brand New Bag." On it he pioneered the use of hip jazz voicings, 16thnote strumming, and alternating single-note lines with funky 9th chords. But that was only the beginning. On songs like "I Got You (I Feel Good)," "There Was a Time," "Cold Sweat," and "Mother Popcorn," Nolen laid the foundation for funk guitarists of the future with muted string scratching, dominant-9th-to-13th hammer-ons, and a sense of time that was both hypnotic and infectiously grooving. The combination was so compelling that it became the blueprint for every funk guitarist to follow. In fact, whether they know it or not, anyone who plays funk today either purposely or inadvertently gives props to Jimmy Nolen.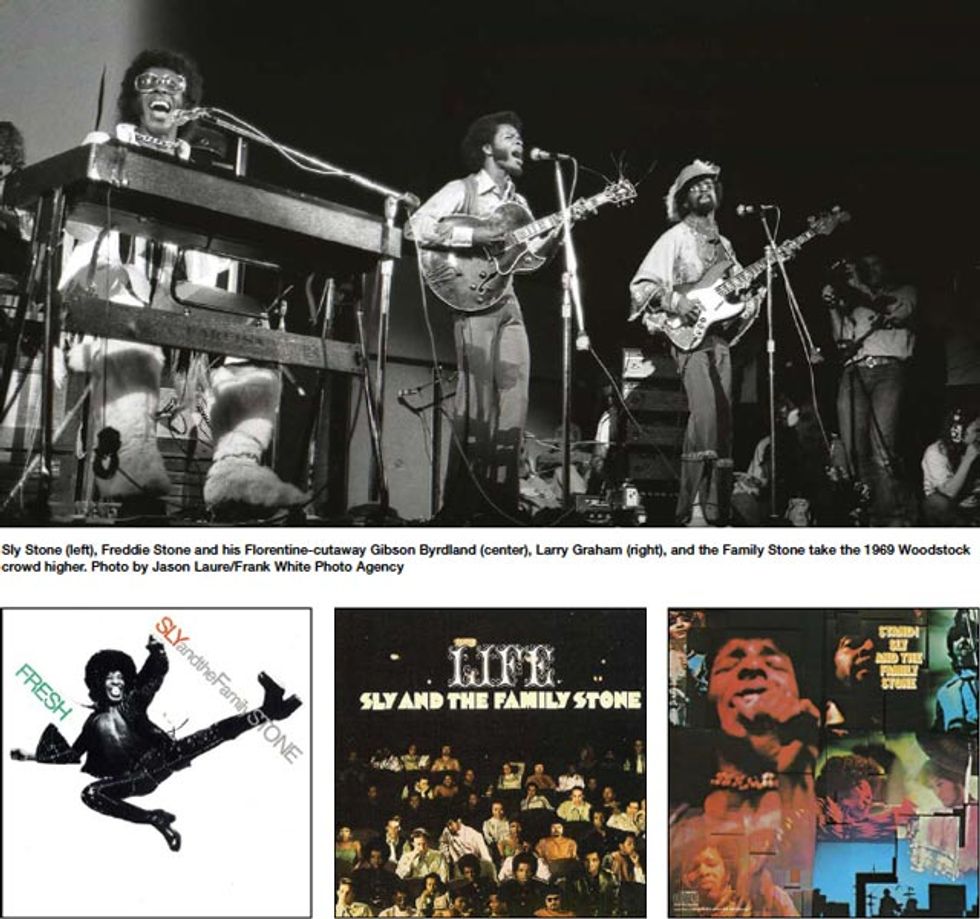 Freddie Stone
Despite playing in one of the most popular funk bands of all time, Freddie Stone might just be one of the most underrated purveyors of funkitude ever. He and brother Sly Stone cofounded Sly & the Family Stone in 1967, and within that context Freddie set a new standard for integrating the guitar into a large band setting without sonic redundancy. His chickenscratchin', choppy-grooved licks, and bluesy R&B lines (played initially on big, hollowbody guitars like Gibson L-4s, then later on Fender Telecasters) always popped out of the mix in the right places and added a "gut-bucket" feel to the band's prominent horn section.
Although his heyday was nearly four decades ago, Freddie had an influence that looms large to this day. It can be heard in the styles of other influential 6-string funkateers such as Ernie Isley (The Isley Brothers), Eddie Hazel (Funkadelic), John Frusciante (Red Hot Chili Peppers), and Prince. Check out tunes like "Thank You (Falettinme Be Mice Elf Agin)" to see how Freddie integrates single lines on the lower strings with sliding dominant- 9th chords on "Sing a Simple Song." It's a riff so irresistible Jimi Hendrix borrowed it for his album
Band of Gypsys
. Want more evidence? Listen to the Woodstock version of "I Want to Take You Higher" to hear how Freddie finds elbow room sandwiched between Sly's loud, crunchy organ and Larry Graham's bionic bass. Take note of his discretionary use of the wah pedal. He uses the right tool at the right time and knows when to
stop
using it.
Sly & the Family Stone was pivotal in the development of soul and funk rock, and they were the first highly successful American band that was both racially mixed and gender diverse. Their style of church-influenced psychedelic funk continues to inspire to this day. Freddie Stone's gut-bucket guitar and screaming-from-the- pulpit vocal style changed lives and sent many a guitarist to the woodshed to investigate the full potential of unadulterated funkiness.
Tony Maiden
To the general public, the name Tony Maiden may not be as well known as other funk guitar icons. But mention the songs "Tell Me Something Good," "Once You Get Started," or "Ain't Nobody," and you'll start to see the lightbulbs come on. In 1974, Maiden joined Rufus—which featured Chaka Kahn and was one of the biggest-selling bands of the 1970s—and went to work adding beautifully arranged funkiness to
Rags to Rufus
. Maiden was a very soulful singer who could go toe-to-toe with Kahn, and his guitar brought a funkiness that worked seamlessly with Khan's soaring, jazz-influenced vocals.
Rufus was about great songs, vibe, pocket, and cleverly orchestrated arrangements. Dig the skanky, choked chord pattern on the intro to "You've Got The Love" on the live album
Stompin' at the Savoy
, or the sultry, sliding double-stops on "Sweet Thing" (the latter of which was co-written by Maiden and Kahn for the album
Rufus Featuring Chaka Kahn
). Maiden's guitar parts—which he played on everything from a Gibson ES-175 to an ES-345, Les Pauls, and a Fender Mustang (though recently he's been playing rosewood Telecasters)—are a compositional marvel. His sublime rhythm work mixed melodic chording with delicious R&B lines, and tasteful effect use (check out his bluesy talk box work on live versions of "Tell Me Something Good"). But his guitar solos were impressive, too. In all, his playing style was a master class in the elements and techniques necessary to create imaginative parts with soul and finesse.

Nile Rodgers
During the late 1970s and early '80s, Nile Rodgers took the old-school chordal style that had earned him a spot as house guitarist at New York's famed Apollo Theater and morphed it into the key ingredient of a dance revolution. The band that was the vehicle for this revolution was Chic, and it was the toast of the New York disco/funk scene. Rodgers pared down his jazz chord vocabulary in favor of a more R&B-like approach and refined it to fit within a tight, badass funk ensemble. Drummer Tony Thompson and bassist Bernard Edwards were the band's muscle, while Rodgers' less-is-more approach—which favored triads and dyads (two-note chords)—was the secret sauce. One of the more intriguing elements of his style is how he is able to mute unwanted notes with his fretting hand, while still using those notes to give his fretted notes a fatter, more percussive sound.
That clucky muted sound became the centerpiece for songs like "Le Freak," "Everybody Dance," and "Good Times," and it has also become a standard within the funk and disco lexicon. His signature style can also be heard on hit songs by Sister Sledge ("We Are Family"), David Bowie ("Let's Dance," which also features a solo by Stevie Ray Vaughan), Diana Ross ("Upside Down"), and many others. On all of them, his presence is undeniable.
Rodgers' gets his tone from a hard-tail Fender Strat with a late-'50s neck and a '62 body. His pickup selector is usually set to the neck position, and it goes into a Neve console, gets a little compression, and is mixed with a Fender Super Reverb, Twin Reverb, or Roland JC-120. The amps add warmth to the direct sound, while his use of thin strings and thin picks adds a brightness that punches through a bass-heavy mix. Onstage, he sometimes uses a Fender Bassman or a Music Man head with Sunn cabinets. He's also been known to use Peavey Classic 50s.
Although Rodgers' style had a sleek, slick, funky economy that pushed so many commercial hits over the top, he actually began by learning the George Van Eps style of jazz guitar, which emphasized playing inversions on sets of three strings all over the neck. While hardcore jazz cats might not approve of how Rodgers put this knowledge to use, that knowledge was key to his tough, minimalist style. He went on to become an A-list producer for some of the biggest names in the business, but it's his sick, groovalicious guitar playing that kept everyone dancing.

Al McKay
From 1973 to 1981, Al McKay co-wrote and played guitar on an entire generation's life soundtrack with Earth, Wind & Fire—the most sophisticated funk band of its time. But the mighty McKay's locomotive style had been around plenty before propelling Earth, Wind & Fire to fame as one of the most visionary and successful bands of the 1970s. Prior to that he'd also done stints with The Ike & Tina Turner Revue, Charles Wright & the Watts 103rd Street Rhythm Band, the Jackson 5, Smokey Robinson, and Gladys Knight. If that ain't a funk pedigree, what is?
EW&F augmented its dense, syncopated sound and catchy pop hooks with spirituality, uplifting messages, and elements of world music (before it was called that)—all of which was a big contrast to the party funk bands of the time. On chart-topping hits such as "September," "Fantasy," and "Sing a Song," McKay used a variety of left-handed vintage instruments—his favorite was a '72 Gibson ES-335—and either a modified Roland JC-120 or a Vox Super Beatle to lay out a buffet of funk guitar styles, from muted triads and swinging rock licks to sliding octave work and lush, major-7th embellishments. And his sense of time was freakish—just listening to his relentless rhythm work on "Getaway" makes your arm tired!
McKay considers feel and groove to be his God-given forte. "My gift is finding the pocket of the song," he says. "Once I set the pocket, everybody plays to me. I came up with these grooves. This is how Maurice White and I wrote. All the songs we wrote came out of me sitting in the tuning room, tuning up before we went onstage. I'd just start playing. He'd hear it and start singing something. He'd come in the room and say, 'What's that?' I'd say, 'Nothin'.' He'd say, 'Tape that!' We'd put the tape recorder on and we'd write three or four songs that way.
Big
songs!"