Looking to the past for inspiration as they haul ass toward the future of guitar—with elite instruments, innovative techniques, and the stunning compositional arc of the new album Parrhesia.
How often does a player come along that legitimately advances and expands the vocabulary of electric guitar? How often does a player come along that changes the fashion of guitar? In the case of Animals as Leaders' illustrious guitar tag-team, Tosin Abasi and Javier Reyes, their contributions as players, songwriters, gear designers, and producers have not just changed guitar culture but arguably dragged it into the future. And whether you're onboard with the program—djent, prog, nu-fusion, call it what you will—Abasi and Reyes have played an inordinate role in inspiring a new generation of guitarists to pick up extended-scale instruments, download some plug-ins, and hit the Instagram woodshed.
Abasi and Reyes don't just write incredibly technical music. They write incredibly technical music with artistic intention and emotional impact that's much deeper than their fretboard histrionics might initially seem. Armed with signature 7- and 8-string guitars they've helped design, the duo approach Animals as Leaders' music with the cerebral focus of symphonic composers.
For open-minded fans of guitar, the techniques the pair employ within the group's evocative songs are a revelation. Abasi has developed surprising selective picking approaches, next-level melodic tapping, and a unique thumping, athletic take on slap guitar that blends the longstanding bass-birthed approach with classical fingerpicking. And in Reyes, Abasi has found the ideal foil and co-writer for his radical approaches and musical concepts. Reyes' own playing style is best described as a unique extension of classical guitar. He's a fundamentally gifted player whose work underpinning and supporting Abasi's flights of fancy is often taken for granted. That said, Reyes makes no bones about being a song-first type of guy and the potency of their pairing is undeniable.
ANIMALS AS LEADERS - The Problem of Other Minds (Official Music Video)
On the new Parrhesia, Animals as Leaders—completed by drummer Matt Garstka—reprise the more aggressive sound of their early albums. However, the threads of fusion, electronica, and textural intrigue that have defined their last few releases lace up Parrhesia in a waythat reconciles this band's maturity and sophistication with their perennial desire to pen viscous, visceral extended-scale riffs. Written and recorded in collaboration with Misha Mansoor (Periphery, Bulb), the group's longtime ghost member and a bona fide guitar hero himself, Parrhesia is as much a defining document of where progressive metal is at in 2022 as it is a vehicle for Abasi and Reyes' jaw-dropping prowess as guitarists and songwriters.
In this wide-ranging interview, Abasi and Reyes take us inside the making of their long-awaited new work, dig deep on the esoteric and heady musical concepts and playing techniques that shaped the sound of Parrhesia, tell us why real tube amps edged out their long-trusted modelers, and Abasi discusses everything from purchasing Joe Bonamassa's TrueFire courses, designing signature guitars, and beyond.
There was a much longer gestation period between this record and 2016's The Madness of Many. I know part of that was simply the pandemic. Can you tell us about the writing process, how the extra time played a role, and what made writing this album unique relative to other Animals as Leaders recordings?
Tosin Abasi: You're right, the pandemic did kind of throw a wrench in it because there was a period where we were just afraid to get into the same room. Then there's the mental side, where it just got weird for a second. We felt hesitant because do you really want to release an album that you can't tour on? Everyone's lives got a bit turned upside down and I had some periods where I just wasn't feeling creative, so when you combine all of that, there is a big chunk added to the distance between the last record and this one because of things outside of our control. I'm sure we're not alone in that regard.
"I've flirted with the idea of doing a blues album—which sounds funny to say—but I would put a twist on it." —Tosin Abasi
Javier Reyes: We also wanted to give ourselves some time and not fully repeat ourselves. I think we have a style, but we try to come up with new versions of that style on every release. So, it was nice to have that big break and space to write. Most of the writing was done in person. We don't jam out any material. We sit in front of a computer. Considering the complexity of the rhythms and the guitar parts, jamming in a band room isn't productive, considering that sometimes a single riff of ours may take weeks to get right. We try to let the song dictate where it's gonna go.
The pandemic seems to have been really polarizing for creatives, where people either completely shut down or they went deep in their craft.
Abasi: I'm glad you brought that up because I was actually feeling burnt out on touring. As a human being, when being home is constantly a temporary thing, you feel like you're missing out on the part of your life that isn't holding a guitar. So, I had secretly been wanting some time off from touring. But as a musician, I had a huge burst of creativity where I was like, "Whoa, I have all this time to play!" So, I started buying TrueFire lessons and going on YouTube and learning more guitar, which was cool! There was a big chunk in the beginning of the pandemic where I was hyper-productive and hyper-creative.
Whose TrueFire courses did you buy?
Abasi: I was trying to work on my weak points, and I'm not a blues player, so I bought some blues lessons from Oz Noy, Josh Smith, and Ariel Posen. I'm still doing that. Joe Bonamassa just released some TrueFire stuff that's really good. Beyond the blues stuff, I was looking at Alex Jung, who's got a lot of etudes that are based off of individual scale concepts, like Messiaen modes or melodic minors.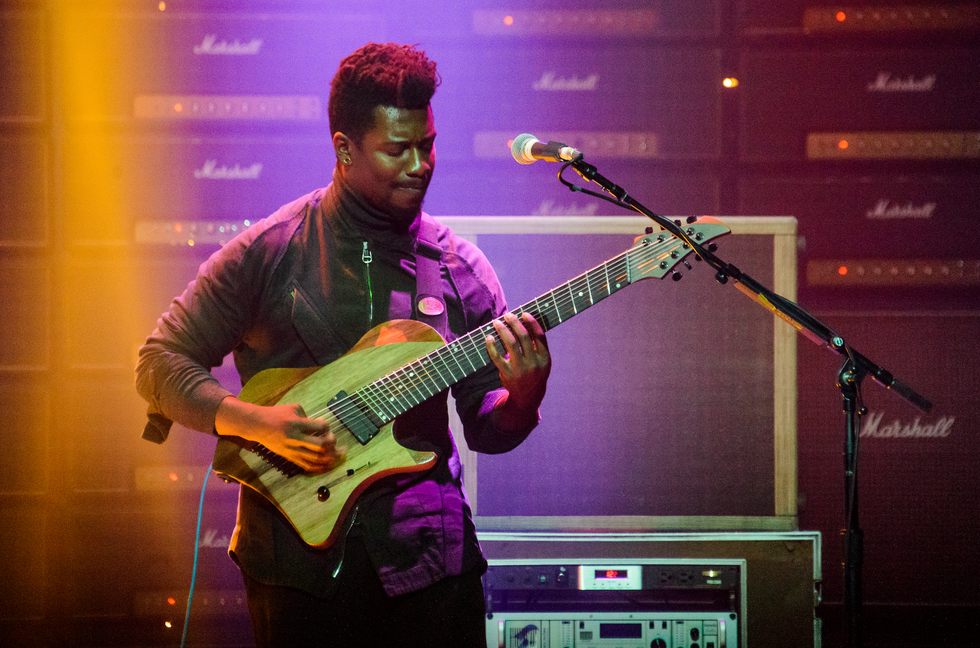 Tosin Abasi, with his ergonomic, fanned-fretted Abasi Concepts Larada Master Series model, blends ferocity, melody, and imagination in every studio or stage appearance, but he also has an appreciation of fundamental guitar building blocks, like blues licks.
Photo by Annie Atlasman
So, you're studying blues? Are we going to hear some boomer bends on the next album?
Abasi: Bro, I'm bending on the album a little! On the next one, I think you will! I've flirted with the idea of doing a blues album—which sounds funny to say—but I would put a twist on it. It's kind of a novelty to me, but the constraint is fun to work with and to see where I can get creative within that box is an interesting idea.
Can you tell us about your relationship as co-guitarists?
Abasi: Javier is perfect for so many reasons. Foundationally, he's not very ego-driven and does a lot of production, so he doesn't feel like he has to be the one doing the flashy guitar part to something that might be already written. He understands the greater picture and doesn't arbitrarily insert himself, and that's huge, because guitar players and big egos are synonymous. Javier is really good at filling in the gaps, so wherever I stop having musical ideas, he takes off right from there. We have a lot of songs where Javier wrote the main melody or there's a complementary guitar part to what I've written and he's seamlessly able to do both. As far as his actual skill set as a player, he works a lot with the unique offshoot of classical guitar he's developed, so he's good at doing chordal melodies and harmonies, and his brain is situated there. When you want more harmony added to a part or you need a melody, Javier's skill set works well at filling in those blanks. He's got a unique voice. And we're really good friends. I've known Javier for close to 20 years of touring with him and writing music with him, and he's kind of like the band dad.
Reyes: Tosin definitely thinks outside the box, as do I, but my natural tendency is to focus on making interesting music—not necessarily the most innovative guitar part. Tosin throws a lot of random techniques my way that I'm not afraid of learning and that aren't necessarily things I would practice on my own, but I've learned some of the hardest things I know how to play for the sake of playing in this band. Even before Animals—when we were just homies back in the day—we definitely inspired each other in a lot of ways. I've always been able to write stuff that complements his stuff, and vice versa. If Tosin's doing a crazy technique, I know how to write around that and add a simpler technique on top of it. I think we have a pretty harmonious guitar relationship. We feed off each other and I would say a lot of the fingerpicking stuff that Tosin's done throughout the years comes from being exposed to the classical stuff that I do. And I definitely wouldn't be thumping on guitar if I hadn't played in Animals as Leaders.
I understand you guys did a complete mix of the album with plug-ins, scrapped it, and re-did the mix with real tube amps. Why did the tube amps win out?
Abasi: We've used modelers for over a decade and were using them exclusively at one point. These things have become indiscernible from their real tube counterparts. On this record, we were getting plug-in tones that we were happy with, but we had a loud room with some cool amps, so just for shits and giggles we reamped some things to see if the quality of the tone was different, and we found that particularly in the low-mids and the lower frequencies there was just a different character to a mic on a loud cab. We objectively decided that we were getting more life out of the recorded tones and we were happier with the behavior in the low end. So, we ended up re-tracking everything, and we would compare each section we re-amped to the printed plug-in preset tone we had, and we were always happier with the recorded re-amped version. We were being very objective, and we did A/B them.
"I still don't know which is better in general, but after doing the entire album with amps, there's definitely a thing to real amps that I think all of the digital companies still haven't been able to replicate."
—Javier Reyes
Reyes: Ninety-five percent of the guitar tones on there are real amps. This was the first time that we did that. On previous albums, everything's always been Axe-Fx. We did have a whole mix of the album where all the tones were Neural DSP plug-ins and Axe-Fx, but for some reason we were like, "Yo, let's just try real amps" and we got results that we were happy with. We were like "Right, we'll do the whole album again!" It was just a matter of thinking about what the songs needed. The plug-ins didn't sound bad, but we were getting some really good results out of the real amps, and we were like, "Why fight it? Let's just keep using that."
Parrhesia is distinctly more aggressive than its predecessor. Would you say the lack of body in plug-ins made them inferior to the real amps for the heavier guitar parts?
Abasi: The material was written before the recording session, and we somehow just defaulted into writing a heavier album. But yeah, I think our preference for the miked amps was because the tones we wanted were heavier, and the key is in the low-end compression of these distorted tones. The real amp hitting the diaphragm of a microphone just captures a bit more energy. Maybe it's the perception of volume? But using real amps and the fact that the record was heavier worked hand-in-hand. We found that the amp and mic situation conveyed a bit more of that energy.
Reyes: In my opinion, yes and no. I think it has a lot to do with who's running the recording session and who's miking the amps up. When we did The Joy of Motion, we were at this million-dollar studio with Friedmans, Marshalls, and everything you could possibly want. But in the control room, it felt no different than the Axe-Fx because there's 50 feet of cables and the cabs are in the other room, and the mic positions are a variable. For this album, we were using a different recording engineer and his techniques for miking the cab were 100 percent different, in a much less expensive studio, but the results were substantially better and it felt different than the plug-ins and modelers. I still don't know which is better in general, but after doing the entire album with amps, there's definitely a thing to real amps that I think all of the digital companies still haven't been able to replicate.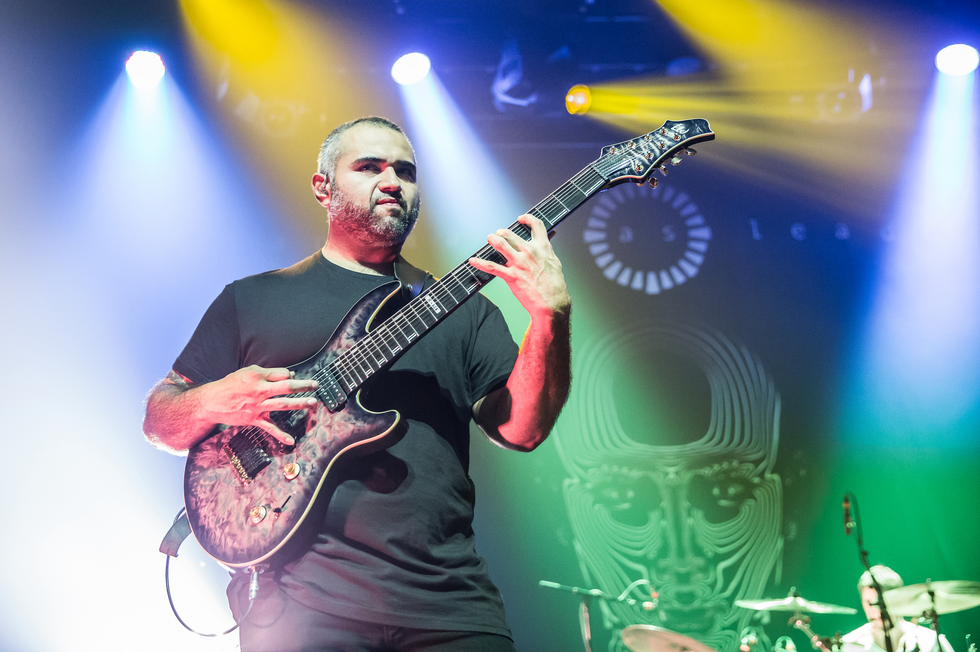 At New York City's Webster Hall, Javier Reyes cuts loose on his ESP Custom 8-String S-type.
Photo by Joe Russo
The aggression on this album is kind of just a natural progression, but also deliberate. When I listen to metal these days, it's pretty aggro metal, and we spoke about making this album more aggressive than the last. Considering how experimental The Madness of Many was, we had the feeling that most people were expecting a more experimental album after releasing songs like "Arithmophobia" or "The Brain Dance" or "Transcentience"— which were all pretty fusion-y. I wanted to bring it back to some real heavy shit to not let people forget. It's like "Don't get it twisted, ya'll. We can still hang!"
Misha Mansoor co-wrote and co-produced several tracks on the new album. What did having him back in the fold bring to the process?
Abasi: Misha seamlessly integrates into what we're doing. I did the first album with him before I had a band and I find that as a producer there's not a single riff that I write that Misha doesn't instantly comprehend. He's got a great musical mind, especially for rhythm, but for harmony, too. I think Misha undersells himself there, and I've been impressed many times with his chord voicings and chord progressions. As a producer, he's very quick and that's super valuable because you're unimpeded in your songwriting when he's building a track. This is the third body of work of ours that Misha's been heavily involved in, so our process is well-defined, and he's a friend. Sometimes if you get a producer and you don't know them personally, you might feel nervous throwing an idea out or voicing an opinion. I don't know if people always consider the human relationship element of the creative process, but it's super important to just vibe with the person you're working with.
Tosin Abasi and Javier Reyes' Gear (shared for 'Parrhesia')
After mixing Parrhesia, Tosin Abasi and Javier Reyes opted to return to the board and reamp all the guitar sounds generated by plug-ins with a few muscular tube amps, then mix again.
Guitars
Abasi Concepts Larada Master Series
Abasi Concepts Space T
ESP JR-7 Custom
ESP Custom 8-String S-type
ESP LTD SN-1000
Amps
Morgan SW50R
Friedman Buxom Betty
Mesa/Boogie Dual Rectifier
Custom 4x12 cabinet with two Celestion Greenbacks and two Vintage 30s
Effects
Friedman BE-OD
Bogner Harlow
Eventide H9
Strings & Picks
D'Addario NYXL .0095 sets (Abasi)
D'Addario NYXL .009–.042 sets with a .056 and .074 for the 7th and 8th strings (Reyes)
Dunlop Primetone 1.4 mm Sculpted Plectra Jazz III (Abasi)
Dunlop .73 mm (Reyes)
How do you approach reconciling technicality and playing things that are fun and demonstrative while making emotionally moving statements?
Abasi: Essentially, to reconcile them you have to feel that whatever you've just written with whatever snazzy technique is grounded in some sort of compelling rhythm or harmony, and ideally both. A good smell test would be if you played it for someone who didn't play guitar. Would they be struck, or would they feel anything? If you couldn't see it being performed, is it still valuable, because a lot of this is like, "Oh! That's how you're making those sounds?"
As guitar players, we're always listening to the audio and wondering where on the neck is this note being played or is he picking all those notes? There's all this reverse engineering to what we're hearing. For me, technique is a vehicle to create sounds that are sometimes a novelty, but not used just because they're a novelty. There can be a stimulating effect to hearing a guitar do something that you haven't readily heard before. It activates part of the listening mind. I'm pretty obsessed with new sounds and that's why I try to coax them out of my guitar via new techniques.
Using harmony is a good way to imbue emotional triggers inside of music because irrespective if you're slapping or sweep picking or whatever, the combination of intervals in the melodic phrases you're playing is what's gonna evoke a sense of emotion in a listener. That's where I try to marry my technique with something that is evocative, and hopefully I find something that pulls at you in some emotional way.
Reyes: We like writing deliberately complicated music, but what we end up writing naturally tends to be complicated anyways. Even with my solo stuff, Mestis, which is a lot less heady than Animals' stuff—it's still very difficult to play. There has to be some feel, but there is also some "how are we gonna figure this idea out?" And there is also the very deliberate "let's make this part nuts!"
We prioritize the song and the tone over needing to use our signature software and signature guitars." —Javier Reyes
Certain things I hear on this album remind me of a West African kora or a synthesizer, like the guitar hook on "The Problem of Other Minds" that traces that synth line. Where do you find inspiration for new sounds?
Abasi: That is a great observation because the kora is a super cool-sounding instrument. There's a guitarist named Lionel Loueke, from Benin, and he puts paper underneath the strings of his guitar near the bridge to create this unique, muted thing that sounds a little like a thumb piano. I started to get into this heavily arpeggiated but clean and muted timbre that's almost like a kora or a thumb piano or a harp. And the synth thing is huge for me, because I really love electronic music and I really like that arpeggiated cycling through all the intervals in a chord like a step-sequenced synth.
Guitar players normally achieve that through sweep picking, but I wanted a different sound where it didn't sound like you played it with a pick and there wasn't this uniformity between pick strokes. It sounded like a note-on/note-off sort of thing. So, I started working on this left-hand-dependent sort of staccato arpeggiating stuff that really harkens to a step-sequencer. So yeah, you nailed it. Those are sources where I'm hearing notes fly by and it's not just some shredder on guitar playing them, but it's activating the part of my brain that wants to incorporate that sound. The funny thing about "The Problem of Other Minds" is it was written on guitar first and then we wrote the MIDI for the synth, but I really like this blurring of the line where maybe it hits the listener in a way where they think the synth part was written first and that the guitars are emulating the synth.
"Micro-Aggressions" is an absolutely barnstorming guitar anthem. Can you walk us a bit through the writing of that one?
Reyes: It was Tosin's riff, and it was like, "Here's this riff, no holding back. Let's just go in!" No one had any arguments about it!
Abasi: "Micro-Aggressions" is a magnum opus to the selective-picking technique I've been obsessing over, where you pick intermittently while your left hand does hammer-ons and produces quite a lot of notes. Your picking hand interjects here and there, and it's this weird decoupling of your left and right hands. The phrases are composed by integrating the left and right hands, but they're performing independent roles. What I wanted to do was make something that almost seemed like a classical piece, so there's a lot of even note values and a lot of the harmony is natural minor, melodic minor, and harmonic minor. I just wanted a high-BPM blistering thing, but forcing myself to use selective picking throughout the entirety of the tune. That song is very demanding.
Note that thumb. It's part of Tosin Abasi's highly original thumping approach (inspired by Regi and Victor Wooten) that blends an old-school funk move with classic fingerpicking.
Photo by Steve Kalinsky
You've both got a lot of signature gear now between plug-ins, Fishman pickups, the Abasi Concepts guitars, and Javier's signature ESP guitars. How does tone, design, and fashion intersect for you guys?
Abasi: It's hard to disaggregate it all for me, because when it comes to something like the Larada—the guitar I designed and play—it is a synergy of aesthetic and function. Part of the shape of that guitar is informed by wanting to make an impact with aesthetics, but it also all serves a functional role—whether it's ergonomics or how thin the guitar is or how light the guitar is or where that center point is when you're in a seated position and how far out do your arms have to go to navigate the whole neck from one extreme to the other. I wanted to do something for players who wanted to make a statement with their instrument. I wanted to make a guitar that felt like the person playing it had an aesthetic contribution to their playing that represented something about them—whether it's that they're forward-thinking or they need a very precision-focused modern instrument.
Reyes: Having the signature gear is amazing and we try to use our own products as much as possible, but when in the studio I like to think as a producer. It's about what's going to give you the best tone for the part. We prioritize the song and the tone over needing to use our signature software and signature guitars. There are a couple parts on the record where Tosin was using my guitar for his solo and vice versa. The outcome of the song is more important than each of us getting our guitars in the song.
Can you tell me about the guitars, amps, and effects that really shaped the sound of the album?
Abasi: I used my Abasi Concepts Larada for virtually all of the record. We make a Tele-style guitar that I used for "The Problem of Other Minds," where there's a solo that I wanted a mid-gain, single-coil sound for. My Fishman pickups are voiced to reach into the higher frequencies a bit further than a traditional passive humbucker. You can get this crystalline clean that also translates into the split-coil sounds. I wanted something that almost sounded like a Tele on crack, because a lot of the slap and tapping stuff is really complemented by a single-coil characteristic. So a lot of the slap and selective picking and all the thumping parts are almost just the result of position 2 on my guitar, which sounds almost like the guitar has a preamp in it.
The Friedman BE-OD pedal into a Morgan SW50R was my main sound. The Morgan is just a great-sounding, single-channel pedal platform. It's almost like if you were to take the preamp section from a high-gain head, but the power section and the headroom of a clean amp with no breakup. I feel like it has a slightly different character than if I was to play through a high-gain head on its own. It's central to my sound, at this point.
"For me, technique is a vehicle to create sounds that are sometimes a novelty, but not used just because they're a novelty." —Tosin Abasi
I also use this almost boost-style compressor by Bogner called the Harlow, which was a collaboration between Reinhold Bogner and Rupert Neve. Instead of working like a discrete studio compressor that's smooth and clamps down on the peaks of your notes, this feels like it almost expands the transients. It makes the notes pop in a way that's really un-compressor-like. In some ways, it's almost like when you start to crank the master volume on an amp and there's more thud and more transients just because the whole power section's working harder. Anytime you're hearing something percussive or staccato, that pedal is in the loop.
Reyes: The bulk of the rhythm tones—especially slap tones—are a Morgan SW50R clean amp with a Friedman BE-OD pedal going through it. There was a Friedman Buxom Betty used. We used a Mesa/Boogie Dual Rec for some cleans. The main cab was a custom 4x12 with Celestion V30s and Greenbacks. All the rhythm stuff is Tosin's Larada guitar, and all the melodies and solos are a variety of my guitars. I have an LTD SN-1000, my custom ESP JR-7 signature 7-string, my signature ESP S-type. The Bogner Harlow pedal—as you compress, it also adds a bit of gain and it kind of compresses in a different way than the normal compressor. It's a very cool pedal and a one-trick pony, but it's a very cool trick. And "Red Miso" is all Eventide H9.
The closest thing to your thumping technique I've ever heard is when Prince would slap on a guitar. Can you tell me a little bit about how that technique developed into a signature?
Abasi: I was in a band called Reflux back in the day, and our bass player, Evan Brewer, was shredding the thumping thing in like 2002/2003. I had not ever seen the technique before and he was like, "Yeah, this is something Regi Wooten and Victor Wooten do." And not only thumping, but all sorts of innovative melodic tapping. I was just, like, "Dude, this is crazy!" and I forced him to show it to me. But I have to credit Regi and Victor Wooten—as far I know—as the people who innovated the double-stroke thumb thing going up and down, as opposed to the traditional single-note slap bass thing everyone knows. Regi Wooten is on some no barriers, no limits kind of stuff.
The density of notes you can produce efficiently with thumping is awesome, and I just had an immediate connection with it. Especially with the extended range, because it lends itself physically and sonically to bass techniques. I just knew that the difference or the contribution I wanted to make beyond what I'd heard from Victor and Regi was odd meter and heavy stuff. A lot of its appropriate application is in groovy, funky music, and I was able to see that technique being the foundation for some stuff that has nothing to do with funk.
"Monomyth" Playthrough!
Here we go again! Last month we brought you part one of your guitar cohorts' boards from around the world. Time to dig in for part two.
Premier Guitar'sannual feature gives readers the chance to show off their pedalboards. There are so many ways of thinking when it comes to wiring up your effects—that's the fun of it! In this round we've got a tribute to Eddie Van Halen, a pandemic board from Amsterdam, a maximalist stomper with 17 pedals, a curly cord "board," and much more. Go forth to discover new pedals, and stomp on!


Aaron Costello: A Waylon Button
I live in Portland, Oregon. When I built this board, the goal was to get a clear, natural, amp-like sound, with multiple gain stages. Lots of trial and error (which was fun), and, after laboring over decisions that are of absolutely no consequence to productive society, here's what I came up with.
1. Ernie Ball VP Jr.
Basic as it gets. I use it to quiet the rig when I play with acoustic instruments and am also trying to get the hang of pedal-steel bends. Still have some work to do there!
2. Boss TU-3
The standard.
3. Greer Amps Lightspeed
This thing is killer. With a single-coil guitar, I use it to push the Nobels ODR-Mini and get a little more gain without losing clarity. Typically, I use it for a raunchy rhythm sound. With a humbucker guitar, I usually shut the Nobels off and use it by itself.
4. Nobels ODR-Mini
This is my favorite pedal and the heart of the board. It's very much like an amp. With a single-coil guitar, I use it for my clean sound and it's always on. I really dig the edge-of-breakup thing.
5. J. Rockett Audio Archer
I like this behind the Nobels and use it to get a "singing," higher-gain lead tone. Again, it retains the clarity at higher gain but still sounds like an amp.
6. MXR Phase 90
I literally call this the "Waylon Button."
7. J. Rockett Audio Josh Smith Dual Trem
I don't use it a ton but sometimes it's the perfect thing to add color. Sometimes I'll use it with the Greer and then fade it in and out with the volume pedal. It lets me mimic an organ pad and is kind of fun.
8. EHX Memory Toy Mini
This is my second favorite pedal. I use it for a slapback sound and it's almost always on.
9. Mr. Black Super Swell Reverb
My main amps are a 1975 Princeton Reverb and a 1978 Vibrolux Reverb, so I usually like the amp reverb. I do have a couple of amps in my home studio that don't have reverb, so I use this with those. It also sounds great on bass!
10. Voodoo Labs Pedal Power 4x4
This is under the board and does the job. Thanks for reading!
Bert Harris: My Curly "Board"
Here's my pedalboard … I prefer to plug straight in and get all my tone from the amp itself. Nothing cooler than Clapton with a white curly cord plugged directly into a Fender Dual Showman at The Rolling Stones Rock and Roll Circus! I love the thought of showing up with a guitar, amp, pick, and curly cord!
Admittedly, I'm kinda lazy and plugging in a bunch of stuff is a beating to me … although I have been using an Xotic EP Booster lately, but it's battery powered. Hope your day is a wonderful one!
Brian Schwager: Short and Sweet
Hello, I play in multiple bands in Des Moines, Iowa. Here's what I got goin' on my pedalboard:
British Pedal Company Zonk Machine
TC Electronic PolyTune 3 Mini
Ceriatone Centura
Greer Amps Lightspeed
Danelectro BillionaireBig Spender Spinning Speaker
Boss (XTS Custom Mods) GE-7 Equalizer
JHS Pedals Lucky Cat Delay
Strymon Flint
Lehle P-Split (under the raiser, top right)
Drew Smith: Three is the Magic Number
I love these reader pedalboards: I hope you feature my board! I'm in a psychedelic punk-blues duo called Phantom Ocean, based out of New England. We're heavily indebted to alternative music from the '80s, '90s, and early 2000s, and because there's only two of us, my wife on drums and me on guitar, I keep my rig pretty tight. I need a few solid guitar tones and tend not to dip into too much modulation. To that end, my board right now only has three pedals: tuner, dirt, and delay.
For a tuner, I've got a Snark because it's economical and does the job right. For dirt, I've got a Chicago Stompworks Mr. Vermin, their version of a Pro Co RAT, and it's the best RAT I've ever tried. The first time I plugged into this thing, I finally understood why the RAT is so beloved by so many guitarists whose ears I respect. It really covers such a broad swathe of tones, from overdrive to straight-up fuzz. And then the TC Electronic Flashback is my favorite delay. I've never had one fail on me, you can get such a variety of sounds, and the TonePrint feature is always there to craft something really wild.
I round the board out with an XVive U2 wireless system, because I hate accidentally dragging cables across my board and freedom of movement onstage is a joy (even if I spend half the set near the mic anyway). I also use one of (Premier Guitar Senior Editor) Ted Drozdowski's Rocky Mountain signature slides for my slide-guitar work.


Ernie Santella: Does-It-All Board
I built this pedalboard for my classic-rock cover band Wasted on the Young, out in Colorado. We cover everything from Bonnie Raitt to Stevie Ray Vaughan to ZZ Top to Maroon 5. So, I had to have a pedalboard that would fit just about anything our band needed to play. I think I achieved that. I have it all right underfoot at all times. I'm old-school and wanted to stay analog for the input side and then just a little digital on the effects loop side to keep the size down and give me the most bang for the space. I used a few mini pedals, but only if they sounded as good as their larger brethren.
I run my guitars (Heritage H-150, RS Guitarworks T-Style and S-Style, PRS Custom 24) with a single wireless. The Boss WL-50 is nice and clear-sounding with long battery life. Best part is, it auto-mutes when you unplug it, allowing for faster, noiseless guitar swaps.

The board is a Temple Duo 24, which is a great size and not too gnarly to carry. The wireless goes into the Dunlop Cry Baby Junior Wah (a classic-sounding wah with a slightly smaller size), then into the Korg Pitchblack, which is a nice and bright LED tuner, even outdoors. The tuner feeds the Xotic SP Compressor for some clean spank when needed. Next are three pedals for different levels of boost. Depending on the amp setting, the three boosts work differently. The Emerson EM-Drive is great for a quick Marshall-in-a-Box crunch tone. The Bogner Wessex is my over-the-top overdrive that has a nice compression to it. Lastly, the Wampler Tumnus is a Klon killer and is great for adding clean lead boost to anything, just by adding level and not too much gain.

I run that into a Hughes & Kettner GrandMeister 36 head. The amp is all analog, but digitally controlled by MIDI. So, technically, you have 128 amp presets. I use a cheap ActitioN 8-button MIDI controller I found on Reverb for amp presets. From spanky clean to OMG gain. It's like having an 8-channel amp! I can just step through 8 levels of gain in increments.

The effects loop of the amp feeds the Way Huge Smalls Blue Hippo set to the Joe Bonamassa-approved chorus setting that gives a killer rotary-speaker tone. Then, into the Line 6 M9 for chorus, tremolo, flange, and spring reverb for the many different tunes we play. Lastly, the clock for keeping us on schedule during a gig. We've been known to jam out and forget the set schedule! Hope you like it!
Fernando Diaz: Clean, Mean Maximalist
Greetings! Here is the current iteration of my pedalboard. It's powered by a Strymon Zuma, and two Strymon Ojai expansion kits.
The chain is as follows:
Dunlop 535Q Cry Baby Multi-Wah
Basic Audio Scarab Deluxe
King Tone Octaland Mini
Spaceman Sputnik III
TC Electronic PolyTune 3 Mini
Paul Cochrane Timmy
Ibanez TS9 Tube Screamer (with Alchemy Audio mod)
Browne Amplification Protein
Barber Electronics Gain Changer SR
Hudson Electronics Broadcast
Land Devices HP-2
Greer Amps Supa Cobra
Keeley Katana Boost
Walrus Audio Julia V1
Dreadbox Komorebi
JHS Pedals Panther Cub V2
Neunaber Immerse Reverberator Mk II
Jelle Veirman: Booze Protected
This is the gear I use almost daily, playing a wide range of genres in different cover bands, from classic rock to contemporary music. I had to figure out a way to get the most out of my Stratocaster and Les Paul through one compact system and protect my gear against drunk people and their booze.
This is my rack configuration:
Electro-Harmonix LPB-1 Linear Booster, Ibanez TS9 (overdrive for the Strat), Boss SD-1 (overdrive for the Les Paul), Joyo Clean Glass preamp, DOD FX40B Equalizer, Rockman Sustainor (Strat crunch and leads), Rockman Distortion Generator (Les Paul crunch and leads), Rocktron Patchmate Loop 8, Rocktron MIDI Mate, Electro-Harmonix Expression Pedal, Dunlop Cry Baby Wah, TC Electronic G-Major effects processor, Alesis DEQ 2-channel Equalizer (pre- and post-Rockman EQ), and a Mooer Macro Power Supply. Going into the effects return (power amp) of my Fender Hot Rod Deluxe III.
JR Emmett: String Monkey
This is my humble submission for your Reader Pedalboard feature. This is my personal board, which serves as a demonstrator to my clients of what can be done with a pedalboard to make it convenient and versatile as well as supporting my own practice and performance needs. When I'm not playing guitar, I'm a one-man shop (String Monkey Technical Services) providing guitar repair and custom fabrication services to the North Texas music community.
Signal chain:
Wireless or cable -> Boss TU-2 -> General Guitar Gadgets Stratoblaster -> Boss BD-2 Blues Driver -> Dunlop 535Q Multi-Wah -> amp input
Amp FX send -> MXR Phase 95 -> Boss CE-5 Chorus -> Boss LS-2 (mixes signals from two Boss DD-3 Digital Delays run in parallel) -> Boss TR-2 Tremolo -> amp FX return

Other Features:
Pedaltrain Novo 24 board
Truetone 1 SPOT Pro CS7 Power Supply
Built-in mic stand holder (upper right, repurposed flagpole mount)
String Monkey patch bay with color-coded loom for easy signal hookup
String Monkey repackaged amp-channel switcher (original was too big)
String Monkey acrylic wah baseplate with mechanical clamp to Pedaltrain rails
Talent DI Box with cabinet simulator and patch cables for direct to PA connection
Soldered interconnect using Mogami bulk cable and Switchcraft phono plugs
Keith Paul: Bass Board
Hello PG! I just wanted to share my bass pedalboard that I use in my band Dumb Waiter, from Richmond, Virginia. Keep up the great content, I love the Rig Rundowns! Stay well.
Signal Chain:
TC Electronic PolyTune Mini
Boss OC-2 Octave
Meris Enzo with preset switch
Electro-Harmonix Ravish Sitar
Nunez Amps Annex Bass Channel
Fuzzrocious The Demon
DOD Gunslinger
MXR M85 Bass Distortion
Boss CE-2W Chorus
Boss DD-3 Digital Delay
MXR M300 Reverb
Marco Fumagalli: Pandemic Pedalboard
I am from Italy and living in Amsterdam, Netherlands. This is my pedalboard during the first wave of lockdown in 2020. I used to play in bands, but now I do it for my own pleasure. Playing the guitar and shaping the sound of it is a way for me to escape and relax. I don't really play a specific type of music, but my root is blues.
Pictured: Electro-Harmonix Stereo Memory Man, Fulltone Mini Deja'Vibe, Klon KTR, Fulltone Octafuzz, Dunlop Cry Baby Mini Wah, two Gibson SGs, and a '97 Fender Voodoo Strat from the greatly missed Mr. Soren Venema of the legendary Palm Guitars shop in Amsterdam.
Raghav Govindarajan: Nerding Out

I'm a huge fan of the Premier Guitar platform. My boss at the music school I work at and I frequently nerd out over the Rig Rundowns, so thank you for that! Figured I'd toss my pedalboard up. I have decided to update it since this photo, but my new pedals won't be in until next week most likely.
The pedal chain from right to left is:
DigiTech Drop
Wampler Ego Compressor V2
Dr. Scientist The Elements Distortion (Gold Bar Edition)
Wampler Pantheon Overdrive
Boss EQ-200 Graphic Equalizer
Swindler Effects The Gulf Chorus V2
Strymon Iridium
Source Audio Collider Delay+Reverb
The output of the Wampler Ego goes into input A of the EQ-200, and output A goes into the Elements. The output of the Pantheon goes into the input B of the EQ-200, and output B goes into the Iridium. This lets me shape my sound pre- and post-gain.
Thanks for letting me nerd out about my board for a few minutes! And thank you for all that you do for the guitar community and musicians. Rig Rundowns really are the best part of my week/month and I love discovering new artists and players from it. It's like the guitar player's NPR Tiny Desk!
Robby Hovie: Going North
Greetings from Northern Michigan! Here's my rig for my work in the band Levitator. Thanks!
In order:
Modtone MT-PT1 Chromatic Tuner
Electro-Harmonix Ravish Sitar
Boss FB-2 Feedbacker/Booster
Keeley Fuzz Bender
JHS Pedals SuperBolt V1
JHS Pedals Honey Comb Deluxe
Dunlop Cry Baby Wah
Moog MF-105 MoogerFooger MIDI MuRF
MXR Carbon Copy Deluxe
Boss RV-5 Digital Reverb
Sebastian DiPietro: The Full Package
Here is a picture of my pedalboard, along with my amp and guitars, to give a complete view of my rig.
Pedalboard:
Xotic XW-1 Wah -> DigiTech Whammy V -> Analog Man Bi-CompROSSor Rev5 -> Electro-Harmonix POG2 -> Analog Man King of Tone -> Analog Man Sun Face BC109B -> GFI System Synesthesia -> Empress Effects Echosystem -> Empress Effects Reverb -> Electro-Harmonix 22500 Dual Stereo Looper -> Amp or Strymon Iridium
Guitars and Amp:
Guild S70
Guild S300D
Booya! Amplifiers 27-watt combo with a Celestion G12H-75 Creamback
Cables:


Caulfield Cables (light blue guitar/amp cables)
Audioblast Cables (patch cables)
Steve Gorospe: All Styles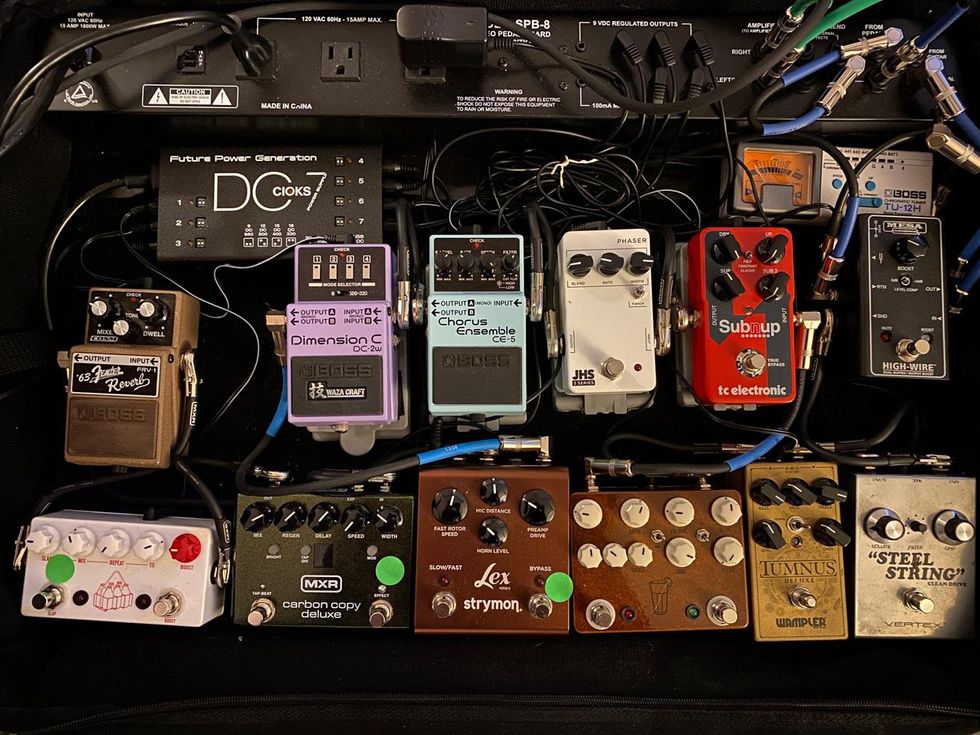 I play in the American Music Company Band covering songs from the 1940s to the early 1970s, with most of the focus on 1950s rock 'n' roll and 1960s R&B and soul. But that also includes blues and some old-school country. I spent my teen years through the 1980s, so '70s guitar rock and '80s stadium rock are a huge part of my musical life. I built a pedalboard that works for me to cover all these styles and material.
Pedals in series in the order below:
Vertex Steel String
Wampler Tumnus
JHS Pedals Sweet Tea V3
TC Electronic Sub N Up Octaver
JHS Pedals Series 3 Phaser
Boss CE-5 Chorus Ensemble
Boss DC-2W Dimension C Waza Craft
Strymon Lex Rotary
MXR Carbon Copy Deluxe
JHS Pedals The Milkman
Boss FRV-1 '63 Fender Reverb
Mesa/Boogie High-Wire Dual Buffer (input and output)
Boss TU-12H High-Range Chromatic Tuner (hooked to the tuner output of the Mesa High-Wire)
Thomas Madera: Tribute to Eddie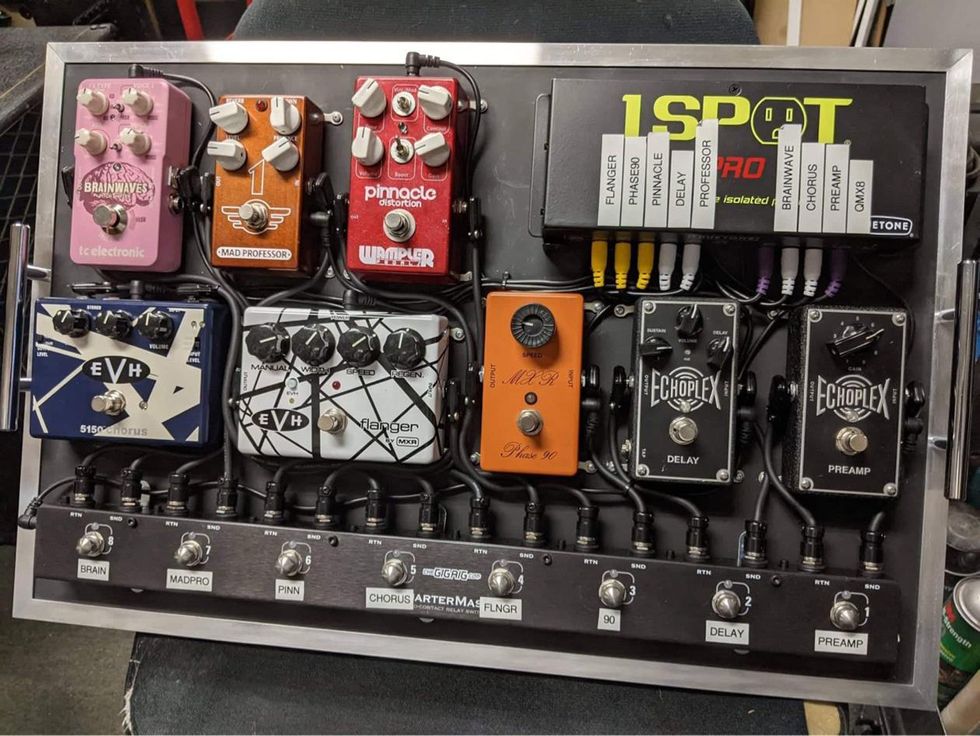 I'm a guitarist in Las Vegas, Nevada. My stompbox setup is mostly a tribute to Eddie Van Halen, but this board is great for tons of rock/metal tones, lead or rhythm. It includes: an Echoplex EP101 Preamp, Echoplex EP103 Delay, a reissue MXR Script Phase 90, MXR EVH117 Flanger, MXR EVH 5150 Chorus, Wampler Pinnacle Distortion, Mad Professor 1 Distortion/Reverb, and a TC Electronic Brainwaves Pitch Shifter. Everything is routed into a GigRig Quartermaster QMX 8 switcher and powered by a Truetone 1 SPOT Pro CS12.