Guitarists Keith Urban, Christone "Kingfish" Ingram, Chris Isaak, Robert Earl Keen, Elle King, Tom Bukovac, and Guthrie Trapp performed in honor of the Rev. BFG in Nashville on Monday night, as his body of work was recognized.
NASHVILLE, TN — From 1967, when he founded Texas psychedelic rock band the Moving Sidewalks, to 2023—a span that includes 15 ZZ Top studio albums and three solo recordings—Billy Gibbons has written songs as indelible as the dirty tones of his revered 1959 Gibson Les Paul, Pearly Gates. Those songs, including "Jesus Just Left Chicago," "La Grange," "Tush," "It's Only Love," "Cheap Sunglasses," nearly every cut on 1983's Eliminator album, and many more, earned Gibbons BMI's prestigious Troubadour Award in a ceremony at the performing rights organization's Music City headquarters on Monday night.
Rising blues star Christone "Kingfish" Ingram digs into his signature Tele as he delivers "Waitin' for the Bus," from the 1973 ZZ Top album, Tres Hombres.
The Troubadour Award, which has also been bestowed on John Hiatt, Lucinda Williams, John Prine, and Robert Earl Keen, recognizes songwriters who've made a profound impact on the creative community and who are substantially influential. At the private ceremony attended by many notable fellow guitarists, including Steve Cropper, John Oates, and Molly Tuttle, Gibbons was honored by a series of filmed and live testimonials, and, more vividly, by performances with a house band that included Nashville 6-string heroes Tom Bukovac and Guthrie Trapp.
Urban's nuanced playing on "Rough Boy," from ZZ Top's 1986 album Afterburner, was one of the night's highlights.
Performers included Keith Urban, who delivered a sensitive version of "Rough Boy," replete with tightly controlled feedback melody lines; rising blues star Christone "Kingfish" Ingram, who tore up "Waitin' for the Bus" on his signature Fender Tele; Chris Isaak singing "Sharp Dressed Man" while wearing the night's spangliest Nudie-inspired suit; fellow Troubadour Keen, delivering "La Grange" (with especially ripping turns from Bukovac and Trapp); and Elle King singing "Gimme All Your Lovin'." In typical Gibbons style, his acceptance speech, which focused on his more than four decades of visiting, playing, and songwriting in Nashville, also included references to gambling debts and sneaking beers while writing a tune for his wife's teetotaling mother in Music City.
The Grammy-winning duo takes Premier Guitar through their live rig.
For more than two decades, trailblazing acoustic guitarists Rodrigo Sánchez and Gabriela Quintero have been blending metal, flamenco, pop, and jazz with their Grammy-winning duo Rodrigo y Gabriela, and they're not showing any sign of slowing down. They're currently on the road in support of their seventh full-length album, In Between Thoughts…A New World, released in April. It's a characteristically adventurous endeavor, arranged as a single, album-length composition and augmented with electronics and orchestral elements.
The eclectic guitar maestros toured PG's John Bohlinger through their respective rigs before their show at Nashville's Historic Ryman Auditorium.
Brought to you by D'Addario Pro Plus Capo.
Nylon Niceness
Sánchez's main acoustic guitars are custom-built Yamahas based on the company's NX series. They are the latest in a line of different versions and prototypes; his current stage models are the sixth and seventh iterations. They run in stereo, with one channel running the signal from the pickup beneath the saddle. The other boosts a series of Piezo pickups placed in strategic positions within the body for when Sánchez keeps rhythm on the guitar like a cajon. Sánchez replaced the undersaddle Yamaha pickup system with an LR Baggs Element Active system.
Sánchez's Yamahas feature nato wood (AKA eastern mahogany) back and sides, with spruce tops and rosewood fingerboards, which are strung with D'Addario EJ45 strings. When he's not fingerpicking, Sánchez goes for Jim Dunlop 47R3S Nylon Jazz picks. The duo's veganism means they don't use any genuine leather straps.
Silver and Black
In the past, Rodrigo y Gabriela have always performed with both players on acoustics, but Sánchez started bringing electrics into the mix beginning in 2020—including this all-stock Gibson Les Paul Custom Silverburst he bought in Nashville in 2008. Sánchez strings his electrics with D'Addario EXL115s, and switches to Jim Dunlop 44R1.0 Nylon picks.
Blue Cats
Sánchez also hauls two gently modded dark blue Fender '60s Jaguars with a sparkle finish. There's not much messing around with them—the top and bottom switches stay taped in place.

Slidin' Down Broadway
The final electric in Sánchez's tour arsenal is this stock Gretsch G5700 Electromatic Lap Steel, finished in Broadway Jade. It features a Gretsch single-coil pickup and a mahogany body.

Rack City
Sánchez's acoustic signals leave his guitar via a stereo jack into two Shure transmitters. The two signals are then sent to two different inputs: the undersaddle pickup goes to the input of his Fractal Axe FX XL+ via his pedalboard, and the body's piezos go straight to a separate channel via DI box. For the acoustics, the Fractal is simply used on a basic bypass patch, with no effects beyond a noise gate on the input and a dB boost on the output.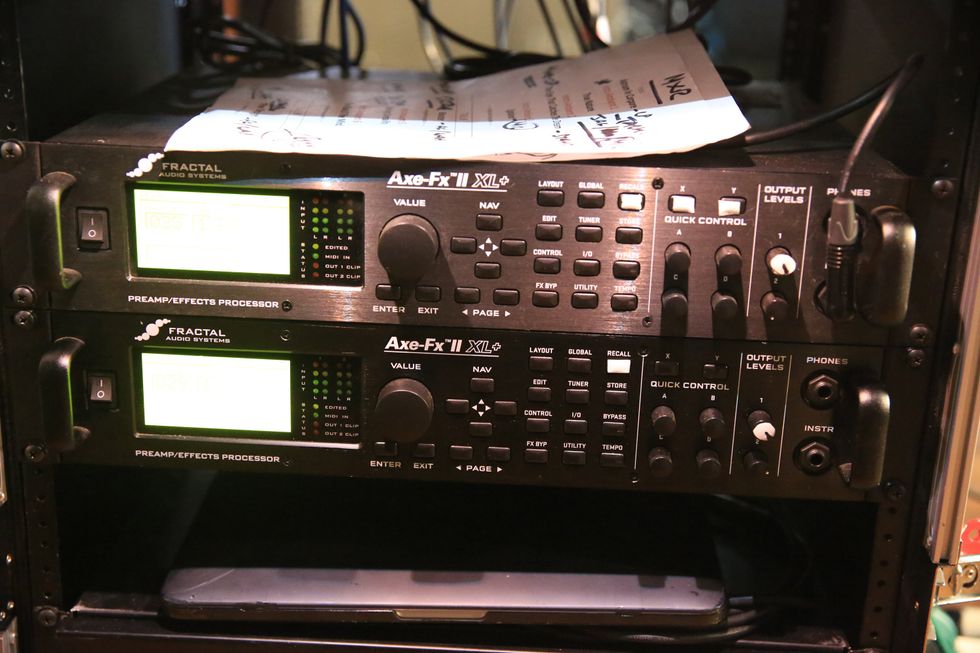 This same rig is used when switching to electric. The wireless frequency channel used for the undersaddle on the acoustic is used to send the Jaguar or Les Paul to the Fractal, where the Axe FX's basic Marshall- and Fender-style amp and cab sims are engaged along with some delay, reverb, and occasionally the odd flanger or overdrive out front.
Above Board
The pickup return from the wireless rack goes to the volume pedal via a Lehle 3at1 switcher, then out to a Lehle P-Split signal splitter. The direct out from the P-Split goes to another Lehle splitter, while the ISO line out runs to the rest of the pedals before ending up at the Fractal. (The ISO out of the first splitter goes to the JHS Mini A/B pedal into the BOSS OC-3, then to a separate channel on the desk.)

Pardon The Quinterruption
Quintero tours with two Yamaha prototypes based on the manufacturer's NTX series, with spruce tops and nato wood backs and sides. Over the years, Quintero has swapped in different undersaddle pickups, but like Sánchez, she's settled on the LR Baggs Element system for nylon-string guitars. Quintero's Yamahas take D'Addario EJ45s, which are plucked only with fingers.

The guitars have five custom-made Yamaha piezo pickups loaded directly onto the soundboard in different places, plus an extra piezo directly under the fingerboard inside of the body. These piezos are run through a three-channel Yamaha preamp, and out on the ring of the stereo output jack. That's not all: there's also a DPA 4099 mic fitted inside the guitar.
Three different Shure wireless transmitters handle all of this input. The first channel sends out the soundboard's piezos; the second handles the LR Baggs Element; and the third relays the DPA's signal. From the wireless receivers, the first two channels are run to Quintero's pedalboard. The DPA runs directly to a DI, which hits the front of house and monitors.
Do The Splits!
Quintero's pedalboard funnels the first two channels—the undersaddle and the body's piezos—into a stereo volume pedal. From there, they run through a Dunlop Crybaby. The signal is then split, with the first side going back to the DI, and the second running through a Dunlop volume pedal into a BOSS OC-3 for an extra bottom octave.

Ahead of the release of Royal Blood's fourth record, Back to the Water Below, Fender honors Kerr's achievements with the Limited Edition Mike Kerr Jaguar Bass.
Featuring an alder body and a maple neck with slab rosewood fingerboard, the Limited Edition Mike Kerr Jaguar Bass has a classic Fender tonewood formula that delivers well-defined punch, massive resonance and ample warmth, whilst a versatile set of high-output humbuckers offer Kerr's trademark savage sound. The compact 30" scale length modern "C"-shaped neck sports a slim profile and medium jumbo frets on a 9.5" radius fingerboard for a modern playing feel. Meanwhile, gleaming gold hardware and elegant block inlays complement the vibrant Tiger's Blood Orange finish to create a truly striking aesthetic.
"I've been a fan of Mike Kerr ever since Royal Blood burst onto the scene in 2013 with their snarling debut single 'Out of the Black'," said Justin Norvell, Executive Vice President of Product FMIC. "He has such an innovative approach to his playing and to the equipment he uses, so it's been great to celebrate that with this signature. Bassists are going to love the easy playability of this instrument and with the high-output Custom Humbucking Pickup on the bridge and the Wide Range Humbucking Bass Pickup in the middle position, they'll find it's a joy to replicate Kerr's fierce riffs."
"When I play bass and write riffs, I'm looking to feel childish excitement, and I get that feeling from this bass," said Mike Kerr. "The Custom Humbuckers are a big part of that, and the smaller one at the bridge is a real wildcard. I use it a lot in the studio, particularly when I want to double-track bass. I can get a twang and something subby at the same time, without having to go and grab another guitar. Hopefully players will enjoy it as much as I do!"

In Conversation with Mike Kerr | Artist Signature Series | Fender