A vibey, trem-equipped Tele at a bargain price.
Squier, Fender's more affordable brand, has come light years from where it was three decades ago. In the '80s and '90s, most serious guitarists would've balked at the idea of owning, let alone gigging,with a Squier. They were for beginners on a budget—beginners no one expected to keep at it for long. At the time, the brand's only prominent endorsee was the late blues-rocker Jeff Healey—and the fact that he was blind inspired no end of speculation about whether he played Fenders with Squier headstock decals, and/or jokes about the company putting one over on him.
I used to be one of those scoffers, but then Squier's Classic Vibe line came along, drawing much attention for its vintage-style aesthetics, as well as specs and tones that have much of the flavor of Fender's most iconic models. More recently, the Vintage Modified line has earned similar reactions, pairing classic looks and features with the sorts of tweaks DIY-inclined players might make to the tried-and-true designs. The latest in this line is the new Vintage Modified Cabronita Telecaster with a Bigsby.
Muy Bonita!
During my time at Premier Guitar, I've made no secret of my regard for recent Squiers. I've purchased two Teles—a '50s Classic Vibe I found on Craigslist, and a Vintage Modified Telecaster Custom. The former I modified with Fender Custom Shop pickups, and the latter was part of our March 2013 "Mod Madness" cover story, which chronicled (among other things) the process of adding a Bigsby vibrato. I've recorded with these Teles, used them with my band, and pitted them against more costly T-style instruments from a variety of manufacturers—and I always come away completely satisfied with what I've got.
The Fideli'Tron neck pickup sounded gloriously fat, yet crystal-clear and even across the frequency spectrum. Truth be told, I was shocked.

Months prior to my Mod Madness project, I'd been lamenting the dearth of both Bigsby-outfitted production Teles—Fender or Squier—and more affordable versions of the La Cabronita Telecaster, a sharp-looking Custom Shop guitar outfitted with TV Jones Classic pickups. So imagine my excitement upon hearing about the new Bigsby-fied Squier Cab, which features aspects of both ideas: It's the first FMIC-built Tele in several years to have a Bigsby B5 Telecaster vibrato kit factory-installed, and its neck pickup is a Fideli'Tron humbucker, Fender's take on the Gretsch Filter'Tron-style pickup that TV Jones Classics are based on. It also has a traditionally voiced single-coil in the bridge position. Other specs: a polyurethane-finished basswood body (in black only), a modern C-profile maple neck with a 9.5"-radius fretboard, a master volume, and a sturdy-feeling 3-way pickup selector.
Like many guitars these days, Squiers don't come with a case or gigbag. When I removed the VM Cab from its double-boxed shipping carton, I found that the vibrato arm had been positioned fully clockwise, which made it extend an inch or so past the butt end of the guitar. It appeared to have taken the brunt of many impacts during shipping, because the arm had cut a little bit into the raised edge near the hinge, creating a jagged edge I had to watch out for. Otherwise, the VM Cab looked like a million bucks, and felt and played wonderfully. Hopefully Squier has since found a way to avoid similar damage during shipping.
Twang 'n' Warble
I tested the Cabronita with a Fender 1965 Twin Reverb reissue and a Goodsell Valpreaux 21, at times engaging a Pigtronix Fat Drive and/or a Keeley Compressor. Through the Twin's vibrato channel with the EQ knobs at 5 and bright switch engaged, the Fideli'Tron sounded gloriously fat, yet crystal clear and even across the frequency spectrum. Truth be told, I was shocked, especially considering the price of this instrument. A pick conjured bell-toned blues, and thumb and fingers summoned jazzy lines with an impeccable mix of thump and articulation—dynamics for days. The Supro-esque Valpreaux, with its gain, volume, and tone knobs at 3 o'clock, yielded similar results, though with a swampier, more vintage vibe. The neck pickup produced warm, corpulent flavors with more grit and attitude, sounding like a guitar costing many times the entrance fee.
Soloing the bridge pickup, I found bristling
rudeness with fantastic clarity.

I happen to think a Tele without a Tele bridge pickup is hardly a Tele—that single-coil is key to the snap and twang that made the guitar legendary. Thankfully, the VM Cab's single-coil agrees: Paired with the neck pickup and the Twin, it delivers a spanky, compressed sound that's great for squeaky-clean rhythms, though this setting did reveal the bridge unit's lean, less-refined tendencies. Soloed through the Twin, the single-coil sounded a bit anemic and brash. But when I engaged my Pigtronix Fat Drive in its higher-gain mode, it transformed the bridge unit into a scrappy punk with tons of attitude for spitting riffs and leads.
Ratings
Pros:
Highly desirable "mods," straight from the factory. Classy looks. Tones range from smooth and refined to twangy and rude. Nice feel and playability.
Cons:
Problematic bridge saddles.
Tones:


Playability/Ease of Use:


Build/Design:


Value:



Street:
$399
Squier Vintage Modified Cabronita Telecaster with Bigsby
fender.com/squier

Switching back to the Goodsell, I set the Fat Drive to my preferred low-gain mode, which lets me goose the amp with a clean boost for a more organic feel. Soloing the bridge pickup again, I found bristling rudeness with fantastic clarity. It's a little rough around the edges, but not in the way I anticipated. Tele-modding dude I am, I expected to think it would sound better with an aftermarket bridge pickup. But I promptly got carried away with the ratty-in-a-good-way riffs that the bridge unit made possible. It sounds badass for stanky funk lines—think Nile Rodgers in a pissy mood. Engaging analog repeats from my Ibanez Echo Shifter reminded me of crystalline early U2 tones. And with or without a compressor, you get fantastic chicken-pickin' tones of the sort traditional Tele fans require.
My only real complaint was that, while the guitar stayed in tune even under heavy Bigsby use, the B5 vibrato-kit's bridge suffers from the same issues as vintage and vintage-style Jazzmasters: The multi-grooved saddles don't hold strings well under heavy attack, and—far more annoying—the high E- and B-string height-adjustment screws seem to have minds of their own. If there's one mod you'll want to do on the Cab, it'll be opting for a Mastery bridge or one of the more affordable home remedies adopted by Jazzmaster aficionados.
The Verdict
Squier has done a lot to improve its image over the last decade, but the brand still doesn't get the respect it deserves. That opinion became more ensconced after playing the Vintage Modified Cabronita Tele. Sure, plenty of players grudgingly admit Squier Classic Vibes are nice enough to own, but they quickly qualify the admission with a list of their "real" Fenders, implying that Squiers can't cut it for serious playing. Frankly, it all smacks of pretension and refusal to confront current-day reality.
Of course, there are real differences between the two brands—the lower prices come from somewhere. For one, Squiers' pickups, pots, jacks, and wiring often aren't as robust or high-spec as Fender parts. You're also pretty limited in terms of color options, and naturally the finishes aren't nitrocellulose. However, Squier necks, bodies, fretwork, and attention to detail are on par with Fenders and other quality brands. If you're looking for a Tele with some delectable twists, you owe it to yourself to try this guitar.
But the 6-string bass offers a truly unique voice with a range that's between a baritone and a standard bass.
The 6-string bass is often misunderstood. Guitarists tend to wonder why you wouldn't just slap on a heavier set of strings and tune down, or use a baritone guitar to help cover the lower registers. But the 6-string bass offers a truly unique voice with a range that's between a baritone and a standard bass. For decades, it's been an essential tool for country players, who use it to fatten up bass lines tracked by upright basses. And famous players as diverse as Jack Bruce, John Lennon, and Robert Smith have made 6-string bass a part of their arsenal.
The luthiers at Lakland are fans, too, and they've spent the better part of two years developing and refining the prototype they first introduced at Winter NAMM in 2012. Called the Decade 6, Lakland's 6-stringer features the same short scale, narrow neck, and triple-pickup configuration as the 6-string bass most of us are familiar with—the Fender Bass VI. But Lakland also instituted a few changes that make the Decade 6 much more than a high-end clone.
The Low Down
Dressed in a striking candy-apple-red finish, a faux tortoiseshell pickguard, and black pickup covers, the 30 1/4"-scale Decade 6 is a thing of beauty. Our review bass has an alder body, but ash and mahogany are also available, as are several other finish options. The Decade's "Shorty J" maple neck has a 4-bolt joint, and it's topped with an 18-fret rosewood fretboard adorned with bird's-eye-maple dot inlays. Tuned one octave below standard tuning, the .024–.084-gauge strings are anchored by open-gear Hipshot tuners on one end and a custom bridge on the other.
The three JP-90 pickups are made in-house by sister company Hanson Pickups, and they feature alnico 5 magnets for crisp highs and tight, warm lows. With outputs of 8.6k for the neck and middle pickups, and 9.6k for the bridge, they're very close to vintage specs. While the 5-way blade switching is more akin to, say, a Fender Strat, the single volume and tone controls are similar to the Fender Bass VI. That said, I would have liked to have seen Lakland include a version of the Bass VI's bass-cutoff slider (aka the strangle switch)—a fan favorite that expanded the versatility of Fender's already-expressive instrument.
The resulting tic-tac tone was spot-on with the sound of cowboy film soundtracks that Ennio Morricone made famous in the '60s, but with noticeably more midrange muscle and bite.

Ratings
Pros:
Rock-solid build. Off-the-charts playability. Versatile—from tic-tac to more modern tones. Excellent definition and note separation.
Cons:
Lows aren't as deep as a 4-string. Could use traditional "strangle" switch. Pricey.
Tones:


Playability/Ease of Use:


Build/Design:


Value:



Street:
$3,250
Company
lakland.com
Deep Thoughts
Plugging the Decade 6 into a Verellen Meatsmoke tube bass head driving an Ampeg Isovent combo cabinet, I started out the way many 6-string bass fans would: I set the amp with lowered mids, turned down the lows slightly, pushed the treble, and palm-muted a spaghetti-western bass line. The resulting tic-tac tone was spot-on with the sound of cowboy film soundtracks that Ennio Morricone made famous in the '60s, but with noticeably more midrange muscle and bite. More traditional bass parts had an extremely detailed attack and upper midrange, with the thick, rubbery response that short-scale basses are known for. In fact, the tones were so full and robust that, had I been blindfolded and listening to someone else playing the Decade 6, I would've been convinced they were playing a traditional 4-string.
Each of the five pickup-switch positions offers a wealth of distinct tones, from the scooped midrange in positions two and four to the bolder mids and highs when soloing the bridge and the bowel-rattling subs from the middle and neck pickups. The instrument also handled overdriven tones with aplomb—a fact that should prove appetizing to players hungering for heavier sounds. Playing full chords through the Meatsmoke's roaring overdrive channel yielded a monstrously powerful wall of sound that still managed to retain clarity. The note separation—while not as defined as an electric guitar's—was light years beyond what most standard basses can produce. And this gives the Decade 6 unique abilities to add contrasting textures within songs, such as using overdriven broken chords and fuzzed-out melodic interludes above the 12th fret.
The Verdict
The Lakland Decade 6 is a marvelous instrument that not only nails the time-honored 6-string bass tones of yesteryear, but also has its own unique voice. It combines the warm, syrupy lows of a traditional 4-string with the bright attack of a P-90-equipped guitar. Though the low end doesn't quite reach the depths of a P- or J-style bass, the tones are expansive enough to cover a wealth of musical applications. Everything about the Decade 6—from the solid build to the even weight, attractive looks, and knockout playability—is tailored to near perfection. And then there's the huge fun factor.
Bassists who eschew picks or think the narrow string spacing is just for guitarists might be tempted to pass by this Lakland, but they'd be doing themselves a serious disservice. The Decade 6 brings the timeless tones of the 6-string bass to a new generation, and its superb quality alone deserves the attention of even the harshest skeptics.
By using stainless steel and titanium in critical parts of the unit, FU-Tone has indeed taken the Floyd Rose concept in several new directions.
After building a better mousetrap, Adam Reiver of FU-Tone.com (formerly Floyd Upgrades) decided to build an even better mousetrap. Back in 2009, we reviewed the Big Block upgrade, a Floyd Rose tremolo replacement sustain block that is substantially larger and more massive than the standard Floyd Rose block. It represented a big improvement, but Reiver figured he could find more ways to improve on the existing Floyd Rose design. And by using stainless steel and titanium in critical parts of the unit, he has indeed taken the Floyd Rose concept in several new directions. Already such players as Warren DeMartini, Steve Stevens, Phil Collen, Slash, George Lynch, and Alex Lifeson have embraced the potential of these upgrades.
Stepping Off
The standard Original Floyd Rose (OFR) bridge was built with a steel baseplate, steel saddles with steel inserts, a metal spring claw, steel springs, and a thin nickel-plated brass sustain block.
Reiver's improvements begin with two high-performance bridges. Each features steel baseplates that are very similar to the OFR baseplate in dimension, but things change fast from there. The more basic and affordable upgrade package includes stainless steel hardware (string locking screws and saddle mounting screws), but also features titanium saddle inserts, noiseless springs, a brass spring claw, and a brass Big Block sustain block. The more technically advanced and expensive version includes the same stainless steel hardware, but with a titanium block, titanium saddles with titanium inserts, a brass spring claw, and heavy-duty noiseless springs.
Stainless steel hardware is critical in Reiver's designs for more than aesthetic reasons. Steel components are susceptible to moisture-driven corrosion—a problem that plagues the standard hardware on frequently used OFRs that are exposed to acidic sweat or the occasional beer soak. The structural integrity of titanium is a step beyond stainless steel, of course, as it verges on indestructible.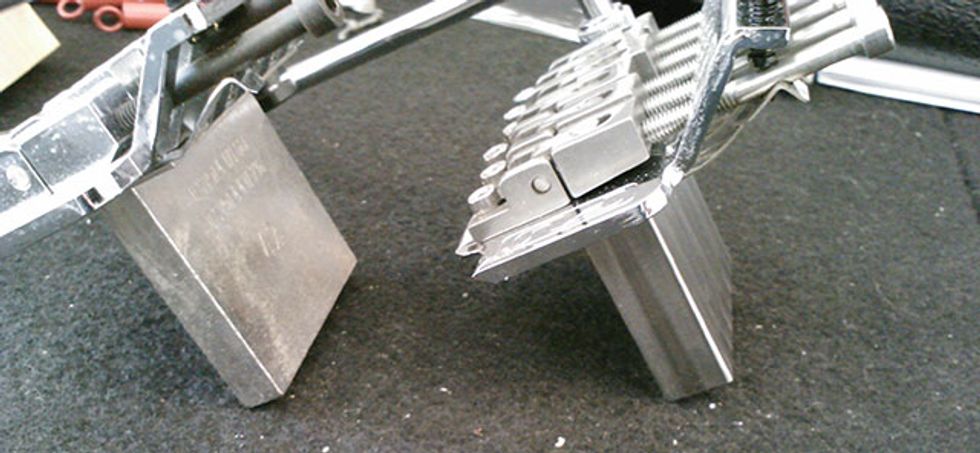 Original Floyd Rose (left) and High Performance Bridge Full Titanium upgrade (right).

Mass is also a critical and fundamental difference between the FU-Tone.com versions and the originals. While the OFR bridge weighs exactly 1 pound, the other two have drastic weight differences. The brass block version weighs in at 1.25 pounds, and the titanium block version is an amazingly light 14 ounces.
The durability and in some cases, weight advantages of these materials is beyond question, but the tonal differences can be less easy to pinpoint. And what really makes these components sonic upgrades is the way they work together.
More Boom Through Bulk
Our test guitar for this review is a pre-Fender-era Charvel with a single Seymour Duncan JB pickup. It was originally equipped with a top-mounted, non-recessed floating Floyd Rose with a 42 mm sustain block.
The brass block FU-Tone bridge was the first version I checked out. Removal and changeover included replacing the pot-metal spring claw and steel springs. And after replacing the spring claw with the new brass one, I installed the bridge into the cavity and hooked the noiseless springs into place.
Stringing up, there is a noticeable difference in the feel of clamping the strings with the titanium inserts via the stainless steel locking screws. The titanium inserts can withstand up to 140,000 pounds of pressure, while the OFR inserts have always been prone to deforming, expanding, or breaking under the pressure of the locking screw. In these respects, the titanium inserts are a vast improvement, insuring against structural mishap, and they hold the string firmly from accidental slippage. Very little effort was needed to tighten the lock screw when clamping the strings into the saddles securely.
It's surprising to hear how much tonal difference you can derive from otherwise invisible components.

Once the guitar was strung up, intonated, and tuned, the it sounded richer, deeper and capable of more sustain. The OFR sustain block has been known to contribute to thin tone, but the brass block FU-Tone bridge gave the Charvel a much needed boost in midrange resonance. You can also hear tighter definition and focus in individual notes and greater clarity in chords. And with the noiseless, polymer-coated springs, there was no creaking, squeaking, or any ghost resonance.
After playing for several hours with this setup, I removed the brass block rig and switched in the titanium unit. As part of the upgrade, I also replaced the noiseless springs with the heavy-duty noiseless springs. Coated in a bright red polymer, these springs have a much higher tension than common tremolo springs. While installing the bridge, hooking the springs onto the titanium sustain block required loosening the brass spring claw a considerable amount, and it's easy to imagine that this increased tension would enhance the transfer of vibration from the block to the body. The clamping inserts inside the titanium saddles are cylindrical and almost twice the size of the standard Floyd Rose saddle insert, and they force the string to stay centered inside the saddle.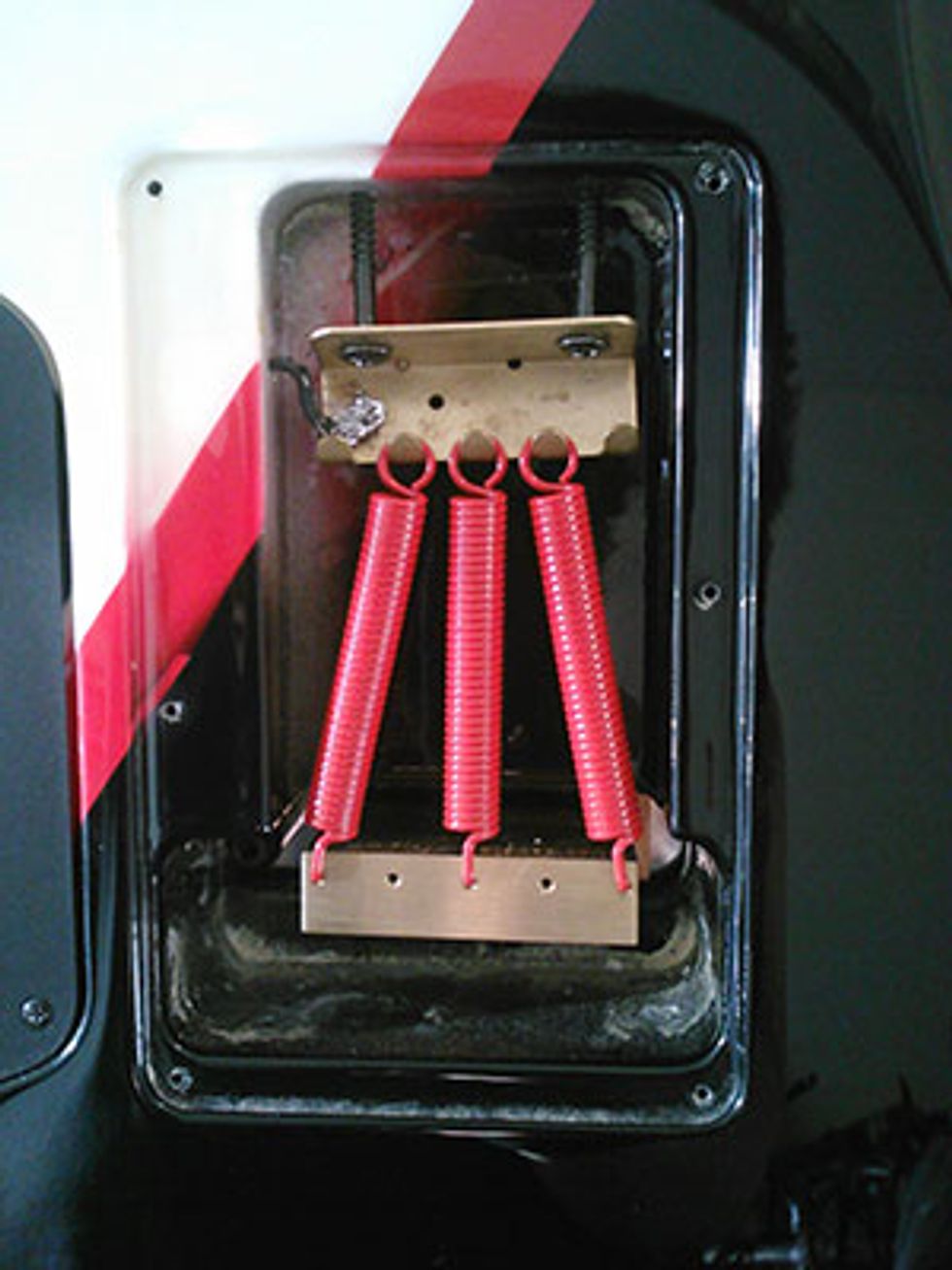 Noiseless springs on the FU-tone brass package.

Ratings
Pros: The brass package increases tonal capabilities and unlocks characteristics that might be hidden in a locking tremolo-equipped guitar. The titanium package offers structural indestructibility while giving the guitar a much more aggressive attack in tone.
Cons: The titanium block may give a guitar a harsh brittle-tone to a common wood like alder.

Tones:


Ease of Use:


Build/Design:


Value:



Street:
Standard Upgrade Package $319
Full Titanium Package $922
Once the guitar was properly intonated and tuned, the tones were crisp with more presence. In overdriven settings, there was a much more aggressive attack that, at times, bordered on harshness. Lowering the gain on the amp alleviated most of that problem. Still, the tone generated via the titanium block seemed brittle at extreme settings compared to the brass unit or the original. Sustain was still excellent, though in general, there was less physically perceptible resonance. Also, when reaching for the arm to vibrato chords or to do extreme pitch bends, I found the heavy-duty noiseless springs made the action of the bridge much stiffer.
The sonic properties of the titanium version can vary from guitar to guitar. And when installed in a solid mahogany Charvel Natural Series, the titanium block FU-Tone bridge balanced the dark tonal characteristics of the mahogany with the added presence derived from the titanium bridge, and the guitar sounded much more alive than it did with its stock OFR. Indeed, the FU-Tone.com titanium components were what this guitar needed to produce tones beyond the low-to-midrange voice it was born with.
The Verdict
FU-Tone brass and titanium block tremolos with stainless steel hardware have much to offer. And both have the capacity to summon the hidden tones in a locking tremolo guitar, depending on the wood. The brass version with stainless steel hardware and titanium inserts seems like the most versatile package. The titanium version was more useful in a darker-sounding guitar, as it can add a lively presence to a fundamentally warm instrument.
It's surprising to hear how much tonal difference you can derive from otherwise invisible components like the stainless spring claw and noiseless springs, and there's a lot to be said for stainless steel's longevity.
FU-Tone.com offers each component separately, so you can assemble your own system to suit your specific guitar and sonic needs—a real benefit. And whether you go for a drastic tone shift or a subtle one, you'll be surprised at what you can achieve with parts you might otherwise have overlooked.