Get inspired by these up-and-coming guitarists who are blazing paths for the next generation and giving us something to believe in.
Social media has changed the game for musicians in all the ways. Love it or hate it, you can find dozens of super-shredding guitar prodigies in a simple scroll. You can bypass the middleman and send your creations out to the world via your own platform. But besides having talent, luck, and savvy, it takes something exceptional to breakthrough today's saturation. We'd like to introduce you to 10 inspiring young players who possess exciting qualities that truly transcend. The future of guitar is bright in these hands.
1. Andy Pitcher: In Search of Future Weirdness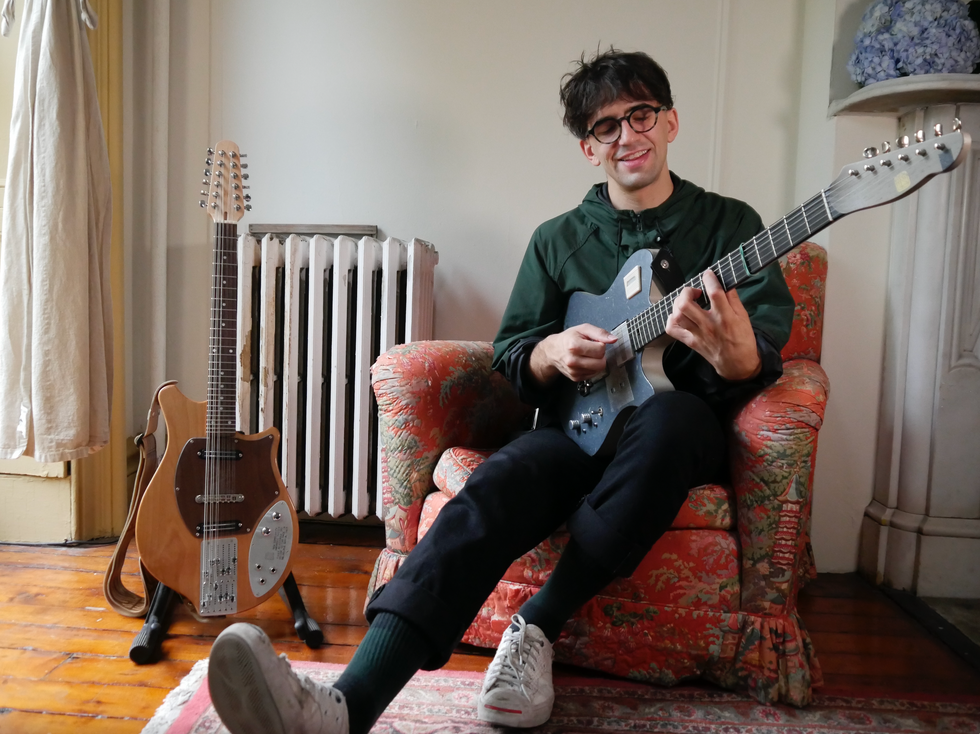 Andy Pitcher
If you've heard Andy Pitcher play guitar, it was most likely on Instagram, where he's carved his own deep-cut niche in the guitar-demo world. Whether on his page or a manufacturer's, Pitcher reaches beyond the common uses of gear to dig deep, displaying how a piece inspires him to find new sounds within his own self-described "weird style." His usage might not speak to the common guitarist, but adventurous players will hear something in Pitcher's esoteric techniques—wide-finger extended chords to demonstrate an off-kilter fuzz or banging on his guitar's body to coax chaos out of a granular delay—that speaks to their own sonic-pioneering instincts.
Forward-thinking jazzers like Bill Frisell, Mary Halvorson, and Pete Cosey are big reference points for Pitcher's style. But it's often the gear itself that inspires his playing, and he credits a particular green Line 6 as an early essential piece: "I looked for ways to sound like John Coltrane's Verve era and found a lot of that from the DL4," he explains. Pitcher is quick to shout-out skateboarders Gou Miyagi and Rodney Mullen as foundational influences, the latter of whom, he says, "taught me how to play guitar because of how he talked about learning to skateboard in his autobiography."
Ultimately, Pitcher confesses, "I love the instrument, but I'm not that interested in what's been done with it." Instead, he's interested in looking ahead, and calls the guitar "the greatest sound producer." As a collaborator, Pitcher says artists will often reach out to him in search of non-traditional sounds, specifically "super-noisy guitar, or stuff that is kind of a synth, kind of a string section, and kind of a guitar." He can be heard doing the former on The Armed's gleefully chaotic Ultrapop—which features Pitcher's live-wire guitar playing on the explosively unhinged "Faith in Medication"—and the latter on singer/songwriter Motyka's If All I Do Is Wait and By Keeping Spring.

The guitarist is currently working on a new collaboration with Kurt Ballou and Urian Hackney, and he has an album in the can with Gabriel Marin's Social Assassins. Equipped with his off-kilter crew of guitars—a Tao T-Bucket, a New Complexity Harmonic Master 12, and a T-style partscaster fitted with a Cicfi Nexus 6 hexaphonic pickup—Pitcher's ears are always searching the sonic horizon for the sound of the future. —Nick Millevoi
Inorganic Body | Mask Audio Electronics MAYBE? | Andy Pitcher's Machine Music
2. Annie Wagstaff: Neo-Soul Chops Meets Modern Pop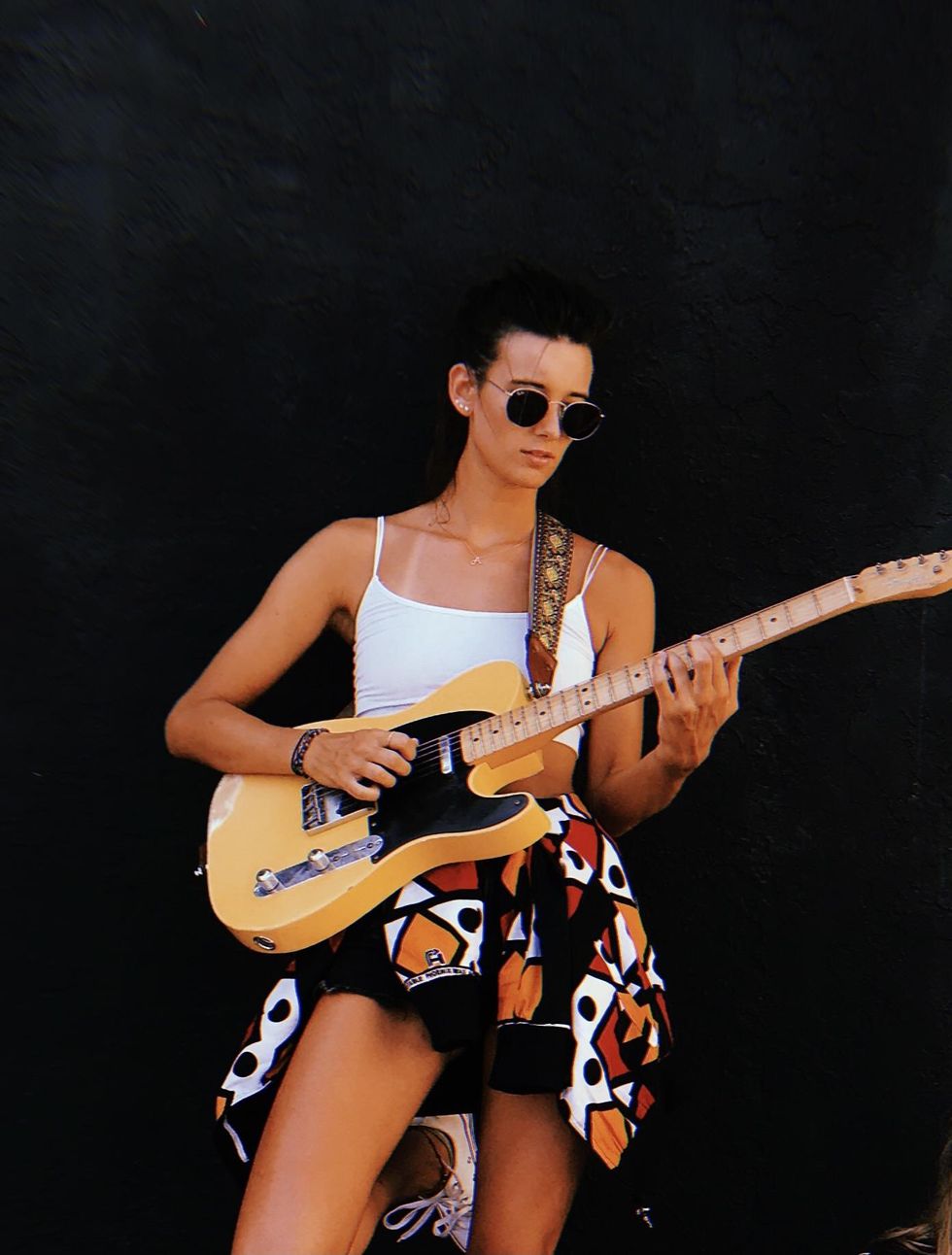 Annie Wagstaff
In the era of social media, trying to cut through the noise is a challenging task. London-based guitarist Annie Wagstaff, who goes by annieplaysguitar on Instagram, has done just that with her soulful pop-centric style. At 26, she's becoming an in-demand session player in addition to releasing electro-pop singles under the name ANNI.
Growing up, she was inspired by the pop music of day. "One of the first songs I learned on guitar was by the Fratellis," mentions Wagstaff. "I wasn't really listening to all the classics. I wasn't nerding out on Eric Clapton or Hendrix. That wasn't me at all." The absorption of modern influences and eschewing of the tried-and-true rock/blues legends forced Wagstaff away from typical guitar cliches. After studying music in college, she headed to Berklee for a summer and was exposed to a level of playing that "was in another league." After that momentous experience, she rededicated herself to the craft and started to post snippets of her playing on Instagram.
That's how producer Rodney Jerkins (Michael Jackson, Beyoncé, Lady Gaga) first heard Wagstaff's playing. That led to a request that she lay down some guitars on a track. There was one catch—he couldn't tell her who it was for. After a few hours, she sent the tracks off and didn't hear much. "Six months later I get a message saying, 'Congrats you're on a Justin Bieber track,'" says Wagstaff.
On the wall in her apartment is a grid that shows the progress of her upcoming project. "I'm just trickling songs out at the moment," says Wagstaff. Although the planned eight-song project walks the line of being a full album rather than an EP. As of now, there are four tracks out in the world, with several more coming soon. "I don't really think of it as an 'album' but more as just a bunch of songs." —Jason Shadrick
ANNI - Sinner - Official Lyric Video
3. Cecil Alexander: Bop Meets Blues
Cecil Alexander
Photo by Eunice Beck
Jazz has long been dubbed as too intellectual or "weird" for most listeners, but Cecil Alexander wants to change that. Alexander is a modern-day throwback to the era when the blues was the centerpiece of modern jazz. His full-bodied tone might be traditional, but his mastery of modern language and feel points directly at the future. He just started as an assistant professor at Berklee (his alma matter) and will be releasing an album, Introducing Cecil Alexander, on Kurt Rosenwinkel's Heartcore label.
The comparisons to George Benson and Grant Green are natural as Alexander's picking style is both percussive and fluid. After his time at Berklee and subsequently pursuing his master's degree at William Paterson University, Alexander began to rack up accolades and awards. He won the 2017 Wilson Center Jazz Guitar Competition and the 2018 Lee Ritenour Six String Theory Competition. On top of all that, he was a finalist at the 2019 Herbie Hancock Institute of Jazz Guitar Competition. "That competition gave me a clearer idea of what direction I wanted to go in," says Alexander. It took him back to his prime jazz influences such as Wes Montgomery and Green, and solidified his approach for his debut album.
An organ trio has always been a welcome setting for blues-drenched jazz guitar, and you can hear how razor-focused Alexander is throughout his debut. Rounding out the trio is organist Will Gorman and drummer Steven Crammer, both former classmates of Alexander. The tunes are exciting and swinging, with Alexander's bluesy bop leading the way. Not bad for a kid growing up in the rather slim music scene of Muskegon, Michigan. —Jason Shadrick
Introducing Cecil Alexander - Shug (Official Video)
4. Hayden Pedigo: Acoustic Trickster
Hayden Pedigo
Photo by Abigail Clark for Pulp Arts
Humor and music famously struggle to get along, but there are masters who successfully walk the line. Throughout the genre-defying multimedia performance art that evolves naturally from his wildly creative intuition, Hayden Pedigo successfully balances the earnest sincerity of his acoustic-guitar instrumentals with his "trickster manifestations."
In 2018, the then-24-year-old guitarist created a spoof gonzo-style ad announcing his run for city council in his hometown of Amarillo, Texas. When the local news station ran a piece on his candidacy, Pedigo decided to run a sincere campaign. He lost the race, but became the subject of the documentary Kid Candidate, released in 2021 and recently acquired by World Channel's America ReFramed documentary series.
Pedigo's fashion trajectory started similarly. Leading up to the release of last year's Letting Go—a collection of lush alt-Americana instrumentals for modern times—Pedigo made some "stupid, satirical fashion posts" on social media. He caught the attention of a casting agent, and last fall he walked in the Gucci Love Parade show on Hollywood Boulevard—which has stoked his interest in extreme fashion.

Guitar music may be just one element of Pedigo's creative personality, but it's a foundational one. "I approach the guitar like Harmony Korine would a camera, and I approach my comedy like John Fahey … the original influence that got me going," says Pedigo.
While he's humbly self-deprecating about his "hilariously slanted" guitar abilities—he points out that he doesn't use tuners or metronomes—because they're mostly geared toward his own writing, Pedigo's playing, especially on Letting Go, displays a dedication to refined compositional craft and well-executed technique. His process includes patient experimenting as he searches for a tuning to inspire his next song. "I like to look up artists I don't really listen to and use tunings they use," he explains, citing Joni Mitchell and metal bands—which might explain the corpse-paint-wearing protagonist in his "Letting Go" video.
Pedigo recently switched from a Blueridge BG-60 dreadnought—his main guitar for a decade and the source of the warm, articulate tones on his records thus far—to a custom build from luthier Theo Nicholas of Opus Acoustic, which he uses on his recently finished next release. He promises the next record is his best yet and assures "the influence of absurd fashion now shows up in the music." —Nick Millevoi
Hayden Pedigo Live at the Lonesome Lounge Sessions
Switching from acoustic to electric, Hayden Pedigo plays a set of songs from his 2021 release, Letting Go, for Texas Public Radio and talks about his music and memes.
5 and 6. The Linda Lindas: Teenage Tigresses Roar
Bela Salazar of The Linda Lindas
Photo by Martin Wong
Sometimes, art imitates art. The four girls in Los Angeles-based punk outfit the Linda Lindas—ages 14 to 18—named their band after the movie Linda Linda Linda, about four teenaged girls in Japan who form a punk band to play their school's cultural festival. But the Linda Lindas are far better than their fictional counterparts, creating a blissful din reminiscent of early Ramones and heavier stuff. In just four years, they've won Tom Morello, Thurston Moore, Flea, Carrie Brownstein, and Kathleen Hanna as fans, scored Amy Poehler's movie Moxie, signed to Epitaph Records, performed on Jimmy Kimmel Live!, toured Europe and Japan, and played Riot Fest. Damn!
A tipping point came in May 2021, when the Los Angeles Public Library posted a video of the Linda Lindas, which includes guitarists Bela Salazar and Lucia de la Garza, playing their song "Racist, Sexist Boy" as part of its TEENtastic Tuesdays series. More than 1.5-million views later, they seem and sound unstoppable.
Lucia de la Garza of The Linda Lindas at Pitchfork Fest.
Photo by Martin Wong
The tag team of de la Garza and Salazar conjure a formidable wall of tone. Salazar, who's been studying classical and flamenco guitar since sixth grade, and de la Garza, who started playing at the band's inception and now studies jazz, use Ernie Ball Music Man models as their main instruments: a Mariposa and a St. Vincent Goldie, respectively, "with the heaviest gauge Elixir strings you can get, because we break a lot of strings," Salazar notes. A handful of EarthQuaker pedals—leaning hard on overdrives—and Fender amps complete their sonic thumbprint.
"We've been incredibly blessed, to have done all these things, but we're really just scratching the surface," says Salazar. "We're still working on what our sound is." Adds de la Garza, "We wrote and recorded Growing Up during the height of lockdown, so we're now just starting to write songs together." Nonetheless, that February-released debut album is thunderous, hooky, and cohesive, with strong vocal performances from all the Linda Lindas, who are completed by drummer Mila de la Garza and bassist Eloise Wong. Growing Up also displays elements of '60s/'80s girl-group harmony and flourishes of elegant chording alongside the glorious grind. "We listen to a lot of different kinds of music," de la Garza acknowledges, "and we're just starting to incorporate all those influences."
PS: Chrissie Hynde, Bela Salazar would really like to meet you. —Ted Drozdowski
The Linda Lindas - "Growing Up"
7. Marcin Patrzalek: One-Man Orchestra
Marcin Patrzalek
When Polish acoustic guitarist Marcin Patrzalek performed a medley of Beethoven's "Symphony No. 5" with System of a Down's "Toxicity" on America's Got Talent, judge Howie Mandel said, "You didn't play the guitar … you murdered the guitar."
Howie's not wrong! Marcin's fire-powered, flawlessly frenzied, and downright mesmerizing arrangements of classical works and rock songs like Led Zeppelin's "Kashmir" have millions of views on YouTube. The reason the 21-year-old is connecting with masses is not because of his song choices per se, but because he shatters the expectation of what can be done with two hands and six strings. The passion he radiates while playing such complicated guitar flows through him like a vessel, almost with no filter.
Marcin says he was fortunate to have "an extremely eccentric" classical guitar teacher, Jerzy Pikor. "If you watched the movie Whiplash, that's him," he says, laughing. But that was just an entry point. Marcin's father is "a metalhead" who guided his curiosity toward that genre. In a Zoom interview from Warsaw, Marcin expressed admiration for Animals as Leaders, Loathe, and Polyphia, but revealed the artist who currently inspires him the most is Spanish singer Rosalía because "her music pushes the envelope." Drawing comparisons to percussive pioneers like Michael Hedges, Tommy Emmanuel, and Kaki King is an honor for Marcin, but he has a singular view on where he wants to take it. "There's a lot of people who treat guitar in a linear fashion," he says. "What I want to do is stir some controversy in what the instrument can be."
He's certainly grabbing attention with his mind-blowing playing style: He sounds as full and grand as an entire collective of musicians. Marcin is one person with one guitar, an Ibanez AE900 with Fishman pickups. A new collaboration with Ibanez is underway, though, and while Marcin wouldn't discuss his new guitar yet, you can see him play it in his recent video of Beethoven's "Für Elise" on YouTube.
In March, Marcin was part of the 2022 Classical Spectacular, an annual event of seven concerts where he was a special guest with London's Royal Philharmonic Orchestra. "We did 15 minutes just dedicated to me and my style with the backing of the full symphony orchestra behind me in the Royal Albert Hall," he says. "There's no more iconic venue. To me that was such a step up, I never expected to play in that sort of a venue ever in my life."
In early 2023, he'll release his solo debut album, which he feels will be a true artistic statement. "I have the whole track list set, I've invited the guests, all have accepted. It has a title, it has a concept, and it's a little controversial, I can say that."
—Tessa Jeffers
Marcin - Kashmir on One Guitar (Official Video)
8. McKinley James: Reverb and Ectoplasm
McKinley James
Photo by Alejandro Menendez
McKinley James teaches old ghosts new tricks.
With the reverb on his Fender Super kissing 5, a deep pocketful of razor-sharp licks, a way with vibrato that makes his bent strings shake dance, and a ringing tenor vocal style that rises and falls with the emotional tides of the songs he performs, Nashville's James evokes the spirits of his Chicago blues idols Magic Sam Maghett and Otis Rush. But he puts them to work in his original music over a foundation of rock and soul that sounds perfectly attuned to a pop-music landscape that's been reformed by the likes of the Black Keys and Alabama Shakes.
At 21, barely, James has already been breathing fire for years. He started playing B-3 at age 9, but at 10 flipped to guitar when his allegiance to Booker T. & the M.G.'s switched from the band's leader to Steve Cropper. He's already got two singles and three EPs in his backpack, including last year's Still Standing By, produced by Dan Auerbach, and the newLive!, a pawful of tracks cut while opening dates for the Mavericks. Live! captures his way with melody and hooks—he got schooled by Auerbach on the latter while making Still Standing By—on the percolating "Cut You Loose" and the slow burner "Till Its Gone."
"I love blues and soul music, and old rock 'n' roll, like the Sonics and Link Wray, but I listen to modern pop music, too," he says, "so I like to stay true to my roots but write songs that people into different styles can enjoy." He also loves his custom TK Smith RoadMaster guitar, a lightweight P-90 beast that howls when plugged into his Super Reverb with a preamp tube pulled—a trick to decrease headroom and output he learned from fellow Nashville guitar ace JD Simo.
Most Monday nights, James can be found at East Nashville indie-music Mecca the 5 Spot, where he summons the patron saints of gritty, old-school blues along with another guitar conjurer, Patrick Sweany, in the Tiger Beats—perhaps the finest blues cover band I've heard. And I've heard thousands. When they set fire to classics like "Long Distance Call," somewhere, Muddy Waters is smiling. —Ted Drozdowski
The Tiger Beats feat McKinley James / LIVE at 3rd & Lindsley Nashville
McKinley James trades licks with Patrick Sweany in the Tiger Beats, conjuring the spirits of Magic Sam and Otis Rush in his reverb-soaked tone and pointed notes and fills, as well as his arching vocal phrases.
9. Melanie Faye: Fingerstyle for the Future
Melanie Faye
Photo by Sam Blakelock
"It sounds, like, angelic … it sounds like heaven shining through," says Melanie Faye in her Fender Player Series demo about the tone of the Strat she's playing, and her comment gives a glimpse into her flavor of R&B and soul-infused guitar playing. She broke through as a guitar star in 2017, when one of her Instagram videos went viral, helped in part by artist SZA sharing it to her millions of followers. The clip that changed everything shows Faye playing an original instrumental fingerstyle on a blue Strat, sitting on her bedroom floor with a Jimi Hendrix poster behind her.
Faye, age 24, started her guitar journey at 11, after becoming intrigued while playing Guitar Hero. She attended Nashville School of the Arts, which gave her a good foundation in jazz guitar. She prominently uses those jazz chords in her neo-soul grooves but doesn't consider herself a jazz player. Effortless and bright, her fingerpicked slides and pull-offs show a shockingly high level of musicianship, and when you consider that she's playing her own compositions, it's no question why she's a star on the rise.
Faye's resume of collaborations is diverse and impressive, including Maggie Rogers, Willow Smith, H.E.R., Masego and Hayley Williams. Her guitar of choice is the Stratocaster, but she was comfortable as a clam with a D'Angelico semi-hollowbody in her tribute to Jimi Hendrix and Mariah Carey at the 2018 Summit LA18 (her renditions are gorgeous, like butter). Faye, an industrious artist who is also a bassist and producer, recently started giving lessons to aspiring players.
"I've honestly put literal blood, literal sweat, and literal tears into playing guitar," Faye says, and it shows in the authenticity of her 2020 self-titled EP. "Super Sad Always" and "It's a Moot Point" particularly reveal a triple-threat: flawless guitar tone and inventive phrasing, an ability to write heartfelt songs, and silky-smooth vocals. Faye is a virtuoso, but as a songwriter she's using her tools to tell stories, not to flex chops on social media. As one fan adeptly commented on her YouTube page: "This is what every guitar player wants to be when they grow up." —Tessa Jeffers
Melanie Faye: Tiny Desk (Home) Concert
10. Steve Lacy: R&B Auteur
Steve Lacy
At 24 years old, Steve Lacy has racked up enough credits—alongside artists like Thundercat, Solange, and Vampire Weekend, and as a member of the Internet—to call himself an industry veteran. But it was working with hip-hop's poet laureate Kendrick Lamar on "PRIDE." from 2017's DAMN. that put him on a lot of radars. And not just because he was so young when they collaborated, or that Lacy's warbly guitar-heavy beat is so commanding. Instead, the big attention-grabber was that he made his track for the Pulitzer Prize-winning record on his iPhone 6. It wasn't the only time he's used the now-ancient Apple device to efficiently capture his lo-fi brilliance, just the most notable, and Steve Lacy's Demo—from the same year—showed the full depth of his no-frills iPhone-created magic.
Despite his hip collaborative resume, Lacy's solo records—for which he's received one Grammy nom thus far—show a visionary mind at work, and his guitar is an essential part of his sound. On this year's studio-recorded Gemini Rights, Lacy uses punchy guitar parts with simple tones—often dosed with light modulation or wah/envelope filtering—to great effect as he stacks and interweaves layers of rhythm-guitar figures to create big moods. On "Buttons," for example, Lacy separates each of the song's sections with a different approach to his instrument. The song starts with an intentionally loose counterpoint intro, and in the verse, droney bends and single-note stabs punctuate his sparse vocal melody. The short bout of guitarmony to close delivers a major payoff.
Guitar arranging takes precedent over detailed performance, and Lacy seems more focused on masterfully creating vibe with each of his tracks. His writing and production techniques call to mind the names of all the classic soul auteurs—notably Stevie Wonder, Sly, and Prince. And like those artists, Lacy's progressive R&B takes in modern sounds—in his case, this includes hip-hop, punk, and emo—to create something that we haven't heard before, from a singer/songwriter, producer, or guitarist. —Nick Millevoi
Steve Lacy Dark Red Live at Coachella 2022