"If you keep your head and your ass in the same place, that'll happen on its own," says Jason Isbell on how he gets the most out of his live performances. On the heels of a new HBO documentary, Jason and Cory sit down for a deep discussion, talking creating genuine art that can also turn into hits, Muscle Shoals, and the intersection between "guitarist" and "songwriter"—as well as "for life" gear choices.

Jason Isbell's Advice to Songwriters
Cory: Do you have any insight to budding songwriters that are trying to find that thing about their voice as a writer?
Jason: Yes, definitely. Just stop looking for it, immediately. Stop looking for your voice as a writer. I was thinking about that this morning. I saw something I read this morning, somebody talking about finding their voice as a writer, and you're looking for the wrong thing. When Amanda and I got married, we went around to a lot of couples, and we still do this, but a lot of couples that have been together for a long time that we knew and we asked them, "What's the secret?" And they had different answers. With a lot of people, it was sense of humor, or just don't give up on each other, or stick by the decision that you made, no matter how hard things get.
But John Prine said, "You have to remain vulnerable." And of course, John Prine is going to give the best answer to just about anything. That's what he did, but he had a very recognizable voice as a songwriter, and it was the fact that he was open emotionally and he realized that he had something worth saying, and so he just let himself talk.
And I think that's the trick. And it is a little bit ethereal. It's hard to pin down, but just don't run from the things that you might consider mistakes. If you think that, "This doesn't sound like any song that I've heard before, so it must not be right," second guess that instinct and think, "Maybe it doesn't sound like anybody else because it's mine." And if you do that over and over and you remain open and don't judge yourself, that's the thing. There's the Neil Young line where he says, "People don't want to hear a song you like, they want to hear a song you wrote."
And that's huge for me because it's like, don't judge the work while you're doing it. Save that for later. Later on when you're in the booth, you can judge whether it's any good or not or, after it's mastered, you can figure out if you want to put it out, but give yourself a whole lot of leeway and a whole lot of time to do what you think might be a mistake because, just like playing the wrong note, it's not that, it's the one you play right after it. And I think that's the thing. That's it. Just let yourself screw up, and then keep moving, and then eventually you'll have a chance to go back and fix it if it's wrong, but more often than not, you'll find out that's not wrong, that's just me.
McCready's signature Strat will be limited to only 60 pieces and was patterned after his original '60 model.
Hollywood, CA (January 12, 2021) -- In true tradition, the Fender Artist Signature Series honors iconic musicians through product progression and storytelling, creating instruments inspired by the unique specifications of the world's greatest guitarists and bassists. 2021 will see Fender and some of the world's leading players continue to blaze trails of product innovation, with this year's launches including:
● Chrissie Hynde Telecaster($1,399.99 USD, £1,249, €1,399, $2,699 AUD, ¥175,000 JPY) With a Telecaster guitar in hand, Chrissie Hynde formed The Pretenders in 1978 and quickly established the band as a rock and roll powerhouse. Chrissie's churning Telecaster rhythms have been the heartbeat of the band's sound since the beginning. In 2021, Fender and Chrissie Hynde launch the Chrissie Hynde Telecaster complete with an alder body finished in Faded Ice Blue Metallic RoadWorn lacquer; vintage-style '50s single-coil Tele pickups voiced to match Chrissie's original set; a 6-stainless steel barrel saddle bridge; and much more in an incredibly faithful recreation of one of the world's most iconic guitars, Hynde's treasured '65 model.An artist-requested player-friendly update on the new Chrissie Hynde Telecaster are locking tuners, which offer increased tuning stability and make string changes quicker. Available February 2021.
● Mike McCready 1960 Fender Custom Shop Stratocaster ($15,000 USD, £13,399, €14,999, $21,999 AUD, ¥1,750,000 JPY) In this first-time collaboration between Fender and Pearl Jam's lead guitarist Mike McCready, the Fender Custom Shop is honored to re-create this incredible instrument in exact detail, and in doing so a long held secret about the guitar's lineage was forced to be revealed to its owner: the Strat was actually constructed in 1960, not 1959 as had long been believed. For this limited 60-piece Masterbuilt run, the Custom Shop's Vincent Van Trigt carefully disassembled the guitar in order to note and measure every detail, curve and scratch - and there are plenty of scratches, thanks to McCready's exuberant style! The recreation features an ultimate Relic lacquer finish on a two-piece select alder body; a flat-sawn flame maple neck with a 1960 "oval C" profile; and a flat-lam rosewood fingerboard with 21 vintage frets. Custom Josefina hand-wound pickups matched to the originals are connected to a five-way switch and vintage wiring, including a "treble bleed" tone capacitor. Other features include a three-ply vinyl pickguard, vintage-style synchronized tremolo with Callaham bridge block, vintage-style tuning machines, bone nut, and wing string tree with metal spacer. Includes deluxe hardshell case, strap, polishing cloth, McCready case candy kit and certificate of authenticity. Available February 2021.
● Ben Gibbard Mustang($1,099 USD, £979, €1,099, $2,099 AUD, ¥140,000 JPY) Ben Gibbard has been a prominent voice in indie-rock since the late '90s as singer-songwriter for platinum-selling band Death Cab for Cutie and also The Postal Service. His melodic, personal songwriting style and the band's powerful sound have been cited as inspirations by countless musicians since. Modified '70s Fender Mustangs have been Gibbard's preferred touring guitar choice for years and the Ben Gibbard Mustang is a faithful recreation of his touring workhorses, with some bold enhancements. Boasting a chambered ash body design for increased resonance, a reduced weight and one-piece 22-fret modern "C"-shaped maple neck, this guitar is a comfortable and highly versatile stage performer. Includes strap locks and Fender gig bag. Available March 2021.
● Joe Strummer Campfire($499.99 USD, £429, €499, $899 AUD, ¥45,000 JPY) More than 40 years after the Clash's iconic album London Calling was released, Joe Strummer - the band's articulate and fiery co-founder, lyricist, rhythm guitarist and lead singer - remains an incredible influence to players all over the world. The Joe Strummer Campfire guitar is inspired by the legendary campfires that he held at Glastonbury Festival and are now continued annually in the Strummerville area at the festival. Everyone was invited to join the party, with Strummer encouraging a loose assembly of people to his "campfire" to bond by the rising flames until dawn. This small-body acoustic-electric guitar is the perfect companion for gatherings of any size and to continue Strummer's legacy of bringing people together through music. Boasting a solid spruce top with mahogany back and sides, the Campfire reflects Strummer's legendary aesthetic with its matte black finish, nickel hardware and star inlays. The Fender Custom Shop will also release Joe Strummer '59 Esquire in April 2021. Details and specs will be revealed in the coming months. Available March 2021.
● Jason Isbell Custom Telecaster($1,499.99 USD, £1,249, €1,439, $2,799 AUD, ¥195,000 JPY) Instantly recognizable for his incisive lyrics, powerful voice and blistering guitar chops, Grammy-Award winning Jason Isbell has established himself firmly at the front of the Americana movement. The visually striking Jason Isbell Custom Telecaster features a Chocolate Sunburst whilst the Fender RoadWorn aging process gives it the authentic look and feel of a well-loved instrument. Meanwhile, the vintage-inspired mid-`60s "C"-shaped maple neck and 21-fret rosewood make for sparkling, fiery tones associated with his unique blend of traditional roots music and modern rock - a guitar that sounds and plays as good as it looks. The Telecaster is double-bound, a unique and premium feature at this price point. Available May 2021.
For more information:
Fender
Premier Guitar editors reveal the records that helped them cope during COVID-19 quarantine. Plus, their most-anticipated releases of 2021.
We made it. To the end of a year that has already gone down in infamy as one of the weirdest (and worst) in decades.
As the pandemic turned the world upside down nine months ago, many musicians and their livelihoods were heavily impacted. No concerts, no touring, album release dates postponed, restricted studio access, and let's not forget the dangers of actually being in the same room with other humans (sometimes that's necessary to make songs). But let's try to forget all that for a moment and focus on what really matters: music! The silver linings of tough times can be sweet: beautiful and amazing albums were made this year, connecting us isolated social distancers, and helping us tread water.
At best, this list will open up some new tunes for you to spin at home this holiday season as you're welcoming a new year ahead. At worst, you can just skip what you don't like. (But surely listening to any of these albums would be better than reliving this year!) Either way, let us know which albums were your favorites in the comments below.
As we say good riddance to 2020, we wish you this sentiment with more oomph than you know: Happy Freakin' New Year!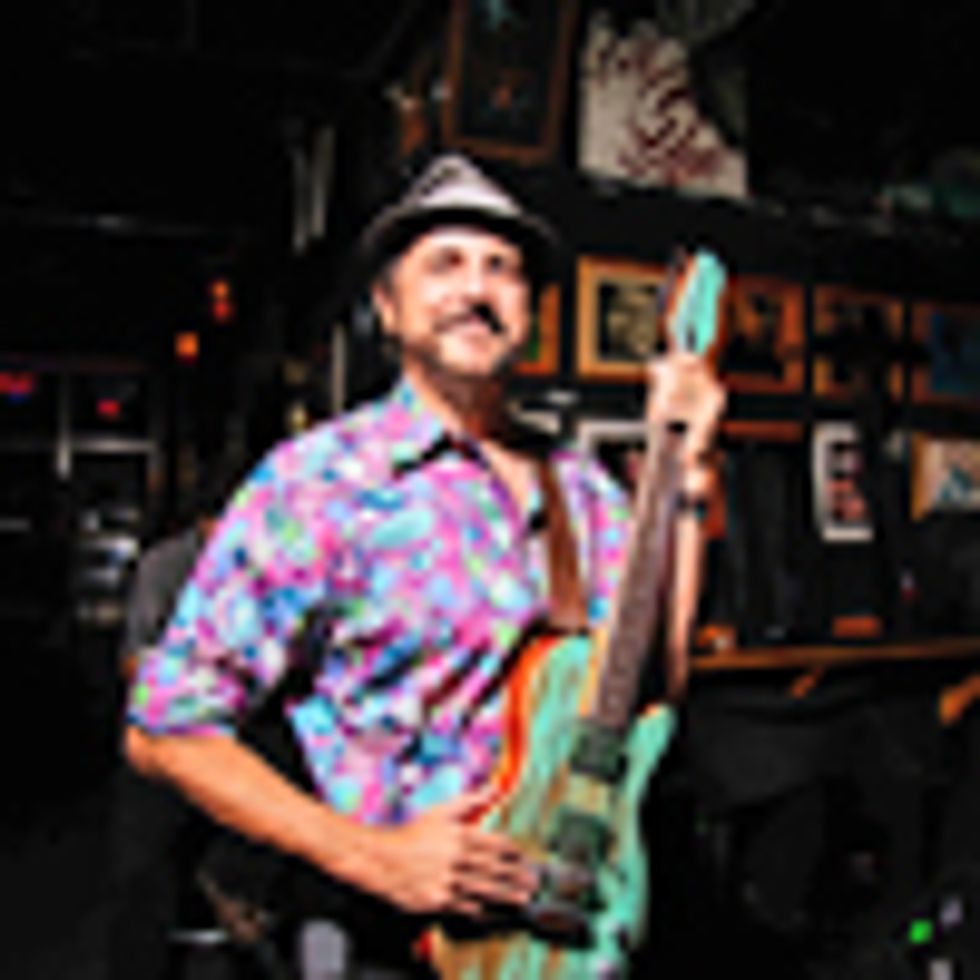 TED DROZDOWSKI
SENIOR EDITOR
I've sought refuge during the pandemic—mental deliverance and comfort food for the soul—in my roots. Blues has long been a source of the latter for me. And Mississippi Suitcase is elemental: a celebratory bonfire, radiating Parcek's virtuosity, creativity, and musical intelligence.
Peter Parcek
Mississippi Suitcase
It's not simply his world-class and richly original guitar playing, which dances on an emotional high wire between transcendent invention and deep tradition, or his songwriting, which illuminates all the corners of our humanity, that makes him such an important and hauntingly expressive artist in today's blues and roots scene. Or even the way his singing breathes with life and wisdom. There's also his ability to reframe classic material, whether by Sonny Boy Williamson or Lou Reed, in a way that's respectful of history and yet resonant in the present. He can be wild and unpredictable, yet resolute as granite. And, like a bonfire, he burns. He is truly a master, and I love this album.

Pink Floyd
Delicate Sound of Thunder
Pink Floyd has been my shelter in this year's storm. I revisit everything in the band's and David Gilmour's catalogs constantly, finding warmth in the weirdness and beauty, and in the empathy of their finest lyrics, and uplift in Syd Barrett's and David's performances. So it felt like this reissue, recorded during the 1987 Momentary Lapse of Reason tour, was a gift made for me. The remastered sound and the performances are killer—a sonic, psychedelic spa I can soak in infinitely, and there's music not on the original release, including the wordless wonder "The Great Gig in the Sky." And while I love Syd's left-field virtuosity, nobody has a more beautiful, burnished tone than David, and the delicate precision of his bends and phrasing cut to my heart. I really get lost in his playing, in the best way possible. Adding to my Floydian refuge was the also-just-reissued book Barrett: The Definitive Visual Companion, by Russell Beecher and Will Shutes, packed with early photos of Syd, with and without the band, and his paintings and drawings, including work through the early mid-2000s. It's a fascination look inside a wonderful and difficult mind.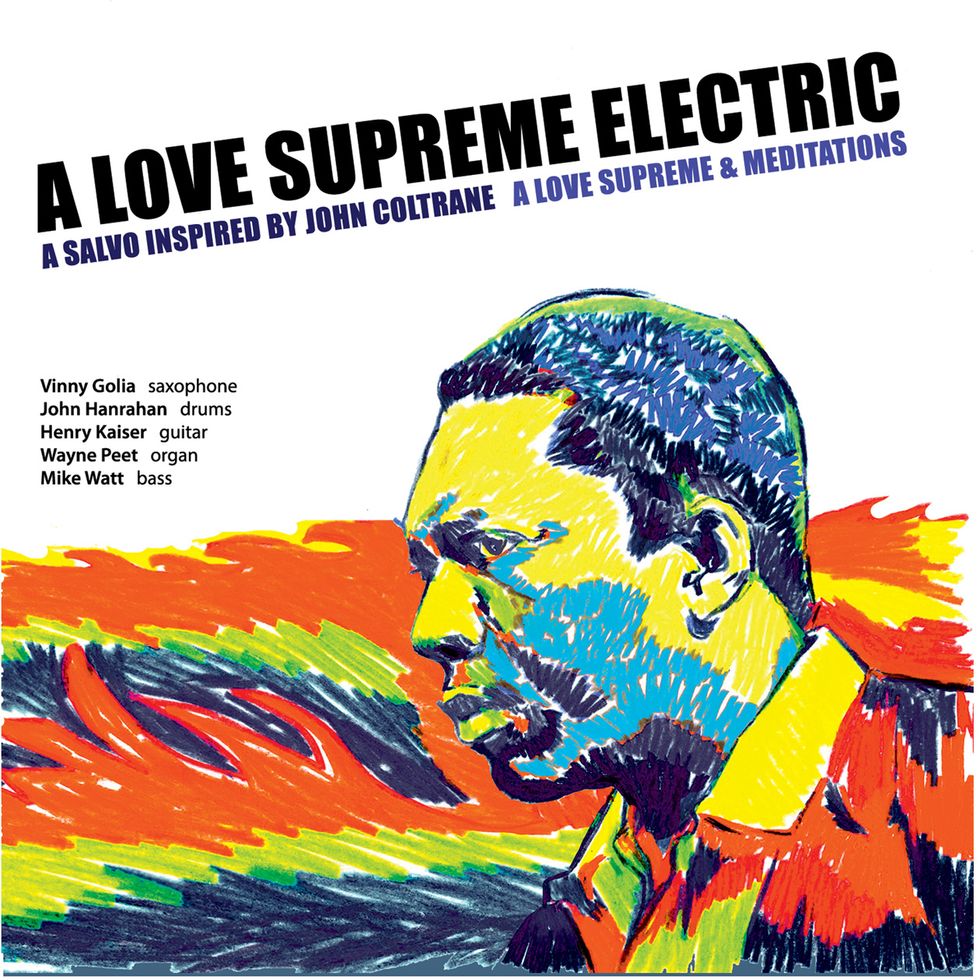 Henry Kaiser, Mike Watt, Vinny Golia, Wayne Peet, and John Hanrahan
A Love Supreme Electric: A Salvo Inspired By John Coltrane—A Love Supreme & Meditations
This two-album set answers a theoretical: What if Coltrane had survived cancer and joined Miles Davis in pioneering electric jazz? Five of the world's finest improvisors weigh in via compositions from the two brilliant 'Trane albums in the title. There's a lot of mystery, satisfaction, and surprise in these 12 performances, as instrumental voices blend and fracture, melodies skyrocket and flare, and notes tumble in a stampeding herd or slowly and elegantly stretch like lazy cats in the sun. Kaiser's guitar playing is full of energy and invention, but, honestly, so is everyone's. At times there are clear nods to Sonny Sharrock, who was himself a Coltrane disciple, and the improv supergroup Last Exit. During pandemic isolation, this rune to chaos and control (and Coltrane, of course!) is a marvelous reminder of freedom—and a reminder that free jazz has always been about human, rather than musical, liberation.
Most-anticipated 2021 releases: Please, Tom Waits … please, this year! Any unreleased Sonny Sharrock, R.L. Burnside, or Junior Kimbrough recordings. More great discoveries and productions from Dan Auerbach and his Easy Eye label. And new music from Julian Lage, Anthony Pirog, and Valerie June.