The retro-pop-meets-shredder sum of the Kingbolt's parts—the like of which we don't see often—is quirky and eccentric without looking goofy.
Since taking flight in 1997, Reverend Guitars has garnered a reputation as a player's company. With a lineup of instruments that include signature models of artists like country picker Pete Anderson, jazz/blues virtuoso Gil Parris, and avant rocker Reeves Gabrels, Reverend has always focused more on functionality than flash. At NAMM 2013, the Kingbolt was introduced as part of the company's Bolt-On series, and it targets a heavy-metal/hard-rock market that the company has never really explored. Like most Reverends, though, it's a solid performer that inhabits a unique place within its target market rather than aping established standard bearers.
Days of Metal Passed
The Korean-made Kingbolt, with its pointy horns and curved bottom, has the aesthetic presence of a "super strat" that got tangled up with a Jazzmaster and a Music Man. The retro-pop-meets-shredder sum of those parts—the like of which we don't see often—is quirky and eccentric without looking goofy.
The 25.5"-scale Kingbolt features a korina body, a "medium-oval"-profile maple neck with 22 medium-jumbo frets and a 12"-radius fretboard that's available in maple or rosewood (our test model has the former). Reverend founder Joe Naylor's expertise as a luthier and his experience in industrial design is evident in some of the Kingbolt's less-obvious details, like the neck plate—which, in addition to having six screws for added sustain and increased tuning stability, has two smaller screws in the middle so that the plate stays bolted to the back of the body when the neck is removed.
Overdriven, the Kingbolt has an authoritative lead voice that's thick but clear and articulate—even at very high gain levels.

Hardware choices also reveal a keen design eye and emphasis on playability. The Wilkinson WVS50 IIK tremolo features an arm that you simply push in instead of an annoying threaded arm (you can also adjust swing tension), and the Reverend pin-lock tuners makes it very easy to change strings and keep the guitar in tune. Tuning isn't quite as stable as a more conventional locking-nut-equipped guitar—when I gave the whammy bar a few violent dives and upward yanks, I experienced some perceptible detuning, but it wasn't too drastic. For folks like me who hate locking-nut tremolos, the pin-lock tuners and 1 21/32" graphite nut are a pretty cool compromise.
In terms of construction, this Reverend delivers in spades. The craftsmanship on the Kingbolt is immaculate—perfectly cut nut slots, properly seated frets, a correctly positioned bridge, and a great out-of-the box factory setup. All checklist items that, sadly, you can't automatically expect these days. The Kingbolt's neck is very comfortable whether your proclivities include extended jams based on full barre chords, bluesy lower-register bends, or above-the-12th-fret shredding. The forearm and belly cut definitely add to the comfort factor—after a fairly long rehearsal that traversed many different genres, I never felt a sense of fatigue.
Like a Bolt of Lightning
I tested the Kingbolt through various setups, including a Mesa/Boogie Blue Angel amp and a vintage ProCo Rat pedal. The ceramic Special H bridge and neck pickups, measuring at 13k Ω and 6.5k Ω, respectively, give the Kingbolt the ability to get a modern sound or a slightly vintage vibe. Overdriven, the Kingbolt has an authoritative lead voice that's thick but clear and articulate—even at very high gain levels. Clean, the Kingbolt sounds confident without possessing an overbearing, in-your-face aggressiveness.
Like other guitars in the Reverend lineup, the Kingbolt's electronics include a bass-contour knob, which Reverend says can make a humbucker sound like a P-90 or a single-coil. It hollows out the sound and works a little like a coil-splitter except that there isn't as much volume loss as you'd get with a tapped coil. While an obsessive gear-o-holic might never mistake the Kingbolt for a Stratocaster or a Telecaster in a blindfolded test, there was a moment in the middle of a session where, a few seconds after flicking to the neck pickup, I looked over to double check the pickup configuration. I had the bass contour rolled back and, for a brief second, I thought I was hearing a single-coil. The faux single-coil sound was even more convincing when I played some twangy spaghetti-western-type riffs with the bridge pickup's tone all the way up and the bass contour all the way off.
Ratings
Pros: Great sounds for almost any style. Flawless build.
Cons: Somewhat pricey for an import.
Tones:


Playability:


Build/Design:


Value:



Street: $1,079
reverendguitars.com
Overall, the Kingbolt is a bright-sounding guitar, and this is especially evident when playing with clean tones. Even after turning the tone knob fully counter-clockwise and keeping the bass contour up all the way, I noted a crispness that you typically don't experience when you turn the tone knob all the way down. If you're one of those guys who rolls off your tone to get jazz tones, you might not find the Kingbolt dark enough. On the other hand, your tone won't turn into mud and you'll be able to cut through any mix.
The Verdict
Reverend has always been about offering affordability without sacrificing quality, and like most of their guitars, the Kingbolt's price-to-quality ratio is very high. At $1,079, it feels and plays like a boutique instrument without the custom price tag. And although it's marketed as a hot-rod rocker, what makes the Kingbolt especially appealing is its versatility beyond the world of power chords and JCM800s. Practically speaking, it could be the one guitar to bring to gigs where you don't feel like schlepping multiple instruments. There isn't much tonal ground the Kingbolt can't cover with a few tweaks to the versatile control set. If you like to just dial up some basic sounds and be done with it, you'll find what you need in seconds. However, if you're a tinkerer, the Kingbolt offers a gold mine of tonal possibilities.
The history of Samick and a budget acoustic find
Hey Zach,
I'm just learning how to play guitar, and I picked up this Samick acoustic from a buddy for $60. It has the following information inked on the label inside: Model LW-025G, Serial No. 96122756, Made in Indonesia. I really don't know much about guitars, including this one, and I simply bought it for something to learn on. Can you tell me a little about the guitar and if it is worth anything—although I suspect not.

John
Minnetonka, Minnesota
Hey John,
The beauty of the guitar industry today is that with so many price points available, just about anyone can afford a guitar. Many players consider Samick to be a budget brand because of their low price points, but the company offers much more than cheap guitars. I'll discuss Samick's history a bit and tell you more about your acoustic guitar.
Samick was founded in 1958 by Hyo Ick Lee in Korea as an upright piano manufacturer, and by 1964, they were the first Korean piano exporter. In 1965, they began building guitars, and in the early 1970s they had added grand pianos and harmonicas to the line. In 1973, the company incorporated as Samick Musical Instruments Mfg. Co. Ltd., and in 1978, they opened a branch office in Los Angeles. In 1992, they built a factory in Indonesia to produce a majority of their instruments.
What many people may not realize is that Samick actually builds guitars for many other trademarks and have been doing so for many years. It may come as a surprise to many, but several Epiphones, Fenders, and other American-trademarked guitars are actually built by Samick in one of their factories. Many manufacturers in the US do not actually own an overseas production facility, so they outsource the construction to companies such as Samick. Because of this, Samick is one of the highest-producing instrument manufacturers in the world, if not the top. In a sense, Samick is a current day "house brand."
The LW-025G is a dreadnought-styled guitar that was part of Samick's "Standard Series" offered in the 1990s. Introduced around 1994, it features a laminated spruce top, nato back and sides with black binding, a 20-fret rosewood fretboard, a black pickguard, and gloss finish. In terms of features, this guitar is exactly what the series describes it as: standard. The serial number, starting with "96" means the guitar was built in 1996. The LW-025G was produced through the late 1990s until Samick discontinued their entire line of guitars for a new series.
Samick doesn't use traditional retail pricing for their guitars, but instead list a "dealer net" amount in their price lists, which basically is the amount a dealer pays for an instrument. Samick also enforces a strict minimum advertised price (MAP) policy to guarantee top margins for their dealers without having an arbitrary retail price. Not many guitar companies operate with a pricing structure such as this, but it has proved to be very successful for Samick. The dealer net price for this guitar in 1997 was $105 (I don't have a price list from 1996). Today, the guitar is worth between $135 and $175 in excellent condition and between $70 and $90 in average condition.
The owner of this guitar actually brought it into our office, so I had a chance to physically inspect it and play it. The guitar has noticeable wear, but is structurally intact, putting it in average condition. The action is set evenly, the guitar played on all strings up and down the fingerboard, and the intonation is spot-on. Most collectors will consider this guitar to be trash, but for entry-level players, it's a treasure—especially considering how hard it can be to find an inexpensive guitar that plays this easily with correct intonation. Part of the process when it comes to determining if a guitar is "trash or treasure" is to see how well the guitar plays, which is difficult to do by simply looking at pictures.
After Samick discontinued this line, they introduced a new line of guitars in their 2000 catalog. Designed by Greg Bennett, these were called the "Signature Series." Since 2000, all Samick guitars are actually branded Greg Bennett and have a stylized "S" logo with "Greg Bennett Design" on the headstock. Samick continues to produce a wide variety of guitars from entry-level models to higher-end production models. To offer more high-end instruments, Samick opened their USA Custom Shop outside of Nashville, where they are also now headquartered. Samick also only sells their instruments to independent music stores to give them competition against the big-box stores—a treasure in today's market for sure!
Zachary R. Fjestad
Zachary is the author of the
Blue Book of Acoustic Guitars, Blue Book of Electric Guitars
, and the
Blue Book of Guitar Amplifiers
.
Questions can be submitted to:
Blue Book Publications
Attn: Guitar Trash or Treasure
8009 34th Ave. S. Ste #175
Minneapolis, MN 55425
bluebookinc.com
guitars@bluebookinc.com
Shertler''s SM is a stage-ready, mid-priced acoustic-electric

Click here to view larger image
Download Example 1
Fingerstyle - Pickup, Amp, Mic

Download Example 2


Flatpickin'

- Pickup, Amp, Mic

Mic: sE3 to Aphex 207D mic-pre Amp: L.R. Baggs Core 1, mic: Audix i5 to Aphex 207D mic-pre Direct: Pickup to Aphex 230 mic-pre, Interface: RME Fireface, DAW: Samplitude V8
Schertler is a company that was first known for its acoustic guitar pickups, then for its amps. Now, it's making acoustic-electric guitars to showcase its pickups, both steel and nylon string models in various wood combos. Our sample steel string is the mahogany SM model.
Designed by Swiss luthier Claudio Pagelli, the SM has a modern look, with an oval sound hole and body shape; it's sort of modern take on the Maccaferri guitar (like Django's). Take a look at
Pagelli's website
to see his other work; it is quite unusual and I would love to try some of them. I gather that this guitar is made in Korea (South) and the tuners and all the guts are made in Switzerland. Schertler is also making their own 18:1 gear-ratio tuners which have a clean modern look, and work very well with no play and a nice smooth response. The tuners will be available as aftermarket replacements and I would recommend them heartily.
The wood part
The SM is a modern-looking guitar, very round. It has all solid wood construction with an Alpine spruce top, and mahogany neck, back and sides. It should also be mentioned that the design places the bridge pretty much dead center in the lower bout, much like a twelfth fret neck joint would. That tends to give you the max that a box has to give, which is perhaps one reason for the pleasing sound of this guitar, despite its small size. The neck joins the body at the thirteenth fret, which may also contribute to the fuller sound. The fingerboard is ebony (and seems to have a finish on it), as are the bridge and peghead overlay. The rosewood binding is a classy touch, as is the raised wood soundhole surround. My only gripe is the slotted peghead design. I personally don't care for slot heads on steel strings as it makes string changes more difficult, and this one has the string ramps cut so that the strings drag across the wood, which seems like it could ugly things up down the road. Other than that, fit and finish are very good. The neck shape is a nice round C which is quite comfortable, and the frets shine like mirrors. Setup is good right out of the box. Because the body is so small, it's very comfortable to hold, and the cutaway gives good upper fret access.
Electronics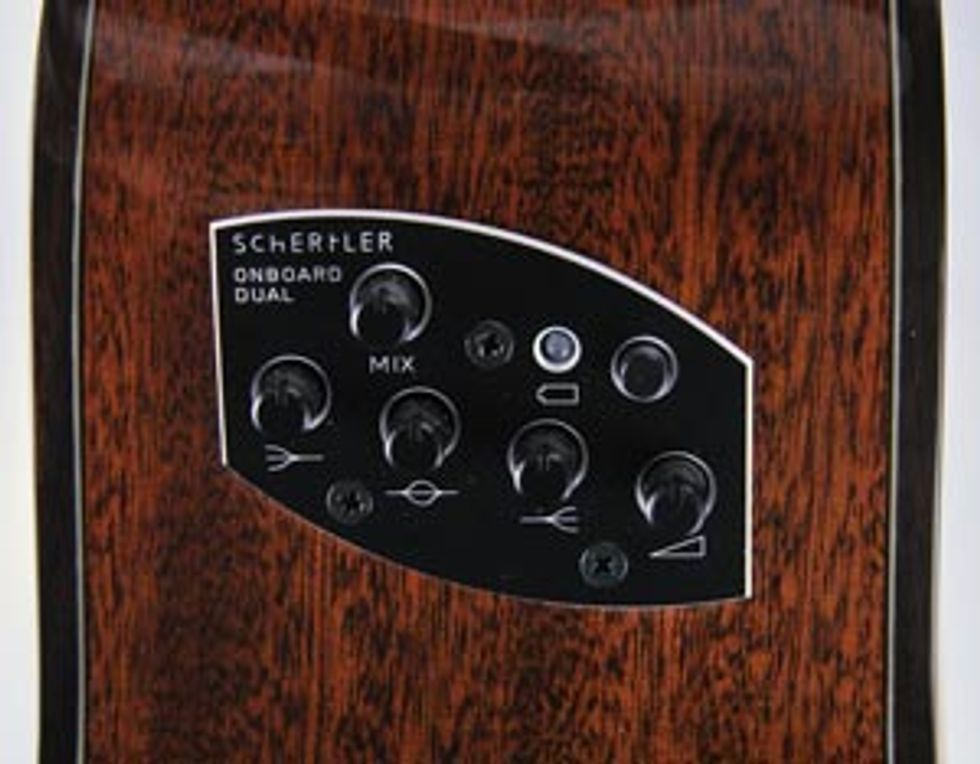 The SM is equipped with the Schertler Dual Source System made up of the Bluestick under-saddle pickup as well as the D-Dyn electrodynamic contact mic. The controls, which have some unusual symbols (which I had to look up in the manual), include mix (between the two pickups), Volume, Treble, Middle, Bass, and a battery check button and light. The electronics are powered by a 9 Volt battery which is accessed via a door in the side by the strap button. Battery life is 200 hours. I gotta say, I love the little battery door rather than a Velcro mounted baggie for the battery. It's so much more convenient than loosening the strings and dealing with retuning issues—especially on a gig.
Yeah, so how's it sound?
This is a guitar that you need to sit with for a while and get to know. It has a small body, which doesn't give you a giant acoustic sound, but of course you don't really want that in a guitar that is mainly intended to be played electrically. So some folks may be tempted to set the SM back on the shelf thinking they want a bigger sounding guitar. But consider what you want to use this guitar for; do you
want
a strictly acoustic guitar, or are you looking for a stage guitar that will deliver? Plugged into a Schertler Unico amp with tones set flat and the pickup balance to center, the SM had a very balanced musical sound. It's quite rich harmonically and the sound is warm, full, and unusual in a way I can't quite describe—but very pleasant. The pickup is sensitive to string squeak so you may want to consider a polished string. The SM is fairly feedback resistant and was not prone to howling bass notes. The first thing I look for when checking out an acoustic transducer pickup is a dead high-E string and/or a blazing hot G string. This guitar had neither, and the string response was very even, just as you would want it to be. The neck is satin-smooth and very comfortable, and combined with what can only be described as the overall snuggliness of this guitar, it makes for a great long-term couch companion, plugged in or otherwise.
The Final Mojo
Considering that the pickup system alone would cost you around $600 before installation and that this solid wood guitar comes with a nice light weight case, I think this is a pretty darn good deal. It plays well, and plugged in is very acoustic and true to the sound of the box. There is enough acoustic sound to give you the feel of an acoustic while not enough to cause feedback and howl. Unplugged…enh. But plugged in (as intended) it is quite good with a sound unlike any other acoustic-electric I've played. Definitely worth checking out.
Buy if...
you need a great sounding acoustic-electric, stage guitar.
Skip if...
you want a solely acoustic guitar.
Rating...