Light and heavy coexist in avery flexible 50-watt amp that defies Rectifier expectations.
Reliable Mesa build quality. A versatile bundle of clean, crunchy, and mean tones. Super-useful peripheral features.
Players seeking ultra-heavy Rectifier tones of old might want a pedal in front to get it there.
$1,999 street (head or rackmount) & $2199 street (1x12 combo)
4.5
4.5
5
4.5
Mesa/Boogie is both fond of reinvention and adept at it. Late last year, the Mesa/Boogie folks reimagined the Rectifier series amps, which became near-ubiquitous in metal and grunge circles in the wake of their 1992 release. The beastly Badlander 100 was the first of these new Rectifiers to hit the streets. It's now joined by the more modestly powered Rectifier Badlander 50—which is available as a head (reviewed here), 1x12 combo, or rackmount head—and can be powered by a pair of Brit-flavored EL34s or more-American-voiced 6L6s.
Twinning
The Badlander 50 beautifully blends versatility and simplicity. It might seem odd to call an amp with 12 knobs and six switches on the front panel simple. But relative to other feature-rich Mesa/Boogie amps, the Badlander is pretty streamlined.
Several years ago, the Mesa folks figured out that, while the ability to channel-switch between two distinct preamp stages is good, sometimes it's better to be able to switch between two settings for the same preamp stage. The Badlander addresses this need by providing two identical channels—each with controls for gain, treble, mid, bass, presence, and master volume—and a 3-way switch to select clean, crunch, or crush gain mode. Output power is also switchable on the front panel, from 50 to 20 watts—the latter of which is achieved by wiring the EL34s in triode. The power switch is a 3-way toggle with options for bold and Variac modes. The Variac, of course, slightly browns the voltage for more sag and squish in the response.
The back panel includes outputs for two 4-ohm speaker cabs and one 8-ohm (the former typically enables the use of two 8-ohm 2x12 cabinets together or any two 8-ohm loads), FX loop send and return, and a bias switch if you want to switch from EL34s to 6L6s. There's also access to the built-in CabClone impulse response direct Interface feature. The CabClone IR section includes an XLR DI out, ground lift switch, headphone jack with level control, and two 8-position rotary selectors (one for each channel) for accessing the eight onboard Mesa cabinet emulations. In addition, there's a USB connection for loading your own or third-party IRs. Disconnecting the speaker also engages a built-in load, enabling silent DI for recording or playing live through front of house and monitors only.
Even with EL34 output tubes, it feels very much like a black-panel Fender.
Though the first Rectifier amp, the Dual Rectifier, offered a choice between tube and solid-state rectification, the Rectifier Badlander 50 uses solid-state rectification for more immediate attack and a tighter low end. The amp comes loaded with dual EL34s, but there are also five 12AX7s inside for gain-stage, tone stack, and phase inverter duties.
Doin' the Mesa 'Round
While the Rectifier Series has explored more vintage-y territory in the form of the Recto-Verb and the now-discontinued Blue Angel, Maverick and Road King, its roots are very much in the heavy rock camp. The Badlander 50 definitely lives under that tent, but it's not all about mega-gain scorch and sizzle like the seminal Dual and Triple Rectifier heads of old.
Instead, the Badlander 50 is underpinned by a broader, fuller, more versatile voice that can bend to many genres. For one thing, the clean setting delivers crisp, full-bodied tone with lots of jangle and chime when you need it—even with a Les Paul driving the amp. And even with EL34 output tubes, it still feels very much like a black-panel Fender. You can also set up thick, medium-gain crunch tones that don't even nod at metal textures. Engage the Variac power setting and you can induce extra sag that hints at more vintage tonalities.
With its closed back, dual Vintage 30s, and chunky disposition, the 2x12 Recto cabinet that we used with the head leans toward hard rock thumping. An open-back cab with Celestion Creamback 65s or Celestion G12H-35s might be more versatile and deliver more vintage-voiced sounds. But it doesn't adversely affect the amp's ability to cross genres and achieves the feel of a big stack in a smaller cab when you need it.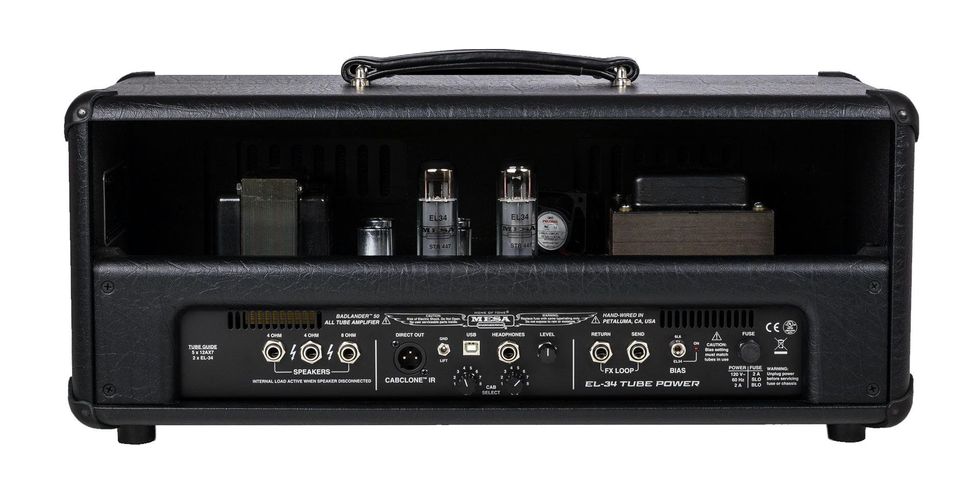 When pushed into heavier overdrive, the Badlander's preamp voicings are more fat than fizzy, with just enough crackling high end to evoke a Marshall 2203's bite and kerrang. While ostensibly high gain, the crush mode isn't brutalizing—at least by modern standards. But it will veer into metal territory with an overdrive pedal in front, and the extra headroom contributes to the amp's versatility.
The multi-watt power settings work well, though 20 watts is still vociferously beastly, so the amp is really only suitable for bedroom jams with the master volume way below noon. But even at these settings it can hold up to a loud drummer and sounds great. The CabClone IR is another great asset. It works so well that it can make a cab seem redundant at times. It also makes DI recording a breeze and the option to load your favorite third-party IR captures extends its flexibility considerably.
The Verdict
For an amp that superficially tips a hat to the heavy-rock sphere, the Rectifier Badlander 50 is super versatile. The two channels and three gain modes yield a surprisingly wide sonic palette. And features like the built-in CabClone IR, Variac setting, and Multi-Watt power settings make it extra flexible for stage and studios—particularly small home and apartments setups where DI and IR recording are a must.
Mesa/Boogie Badlander 50 First Look Demo