Marshall''s bass amp offerings are expanded
Anaheim, CA
(January 23, 2009)
--
Marshall is now shipping its entire range of MB Series bass amplifiers, including eight featured models – four combos, one head and three extension cabinets.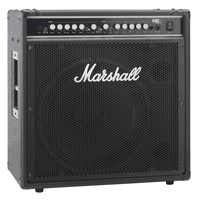 Featured models include: the MB60 60-Watt, hybrid 1x12" combo; the MB150 150-Watt, hybrid 1x15" combo; the MB450H 450-Watt, hybrid head; the MB4210 450-Watt, hybrid 2x10" combo; the MB4410 450-Watt, hybrid 4x10" combo; the  MBC115 300-Watt, 1x15" bass reflex cabinet with H.F. horn; the MBC410 600-Watt, 4x10" bass reflex cabinet with H.F. horn; and the MBC810 1200-Watt, 8x10" bass reflex cabinet with H.F. horn.
Each amp features two independent, footswitchable channels--the Classic and Modern (a footswitch is supplied with each model). Marshall says the Modern channel offers a crispness and clarity that is ideal for slap and other modern styles, as well as a built-in, variable compressor. The Classic channel, according to Marshall, boasts an ECC83 preamp tube and features a Gain control plus a Boost switch, helping players dial in their exact desired tone.
Additional features include a series FX loop, Passive/Active input selection, XLR DI line out (pre or post), built-in limiter, CD/MP3 input and a headphone jack for silent practice, among other features.
Marshall's entire MB Series of bass amplifiers is available immediately with pricing as follows:
MB15 $189.00
MB30 $278.00
MB60 $678.00
MB150 $858.00
MB4210 $978.00
MB4410 $1178.00
MB450H $698.00
MBC410 $678.00
MBC115 $548.00
MBC810 $1248.00.
For more info, visit
marshallamps.com
.